April brought a lot of changes to the social media world, particularly with Musk's Twitter. These changes and updates may mean new opportunities – and new challenges – for marketers and influencers relying on these platforms to reach their audiences.
Here are the top news stories in influencers and social media for April 2023.
Twitter Updated Description for Verified Accounts
On April 1, Twitter announced that its legacy blue checkmarks would be removed. Some of those have been removed throughout the month if the accounts didn't opt for the $8 subscription fee, but the legacy accounts are now mixed with paid accounts.
Twitter also updated the wording of a pop-up that appears when users click on the check mark in the app. This makes it impossible for users to tell which account is paid and which is legacy, leading to more confusion. This is compounded by the fact that there's no ID or qualification process in place to access Twitter Blue, so anyone can pay for a "verified" account that's just for show.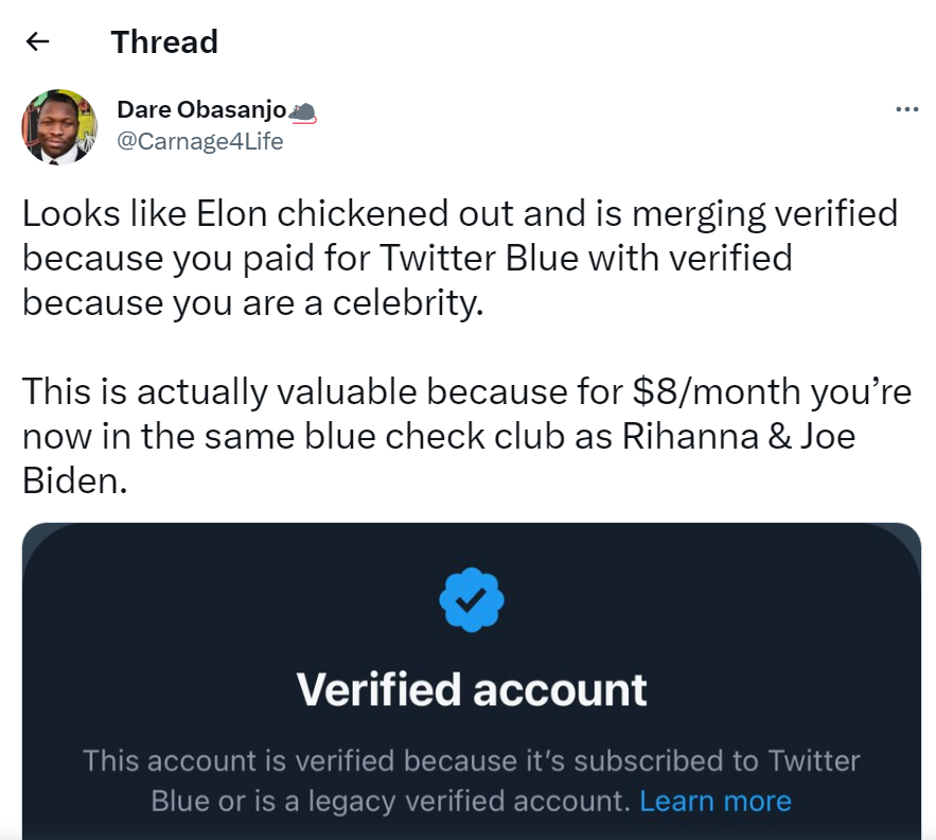 Source: Twitter
Facebook Retired Its Code Generator Authentication Element
As part of a bigger update to user security settings, Meta is retiring the Facebook Code Generator element that enables users to log in to another device with an authentication code. Facebook is sending out notifications to users to alert them to switch to another form of two-factor authentication.
The motivation behind this change is the flaw in Code Generator. The feature is only functional if users are already logged in on another device, so it's not a foolproof way of verifying account access.
YouTube Announced Expanded Coachella Coverage
YouTube brought Coachella into everyone's homes with live streams of the popular event for 2023. The first weekend of Coachella was broadcast in full to YouTube users all over the world with six feeds, allowing users to pick a stage and watch the performers live.
Along with this, YouTube launched special coverage of Coachella with YouTube Shorts and offered exclusive merchandise drops during the streams and events. This offers opportunities for brands to tie into the Coachella event in future years and get promotions in front of fans, even if they're not in attendance.
Meta Updated Audio Encoding for Reels and Stories
One of the user experience issues that users experience with Meta is the inconsistency in volume between different Reels and Stories. Meta is seeking to correct this with xHE-AAC audio encoding that corrects for variable audio levels.
In addition, this feature will dynamically correct the playback for users in areas of low connectivity for smoother performance. This feature will appear on both Facebook and Instagram.
WhatsApp Added a New Payment Option for SMBs in Brazil
Meta is pushing toward in-stream commerce with WhatsApp by expanding the WhatsApp payments to SMBs in Brazil. These users can already search for businesses in WhatsApp, but they'll now be able to pay for products in-stream, so businesses can conduct transactions via DM.
Currently, Brazil is WhatsApp's biggest market with over 147 million users.[1] Meta is capitalizing on this market by increasing the functionality of the apps for these users, which may expand to the platform everywhere.
TikTok Launches New Push on In-Stream Shopping
Like WhatsApp, TikTok is experimenting with in-stream shopping after its successful initiatives in China. Western audiences haven't embraced in-stream shopping on TikTok, but the platform is still trying by leveraging sellers designed to boost this offering in the app.
Some US sellers have been invited by TikTok to create shops in the app and promote goods via clickable links. Influencers have also been incentivized to push videos by offering sales commissions with an affiliate marketing program.
Elon Musk Invests into a Generative AI Project for Twitter
Despite warning people about the dangers of AI development, Elon Musk is exploring different AI options for his new company. He bought thousands of GPUs as part of an initiative designed to develop AI tools that compete with OpenAI.
Initially, OpenAI used Twitter data to train GPT models before Twitter removed access last year. Now, Musk is exploring a competitive product that would tap into Twitter's data to fuel AI learning. Musk is also exploring "anti-woke" AI models to combat the speech and topical restrictions in ChatGPT.
Twitter Inc. Merged into X Corp. as Part of the Next Evolution
Twitter 2.0 may include a name change. Twitter Inc. is officially gone and rolled into X Corp with Elon Musk as owner. This change is part of Musk's goal to create an "everything app," though he has yet to disclose exactly what that means.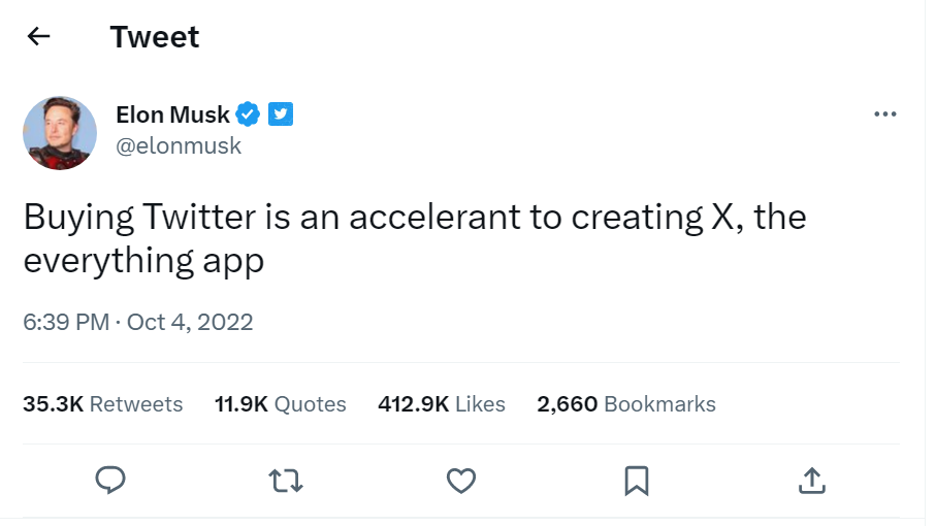 Source: Twitter
Based on previous conversations, it's possible that the X Corp app will be similar to WeChat in China. The app allows Chinese citizens to do everything in the app, from registering details to grocery shopping to paying bills.
Meta Is Developing a Way to Share Status Updates from WhatsApp to Facebook
Meta is increasing the integration between apps with an update that allows users to share status updates from WhatsApp to Facebook Stories. Though users can already share a status update from WhatsApp to Facebook, it requires a cumbersome manual process. This update will allow a seamless share between apps, much like Facebook and Instagram integration.
YouTube Adds New Features to YouTube Premium
In an effort to boost subscription revenue, YouTube added new features to YouTube Premium to incentivize users. The goal of adding features is to make the $11.99 monthly fee more valuable to users.
With YouTube Premium, users get ad-free viewing, YouTube Music, and downloadable clips as basic features. The new Premium features include content queuing for mobile and desktop devices and a Watch Together feature for watch parties via Google Meet. Another feature is cross-device transition, which enables Premium users to watch YouTube clips on one device and seamlessly continue on another.
Facebook Adds Video Display Elements to Marketplace Listings
Facebook added a new element to Marketplace that allows sellers to include video in their listings. Buyers can also request videos to assist with their purchase decision.
While photos are helpful for making purchases, video offers a comprehensive view of an item, and to combat scams, proof that the seller actually has the item on hand, that it's the same item, and that it's functional or free of defects.
YouTube Outlined Initial Pricing for NFL Broadcasts
YouTube released its initial pricing for the Sunday Ticket NFL broadcasts to attract more YouTube TV subscribers and take more of the traditional television market. Though the price is a bit steep at $249 for the season, early members can save $100 over the regular retail price and the monthly subscription of $72.99 per month.
YouTube TV is attracting younger viewers already, but an additional Multiview feature allows users to watch multiple games at once. Younger users are accustomed to consuming media on multiple devices at once, so this is an attractive feature. For advertisers, this means a wide possible reach with a big audience.
Snap Outlines New Safeguards for It My AI Tool
Snapchat has provided an update on the development of its My AI chatbot tool, which includes OpenAI's GPT technology, to allow subscribers to ask questions in the app and get quick answers.
There are some possible issues of misuse, however, including racism, hate speech, bullying, sexual abuse, sexually explicit terms, and illicit drug user. This content is prohibited on Snapchat, so it's putting in more safeguards to protect users with the My AI tool.
Meta Released a New Visual Segmentation and Object Identification Process for AR/VR
Entity identification is a key component of AR/VR experiences. The technology must identify objects in the world to provide functional insight and screen overlay, such as AR face filters. The better the system understands the environment, eye placement, movement, and other effects, the better the overall appearance on the screen.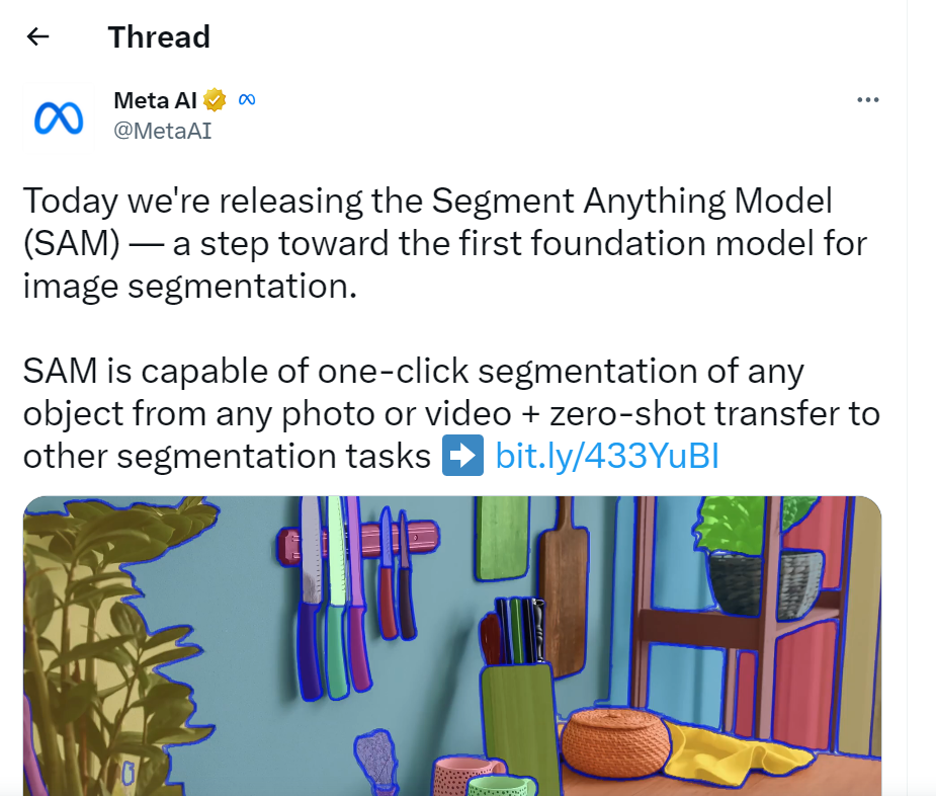 Source: Twitter
TikTok Fined $15.9 Million in the UK for Allowing Underage Users
Along with growing concerns about data use and pushes for a worldwide ban, TikTok is facing additional challenges with a fine of $15.9 million in the UK for underage users accessing the app.
According to the UK Information Commissioner, TikTok is being fined for breaches of data protection law, including failing to use children's personal data lawfully.[2] The estimates indicate that TikTok allowed up to 1.4 million UK children under 13 onto the platform in 2020, despite its own rules.
Pinterest Announces Expansion of the Creator Inclusion Fund
Pinterest announced a new expansion of its Creator Inclusion Fund program, which provides support for creators from underrepresented communities. This program first launched back in 2021 with US creators to level the playing field for the communities that have been disproportionately underrepresented, but it's since been expanded to include UK, Canadian, and Brazilian users.
Eligible participants already have access to the Creator Fund, but funds in the UK, Austria, Germany, France, and Switzerland will open later in the year.
Looking Forward
April brought a lot of social media updates to all the major platforms, which will undoubtedly impact brands and influencers. While some of these updates will take weeks or months to see the effects, others are proving beneficial for marketing on these platforms.
Sources:
[1] https://www.statista.com/topics/7731/whatsapp-in-brazil/
[2] https://ico.org.uk/about-the-ico/media-centre/news-and-blogs/2023/04/ico-fines-tiktok-127-million-for-misusing-children-s-data/