An influencer marketing niche refers to a specific area of interest, topic, or industry on which an influencer specializes in or focuses their content on. It represents the subject matter around which an influencer has built their online presence and, consequently, their follower base. Niche influencers are known for their expertise, passion, and dedicated following within a particular market sector.
Staying up to date with emerging niches allows brands to tap into relevant cultural movements and insert their products in front of a highly targeted audience. As an added benefit, working with niche influencers can often be more cost-effective and produce higher engagement rates rather than partnering with macro or mega-tier influencers that might share more general lifestyle content, for example.
To best leverage niche influencers, it's important to ensure that brand and campaign goals align well with the type of niche influencer contracted. Doing this will help ensure that the content created as a result of a niche influencer campaign is both engaging and relevant to the audience base it is being shown to.
Heading into Q4, our team at HireInfluence has compiled a list of emerging influencer niches we've seen online.
Non-Beauty/Wellness Related Emerging Niches:
Gardening Influencers
Gardening influencers attract a passionate community that enjoy sharing their love for nature and caring for plants. The gardening niche is only getting more popular as younger generations look to care for the environment in their own ways and flex their green thumbs. Partnering with gardening influencers can be beneficial to fresh as they match the overall brand aesthetic and attract a hyper-specific and tapped in audience. Gardening lovers are passionate about organic products and healthy living and could be drawn to fresh's array of floral themed products.
Top garden influencers to keep an eye on:
Eugenia Diaz

Eugenia, based in Portugal, offers her audience stunning videos and photos of her garden and lifestyle. She has 222k subscribers on YouTube and 138k followers on Instagram and her audience is majority female. In addition to sharing breathtaking and carefully curated content, Eugenia recently released a farm to table cookbook and enjoys off-the-grid living in her tiny home which is another emerging trend.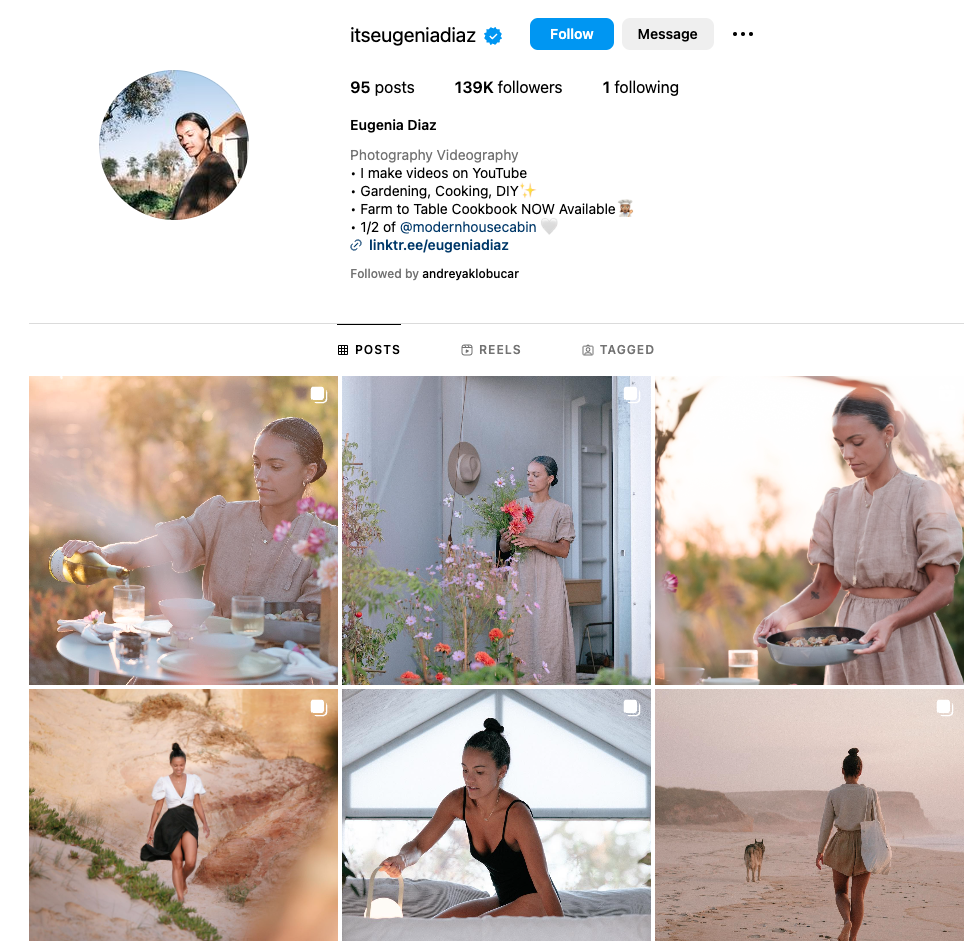 Daisy Payne

Daisy is known as Garden To Garnish on Instagram and is a TV presenter on ITV's This Morning. Daisy is known for being bubbly, confident and educational as she shares the ups and downs of gardening, making it accessible to everyone and anyone. She has 22.5k followers and is based in the UK.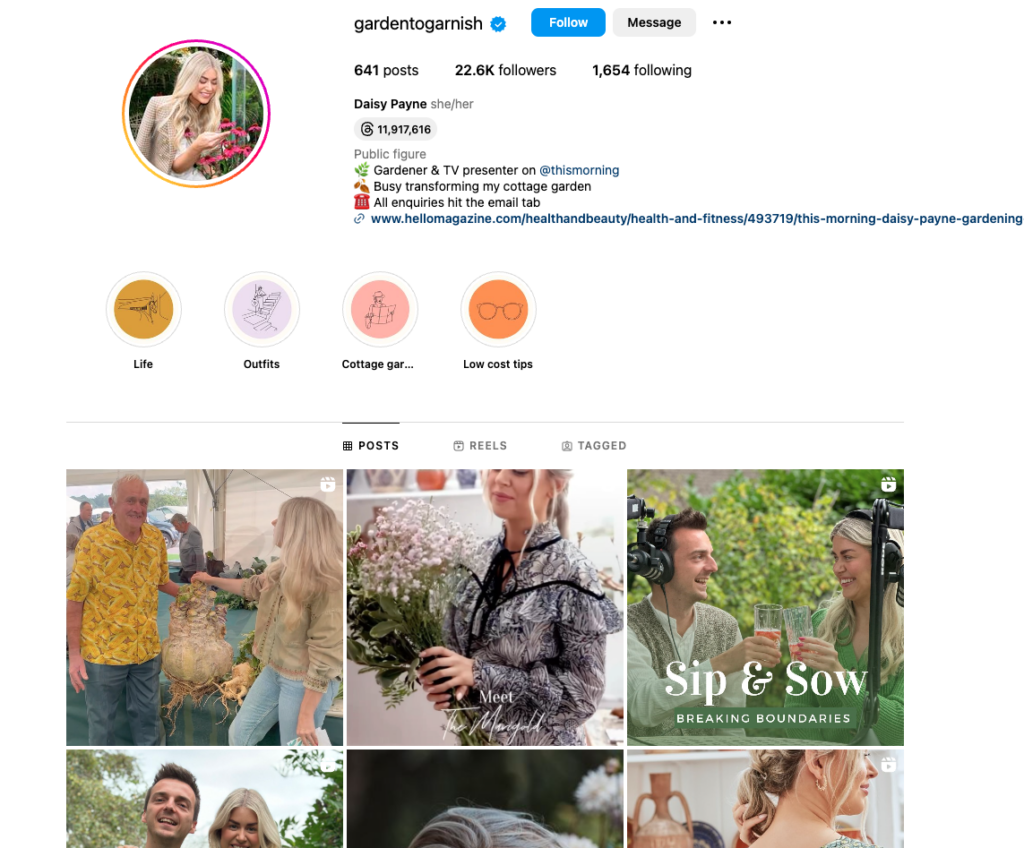 Bre Ellis

Bre, based in Kansas, shares posts about homesteading, gardening and living simply. Bre attracts 314K followers on Instagram and shares aesthetically pleasing videos of her harvesting her crops, cooking and living simple tips.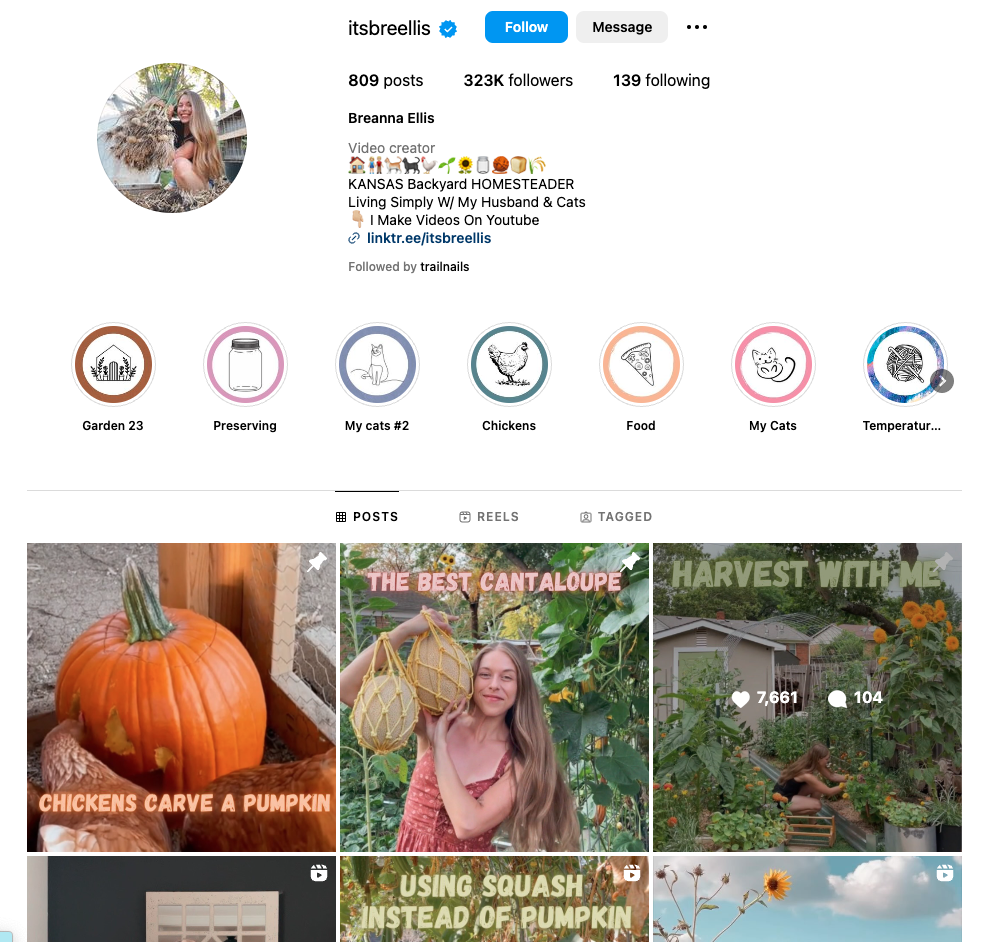 Van Life Influencers
Throughout the pandemic lockdowns and shift toward remote work models, many people had time to dream of alternative lifestyles that were safe, simple and allowed them to travel to new and exciting destinations. As a result, van life has become an increasingly popular trend for those seeking adventure, tiny-home living and access to unique experiences and views. Partnering with van life influencers would position fresh as the best self-care products for staying fresh throughout all of life's adventures.
Top van life influencers to keep an eye on:
Divine on the Road

Sydney from Divine on the Road built her brand after making the decision to escape her 80 work-week to live a messy, yet beautiful dream. She hosts a podcast in addition to her YouTube (748k subscribers) and Instagram (319k followers) accounts to share what it's really like to live on the road while tackling struggles such as safety, loneliness and finances.

Hobo Ahle

Hobo Ahle shares her vehicle living adventures and travel hacks with her audience of 350k YouTube subscribers. Her content has a humorous flare to it and makes it relatable for anyone considering leaving their traditional lifestyle behind for one on the road. She also has 39k followers on Instagram where she primarily posts rock climbing content.

Sara & Alex James

Sara and Alex James traveled in their van with their children and dogs before settling down in Idaho and opening their custom van conversion shop. Through it all, they documented their journey for 193k of their YouTube subscribers to follow along.

Female Pilot Influencers
With only 4-6% of all airline pilots being women, there is a clear need for more diversity in the field. This has led to increased attention on female pilots, some of whom have become influencers. Female pilot influencers, such as the three listed below, would be a perfect match for a campaign to empower women while showcasing how fresh's products keeps them fresh even when they are in the air for hours on end.
Top female pilot influencers to keep an eye on:
Larissa Jo

Larissa is known as Larissathepilot on Instagram where she shares her life as a pilot and fashion tips with her audience of 188k followers. Her bio reads "Flying but let's make it fashionable. Here to show women we can do both."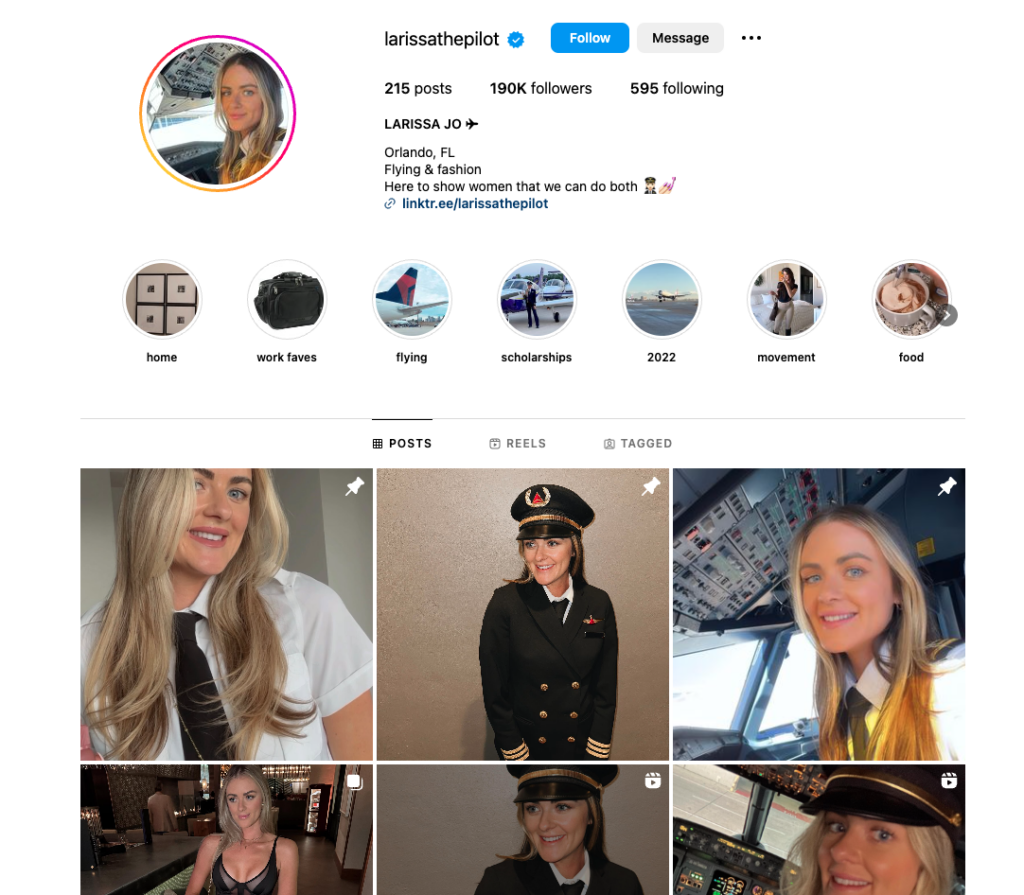 Maria Pettersson

Maria is known as Pilotmaria on Instagram where she shares her life as a pilot to her 609k followers. Maria also shares tips for those afraid of flying, day in the life Reels and get ready with me Reels.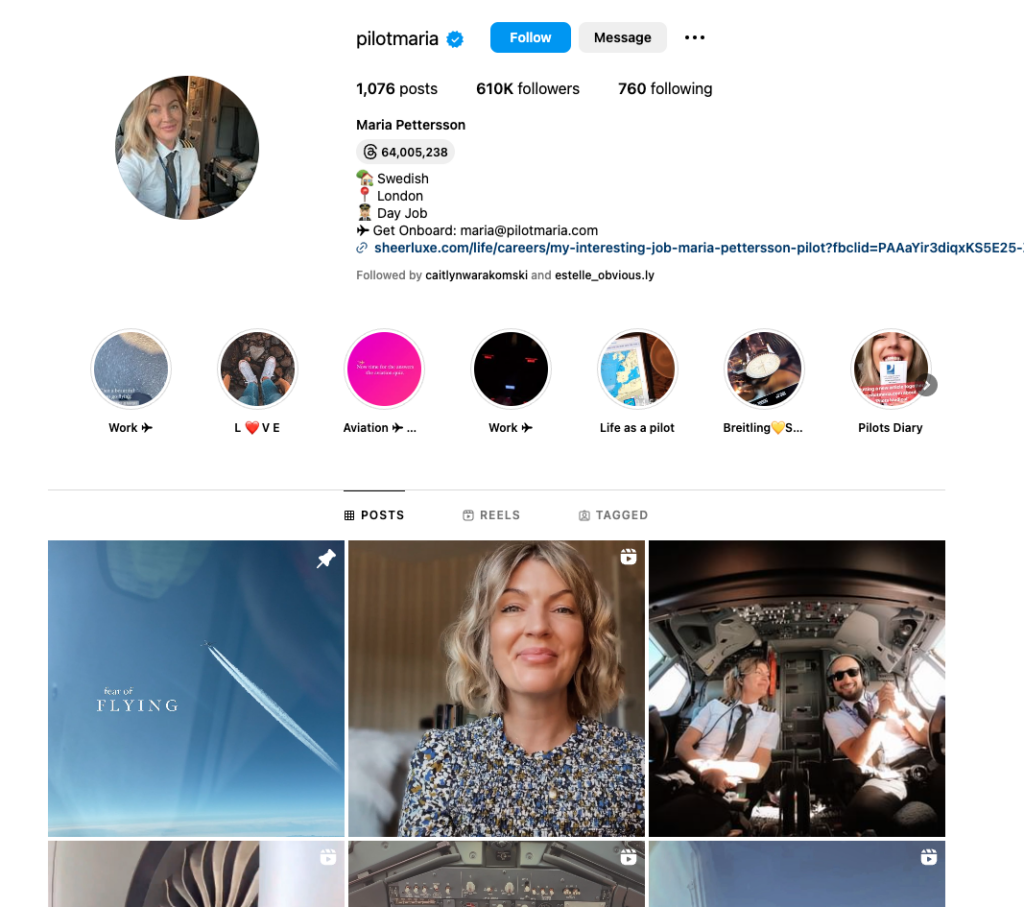 Fly With Eva

Eva, a Boeing 747 pilot, uses her Instagram page as her online diary to share her work and lifestyle with over 256k followers. Her content includes clips of her flying and some behind the scenes clips of what it's like to be a cargo pilot.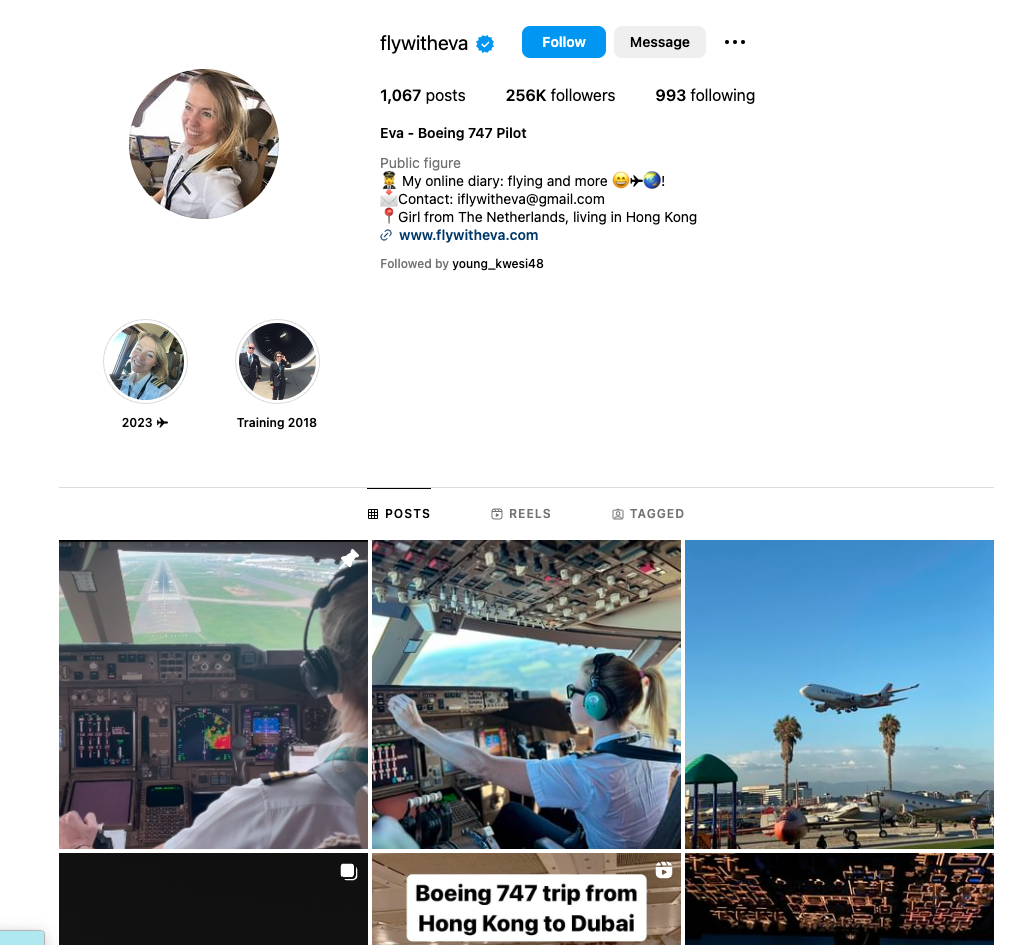 Mixology Influencers
Along with foodies being massively popular on social media, many are also gravitating towards mixology influencers who share cocktail and mocktail recipes for their audiences to enjoy. With so many spending extra time at home over the pandemic lockdowns, it ignited a love for getting creative in the kitchen for many. Rather than going out to a cocktail bar to enjoy the weekend, beverage lovers everywhere needed to mix up their drink of choice in their very own kitchen. Mixology influencers encouraged audience members to get creative with the drinks they make and often infused florals as garnish or primary flavors. fresh could execute a campaign to have mixologists make drinks that match scents and themes of fresh products.
Top mixology influencers to keep an eye on:
Julianna McIntosh

Julianna is known as @Join_jules on Instagram and hosts a podcast called The Art Of Drinking to share her expert tips when it comes to making delicious and refreshing cocktails. She has 525k followers and refers to herself as the CEO of Spritz Season and Margarita Queen.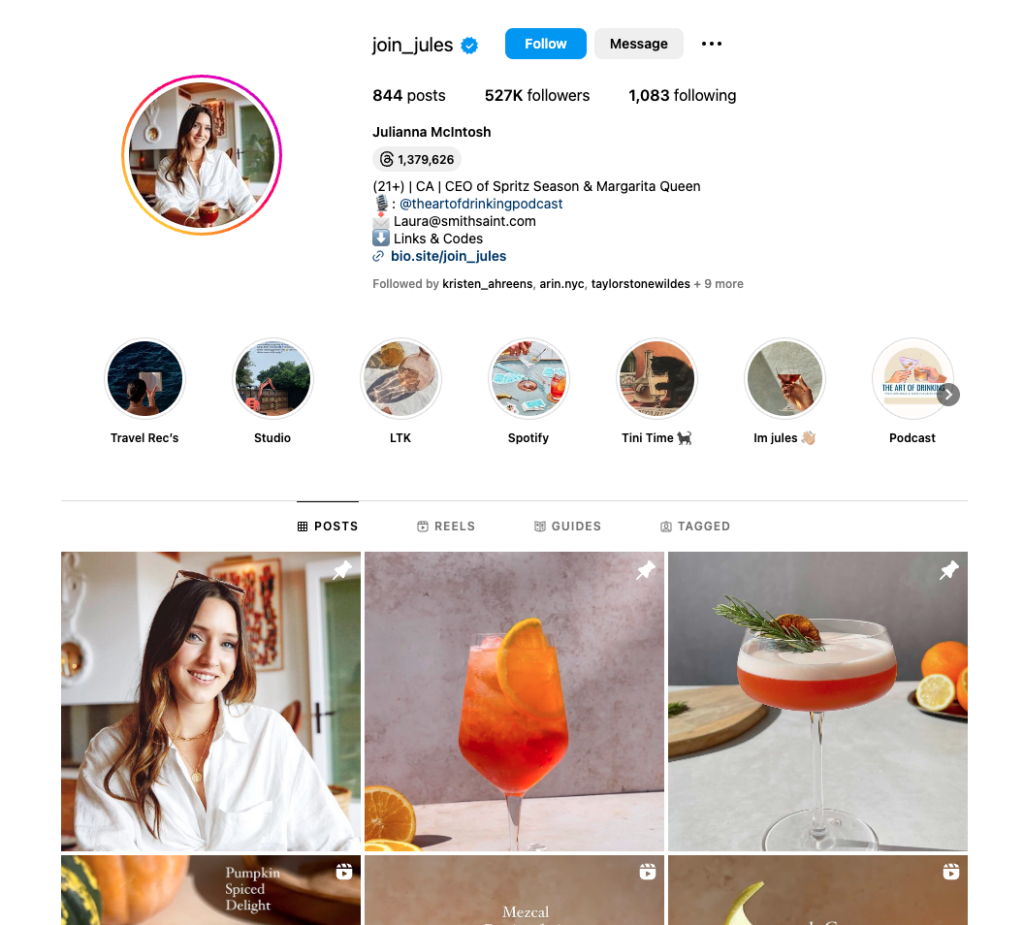 Ashley Rose Conway

Ashley is known as @craftandcocktails on Instagram and shares her love for cocktails and photography with her audience of 45.5k followers. Her page is vibrant and features floral accents throughout.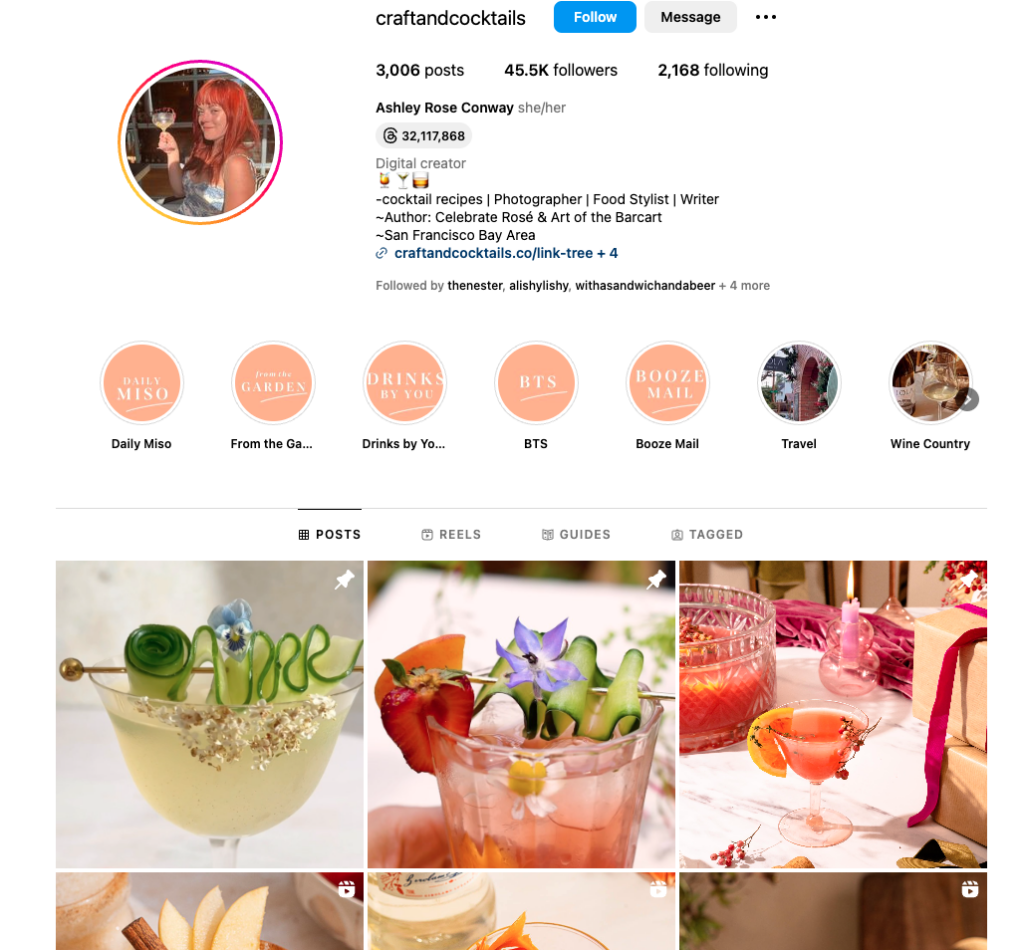 Stacie – Garden Cocktails

Stacie from @GardenCocktails is a resident of NYC that shares her passion for making cocktails in a kitchen the size of a bathroom. She has a balcony garden which she uses to source some of her ingredients for her delicious cocktail recipes and is an employee at BarkBox. Her page fits in with the fresh brand nicely as it has floral accents throughout.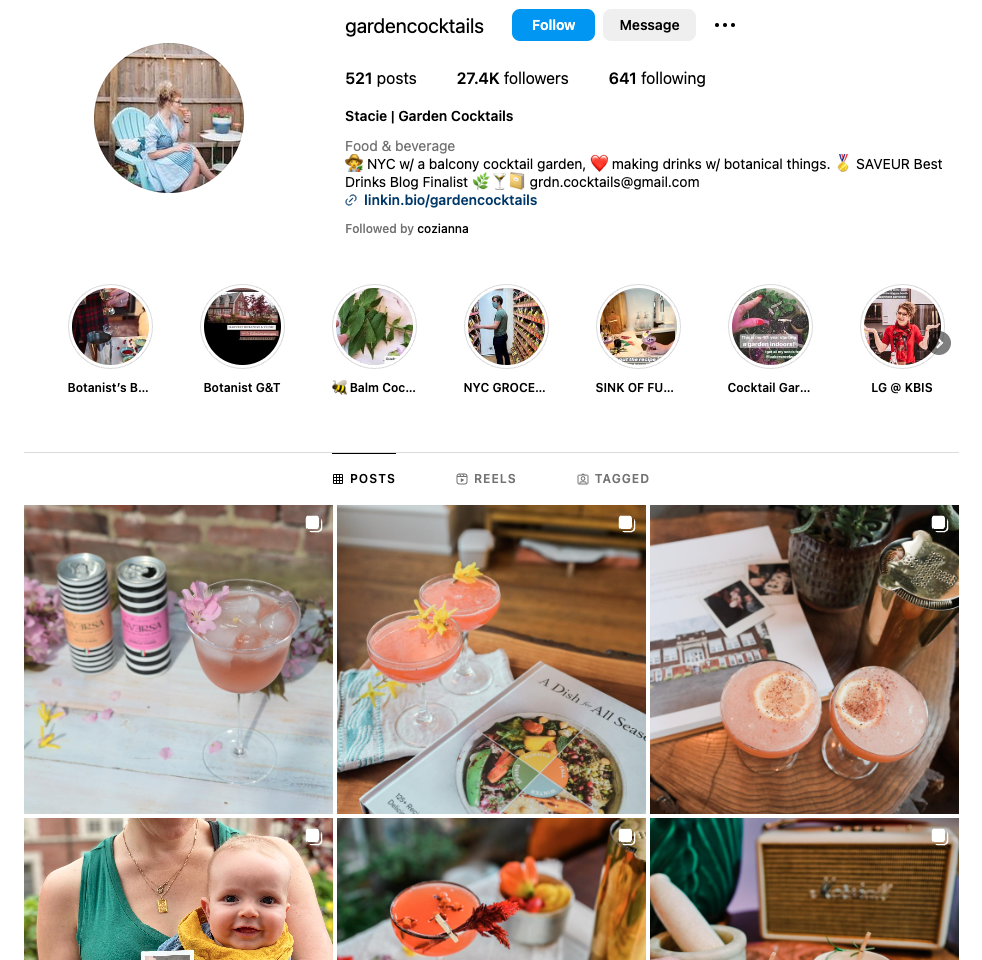 Beauty/Wellness Related Emerging Niches:
Dermatologists / Concierge Estheticians
The recent rise in concierge wellness services has made way for medical practitioners to build a personal brand and serve patients and clients from the comfort of their own homes. This trend has led to an increase in nurses and estheticians starting their own businesses to offer at-home IV and cosmetic treatments such as botox, facials, fillers and microneedling. Partnering with skin scientists can help promote the fresh brand in front of beauty and wellness obsessed clients. fresh is already ahead of the curve on this trend as we worked with a group of "Skin Scientists" for our Lotus campaign to speak to audiences interested in education around skincare enlisting influencers such as April Basi.
Top esthetician and dermatology influencers to keep an eye on:
Madalaina Conti

Madalaina Conti is a skincare specialist in NYC with 24.4k followers. She uses her page to educate her audience on different skincare techniques to repair skin. She also shares humorous content showcasing her personality and nutrition tips for people with acne prone skin.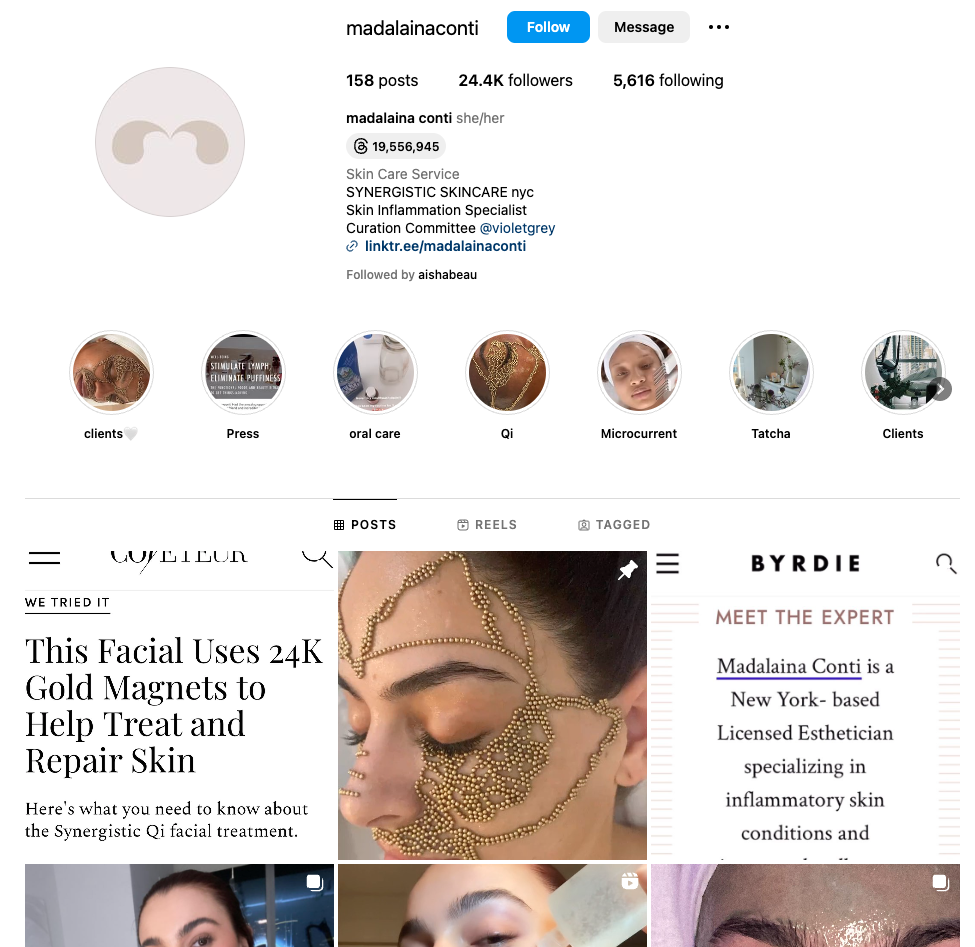 Dr. Shereene Idriss

Dr. Shereene Idriss is a board certified dermatologist specializing in fillers and laser treatments. She uses her page to educate her audience of 641k followers on popular skincare misconceptions and how to best care for their skin.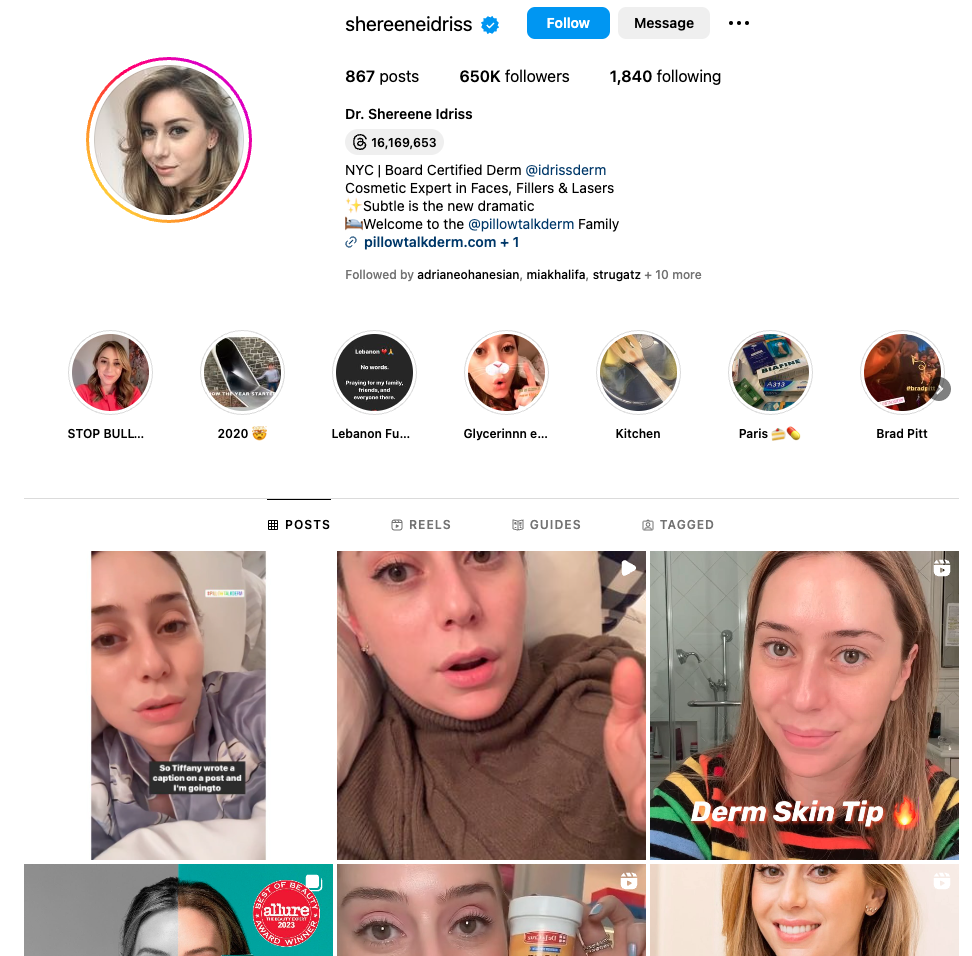 Skin Care by Alina

@SkinCarebyAlina is an Instagram account with almost 10k followers focused on skincare and concierge services. Alina was a 2022 Josette Allouche award recipient for best in esthetics by Biologique Recherche, and uses her page to showcase facials and skin treatments she provides for her clients.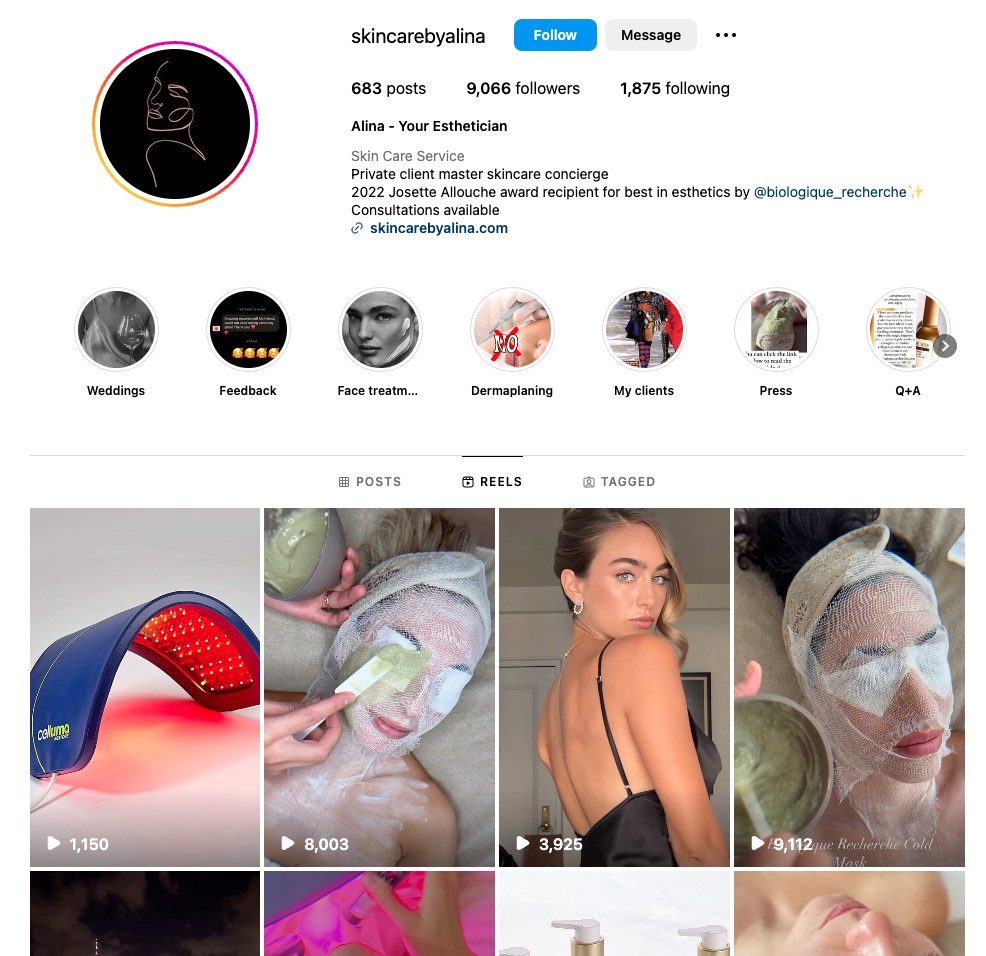 Gender-Inclusive / Gender-Neutral Makeup Influencers
Gender-neutral and inclusive makeup has become increasingly popular in the last few years, due to its transformative impact on the beauty industry. We especially love to see this niche growing, as the creators inside this niche and the content they produce as a result embrace the idea that makeup is a tool for self-expression and creativity, regardless of one's gender identity. This type of content challenges traditional beauty norms and fosters inclusivity, acknowledging the diverse spectrum of gender identities. Gender-neutral makeup content empowers the audiences following these influencers to authentically express themselves. Of course, the popularity of this niche also reflects the broader cultural shift towards acceptance and celebration of gender diversity, resonating with consumers seeking to support products and brands that align with their values of inclusivity and self-expression as well.
Top gender-inclusive / gender-neutral makeup influencers to keep an eye on:
Hindash and his makeup brand Hindash Cosmetics

Hindash is a worldwide celebrity makeup artist and brand owner of his self-titled brand, Hindash Cosmetics. With over 1M followers on all social media platforms, Hindash and his work has inspired a wide range of people to embrace self-expression through makeup and challenge traditional beauty norms.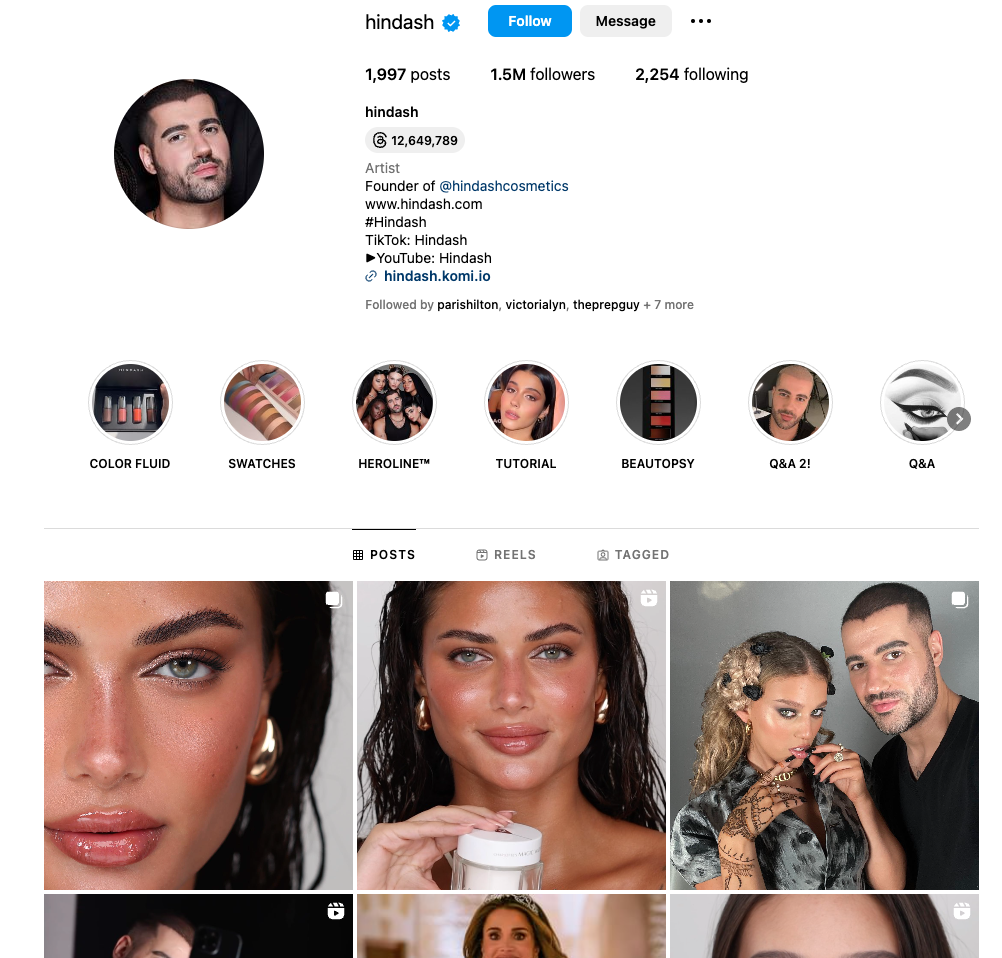 Naya Mousa

Naya is a Mega-tier TikTok creator that has gained popularity for her striking makeup creations. She regularly cosplays as other genders, and teaches her audience how to bend gender lines with the power of makeup. She attracts an astonishing 3.8M followers on TikTok.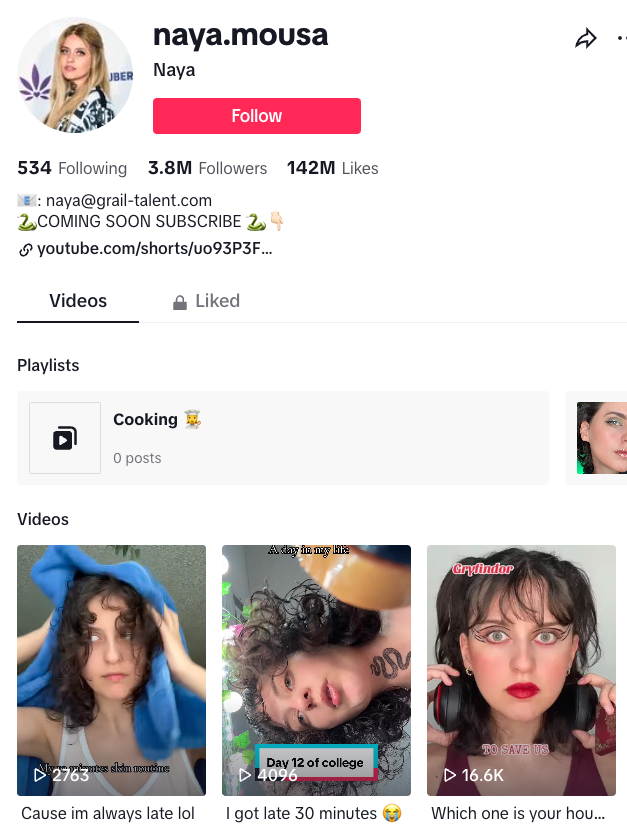 Michael Brooks

Michael is a makeup artist known for his stunning eye makeup. Michael strays away from the typical smokey eye and opts for colorful paintings of butterflies or abstract drawings surrounding his eyes. He attracts an audience of 98k on Instagram and 5k subscribers on YouTube.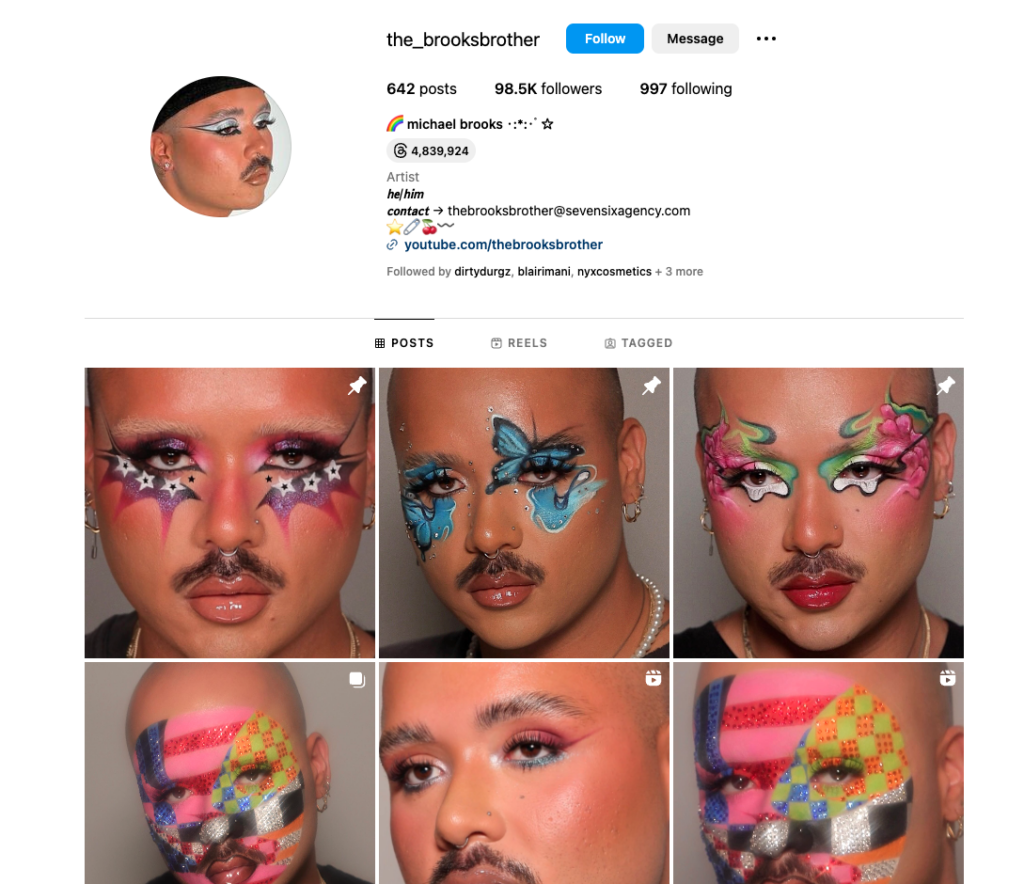 Special Effects Makeup / Transformation Influencers
Special Effects (SFX) Makeup and the influencers within it have gained immense popularity recently on social media platforms due to a few different key factors. This specialized form of makeup artistry involves creating realistic illusions, ranging from terrifying horror effects to fantastical creatures and characters from popular TV shows and movies. Audiences online love to engage with this content and are captivated by the creativity it offers, allowing artists and enthusiasts to push the boundaries of their imagination together and bond over common-interests in culture. SFX makeup also appeals to those seeking entertainment, education, and inspiration, with influencers and artists frequently sharing step-by-step tutorials and storytelling while creating their art. As a versatile and immersive art form, SFX makeup has found a devoted following in online communities, cosplay enthusiasts, and those looking to escape into the realms of fantasy and illusion.
Top special effects makeup / transformation influencers to keep an eye on:
Alex Riveria

Alex is a professional SFX Makeup Artist based in Los Angeles. He shares his love for special effects makeup, face and body painting and beauty makeup tutorials across his social pages. He attracts 210k followers on Instagram and 206k subscribers on YouTube.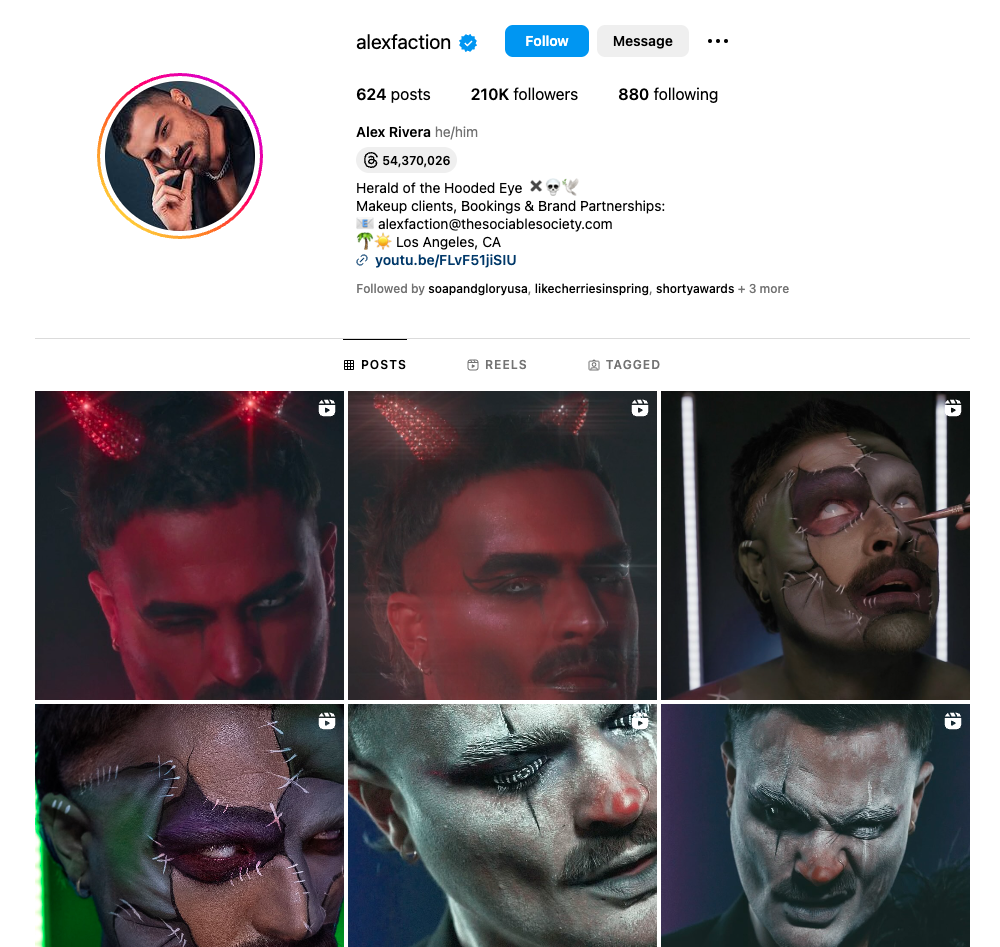 Ryan Burke

Ryan is a multidisciplinary visual artist based in New York who is best known for the conceptual and complex makeup he creates on himself and others. As a self-portrait artist for over 15 years, he has created hundreds of unique and dynamic looks. He attracts a following of 194k on Instagram.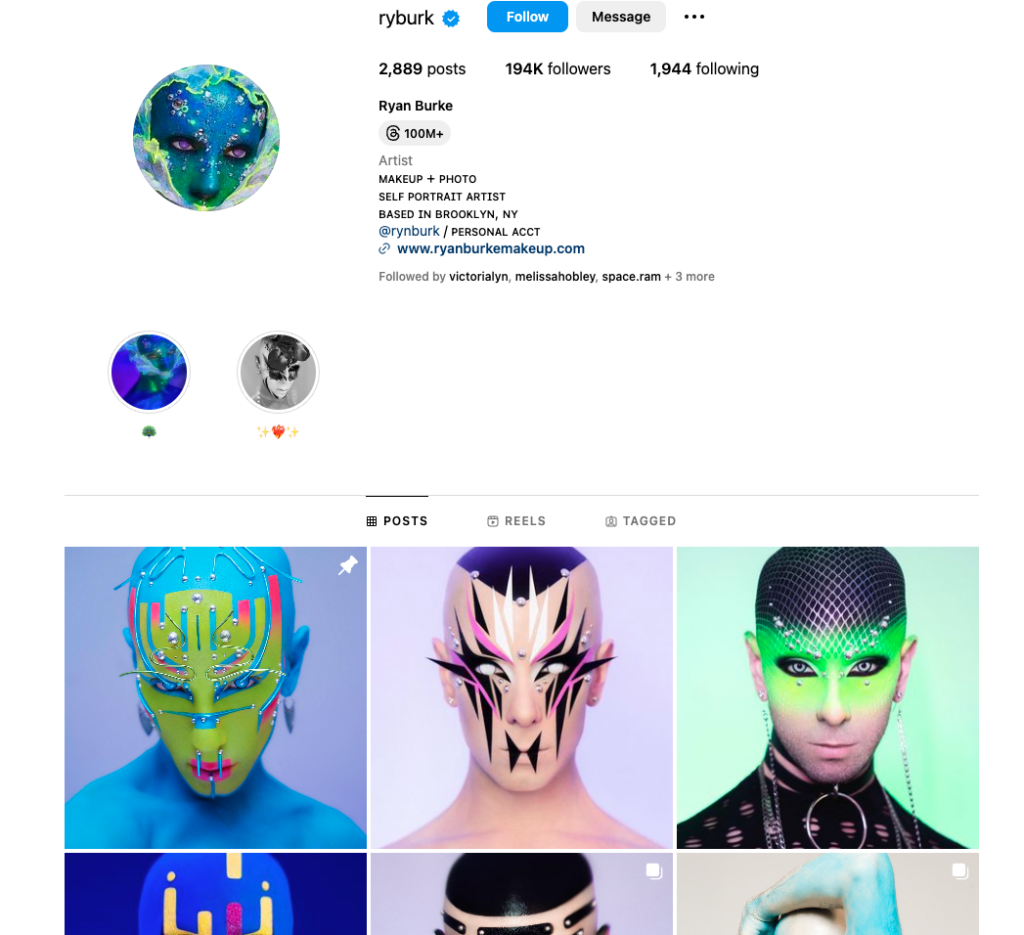 Vanessa Davis

Vanessa is a pro SFX makeup artist that not only specializes in makeup, but also creates wigs, headdresses & props. Her Instagram account attracts 1.1M followers.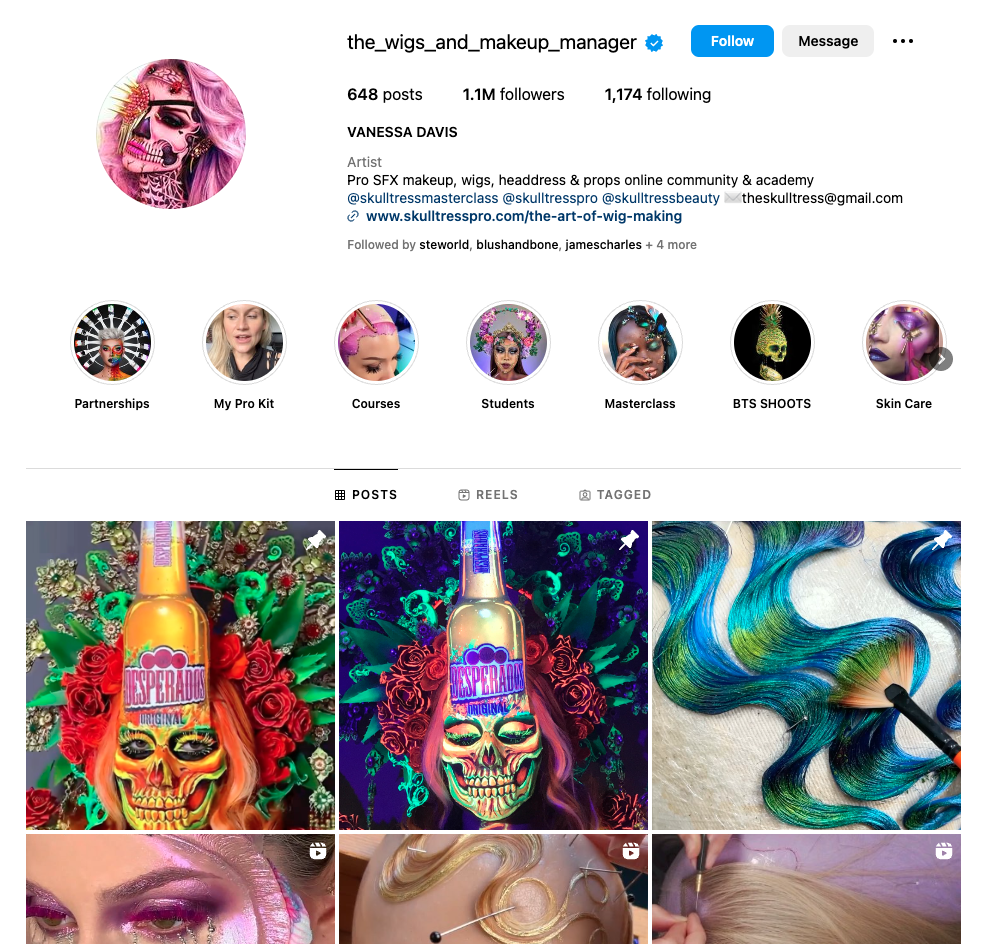 Holistic Health and Wellness Influencers
Online audiences' interest in holistic health, especially post-pandemic, has been surging on social media platforms online. While these methods of health and wellness have been around for centuries, we've seen a spike in the interest of these topics post-pandemic, due to growing awareness of the interconnected nature of physical, mental, and emotional well-being. Influencers within this space understand the importance of preventive health measures and building resilience to face unforeseen challenges – something that everyone became aware of in 2020 and beyond. Because of this, audiences are turning to holistic health influencers for authority on how to proactively address their immune health, manage stress and mental health concerns, and embrace long-term wellness practices. These influencers are known to take a holistic approach to their health, focusing on nutrition, lifestyle choices, mindfulness, and natural remedies. This niche of content and the influencers within it help to offer a sense of self-empowerment and control in the uncertain world we live in today, fostering a deeper appreciation for comprehensive well-being.
Top holistic health and wellness influencers to keep an eye on:
Glowing with Grace

Grace is a holistic nutritionist that shares healthy recipes with her audiences. Her most popular platform is TikTok with 364k followers and Instagram follows closely behind with 179k followers. Her audience is primarily female and she shares nutrition tips for cycle syncing as well.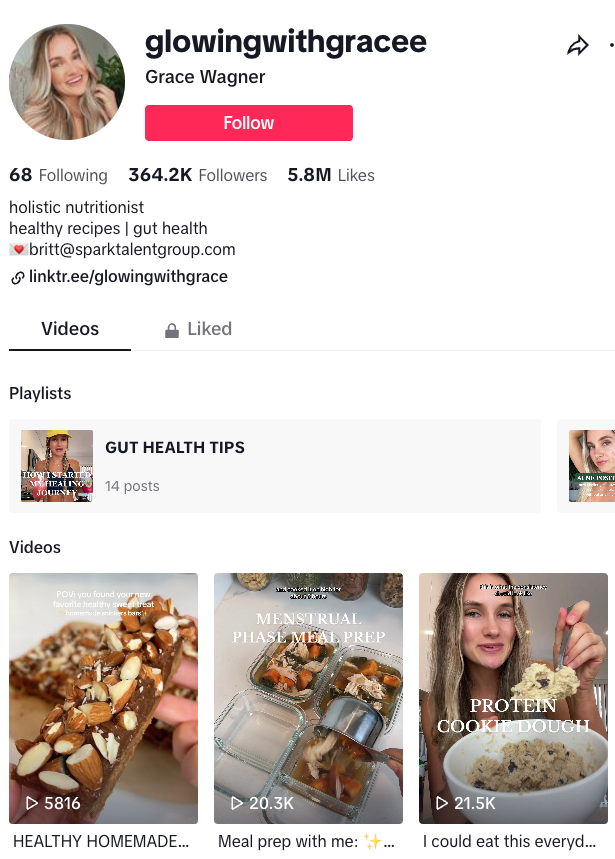 Bianca Koyabe

Bianca is a holistic health influencer that helps audiences recognize the magic that lies within them. Her focus is more on mental well-being and she shares tips to help her audience live a more fulfilling and peaceful life. She attracts 25.8k followers on Instagram and a little over 5k on YouTube.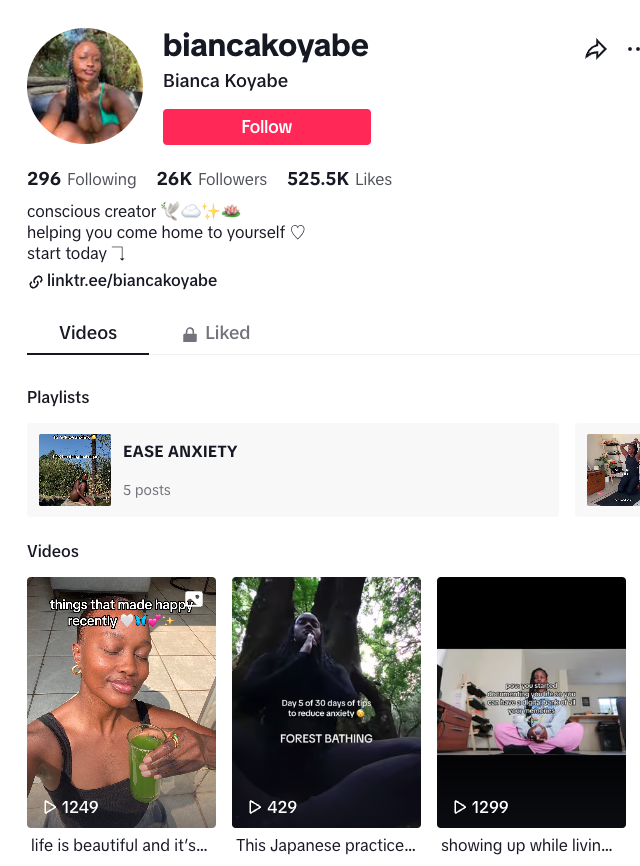 Rebecca Leigh

Rebecca is a holistic nutritionist based in LA. She refers to herself as "your wellness big sis" and shares tips for healing your relationship with yourself and getting to the root problem of health issues. She attracts 189.5k followers on TikTok.