Education influencer marketing has never been more popular! After the last several years, there has been a rise in online and social media traction for educational materials, products, and content.
Educators are authority figures by default. Whether they are in person or online, they speak with authority and credibility in their respective fields. The influencer marketing industry is projected to be worth more than fifteen billion dollars by the end of 2022.[1] Adding an educator to one's pool of brand ambassadors and content creators can pay off in dramatic ways.
Where education influencer marketing truly shines is in the vast market appeal. From kindergarten and homeschooling to advanced academia and professional education, their audience members are vast enough to suit the target market for any brand.
Hubspot conducted an industry study that revealed 71% of marketers say the quality of the customers as well as the traffic was higher in quality from influencer marketing channels than leads and sales from other sources.[2]
Let's take a look at what education influencer marketing with the help of an influencer agency can do for savvy businesses.
Why Should Businesses Invest In Education Influencer Marketing?
You've heard it said that knowledge is power. We say educators truly make the world go round. Whether that's in schools, universities, skill training that takes place in the workplace, or online education specialists who have a dedicated niche that they serve.
Educational content creators are uniquely positioned to impart information, data, resources, expertise, and insights to a myriad of industries. They can speak with authority on their topic because they are, quite literally, an authority on their topic. They've studied it. They teach it. They've immersed themselves in it.
During the recent pandemic, educators everywhere were forced to pivot everything they did previously and teach it in new ways using new tools and channels. Suddenly, teachers were on Facebook, Instagram, and even Pinterest and TikTok, creating and sharing resources that would help their students.
This led to a new generation of content creators engaged in education influencer marketing. Brands that didn't make the shift with them suffered financially and in terms of earned media.
Beyond the classroom, there are eyelids for the education space in skill development, professional advancement, and personal development. Educational content creators who help their viewers manage their finances, nail an interview, get in better shape, or learn a new skill such as graphic design or fiction writing also make up portions of this space.
Now we have grown beyond children's craft activities into the world of direct-to-consumer life enhancement products and services. The possibilities are endless!
How Can Education Influencer Marketing Help My Business?
Education influencers embody the knowledge the target consumer wants to possess. They know how to tap into what the target audience needs and the best way to deliver it to them.
Boost Brand Awareness
Increased awareness allows brands to expand their reach and get their products and services in front of more people. Awareness metrics include reach, impressions, and views. These numbers tell the story of how many social media accounts were presented with branded content.
Education influencer marketing can help get the word out and spark a greater level of awareness. A brand awareness campaign would suit a newer brand that desires to grow its customer base or an existing brand that has a new product line to launch.
Increase Engagement
In order to generate meaningful conversations around the brand or products, it's time to put a trusted and established education influencer to work. Experienced content creators know how to design and distribute content intended to generate likes, comments, and shares.
These actions are the digital representation of a conversation around brands and products that help get consumers excited to engage or even to buy. These campaigns also create user-generated or shareable content that target audience members connect with and are more likely to spread awareness on the Brand's behalf.
Generate More Conversions
Campaigns designed to convert will drive increased website traffic, lead generation, sales, and additional off-platform interactions. Common examples include registering for events, browsing a product or sales page, downloading lead magnets, watching off-platform content, and making a purchase.
Top 10 Education Influencers You Should Be Following
Who's out there that's doing it right? Who are the education influencer marketing specialists that can improve the return on investment for brands in the education space? Here are our top 10!
#1 Jessica Holsman | Study With Jess
Based in Australia, Jessica Holdman is a best-selling author, blogger, and education influencer behind the channel Study With Jess. Jess shares valuable tutorials, tips, and tricks related to studying techniques, mindset mastery, productivity, Work-life balance, and a mix of lifestyle content.
Jess has also created a line of study-enhancing products such as study planners, project planners, and homework planners under her personal brand, Educationery.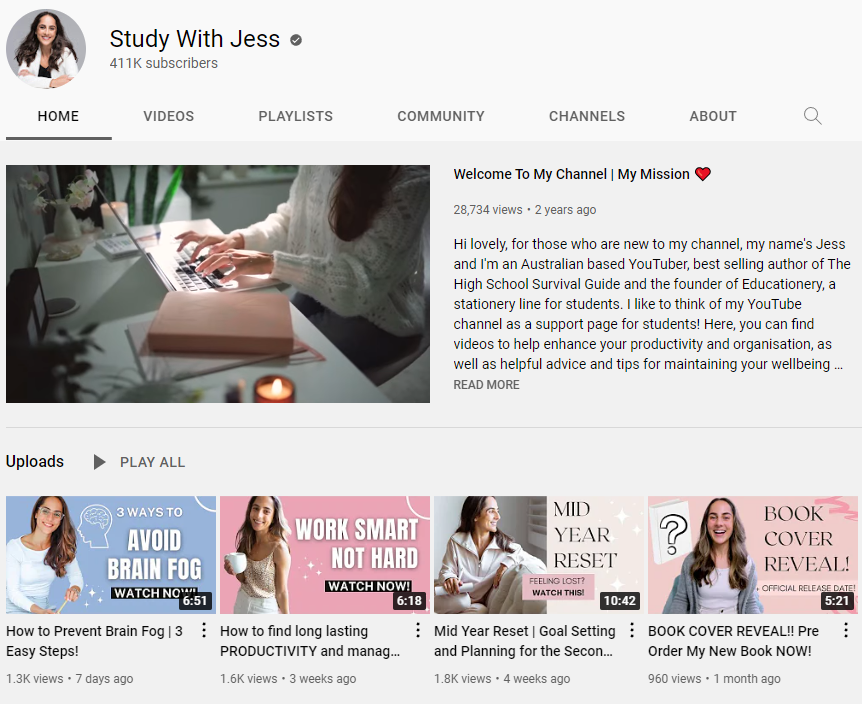 Source: @StudyWithJess
#2 Dr. Raymond Hall | @PhysicsFun
Dr. Hall is A professor at the University of Fresno, and he holds a Ph.D. in Experimental High-Energy Particle Physics. In his spare time, he builds and sells physics-related toys. From useful classroom demonstration pieces to magical and inspirational toys that engage a younger generation, his Instagram feed showcases a unique collection.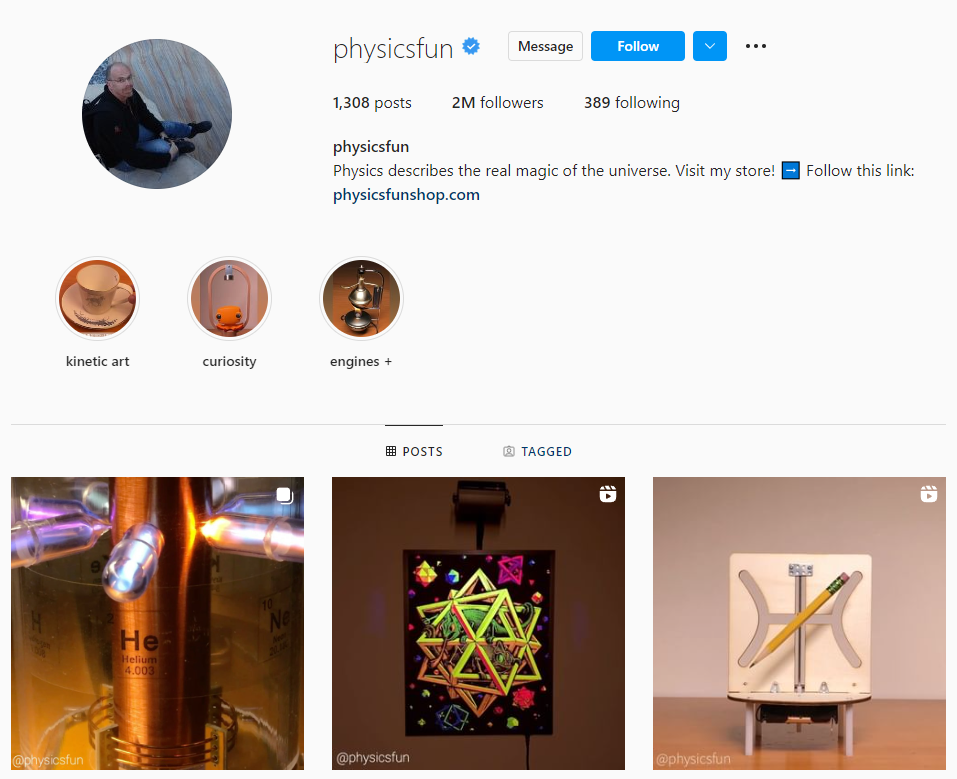 Source: @physicsfun
#3 Gerry Brooks | @Gerrybrooksprin
Gerry Brooks is a veteran in the education space and hails from Lexington, Kentucky. He is a teacher and principal turned public speaker and social media influencer. He shares insightful comedy sketches about the life of educators, as well as resources, classroom tips, and career advice across multiple online channels. Terry has partnered with Brands, including Advancement Courses and Sunday.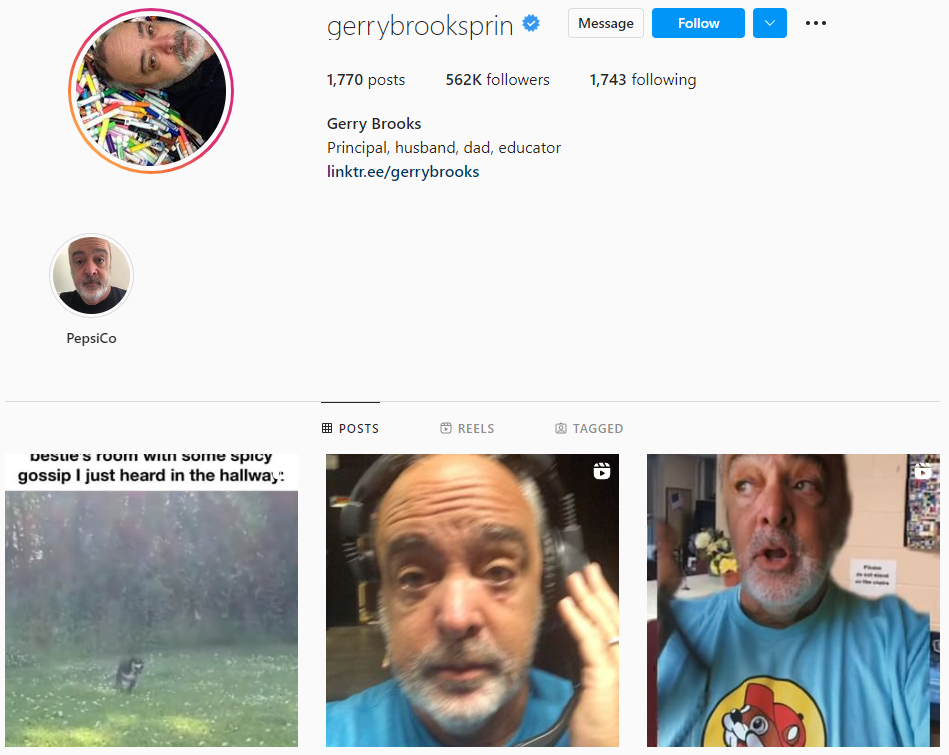 Source: @gerrybrooksprin
#4 Vee Kativhu | @VeeKativhu
Vee is an author, a Harvard graduate, and a girls' education empowerment advocate. She was born in Zimbabwe but later emigrated to the United Kingdom. Her story is one of hardship, victory, and empowerment over adversity.
Vee is an award-winning speaker and education influencer and has hosted events alongside the Duke and Duchess of Sussex. She's also the Founder of Empowered By Vee, an academic empowerment organization which exists to "help students feel inspired, to aim higher within their education, and to live an empowered life."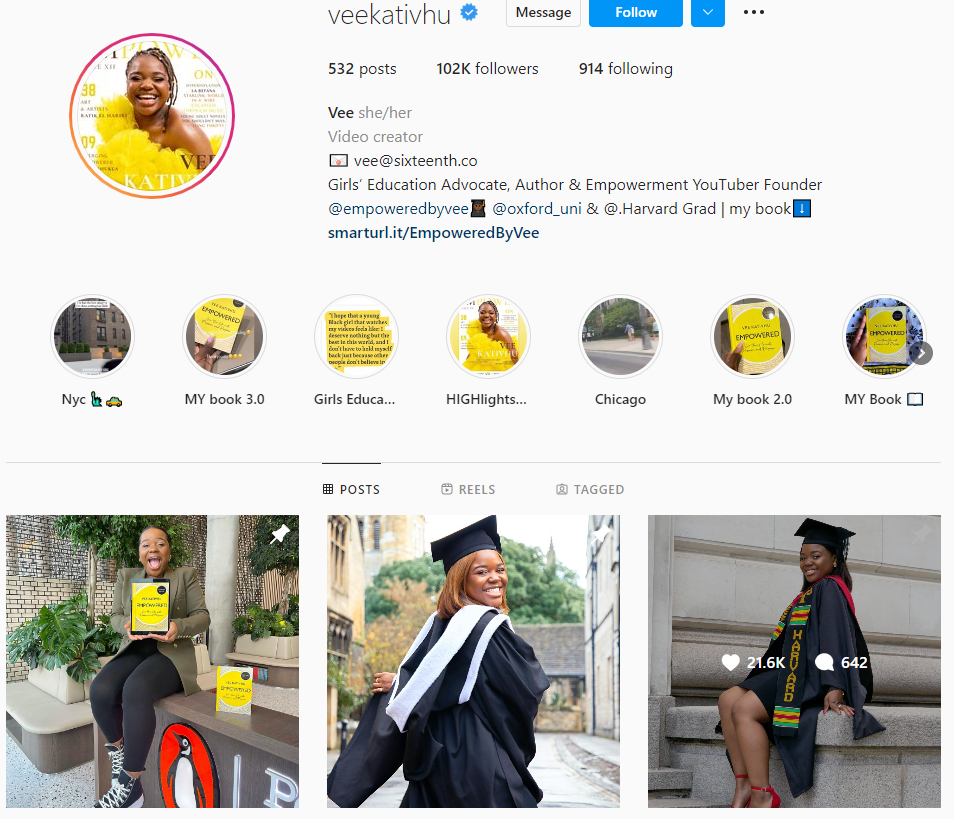 Source: @veekativhu
#5 Dr. Chris Emdin | @Chrisemdin
Dr. Emdin is an educator for educators. The teacher turned industry expert and social media influencer also authored the best-selling books Urban Science Education for the Hip-hop Generation and For White Folks Who Teach in the Hood…and the Rest of Y'all Too: Reality Pedagogy and Urban Education.
He uses his extensive platform to show creative teaching styles, offer encouragement and to speak on critical social issues in education, such as racial discrimination. The multi-talented Columbia Associate Mathematics Professor is also the creator of the #HipHopEd movement.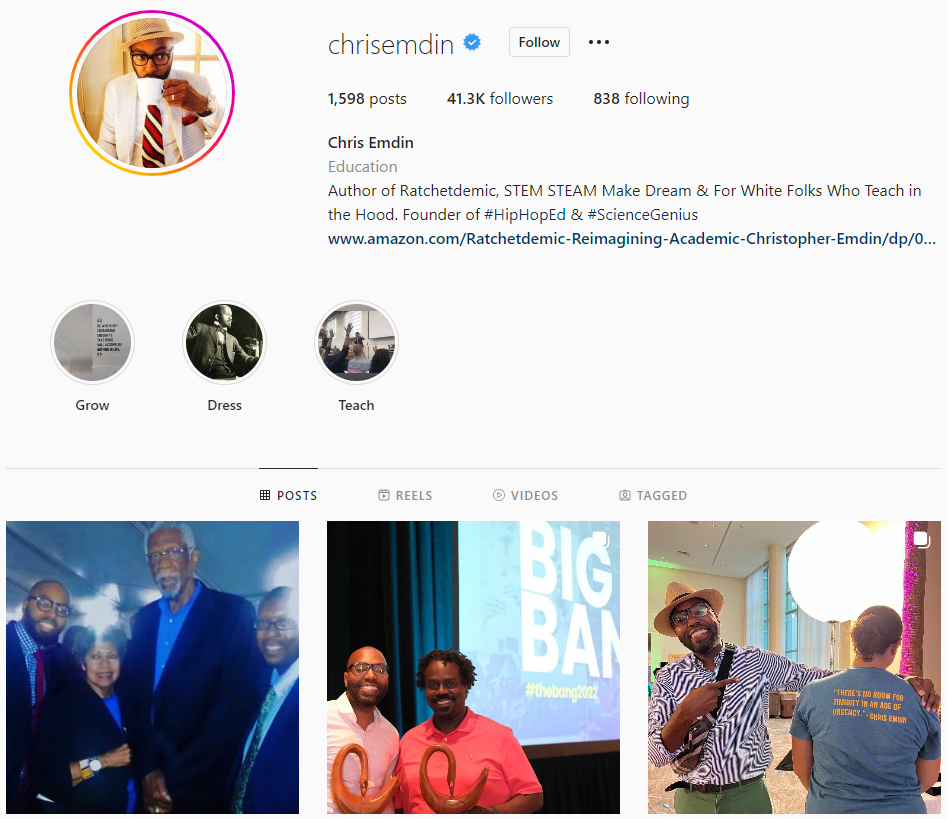 Source: @chrisemdin
#6 Megan DuVarney Forbes | @toocoolformiddleschool
Megan is a blogger, education influencer, and middle school teacher of history and English based in Los Angeles. She's also the author of Leaders and Thinkers in American History: A History Book for Kids, a book of biographies for kids.
She is an avid creator of practical classroom resources such as lesson plans, daily slides, and name cards. A passionate antiracist, Megan also uses her platform to speak on social causes and teaching education in light of America's checkered history with regards to racial issues.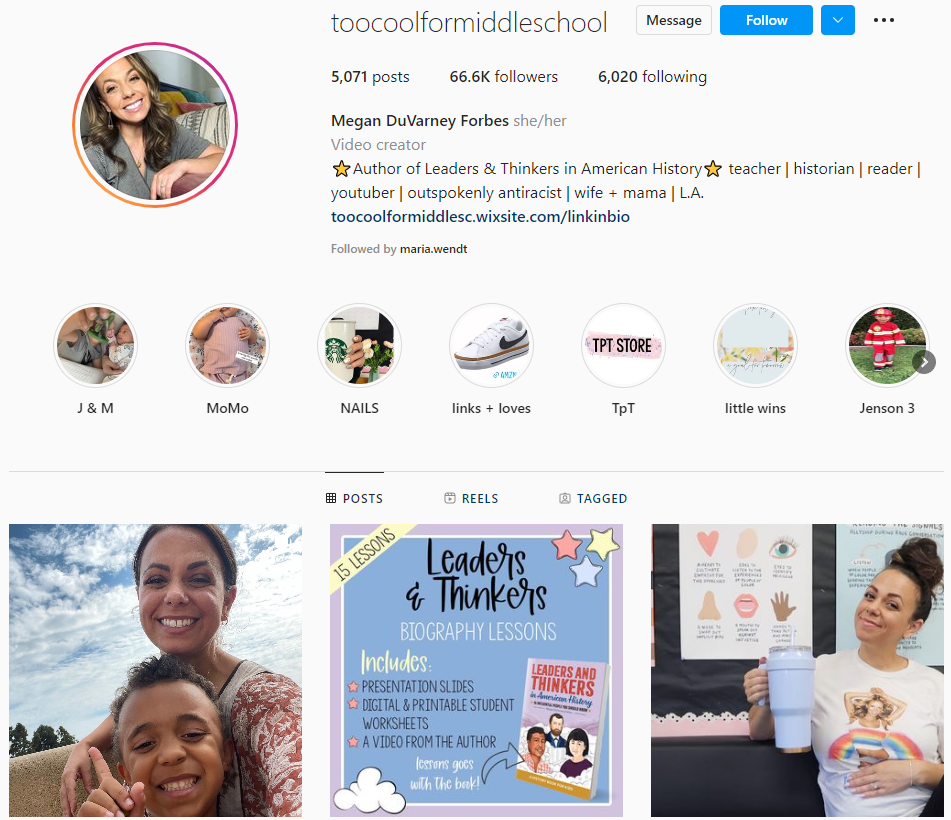 Source: @toocoolformiddleschool
#7 Tyler Tarver | Tarver Academy & @SirTylerTarver
Tyler is the teacher behind the online education empire that is Tarver Academy. He is the epitome of a social media influencer with substantial followings on multiple top platforms, including Instagram, TikTok, and YouTube.
Truly proficient at education influencer marketing, Tyler has created dozens of teacher resources and tutorials and is also a Google Innovator and Certified Trainer. He is also an
Apple Distinguished Educator and the author of The Baller Teacher Playbook: How to Empower Students, Increase Engagement, and Create the Culture You Want in Your Classroom.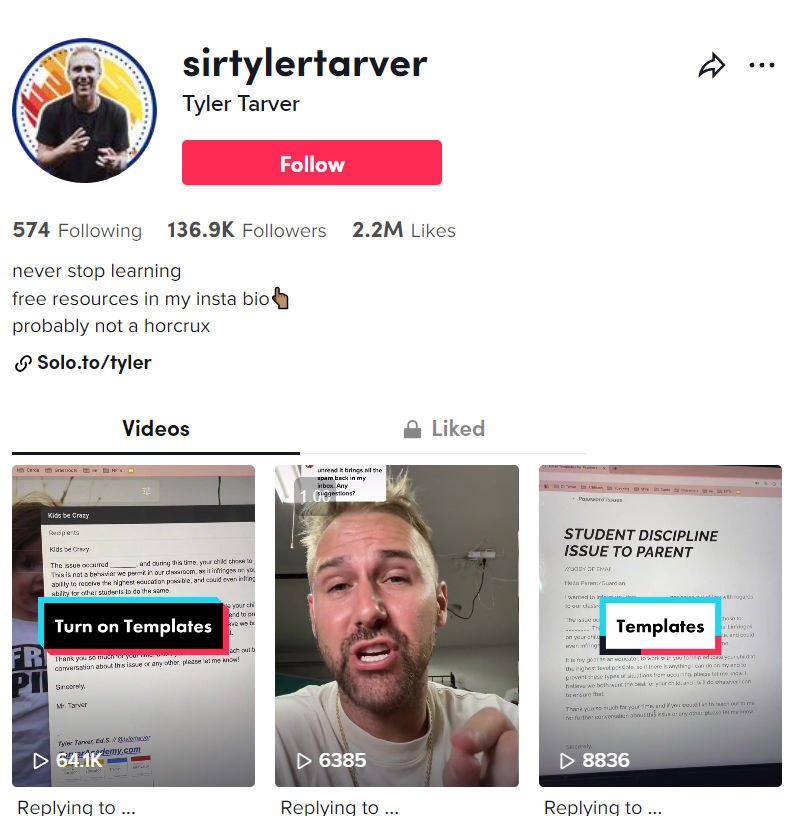 Source: @sirtylertarver
#8 Vera Ahiyya | @thetututeacher
Vera is a kindergarten teacher, social media influencer, and author of KINDergarten: Where Kindness Matters Every Day. Her content is a joyous and colorful blend of teacher resources, book recommendations, teacher fashion, and comedic skits related to life as a kindergarten teacher. As an experienced content creator she has landed multiple brand partnerships with industry heavy-hitters such as Crayola, Michaels, and Kleenex.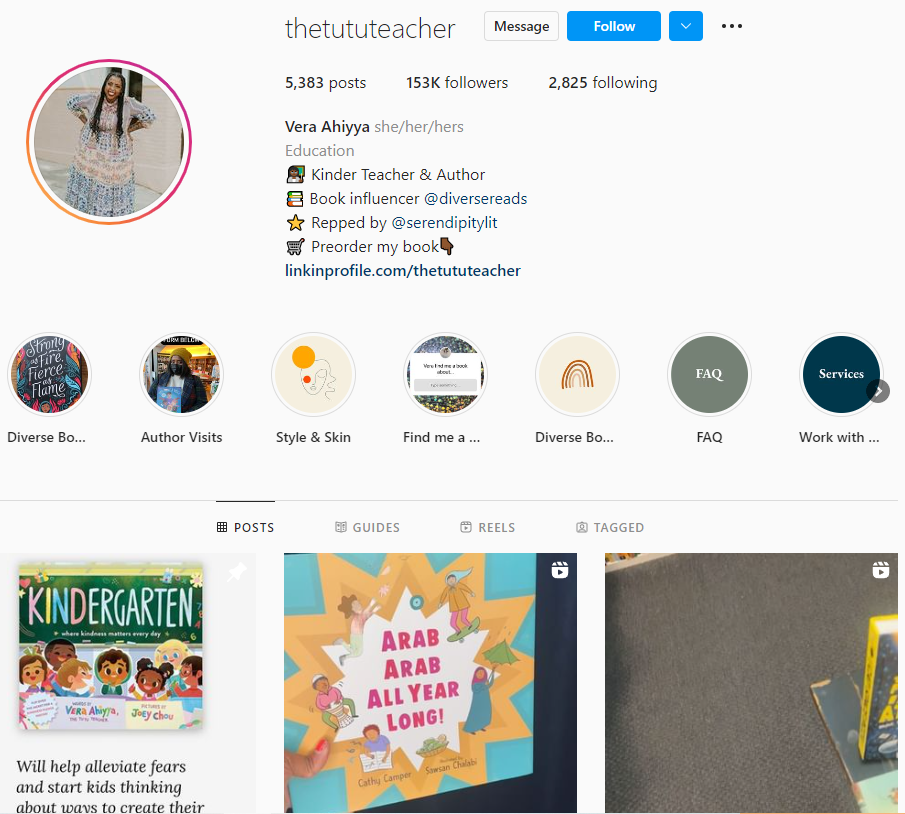 Source: @thetututeacher
#9 Rebekah Poe | @lessons_and_lattes
Rebekah Poe is a special ed teacher and blogger turned industry expert and educational social media influencer. She specializes in teacher resources, classroom tips, and activity tutorials for those who teach children with Individualized Education Plans (IEPs).
As an experienced content creator, she's developed long-term partnerships with brands including Cricut, Freshly, Staples, and VIP Kid.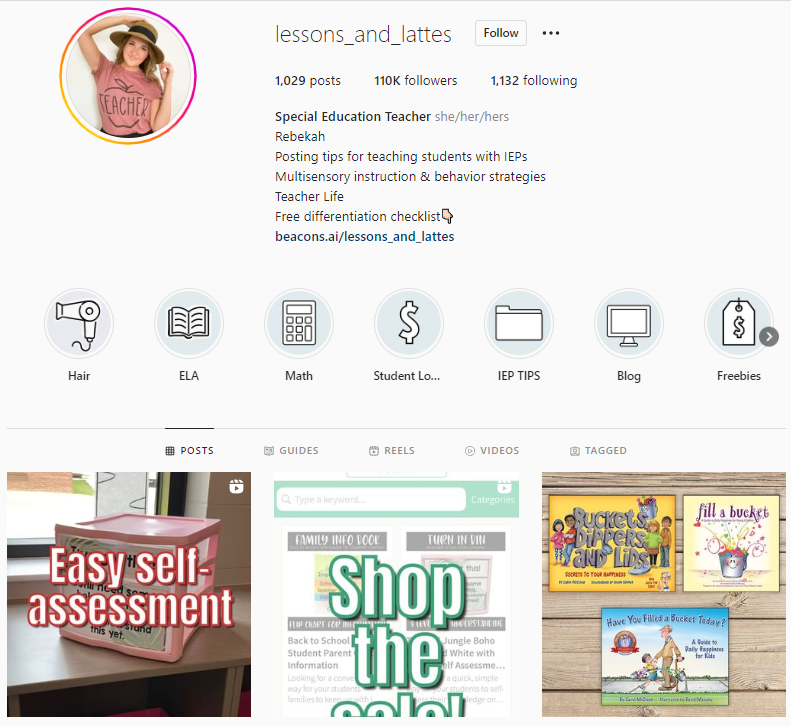 Source: @lessons_and_lattes/
#10 Ben Landers | The PE Specialist
Ben Landers is known as The PE Specialist on Instagram and YouTube. The PE teacher turned content creator, education mentor, and social media influencer shares detailed video tutorials, PE teacher resources, and student engagement games and strategies for his fellow physical science educators.
Ben is also the creator and founder of The PE Specialist Membership, a community for PE teachers full of practical and printable resources, including unit plans, Lesson Plans, virtual courses, previously recorded training sessions, signage, training posters, and more.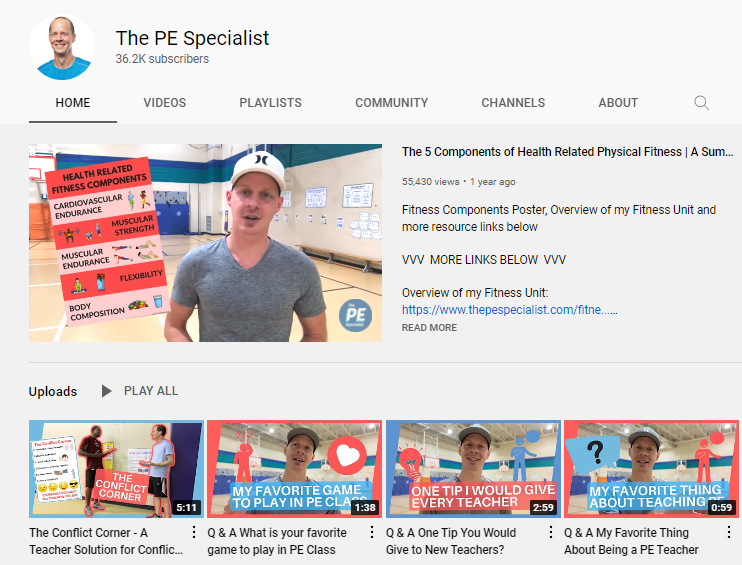 Source: thepespecialist
Leverage Education Influencer Marketing For Social Media Campaigns!
Whether an education brand is looking to increase engagement, grow their awareness, or drive more conversions, a strategic education influencer marketing campaign is uniquely positioned to reach a targeted audience.
Sources:
[1]https://www.insiderintelligence.com/insights/influencer-marketing-report/
[2]https://blog.hubspot.com/marketing/how-to-work-with-influencers%20#