Similar to YouTube, Twitch is a video streaming platform that focuses on eSports and gaming-related content. Creators share anything from tutorials and episodic shows to vlogs but the most popular content is video game live streams.
In just the beginning of the first quarter of 2023, data reported that Twitch sees 140 million unique monthly visitors.[1]
2023's Top Twitch Streamers (So Far!)
Ninja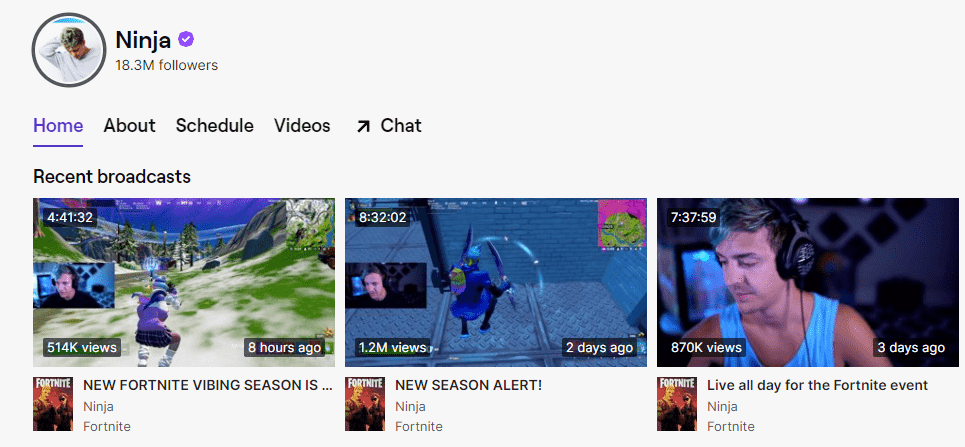 Ninja is the platform's number one streamer with over 18 million followers. His top games are Fornite and VALORANT. The gamer at play is Tyler Blevens who is a 30-year-old full-time content streamer.
He is also active on other platforms such as Instagram (over 13 million followers) and YouTube where he has over 2.4 billion total video views. Tyler has grown his Twitch account into a veritable empire with multiple sponsorships such as Adidas and Red Bull, his own customized merch, and video ads.
Ninja's gaming streams regularly collect multiple six and sometimes seven-figure view counts. His net worth is estimated to be between $30 million and $50 million.
XQC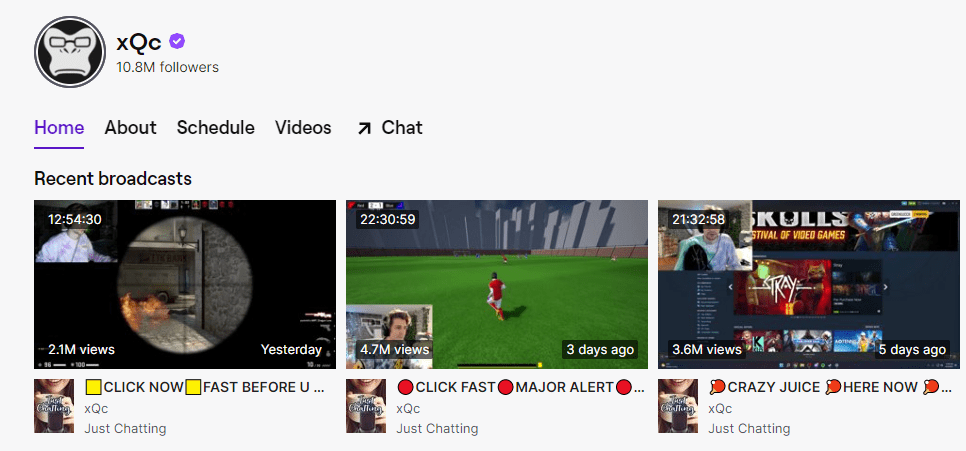 XQC is a Twitch account run by Felix Lengyel from Canada, though he now resides in Texas. Felix has collected over 10 million followers on Twitch and is well known for streaming as many as 9 hours per day.
Felix is a former Overwatch professional and is one of the top names in the industry. Since growing his Twitch empire, he has landed a sponsored and customized deal with GFuel as well as multiple Esports earnings. Felix's estimated net worth is over 9 million dollars.[2]
XQC streams a variety of content such as Just Chatting, Grand Theft Auto, and Minecraft but his number one game is still overwatch.
Rubius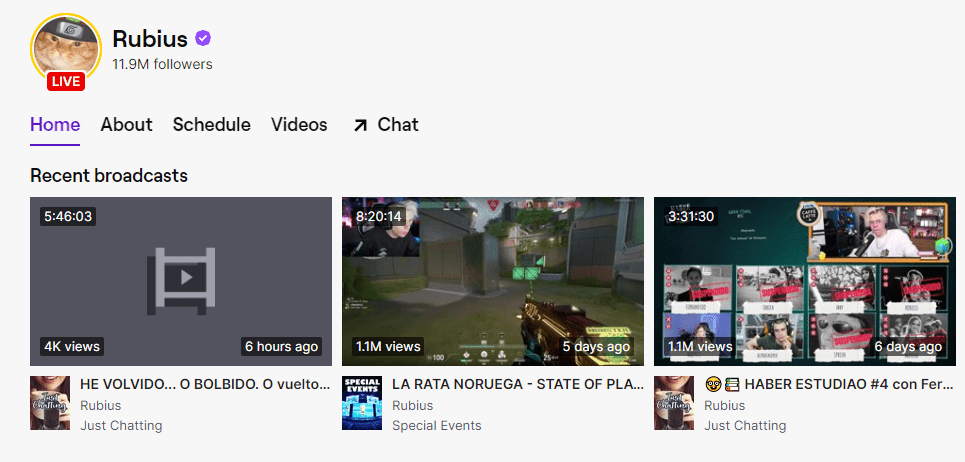 Ruben Doblas, also known as the Twitch mega-streamer, Rubius, has amassed just under 12 million followers on the video platform. He also boasts roughly the same amount of subscribers on YouTube.
Rubious is a Spanish-speaking streamer, one of the most popular in the world, and uploads from his home country of Spain. The streamer favors Fortnite but he can also be seen streaming Minecraft and Biomutant.
Ironmouse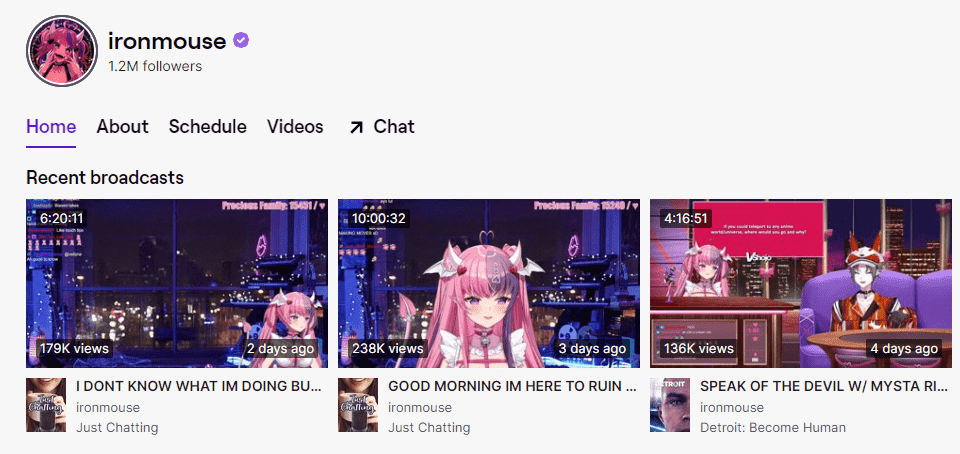 After a hugely successful sub-athon last year, Ironmouse collected over 1.2 million followers and regularly collects six-figure views. Though their true identity is unknown, the Puerto Rican gaming streamer has collected fans and subscribers across multiple platforms such as Patreon. Instagram, and YouTube.
The somewhat controversial streamer most commonly plays Just Chatting, Detroit: Become Human, and The Stanley Parable. With the recent massive growth, it is estimated that Ironmouse has a net worth of over $800,000.[3]
Summit1g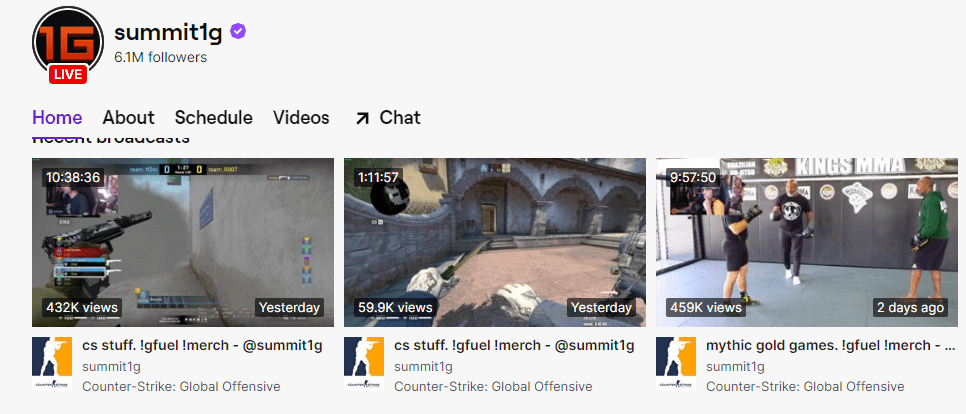 Jaryd Lazar is also known as summit1g on Twitch and other platforms and is considered one of the original game streamers having started on the platform way back in 2011. A former competitive Counter-Strike player, he played for several teams including A51 and Team Mythic.
Now a full-time streamer, Jaryn still plays Counter-Strike but has also added Fortnite, Just Chatting, and Star Citizen. He has successfully turned his Twitch streaming into a full-time job and shares content with over 6.1 million followers.
Summit1g videos regularly get well over multiple six-figure views and he is estimated to have amassed a net worth of over $2 million. He is also active on other platforms such as YouTube and Twitter.[4]
Auronplay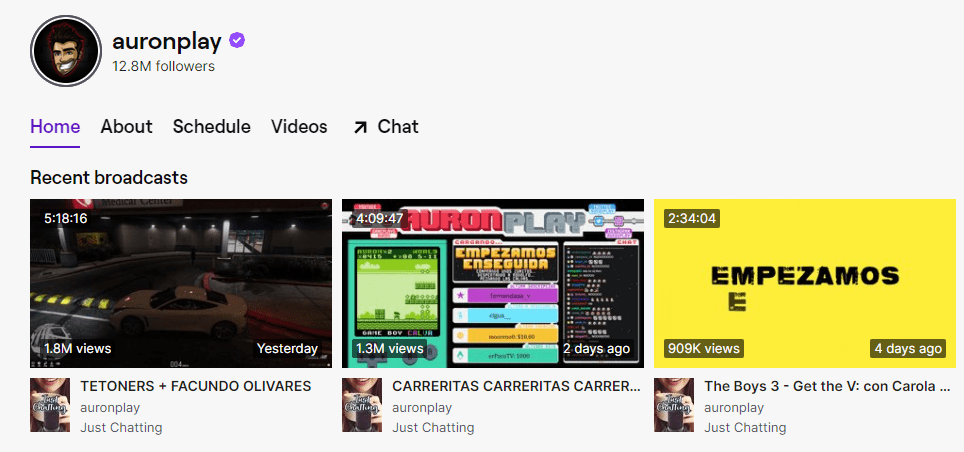 Auronplay is another Spanish-speaking gaming streamer who focuses most of his time on Grand Theft Auto, Just Chatting, Fall Guys, and Among Us. Run by gamer Raul Alvarez, his Twitch follower base is 12.1 million and over on YouTube, he has just over 13 million.
Raul has only been on Twitch since 2019 but has already scored sponsorships, and thousands of subscribers, and has collected nearly 7 million hours of total views.[5] His videos regularly pull in views well over the one and even two million mark.
Syndicate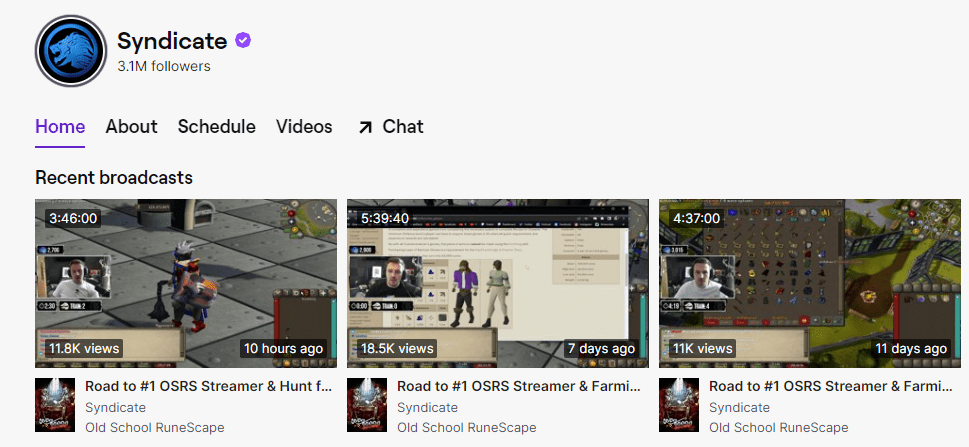 UK-born Tom Cassell is the gamer behind the popular Twitch channel, Syndicate. He has collected over 3 million followers on the platform and is even more popular on YouTube with over 9 million subscribers.
Historically, he was the first streamer to get one million Twitch followers and is still recognized as one of the top 100 creators on YouTube. Favorite games to stream include Warzone, Minecraft, Call of Duty, and COD Black Ops: Cold War.
Tom has even earned a spot on the Internet Movie Database for his voice portrayal of Loki from the mobile version of the Marvel Avengers Academy, another role in Mianite, and ZKS; Zombie Killer Squad.[6]
Shroud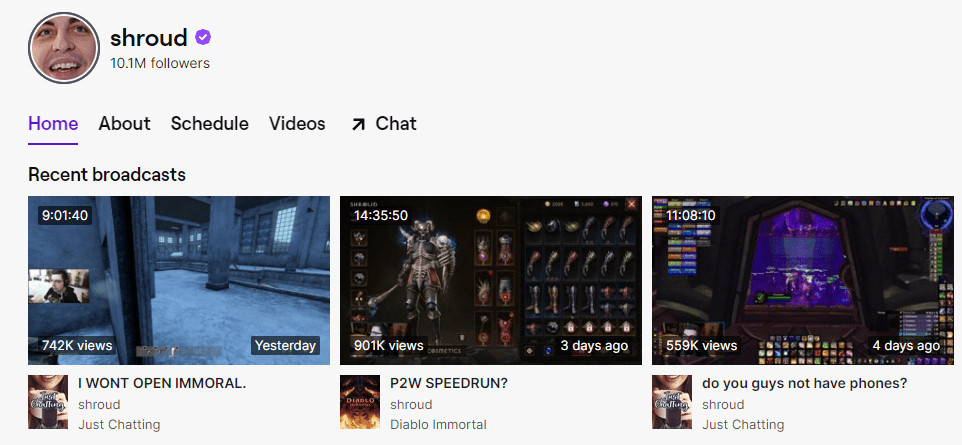 Canadian citizen, Michael Grzesiek is the gamer known as Shroud and was formerly one of the top-tier professional Counter-Strike players for team Cloud9. He has also earned the moniker "king of first-person shooters."
Shroud plays for over 10 million followers on Twitch where he collects multiple seven-figure view counts and nearly 7 million subscribers on YouTube as Shroudy Rowdy. He has also landed multiple sponsorship deals with brands such as Logitech and Nitrado, not to mention well over 3,000 paid subscribers.[7]
Michael has a reputation for being one of the most lively and engaging streamers online and his preferred games include V Rising, Vampire: The Masquerade: Bloodhunt, Diablo Immortal, and World of Warcraft.
Pokimane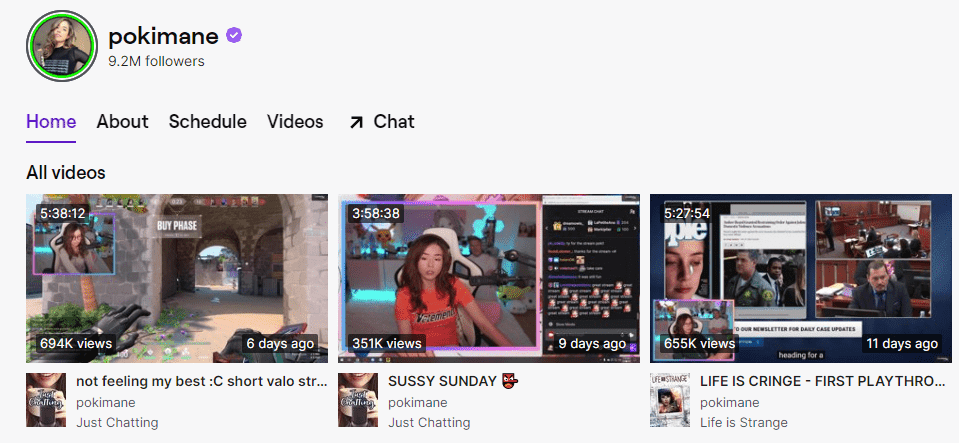 With over 9.2 million followers on Twitch and over 6.6 million on YouTube, Pokimane is considered one of the top female gaming streamers in the industry. Imane Anys is the name of the account holder and she describes her content as "part gameplay, part mukbang, part Dr.Phil episode."
Just Chatting, Valorant, and Life is Strange are her top three games, and she recently started a podcast with QXC, though there is currently only one episode. Pokimane has landed multiple sponsorship deals, including WB Multiverse and NZXT, as well as launched her own custom merchandise. Imane's videos regularly pull in 500,000 to over 600,000 views and her net worth is estimated at roughly $3 million dollars.[8]
Sodapoppin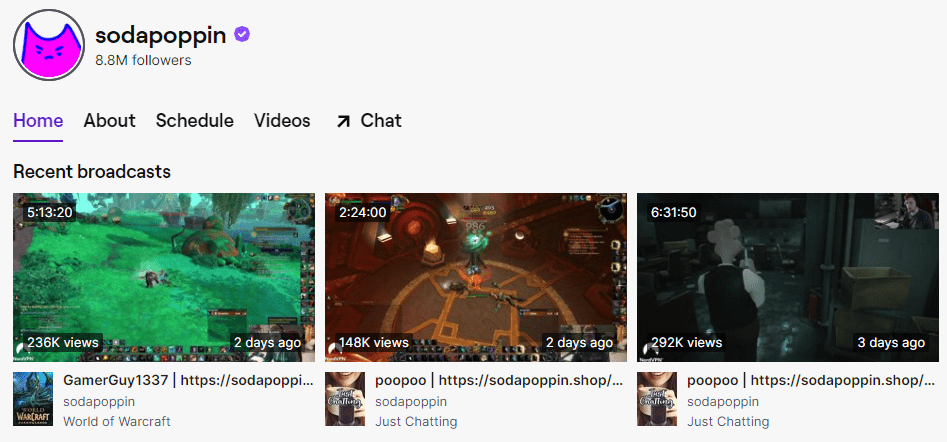 Thomas Chance Morris, AKA Sodapoppin, has been a live gaming streamer since before the days of Twitch when he was just a young teen. Formerly the leading World of Warcraft gamer, he also mixes up his gameplay with Resident Evil 2, Just Chatting, and Warcraft III.
In addition to streaming for his nearly 9 million Twitch followers and 1 million YouTube subscribers, Sodapoppin is also part owner of the NRG eSports gaming team. His video content collects over six-figure views for most streams and he's been part of brand deals including NordVPN in addition to his own merch line.
How The Top Twitch Streamers Get Paid
Hosting millions of users, this platform is an ideal influencer channel as there are multiple ways for content creators to collect funds. Of course, how much a Twitch streamer is paid will vary depending on the number of the volume of traffic and streams.
Some of the top streamers are raking in six figures on a monthly basis through all of these payment channels:
Account Subscriptions
Video Ads or Affiliates
Viewer Donations
Brand Sponsorships
Custom Merch Sales
Organized Gaming Tournaments
Given the sheer volume of views paired with the diverse monetization channels, it's clear that Twitch is a profitable platform.
Account Subscriptions
Subscriptions are an incredibly powerful and effective way for influencers to earn luxurious incomes. After becoming a Twitch Affiliate, a content creator can earn money from account subscriptions.
Twitch streamers keep half of the subscription fees earned by their channel. Subscription plans range from $5, $10, and $25. Owned by Amazon, the platform also offers Twitch Prime which allows users to subscribe for free and creators still receive between 50% and 70% of the fees.
Most top Twitch streamers collect roughly $3.50 for each monthly subscription. When you do the math on even 10,000 subscriptions, that's a $35,000 monthly payday – before ads and sponsorships.
Video Ads and Twitch Affiliates
Most viewers dislike ad placement strategies but content creators who make Twitch and video streaming their bread and butter still make the choice to monetize. Payment is issued based on each successful ad view. With view counts in the multiple six-figures, video ad revenue alone could be enough to replace the average 9-5 job.
Viewer Donations
Similar to dropping cash in the hat of a street performer, Twitch viewers can donate money to their favorite content creators. The platform makes the process easy by offering multiple payment methods, including PayPal and credit card, to make a direct donation.
Twitch still collects a small portion of each donation but the majority is collected by the streamer. In exchange, viewers collect intangible rewards such as text-to-speech, chat emotes, mods, or shout-outs from the streamer's video.
Brand Sponsorships
Sponsorships come in all shapes and sizes and vary greatly from account to account. Some deals materialize as free merch or services or flat rate sponsorships and others are structured based on referred revenue.
Gaming companies like EA pay between one cent or one dollar for each viewer per hour when hosting sponsored streams. Let's do the math! For 30k viewers, for two hours, that's anywhere from $600 to $60,000 for two hours' worth of content.
These types of deals are primarily reserved for top Twitch streamers, not novice or beginner accounts.
Customized Merchandise
Selling a streamer's customized merch is more closely related to their overall popularity, not only Twitch statistics. It takes time to grow a follower base but it takes even longer to build the level of trust needed to begin selling to them.
Depending on the production route a top Twitch streamer chooses, this could require significant creative and financial investment when only loyal and true fans will buy. All things considered, it's a strong strategy to increase income without producing more video content.
Tournament Winnings
Tournaments are nothing new to our world. However, online gaming tournaments take this concept to a whole new level.
Professional and competitive gamers join teams and tournaments across the globe, without ever meeting in person or being in the same room. They play for huge prizes, charitable organizations, and online street cred.
Winnings over hundreds and thousands of dollars are often on the table for the champions. These are generally high-level events that the gaming community takes quite seriously.
How To Start Your Journey: Become A Top Twitch Streamer
Who doesn't want to get paid to play video games? Not many. But it isn't as simple as "join Twitch and start streaming." Like most content-oriented strategies, consistent, quality video production is where it all starts.
Here are a few tips to start your journey and become a top Twitch streamer!
Equipment
Great, high-quality equipment creates great, high-quality content for your viewers. Starting your collection is the essential first step. Here are the must-have items you need:
Strong gaming PC or Mac for both play and editing
A customized Twitch account (avatar, description, and banner)
Streaming software for your monitor, gameplay feed, or your webcam
Quality microphone and/or headset
Webcam for viewers to watch you as well as the game (optional)
Streaming consoles, depending on what games you play
Build Your Audience
Start building your audience by creating high-quality content. Share it on all of your social media channels and stay engaged with anyone watching. A positive personality goes a long way online, especially when no one knows who you are yet.
Many Twitch viewers look for content on specific games. Don't bounce around from niche to niche or you may lose interest from the followers you pick up along the way.
Stay Consistent
Create a streaming schedule you can stick to and be consistent. Consider when you're available, when your viewers tend to be online, and where your viewers are located geographically.
Remember to announce when you're going live across your social media platforms so you have the best chance of collecting more viewers.
Enjoy, Employ, or Become One of The Top Twitch Streamers!
It's not the first platform most consumers and brands think of when looking for influencer connections but it's definitely one of the strongest and most profitable.
HireInfluence is an influencer marketing agency that consistently raises the bar, helping established brands get results by pushing campaigns to the limits.
Sources:
[1] https://www.statista.com/statistics/1030795/hours-watched-streamlabs-platform/
[2] https://streamerfacts.com/xqc-net-worth/#
[3]https://streamerfacts.com/ironmouse-net-worth/
[4]https://streamerfacts.com/summit1g-net-worth/
[5]https://streamscharts.com/channels/auronplay
[6]https://www.imdb.com/name/nm7222524/
[7]https://twitchtracker.com/shroud/subscribers
[8]https://streamerfacts.com/pokimane-net-worth/