Word-of-mouth marketing is a powerful form of free advertising that's triggered by customer experiences. This is due to the weight consumers put in trusted sources of recommendations, such as friends and family.
This is where social media and influencer marketing shine. Consumers can access a wealth of reviews and recommendations from people all over the world and trusted influencers, who they regard as friends.
Brand conversations, or consumers talking about brands and products, also provides word-of-mouth marketing. But how much impact does it really have?
Twitter teamed with Publicis to get the answer. With 9,600 consumers participating on six social platforms in the US, UK, India, and Mexico, Publicis and Twitter sought to find out if talk sells.
Brand Conversations as the New Review
At its heart, shopping is a social experience. Prior to ecommerce, people used to shop at a mall with friends or discuss products with coworkers at a water cooler, often getting recommendations for the things they need.
With this in mind, it's not a surprise that brands managed to leverage these behaviors with the rise of the consumer internet and social media. Online brand conversations became a trusted aspect of the shopping process.
And now, the Publicis + Twitter study #LetsTalkShop reveals exactly how much those brand conversations matter.
According to the study, 92% of people surveyed actively look for comments about brands or products on social media.[1] Furthermore, 68% of people surveyed said their impression of a brand was influenced by a brand conversation.
Source: Twitter
Participants also said that three in four brand conversations seem to be authentic, so trust is a consideration. These consumers trust in natural conversations that take place on social media, and they impact purchase decisions as much as a traditional review.
Of the brand conversations discussed in the study, 81% were regarding brands or from people the consumers didn't know personally.[2] They're broadening their spheres of influence beyond family and friends they know, allowing for greater reach for word-of-mouth marketing.
Where Does Conversation Fall in the Customer Journey?
The study revealed that brand conversations are most impactful early in the purchase journey, just like with traditional word-of-mouth marketing. Consumers are more impressionable when they're early in the process of researching their possible options, rather than when they're actively considering brands or products.
Source: Twitter
That said, brand conversation can still hold value at other points in the customer journey. Consumers are gathering input up until the moment they make a purchase, asking others for recommendations or their experiences, and brand conversations have sway.
There is one caveat. The influence may be immediate, but the impact of brand conversation on purchase decisions fades over time. With this in mind, brands need to focus on staying top of mind and always on to engage consumers throughout the customer journey and persuade buying decisions.
Quality Matters
Not just any brand conversation is sufficient. According to the study, positive brand conversations are more impactful and memorable than negative. Conversations that surround cultural events and social issues are also important for consideration.
Source: Twitter
So, the content and sentiment matter. The shifts are in the brand's favor, however, with three in four brand conversations leading to positive sentiment. Brands that communicate mission, values, and social responsibility are in a better position to benefit from conversation.
Brand Conversations on Twitter
The #LetsTalkShop study shows the value of social conversation and opportunities for brands to make an impact.
Here are some tips from the platform for how to use that for success:
Show Authenticity
Authentic contributions in consumer communities are important for brand conversations. Brands need to share content that inspires consumers to talk and share.
Control the Narrative
As mentioned, the most memorable conversations were positive. Brands should spark positive conversation among people who care about the brand, rather than allowing the narrative to shift toward negative or neutral conversation.
Cultivate Conversations
Consumers use social media to connect with brands and humanize them. Brands can use this to their advantage by hosting Live events, building anticipation for new products on Twitter, and sharing in Twitter Spaces.
Twitter and Influencer Marketing
Twitter is a somewhat overlooked platform for influencer marketing, but it's no less powerful. While their followers may not be seeking details about the latest products, they are looking for insights into breaking news, local and national events, commentary on an event or show, cultural topics, and more.
But like product reviews from influencers, consumers are looking for opinions that validate their thinking. In many ways, Twitter influencers have their finger on the pulse of society. Twitter influencers have to engage with their followers more than some other platforms as well.
And their influence works. 40% of Twitter users carried out a purchase after seeing it on Twitter, even if the goal wasn't to check out a product review or recommendation.]3\
Top Twitter Influencers
Twitter influencers can be found in just about every industry, much like influencers on other platforms. Here are some of the top Twitter influencers:
Kim Kardashian West
Kim Kardashian West is an American socialite, media personality, and businesswoman. Along with her popular television show Keeping Up With The Kardashians and her cosmetics products, Kim Kardashian West has a significant following on Twitter and other social media platforms.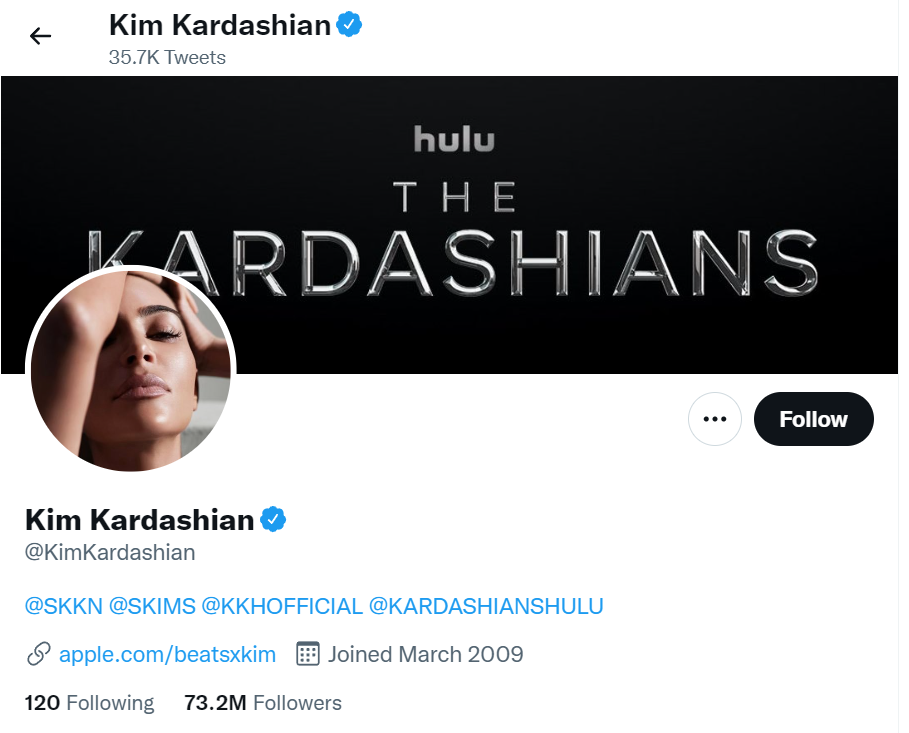 Source: @kimkardashian
Elon Musk
Founder of Tesla Motors and SpaceX, Elon Musk is a billionaire who rose to popularity on Twitter after sharing his thoughts and insights into tech, pop culture, politics, and more. Often controversial, Musk has a considerable following and influence over his followers.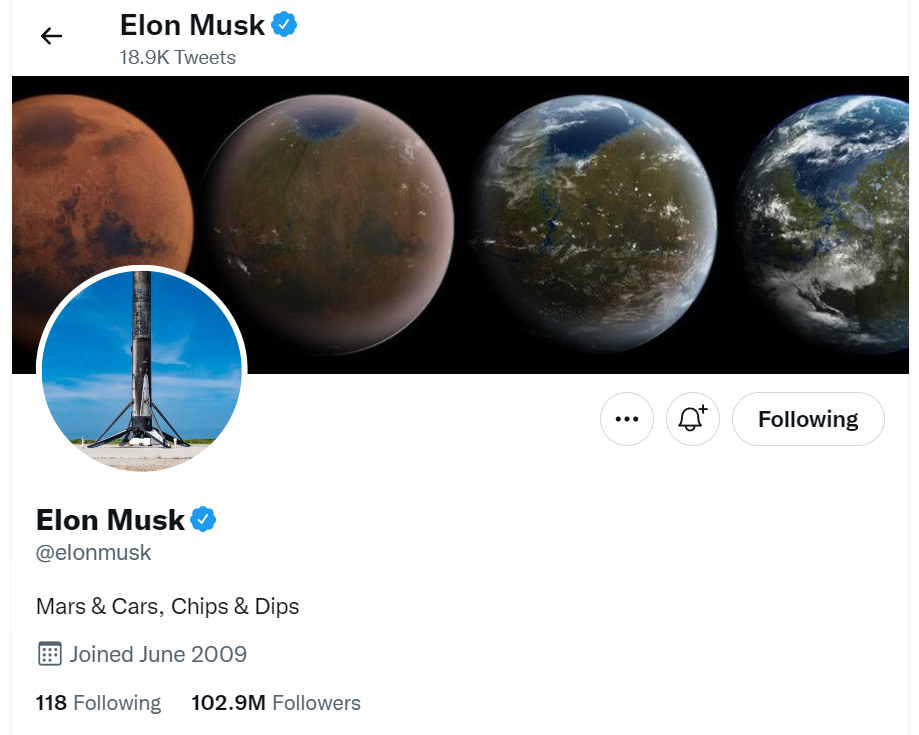 Source: @elonmusk
Chrissy Teigen
Chrissy Teigen is unfiltered on Twitter, often roasting her followers or lashing out at trolls. With her comedic take on life, she's a popular account for many to keep up with pop culture and events. She often shares details about her family and recipes from her cookbook, captivating her audience.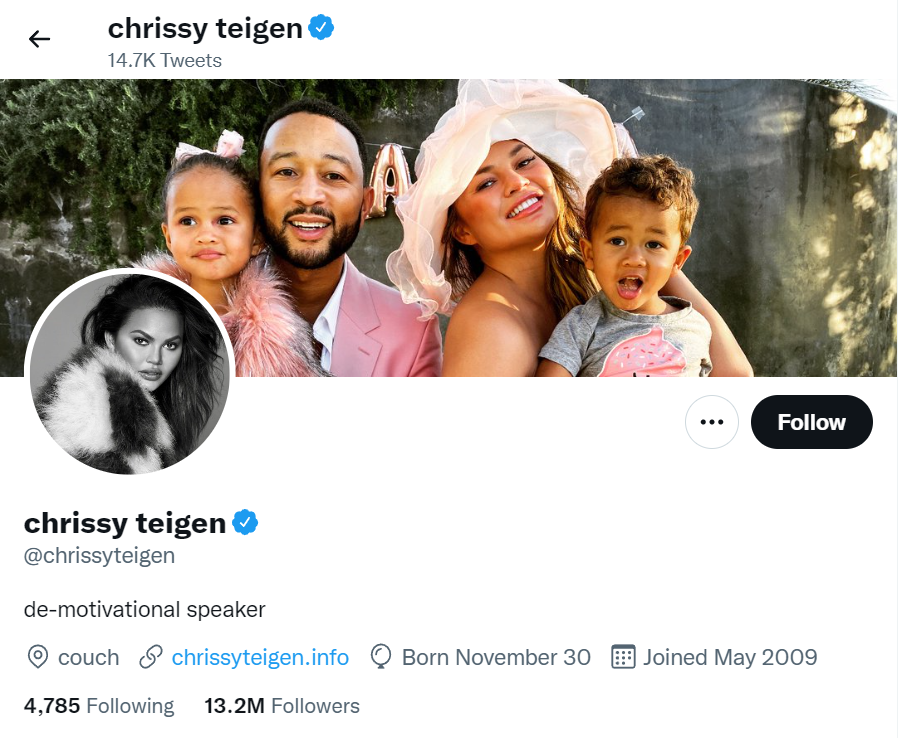 Source: @chrissyteigen
Nev Schulman
Nev Schulman is the host of MTV's Catfish and a writer, family man, and ballroom dancer on Dancing With the Stars. Though he usually tweets about his television shows, he engages with fans and followers using retweets and replies often.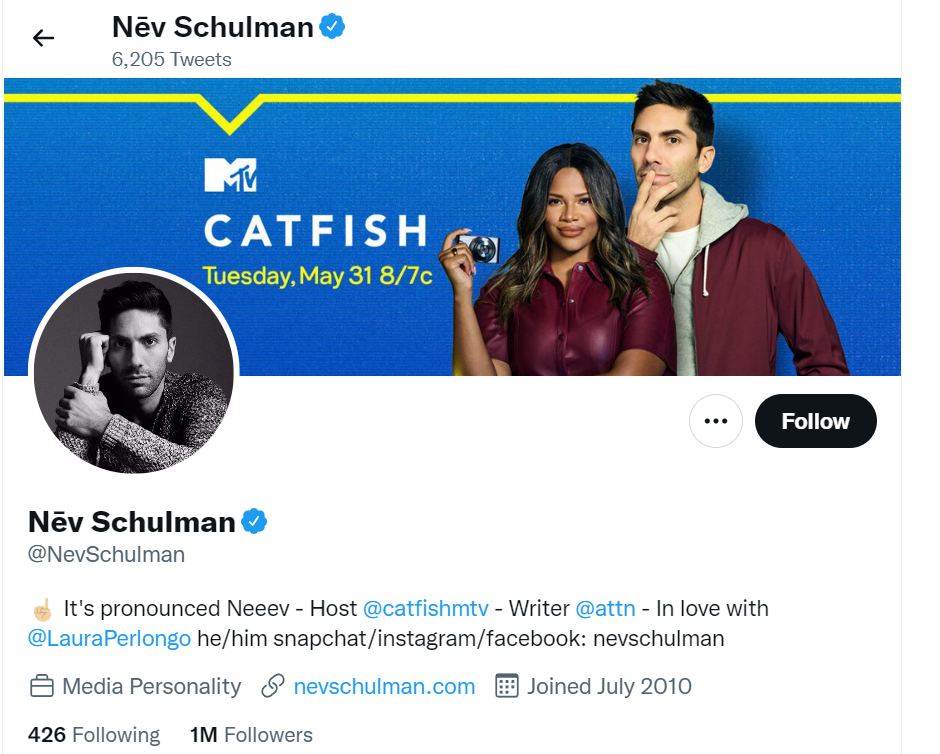 Source: @nevschulman
Ken Jennings
Renowned for his multiple appearances and wins on Jeopardy!, Ken Jennings is a popular Twitter influencer. As the new interim host of the show after Alex Trebek's passing, Jennings often shares trivia questions and conversation starters with his followers to boost engagement and get his conversations trending.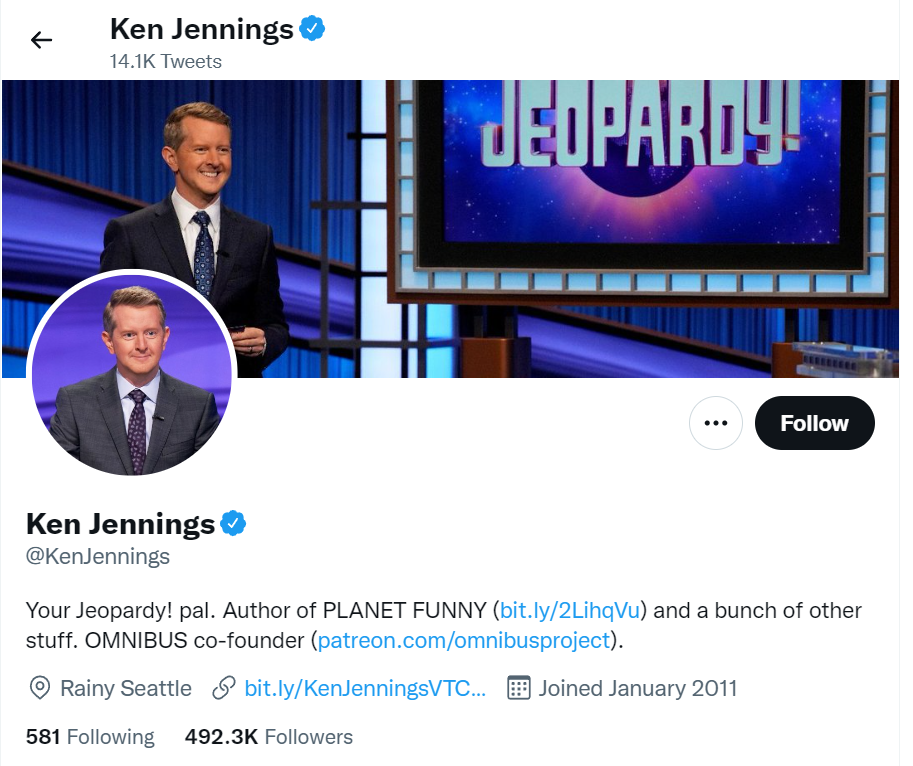 Source: @kenjennings
Ria Cuiffo
Ria Cuiffo is one of the hosts of the "Chicks in the Office" podcast. Self-proclaimed experts on pop culture, Cuiffo and her co-host share the hottest news in Hollywood and celebrity happenings during episodes. She's been part of popular blogs in the past, including Barstool Sports.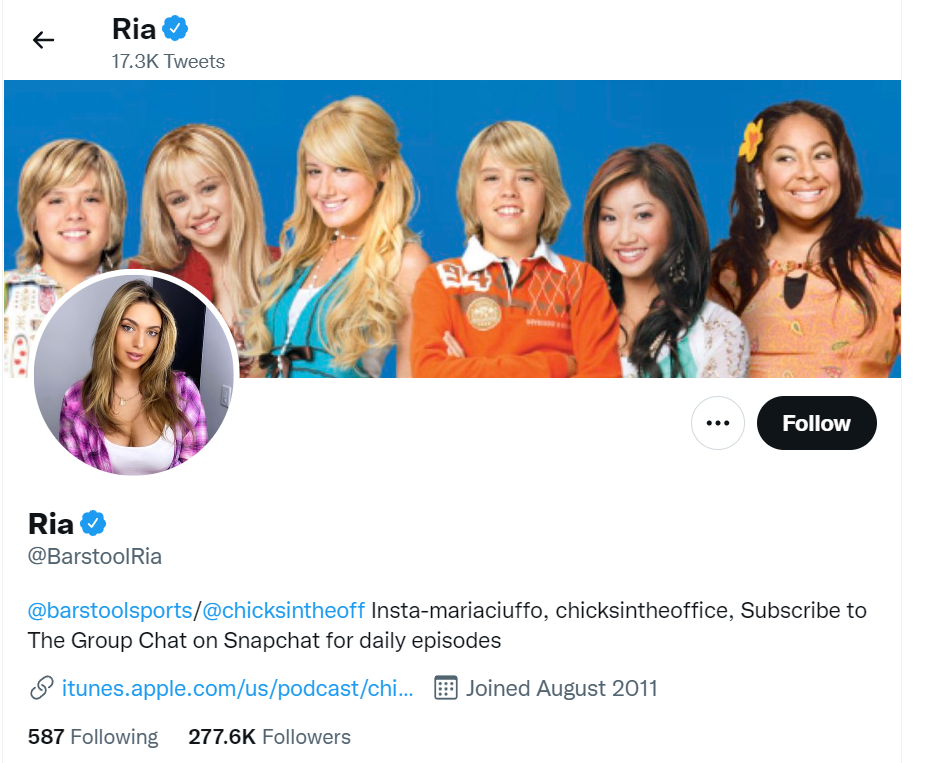 Source: @barstoolria
The Yum Yum Foodie
Eddie Zamora, or The Yum Yum Foodie, is a television judge on the show Dinner Takes All and an influencer in the culinary space. He often tweets his favorite recipes and food and beverage products, as well as pictures of his dog.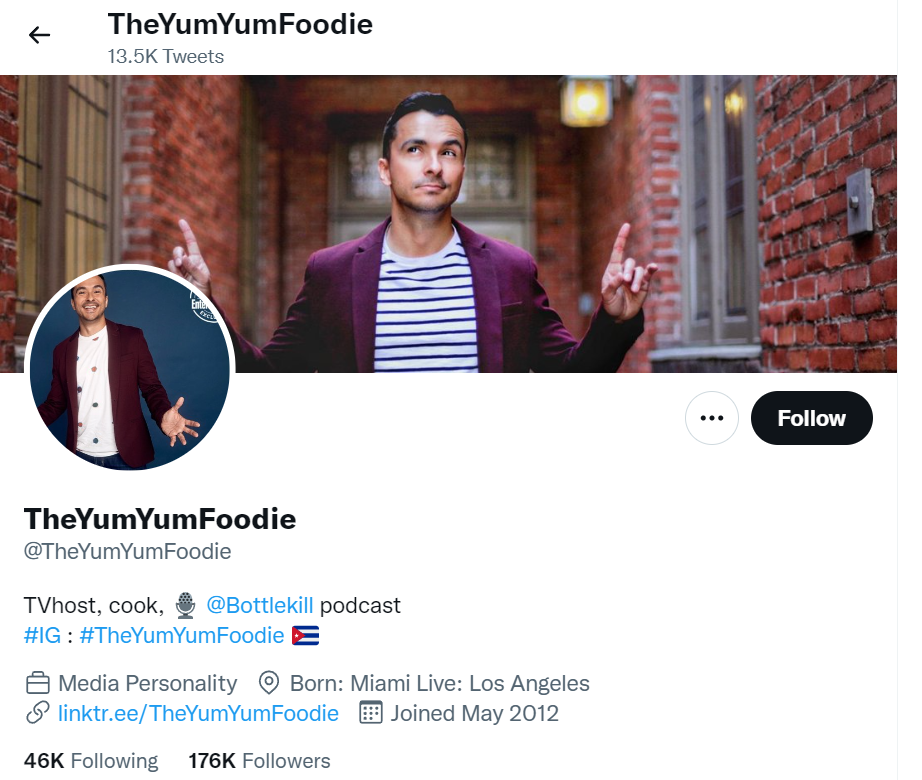 Source: @theyumyumfoodie
Jessica Hall
Radio host and TV personality Jessica Hall is an influencer, blogger, podcast host, and part owner of BB Lifestyle and Sugar Taco LA. She often shares behind-the-scenes details for her podcast with Heather Rae Young, along with funny stories and updates about her family.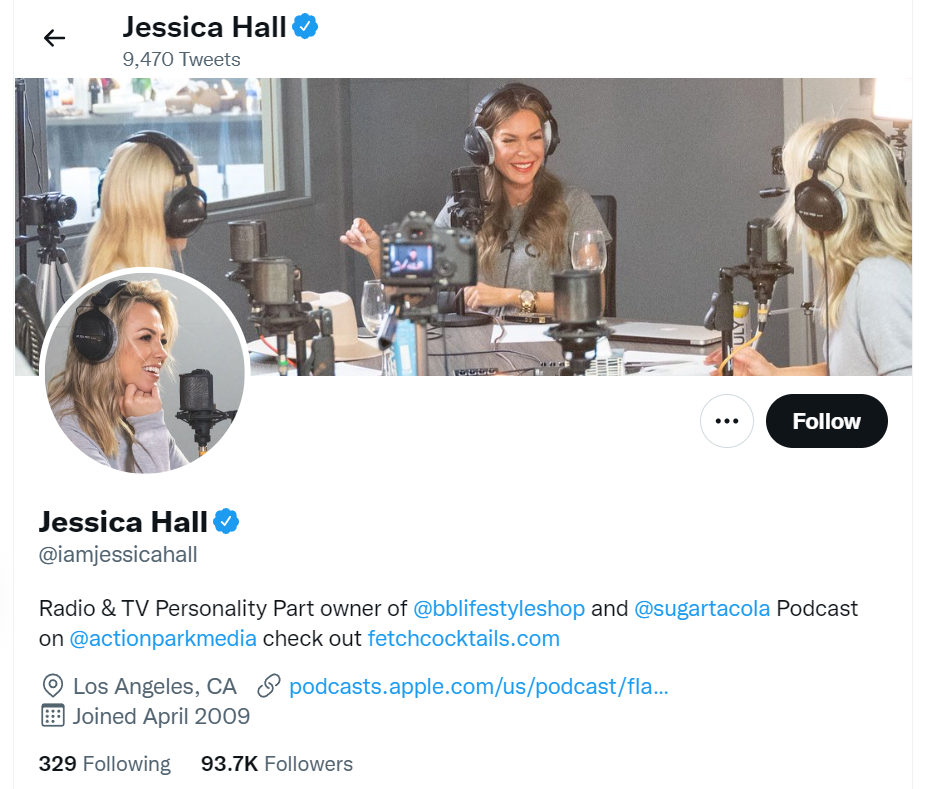 Source: @iamjessicahall
Brett Vergara
Brett Vergara may not be as well known as some of the other influencers, but he has a passionate niche audience. His influencer status is bolstered by his humorous tweets during the Bachelor and Bachelorette television shows, which he often shares in live tweets with memes and GIFs.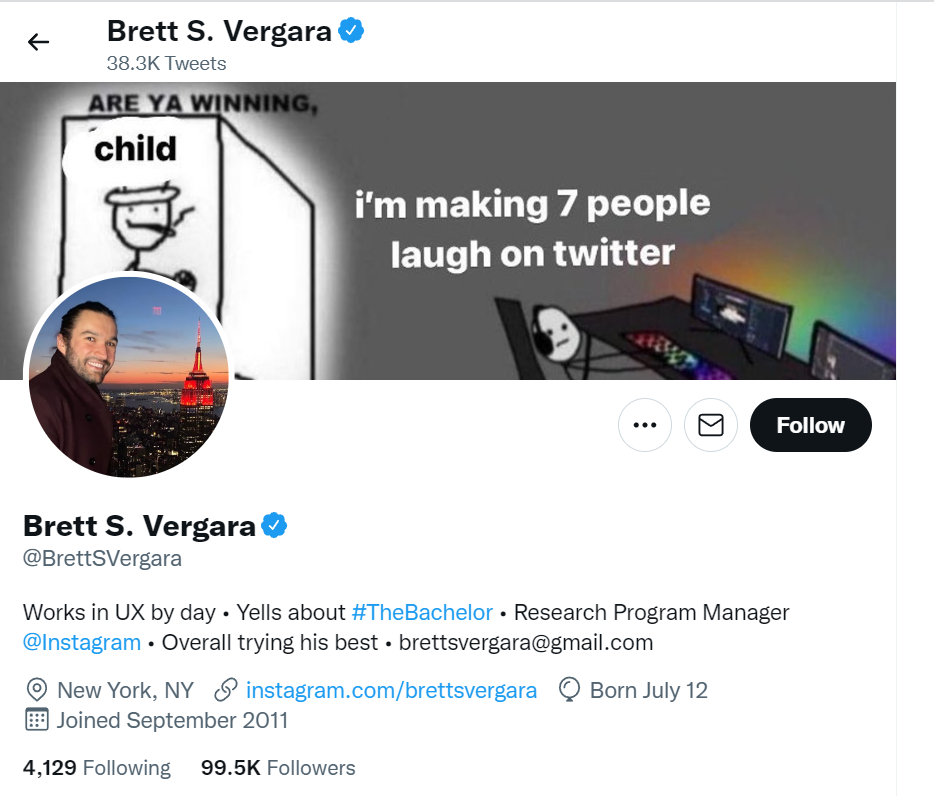 Source: @brettsvergara
Justin Moore
Justin Moore is an influencer in the men's lifestyle space. He uses his social media platforms to share his relationship with his partner Nick and men's lifestyle content, fitness, and LGBTQ activism. Much of his content takes an entertaining and humorous approach, which makes it popular and engaging for his followers.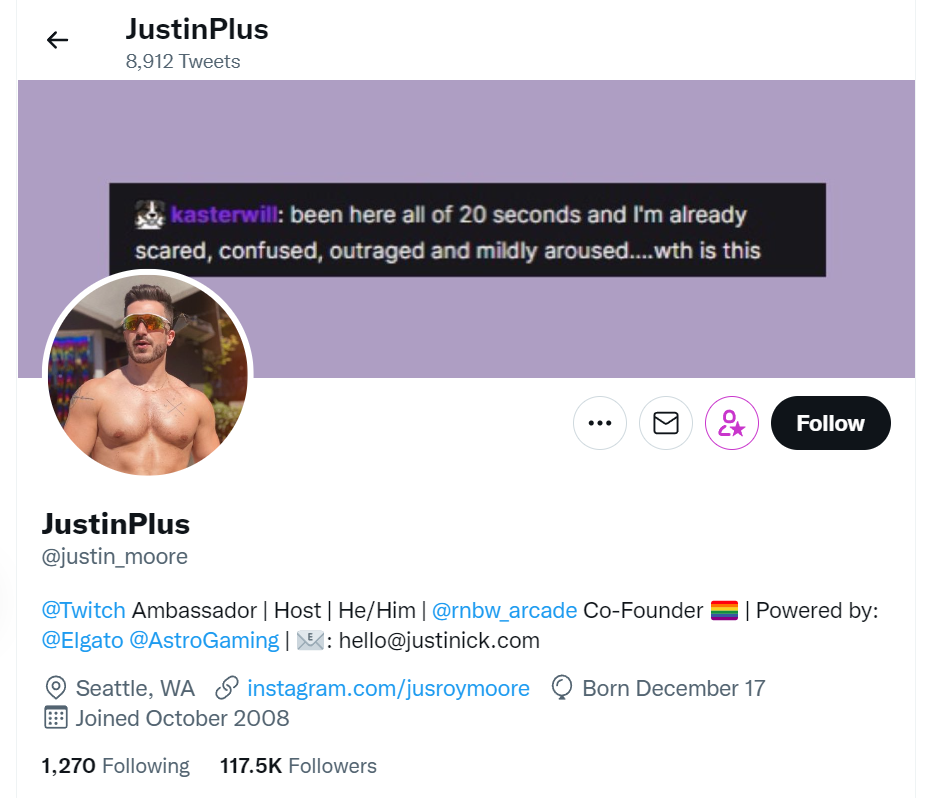 Source: @justin_moore
Tips for Leveraging Influencer Marketing on Twitter
Influencer marketing on Twitter can be successful for brands that already have an active presence on the platform. Here are some key tips for brands to run a successful Twitter campaign:
Give Twitter influencers creative freedom – within reason – to spark brand conversations in their own voice and tailored to their audience
Offer visual assets to include in tweets to capture attention on a text-heavy feed
Create unique landing pages or promotional codes for each influencer to track performance
Monitor engagement of sponsored tweets
Track conversions from the influencer's landing page or promotional code
Twitter is a fast-paced and dynamic platform. It's vital that influencers are engaging and share content that's tailored to their audience to stand out and have an impact.
Boost Brand Conversations with Twitter and Influencer Marketing
The numbers prove it – brand conversations are the new form of word-of-mouth marketing. Brands can leverage positive brand conversations and mentions to boost awareness and encourage purchases at any point in the customer journey. Authenticity, trustworthiness, and active engagement play a huge role, which is where influencer marketing can give a brand an edge in this competitive space.
Sources:
[1]https://marketing.twitter.com/en/perspectives/twitter-publicis-research-how-social-conversation-powers-shopping
[2]https://marketing.twitter.com/en/perspectives/twitter-publicis-research-how-social-conversation-powers-shopping
[3]https://www.oberlo.com/blog/twitter-statistics#:~:text=Here's%20a%20summary%20of%20the,are%20between%2035%20and%2065.