Meta has a new initiative collaborating with universities to promote the Metaverse vision through virtual reality (VR) classes and exploring immersive technologies like VR and AR for education.[1]
This initiative will include 15 US partner universities, such as Stanford and Morehouse College. The goal of the initiative is to offer VR courses focused on soft skills and real-life scenarios to enhance learning opportunities.
The Meta Initiative
Digital technology has transformed education in recent decades. Whether it's the pocket graphing calculator or new video conferencing tools for online learning, there have been integral technologies that opened new opportunities to merge education with emerging technologies. Metaverse technologies like VR and AR are the next step in the process, giving teachers new chances to inspire students.
According to Meta, the Metaverse is the "next evolution of the internet. It spans a range of technologies, including VR headsets that transport you to whole new environments, AR glasses that will one day project computer-generated images onto the world around you, and mixed reality (MR) experiences that blend both physical and virtual environments. We want more and more teachers and students to benefit from these technologies. That's why, as students return for the new academic year, we're announcing a new partnership program to help college students in the US learn using VR."[2]
The majority of the current VR courses are focused on soft skills and dealing with situations that simulate real-life environments. Though there are additional programs looking to explore nursing and surgical applications for the technology.
This new frontier has been of interest to industry professionals lately after a surgeon in China conducted complex surgery from thousands of miles away via a remote robotic system. While that process didn't use VR, it's one of several areas where VR technology could be used in the future to create new opportunities.
The VR partnership is connected to Meta's other education apps for Meta Quest, many with a focus on science, engineering, technology, and math (STEM) as well as history, language, and other subject areas. The partnership with universities will likely expand these offerings and look to integrate VR into more subject areas in the future.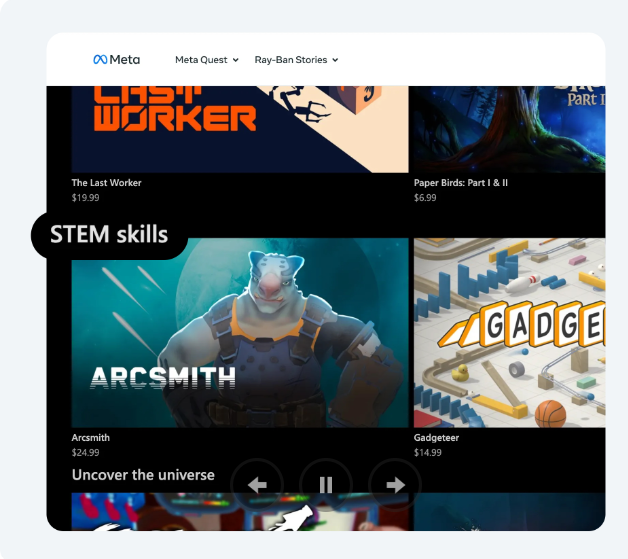 Source: Meta
About the US University Program
The universities Meta is partnering with are actively embracing immersive learning and conducting classroom sessions and exercises in VR to see how they can impact the future of education.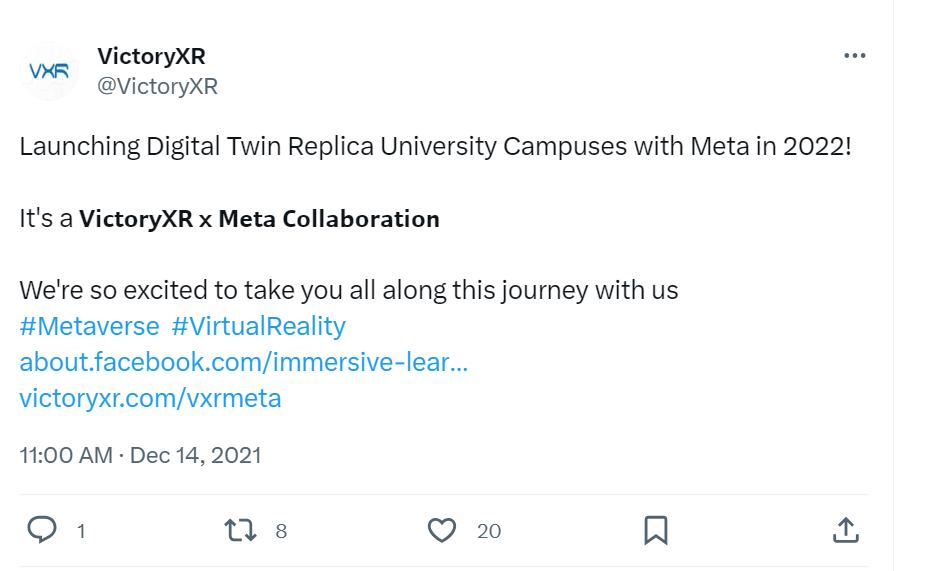 Source: X
Some of these universities and exercises include:
Stanford University: The BodySwaps app is being used to teach the Business School students soft skills, like how to have a difficult conversation or how to succeed in an interview.
Arizona State University: VR is being used to help students practice having conversations in a new language in different virtual environments.
New Mexico State University: VR is being used across multiple subject areas, including criminal justice to allow students to investigate virtual crime scenes in a real-world scenario.
University of Iowa: VR is used to help business students with soft skills training, such as empathy, critical thinking, and verbal communication.
Purdue Global: Virtual simulations of hospital environments are being used to train nurses.
University of Alabama at Birmingham: In partnership with VictoryXR, U of A is teaching business courses on a virtual campus.
Nova Southern University: VR is used to teach its first-year medical students about organs in the human body.
Miami Dade College: A virtual campus and VR-enhanced courses are taught for music, architecture, research, chemistry, and biology.
Morehouse College: The college created a digital twin campus to teach classes across a range of subjects, including chemistry, biology, business, and journalism.
Emerging Trends and Impact
Meta isn't the only one making waves in the VR education space. Educators in Europe are beginning to embrace Metaverse technologies. In Italy, as part of national education investments, schools are integrating immersive experiences into their lessons with both digital and virtual technologies. The University of Camerino is also hosting its first course conducted entirely in the Metaverse for this coming term. Both students and teachers will join via VR headsets.
There are several companies developing education apps and software for Metaverse technologies:
GoStudent in Germany and Austria is using language learning through VR to teach foreign language classes in simulated real-world scenarios with native speakers.
Itaca Education in Italy works with teachers to develop virtual learning experiences for subjects like natural sciences and physics. Students can immerse themselves in science laboratories filled with high-end equipment.
Noun Town in the UK is an award-winning education app that uses gameplay to remove some of the stress of learning new languages, such as Spanish, Korean, Japanese, German, and Chinese.
The New Frontier in Education
Meta is optimistic about the impact of Metaverse technologies, the partnerships, and the opportunities for education. But there's a need for more universities to embrace the possibilities and find ways to incorporate new technology into the curriculum to inspire students.
Sources:
[1] https://about.fb.com/news/2023/09/metaverse-technologies-education-opportunities/
[2] https://about.fb.com/news/2023/09/metaverse-technologies-education-opportunities/