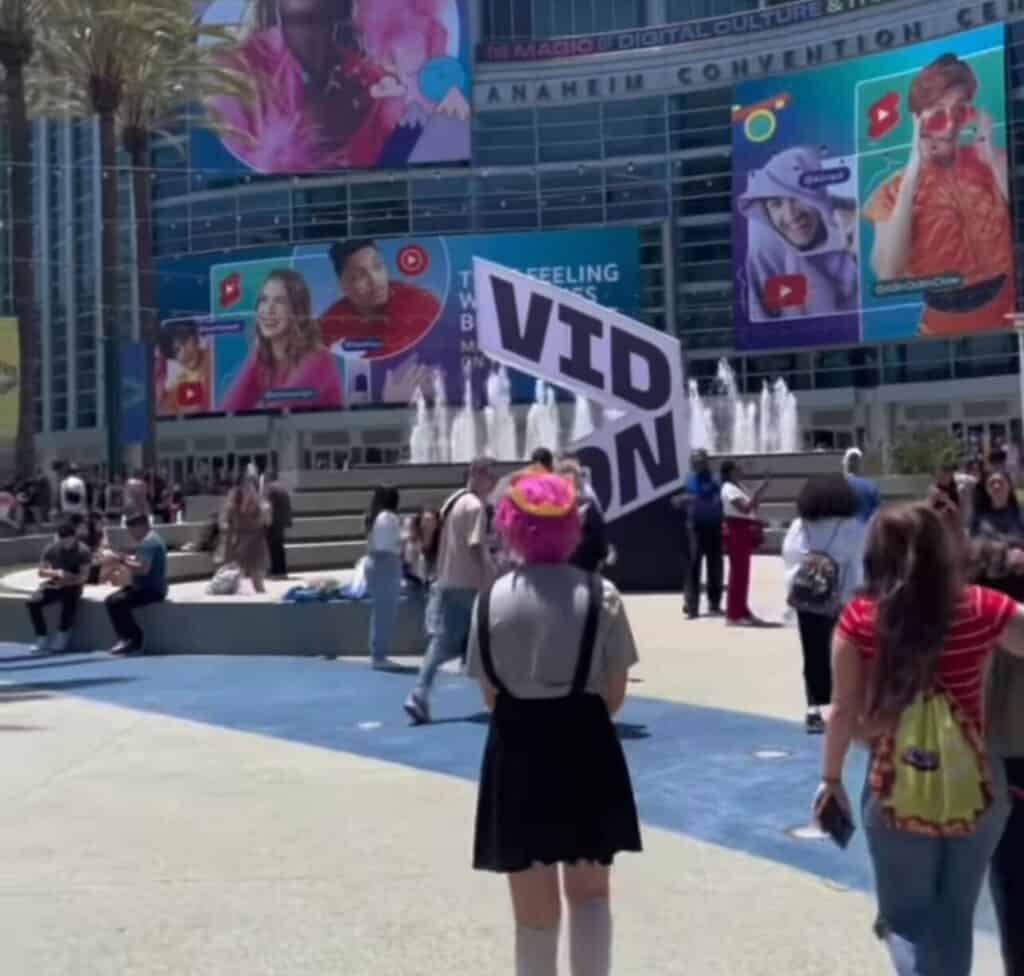 Our Director of Growth Strategy, Chris Jacks, was in attendance at VidCon 2023 this year. Here are his key takeaways from the multi-day event that over 50,000 people attended.
YouTube Means Business. Literally.
It was hard not to acknowledge the overwhelming presence of YouTube at this year's VidCon. As the Title Sponsor, every few feet, attendees were met with a subtle reminder of the video platform's prominence at the event.
Beyond covering the conference with branded assets, their marquee activation was the perfect analogy for the shifting creator economy.
Near the center of the expo floor stood the expansive YouTube Drop Shop. The retail-focused activation featured several popular brands across beauty, fashion, and technology.
Powering the experience was video content featuring the world's most popular content creators showcasing the products available in the Drop Shop. Each item in the Drop Shop featured a unique QR code that, when scanned, brought up a video that featured a creator showcasing their admiration and co-sign of the product.
Historically, using influencers and content creators to sell products has been viewed as a potential of influencer marketing, not a KPI. As YouTube continues to build tools and resources for influencers and creators that empower shopability, leveraging influencer and creator campaigns to sell products could become the new norm.
Community Builder? Entertainer? Both? Neither?
One of the more thought-provoking topics was discussed by LightShed Ventures Rich Greenfield. During this discussion, Rich shared his opinions on the changing environment of creator-led content and the potential challenges that creators face. Rich argued that due to the emergence of short-form video-specific platforms like TikTok, people are now looking for non-stop entertainment rather than developing deep relationships with creators. As a result, Rich anticipates that creators will have a much harder time building large, loyal fanbases.
Creators = Celebrity
The crossover between traditional A-list celebrities and mega content creators was another theme that reverberated throughout the conference.
In fact, an entire panel called "The New Era of Celebrity" was dedicated to this topic. One of the main takeaways was that the gap (and ultimately value) between traditional celebrities and content creators is shrinking, specifically with Gen Z and Millennials audiences.
The devout audiences amassed by content creators and their ability to deliver messages in different formats on different platforms have brands questioning where to place their budgets.