As 2022 draws to a close, it's important for brands to stay current on the latest marketing trends. Influencer marketing is still going strong at the end of 2022, which is expected to continue into 2023.
While Instagram is still the platform of choice for social media influencers, with roughly 76% of US marketers using it, it's important to keep an eye on the developments with TikTok.[1]
In 2020, 36% of US marketers used TikTok for influencer campaigns, but projections indicate that 50% will do so in 2023.[2]
TikTok Rising as the Preferred Influencer Marketing Platform
TikTok began as two separate apps originating from China. Douyin, the first one, was named TikTok internationally. Most of the supporters came from Asia. The other app, Musical.ly, like the original, was founded by Chinese developers but quickly caught on in the West.
In 2018, TikTok purchased Musical.ly and rebranded as a combined app that operates outside of China. Domestically, it's still the Douyin app.
Musical.ly was beloved by Gen Z, a trend that continued with TikTok. Not long after the merger, TikTok became the most downloaded app in the world, even surpassing Instagram.
TikTok hit the market and quickly became one of the most popular social media apps for users and influencer marketing alike. In 2019, the app accounted for 2.3% of US spending on creator campaigns.
In 2023, the share is likely to reach 15.5%, overshadowing Facebook's 14.8% share. Instagram is expected to stay ahead at 44.7%, but Instagram's repeated efforts to mimic TikTok could prove a problem for the app.[3]
TikTok is encroaching on Instagram's share quickly. This year, TikTok ad revenues will approach $6 billion in the US, and are expected to exceed $11 billion by the end of 2024. Instagram comes in at around $30 billion and $40 billion in 2024.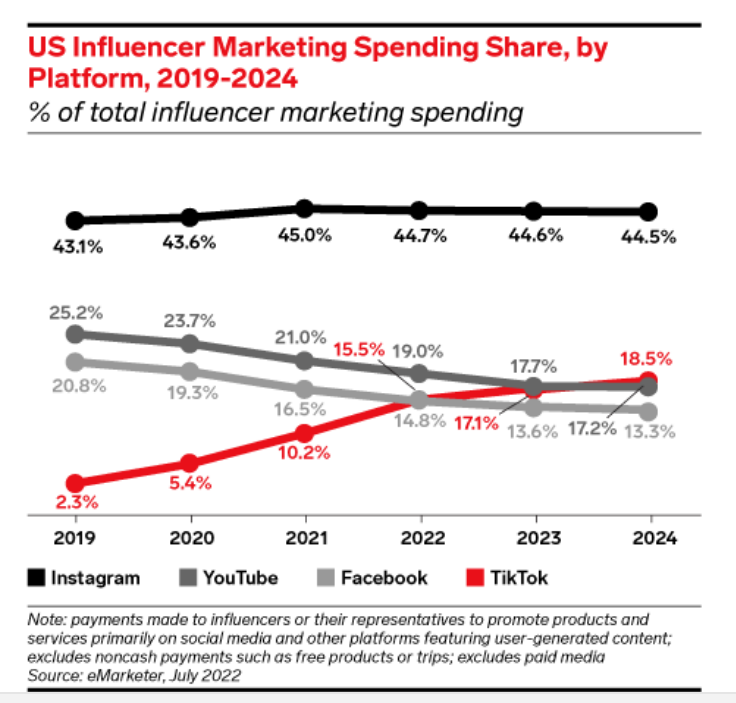 Source: Insider Intelligence
Unraveling the Appeal of TikTok
The selling point of Musical.ly is that it's an easy-to-use platform for young generations to create what are essentially karaoke videos. The original TikTok had the same premise, but now, users are creating a wide range of different types of videos.
The key is in the short-form video content. Users are prompted to set up an account as soon as they download and launch the app. They begin by watching clips from others, establishing which content they like, and eventually gain the confidence to make a video of their own and upload it.
Not surprisingly, one of the most popular types of videos features users lip-synching to their favorite music.
TikTok makes it simple to make and create videos that are ideal for a teen or tween audience, and most of these audiences have a smartphone with a decent camera. TikTok offers a range of editing tools and effects to make a good video and offers options to merge film with filters and effects to create something unique. Basically, it removes any barriers to the process.
As expected, this format caught on with influencers quickly. Because video content is so popular and accessible on the app, influencers were able to find their audiences and leverage content to success more easily than some other platforms.
TikTok's Audience
What makes TikTok unique among social media platforms is that it's majority young users. While these audiences may have accounts on Facebook, YouTube, and Instagram, they use TikTok more than any of them. Facebook is where their parents spend time, YouTube has long videos that aren't as "scrollable" as TikTok, and Instagram is a mix of different content. TikTok has the edge.
Brands that have a younger ideal audience would be missing out on a huge opportunity not getting involved in TikTok.
What Type of Content Does Well on TikTok?
TikTok is dominated by video content. The more digestible and entertaining the video, the better it resonates with the audience. TikTok videos differ from YouTube in that they're much shorter and filmed in a vertical format – ideal for the way most people hold their phones.
Raw, authentic videos perform well on TikTok. Music content is among the most popular, which could be an option for brands. There's plenty of non-music content on TikTok, however, such as short skits, fashion and beauty tips, recipes, cooking demonstrations, and more.
The only content that doesn't perform on TikTok is anything resembling a traditional ad. Influencers won't do well with a script or an overly produced ad-type video. The raw authenticity is where the power of TikTok lies.
Influencers should have flexibility to promote content in the way that works for their audience – their own style. If the sponsored video is in stark contrast to their normal content, the audience will notice.
Top 10 Influencers on TikTok
1. Loren Gray
With 54.6 million followers, Loren Gray is a popular American TikTok influencer and singer. She uses TikTok to share dance videos and lip-sync videos. She was even featured in Taylor Swift's music video "The Man" and landed brand partnerships with Skechers, Revlon, Burger King, and Hyundai.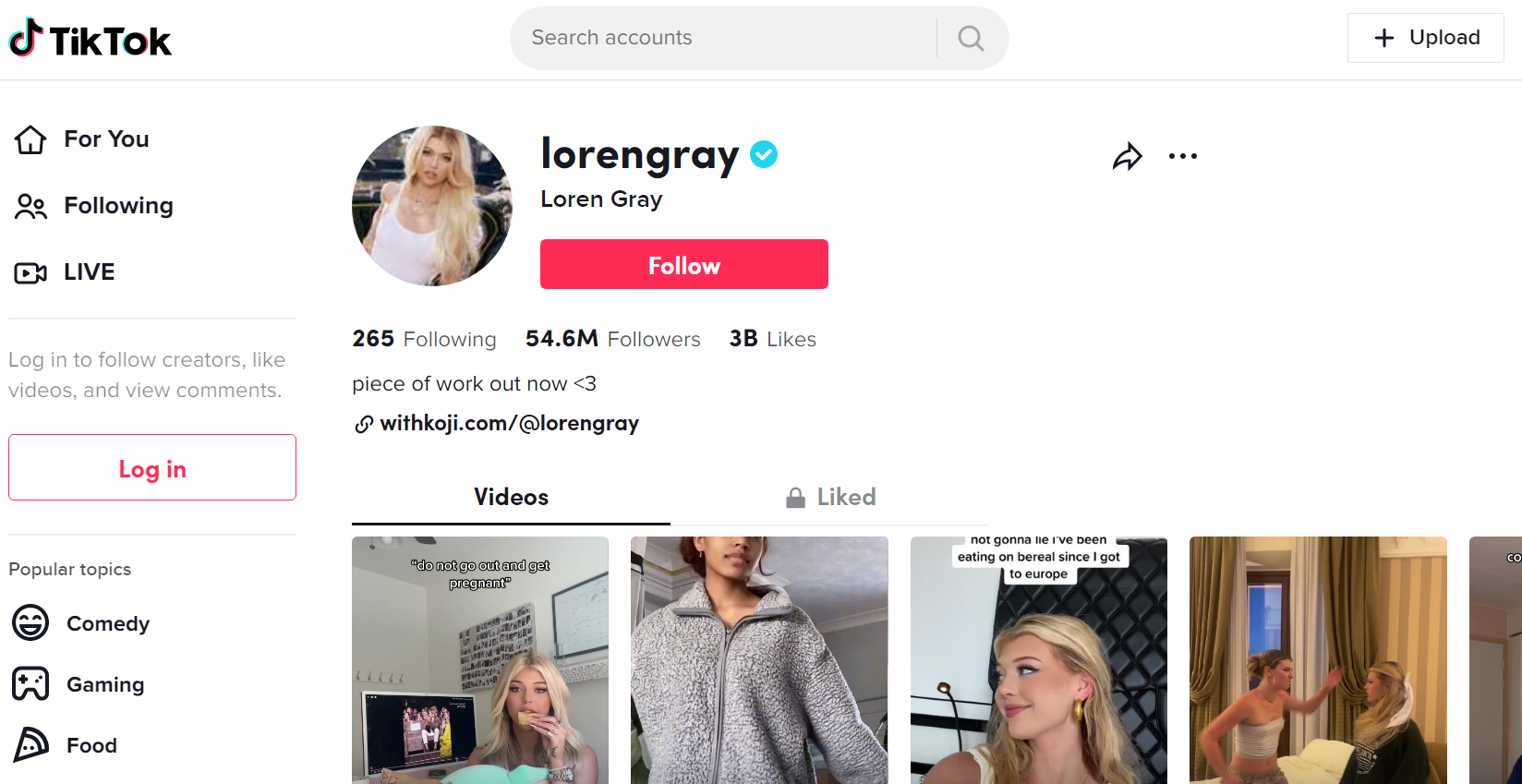 Source: TikTok
2. Rodrigo Contreras
Rodrigo Contreras is a Mexican TikTok star with 41.6 followers. Born in Aruba, he posts mostly dance and lip-sync videos and was nominated for Favorite TikToker at the 2020 Kids' Choice Awards in Mexico. He endorses several brands and often collaborates with other influencers.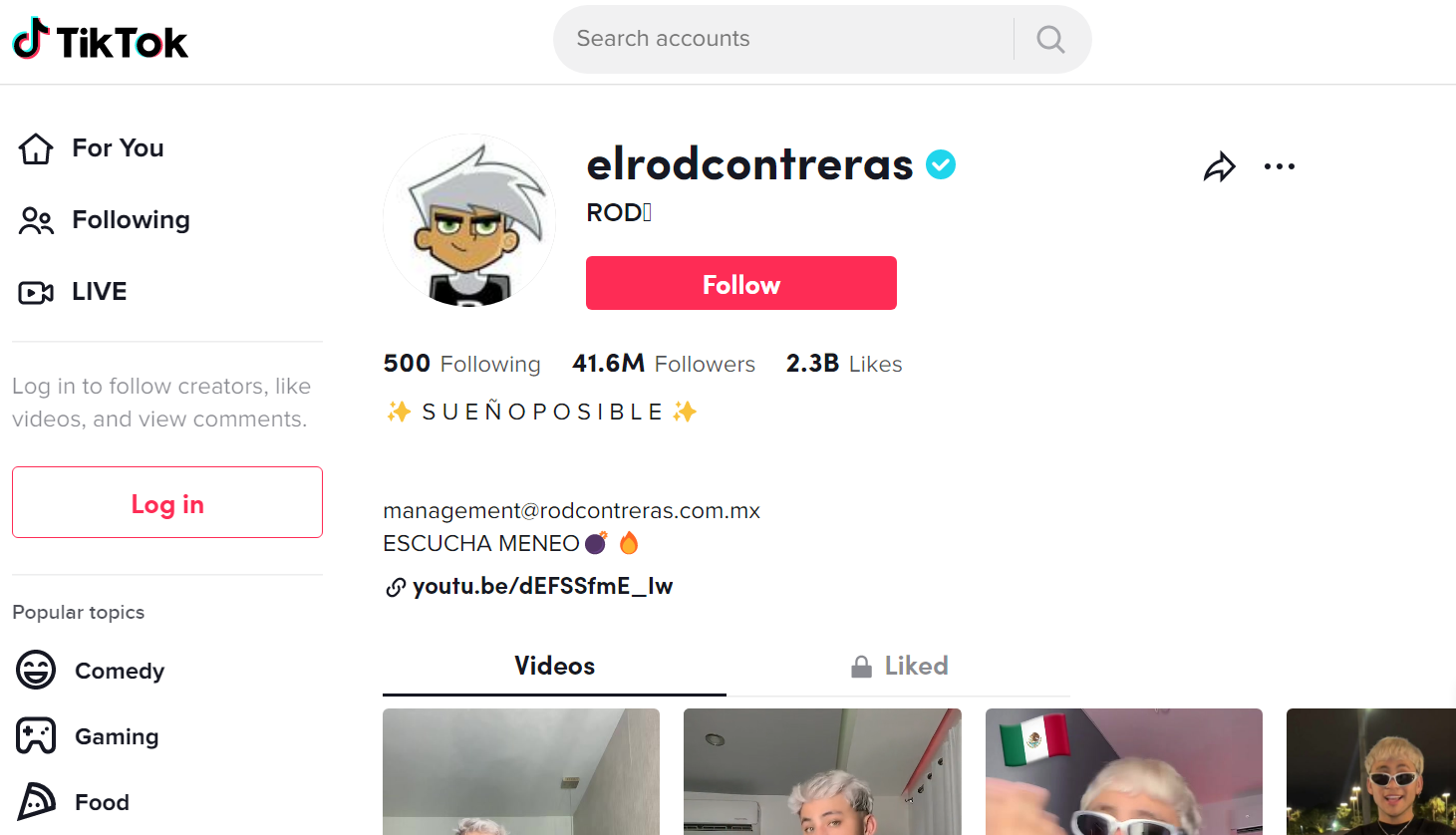 Source TikTok
3. Charli D'Amelio
Making headlines in 2020, Charli D'Amelio was the first TikTok influencer to exceed 100 million followers. She launched a career on TikTok and skyrocketed quickly using videos with choreographed dances. She has since gotten a spot in Hype House and appeared in a Super Bowl commercial.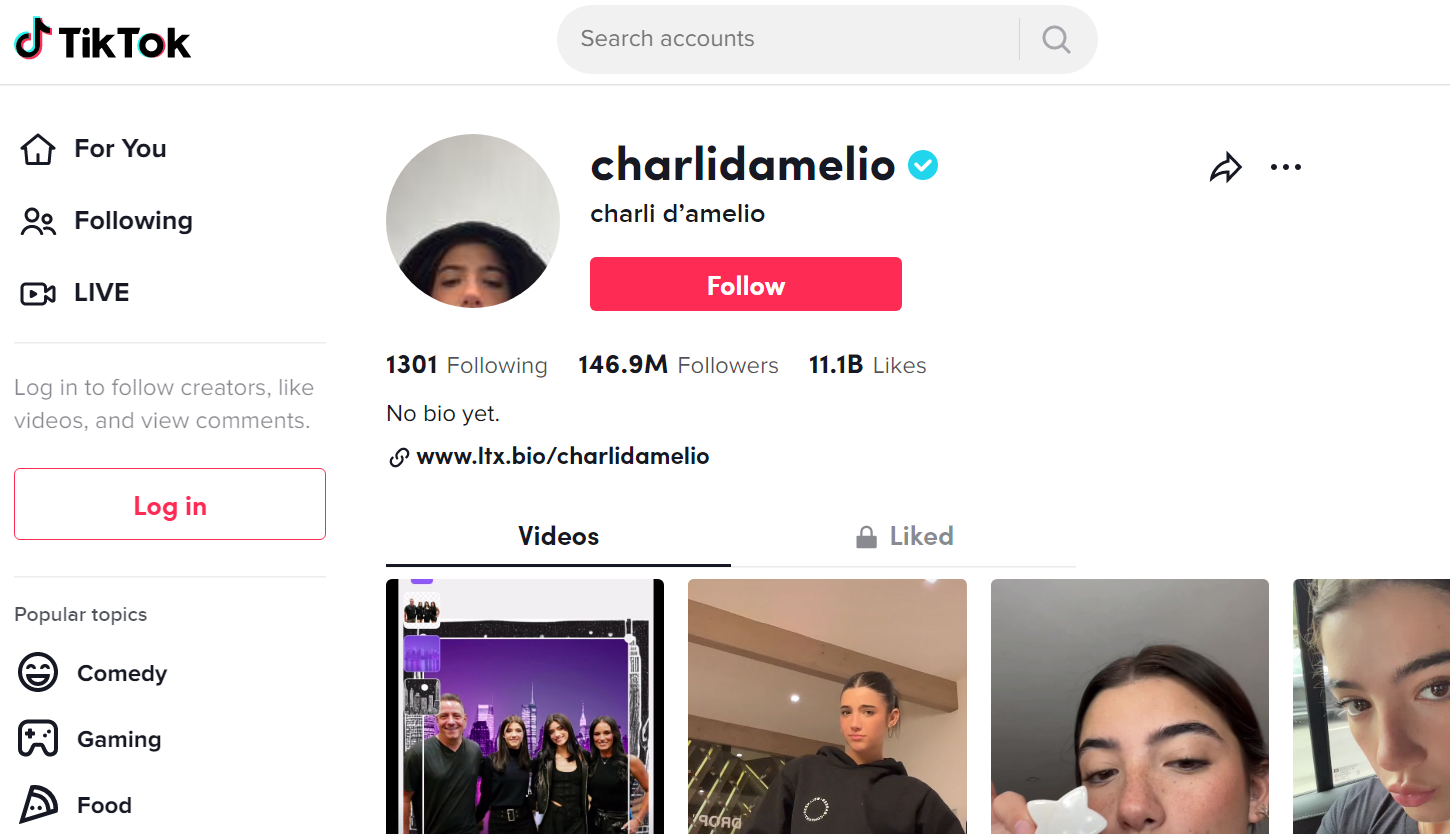 Source: TikTok
4. Taylor Cassidy J
Taylor Cassidy J has a huge following due to her videos on positivity and self-love. She shares a lot of content related to Black history and social justice issues, often topping millions of videos. She was also honored at the 2020 Streamy Awards.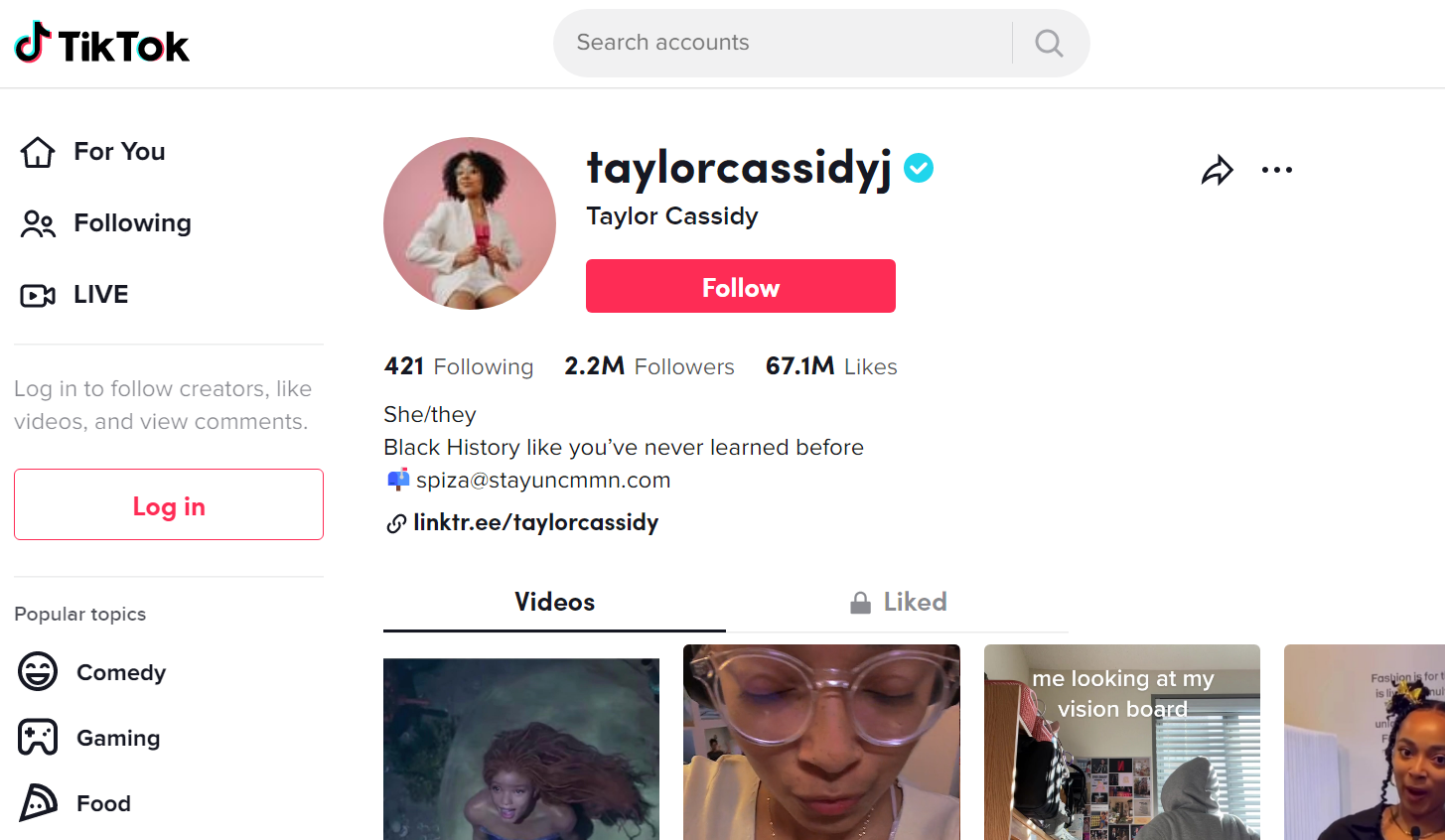 Source: TikTok
5. Naim Darrechi
Naim Darrechi has a considerable following on TikTok with his videos featuring comedy skits, lip-sync, and dance. Darrechi is a member of the Prive Crew creator collective and released his own single, "Escapate."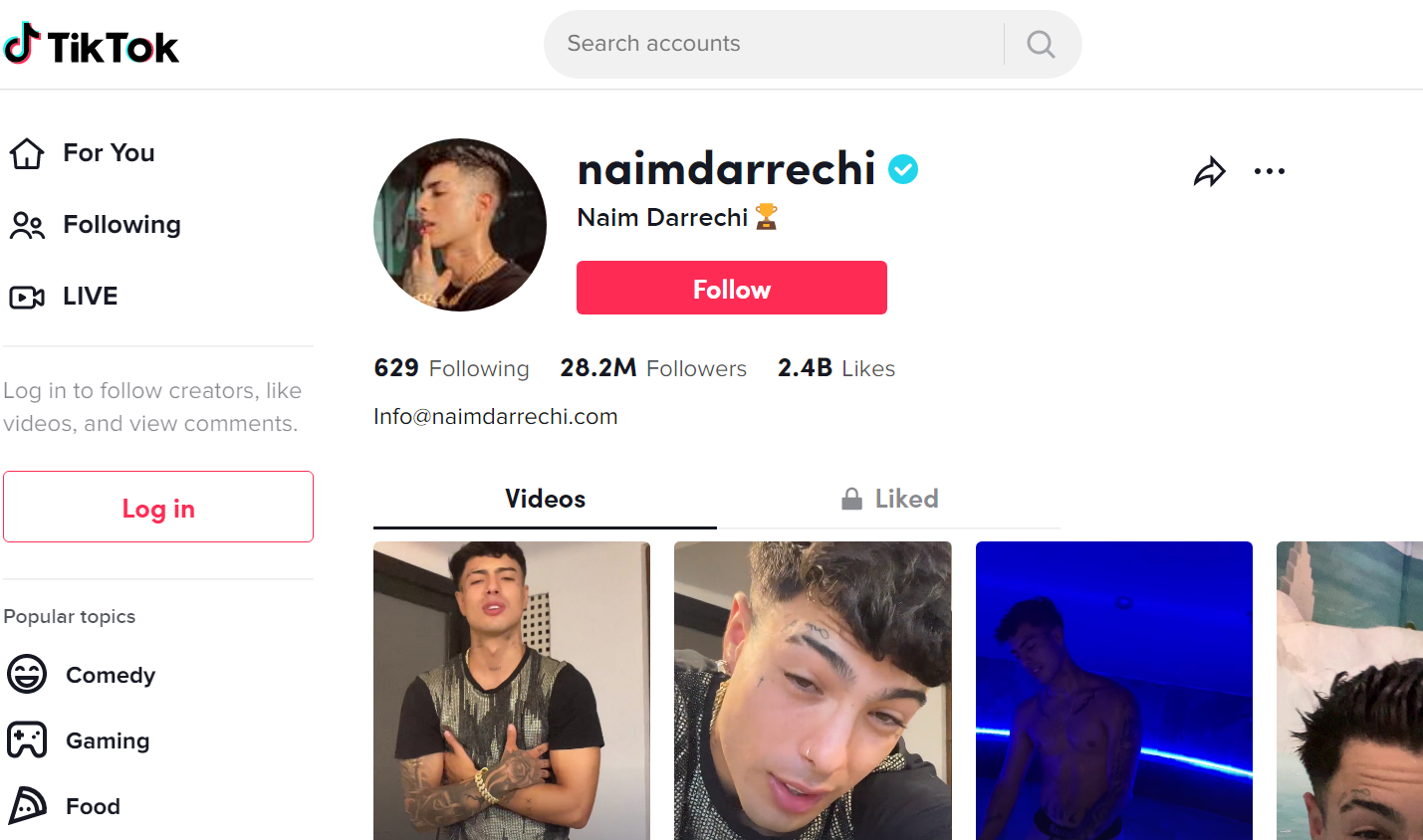 Source: TikTok
6. Savannah LaBrant
Savannah LaBrant is a photographer, YouTuber, and fashion influencer who leverages TikTok for success. She produces TikTok videos that show her dancing and lip-synching videos with her daughter, Everleigh.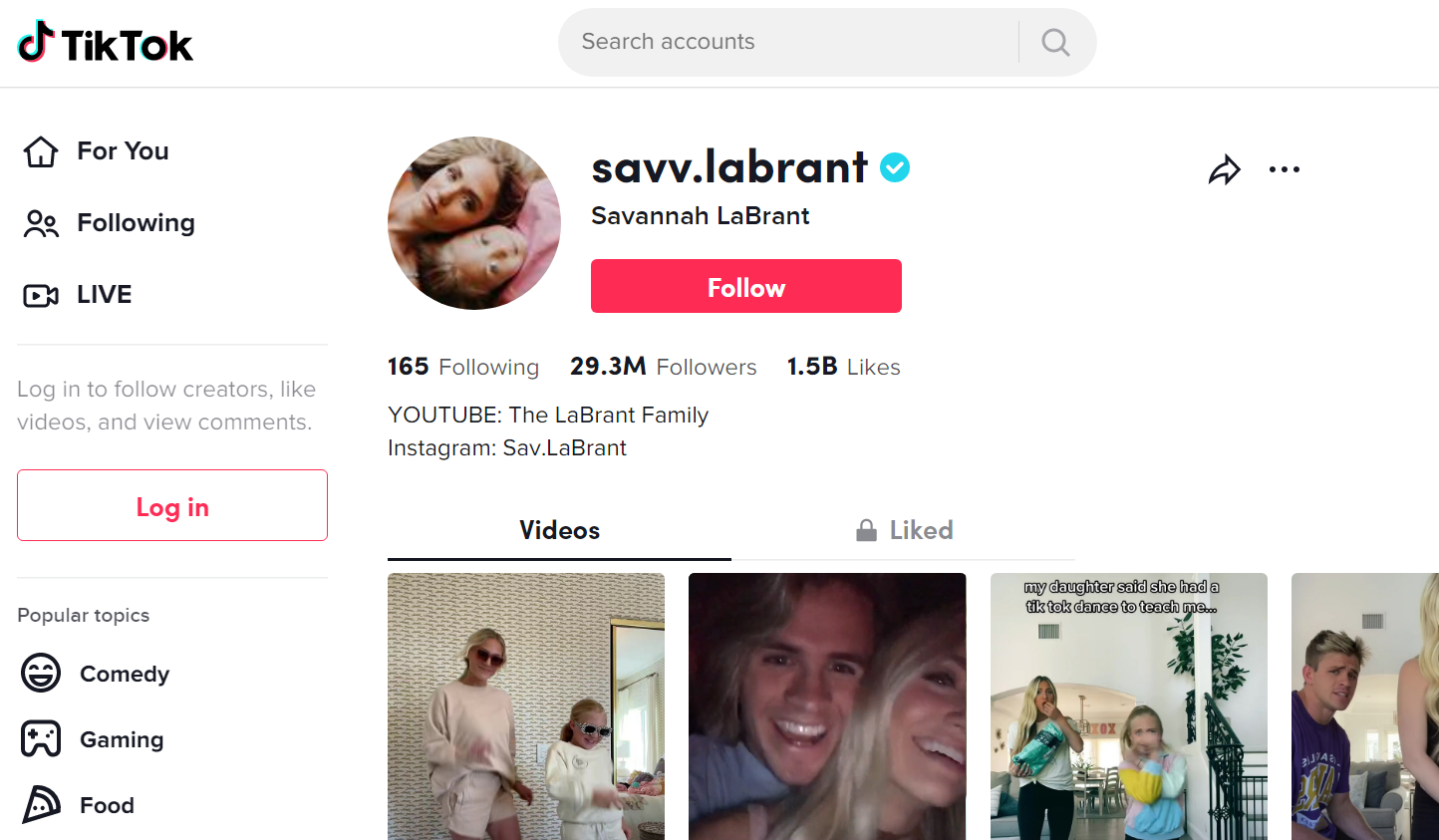 Source: TikTok
7. Gil Croes
Gil Croes and his brother Jayden have their own popular influencer account, Croes Brothers. They are known for their lip-sync videos and have partners with Bang Energy Drink and Cash App.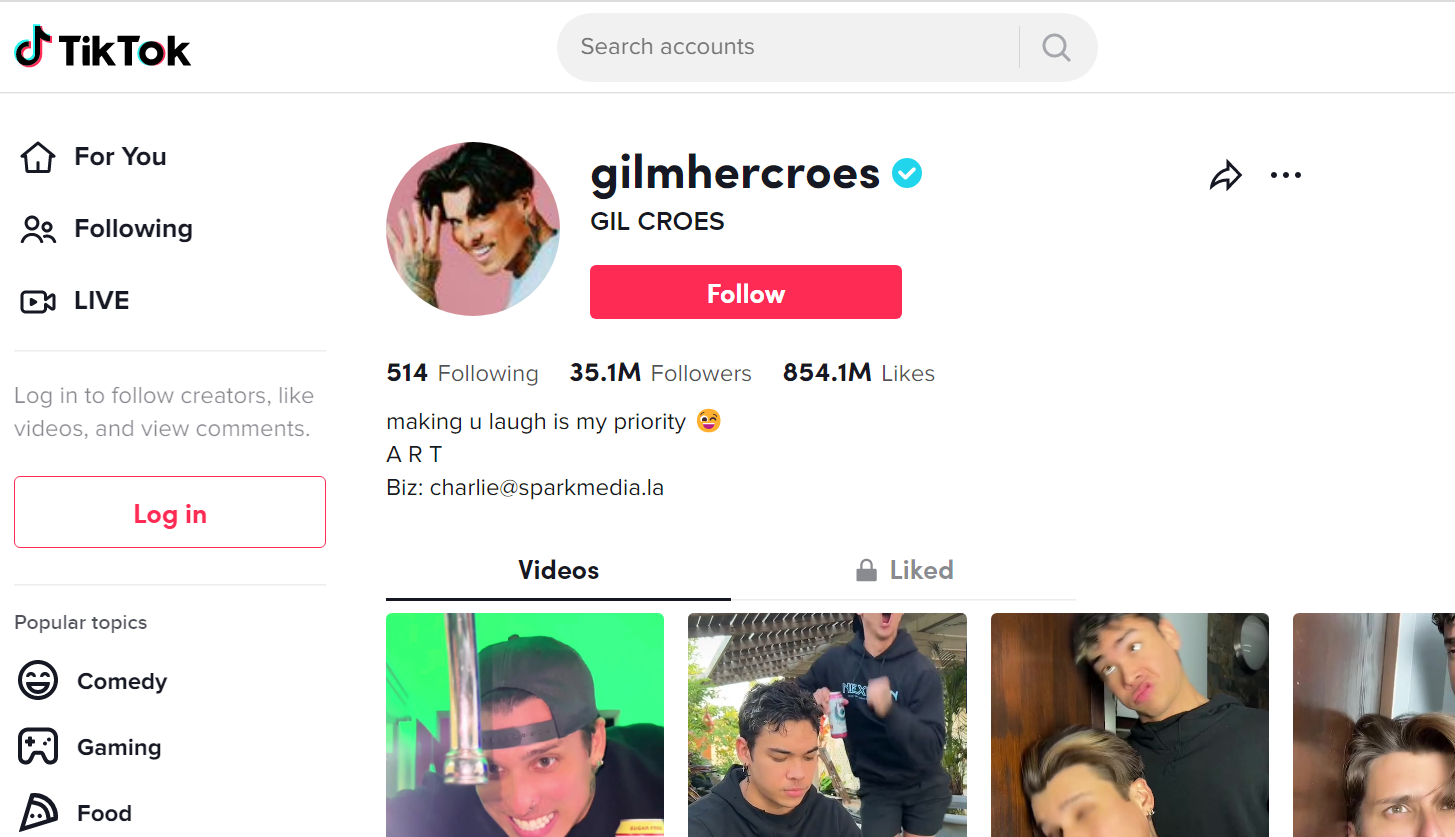 Source: TikTok
8. Kyle Thomas
Kyle Thomas is a British TikToker known for sharing informative videos and facts about his rescue animals, which include dogs, meerkats, and hedgehogs. When he rose to popularity on TikTok, he launched a line of branded merchandise including shirts and hoodies.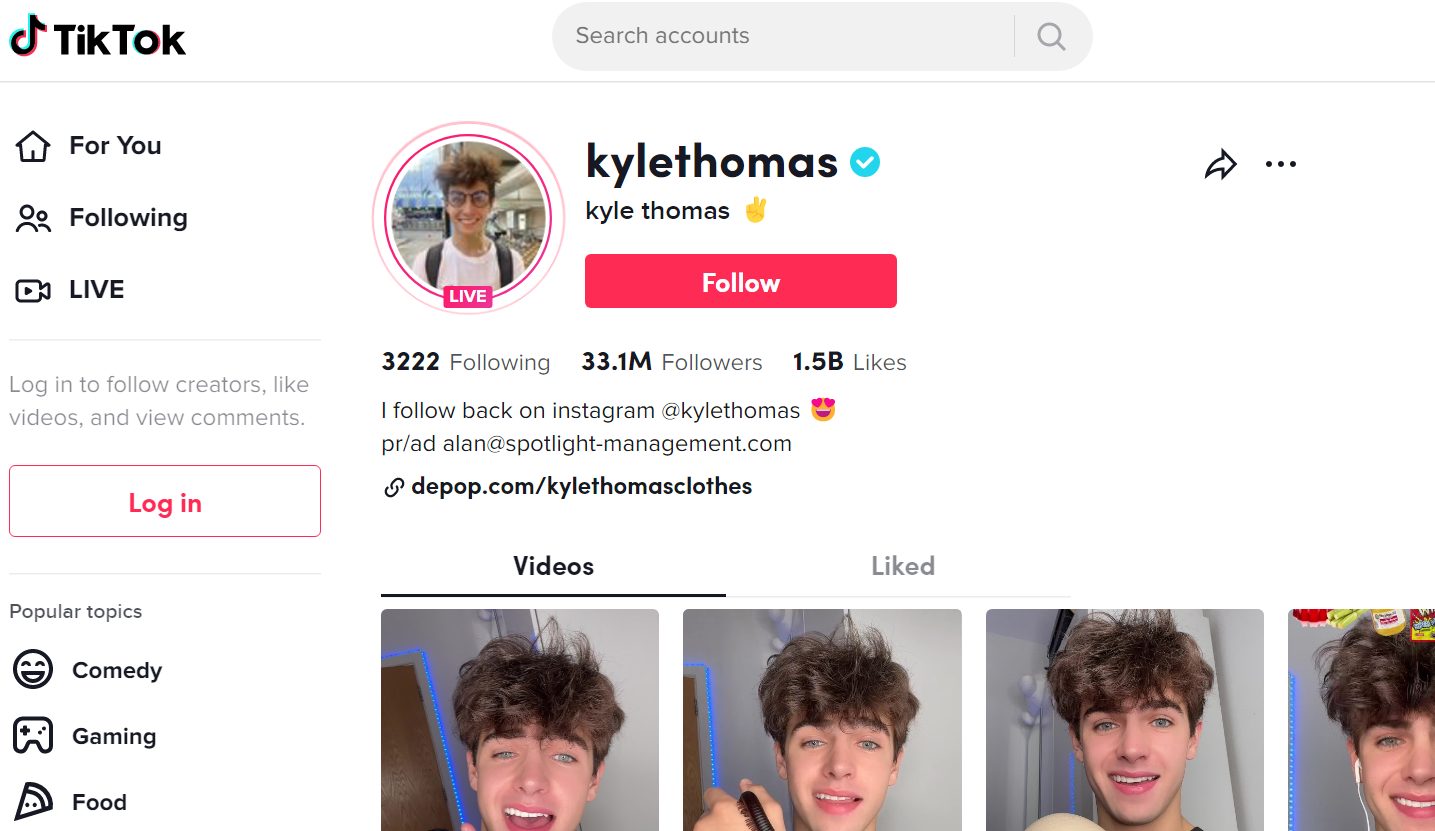 Source: TikTok
9. Brent Rivera
Brent Rivera is a popular influencer on TikTok and YouTube who creates prank, interview, and skit videos. In 2020, he won the Creator Honor Award at the 10th Annual Streamy Awards and attracted sponsors like NYX Cosmetics and Softsoap.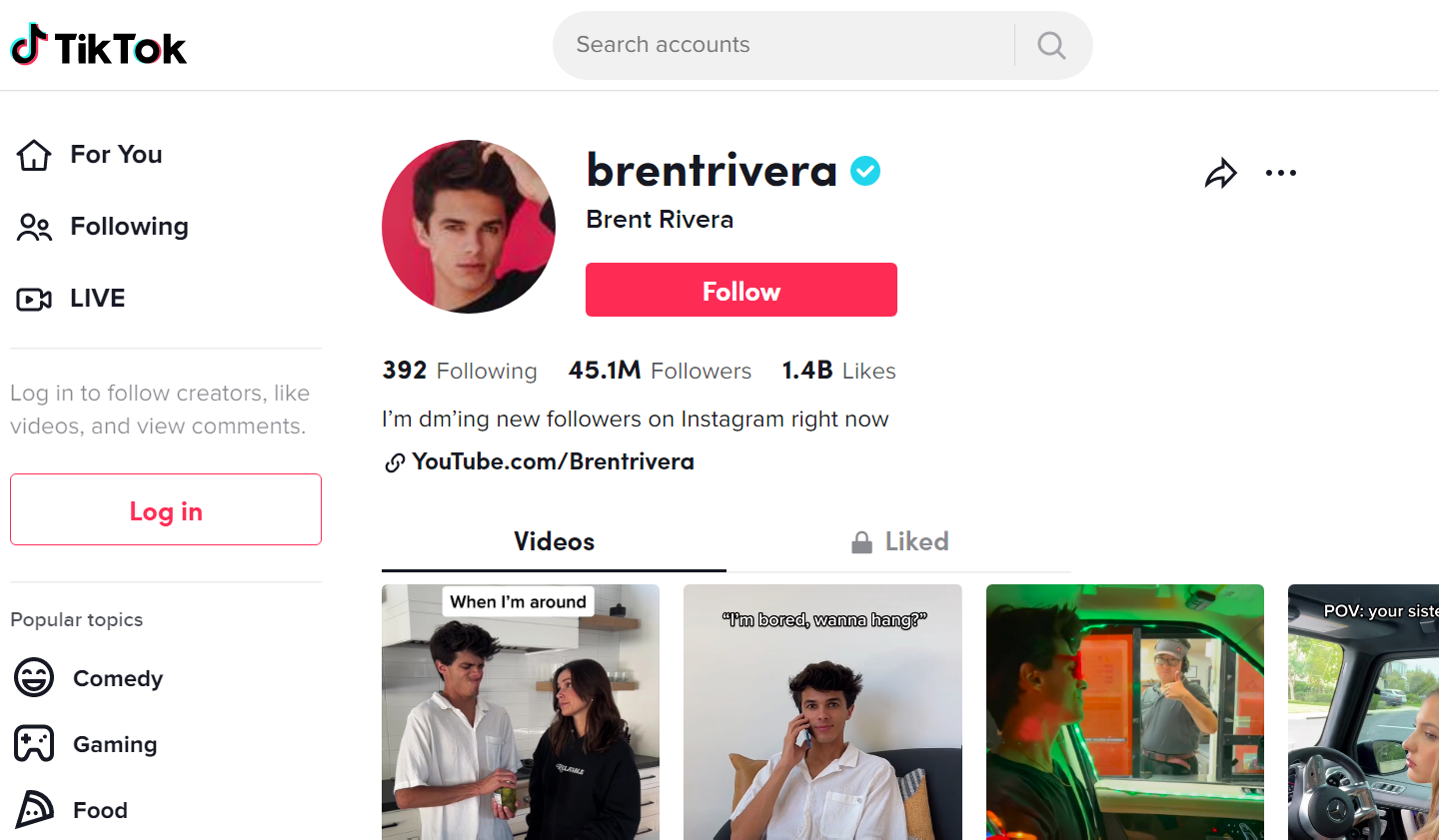 Source: TikTok
10. Spencer X
Spencer X is a beatboxer who showcases his talents on TikTok. Using his popularity, he has partnerships with brands like Uno, Oreo, and Sony, and even collaborated with prominent hip hop artist Russ.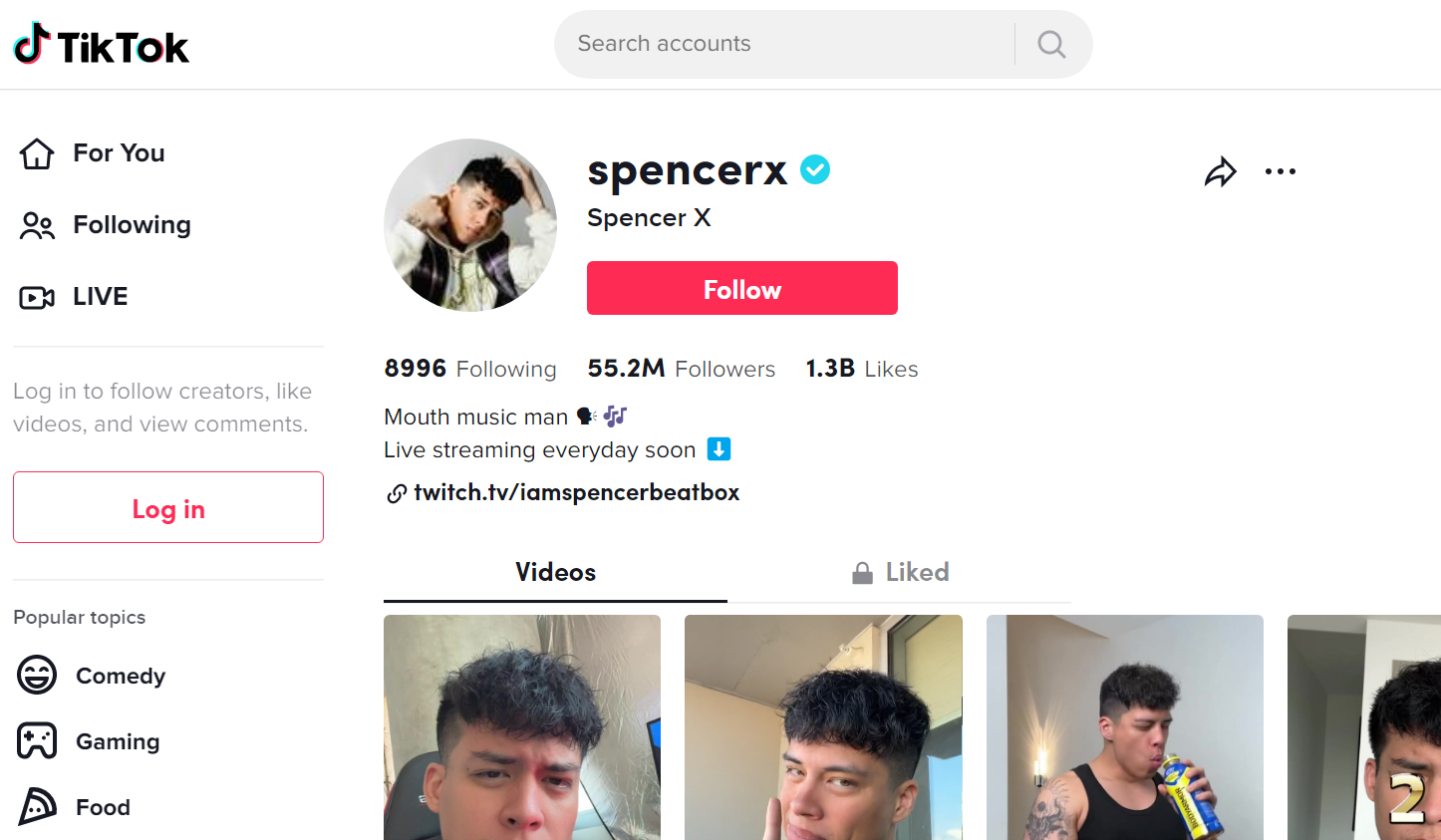 Source: TikTok
How to Select the Right TikTok Influencers
Brands that have a big audience on TikTok can benefit from TikTok influencer marketing. This is an excellent way to connect with younger generations in a way that's approachable and organic.
It's important for brands to choose the right influencers for their brand personality and products, however. Some influencers rely on music-themed videos like lip-synching and choreography, while others do well with comedy skits. Others find success with demonstrations or product Q&As and reviews, even if the product or service is dry and abstract. Finding the right influencer with a relevant, receptive audience is key, not choosing an influencer with a massive audience.
Keep in mind that influencers who share a lot of sponsored content may not have lasting engagement. Influencers with plenty of organic, non-paid content keep followers interested, engaged, and invested.
This is also something for brands to keep in mind when choosing a content schedule. Requesting too many posts in a short period will make it difficult for an influencer to maintain the schedule and keep the same engagement with their audience.
After finding a list of possible influencers, brands can connect with them and build a relationship as a foundation for collaboration. Both the brand and the influencer should have clear guidelines for content, number of posts, style, compensation, and more. Each party in the partnership reflects on each other.
Once the campaign is launched, measure return on investment. Vanity metrics, such as likes and comments, are not ideal. Influencers should have unique links with UTM codes to measure the true engagement of the campaign. Influencers will also have detailed reports for their performance, which could be shared with the brand.
Elevate Influencer Marketing in 2023 with TikTok
TikTok is poised to become the biggest influencer marketing platform in 2023, and brands are taking notice. Building relationships at the end of 2022 sets brands up for successful influencer campaigns in 2023 and beyond.
Sources:
[1] https://www.insiderintelligence.com/content/influencer-marketing-dollars-flow-tiktok
[2] https://www.insiderintelligence.com/content/influencer-marketing-dollars-flow-tiktok
[3] https://www.insiderintelligence.com/content/influencer-marketing-dollars-flow-tiktok