The Top eSports Influencers
Anything competitive can turn into a sport, and video games are no exception. The esports, or electronic sports, world is filled with both professional gamers and avid gaming fans.
The gaming world is an effective place for influencer marketing promotion thanks to the countless hours followers spend listening to gamer commentary and viewing live broadcast competitions, and brands are vying for a collaboration with these top esports influencers.
The Biggest eSports Influencers Today
VanossGaming
Evan Fong, the personality behind the gaming YouTube channel, VanossGaming, has an immense following of 25.7 million subscribers on the single platform. His dedicated video gaming channel features Evan and his friends competing in games like Grand Theft Auto. The Canadian gamer is one of the top 25 most subscribed YouTube channels and has nearly 4 million followers on Instagram.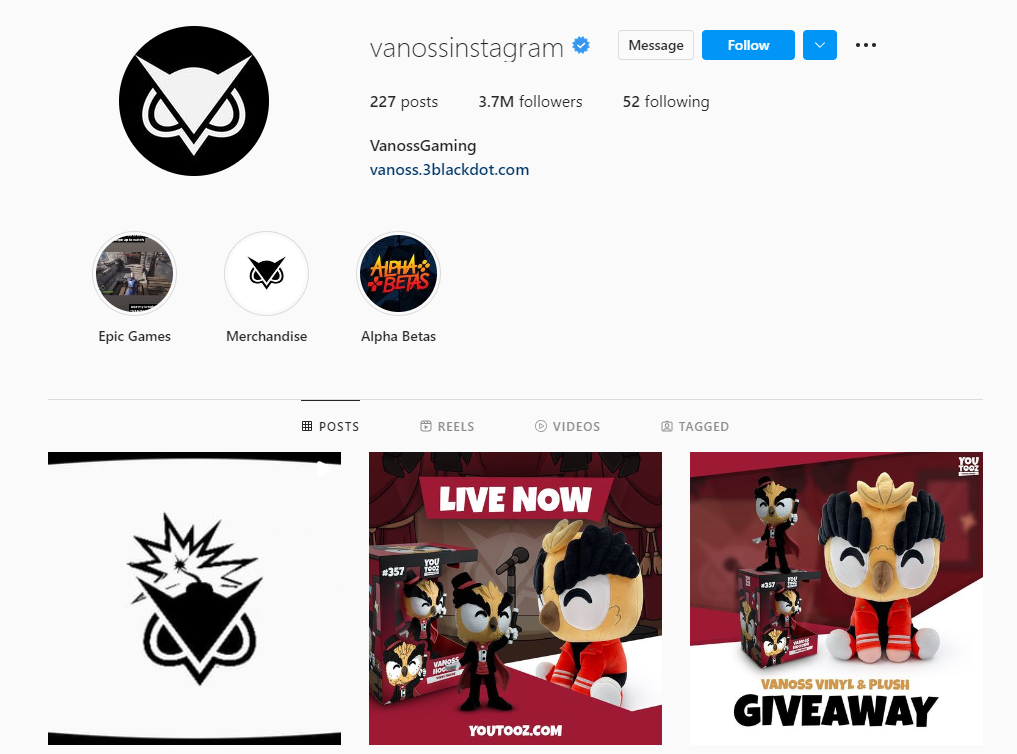 Source: @vanossinstagram
Jesse Vainikka
JerAx, aka. Jesse Vainikka, is a professional DotA 2 player hailing from Finland. The young gamer was the first person to win two bi-annual esports tournaments, The International, in 2019. After a 7-year career playing esports professionally, JerAx was about to retire at age 28[1]. Although he is no longer professionally competing, he is still one of the most popular gamers with a considerable fan following on various social media platforms.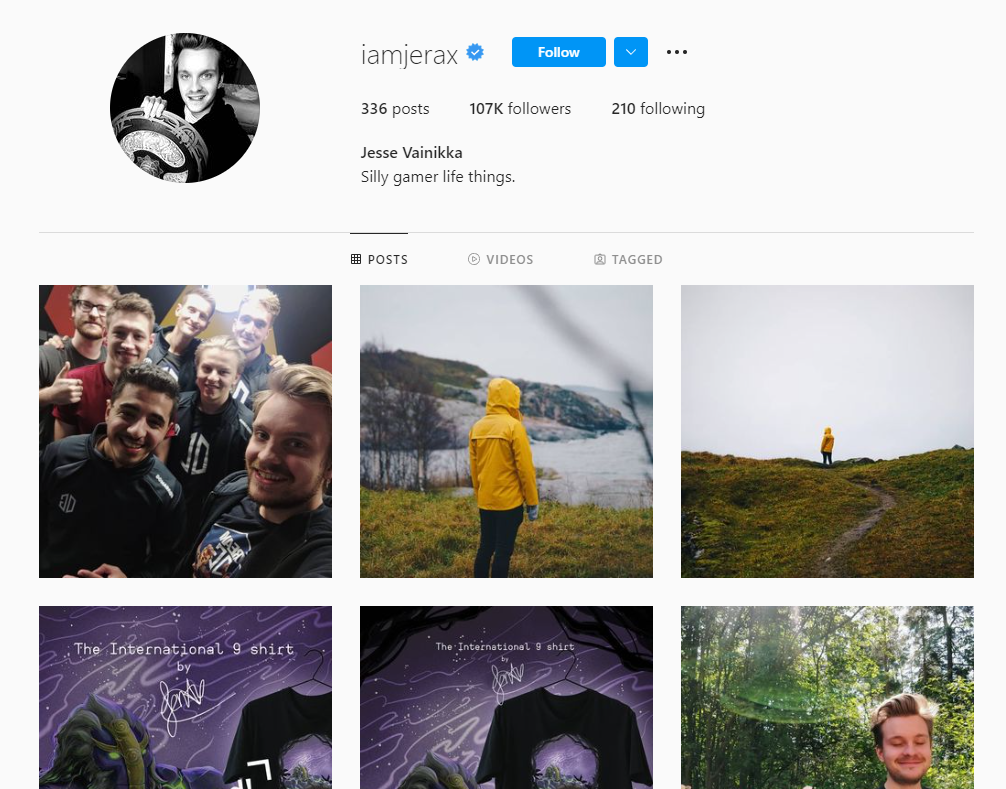 Source: @iamjerax
Johan Sundstein
Danish DotA 2 competitor, Johan Sundstein, is known as N0tail within the gaming community. He is part of the competitive esport team called OG. They were established in Europe in 2015. Though N0tails primarily plays DotA 2, his team also plays other games like Valorant and CS:GO. N0tail has amassed a dedicated following on Twitch (a platform he was banned from for a short period of time during a live stream), 514,7k followers on Twitter, and 291k fans on Instagram.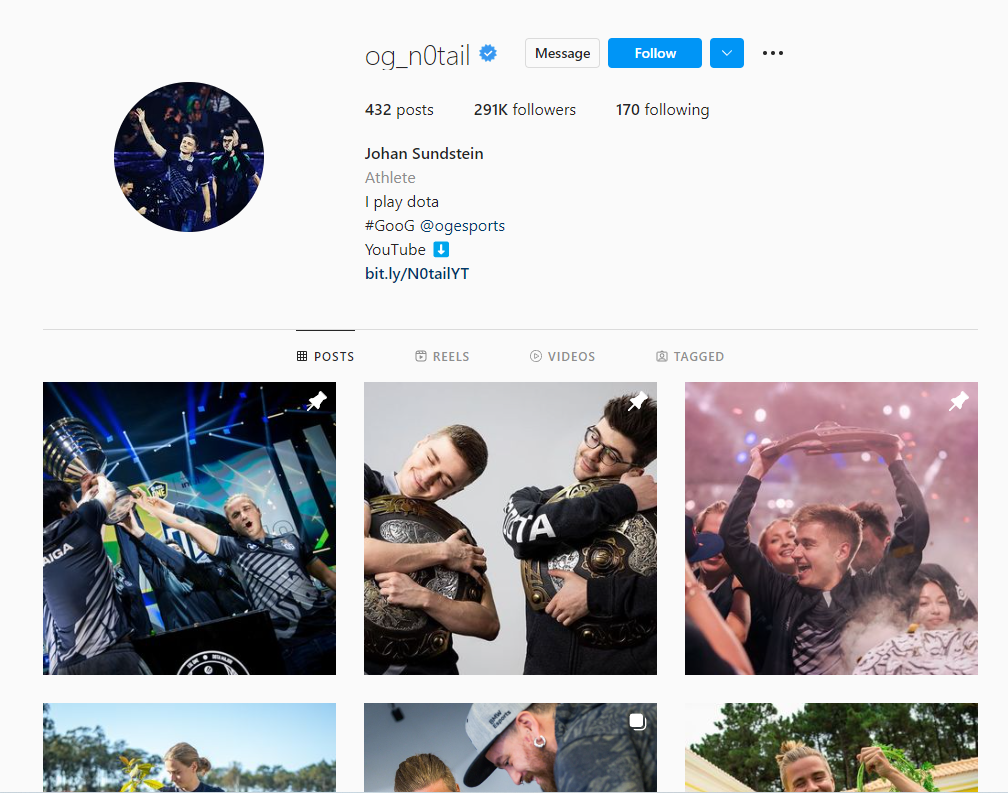 Source: @og_n0tail
Sebastien Debs
Another member of the popular esport team, Team OG, Sebastien Debs is a DotA 2 expert. His social media handles even prove his love for the game: ceb_dota. The French gamer helped OG take home two international gaming championships. Sebastien is supposedly credited with assembling the iconic Team OG and boasts 172k followers on Instagram.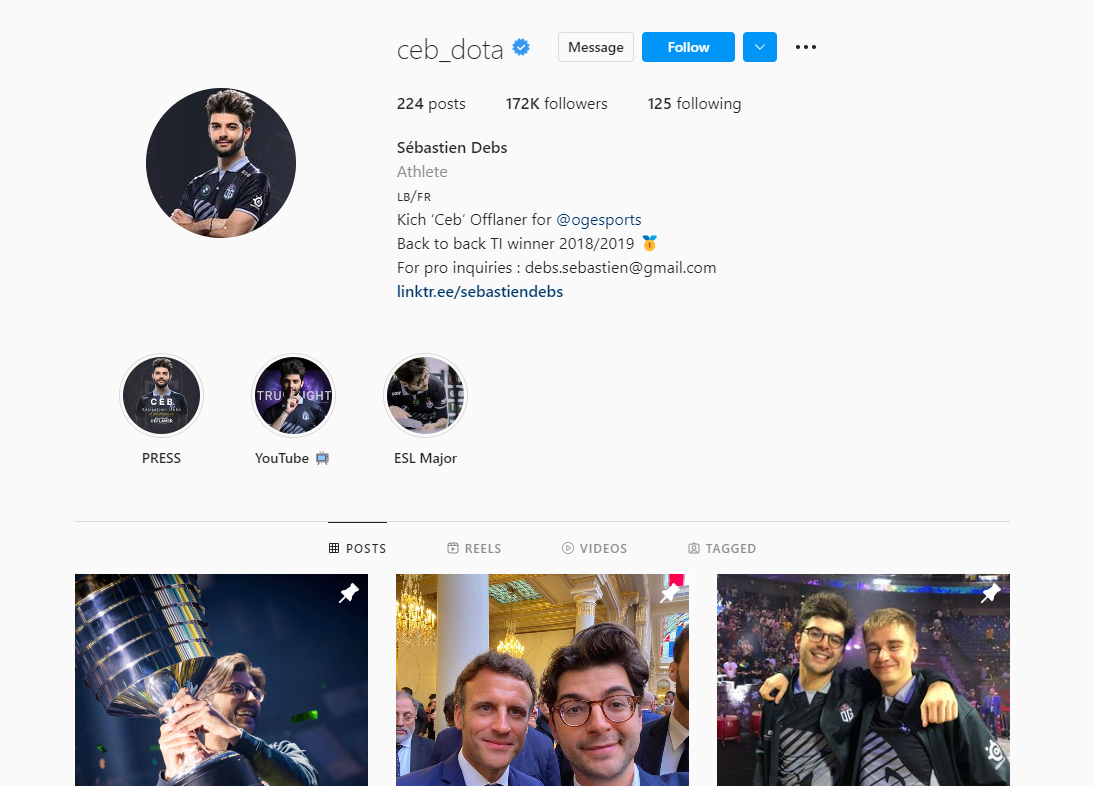 Source: @ceb_dota
PewDiePie
Controversial esport influencer, Felix Arvid Ulf, is known as PewDiePie by his over 21 million fans. His Let's Play videos were incredibly popular until PewDiePie released a gameplay video of himself saying a racial slur. Many of his dedicated fans abandoned him after the derogatory comment, and his relationship within the gaming community hasn't been the same since.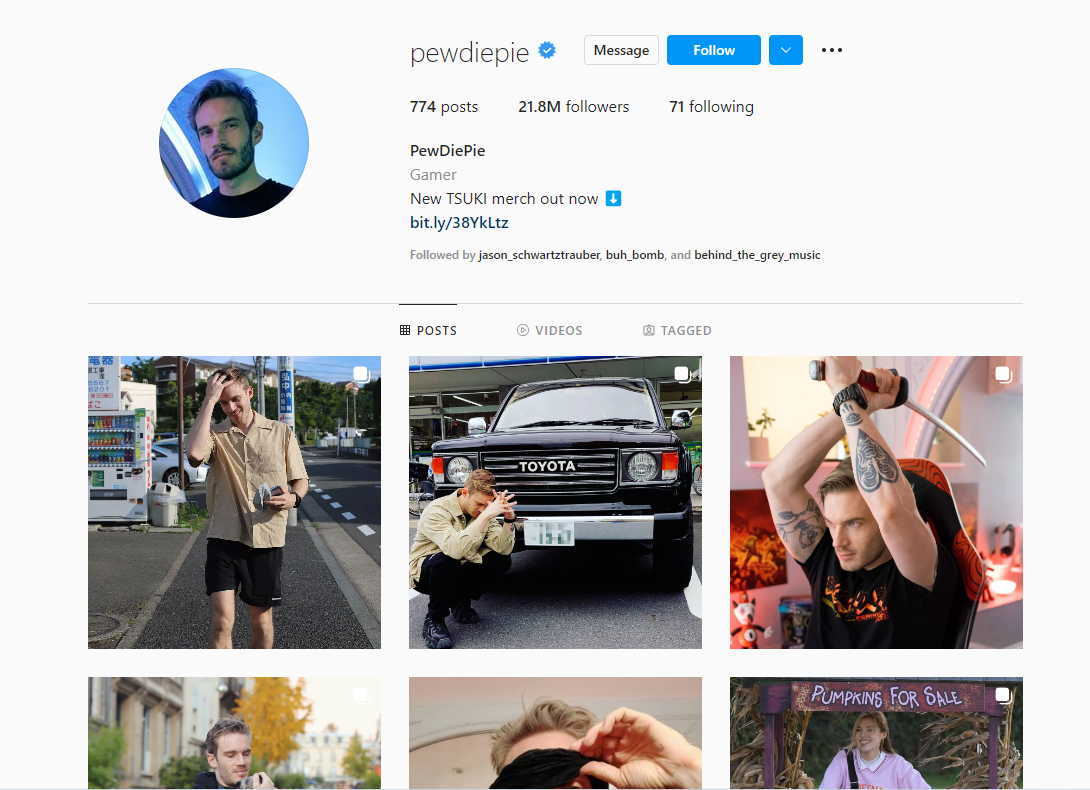 Source: @pewdiepie
SSSniperWolf
When SSSniperWolf isn't gaming, engaging in cosplay, or publishing anime content, she goes by her given name, Alia Marie Shelesh. The gamer has been playing video games since the age of 6 and has turned her passion into a career. SSSniperWolf has a reach of 20 billion views on her YouTube videos and was even named one of the top female gamers on the platform. With 32.4 million subscribers on YouTube and 5.5 million followers on Insta, it's no secret that the esport gamer influences her audience.
SSSniperWolf
Source: @sssniperwolf
Rich Fox
Though not necessarily an esports player, Rich Fox is considered a big name in the esports world. The former NBA player co-founded and owned an esports franchise called Echo Fox. The team competed in and won a variety of different games including Super Smash Bros, Dragon Ball FighterZ, CS:GO, and Call of Duty. Unfortunately, after ongoing controversies, the team was disbanded in 2019.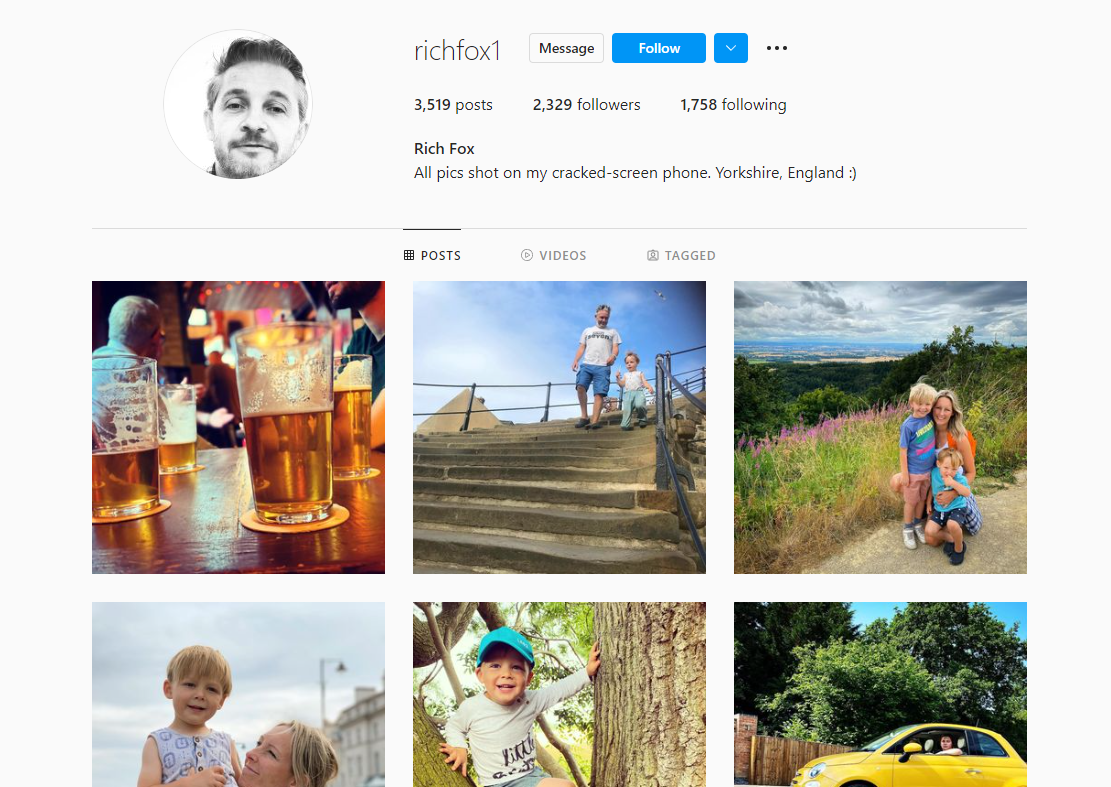 Source: @richfox
Popular Social Media Platforms for eSports Influencers
eSports influencers can be found on any of the well-known platforms, but they are most commonly found on Twitch, YouTube, Instagram, and Twitter.
Twitch
Twitch is a video streaming service and app designed to view live broadcasts. It has become incredibly popular among gamers who use the platform to broadcast videos of themselves playing video games. Many esports competitions can be viewed live on Twitch. Various channels are dedicated to specific games like Fortnite, Call of Duty, VALORANT, among others. Audiences follow professional gamers on Twitch which contributes to their popularity as esports influencers.
What is eSports? Frequently Asked Questions
The eSports world, abbreviated from electronic sports, is an industry dedicated to competitive video games. These games can be played individually or as a team. People from all over the world compete with each other for real, valuable prizes. Various brands frequently sponsor gamers of esports, and iconic figures like NFL players even own players' competitive teams. Professional gamers and amateurs alike enjoy playing various multi and single-player esports games.
What are the Top eSports Games?
What games are esports influencers playing? Here's a look into the most popular esports games right now:
League of Legends
League of Legends is a multi-player esports game produced by Riot Games. It's often categorized as a Multiplayer Online Battle Arena (MOBA) game because the players battle on a pre-designated field. League of Legends was apparently inspired by Defense of the Ancients, another esports game in the same genre. The main differences between the two games are speed of movements, characters, and game details, such as the ability to teleport. Both found inspiration in World of Warcraft, therefore, they do have quite a few similarities[2].
Defense of the Ancients 2 (DotA 2)
DotA 2 was released in 2013 and gained immediate popularity as the sequel to the original Defense of the Ancients video game. The upgraded version took off so quickly that DotA 2 was named the most played game worldwide, just a mere month after its launch, taking the title from League of Legends]3]. Identical to LoL, the game is a multiplayer battle involving two teams with five players each. The main goal is to destroy the opposing team's "Ancient." DotA 2 broke the world record in 2020 for raising the largest esports competition prize pool in history with over $40 million[4]. Some of the top players of DotA 2 are Sebastien Debs, Johan Sundstein, and Jesse Vainikka.
Counter-Strike: Global Offensive
Counter-Strike: Global Offensive aka. CS:GO, is a multiplayer game in the popular Counter-Strike series. Within the game are two teams, the Terrorists and Counter-Terrorists. Although the game can be set as competitive, there are 8 other modes that players can use. The CS:GO video game is the biggest shooter game in all of esports. Championship tournaments are held internationally bi-annually (during the Spring and Fall) and are referred to as the Majors. The prize pool varies from year to year, however, it is typically several hundred thousand dollars, up to millions.
Call of Duty
Call of Duty is another first-person shooting game similar to Counter-Strike. The popular video game has experienced numerous releases and different series within the CoD legacy since its inception in 2003. The brand has its own apps that allow iOS users to play the iconic video game on their mobile devices wherever they desire. Like the other esports video games, Call of Duty has numerous excellent players and esports league teams. These personalities compete with other teams to take home enormous prize pool winnings. Brands can sponsor teams and esports influencers, make appearances, or post partnered content on their social media platforms to promote the brand's esports marketing campaigns.
After understanding the biggest games within the esports industry, the burning question is: can players excel at multiple games? Or do they typically stick with one esports game? This depends heavily on the individual player or team. Because some of the esports games are similar in style and required skills, players can do well in multiple games. It is not uncommon for players to dabble in various games, but, generally, esports influencers have their game of choice to which they stick. This is the esports game that they compete in and post about on their social media accounts.
eSports Influencer Marketing vs. Traditional Influencer Marketing
There are a few distinct differences that set esport marketing apart from traditional influencer marketing campaigns. They include the following:
eSport influencers use unique platforms as compared to other niche influencers. Twitch is a very popular platform amongst gamers, which is less commonly used among non-gaming individuals. Professional esports players and esports fans alike create, view, and share content on YouTube, Instagram, and Twitter.
KPIs. Given the nature of the different platforms, KPIs for influencers and esports marketing campaigns differ from traditional influencer marketing ventures. Twitch is unique in that its metrics include Average Concurrent Viewers which the other platforms do not.
Team mindset. Although individual professional esports gamers can develop partnerships with brands for influencer campaigns, many esports teams are recruited as a whole. This team mentality gives esports influencers a leg up on sponsorships as they can be enlisted in both ways.
eSports Influencers Are a Boon for Marketers
An esports influencer, someone well respected in the gaming community, can help elevate brand awareness and online visibility for esports and gaming brands.
[1]https://liquipedia.net/dota2/JerAx#Achievements
[2]https://nexus.leagueoflegends.com/en-us/2009/10/what-is-league-of-legends/
[3]https://www.guinnessworldrecords.com/world-records/111053-largest-esports-prize-pool-for-a-single-tournament
[4] https://buffhub.com/en/news/lol-vs-dota2