Influencer marketing was once a radical marketing method, but it's since grown to become a vital part of any modern marketing strategy. Influencers help brands gain reach with target audiences and can drive campaign performance in ways that other efforts can't, simply because of their authenticity.
Working with influencers gives brands an opportunity to benefit from not only their own marketing efforts but the creativity and credibility of the influencer. These creative individuals have a skill for crafting content that audiences enjoy, helping brands gain traction on platforms with a low presence.
Influencer marketing takes work and planning, just like any other marketing effort. Influencers with a high follower count can help, but success is more about finding the right influencer fit and collaboration.
Statistics for Influencer Marketing
The Influencer Marketing Benchmark Report outlines the state of the industry for 2023, which includes the following highlights:
The influencer marketing industry is set to grow to approximately $21.1 billion.
63% of businesses surveyed plan to use AI in executing their influencer campaigns.
Two-thirds of these brands will use AI for influencer identification.
Over 83% of survey respondents still believe influencer marketing to be an effective form of marketing.
71% of respondents admit to spending more than 40% of their entire marketing budget on influencer campaigns.
Brands have a strong preference for working with nano- and micro influencers instead of expensive macro influencers and celebrity influencers.
It's more common for brands to pay influencers, according to 42% of respondents, than exchange a free product.
TikTok is utilized by 56% of brands using influencer marketing and is now the most popular influencer marketing channel ahead of Instagram at 51%, Facebook at 42%, and YouTube at 38%.[1]
Types of Influencers
There are different tiers of influencers and they offer different exposure opportunities. Working with any of them can influence a brand's marketing campaigns by increasing reach, but it's important to choose the right type of influencer.
Mega Influencers
These influencers have huge followings in the B2B or B2C worlds, such as Hollywood A-list stars like the Rock or tech giants like Elon Musk. These influencers have massive impact and reach, but the relationship can be distant. It's also expensive to work with these influencers, especially given that they tend to have lower engagement.
Macro Influencers
Macro influencers are high-profile internet celebrities with niche followings in the hundreds of thousands or millions. Some examples include Jesse Driftwood and Lily Pebbles. They've built a close, trusted relationship with their followers, but their reach may not justify the expense.
Micro Influencers
Micro influencers are credible smaller-scale influencers who are regarded as experts on a topic with highly targeted audiences. They have followings around a thousand or up to 100K, such as Tia Kirby or Adam Gonon. These influencers make effective brand ambassadors, but they may lack the social media expertise or devotion of larger influencers.
Nano Influencers
Nano influencers are online or offline influencers in a particular social media community, such as local bloggers, neighborhood leaders, or similar public figures. They usually have small audiences of up to 1K followers, such as Ritso Yipsa or Ayca Kalayci. Despite the small audience, nano influencers have a potentially huge impact, though their reach is smaller.
How to Use Influencers for Your Campaign
There are several ways a brand or organization can engage and collaboration with an influencer, such as:
Brand Takeovers
A brand takeover is when an influencer "takes over" a social channel for a time period, usually a day or so, to post content directly or host live videos. This can be a powerful tool to engage a brand's audience and draw in some of the influencer's audience, especially if all the content is cross promoted.
That said, there's a risk involved in an influencer taking over a channel. It's crucial for brands to vet influencers thoroughly and ensure that their values align. Otherwise, a lucrative influencer opportunity could result in a PR nightmare.
Giveaways
A brand that's planning a giveaway can engage an influencer to host on their platforms, creating a compelling reason for more people to get involved. It also drives the influencer's audience to the brand's channels.
For example, the brand Smart Sweets paired with Destiney Schriver for a giveaway that included gifted a mega box of the best candy around. In this campaign, the influencer's enthusiasm about the campaign is obvious in both the video and the caption.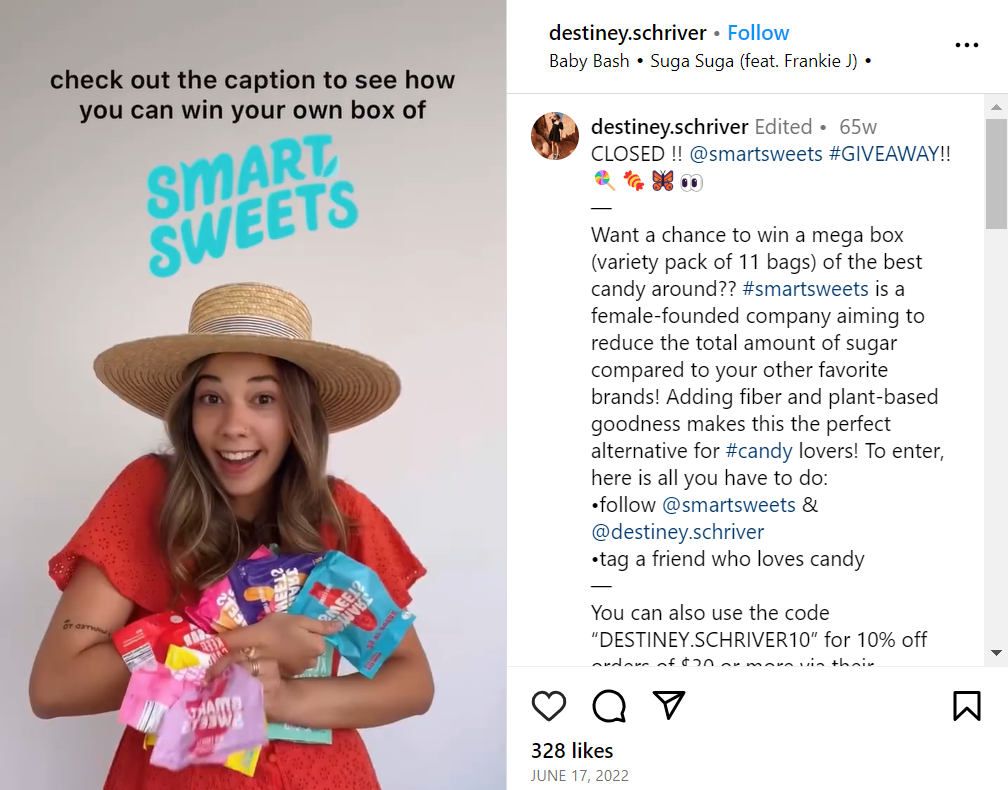 Source: Instagram
Video Campaigns
Video campaigns could involve engaging an influencer to star in a campaign video or video series. This content can be easily repurposed and re-distributed after the campaign is complete. In addition, it's easier than ever for both brands and influencers to make quality videos without hiring a professional.
Product Gifting
About 49% of consumers rely on influencer recommendations to make purchasing decisions. Though influencers are commonly paid with monetary compensation, gifting still has value within the influencer marketing sphere.
This involves gifting an influencer a product in exchange for brand exposure. The influencer gets the gift, which is typically something that they'd be interested in, for free, while the brand gets advertising for just the cost of the product or service. The brand usually provides some information to the influencer about the product to make it easier for them to promote it.
Here's an example from Irish influencer James Kavanaugh, who was gifted a picnic from Gra & Co picnics and candlelight suppers.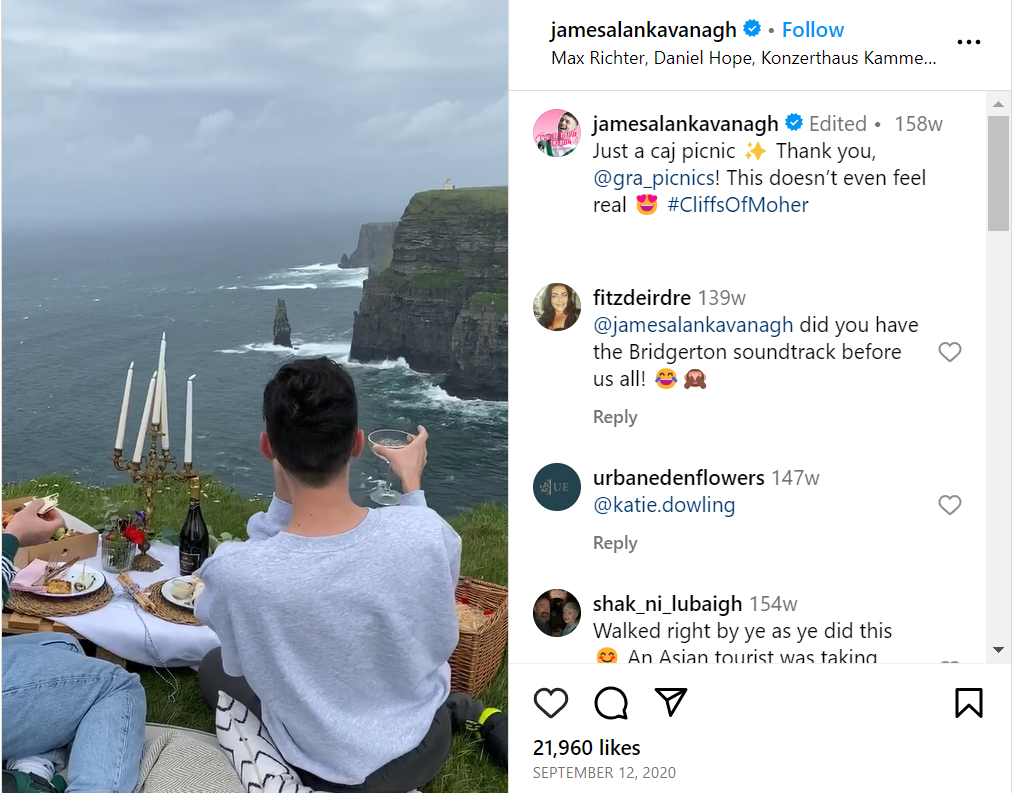 Source: Instagram
Event Coverage
Event marketing with influencers is an ideal opportunity to promote an event to a wider audience. If the event is intended for people in a specific location or with specific interests, influencers that operate in those areas or niches are ideal for bringing attention to the event for the target audience.
It's important to bring influencers into the process early on to build anticipation. Influencers can promote the event leading up to the day and may conduct live coverage for the event itself.
Dos and Don'ts for Influencer Marketing
Whether brands are new to influencer marketing or have worked on a few campaigns, it's important to avoid certain practices that can harm the campaign's overall effectiveness.
DO Reshare and Repurpose Content
Once influencers begin promoting a campaign, it's important for the brand to amplify it by resharing and cross posting the content on all social channels. Brands should have a conversation with the influencer about different opportunities and repurpose the content they create, such as using a video clip from an influencer for an advertising campaign.
DO Build Relationships
Some brands work with influencers for one-off campaigns, but many work on building long-term professional relationships. This is beneficial because it cuts down on the time it takes to vet influencers and find the right match, and both the brand and the influencer get a feel for each other over time. It also builds brand awareness when one influencer works with a consistent brand.
DO Show Up on the Influencer's Channels
Brands should actively engage with an influencer's content before reaching out for a collaboration. Then, once it begins, it's important for the influencer to be present and active on the channels and continue until the collaboration is over. This not only helps with monitoring but it forges a more meaningful relationship.
DON'T Be a Control Freak
It's vital that brands step back and aren't overly prescriptive or controlling when working with influencers. Ultimately, a campaign is a collaboration, so influencers should have some input in the process and content to ensure creativity, originality, and connection with their own audience. Brands should have detailed briefs to ensure that the influencer is aligned with their values and message, but the influencers should take the lead on the content itself.
DON'T Be Vague
When brands send out the first outreach, it's important to be personal and detailed. Clear communication about the brand, the goal for the collaboration, the product and services, and why the influencer is a good fit is much more effective than a vague message.
DON'T Be Shy About KPIs
Influencer campaigns, like any other marketing campaign, should have goals and key performance indicators (KPIs) to determine success. Brands should be clear about what analytics or stats are expected at the end of the campaign. Most influencers provide a general set of analytics, but it's best for a brand to outline the metrics they expect from the outset.
DON'T Fall for Fake Influencers
With the rise of influencer marketing, some people try to fast-track their way to a lucrative influencer position with fake followers and metrics to attract brands. It's crucial that brands evaluate influencers thoroughly, but here are some concerns that may indicate a fake influencer:
No profile image or too many stock photos
Offensive or unusual usernames
A private or anonymous profile
An influencer that follows more people than follow them
No link to a website
A templated or copied bio
A new profile
Little or no original content
Brands Can Leverage Influencer Marketing for Success
Influencers can play a crucial role in brand awareness, recognition, and growth, especially on social media. While it takes work and effort for brands to find the right influencers, create compelling campaigns, and measure results, it's essential to modern marketing.
Sources:
[1] https://influencermarketinghub.com/influencer-marketing-benchmark-report/