Return-On-Investment and Influencer Marketing:
Influencer marketing is among the best ways for brands to reach their target consumers. Data forecasting suggests influencer marketing is set to grow to a 15 billion dollar industry by 2022, positioning it as not only the present but also the future of brand marketing.
This is why understanding how to measure Return On Investment (ROI) effectively by adapting and translating it to serve the unique context of influencer marketing is critical to the success of marketing professionals everywhere. When reporting to stakeholders and decision-makers, marketers desire a more in-depth measurement of ROI that surpasses the limiting oversimplifications of vanity metrics.
Finding right-fit influencers:
In order for an influencer marketing campaign to succeed and achieve a higher ROI, it is imperative to pursue and partner with right-fit influencers. Partnering with right-fit influencers will not only ensure your campaign drives engagement and conversions but will also have a greater impact on ROI performance.
In order to identify influencers who are the right fit for your brand, you must first define your brand's overall, target demographic as well as understand your consumer segment groups before you can effectively begin to build relationships with the influencers that best relate to and align with the values and demographic appeal of your consumer audience.
Another strategy to partner your brand with the best right-fit influencers is by seeking out a top influencer marketing agency. Agencies have long-standing relationships with top tier influencers: those who have a proven track record of success and can guarantee engagement and conversion.
Your Brand's Objective:
Whether your brand partners with an agency or not, before embarking on your influencer campaign journey, identify your brand's overall, campaign goal and any secondary subgoals. Whether it is brand awareness, increased sales, or website visits, knowing the end goal is an essential ingredient when crafting your influencer strategy.
Focusing on your brand's primary objective also assists you when measuring and tracking your influencer marketing campaign performance. When debating whether to add page pixels, influencer promo codes, bit.ly links, or an in-store pin number (to measure in-store sales), zeroing in on your brand's campaign objective guides you in figuring out how and what to measure within the influencer campaign.
Communication + Collaboration For Increases ROI:
There is a magic that lives within the collaboration between brand + influencer partnerships. Being able to relay your brand's creative direction in a manner that inspires collaborative, creative ideas from the influencer is the making of a great strategy and successful campaign with all the necessary viral components.
Empowering influencers by giving creative control over their content is what keeps the message authentic and relatable, thereby resonating with the target consumers among your influencer's followers.
Ensuring alignment and communication exists prior to the curation of the influencer strategy sets your brand up for a fail-proof campaign that will show within KPI goals and overall ROI.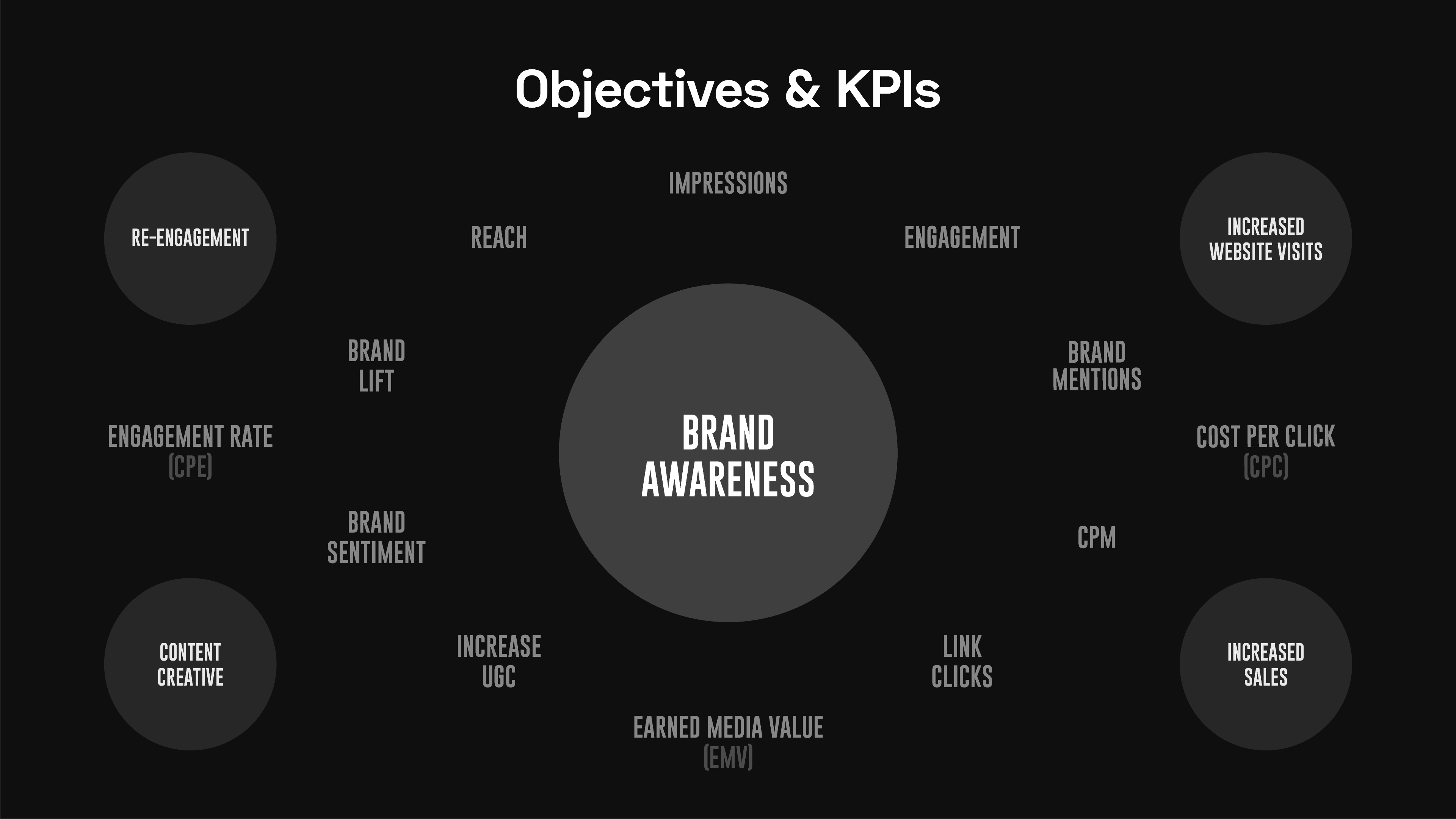 Defined Objectives and KPIs For Increased ROI:
Brand Awareness (Top Of Funnel):
The top of funnel influencer campaigns has one purpose: brand awareness. In order to get the most out of your campaign, measure these 7 KPIs to track the progress & success of your campaign's efforts:
Reach

Impressions

Engagement Rate (CPE)

Brand Sentiment

Brand Lift

Cost Per Thousand Impressions (CPM)

Earned Media Value (EMV)
Website Visits + Re-engagement (Mid-Funnel):
Mid-funnel influencer campaigns emphasize link clicks (website visits) and re-engagement in order to inspire a deeper brand engagement with an intent to lead the target consumer further down the funnel towards consideration and conversion. In order to drive customers through their journey, measure the following 8 KPIs in order to track the progress & success of the overall campaign:
Engagement

Brand Sentiment

Increase in UGC

Link Clicks

Cost Per Thousand Impression (CPM)

Cost Per Engagement (CPE)

Earned Media Value (EMV)

Cost Per Click (CPC)

Increased Sales
Increased Sales + Conversions (Bottom Of Funnel):
Bottom-of-the-funnel, influencer campaigns focus on deeper consumer engagement, brand retention, consumer loyalty, and overall increased sales of the brand's product and service, providing target consumers with an offer (prize offer, etc.) + definitive reasons to purchase or to create UGC.
At this point in the funnel, prospective consumers are already aware of the brand and ready to make purchasing decisions. To nudge consumers along and close the deal, measure the following 8 KPIs in order to track the progress & success of the overall campaign:
Engagement

Link Clicks (swipe ups, story stickers, etc.)

Brand mentions

Cost Per Engagement (CPE)

Cost Per Thousand Impression (CPM)

Brand Sentiment

Increase in UGC

Increase in Sales (promo codes, landing page pixels, etc.)

The Process of Measuring ROI in Influencer Marketing:
According to Influencer Marketing Hub, for every one dollar that a brand spends on influencers, they see an ROI of $5.78, a return of nearly six times the original investment! The process of measuring ROI in influencer marketing is the comparison of the influencer campaign versus social platform ads campaign with the same performance and based on the same budget. With the main measurements being Cost Per Click (CPC), CPV, CPM, Engagement, CTR, etc.
For example, let's say you deployed an influencer campaign that resulted in 1M Instagram impressions at a cost of $5K. To measure the ROI of that campaign, you need to know how much you'd pay Instagram for branded ads to achieve that same performance of 1M impressions. This is based on the average Instagram paid posts performance (PPP) per dollar for the year (something an industry report or IG itself would provide).
With this information in place, you then know that such a campaign would cost $10K. This means your influencer campaign was twice as efficient as an ads campaign would have been and the Earned Media Value (EMV) is $5K ($10K – $5K). Our ROI, in this case, is 100% since X amount of money was invested, therefore, the campaign received 2X the value.
Overall, within your influencer campaign, you want to see a combination of the below outcomes to ensure a positive ROI:
Positive brand sentiment

Exceeds budget investment

Achieves 100% of the target value consumer

Stays in line with the campaign's objectives

Noticeable increase in brand awareness through KPIs

Virality that creates a true impact

Increased UGC + longer

Increased overall sales
ROI translated through the use of influencer marketing tools:
There are several influencer marketing platforms out there that can track your campaign performance in order to provide you with solid measurements (once KPIs are set) for ROI purposes.
Through the use of influencer campaign platforms, you will receive campaign performance tracking on set KPI goals along with campaign listening, brand listening, and an analysis of content created by your content audience (UGC), giving your campaign the entire, in-depth view that is required to go beyond mere vanity metrics and calculate ROI once the campaign wraps up.
Our top 3 influencer marketing platforms include:
Influsoft

Traackr

Captiv8
Final Thoughts:
With more data available, influencer marketing now goes beyond the mere 'vanity metrics' so brands can ensure objectives are staying in line in order to increase overall conversions. There is more transparency that exists in the process of measuring ROI and therefore, helps marketers see exactly where ad spend is going and the return, whether the goal is brand awareness or increased sales.
Knowing how and what to measure in an influencer campaign is a key factor in measuring ROI. With the above breakdowns along with objectives and KPI's in place, your next influencer campaign will not only take more in-depth measurements but reveal the true ROI at campaign completion!
If you're looking for an influencer marketing agency that puts ideation, innovation, and creativity at the forefront, contact us today!
Until next time.