Influencers come in all shapes and sizes, and verticals – fashion at the top. Fashion bloggers came on the scene in the early 2000's, gaining influence to the point that they are now regarded as leaders in the fashion industry. Similar to many influencers, fashion bloggers, Vloggers, Instagrammers alike are achieving celebrity status. Fashion bloggers have become brand ambassadors and celebrities, while celebrities moved into the fashion world. Not too different a trend is happening for popular influencers in every major vertical.
While some folks achieve unlikely fashion celebrity, like 26 year old Blake Scott, biology major who woke up one day and just decide to start blog and Instagram account (and is now considered one of social media's most valued fashion experts according to the L.A. Times), most work for it.
Then there are fashion savvy, passionate, dedicated individuals like Jena Gambaccini got in the fashion blogging game back when it was all about the love for fashion.
If you know style and fashion, and you live in Chicago or surrounding areas, you have likely heard of Chi City Fashion and its founder, Jena Gambaccini. The OG fashion blogger and fashionista in Chicago circa 2010, when everyone was urging her to head to the coasts if she wanted to make it big in the fashion world, Jena had a desire to bring style to her Midwestern roots.
Now a well-known fashion blogger and fashion influencer in Chicago and around the world, Jena took some time out with me to talk about her life as a fashion blogger and influencer. You might be shocked at some of the things she has to say about social media and fashion blogging. Read on….
A MidWestern Fashionista with Heart
ZJ: What do you love most about writing your blog, ChiCityFashion.com?
JG: I have the freedom to express my opinions in a way that's very me – not edited by anyone else, no deadline, full creative freedom. It's also great to get feedback from people. I love when I get messages on social or emails, about why they loved my posts. I think even bloggers who have millions of followers enjoy it. I've been really lucky to not have very many haters.
ZJ: How do you feel about social media influence now vs. when you began?
JG: I started using Instagram 4 yrs ago, and no one I knew was using it except fashion brands. When I saw what it looked like, I thought it was filtered photos and a photo editing tool. I used Instagram for 1.5 yrs before friends joined it. Twitter was always the inside words, but IG was the visual of that. Back then, people knew my blog, and wanted to follow bloggers or brands and designers, so they would find them on Instagram, but I had no idea.
I had no idea I had 3k followers, until one day my friend told me. I was just using it to edit photos.
Chi City Fashion
I'm not good at paying attention to that stuff. I post what I want and hope for the best. I've been doing it for a long time, so have a hard time thinking about trying to get likes. I think people getting into [fashion blogging and influencing] in past couple of years understand the strategy now. I just joined Snapchat. I feel like I have to be on it 'cause everyone's on it. When I say that I don't care about [social media stats], other bloggers think that I'm crazy.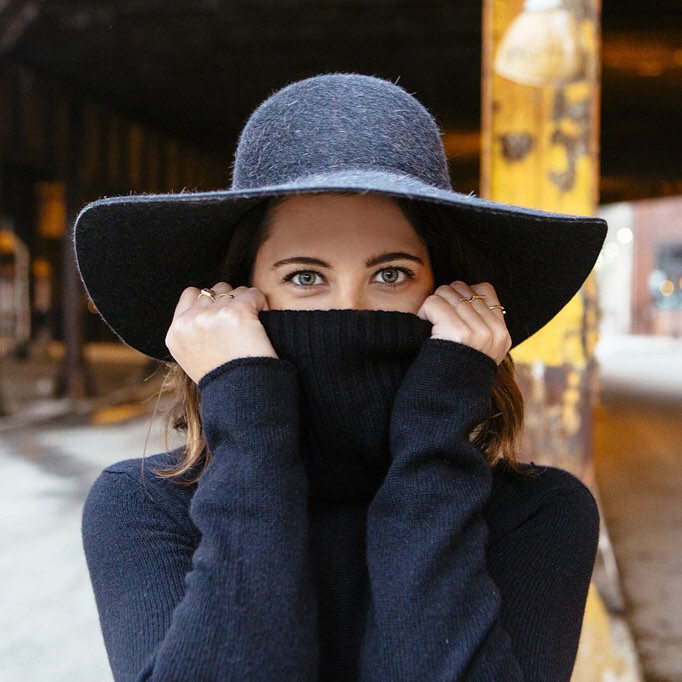 Chicago Fashion Blog
ZJ: Can you give us some insight into a "day in the life" for you?
JG: Until this Sept I never actually got vacation. I've been posting 5 days a week for 6 yrs without a break. I try to wake up early to work before everyone else wakes up. I work an average of 50 hrs./ per week, if not more, starting around 7 or 7:30 am. Every day is different. I usually work until 4pm, sometimes till 8pm. There are days I take my dogs to the park, but if I'm home I'm almost always working. I have events a lot too. Fashion events, restaurant openings, local publications, store opening, holiday events stores had.
ZJ: Let's talk about your adorable dogs – clearly you love them and integrate into your social media. Do you find increased engagement when you post dog pics?
JG: My dogs are a shepherd mix, boxer mix, both from a shelter in Chicago. The boxer tries to box me as I'm walking down the street. Do I see more increased engagement? It depends. I never thoughts I'd be a dog Instagram person because I found it embarrassing. Now I have my dedicated Instagram for my dogs (as peer pressured from friends) so I don't post them as often on my @chicityfashion account…but they still make some appearances!
ZJ: Do you have a job outside of fashion blogging?
JG: Blogging is my main job. Recently I began working with Guiliana Rancic on her clothing line, G by Guiliana, for HSN. it's been a new and exciting venture for me, as I've never done anything with clothing and design before.
ZJ: If you had to give advice to yourself 5 years ago, what would you say?
JG: So many things…….Fashion-related: think twice before you decide to adopt a trend or decide to spend a lot of money on a trend. I used to wear a ton of color, loved statement jewelry, costume jewelry……my style was "more is more" – now I'm the total opposite. I'm not sure if it's because I'm getting older and my style is evolving. I wish I knew back then what pieces to invest in more. And general advice, just try to not worry so much. You always think that what you are doing now is the most important and it will never change, but you have the power to change, and once you do it it's worth it. Take a risk sometimes….it just might pay off.
ZJ: Have you been surprised about how much influence you've had in other people's lives?
JG: I don't think I have a ton of influence, but it's cool when people let me know I have impacted what they wear or where they shop.
ZJ: Why did you start your blog?
JG: For a few reasons:
To create some sort of fashion presence in Chicago to prove to myself (and others) you don't have to move to NYC or L.A. to make it in fashion. I came on the scene when the Chicago fashion scene was sort of past its peak. In 2010 there were no other fashion bloggers, there may have been an event once a week at best. Now there are a ton of bloggers (in fashion and beyond), and multiple events every single night. It's been cool to be part of the growth of fashion in Chicago.
Getting dressed and putting on an outfit that's expressive of my mood – that's very powerful. I think of it as something way more than this materialistic thing. I want other people to be able to feel that way about fashion too.
I like to have a practical sense to my fashion. I want it to be relatable but also inspirational.
I appreciate what designers do – they are artists, and I appreciate the craft.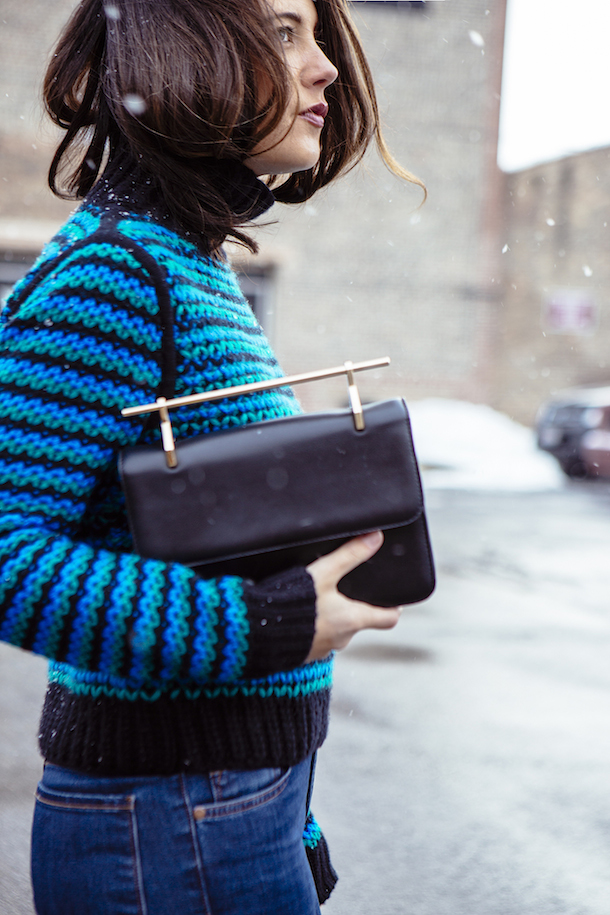 ZJ: If you were to give someone advice that wanted to get into fashion blogging, what would it be? How about for the social influencer world?
JG: Do it because you have something unique to say. All bloggers say they start their blog because they "wanted to creative outlet" (which is one reason I started as well). Now we've seen so many bloggers turn into designers, TV personalities, and lifestyle brands. This shouldn't necessarily be the goal when you start. You should blog because you have something to say or share. Today in fashion blogging you have to have something unique to say, or come up with something no one else has done before. You need to be authentic to maintain your brand (which all bloggers will tell you) and as much as new bloggers are probably sick of hearing that advice….it's so true! That's why I don't do strategic things on Instagram [to gain followers]. If I wanted to, I would post about pink peonies, my morning latte, or use bunch of hashtags, but that's just not me.
Also, it's important to remember that this works like any freelance job. You can make lots of money one month and no money the next month. You read stories about bloggers making six or seven figures, but realize that's not every blogger (it's actually very few in the grand scheme of things). When I tell people I'm a blogger they either don't get it or they think it's the coolest job ever. But know that you can't turn it off — you work all the time. You definitely have to be better with money. Before I was used to a pay check every 2 weeks, but as a fashion blogger you only get paid when brands decide to pay you.
ZJ: What is your favorite thing to do outside of fashion and social media?
JG: To eat. I love going out to restaurants, hanging out with my dogs. I also volunteer at the shelter (PAWS Chicago) where they came from.
ZJ: I loved your post today about "Surviving Chicago Winters", because it's exceptionally challenging to feel cute & fashionable when it's zero degrees. I'm wondering if the links in the article are paid sponsors or personal favorites that are getting props just because?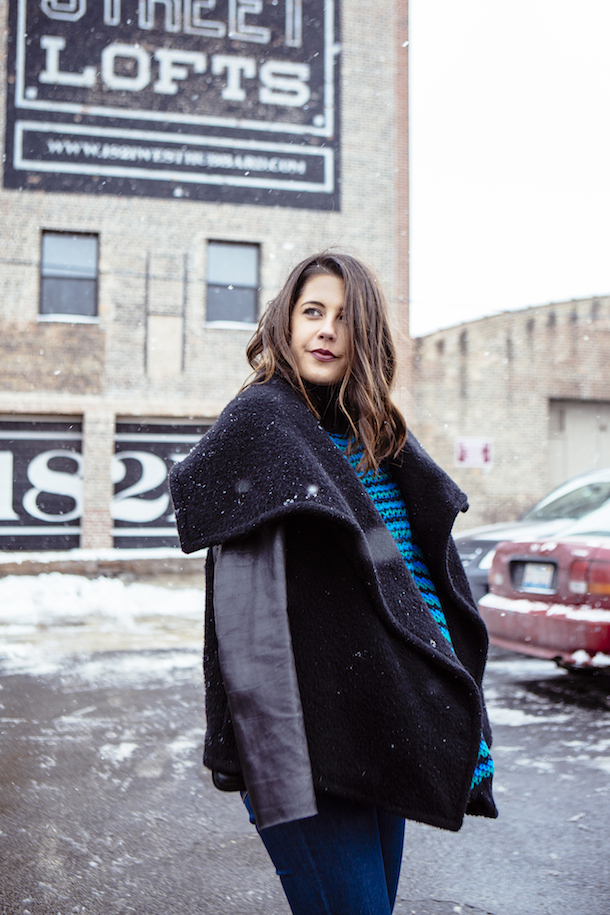 JG: Not sponsored. If I link to a larger retailer, a majority of the time they are affiliate links (like Topshop and ASOS in that specific post you referenced). But if a post in sponsored ChiCityFashion, it's disclosed at the bottom of the post. Rather than using traditional banner ads to make money, I prefer to organically incorporate sponsored content onto my site (whether it's a blog post, social media, or both).
I like to do sponsored content because it's more organic. This is how I make money; sometimes sponsored blog posts and social, or sometimes just social.
ZJ: Can you share with us one other fashion prediction you have for 2016?
JG: In general I remember in 2010/ 2011 there was a lot of color and liveliness in the collections. Then it did a 180 to neutrals and grays, and an overall more casual vibe (re: the sneaker craze). I don't think that's going away, but I do think it will turn again. People seem to be ready to have that excitement back in their wardrobe…
Discover Jena
iTunes
pic credits: ChicCityFashion.com & Jena Gambaccini