Many people view fashion and feminism at odds with one another. Not Zunera, founder of popular Fashion Feminista blog, Zunera Serena, named after a partnership with her 7-year-old daughter. Pakistani-born Zunera knows all too well what it feels like to live without personal rights, making it one of her life's missions to inspire feminist freedom, all while wearing the latest fashion.
Zunera took time out of her busy full-time work, full-time blogging, full-time mom and wife day to chat with me this morning. Her desire to authentically empower and change the lives of women around the world is captivating. Here's what Zunera had to say about fashion, feminism, being a top fashion blogger, and life.
DC Fashion Blogs
Overview:
Highest earning fashion blogger in Washington D.C.
Full-time job: Program Manager for US Citizenship and Immigrations Services (USCIS) and Refugee Affairs Int'l Operations (RAIO).
Mother, wife, + blogger.
Met her husband in the US, at 17 years old, as soon as she arrived from Pakistan.
Featured on CNN, Self, and Glamour.
ZJ: Tell me what it means for you to combine Feminism and Fashion?
ZS: I moved from Pakistan as a teenager. I was a rebel coming from Pakistan, where things are very conservative. There feminism was always about being equal, being treated equal, and having same rights. It's different in America; yes, I got all the opportunities here, but I saw this cliché, that if you're a feminist, you have to also be anti-makeup and anti-fashion. Because we don't want to do this for other men, or other women. My idea of Fashion Feminista is a mixture of the two, where both come together and go hand in hand. If you love your body and you love yourself for who you are, that's a fashion statement.
ZJ: Tell me about your brand's slogan "The Fashion Ninas".
ZS: Fashion Ninas is a combined collaboration between my daughter, Serena and myself. My daughter Serena is 7 years old and controls her own destiny. Initially, we began with just a Facebook page. I started this blog at age 30, already past the age that many people think to start a blog. I gave Serena the choice of what to call it, and she combined our names – Zunera and Serena – to make "Fashion Ninas".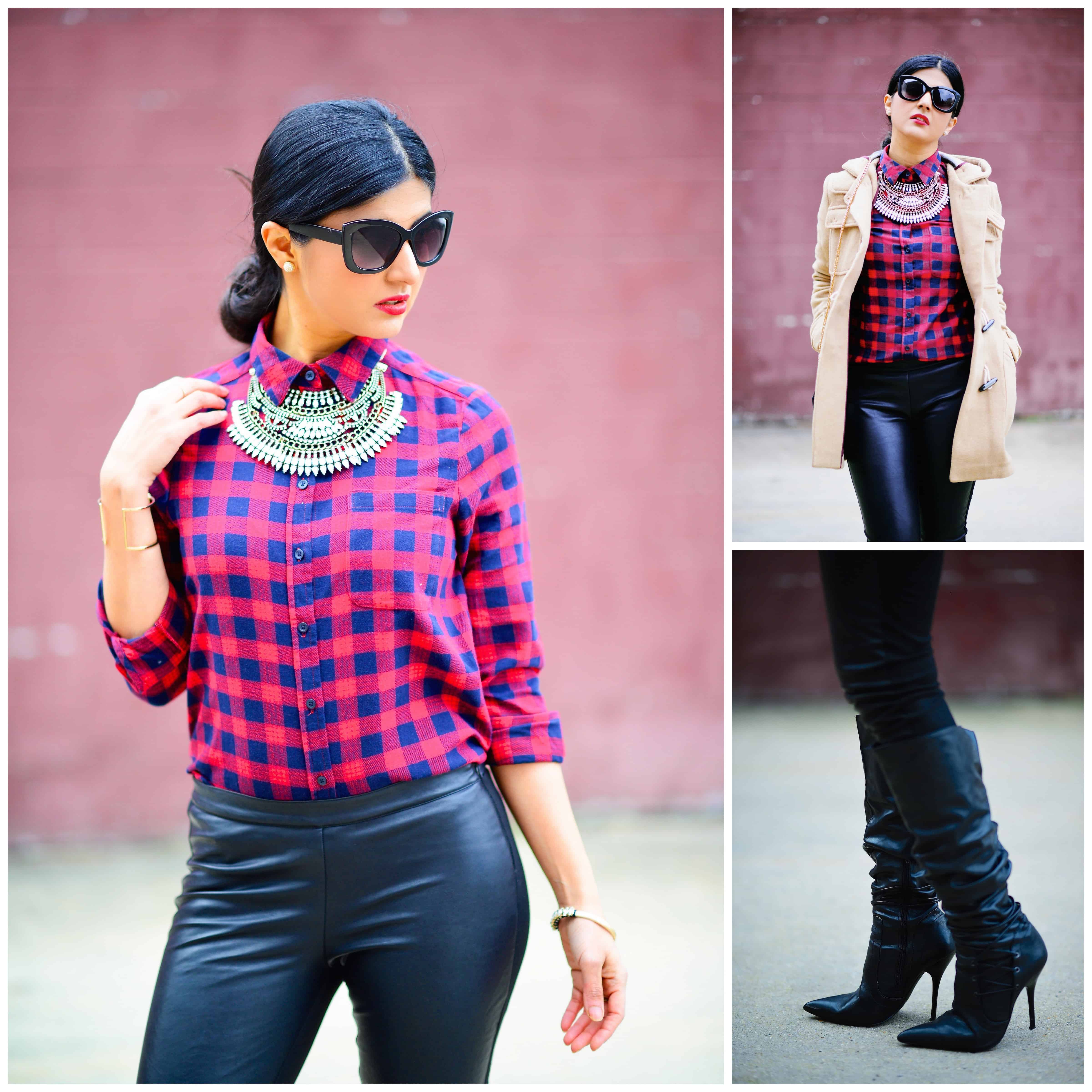 ZJ: Do you model in all of the photos you post and is modeling something you have always done?
ZS: 2 yrs. ago I won Mrs. Pakistan International. Growing up I always wanted to be a model, but because I lived in a conservative society that didn't happen. Everyone naturally asks if I want my daughter to be a model- I say it's her choice. She's welcome to try everything.
I model for all the photos. When we first began, I would do one post, and then Serena would do another. I have taught Serena to make her own life decisions. My husband and myself migrated here from Pakistan. Originally Muslim, we now identify as Spiritual and raise Serena as Secular. We are trying to raise an independent child. We let her post or not, depending on how she feels.
ZJ: How do you choose which clothes to feature?
ZS: It was a learning process for me. I choose clothes for most of the posts. Even when brands send me clothes, they ask me to style an outfit and choose the clothes. Initially, brands would send me "gifts" and I had to learn the fine art of saying "No" to support my followers and stay true to my style. I do a lot of sponsored brand work. People know that whatever I post is my authentic personal style.
I like simple pieces you can mix together, and at the same time I love bold and floral prints. Blogs or other women should be a source of inspiration, not a source to copy someone else's style. We all look different in different clothes. I think it's important that we use blogs for inspiration and to find our own personal style. I hate answering the question, "What is the latest fashion trend?" The latest trend is whatever looks good on you. There are so many trends I don't do because I just don't like them. I love to wear things that make me happy. Dressing up does something to your mood. My husband says my walk and talk changes when I get dressed and put on makeup.
ZJ: What made you start your blog, and how have you grown your audience?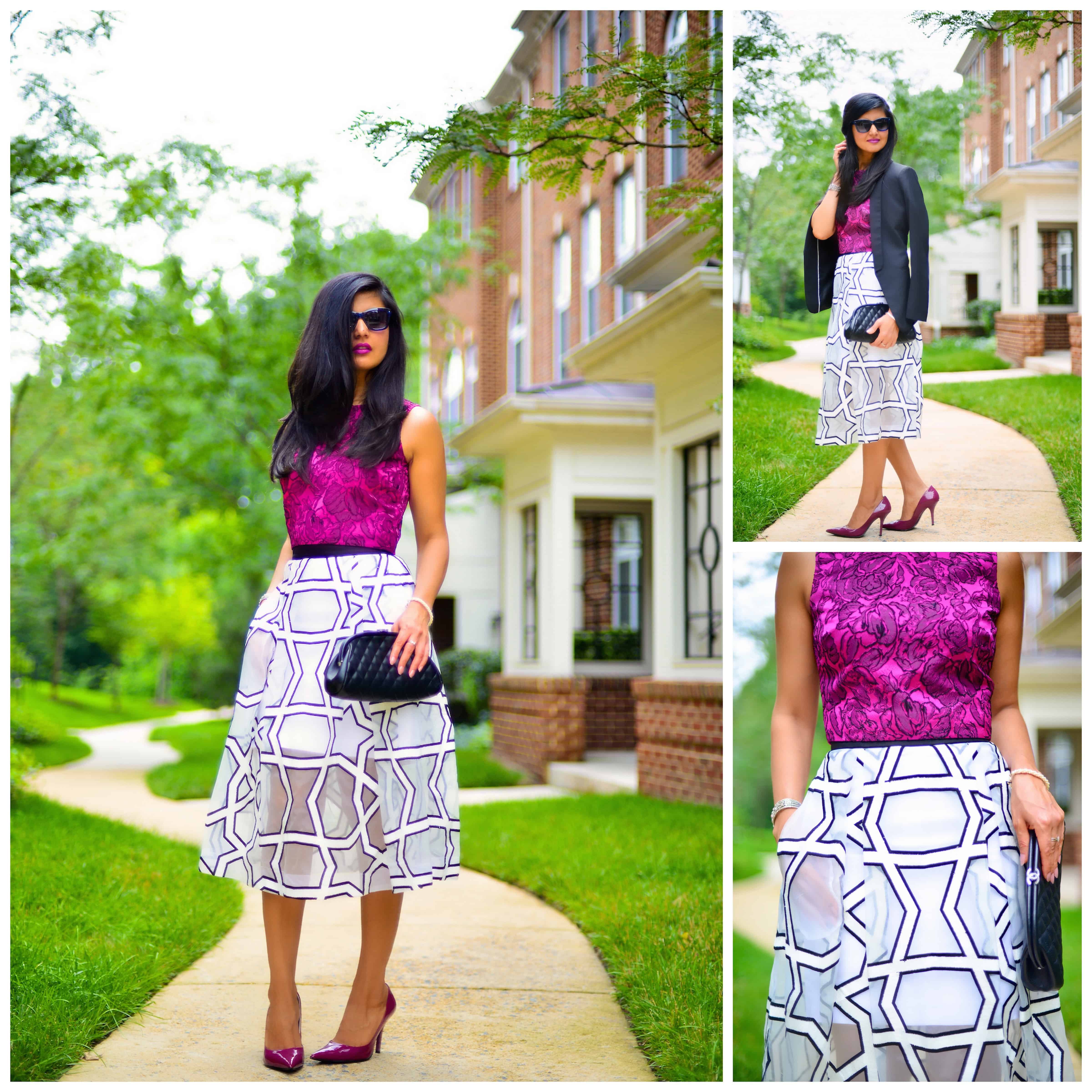 ZS: The blog thing came up because I was so popular at work for my clothes (I would customize suits). – Regional exec in banking. I got into banking when I came to the US and at 26 years old I became a regional executive at a credit union, managing 150 employees. Left all that because I was bored, and I joined the FBI and worked as an intelligence analyst, then moved to immigrations for fraud detection and national security and international operations.
I always had a personal style statement. I was always dressed up at the FBI when people were in jeans and t-shirts.
One day driving home from D.C. my husband asked me what I like and about my hobbies, and I said that I love fashion. He asked, "You mean you just love to go to the mall and shop?" His hobby is photography and he offered to take my pictures -we started from there and it grew.
ZJ: I read a few posts from the "Fashion Feminista" section of your blog. Do you think that some feminists would say that the concept of "fashion" in today's society clashes with feminist ideals, and how would you respond to that?
ZS: I think accepting women for who they are is progressive and feminist. Anything can be seen as "sexualizing" – back in Pakistan if you show your face you are sexualizing yourself. I know what it is like to be judged. I think once again that clothing and how you look is a personal choice and it's important to do this makes me truly happy. As soon as you say, "this is sexualized", you are taking 100 steps backwards. I think having an open mind truly comes from self-awareness; I don't think it comes from following rules or a policy. Is sexualizing happening? Yes. I just don't think that Americans realize the notion of freedom vs. true sexualization.

ZJ: I noticed links on the right side of your website to major retail stores like Anthropologie. Do you show the weblinks as a courtesy, or are you an affiliate partner to those brands?
ZS: The links are retailers I wear most often. I've never been paid by ASOS but I love free shipping, free returns, I love the styles, and the fact that we don't really see their UK-based clothes in the U.S.
ZJ: To what 3 things would you attribute your success as a top fashion blogger?
Truly connecting with people
Loving what I do & showcasing my true identity through the blog
Not doing this for popularity or $ but doing this from a place of calm, because everything I wear and everything I do comes from a place of self-awareness. Once you are aware, you connect with people openly, and you can have truly positive and genuine connections.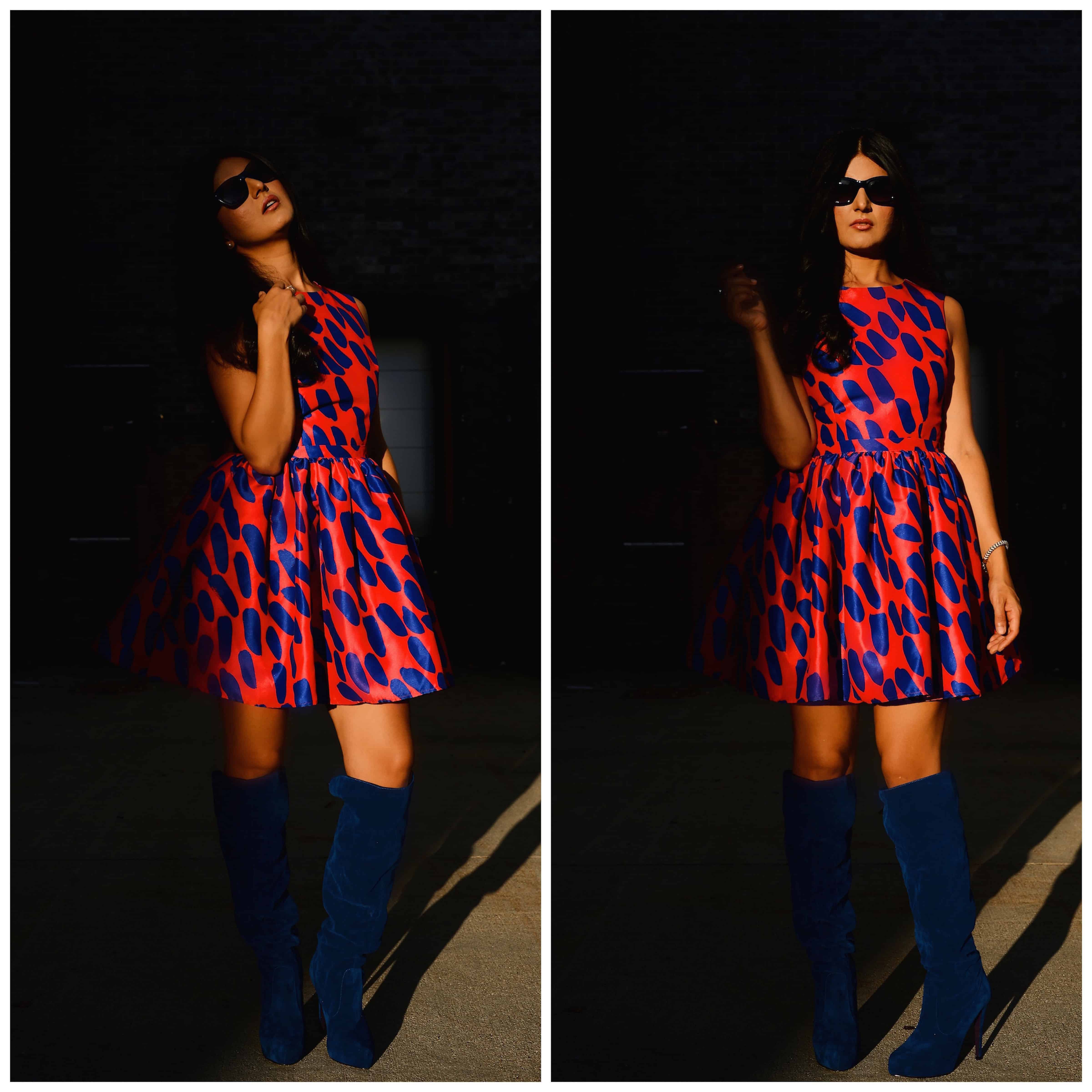 ZJ: What has helped you become the highest earning fashion blogger in D.C., and what does it mean for you to achieve this impressive status?
It inspires me to do even more, to do well, but not from an earning aspect. I make a decent living.
ZJ: At what age did you start getting into social media, and how did it feel?
ZS: I was recently named one of Asia's top bloggers, which felt great, but at the same time I think they are titles and magazines have to publish something. I appreciate media for what it is and my peace of mind comes from other places, like direct connections with my audience, or getting personal messages from women in Pakistan or countries where women cannot live freely. I feel so heartbroken because there are so many real issues and I receive messages like, "I could never wear jeans like this," or "How did your husband allow you to do this?" I think my blog allows people to realize real issues exist, and it helps them find a fun side to life at the same time. Negative experiences don't have to become your life. For me, the blog achieves both: a platform to discuss issues near and dear to my heart, and a place to inspire others that life goes on after difficulties.
ZJ: What reasons do you think people find and follow you on social media?
ZS: I think true people who have been following me for a while want to read my articles. It makes me feel great that people want to hear my voice.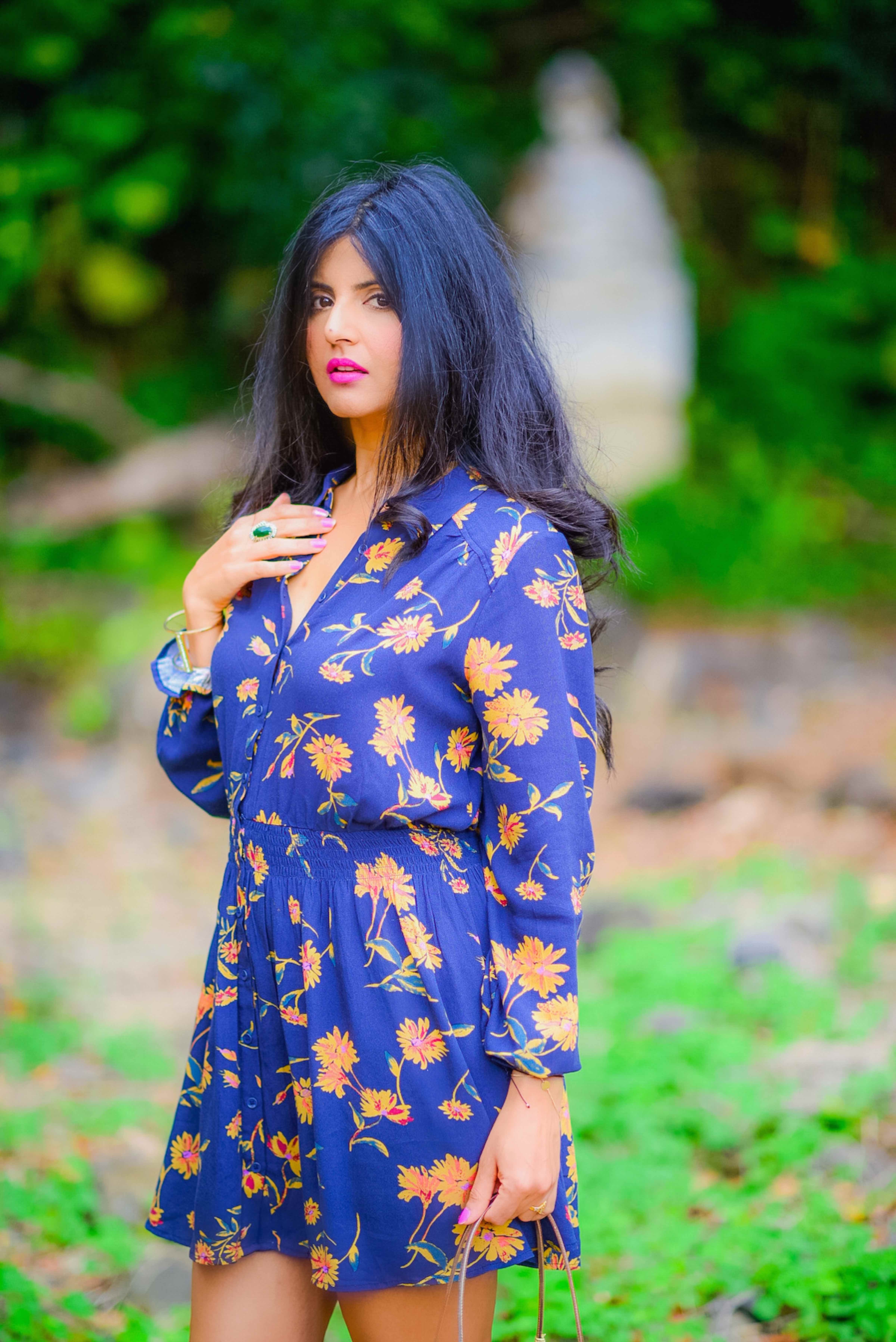 ZJ: Do you see yourself as an "influencer", and if so, what does that mean to you?
ZS: Yes, and as inspiration too. It gives me great peace of mind that women look up to me. I think I'm a great source of inspiration that women can do it all – be successful, smart, and fashionable. I love breaking barriers and pseudo-barriers women have created for themselves. I love to influence people's thinking – not just about fashion, but also about feminism and about being a woman. I like to throw everything out there and say, "Why not?"
ZJ: Who do you most admire in the world?
ZS: Too many people! Alan Watts, Gandhi, Obama, Bernie Sanders, Stephen Hawking, Mark Zuckerberg. These are people truly living their lives the way they want to & giving back.
ZJ: If you were to give someone advice who is thinking about getting into social media and the world of influencing, what would it be?
ZS: Give back first. The only way to get it is to give back first. Give your time, be happy for other bloggers, participate, collaborate, appreciate, and connect because you want truly meaningful relationships, not just for yourself. I believe that whatever you put out will come back. If you are taking the time getting feedback and connecting with others, it will come back to you.
ZJ: General words of wisdom you live by?
ZS: I believe in karma: whatever you put out there will come back. Most important is staying positive and staying true to myself. I believe in self-awareness; taking the time to be aware of who I am as a person through practices like meditation, yoga.
ZJ: Favorite quote (if different from above)?
ZS: Live and let live.
ZJ: What is your favorite thing to do outside of your life in social media, and your job?
ZS: I love dancing. I dance a lot! Sometimes I have to be careful at home because I find myself doing some crazy dance moves!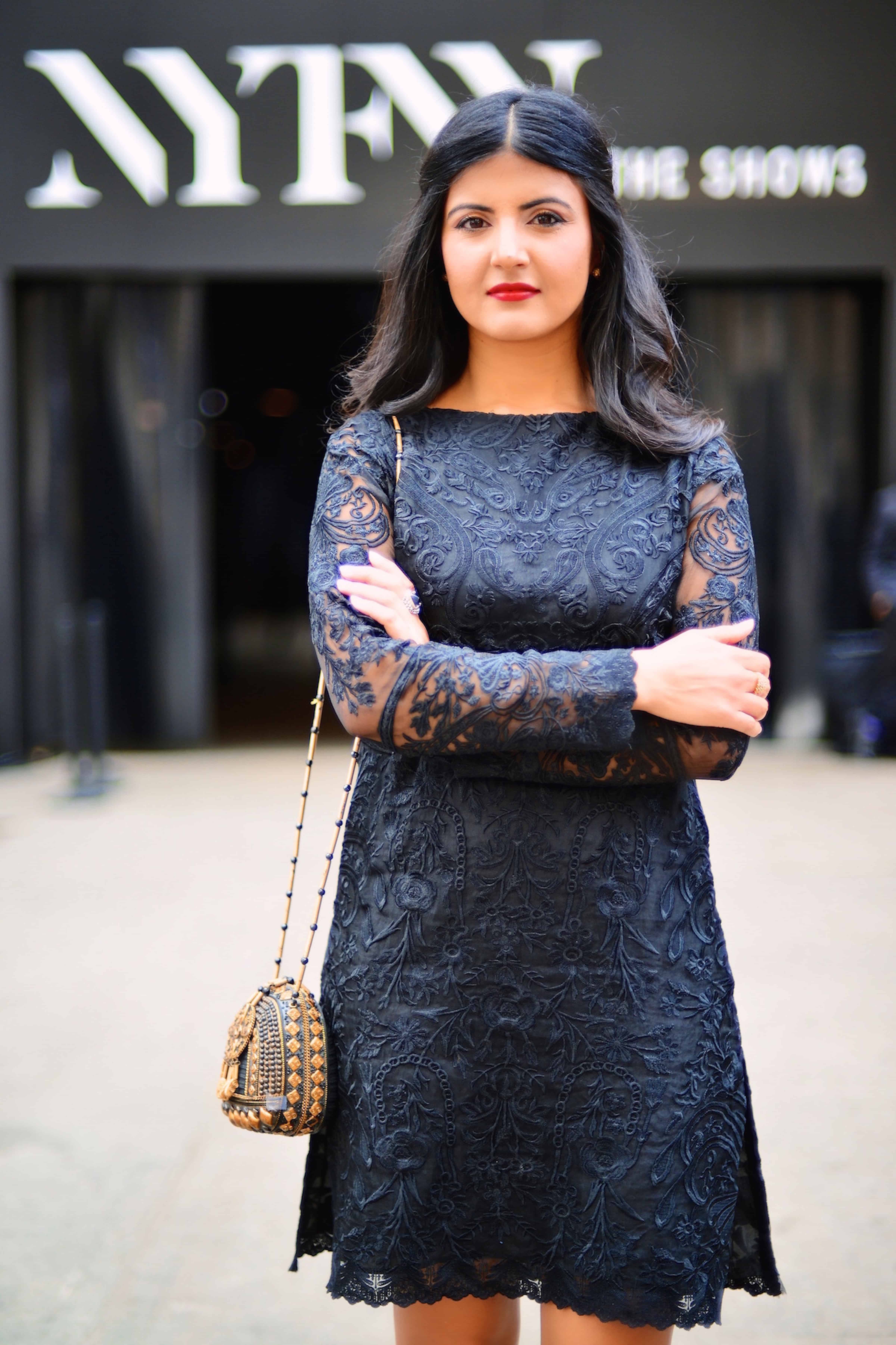 ZJ: Tell me about a time when you really impacted someone's life with your social media content. What was the result?
ZS: I motivated someone in a very bad relationship to move one. We think it's great when South Asian women live in the US, but most women are living under tremendous pressure. If you're married, you are expected to have a regular job plus do everything else too. Women just get crushed here because husbands expect a Pakistani wife at home but then a sexy female in public. Some women can't do it all. On more than one occasion I have convinced a woman to get out of an emotionally and physically abusive relationship. | I have also been able to inspire women that they can be good people and still wear something "provocative", that your clothes do not define who are as a person.
ZJ: Tell me about struggles you've had as a female fashion blogger?
ZS: I have a harder time getting certain deals because I am not of a certain color. I was on CNN when Paris attack happened because I made a video, which received hate from both sides – Pakistanis and Americans. Something like this just motivates me that much more. Revenue or amount of people will never be my high, but speaking my mind without fear, or making someone's day, is my measure of suggest.
ZJ: What is your biggest dream in life?
ZS: My biggest dream is to have the ability to speak my mind and get the message out, "Yes, u can do it all – don't judge yourself or others," to an even larger audience (in whatever capacity).
ZJ: Do you have any upcoming events or announcements you wish to share?
This year has been really exciting. Last year I signed on with Self as a contributor. This year I'm excited about a big collaboration with Glamour Magazine. I can't say much, but more to follow! Follow Zunera