The boyfriend of Instagram influencer Beauty Couch has been arrested and charged with murder. Eugene Louis-Jacques, 21, was caught in Louisiana on Saturday, August 27th, just three days after 22-year-old Couch's remains were found near a burning car left on the side of the road in Austell, GA.[1]
Beauty Couch had been missing since Tuesday morning, which was discovered after the Austell firefighters doused the burning vehicle and contacted the owners – Couch's adoptive parents.
The Death of Beauty Couch
After posting her last post on Saturday, August 19th, Austell-based influencer Katera Couch – who went by the name of Beauty Couch on Instagram – was believed to be missing on Tuesday, August 21st.
On Wednesday, August 22nd, firefighters responded to a brush fire off Joe Jerkins Blvd and Landers Street. When they arrived, they found a vehicle engulfed in flames. Once the fire was put out, the vehicle was transported to a wrecking yard and the owners were contacted.
During that call, the vehicle's owners told police that their adoptive daughter, Beauty Couch, had been missing since Tuesday.
Police returned to Joe Jerkins Blvd and Landers Street and discovered Couch's body near the wood line. Her cause of death was unknown. Under the circumstances, police suspected foul play immediately. According to the police, if the car hadn't been set on fire, it could've been years before her body was recovered.
Couch's Boyfriend Arrested in Connection with Her Death
Upon discovering Couch's body, her boyfriend Eugene Louis-Jocques was a suspect. He was found on August 25th in St. Tammany Parish, Louisiana, and arrested by local sheriffs on charges of murder, arson, and aggravated assault in connection with her death.
Louis-Jacques is awaiting extradition back to Georgia from St. Tammany Parish Correctional Center.
"Let the message be that we do not take kindly to people who think they can commit a crime elsewhere and try to hide in St. Tammany Parish," said Sheriff Randy Smith.
"We were happy to help our counterparts in Georgia by locating this suspect and taking him into custody so he may face justice and Miss Couch's family can begin to receive closure during this difficult time."
At this time, Louis-Jacques motives and the details of Couch's death have not been disclosed.
Remembering Beauty Couch
Katera Couch was a popular social media influencer who amassed an impressive fanbase by posting roller skating videos on her Instagram page. An Atlanta native with over 150,000 followers on Instagram, Beauty Couch described herself as a dancer and offered dance lessons to her subscribers.
Her last post on Sunday, August 20th, was a picture in a swimsuit with the caption, "He said I look good in red, might as well call me sexy redd."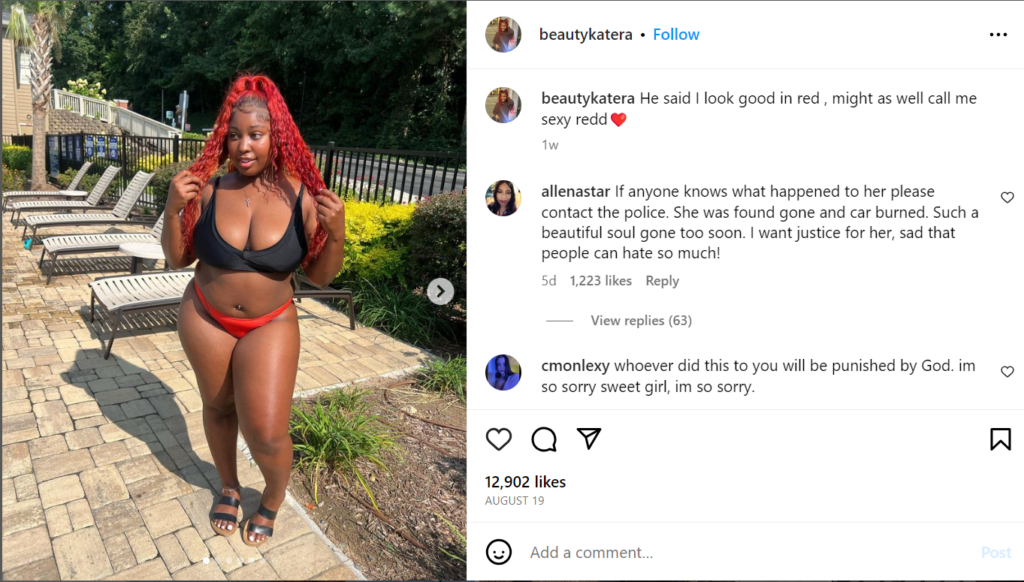 Source: Instagram
The influencer's mother, Kimberly Couch, is devastated by her daughter's violent death and expressed disbelief that anyone could do this.[2]
"She was a friend to everybody," Kimberly continued. "She loved going skating. She loved going to work. She loved her clothes. She loved wearing her hair so pretty."
"They burned my baby's car up. They burned her car up. They treated her like she was a dog. I don't like that. They hurt my baby so badly. My baby didn't deserve this. My baby was a good baby."
Her adoptive mother, Deanna Thurman, created a GoFundMe for Katera, writing, "She stole my heart from day one. She has always been such a sweet, happy, and talented child. Always smiling and dancing around the house at the tender age of two. She was extremely active and vibrant with a love and passion for all things skating and dancing."
Others honored Beauty Couch's life on Instagram. Alicia Simmons posted, "Anyone that knew Beauty knows she was sweet, kind, funny, helpful, and trustworthy. She never did anything malicious or to betray trust and she did not deserve her life being taken away."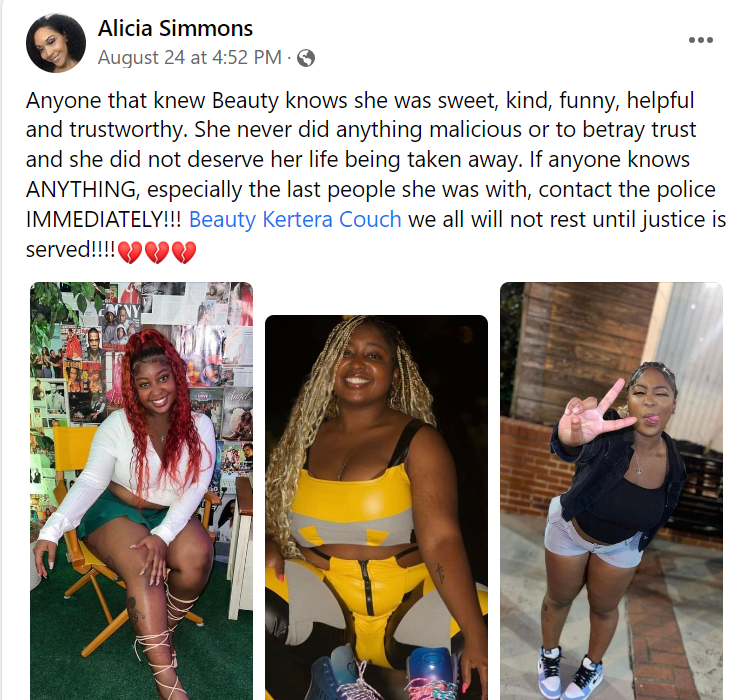 Source: Facebook
There's an outpouring of anger over the incident and support for Couch and her loved ones. One follower wrote, "We are praying this murder is located in the spiritual realm now in Jesus' name. You will be caught so make it easy on yourselves and turn yourselves in now."
Another wrote, "Such a beautiful soul gone too soon. I want justice for her, sad that people can hate so much."
Couch's Legacy
Beauty Couch's death is tragic, but her memory lives on among her fans and loved ones. The public outpouring of love and support ensures she will not be forgotten.
Sources:
[1] https://www.wsbtv.com/news/local/cobb-county/body-social-media-influencer-found-near-burned-out-vehicle-cobb-county/LA5JN3M43ZAANKMTQV54DEFZRE/
[2] https://www.wsbtv.com/news/local/cobb-county/body-social-media-influencer-found-near-burned-out-vehicle-cobb-county/LA5JN3M43ZAANKMTQV54DEFZRE/