2023 is in full swing – the holidays are over, and marketers are pivoting to launch their spring and summer campaigns. But social media platforms are bringing updates that could mean significant changes for marketers and influencers.
Here are the top news stories for February 2023 in influencer and social media marketing.
TikTok Announces the Creativity Program
TikTok's rise to fame was due, in part, to its authenticity. Creators promoted entertaining content that was easy to digest in short-form video format, leading it to become one of the most popular social media platforms today.
As a result, TikTok launched the Creativity Program Beta, which is designed to help creators foster creativity and reach higher revenue potential.[1[ This is just another in a long line of monetization tools that the platform launched, all with the goal of rewarding creators for content. It will initially be available on an invite-only basis, but the goal is to make it open to all eligible US creators in the future.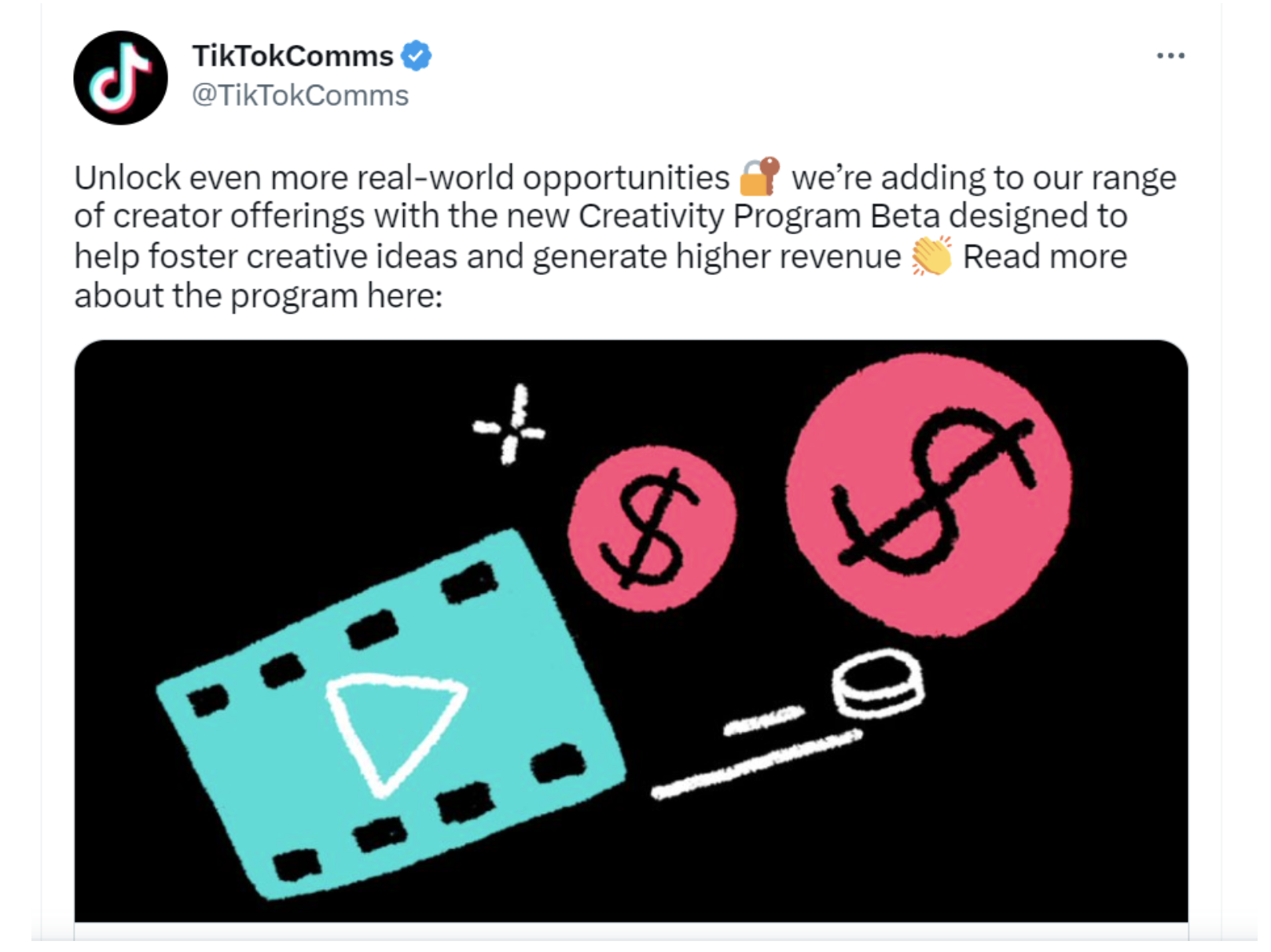 Source: Twitter
Instagram Launches Testing for a Creator Channel
Instagram is testing a new channel feature that will allow influencers to send a mass DM to their followers. The Creator Channel is designed to promote mass, direct engagement in a broadcast format that helps influencers relate to their audience and promote their projects and partnerships more easily.
Meta CEO Mark Zuckerberg announced the new feature to accompany his own broadcast channel, which will be used to share Meta updates in the future.[2] Instagram is currently testing the Channel feature with select creators in the US with plans to expand in the future.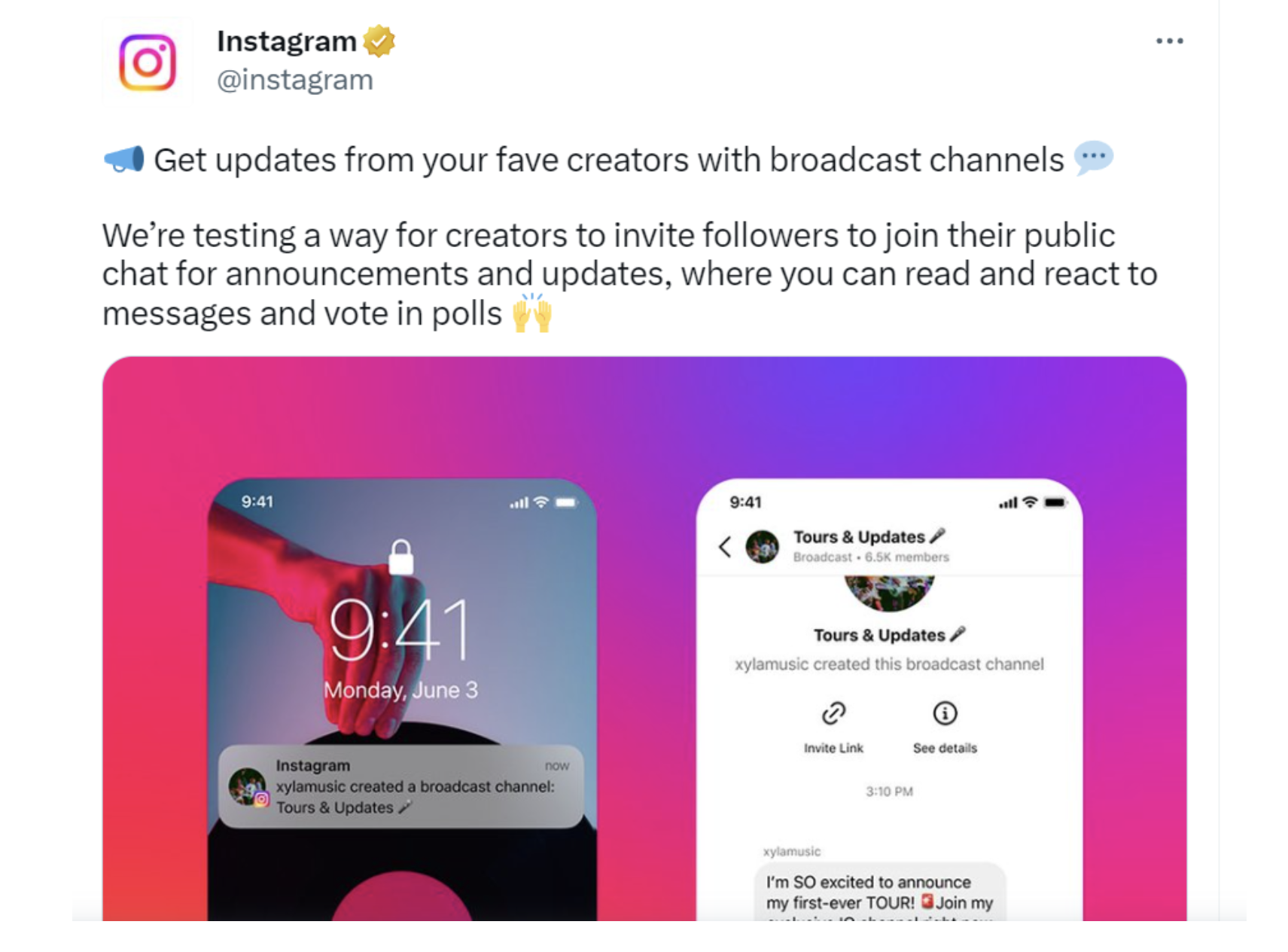 Source: Twitter
Instagram Stops Live Shopping
Starting March 16, 2023, Instagram will end its live shopping feature. Influencers and users will not longer be able to tag products in live broadcasts. According to the platform, this is to focus on products and features that provide value to users.[3]
Business users can still set up and run a shop on Instagram, and the platform is committed to investing in better experiences for both businesses and users in the future. The general live broadcasting feature on Instagram will be unaffected by the change.
TikTok Launches In-Stream Shopping
Instagram just ended its live shopping feature, but TikTok is still investing in in-app purchase features to facilitate direct purchase flow. Users will be able to complete their purchases without leaving the app. Though social shopping hasn't really gained traction in the West, it's in-demand in other parts of the world.
YouTube Tests Short Replies
YouTube is still in the process of trying to make Shorts part of the platform's culture. One new feature for Shorts is Shorts replies, which will make the feature more like the short-form video on TikTok and Instagram.[4] It will also provide creators with more ways to use short-from video on another platform.
With the new feature, creators can reply to a video comment with a Shorts video for more engagement. It may also drive more visits and subscribers to the channel.
Meta Tries Out the Verified Checkmark
Following in the footsteps of Musk's Twitter, Meta decided to try out a verified checkmark program. Creators will be able to purchase the verified checkmark as part of a "bundle" that includes account authentication and the checkmark for both Facebook and Instagram.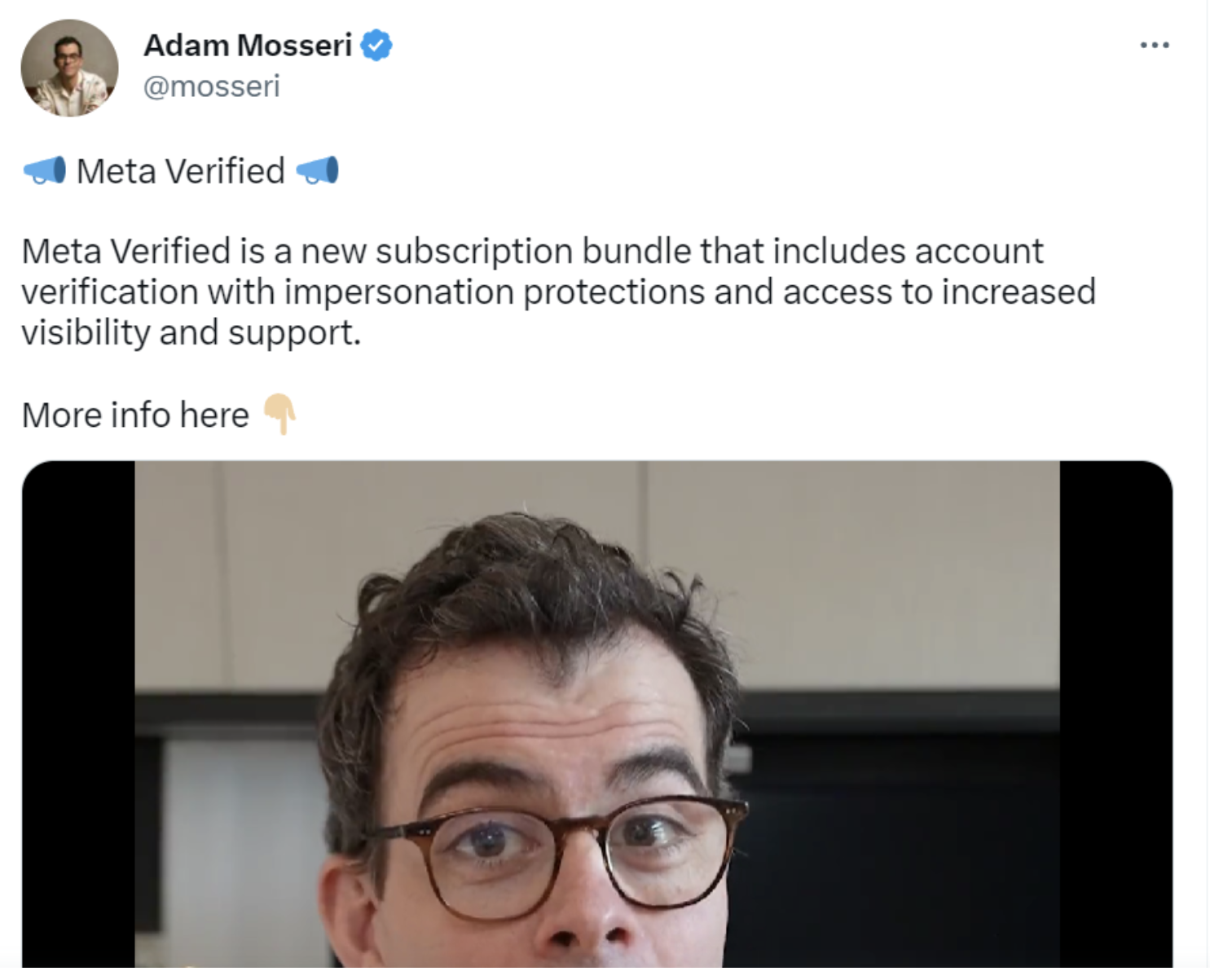 Source: Twitter
Pinterest Launches a New Academy Platform
Pinterest launched a new Academy platform for e-learning, giving businesses an opportunity to get the most out of their advertising efforts. The e-learning platform will offer a range of courses, from beginner to advanced, that influencers and marketers can use to improve their campaign strategy, performance, and tracking.
YouTube Adds Audio and Music Features
YouTube has had many changes in recent months. Now, it's adding improvements to make the platform more appealing for creators, including a new feature to help creators when adding music to their videos.[5]
Users will be able to add multiple audio tracks in different languages in testing, which is intended to increase viewership and reach. Another added feature is the Creator Music Library, which was introduced last year but is now available to all US creators in the YouTube Partner Program.
Instagram Adds Lead Forms
One of Instagram's more exciting developments, the platform implemented a new lead form that business users can add to their bio. There are two options for lead forms, so users can customize the information fields and the customer experience. Having lead forms ensures users can get a clear view of what leads come from Instagram and how to optimize them.
Pinterest Partners with Condé Nast
Pinterest has video features it's trying to promote. The newest development in this initiative is a partnership with the global mass media company Condé Nast for exclusive video content and inspiration.[6] Several Condé Nast brands and events will be involved, including Vogue and fashion week.
TikTok Adds More Video Insights
TikTok released an update to video insights for brands and creators to provide more detailed information about video performance. The metrics include ad spending, audience breakdown, frame-by-frame engagement, comment analysis, and comparative ad performance based on industry benchmarks.
Snapchat Promotes AR Features
Snapchat's new ad campaigns brings more attention to its new AR features. Snapchat and its features are known among its user base but not as much as bigger platforms like Facebook and Instagram. The ad campaign draws attention to the features to attract new users and brands.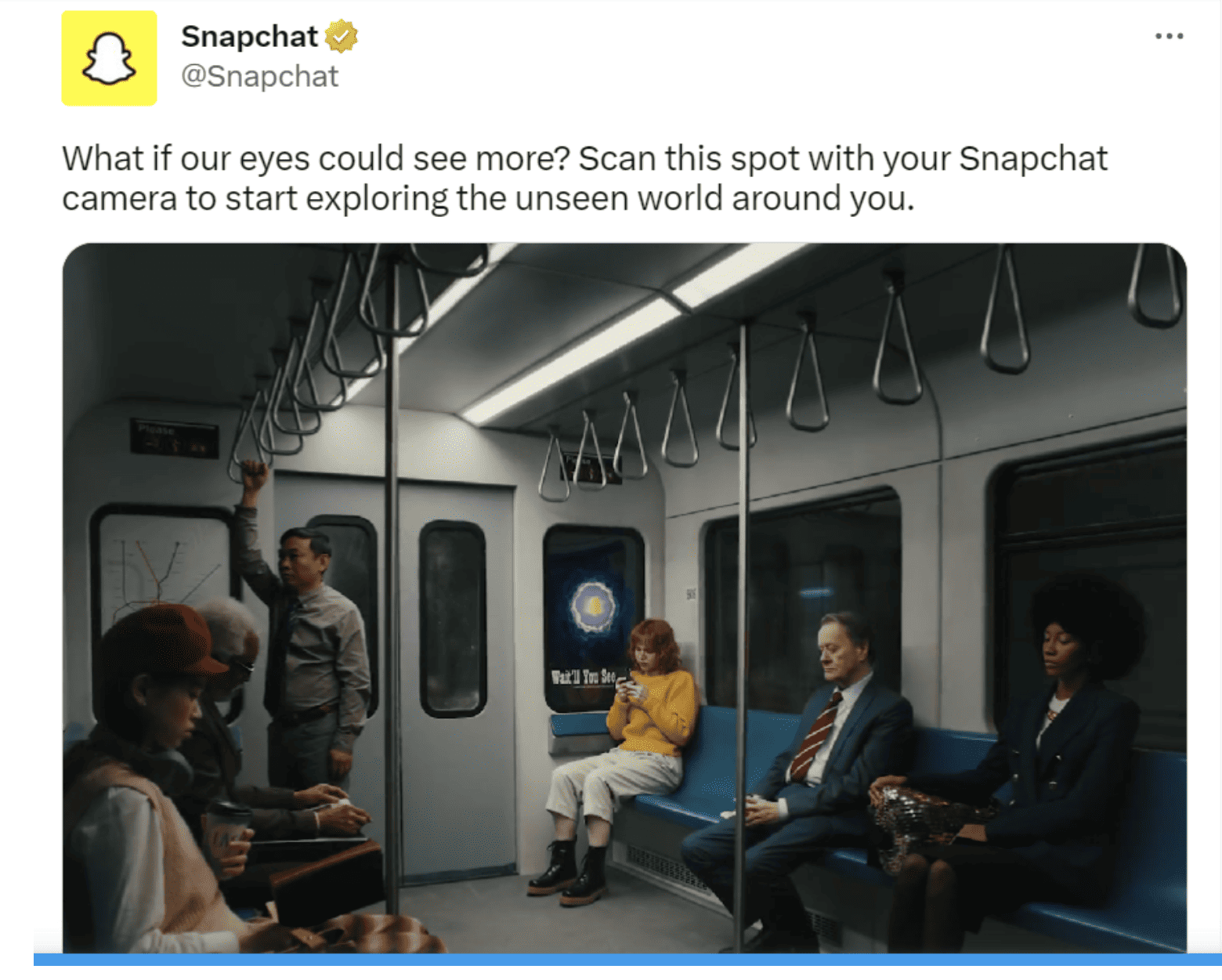 Source: Twitter
As AR becomes more mainstream, Snapchat may be a good choice for brands looking for new platforms in 2023.
TikTok Adds Promotion Features
TikTok is adding new features to promote ads with new options for goals, visibility, and engagement. Some of the new goals options include target by location, boosting creator content, and drive more users to the TikTok page.
Boosting creator content is a notable new feature for influencer marketing and professional creators.
Meta Provides Deeper Insights into Ads
Following the Cambridge Analytica scandal and rising user suspicion, Meta is providing more transparency into the reasons users see specific ads and more context around the way the algorithm is prioritizing ad content.[7] Some of the details include an activity summary to show why certain activities influence different ads, tools for setting ad preferences, and examples of how ads are prioritized in real-world context.
LinkedIn Newsletters Get Updates
Further supporting its Newsletter feature, LinkedIn included February updates to make newsletters easier to subscribe to, such as a one-click subscribe, and a "Featured" section on user profiles. It also has a search result for newsletter authors. For users producing newsletters, there's a testing tool to check the title for SEO value and broaden its reach.
Twitter Blue Subscribers Gain Longer Tweets
Users who have subscribed to Twitter Blue for the verification checkmark have an added benefit – a higher character count. Twitter Blue subscribers get up to 4,000 characters for tweets, despite the short character count being a big part of the platform's growth and cultural evolution. The possibilities for influencers and marketers are expanded, however.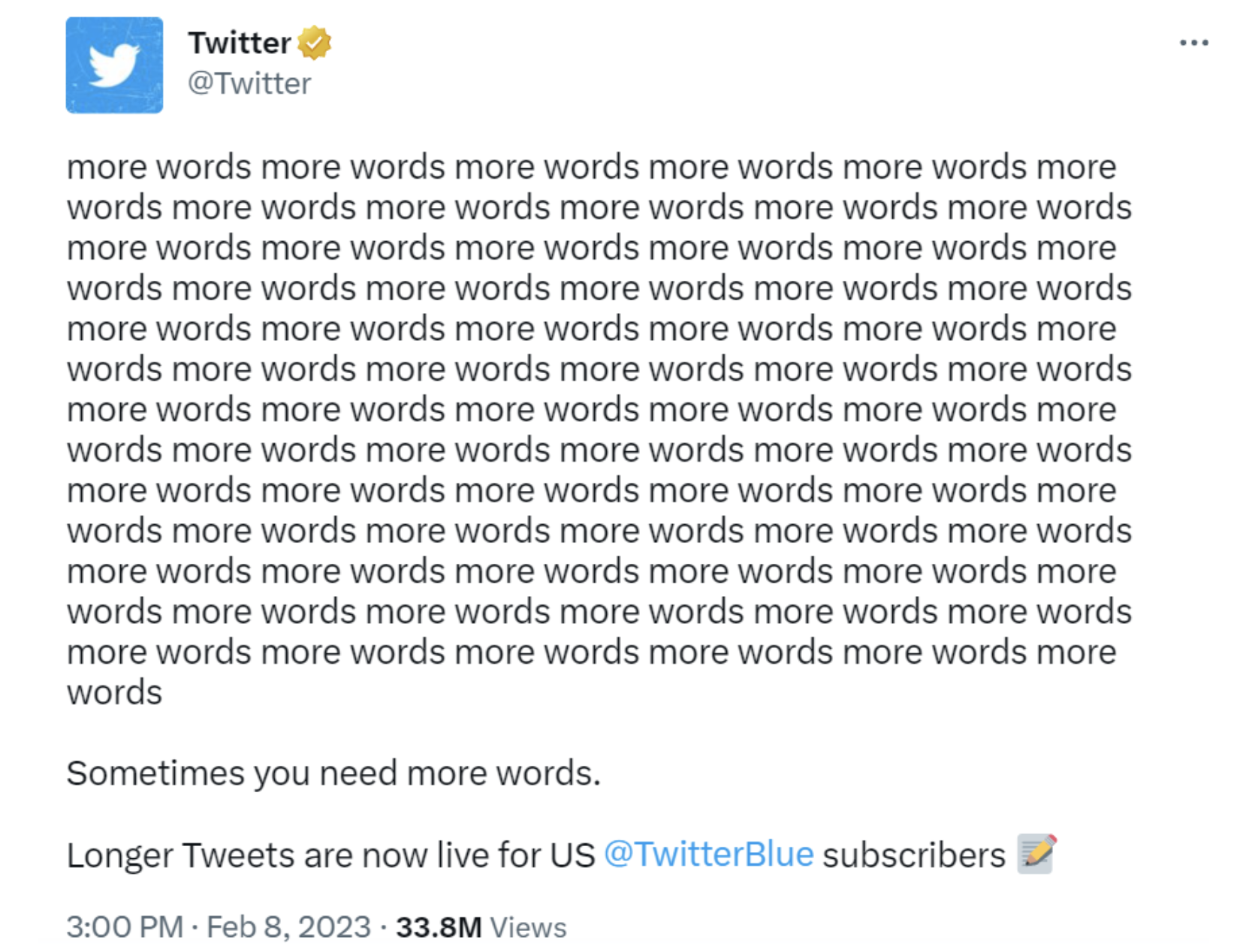 Source: Twitter
Reddit Added Collectible Avatars for the Super Bowl
Reddit launched collectible avatars for the Super Bowl. In partnership with the NFL, the limited-edition NFTs are stored in Reddit digital wallets (vaults). These vaults are a popular part of the platform's culture, since users can include them in comments, display them on profiles, or trade and sell them to others.
Instagram Adds a Memories Feature
Facebook's Memories feature is a double-edged sword for users, but Instagram is adding to the mix with another feature that shares memories from the previous year. Though in experimentation mode right now, the feature would allow users to repost a Story from a previous year – similar to Facebook's feature in which users can share a past memory post. Also like Facebook Memories, Instagram will include other stories from the time period for users to share.
YouTube Adds New Time Slots for Masthead Ads
YouTube is expanding its ads offerings with a cost-per-hour Masthead advertising option. This allows brands to capitalize on significant cultural moments, such as award shows, major sporting events, or big product launches. Users can purchase prominent ad placement during the event, leading up to it, or after it for maximum exposure.
De-Influencing Goes Viral
Influencers are an integral part of modern marketing, but they arose in response to the bombardment of advertising users experienced. Now, influencers are just as ubiquitous as other marketing efforts, leading to the rise of the "de-influencer."
Using the hashtag #deinfluencing, which accumulated over 76 million views on TikTok, de-influencers are focused on leaving honest reviews of the products TikTok influencers made them buy with the goal of helping out consumers and curbing overconsumption.[8]
Influencer marketing grew from a $1.7 billion industry in 2016 to a $14.6 billion industry in 2022. The majority of brands are using influencers to promote products, so it's unclear how de-influencers will affect the future of influencer marketing.
Looking Forward
The social media and influencer marketing updates run the gamut, from features that are losing favor to new options for help creators get the most out of their social media experience. It's important for brands to keep an eye on these changes when planning their 2023 campaigns.
Sources:
[1] https://newsroom.tiktok.com/en-us/unlocking-even-more-opportunities-for-creators-with-the-creativity-program-beta
[2] https://messengernews.fb.com/2023/02/16/introducing-broadcast-channels-a-new-way-for-creators-to-deepen-connections-with-followers/
[3] https://www.facebook.com/help/instagram/1189600611393606
[4] https://www.youtube.com/watch?v=9M8qr9LZCHo
[5] https://support.google.com/youtube/thread/185836615
[6] https://newsroom.pinterest.com/en/condenastxpinterest
[7] https://about.fb.com/news/2023/02/increasing-our-ads-transparency/
[8] https://www.today.com/life/deinfluencing-trend-rcna68715