Heather Armstrong, the founder of Dooce.com, one of the first mommy blogs, passed away at the age of 47.[1] The news was shared on her Instagram.
"Heather Brooke Hamilton, aka Heather B. Armstrong aka dooce aka love of my life. July 19, 1975 – May 9, 2023. 'It takes an ocean not to break.' Hold your loved ones close and love everyone else."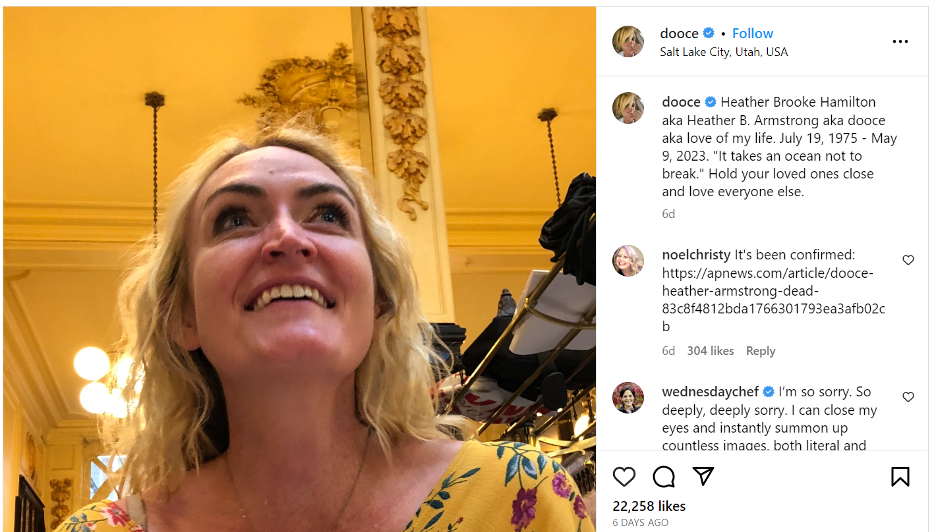 Source: Instagram
Heather Armstrong is survived by daughters Leta, 19, and Marlo, 14; her ex-husband, Jon Armstrong, and her boyfriend, Pete Ashdown.
Queen of the Mommy Bloggers
So named the "Queen of the Mommy Bloggers," Armstrong rose to prominence in the early days of the internet with her website, which launched in 2001.
Armstrong was one of the world's first "momfluencers" and blazed a trail for other women to follow. Since her start, the sphere of the momfluencers has grown on Twitter, TikTok, Instagram, and other social media channels.
On her blog, she shared her experiences with sex, leaving the Church of Jesus Christ of Latter-Day Saints, and the highs and lows of parenting her daughters. Her unabashed honesty is part of what endeared her to her fans, contributing to a trend of authenticity among parenting influencers.
In 2019, Armstrong was named one of the most influential women in media by Forbes, which noted that her blog averaged 300,000 followers at the time.[2]
Sharing Her Story
Despite her honest look at life, Armstrong sometimes struggled with how much she could share with her followers.
In a 2012 interview with Savannah Guthrie on "TODAY," Armstrong admitted that she was "really scared" to share the news of her divorce from her husband. At the time, Armstrong said, "A lot of people bring their own perspective and experience to something like this and I didn't know if talking about it was going to destroy everything. I thought I had to talk about it, because I felt inauthentic not to share what was going on, because I've been so open about my life for almost 11 years."[3]
She was also open about her struggles with depression and her mental health. Several of her published books discuss important mental health issues, including a book about her struggle with suicidal depression titled "The Valedictorian of Being Dead: The True Story of Dying Ten Times to Live." She also authored a book of essays and a memoir titled "It Sucked and Then I Cried: How I Had a Baby, a Breakdown, and Much Needed Margarita."
Armstrong's Legacy
After the news of Armstrong's death was revealed on her Instagram, her fans shared many heartfelt words about what her blog – and her influence – meant to them.
"It's shocking to hear Heather Armstrong died yesterday," wrote Roxane Gay. "It's hard to put into words just how influential she was to the blogosphere. I hope she is at peace, and that her children and loved ones are finding solace where they can."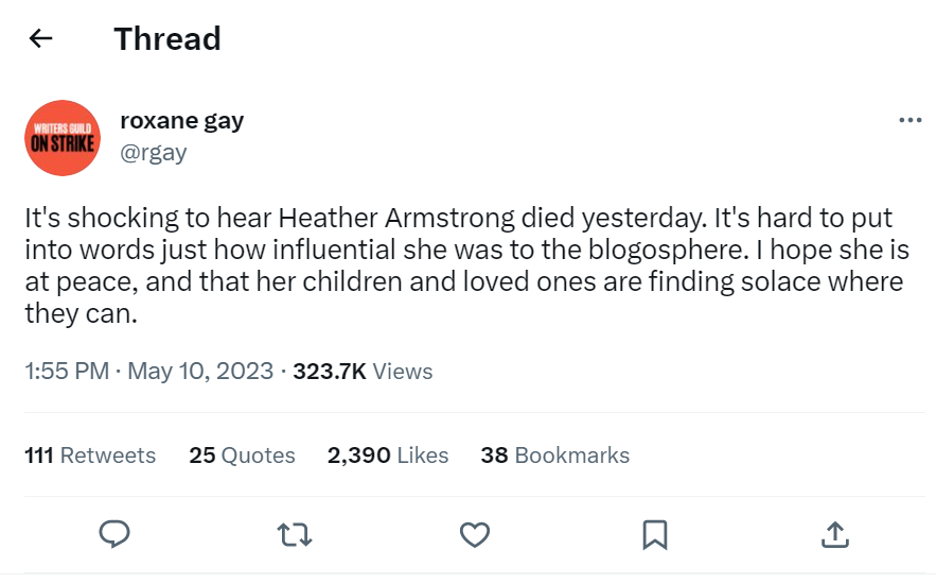 Source: Twitter
For author Lyz Lens, Armstrong showed her that she could be a self-published author and write on her own terms. Lens said "I was an avid Dooce reader and her second and my first kid are similar ages and her writing got me through some very rough times of motherhood and made me feel sane and seen and laugh through tears."
Fans also reflected on their concern for her mental health, particularly related to suicidal ideation and the tragic news that she had taken her own life.
User Adipoke 2112 wrote that she "used to be a huge Dooce fan; her writing about mental health did a lot for me back then. She lost me years ago, but I'd check in to see how the kids were doing, and I hoped she'd get help. I am heartbroken for her kids."
Her tweet ends with a plea to others to seek help if they're struggling and to know that they are "not alone."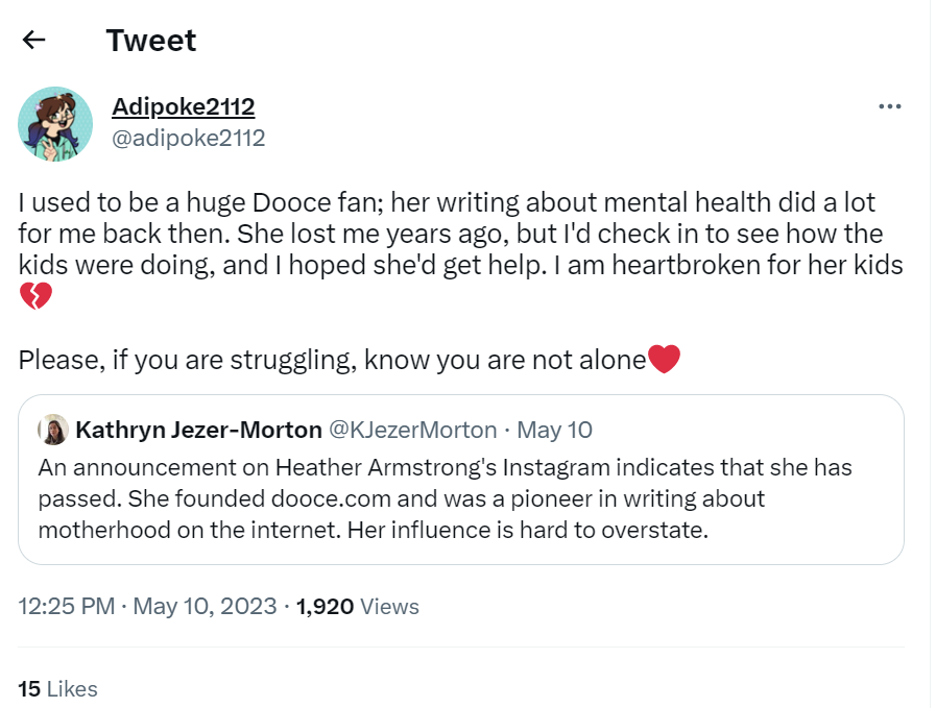 Source: Twitter
Social Media's Effect on Mental Health Sparks Concern
Heather Armstrong's death is a stark reminder of the growing concerns surrounding mental health and social media, as well as the personalities and influencers who have died by suicide in recent years.
Suicide is a growing public health concern. Nearly half a million lives were lost to suicide between 2010 and 2020 in the US alone. It's also the second-leading cause of death among individuals between the ages of 10-14 and 25-34, which is notably the age groups that use social media more frequently.[4]
But because these at-risk age groups are more likely to use social media, it can be a vehicle for spreading mental health awareness and advocacy. Several studies demonstrate and association between suicide rates within certain groups and the cultural stigmas surrounding mental health and seeking help.
The answer is not to stop talking about suicide, but for social media users – particularly influencers – to discuss suicide in a responsible way to destigmatize it and encourage others to deepen mental health literacy, seek help when needed, and instill hope.
Social Media Can Be the Solution
Heather Armstrong's death is a reminder of the ongoing issue of suicide, particularly in regards to how it's discussed in the media. It's not "dangerous" to talk about suicide, as Armstrong did herself, but how it's talked about matters. Shaping the conversation with safe, honest, and hopeful messages can connect people to support and treatment.
If you or someone you know is in crisis, call 988 to reach the Suicide and Crisis Lifeline. You can also call the network, previously known as the National Suicide Prevention Lifeline, at 800-273-8255, text HOME to 741741 or visit SpeakingOfSuicide.com/resources for additional resources.
Sources:
[1] https://www.nbcnews.com/news/heather-armstrong-dooce-blog-dies-rcna83777
[2] https://www.forbes.com/2009/07/14/most-influential-women-in-media-forbes-woman-power-women-oprah-winfrey.html?sh=6e7ec1726fec
[3] https://www.today.com/video/blogger-heather-armstrong-announces-split-44508739704?v=a
[4] https://www.ncbi.nlm.nih.gov/pmc/articles/PMC9970321/