Influencer marketing is a force in marketing and brand strategy, but it's constantly evolving along with its platforms. Social media updates and new features can have a significant impact on influencer marketing strategy – both positive and negative.
These are the top news stories for October for influencer marketing and social media.
Snap Begins Accepting Applications for Its Second 523 Content Accelerator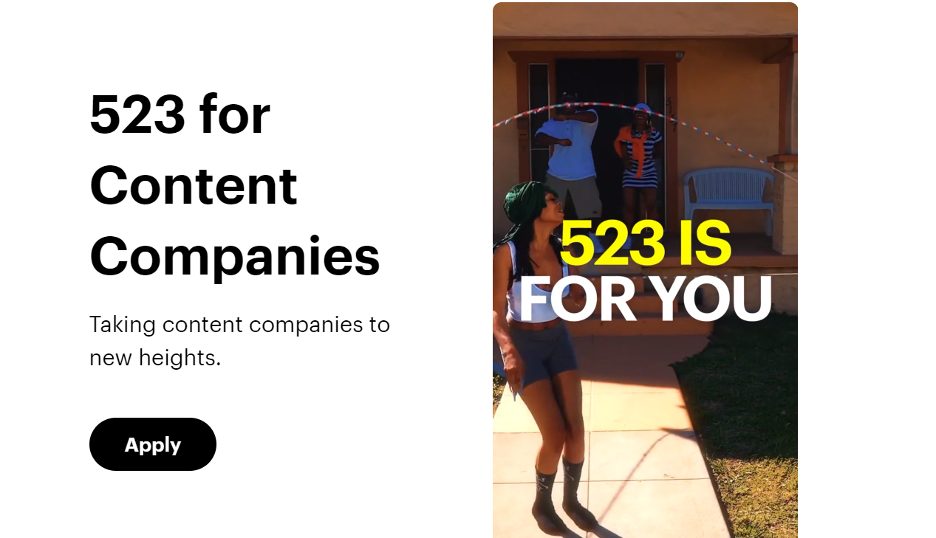 Source: Snap
Snap Inc. is accepting applications through Nov. 1 for the second cohort of its 523 content accelerator program.[1] The first cohort was introduced last December with a focus on small content companies and creatives that are usually without the access and resources of larger competitors.
With this current round of applications, Snap will choose 15 participants to receive:
Funding of $10,000 per month to support the investment in content for Snapchat's Discover platform.
One-on-one mentorship from Snap's content and media partnerships to leverage the platform for success.
Workshops for best practices in creative strategy, monetization, and more.
Inclusion in announcements and public events.
The opportunity to connect with past participants and build a strong network.
The intent behind 523 is to help participants build a sustainable business on the platform and enhance their presence on Snapchat, particularly for underserved creators.
Pinterest Supports Creator Wellbeing with a Headspace Partnership
Leading up to World Mental Health Day, Pinterest shifted the focus to the mental health of creators with a one-of-a-kind global partnership with Headspace.[2] The app offers a range of tools to manage stress, increase positivity, improve sleep, and more.
The partnership invites hundreds of thousands of creators to receive a free six-month subscription to Headspace across 20 countries around the world. Pinterest is the only platform to provide an offering like this.
According to Malik Ducard, Pinterest Chief Content Officer, "Creators often experience burnout and the exhaustion of creation instead of the excitement that comes with it. We're trying to build a better space for creators at Pinterest, and as an industry, we believe there's an opportunity to prioritize inspiring content by prioritizing inspiring creators."
The goal of the partnership is to support social media creators and influencers by helping them to integrate wellbeing practices into their everyday lives. Headspace offers a comprehensive library of premium mindfulness content, including guided meditations, breathing and wind-down exercises, sleep content, and focus music.
TikTok Enhances the LIVE Experience with Multi-Guest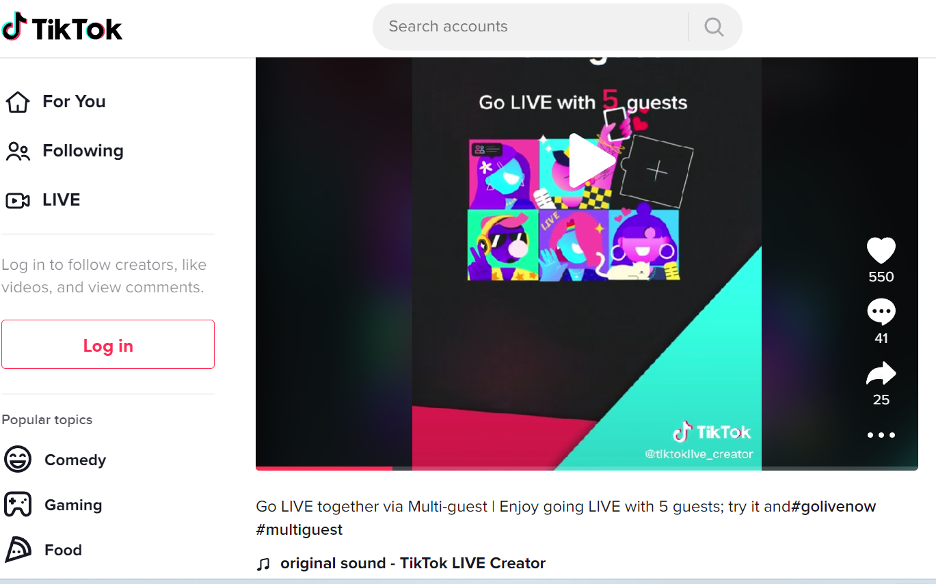 Source: TikTok
TikTok added a Multi-Guest feature to LIVE to inspire more meaningful connections between creators and audiences.[3] Through Multi-Guest, hosts can now go LIVE with up to five guests using a grid or panel layout.
This feature helps creators keep audiences engaged as they respond to questions, host how-to videos, or share time with their community. Once LIVE, creators can tap the three dots to change settings and flip the camera, filter comments, or add moderators.
YouTube Introduces Voice Response for YouTube Shorts
After the success of TikTok, virtually every platform offers short videos to attract the attention of younger users. In July of 2021, YouTube introduced YouTube Shorts, which are now available in over 100 countries worldwide.
In October, YouTube added a new option to Shorts for creators to add a voiceover for more creative expression.[4] Influencers and creators can narrate what's happening in the content or add sounds, reactions, or funny comments.
This is not unlike the features of TikTok and Instagram Reels, but it enhances the options for video marketing on YouTube with Shorts. The platform already has a successful short-form video feature and retains a virtual monopoly on longer video content.
Twitter Enables Online Shopping with Shopify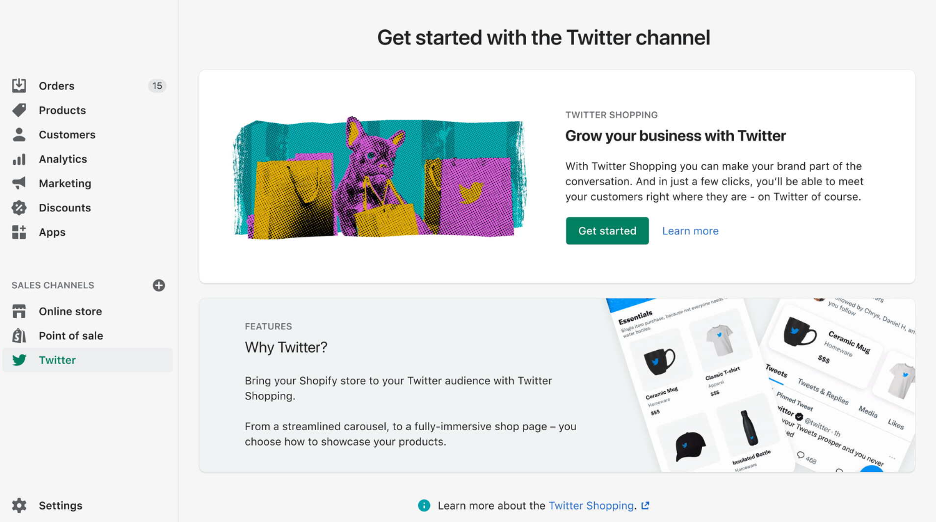 Source: Twitter
Twitter announced an option to connect a Twitter profile to a Shopify store and link a carousel – much like Instagram – to sell up to 50 products on the platform.[5] These are automatically updated and users will be taken directly to the store with just a click.
While this doesn't quite match competing platforms, which can complete purchases directly in the app, it does expand Twitter's ecommerce capabilities. With its over 360 million users, Twitter can be a lucrative target for influencer marketing campaigns with Shopify.
TikTok Promotes Online Safety with LIVE Restrictions
TikTok took a big step toward online safety with additional changes and improvements to help the community have the best possible experience using LIVE. Currently, creators must be 16 or over to host a LIVE on TikTok, but starting November 23, the minimum age will be 18.[6]
TikTok already had controls in place to allow or restrict certain age groups from accessing different features. Younger teens need to be 16 or older to access Direct Messaging and 18 or older to access monetization features or virtual gifts.
Now, TikTok is adding a feature to allow creators to choose if they prefer to reach an adult audience with LIVE. Though nudity and sexually explicit content is still prohibited on the platform, this provides creators with an adult-only outlet for more mature comedy or conversations while also protecting the younger members of the community.
Facebook Announces the Retirement of "Instant Articles"
Facebook is shifting away from news content in favor of entertaining videos, likely inspired by TikTok. The platform recently announced its decision to retire Instant Articles in April of next year.
Instant Articles were launched in 2015 and designed to provide publishers with more engaging, fast-loading options to present articles and maximize reader engagement. Facebook has also tried to add more referral links and subscription tools to improve its relationship with publishers and encourage them to use the platform.
Now, building publisher relationships is a lower priority. Facebook will now be ending support for Instant Articles to better align with user preferences, which overwhelmingly choose video as the most engaging content format.
According to Mark Zuckerberg, video makes up about 50% of the time spent on the platform, and Reels is the fastest-growing content format on Facebook and Instagram. The platform is also pushing more entertaining video content on user feeds, based on AI-informed recommendations.
Meta Launches New Avatar Fashion Items

Source: Meta
Meta recently launched new fashion outfits for Meta avatars, giving users another option to customize their digital doppelganger. One of the first collections includes a Liverpool FC home and away kit that can be purchased in the Meta Avatars Store on Facebook, Messenger, and Instagram later this year.[7]
Unfortunately, this comes at a time when Meta has been criticized for its Metaverse push and the low quality of its VR environment. Zuckerberg promised that VR is more advanced in development, unveiling the improved avatars at the Connect Conference.
The new avatars included legs, which are very hard to simulate for Meta. The VR headsets don't have leg sensors of any kind, so there's no way to track leg movement. To address this, Meta is developing QuestSim to use AI to estimate users' leg movements in the VR environment.
Meta may be working on creating legs for avatars, but it's far from being ready for VR users on the platform and coming at the same time as the showcase for fashion collections in the avatar fashion store.
VR fashion and merchandise can be a new revenue stream, as proven by Fortnite and Roblox, but Meta has a lot of challenges to overcome before that can become a reality.
Pinterest Provides New Insights for Marketers


Source: Pinterest
Pinterest has announced an update to its Pinterest Trends tool, which can help marketers gain insights into the latest shifts in the market and identify new opportunities.[8] It also launched a new API for conversions, which will provide additional Pin shopping data for retailers.
For Pinterest Trends, the platform added new trend shortcuts to the main page, which makes it easier to find key information on the current app trends. Marketers will have immediate access to data reports and notes, which could drive strategic decisions.
Marketers can see trends with their engaged users over 90 days, demographics filters, and seasonal trends to align content with the engagement of the app's users. Along with these changes, Pinterest is expanding access to Pinterest Trends to 30 additional countries and 22 languages globally.
Meanwhile, the Pinterest API for conversions provides another way for marketers to track Pin performance based on sales data recorded outside of the app. Marketers can send their off-platform conversion data directly to Pinterest via a server-to-server process – all without a Pinterest Tag.
YouTube Announces New Ad Options
YouTube has announced three new ad options as part of its Advertising Week New York showcase, including "Moment Blast," a feature that enables marketers to better highlight their offers to Connected TV viewers. Another feature is new audio ad options to connect with viewers listening to YouTube content.
According to YouTube, Moment Blast is a tool for brands to raise awareness during key moments, such as movie releases or major sporting events.[9] Marketers have prime positioning on YouTube Select content on connected TVs and other devices.
YouTube Select is a curated showcase of video content from across the platform that enables advertisers to reach specific audiences. And with Moment Blast, brands will also be able to amplify their messaging through these channels, which could be advantageous for reach.
The platform is also expanding its audio ads globally, including podcast targeting, so marketers can reach engaged audiences in the app. In addition, YouTube is expanding its product feed options to Discovery ads, which provides another way to promote products and content directly in the app.
Meta Launches New VR Horror Experiences for Halloween
Source: Oculus
Meta is taking a more VR-aligned approach to Halloween in 2022 with a range of new immersive horror experiences for Meta Quest users.[10] The first is a "Haunted House" with a 180-degree VR experience created by Eli Roth. The Haunted House is a horror house party with people turned into dolls for horror enthusiasts.
Meta also offers a four-episode "Scream Park" mini-series in VR, which stars Grace Van Dien from "Stranger Things," and "Tokyo Case," a two-part, 360-degree short Japanese horror film. Another fun experience is the "Meta Horizon World's Drive-In," a Halloween-themed drive-in movies streaming a collection of monster horror movies from Crypt TV.
Finally, Meta is releasing "Alien Apocalypse," a 360-degree VR video based on "The War of the Worlds" and "Pennywise the Dancing Clown," a tribute to the clown character from "IT" based in Derry, Maine.
Together, these experiences provide the full scope of what VR has to offer in frightening and immersive VR experiences from Meta. In all likelihood, Meta will continue to put this emphasis on VR in the future.
Pinterest Provides a Music Option for Idea Pins
Pinterest is offering a new feature to help creators make more engaging Idea Pins – music options. These tracks include songs from some of the world's biggest recording artists and stars, much like TikTok.[11]
When influencers create an Idea Pin, they can choose from a range of popular tracks to add to complement the content, including tracks from popular artists like Ed Sheeran, Anitta, and Silk Sonic. This is the result of a partnership between Pinterest and Warner Music Group, Warner Chappell Music, Merlin, and BMG.
Along with this, Pinterest announced an expansion of its royalty-free music library through a partnership with 7Digital. This is to enable creators to add known and trending songs to Idea Pins easily.
TikTok Launches New "StemDrop" Music Remix Initiative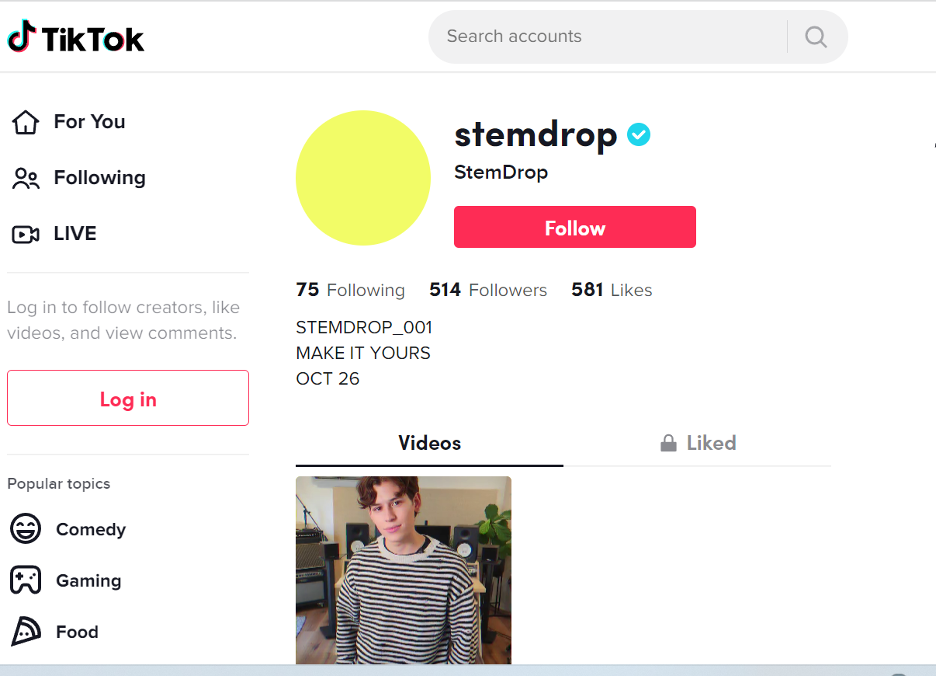 Source: TikTok
TikTok is also looking to expand its music options with the launch of the new "StemDrop" initiative, which provides users with the opportunity to remix a new song and create their own version of the track.[12]
Music stems are a type of audio file that breaks down the complete track into individual mixes. This means that creators will have control of each particular mix to enhance their original production. Basically, music stems provide individual elements of a song in isolation, such as the instruments, melody, or drums, so users can customize their version.
According to TikTok, StemDrop launches in collaboration with one of the greatest songwriting teams in history. Creators are exclusively provided with music "stems" and invited to produce their own versions of a brand-new song titled "Red Lights."
Meta Develops New Speech-to-Speech Real-Time Audio Translation Process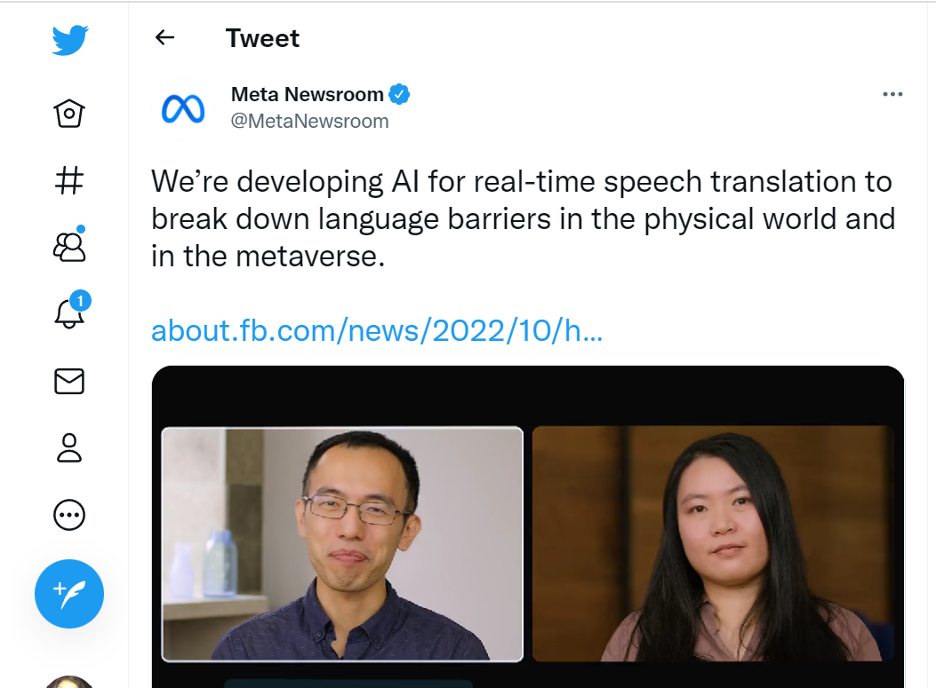 Source: Twitter
As part of a quest to "Connect the World," Meta released a new AI-based speech-to-speech translation process, which will provide more opportunities for people to connect in real-time, no matter their language barriers.[13]
The goal behind this feature is to alleviate the need for transcription output in translation. With over 3,500 living languages spoken all over the world, this is an incredible feature that could enhance global engagement and connection.
Speech-to-speech isn't limited to Facebook and Instagram, however. It's an important feature for the Metaverse future and broadening interaction in the space. Essentially, anyone can speak in their native language and be part of the global conversation, marketing opportunities, and business collaboration.
Instagram Launches Live Test of Native Post Scheduling
Instagram launched a live test of native scheduling in the app. Though it's limited to a small group of users, positive test results could mean it will be expanded to all users.
This new post-scheduling option will be added to the advanced options in the post composer flow, allowing users to set a date and time for the post to go live. Users will be able to schedule regular posts or Reels, but there's no word on whether this capability will apply to Stories.
Functionally, the scheduling feature doesn't add anything new – users have been able to schedule posts via Creator Studio since 2020. It could be a handy feature for managing Instagram posts and Reels on the go, however. Creators can map out Instagram posting at any time and compose posts using all of Instagram's creation tools and options.
Twitter Allows True Multimedia Tweets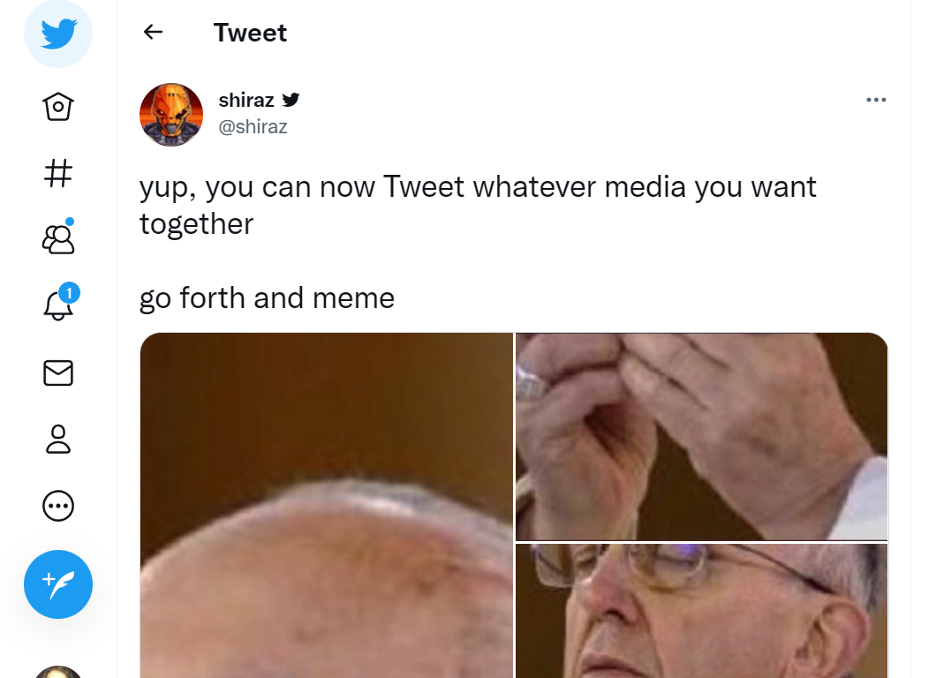 Source: Twitter
Twitter's Head of Social announced that videos, images, and GIFs can all be shared in the same Tweet as of October. Users can also swipe on a video in the feed to display more related content, much like TikTok. Both of these features are available on the mobile app.
One of the best aspects of this new capability is that creators can mix and match media formats – or coordinate them – to make content more engaging. This new flexibility is a benefit for anyone using Twitter for marketing, whether organic or paid, and increases reach by showing related videos. And with Twitter's limited character count, images, GIFs, and videos are necessary components of an effective post.
Elon Musk's Twitter Offer Still in Question
The Elon Musk Twitter takeover is still ongoing. Many of Musk's equity partners who agreed to back Musk's original $44 billion offer for the company, are now seeking to exit instead of pay.[14]
These equity partners are questioning whether Twitter is worth the $44 billion, especially amid Musk's repeated trashing of the company and his own efforts to get out of the deal. Musk could still be looking at court or potentially overpaying for a company that he helped devalue.
While Twitter's current market cap is at $38.52 billion, some analysts have it valued around $10 or $12 billion. Musk has also drawn more attention to the platform's bot issues, security flaws, and staff and board issues. Musk may be left with no other option than to let his investors out of the deal, which leaves him short in his takeover bid.
Looking Ahead to Influencer Marketing in the Holiday Season
Influencer marketing is likely to ramp up as brands prepare for the holiday season. These social media updates and new features offer opportunities for influencers to expand their audiences, increase awareness, and deliver impactful campaigns.
Sources:
[1] https://523.snap.com/en-US
[2] https://newsroom.pinterest.com/en/post/pinterest-supports-creator-wellbeing-with-new-headspace-partnership-ahead-of-world-mental
[3] https://newsroom.tiktok.com/en-us/enhancing-the-live-community-experience
[4] https://www.techtimes.com/articles/280655/20220916/youtube-youtube-shorts-reply-to-comments-with-a-video-feature-similar-tiktok.htm
[5] https://business.twitter.com/en/blog/shopify-partnership.html
[6] https://newsroom.tiktok.com/en-us/enhancing-the-live-community-experience