When search users submit a query for virtually anything, YouTube videos show up in the results. YouTube is a social media channel, but it's also the second-largest search engine in the world.
YouTube influencers, or YouTubers, have become a popular career aspiration for many. Content creation is a lucrative profession, and millions are flooding the platform in hopes of making money.
Getting paid on YouTube as an influencer can be challenging, but it doesn't have to be. Understanding the multiple income streams and unlocking earning potential is the first step for any budding YouTuber.
There are over 5 billion videos posted on YouTube each day, meaning a lot of competition. Still, 2 million creators are making six-figure income.[1]
But regardless of the subscriber number or audience demographics, influencers have an opportunity to get paid on YouTube.
Building Subscribers and Views Per Video
Assuming influencers already have a YouTube channel set up, getting more subscribers and views per video increases the compensation. The average YouTube pay rate is around $0.01 and $0.03 per ad view, giving YouTubers around $18 per 1,000 ad views. This equates to $3 to $5 per 1,000 video views.[2]
Making new content is time consuming, but maximizing existing content offers the best return on investment.
Target Audience Personas
Like any other marketer, influencers should know who their target audience is. They need to define the audience and create content that resonates with them, including details like gender, age, location, and education.
YouTube Studio analytics can provide insights into the audience's interests and the content that performed well in the past.
Create Actionable Content Routinely
Creating actionable content on a regular basis increases subscriber count, views, and engagement. Audience personas help influencers develop their content strategy and create content that's compelling for viewers, prompting more engagement.
Focus on Keywords
Keywords on YouTube are crucial to success as an influencer and video discoverability. If no one can find videos, the influencer channel can stagnate quickly. Keyword tools, such as Google Keyword Planner, help influencers identify the most relevant keywords for video titles and descriptions to attract the right audience.
Be an Amazon Affiliate
Amazon is the next-largest search engine after YouTube, boasting millions of products that can be recommended to YouTube audiences for commissions. The Amazon Affiliate commissions range from 3% to 10%, which adds up over hundreds, thousands, or millions of viewers.
The key to becoming an Amazon Affiliate influencer is proving that the influence already exists. YouTubers must have appealing metrics like subscriber count, engagement rate, and views per video to get approved by Amazon.
For this reason, influencers need to boost subscriber and video view counts to open other opportunities to monetize their channel. Once approved, Amazon Affiliates can place Amazon products in the video itself or in the description using a link with a unique URL, which ensures commission for the sale.
Though this is a passive way for influencers to earn money on YouTube videos, it's vital that the videos don't end up "spammy" or pushy. The content should always come first and stay true to the audience.
Ad Revenue Through the YouTube Partner Program
Many YouTubers earn money through the YouTube Partner Program. YouTube partners have access to ad revenue, merchandise sales, and membership programs to monetize their channel.
The guidelines for the YouTube Partner Program state that the content needs to:
Have more than 4,000 watch hours in a year from organic views
Have over 1,000 subscribers to the channel
Be located in a YouTube Partner eligible location
Come from a creator who's 18 years or older
Come from a channel with a Google AdSense account linked
Be advertiser-friendly
Follow all YouTube video content guidelines
Video ads are the primary way YouTubers earn money in the partner program. With Premium subscribers who watch the influencer's channel and consume the content, the influencer gets a portion of the subscriber fee.
Monetization with Super Chat
Though it's only available in certain countries, Super Chat is a lucrative opportunity for YouTubers to earn more income. Only influencers eligible for live streaming can use Super Chat, however.
When influencers live stream with Super Chat, the chat message board is up and running. Viewers can make donations to move their message to the top of the board – where it's more likely to be seen and responded to. Donations are usually $200 or more.
Earn Through Brand Sponsorships
For most YouTubers, the most profitability comes from brand sponsorships. Influencers connect with brands and promote their products or services. Depending on the nature of the partnership, YouTubers can earn significant income.
Connecting with brands can be challenging, but as more brands realize the value of influencer marketing, the demand continues to grow. Brands are no longer searching for mega-influencers with millions of followers. In fact, many realize the value of working with micro-influencers that have a small but dedicated audience of 10,000 or so subscribers.
Before reaching out to brands for a sponsorship, influencers need to build a highly engaged subscriber audience through unique and fresh content creation. Once the pieces are in place, influencers can begin to build connections with brands that align with their audience.
Payouts Through Affiliate Marketing
Similar to Amazon Affiliate programs, affiliate links offer passive income in the form of a percentage from each sale that comes from the unique link. Plenty of brands offer affiliate marketing networks for different industries, but they do have an approval process.
Once an influencer is approved by an affiliate marketing network, they can use those sales metrics to compel other brands to consider an affiliate opportunity. The percentages in affiliate marketing may not be that high – typically between 1% and 3%, but every opportunity adds up and builds a strong influencer resume.
Create a Personal Brand
The most important brand for any influencer is their own. Influencers promote themselves, grow their fanbase, increase "sales" in the form of views per video – they're just selling content instead of physical products or services.
As the subscriber count increases, influencers have an opportunity to turn their personal brand into merchandise. Depending on the industry, having personal branded merchandise can increase revenue and build more brand awareness.
Top 9 YouTube Influencers to Gain Inspiration From
1. T-Series
T-Series is a top influencer on YouTube, especially with Indian audiences. The influencer has become an encompassing brand with India's largest music record label, a film production company, and 29 additional YouTube channels. Film trailers and music videos are the bulk of the content with 221 million subscribers.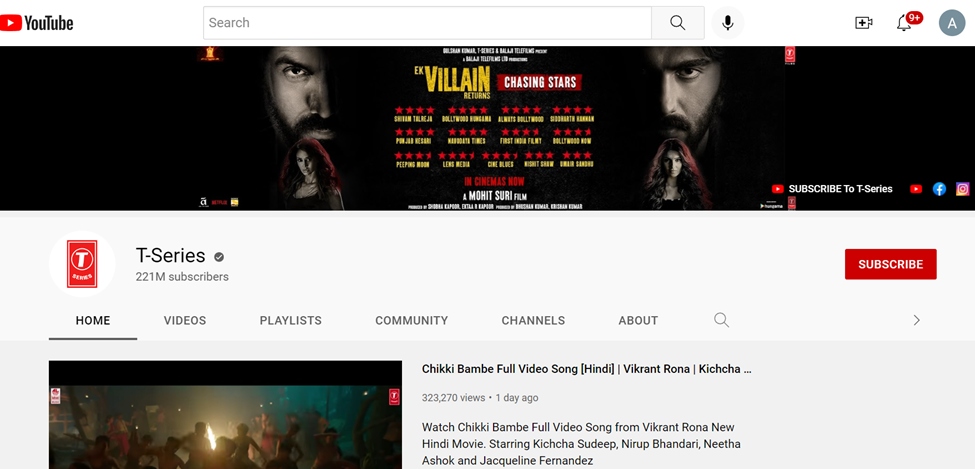 Source:YouTube
2. Cocomelon – Nursery Rhymes
Cocomelon is a YouTube creator who promotes 3D animation videos of children's songs and nursery rhymes. The channel is among the most-viewed in the US and the most-subscribed children's channel. The content typically features children, animals, and adults in everyday situations with songs and lyrics. Some videos are live streams or compilations. In total, Cocomelon has over 140 million subscribers.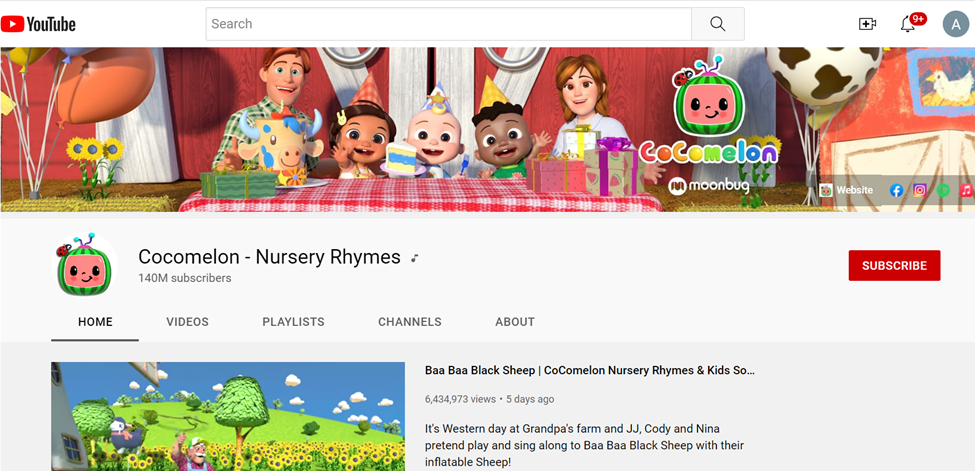 Source:YouTube
3. SET India
SET India is the Sony Entertainment Television channel, owned by Sony Pictures. It's one of the most popular channels in India and has now expanded to more countries. Boasting a range of genres, the channel provides complete family entertainment 24/7 and select videos in the thriller, drama, comedy, game show, or event categories.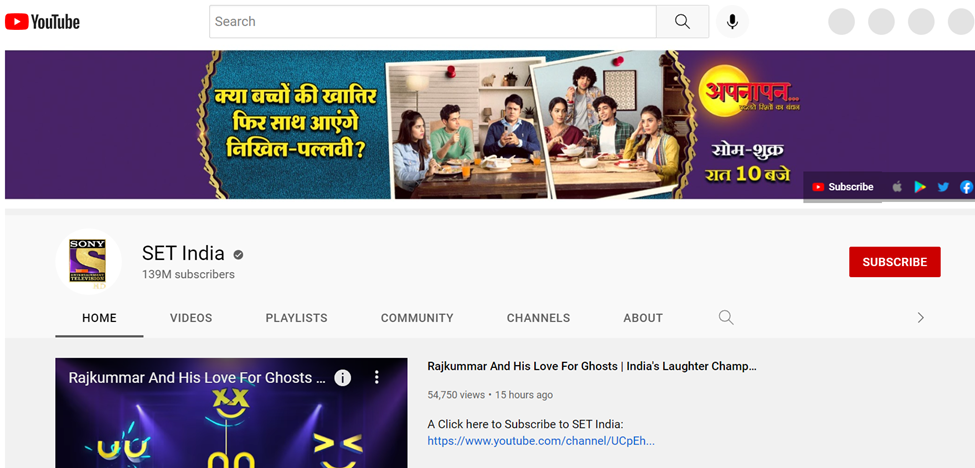 Source:YouTube
4. PewDiePie
PewDiePie, or Felix Arvid Ulf Kjellberg, has taken the top spot as the most popular YouTuber worldwide many times in the past. He created numerous original videos over his 12 years as an influencer, including live videos of his gaming and a meme review series. He often collaborates with other personalities and influencers. His subscriber count is around 111 million.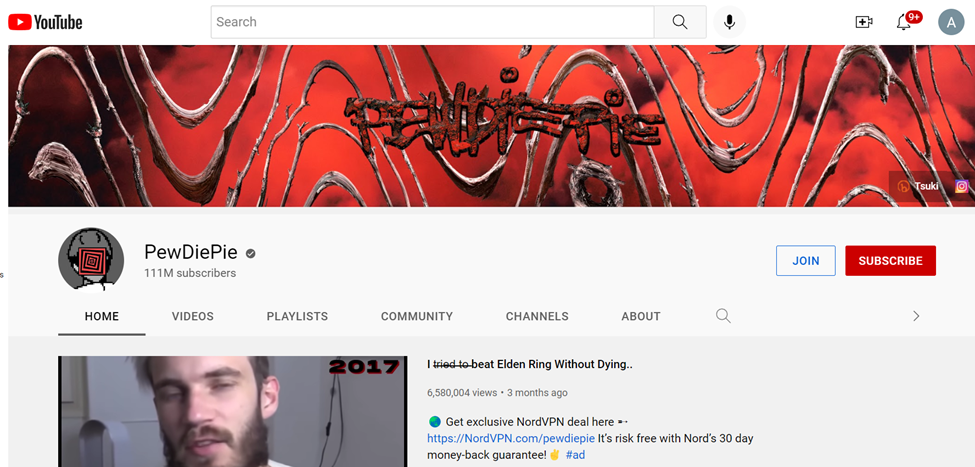 Source:YouTube
5. MrBeast
Jimmy Donaldson, or MrBeast, is an American philanthropist, entrepreneur, and YouTuber. One of his unique offerings is that he posts expensive challenge videos that reward thousands of dollars to his subscribers. He won YouTuber of the Year in the 12th Annual Shorty Awards in 2020.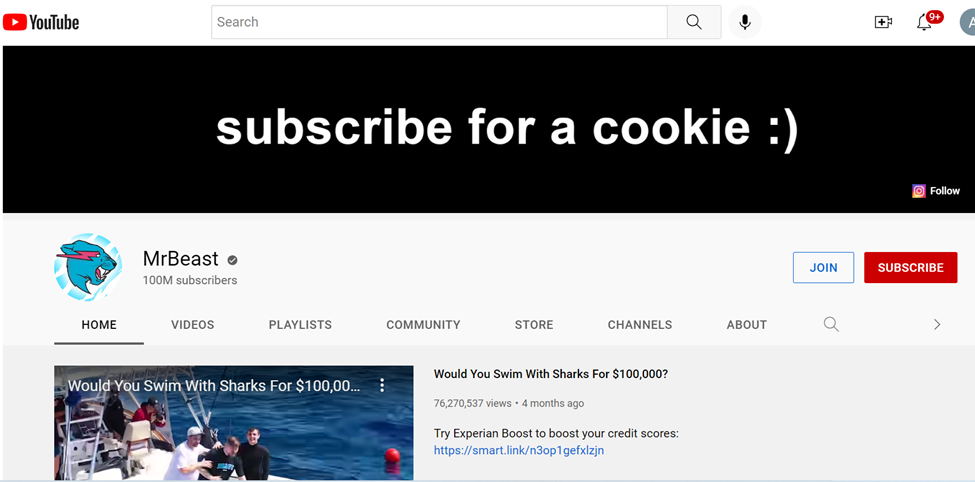 Source:YouTube
6. Like Nastya
Like Nastya is a kids' YouTube channel led by young Anastasia Radzinskaya, also known as Nastya. Though she's only 8 years old, Anastasia runs her channel with the help of her parents and features toy unboxing content and trips to amusement parks in different countries. She currently has nearly 99 million subscribers.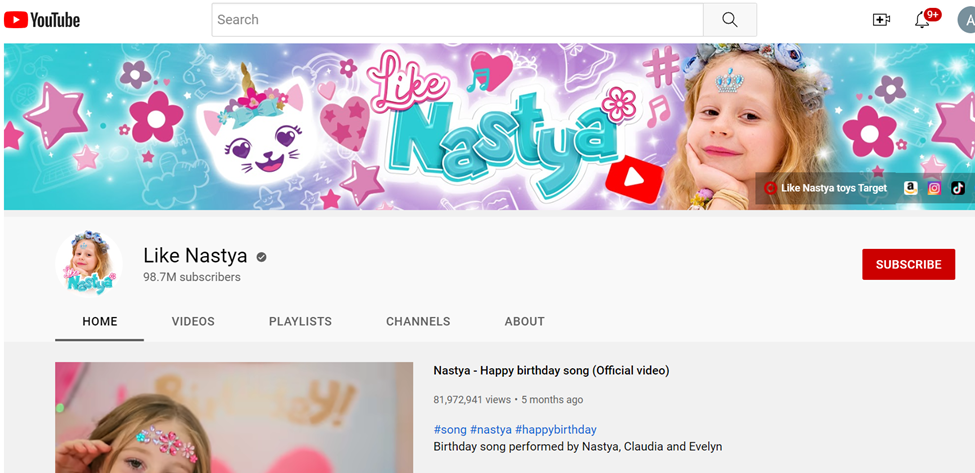 Source:YouTube
7. WWE
World Wrestling Entertainment (WWE) is home to professional wrestling bouts and entertainment-based performance theater, which it has now taken to YouTube. The channel features videos from WWE Superstars, behind-the-scenes content, and original shows for wrestling enthusiasts.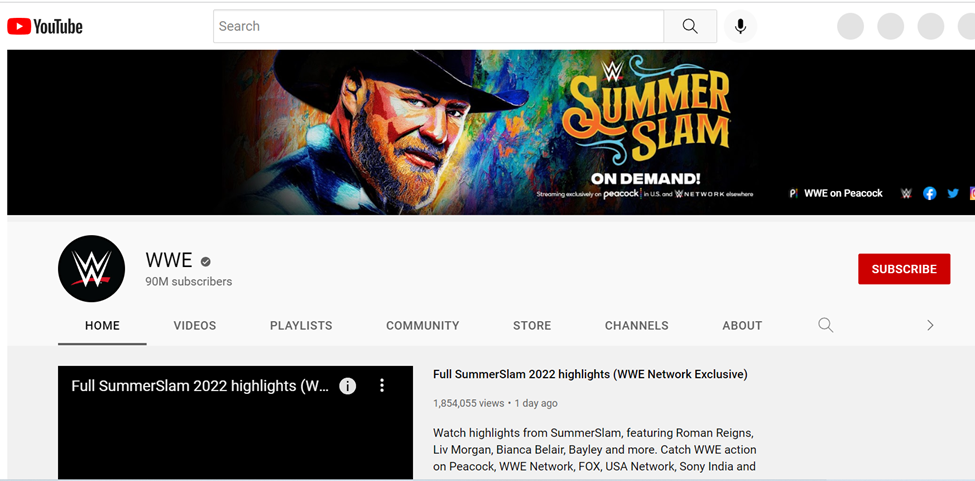 Source:YouTube
8. Zee Music Company
Another Indian influencer, Zee Music Company boasts a significant portion of market share in Bollywood Music and competes with other top YouTubers as the most popular account. The channel features an extensive library of over 200,000 hours of television and movie content.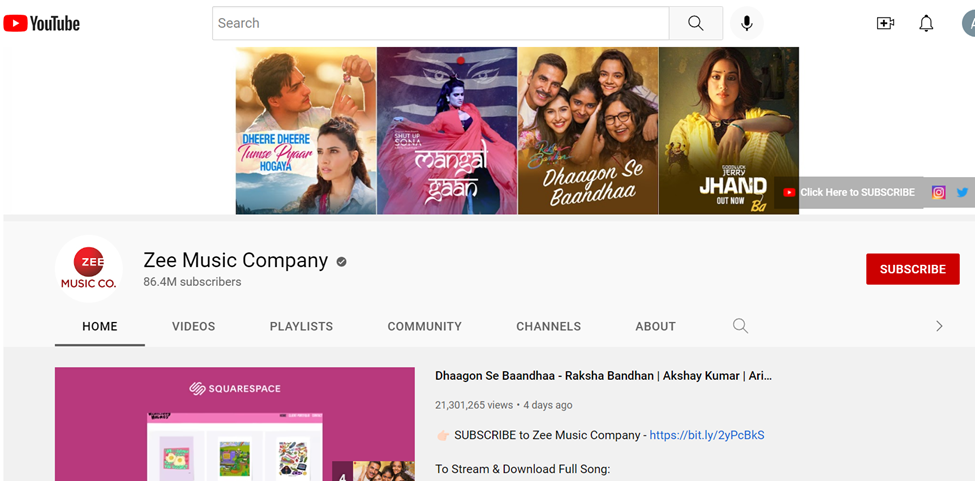 Sources:YouTube
9. Vlad and Niki
Vlad and Niki run a popular kids' YouTube channel with antics from brothers Vlad and Niki, based on the creators. The channel launched in 2018, but now the creators have a range of additional channels for nursery rhymes and music. Each episode features animation, live-action, and music for engaging content.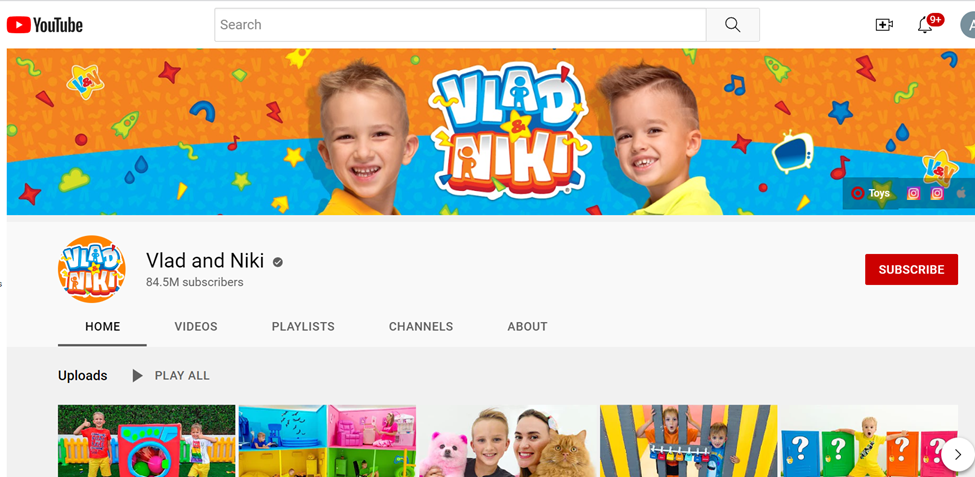 Sources:YouTube
YouTube Monetization Opportunities
YouTube offers virtually endless opportunities for content creation and monetization, whether influencers are just starting out or approaching mega-influencer status. The key to getting paid on YouTube is for influencers to create compelling content that connects with the audience, boosting subscriber count, video views, and ultimately, revenue.
Partner with an influencer marketing agency today to learn more about working with YouTube influencers.
Sources:
[1]https://www.forbes.com/sites/johnkoetsier/2020/10/05/2-million-creators-make-6-figure-incomes-on-youtube-instagram-twitch-globally/?sh=5c3a819b23be
[2]https://mint.intuit.com/blog/relationships/how-much-do-youtubers-make/