With Halloween wrapping up and brands shifting to their holiday campaigns, major social media platforms have brought new updates to enhance the search, shopping, and collaborative experiences.
Learn more about the top news stories in social media and influencer marketing for October 2023. 
LinkedIn Adds Generative AI Elements to Recruiter and Learning
LinkedIn is leaning into generative AI on its platform, adding elements to its recruitment and hiring offerings for the Recruiter 2024 project.  According to LinkedIn, "By pairing generative AI with our unique insights gained from the more than 950 million professionals, 65 million companies, and 40,000 skills on our platform, we've reimagined our Recruiter product to help our customers find that short list of qualified candidates – faster."[1]
The platform also added generative AI into LinkedIn Learning using a new AI-powered chatbot experienced in-stream that provides real-time advice and tailored content recommendations. LinkedIn is owned by Microsoft, a major investor in ChatGPT creator OpenAI.
Meta Proposes $14 Per Month Charge for Ad-Free Facebook
Meta has been exploring the possibility of ad-free subscription tiers for Facebook and IG. The reason behind the proposed ad-free options is the EU's evolving data privacy regulations, which are putting strain on the company's capacity to use personalization based on user activity. Offering ad-free subscriptions would enable it to continue to provide an optimal user experience while still generating ad revenue. 
Meta's preliminary plan projects the cost of an ad-free Facebook to be around $14 per month or $17 per month for Facebook and Instagram. 
Reddit Updates Search Tools to Enhance Discovery
Reddit is looking to improve discovery within the app using new updates to search tools designed to help users find what they're looking for faster in stream. These include a new Media tab in the search results display, which will help finding visual content, 
When searching for images or videos, users can switch across to the dedicated Media tab in the search results to get an overview of just those search results.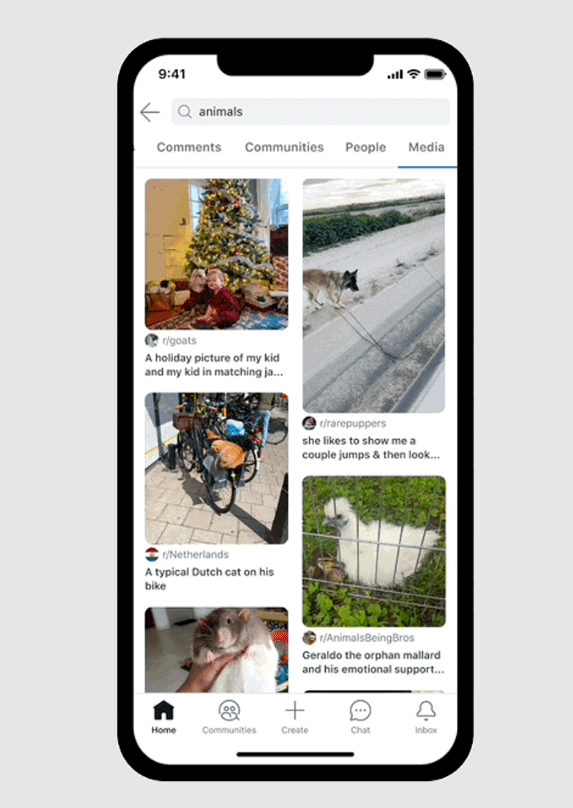 Source: Reddit
The ADL Resumes X Advertising After Hate Speech Clash
Elon Musk has made efforts to meet with community leaders and address concerns around antisemitism, which has appeased the Anti-Defamation League (ADL). The organization issued a statement in regard to X's progress and its recommendations for advertisers. This is following concerns that the group had been pushing advertisers to boycott X due to changes in the moderation rules. 
Musk refuted the ADL's claims, and even threatened to sue the organization for loss of earnings as a result of its reports. The two sides seem to have called a truce. According to the ADL, "We appreciate X's stated intent over the last few weeks to address antisemitism and hate on the platform. This has been useful; more needs to be done; and as we have with other companies, in the spirit of collaboration, we are hopeful that we can continue to engage with X on this important matter."[2]
YouTube Expands Access to Monetization, Adds New AI Effect for Shorts
YouTube is expanding access to its Partner Program, allowing more people in more regions to qualify for monetization of their YouTube clips, while it's also rolling out a new generative AI feature for Shorts. 
First, the platform reduced the entry thresholds for its YPP program, allowing creators with 500 subscribers – down from 1,000 – and far fewer video or Shorts views to monetize their content with YouTube ads. The lower entry thresholds were only available to creators in selected regions, but now, creators in 23 more countries will have the opportunity to monetize at lower entry rates.
In addition, the first generative AI feature for Shorts is also being rolled out. One of the new effects is called "Bloom," which turns people into topiary structures. 
Meta Publishes New Guide to Its AI-Driven Advantage+ Ad Campaigns
Meta's evolving Advantage+ campaigns have been seeing success utilizing AI and automation to maximize response based on the platform's systematic understanding of audience interests. Meta also released a new Meta Advantage Best Practices Guide to help marketers navigate the features. 
Among the key points are how Advantage+ campaigns drive better performance, the key benefits of the campaign types, and practical tips to maximize campaign performance. 
YouTube Tests New Community Notes Feed in Mobile App
YouTube is looking to better incorporate its text-based social engagement element with a new Community Posts feed for channels in the mobile app. According to YouTube, "We've heard that YouTube users are looking for more ways to find Community posts from creators, so we're experimenting with a 'posts-only' feed on the Home tab on mobile devices. If you're in the experiment, you may see a 'View all' button on single Community posts on Home, which you can tap to view more posts from channels you've engaged with in the past or posts that we think you may like."
This is basically a Twitter-like text update feed in YouTube that includes posts from channels a user follows and channels they may like, all integrated into a dedicated updates stream. 
Threads Look to Add Trending Topics, GIFs, Voice Posts, and More
As Meta looks to rapidly evolve its Twitter-like Threads app in order to scoop up as many cast-offs from X as possible, it's close to adding a range of requested features that could bring it into parity with the Elon Musk-owned app. 
One of the new features is a Trending Topics element, which will make it easier for users to stay up with the latest discussions in the app. In this example from app developer Willian Max, the new trending list would display all of the top conversations happening in Threads at any given time. Users can then tap through on the topic to see what people are saying as they can on X.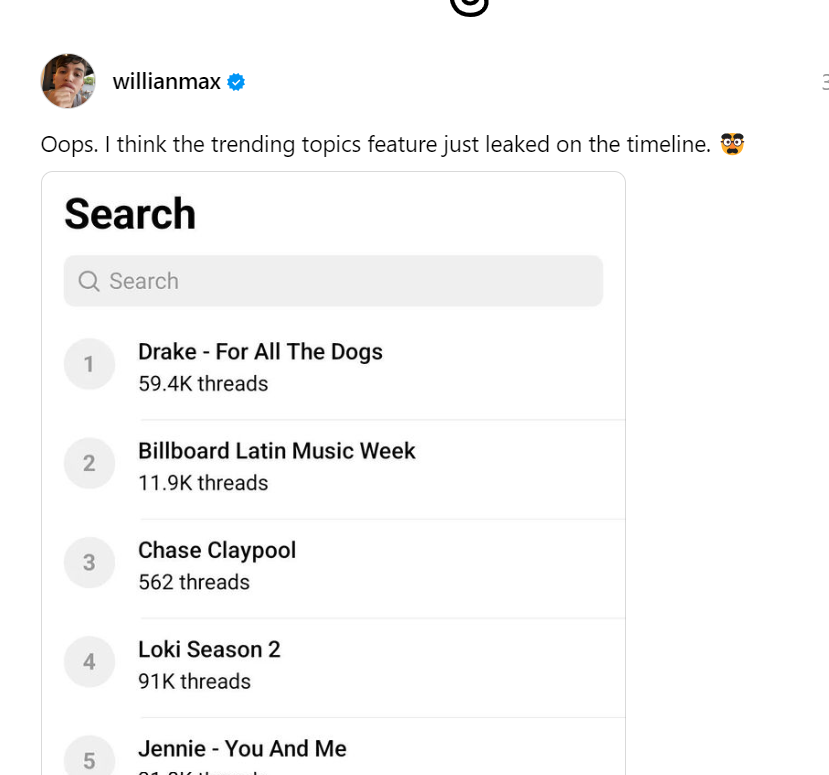 Source: Threads
X Launches Option to Restrict Post Replies to Verified Users
After testing it over the past few months, X has now officially launched its new audience control option, which allows users to limit their post replies to verified accounts only in the app. In addition to X's three existing reply control options, which it first added back in 2021, X is now adding Verified accounts as an engagement control option. This allows users to restrict their responses to only those who pay to use the app. 
Instagram Experiments with New Stickers to Facilitate Holiday Season Engagement
While it continues to add new features to Threads, the Instagram team is also building more engagement elements into its main app as well, including a bunch of new stickers that it's looking to have ready for the upcoming holiday season.
One of these features is the new App sticker, which looks to be a way for users to directly promote other apps within their Stories. The App sticker provides an easy way for users to link viewers through to another app, which may be used to promote special deals, products, creation tools, and more.
TikTok Announces New Partnership with Disney
TikTok has announced a new partnership with Disney to celebrate 100 years of the iconic entertainment brand, which will provide a range of new opportunities for Disney fans to engage with the app. As part of a limited-time activation, Disney fans will have an opportunity to watch video clips from across Disney's brands, create their own videos with Disney music and effects, play Disney trivia, collect and trade digital character cards in the app, and more.
According to TikTok, "Beginning on October 16th, in honor of The Walt Disney Company's 100th anniversary, we're giving the passionate community of Disney enthusiasts on our platform a first-of-its-kind destination within TikTok that invites Disney fans to a unique interactive experience where stories, magic, and memories come together."
TikTok Announces All Videos Will Have Default Auto Captions
TikTok is looking to improve accessibility in the app by implementing auto captions by default on all videos as of next month. TikTok already allows users to switch to auto captions to ensure that more users can engage with their content, but they'll now be enabled on every clip. 
Creators will still be able to edit and delete captions after posting, but they won't be able to opt out. This is a positive step for accessibility for users with hearing difficulties and for regular users who are watching TikToks without sound. 
LinkedIn Updates Collaborative Articles, a Key Traffic Driver
LinkedIn has announced some updates for its Collaborative Articles feature, which uses AI-generated prompts as a starting point and calls on specific LinkedIn users to share their expertise on the chosen topic. First launched in March, LinkedIn says that it's now facilitated over a million expert contributions via the format, making it the platform's fastest-growing traffic driver. 
Google Launches AR Try-On Tools for Hair Color and Foundation
Google's taking its AR try-on tools to the next stage with new hair color and foundation try-on tools to add to its suite of virtual testing options. Certain brands will have try-on options available in stream to allow users to "test" a product before purchase. 
Preparing for the Holidays
Many of these platform updates will have a big impact on marketing campaigns, particularly as brands try to capture the attention of holiday shoppers. It's important for influencers and marketers to understand how these new feature rollouts can maximize campaigns. 
Sources:
[1] https://www.linkedin.com/business/talent/blog/talent-acquisition/reimagining-hiring-and-learning-with-power-of-ai 
[2] https://www.adl.org/resources/press-release/adl-statement-regarding-xtwitter