After a contentious battle and only a few months of owning Twitter Inc., Elon Musk has already proposed major changes to the platform, halved the company's workforce, fired executives, and asked employees to put in "hardcore" hours.
Though Musk's goal was to "restore free speech" on the platform, he's gone on to ban accounts that he disapproved of and tried to make paid subscriptions a feature for users, only to see advertisers curbing spending.
Less than a month ago, Musk asked followers if he should remain CEO of Twitter and swore to follow through on the result. The Twitter user base said he should step down.
But what happened between summer of 2022 and now?
A Quick Recap
Musk expressed interest in buying Twitter in 2017 due to concerns about the platform's commitment to the freedom of speech. Then, in January of 2022, he began purchasing Twitter shares and reached a 9.2% stake in April – making him the largest shareholder. When this information was publicly disclosed, Twitter shares surged.
In April, Musk agreed to be on the platform's board of directors, though he would not be able to acquire more than 14.9% of the company. Less than two weeks later, he made a $43 billion offer to buy Twitter, launching a takeover bid to purchase 100% of the company's stock.[1]
Twitter's board adopted the "poison pill" shareholder rights plan, which makes it more expensive for any single investor to own more than 15% of the company without board approval.[2] Musk still concluded his bid. The following day, Tesla's stock value plummeted by over $100 billion, losing about $30 billion of Musk's net worth.
A contentious battle ensued with a back and forth between Twitter leadership and Musk, including damaging statements about spam accounts and security concerns that hurt Twitter's stock. Musk tried to terminate the deal, though Twitter was committed to holding him to his promise with a threat of a lawsuit.
July 8: A Deal in Peril
As of July 8, Musk was attempting to terminate the agreement he signed into and facing legal ramifications from Twitter if he backed out. At the time, the public waited with bated breath to see what would come of the $44 billion deal and the rollercoaster of chaos and controversy that unfolded over the past few months.
July 12: Twitter Sues Musk
Following through on its promise, Twitter sued Musk in Chancery Court in Delaware to complete the deal he agreed to.[3] In the lawsuit, Twitter said "Musk refuses to honor his obligations to Twitter and its stockholders because the deal he signed no longer serves his personal interests."
"Musk apparently believes that he – unlike every other party subject to Delaware contract law – is free to change his mind, trash the company, disrupt its operations, destroy stockholder value, and walk away."
Had Musk abandoned the deal, he would be facing a termination fee of $1 billion.
July 19: The Timeline Moves Up
The Delaware court determines that the trial brought by Twitter against Musk should be set for October, expediting the timeline.
October 4: Musk Proposes a Completion of the Deal
Musk proposes to complete the deal to acquire Twitter, reversing his long effort to terminate his agreement. The proposal would finish the acquisition at the original offer price of $54.20 a share – a total cost of $44 billion.[4]
October 28: The Deal Is Closed
Musk closes the deal to acquire Twitter one day before the trial was scheduled. He fired some of Twitter's top executives, including CEO Parag Agrawal, CFO Ned Segal, CLO Vijaya Gadde, and general counsel Sam Edgett.[5]
He also stated that content moderation or account reinstatement would be paused until he could create a new committee.
November 4: Twitter Starts Layoffs
With Musk at the helm, Twitter begins layoffs that cut roughly half of its workforce. In the email sent to laid-off employees, Musk said, "Today is your last day working at the company" with "Your Role at Twitter" as the subject.[6]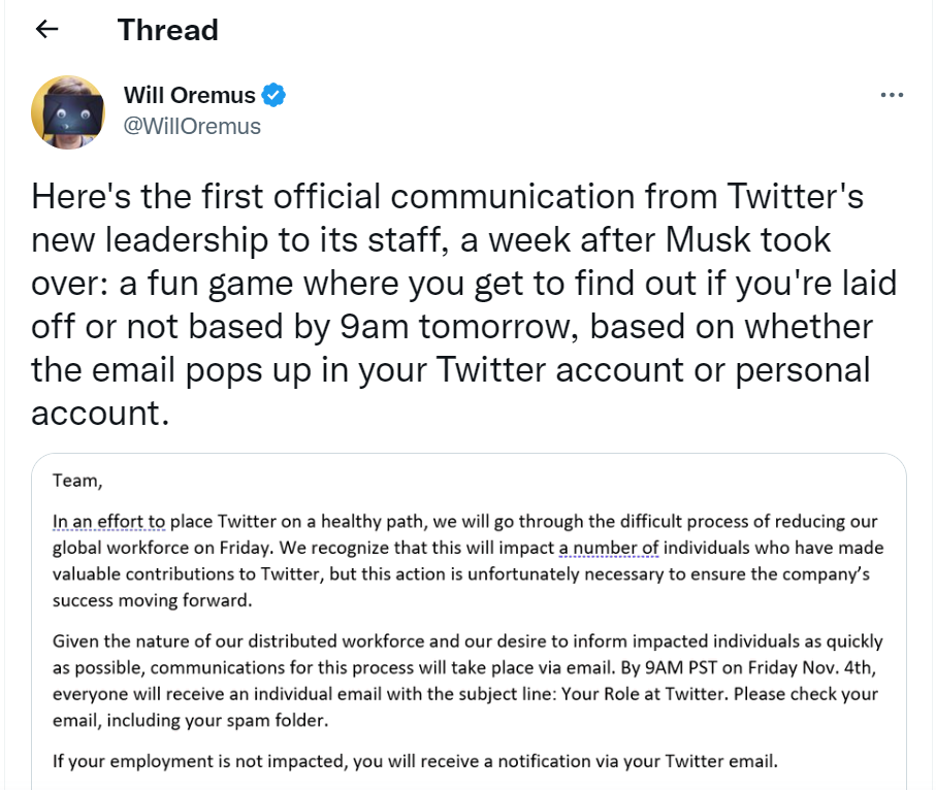 Source: Twitter
November 9: Twitter Launches Twitter Blue
The first controversy under Musk's leadership, Twitter launches the new version of the subscription service, Twitter Blue, that required a monthly fee of $8 for account verification.[7]
Prior to this decision, Twitter verified prominent figures individually to prevent impersonation, and those accounts were typically politicians, celebrities, and other public figures. Musk said that any user who impersonated others would be permanently suspended.
November 10: Fake Accounts Abound
With the new verification feature, numerous fake accounts arose impersonating brands and public figures. Twitter then instituted a second layer of official tags for accounts.
Some of the impostor accounts included that of LeBron James, Nintendo, Rudy Giuliani, and Musk's own brand, Tesla.
November 16: Musk Doesn't Want to Be CEO
During a trial in Delaware Chancery Court, which focused on his $55 billion in pay at Tesla, Musk states that he no longer wants to be CEO of the electric automaker, Twitter, or any other company.[8] He also said that after restructuring the social network, he plans to step back and allow someone else to run it.
Musk emailed current Twitter employees with a form titled, "Would you like to stay at Twitter?" and asked for a pledge to work long and intense hours. The only answer available was "Yes." He required a response within 24 hours, or employees were free to leave with three months' severance pay.
November 17: Employee Deadline Approaches
With a deadline approaching, hundreds of Twitter employees chose to leave Twitter and posted their goodbyes publicly. #RIPTwitter trends.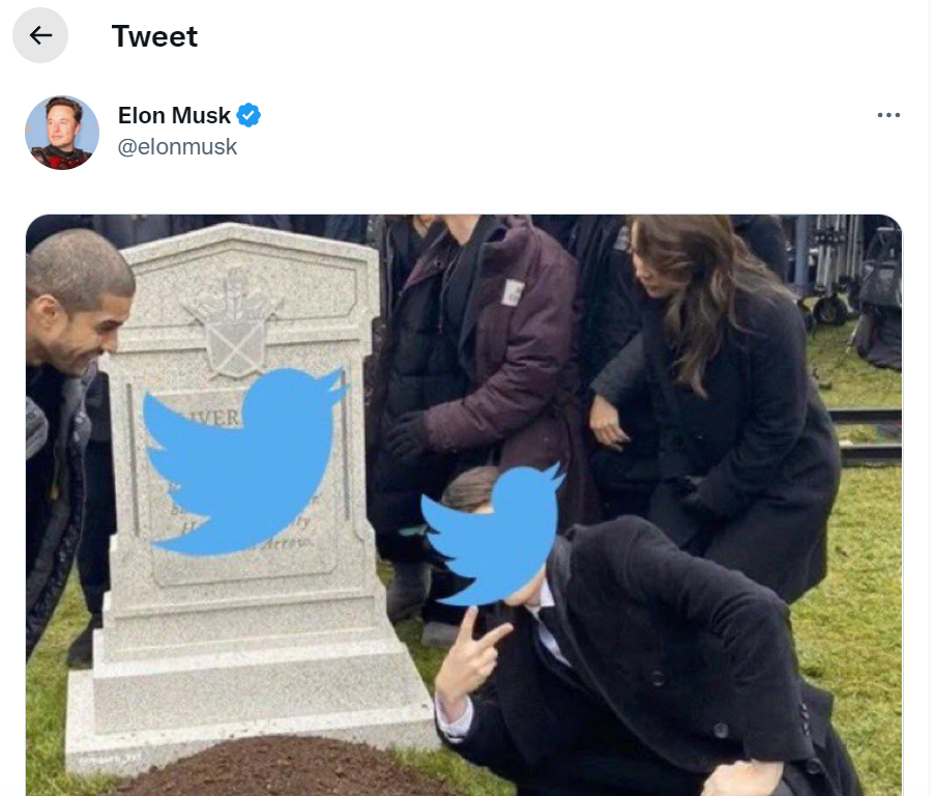 Source: Twitter
November 18: "Hardcore" Employees Stay
Following the mass resignation, Musk gathers the remaining engineers to discuss the tech stack in San Francisco. They're asked to perform by emailing their recent achievements, complete with screenshots of their most remarkable code.
November 24: Twitter Loses the Brussels Office
Resignations continue and Twitter loses the last of its remaining employees in Brussels, a regulatory branch of the platform, while under scrutiny from lawmakers.[9] The branch was a key asset to navigate European regulations.
November 28: Musk Accuses Apple of Threats
After Apple had pulled back ads on Twitter, Musk claimed that the company was threatening to withhold the Twitter platform from the App Store.[10]
December 4: Tempers Cool
Musk announced that Apple had resumed advertising, a move that de-escalated the war between tech giants. According to Musk, he and the CEO of Apple, Tim Cook, met and resolved the "misunderstanding."
December 2: The Twitter Files
Musk teased the "Twitter Files," a collection of executive emails that reveal internal discussions at the platform over the decision to restrict access to an article about Hunter Biden's laptop.[11] These files were alleged to contain screenshots and other evidence o user accounts.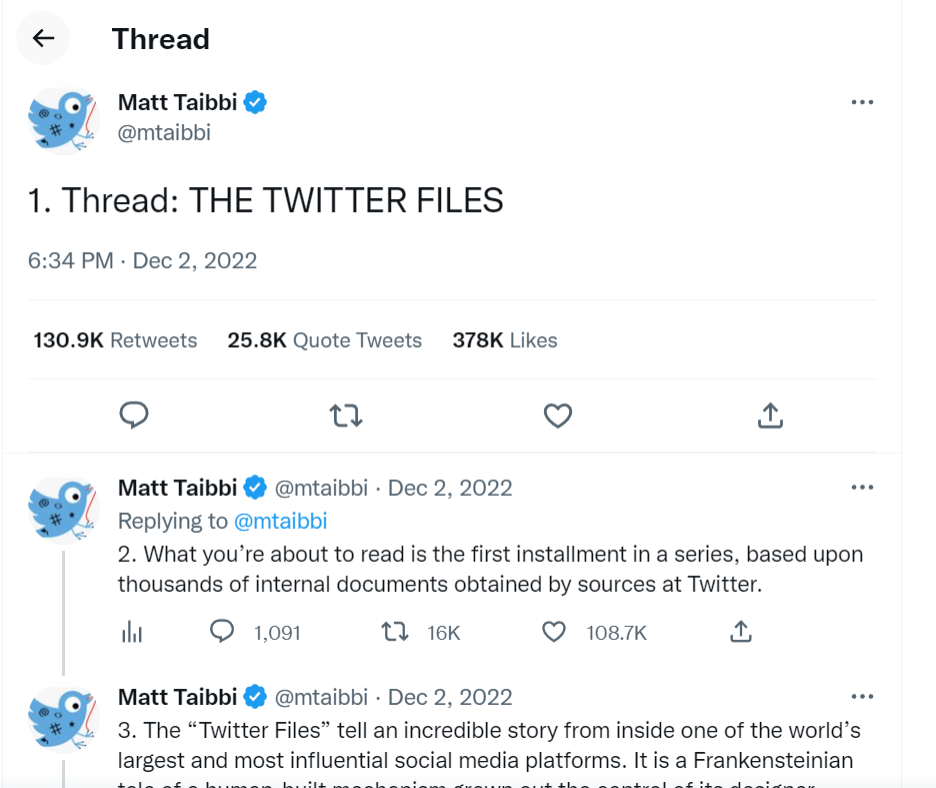 Source: Twitter
December 13: The Content Moderation Council Is Disbanded
Twitter disbanded its Trust and Safety Council, a group of independent industry experts that provided recommendations on content moderation issues. This was not long after members quit over concerns about the Twitter's ability to police its own platform.
December 14: Musk Is No Longer the World's Richest Person
Musk sells some Tesla shares for a total of $3.58 billion, bringing his total offloaded stock to $40 billion. As a result, Musk fell from the top spot on the Bloomberg Billionaires Index.[12] Tesla's value also fell below the half-trillion-dollar mark for the first time since 2020.
December 16: Twitter Bans Journalists
Twitter suspended the accounts of journalists Musk accused of posting his location, calling it "assassination coordinates." Any accounts that track private jets, such as Musk's own, were also banned.
In response, European politicians threatened sanctions and lawmakers fled the platform.
December 18: Musk Bans Social Media Promotion, Other Than Twitter
Under Musk's command, Twitter began removing accounts that promoted other platforms like Mastodon and Facebook. The company announced that it will no longer allow free promotion of other social media platforms.
Musk unbanned the journalist accounts he previously banned.
December 19: Twitter Users Take a Vote
Musk tweeted a poll asking Twitter users, "Should I step down as head of Twitter?" and promised to follow through on the result. Around 58% of the 17.5 million votes were in favor of Musk stepping down after only 53 days as CEO.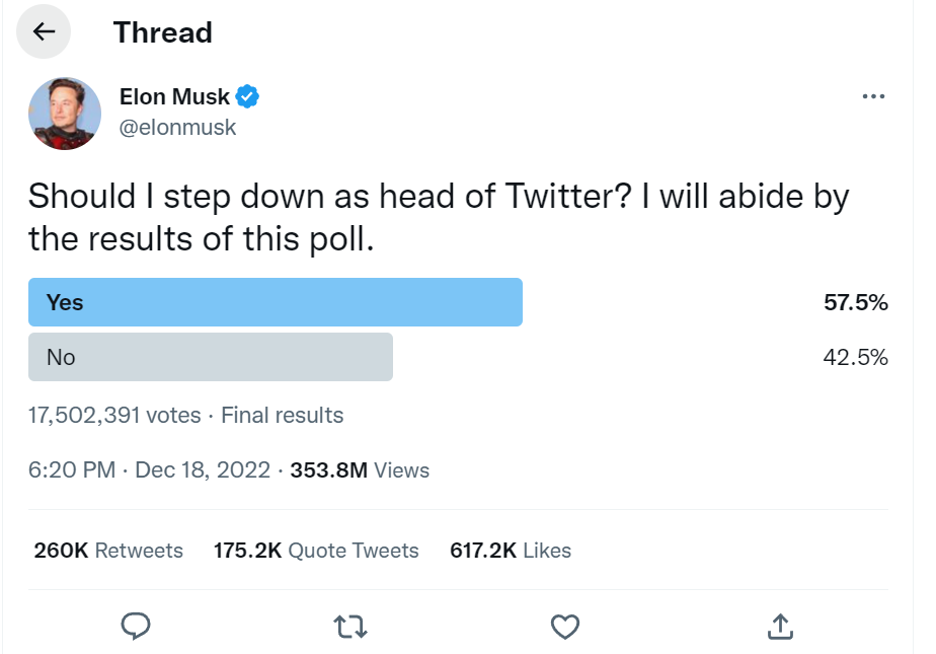 Source: Twitter
December 21: Musk Announces He Will Step Down
On December 21, Musk said he would step down as the chief executive of Twitter, Inc., once he finds a suitable replacement.
In his Twitter announcement, he said, "I will resign as CEO as soon as I find someone foolish enough to take the job! After that, I will just run the software and servers teams."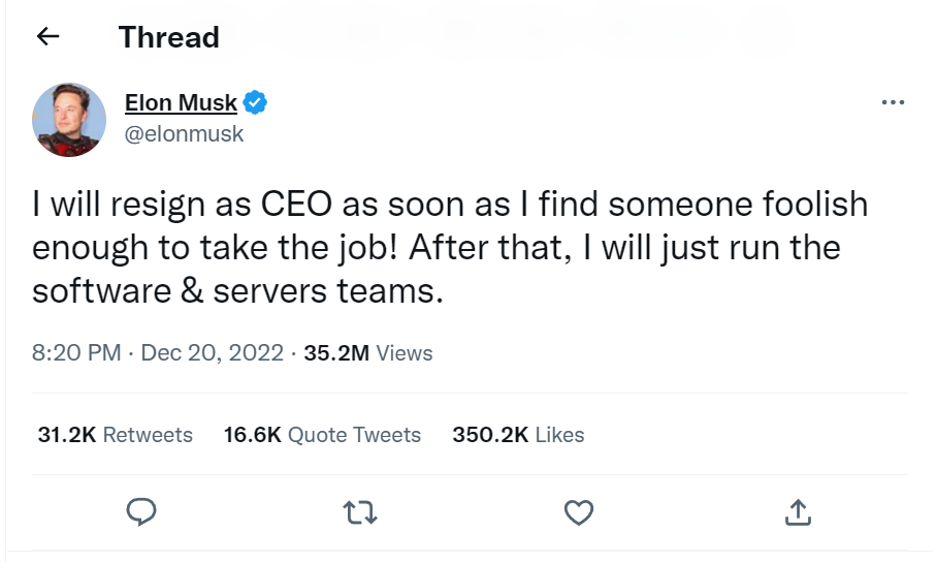 Source: Twitter
Twitter Moving Forward
Musk is adamant that he never wanted to be a CEO of any company – Twitter or otherwise – and prefers to be an engineer. Though he plans to step down, he's unsure if he can find a new CEO, stating that the person "must like pain a lot" to run a company that's been "in the fast lane to bankruptcy" – at Musk's own hand. Currently, the story is still developing.
Sources:
[1] https://www.nbcnews.com/tech/tech-news/elon-musk-makes-move-buy-twitter-rcna24354
[2] https://www.nbcnews.com/business/business-news/twitter-elon-musk-takeover-poison-pill-to-prevent-hostile-takeover-rcna24607
[3] https://www.nytimes.com/2022/07/12/technology/twitter-lawsuit-musk-acquisition.html
[4] https://www.nytimes.com/2022/10/27/technology/elon-musk-twitter-deal-complete.html
[5] https://www.cnn.com/2022/10/27/tech/elon-musk-twitter/index.html
[6] https://www.forbes.com/sites/brianbushard/2023/01/07/more-twitter-drama-musk-cuts-more-staff-in-charge-of-misinformation-as-laid-off-employees-criticize-severance-packages/
[7] https://blog.twitter.com/en_us/topics/company/2021/introducing-twitter-blue
[8] https://www.usnews.com/news/business/articles/2022-11-16/musk-testifies-in-lawsuit-over-tesla-compensation-package#:~:text=(AP)%20%E2%80%94%20Tesla%20CEO%20Elon,worth%20more%20than%20%2455%20billion.
[9] https://www.brusselstimes.com/327238/twitter-closes-brussels-office#:~:text=Twitter%20is%20closing%20its%20Brussels,The%20Financial%20Times%20has%20reported.
[10] https://www.theguardian.com/technology/2022/nov/28/elon-musk-apple-twitter-app-store-ban
[11] https://www.npr.org/2022/12/14/1142666067/elon-musk-is-using-the-twitter-files-to-discredit-foes-and-push-conspiracy-theor
[12] https://www.cnbc.com/2022/12/12/elon-musk-is-no-longer-the-richest-person-in-the-world.html