Since Taylor Swift and Travis Kelce officially announced their relationship status two weeks, the trend has been taking over feeds on virtually every platform. 
On Sunday, Taylor Swift was present in the Kelce family box with Ryan Reynolds, whose ad agency coordinated a stunt with Jake from State Farm sitting next to Donna Kelce. Fans were a healthy mix of confused, impressed, and unimpressed.
This is another moment in the NFL's Swift-centric social strategy that brings more attention to the high-profile relationship than teams or wins. 
One of the NFL's odder in-jokes is putting Swift's lyrics and photos in social bios and headers, which fans have called "ridiculous" and "a little strange."
While it works for some, especially as the pair becomes the new favorite pop culture moment, but some fans think the NFL may be taking it too far. Even Kelce himself remarked that the league may be "overdoing it a little bit" on his podcast. 
The Traylor Phenomenon
For many, the first inkling of the pairing between superstar singer Taylor Swift and Kansas City Chiefs tight end Travis Kelce began on September 24 when Swift was in attendance at the Chiefs game vs. the Chicago Bears.[1] 
The relationship rumors had already been in the air, but it was mostly among dedicated fans.
Back in July, Kelce mentioned that he attempted to give the pop star his number via a friendship bracelet during a stop on her Eras Tour. He claimed to be "a little butt-hurt" that he didn't get to hand her one of the bracelets he made.
He added that, "She doesn't meet anybody, or at least she didn't want to meet me, so I took it personal." Swift wasn't averse to meeting him, however. 
Rumors swirled through the summer. Interviewers asked Kelce about the relationship and gossip columnists speculated, but nothing had been confirmed. When he was asked about the friendship bracelet, Kelce said, "I said what I said. And I meant what I said when I said it. And you know what, it is what it is. I'm not gonna talk about my personal life. I know what you writers wanna hear, and you wanna hear more about that and I'm not gonna give you anything."
On September 21, Kelce said he "threw the ball" in Swift's "court" during an appearance on The Pat McAfee Show. 
She accepted his offer to attend a game on September 24 and was spotted by fans with Kelce's mother – a moment that exploded on the internet.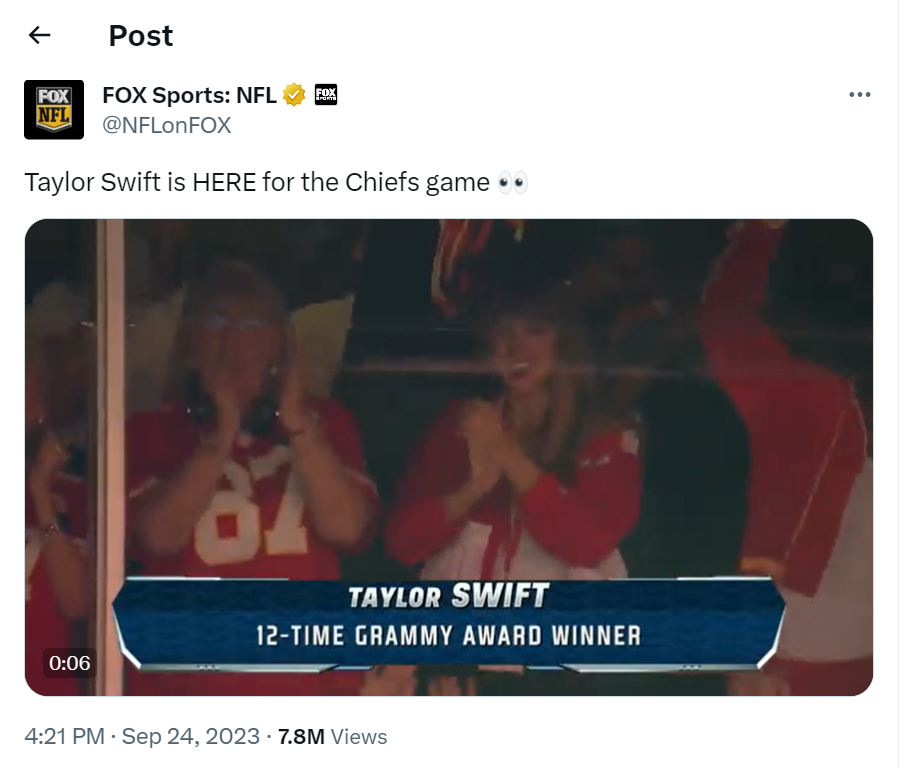 Source: X
The NFL Focuses on a Swift-Centric Strategy
After Swift's appearance in the family box, the internet was aflutter with news and rumors. Swift made regular appearances at games, including a star-studded affair at MetLife Stadium with Blake Lively, Sophie Turner, Brittany Mahomes, Ryan Reynolds, and Hugh Jackman.[2] 
The NFL didn't miss the opportunity to hop on the trend, especially with millions of new fans coming into its orbit. "Swifties" as Swift's fans are known, became eager to know about this sport that would feature in their star's life, giving the NFL an opportunity to market to a completely fresh audience. 
Viewership among teen girls spiked 53% from season-to-date average of the first three weeks of "Sunday Night Football."[3] The audience among women ages 18 to 24 was up 24%, while viewership for women over the age of 35 increased 34%.
Collectively, this amounted to over two million female viewers, adding to the roughly 27 million viewers that watched the Chiefs-Jets matchup – the most-watched Sunday TV event since the last Super Bowl. 
The NFL jumped at the opportunity, yet many think the massive brand is going overboard – especially as more of Swift's marketing makes its way into the games and commercials. Her song, "Welcome to New York," was featured in NBC's Sunday Night Football ad promoting the Chiefs-Jets game.
On Instagram, the NFL's bio briefly said, "Chiefs are 2-0 as swifties."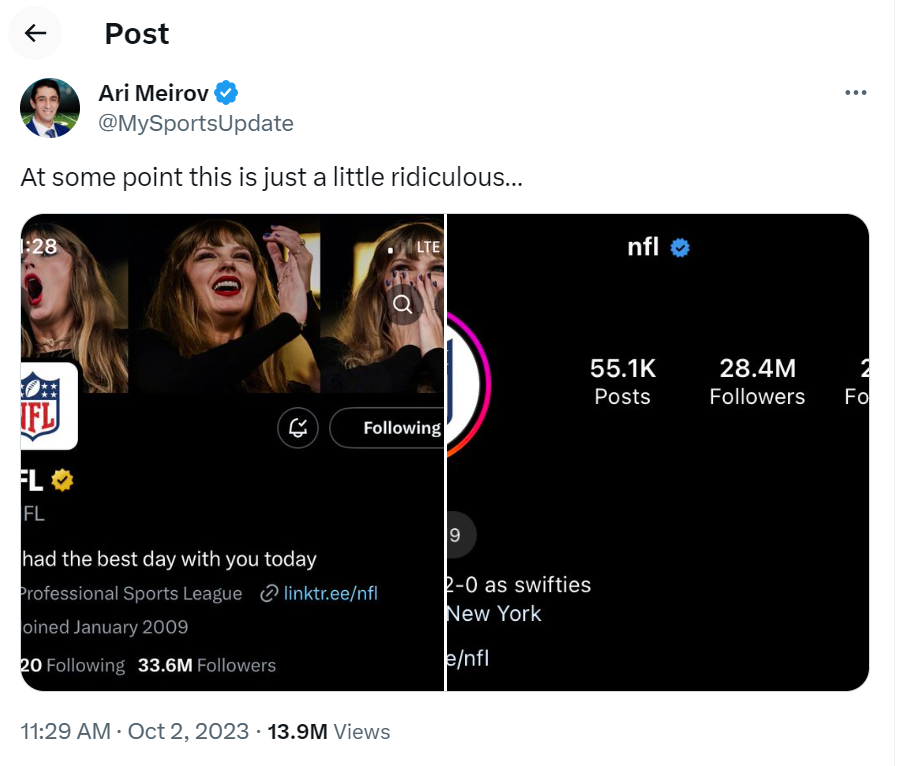 Source: X
Despite the NFL leaning in – and much of the internet creating its own memes and pop culture references – they're not backing down. On October 4, the NFL defended its recent social media activity.
In an official statement, the NFL said:
"We frequently change our bios and profile imagery based on what's happening in and around our games, as well as culturally. The Taylor Swift and Travis Kelce news has been a pop cultural moment we've leaned into in real time, as an intersection of sport and entertainment, and we've seen an incredible amount of positivity around the sport." 
"The vast majority of our content has remained focused on the game, our players, and variety of other initiatives, including our Toy Story Funday Football alt-cast, the international games and more." they concluded.[4]
When Jason Kelce said, "They're overdoing it," Kelce responded that they're overdoing it "a little bit, especially with [my] situation." But he added that, "I think they're just trying to have fun with it." 
The Traylor Effect
It's unclear whether the NFL will continue to push the Swift-Kelce relationship moving forward, especially if the relationship becomes more serious. But in the interim, people will continue to watch games – both NFL fans and Swifties alike – and the NFL's value proposition hasn't dwindled. 
Sources:
[1] https://www.glamour.com/story/taylor-swift-and-travis-kelce-may-or-may-not-be-dating 
[2] https://www.glamour.com/story/taylor-swift-cheers-on-travis-kelce-for-the-second-week-in-a-row 
[3] https://www.nbcsports.com/nfl/profootballtalk/rumor-mill/news/chiefs-jets-generates-27-million-viewers-on-sunday-night 
[4] https://www.today.com/popculture/news/nfl-social-media-taylor-swift-travis-kelce-rcna118884