TikTok skyrocketed in popularity in 2020 during the pandemic with users, marketers, and influencers alike. With an expected 834.2 million monthly users worldwide, it is the largest of the Big Five Worldwide social media networks, which includes Facebook, Instagram, Snapchat, and Twitter.[1]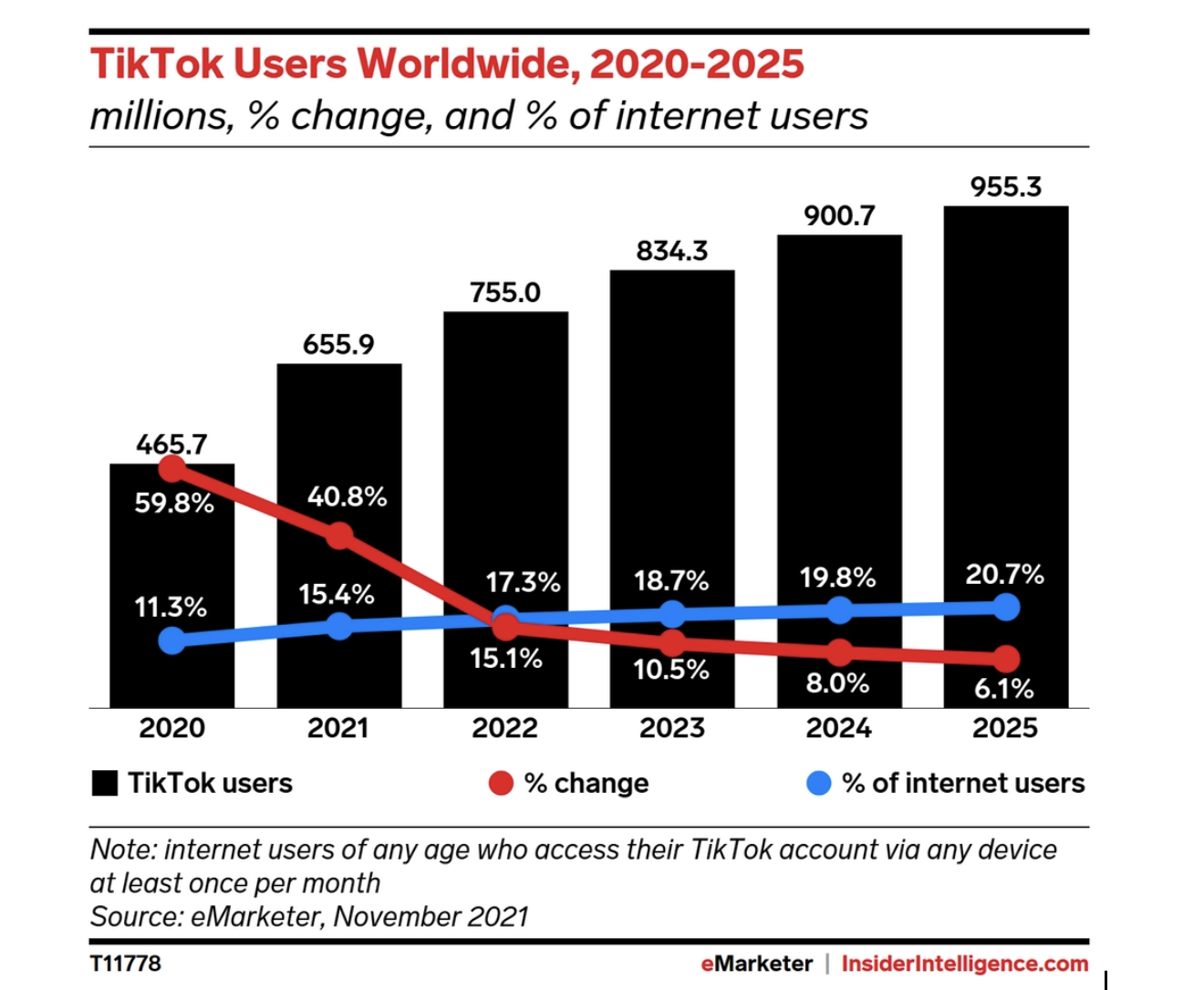 Image Source: Insider Intelligence
Despite this, TikTok has been under scrutiny in recent months. Lawmakers in the US, Europe, and Canada have taken dramatic steps to restrict access to TikTok on the grounds of security threats.
Millions of users are in limbo, waiting to see how the ban across multiple countries could play out.
The Five Eyes and Government Bans
As of early April, Australia became the latest country to ban TikTok from federal government devices over concerns of privacy and security. Australia is one of the "Five Eyes" intelligence-sharing partners, which includes the US, the UK, Canada, and New Zealand.[2]
These countries aren't alone. At the end of March, Estonia banned TikTok from smartphones issued to state officials, and the European Parliament, European Commission, and EU Council have all banned TikTok on staff devices. Similar moves were seen in France, Norway, the Netherlands, Belgium, and Denmark.
Several eastern countries also imposed a ban on TikTok over privacy and security concerns, including India, Taiwan, Afghanistan, and Pakistan.
TikTok, which is owned by the Chinese technology company Bytedance, presents possible concerns over sensitive information and data leaks – particularly on government devices. The platform disputes the allegations that it collects any more user data than other social media.
TikTok Ban on Consumer Devices
Following the ban on official devices, some countries are calling for a complete ban of the app on all devices – including those of consumers.
On March 1, the US House committee took a vote to advance legislation that would allow the Biden Administration to ban TikTok from all devices nationwide.
Shortly after, TikTok CEO Shou Zi Chew appeared before Congress to assuage concerns over the threat to Americans' privacy and national security.
Facing five hours of bipartisan questioning, lawmakers remained skeptical that the app could be considered "safe" for consumers. Despite Chew's assertion that the platform collects the same amount of data as other platforms, lawmakers still have concerns over the collected data being accessed and used by the Chinese government.
These concerns have less to do with the app specifically but who owns it – China. Lawmakers believe that the app and its parent company may put sensitive data into the hands of the government, such as location information or demographic information.
To their argument, there are laws that allow the Chinese government to secretly demand data from Chinese companies and citizens for intelligence-gathering.[3]
In response, TikTok has been denying these allegations and has been looking to distance itself from its parent company. TikTok is left with the option to split from its parent and stay in the US or address a ban that's growing worldwide.
What Are the Specific Issues with TikTok?
There are several concerns that lawmakers have with TikTok.
As a subsidiary of a Chinese company, TikTok could be pressured to hand over sensitive information about citizens that can be used as a propaganda tool by the Chinese government.
For example, the Chinese government could gather information about US citizens' likes and dislikes to be used for political purposes, much like the Cambridge Analytica scandal. The app could also be used to install spyware or malicious software.
Though there's no evidence that TikTok is being used in this manner, it does have some questionable practices. In 2020, TikTok's operating documents revealed that the moderators were required to suppress political discussions related to the Chinese government.
In addition, trackers created by Bytedance were found on 30 state government websites. TikTok was also found to have accessed personal information on journalists to locate a sensitive data leak. Though other companies, such as Uber, have done similar, the issue doesn't help TikTok's image.
What Are TikTok's Options?
Initially, ByteDance had chosen to stay a single company with segregated data for the users of the app into a separate Texas-based facility that's governed by Oracle. Any information requests would be routed through a data-security board. This measure was dubbed "Project Texas."
The Committee on Foreign Investment in the United States (CFIUS), which is tasked with reviewing transactions that could affect national security, has been pressuring the parent company to either sell to an American company or spin off its subsidiary. China objected to these options, however.
If the app were to spin off from Bytedance to be acquired by a US company, the list of buyers would be short. The app is likely to cost between $40 billion and $100 billion, plus the deal would be scrutinized by antitrust enforcers. Interested parties would need to have capital and a high risk tolerance, so that rules out giants like Meta and Google.
The First Amendment
More than twice as many Americans support the US government banning TikTok at a staggering 50% to 22%. A good percentage – 28% — aren't sure how they feel about the ban. Unsurprisingly, older Americans are more supportive of the ban than younger Americans.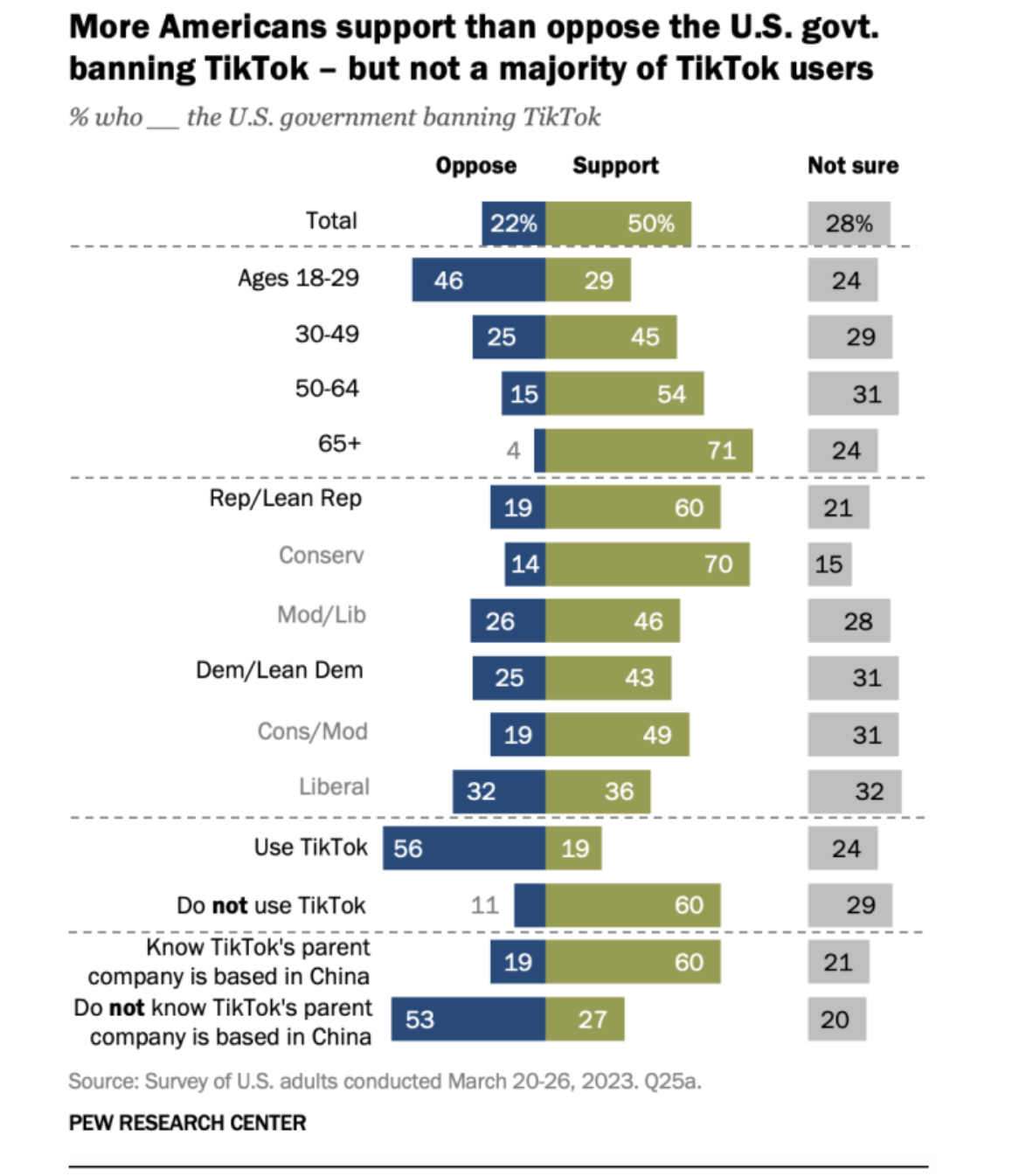 Source: Pew Research Center
Still, the TikTok ban raises concerns over constitutional rights – specifically, the First Amendment.
In 2020, the Trump Administration tried to place restrictions on TikTok, but two federal judges said the administration had overstepped its authority and blocked the restrictions. Some judges sided with TikTok based on "free expression" for users.
According to Jenna Leventoff, the senior policy counsel at the American Civil Liberties Union, banning TikTok would violate the First Amendment unless it's "necessary to prevent extremely serious, immediate harm to national security."[4]
How Would a Ban Be Enforced?
There are many possible ways this scenario could play out, but even selling the app won't necessarily make a difference. Bans of this nature are also difficult to enforce.
Essentially, the government could block TikTok from selling ads or making updates, which would eventually render it nonfunctional. Companies that operate app stores, such as Google and Apple, block downloads of apps that are nonfunctional or carry illegal content. They also have the ability to remove installed apps, though it doesn't happen often.
Users can refuse to update their phones, preserving the already-downloaded TikTok app, but that's not a long-term solution. Eventually, their phones would become nonfunctional as well.
The Conversation Around Data Privacy
Whatever happens with TikTok and this ban, it has brought attention to the issues of privacy on the national level. The reality is that TikTok and other social media apps – as well as other channels – obtain user data.
Privacy and civil liberties advocates have used the TikTok controversy to push for data privacy laws on the national level. Mobile apps are under regulated and build business on collection personal information. If the user isn't paying for the product, they are the product. This may not save TikTok from a ban, but it would give the app a level playing field with social media giants like Facebook, Instagram, and YouTube.
What's Next for TikTok?
Right now, TikTok is in limbo as lawmakers, supporters, and critics navigate the waters. Whether the platform is banned, the app is sold, or the controversy spurs a national data privacy law, marketers and influencers should keep up with the changes to prepare for the future.
Sources:
[1] https://www.insiderintelligence.com/charts/global-tiktok-user-stats/
[2] https://www.euronews.com/next/2023/04/04/which-countries-have-banned-tiktok-cybersecurity-data-privacy-espionage-fears
[3] https://www.nytimes.com/article/tiktok-ban.html
[4] https://www.nbcnews.com/tech/social-media/happens-tiktok-six-ways-fight-ban-play-rcna77675