How Endorsements and Product Placement Work In Influencer Marketing
Product placement has been an ideal for the advertising industry, especially influencer marketing agencies. Subtly including products in mass media adds value to the customer experience without disrupting the entertainment itself.
One prominent example is the James Bond franchise. LG monitors, Triumph bikes, Omega watches, Microsoft electronics, and Aston Martin vehicles are all featured prominently in these films, adding to the excitement and intrigue without shouting that it's an ad.
Now, this traditional form of marketing is merging with influencers to combine the best of both worlds. Influencers can not only use product placement in their own content, but they can bring attention to promotional campaigns in traditional media.
What Is Product Placement?
Product placement, or embedded marketing, is a marketing technique that references specific brands or products into another work, such as a TV show or movie, with promotional intent.[1] This is different from a product endorsement, which is a public declaration in support of a product or brand.
Using product placement in media has longevity that other marketing channels can't quite match. Shows and movies are watched and rewatched – sometimes over decades – and found at different times by different audiences. But brands only have to pay for the exposure once.
After the initial product placement, the brand is there for life. The only way it would change is by swapping brands in post-production, though it's unlikely.
For example, the Frogger episode of Seinfeld still gets regular watches and makes the arcade game the focal point. In the show, Jason Alexander's character George tries to keep his highest score ranking, only to have an unfortunate series of events lead to the arcade game being run over by a truck as he crosses the street. Naturally, this sequence was an homage to the gameplay.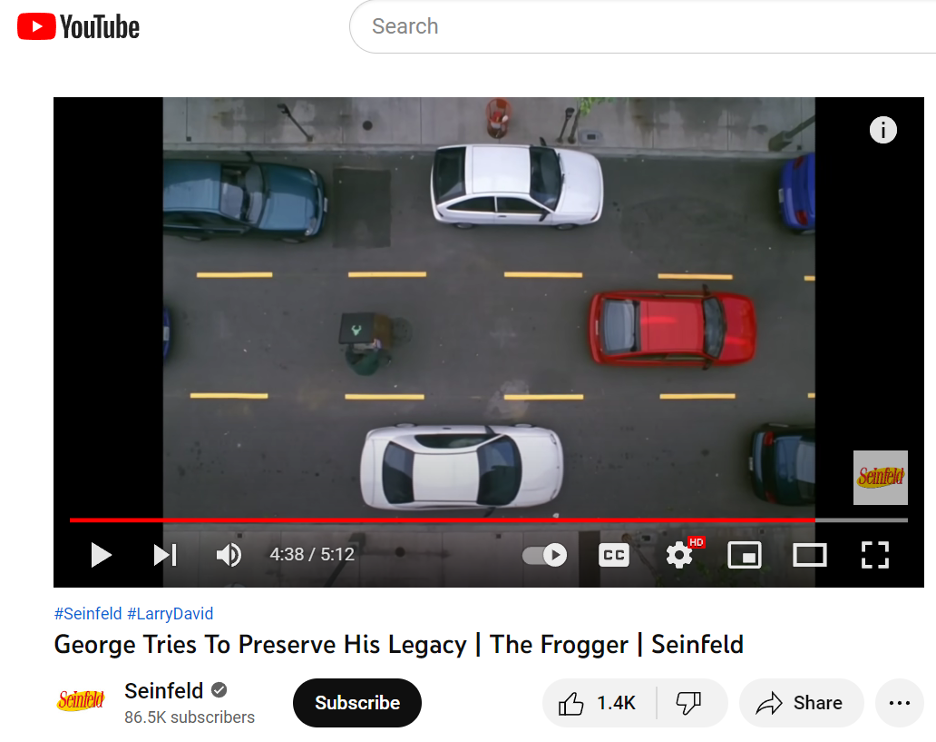 Source: YouTube
Even if someone tried to replace Frogger with a different game, the story is built around it. George's actions wouldn't make sense in a new context.
The Longevity of an Influencer Post
By comparison, influencer marketing couldn't be more opposite. Once the post is created, it gains some traction before getting lost in the midst of newer content. In fact, many influencers delete posts once the contract is up.
That's not to say that social posts don't have a lot of value. The content is organic and real, which has a positive influence on the audience. Followers can repost, share, and expose more people to the content, influencer, and brand.
In addition, social media makes it easy to shop for products seen in influencer content – a feature not available with product placement. If consumers see something in a movie or show they like, they either need to recognize it or search for it.
Product Placement and Influencer Marketing Together
Product placement and influencer marketing are on opposite ends of the spectrum. With the former, a brand has virtually limitless exposure in television and film history. With the latter, the moment in the spotlight can be over in a flash.
One isn't necessarily better than the other – they are different. And they can be complimentary.
Product placement takes time. Movies shoot for months, if not years, and take another 9 to 12 months to be released and hit the market. TV shows also take months before they air. That's a lot of waiting time for a brand that may need more urgent results.
Conversely, an influencer campaign is much faster and brings attention to a product or brand quickly, even if the results don't last as long.
Together, an influencer can bring attention to product placement in a product and provide more awareness of a promotional partnership, along with endorsing the brand themselves.
Frito-Lay's Unskippable Moments
Frito-Lay, the company that owns brands like Doritos, Lay's, Cheetos, Ruffles, and Smartfood, leveraged a combination of influencer marketing and product placement on a grand scale. Faced with the growing issue of ad avoidance behaviors, Frito-Lay embedded its brands directly into content to create unskippable advertising.
Strategic product placement in content distributed across streaming services aligned the brand with culturally relevant talent. The approach combines traditional advertising with forward-thinking, digital marketing with the goal of enhancing the entertainment experience rather than detracting from it.
A variety of integrations were included in music videos, streaming, and cable and film platforms with the whole portfolio of brands, including placement in videos from top names like Katy Perry, Khalid, and Lizzo. Some of the shows included The L Word on cable, Mythic Quests on Apple TV+, and the film Bill and Ted Face the Music.
The campaign ultimately gained over 100 million views and an 80% lift in purchase consideration.
Ubisoft Just Dance Collaboration
Ubisoft is the development company behind the long-running video game franchise Just Dance. In an effort to bring the newest edition to young audiences, Ubisoft had to meet them on TikTok and Instagram instead of traditional channels.
The brand showcased gameplay experience using a range of TikTok influencers, including social star Loren Gray. She appeared in a TV spot and helped to create a mix of themed video and photo content for Ubisoft's digital channels.
The genius of the campaign is that the dance game appeals to TikTok's native functionality and desire for dance challenges. The influencers created videos for TikTok Duets and Instagram Stories with footage and dances from the game, inspiring fans to create their own.
The #JustDanceMoves campaign drove almost 2 billion views in the first week, indicating that users engaged with the content more readily than they would have with a traditional ad.
Old Navy's Inclusive Messaging
Old Navy took on a product placement strategy with showrunners and creators that empowered diverse voices. The brand's priority product line, denim, was incorporated into the media storylines for subtle product placement.
Some of the top properties included Mindy Kaling's series Never Have I Ever and Queer Eye, both of which have a diverse cast. For Never Have I Ever, Old Navy aligned with an aspiring fashion designer with Down syndrome, Rebecca, to turn her character into an Old Navy employee.
The campaign had 8 diverse character alignments in 6 inclusive storylines, 36 million impressions, and properties on Netflix, Disney+, and CW.
Federal Trade Commission (FTC) Endorsement Guides
The Federal Trade Commission (FTC) has strict guidelines for sponsorships and endorsement.[2] At their core, these guidelines reflect truth-in-advertising principles to ensure that endorsements are honest and not misleading. The endorsement must reflect an honest opinion of the endorser and can't be used to make a claim that the marketer couldn't legally make.
Additionally, if there's a connection between an endorser and a marketer that's unexpected and could affect how consumers evaluate the endorsement, the connection needs to be disclosed. For example, an endorser who's a relative or employee needs to disclose their relationship before endorsing a product. This also applies to paid endorsements.
The FTC cares about endorsements that are made on behalf of a sponsoring advertiser, not endorsements that come from a product that's personally purchased or a product received as a free sample. If products are received with the expectation of promotion, however, this needs to be disclosed.
Product placements are similar. The Federal Communications Commission law requires TV stations to include disclosures of product placement in TV shows.
With influencers, the FTC has expressed that product placement – simply showing a product or brand in entertaining content – is distinguished from sponsored content. It's subtle and not intended to be misleading, therefore it doesn't require a disclosure stating that an advertiser paid for the placement.
This can get a bit murky. But the spirit of the disclosure laws is whether the knowledge that the product placement, endorsement, or mention has weight with the audience. If a small gift, no matter how inexpensive, would affect the credibility of an endorsement, it's best for influencers to disclose it. The same goes for relationships.
An example of how this can be misleading is Kylie Jenner's promotion of Lyfe Tea. The product placement isn't subtle, she's clearly endorsing the product in the caption and photo, and there's no disclosure to indicate to the audience that she's doing a paid promotion.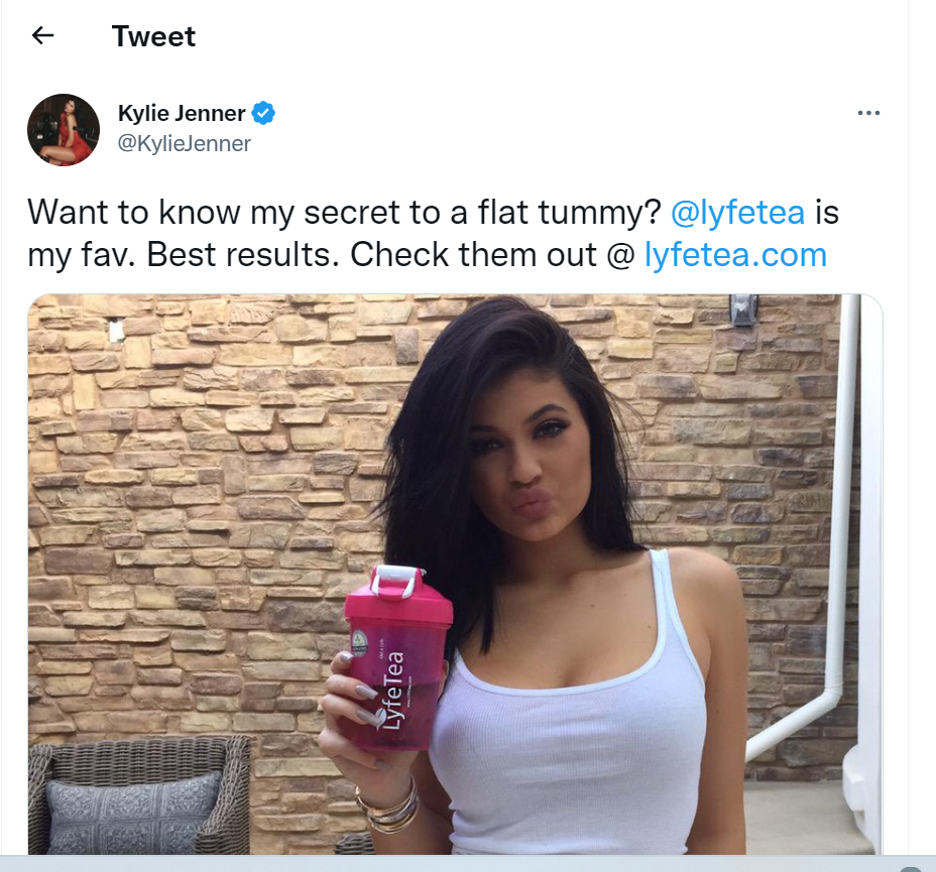 Source: Twitter
Successful – and subtle – product placement comes from a collaboration between styling and hair care brand Neal and Wolf. The brand implemented product placement in a campaign with UK-based influencer Scarlett London for its product, Blow-Dry Balm.
The product is subtly included in the image without looking overly salesy. The shot is creative and appealing with a personal feel, but the influencer still included a disclosure of the paid partnership. The subtlety doesn't detract from the aesthetics of the image, but there's nothing misleading about the post, either.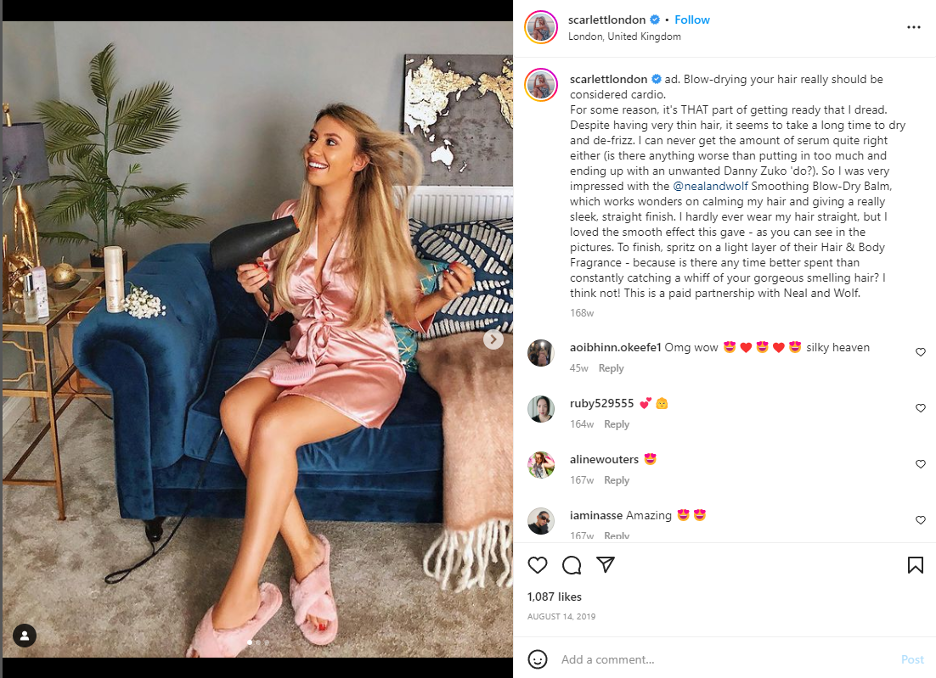 Source: Instagram
Combine the Traditional with the Innovative
It's getting harder for brands to stand out, especially with increasing ad avoidance behaviors on social media. Product placement has always been a long-lasting and lucrative form of traditional advertising, but now, it's combined with the flash of influencer marketing to create more effective campaigns. Together, these complimentary marketing strategies can elevate a campaign and generate better results.
Sources:
[1] https://www.researchgate.net/publication/241086248_Product_Placements_The_Impact_of_Placement_Type_and_Repetition_on_Attitude
[2] https://www.ftc.gov/business-guidance/resources/ftcs-endorsement-guides-what-people-are-asking