Marketing Agency Shines Light on TikTok Influencers of the Great White North
It's no secret that Canada produces incredible talent. Seth Rogan, Jim Carey, and Elliot Page all hail from the Maple Leaf nation. Since taking social media by storm in 2018, TikTok has reached over 167 million videos viewed each minute of every single day with over 1 billion active users.[1]
It's only natural to assume that these talented individuals would also make an appearance among TikTok influencers. Find out who our marketing experts deem as the top TikTok influencers from Canada!
In no particular order, we've collected some of Canada's greatest influencers.
Josh Richards @joshrichards
Born in Toronto, Josh has always been an entrepreneur at heart. His love for the sport of hockey motivated him to start his first business selling hockey merchandise at just 13 years old.
His popular content features lip sync videos with friends, dance choreography, and skits. The influencer helped establish Talent X, a creator agency, and is currently the Triller social media app's CSO.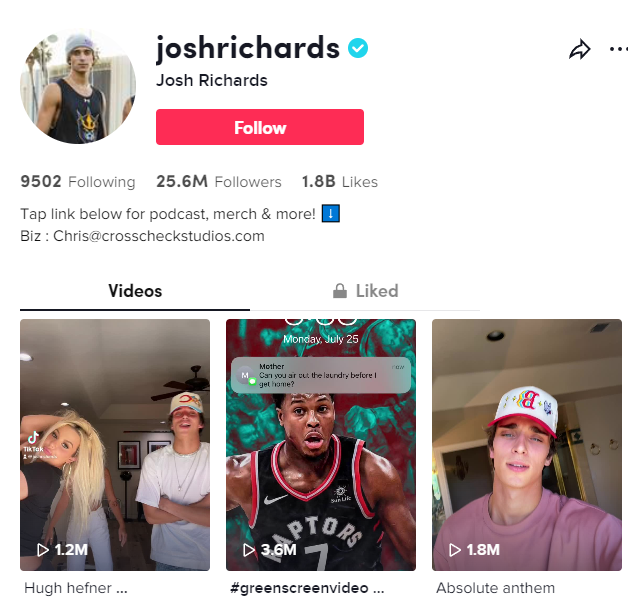 Source: @joshrichards
Celina Myers @celinaspookyboo
With a unique journey to stardom, Celina was a paranormal writer before becoming a top TikTok influencer. The Canadian native has published three books on paranormal happenings, but this isn't what led to her TikTok stardom.
Celina shares clips of her sleepwalking adventures as seen through a night vision camera and her other specialty are puns and dad jokes.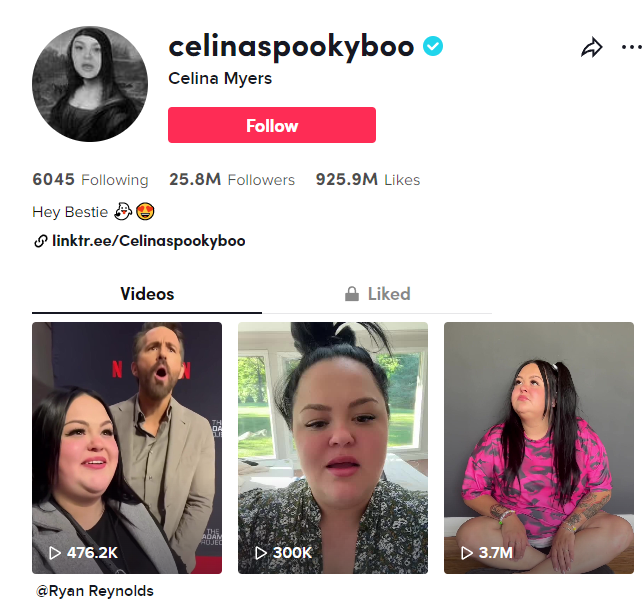 Source: @Celinaspookyboo
Mark Gaetano @snarkymarky
Mark Has been on TikTok since 2019, and even though he also has a significant following on YouTube, his TikTok account has taken over by leaps and bounds. Mark is most well known for his clever skits and POV videos. His witty humor and shy personality make this Canadian influencer relatable to much of the audience on TikTok.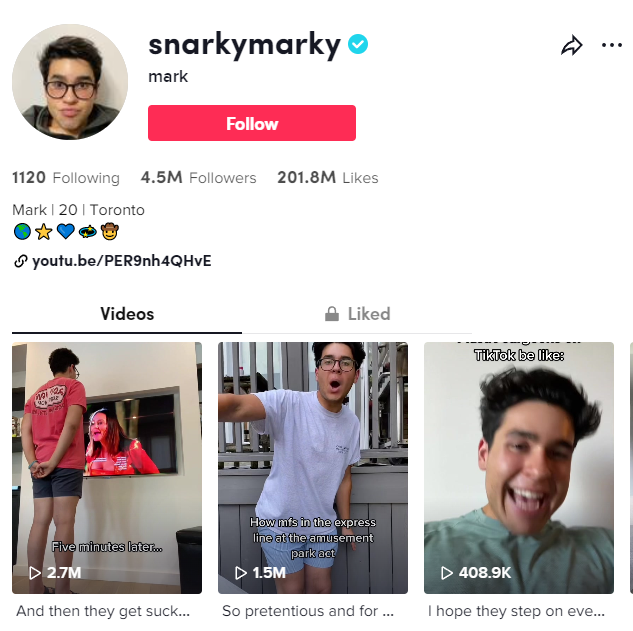 Source: @Snarkymarky
Lilly Singh @lilly
When Lily launched her YouTube channel in 2010, what she actually ended up doing was Launching a career in Comedy. She made the pivot to Tik Tok from her home in Canada in mid-2020 with the #wipitdownchallenge. Her strong engagement with followers and comedic talents landed her a book deal, a world tour documentary, and the role of host and producer on an NBC talk show.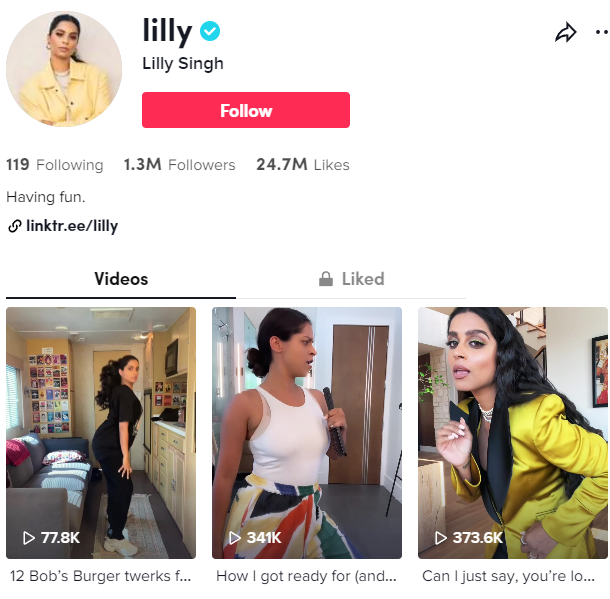 Source: @lilly
Luke Davidson @lukedavidson_
Luke Davidson is a TikTok and YouTube comedian with an unforgettable smile. Originally from Manitoba, he's since settled in Alberta. Having started on the platform in late 2019 he was already making waves by early 2020 and is one of the platform's top Canadian influencers.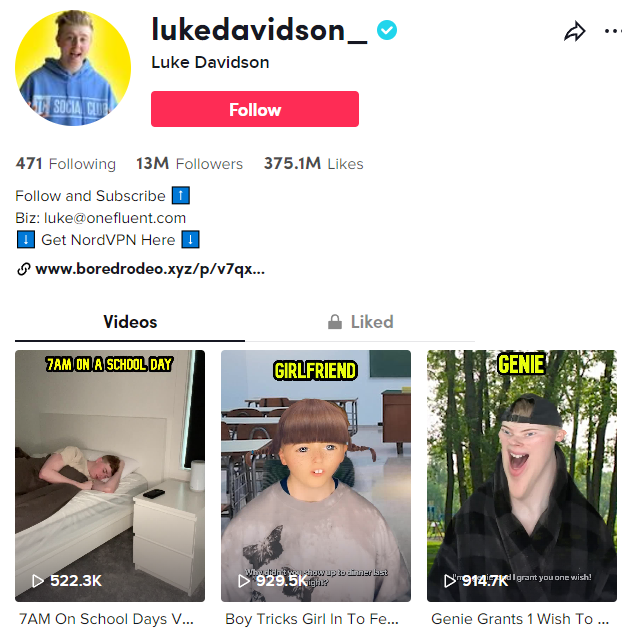 Source:@lukedavidson_
Kris HC @KallmeKris
Kris is a Comedian that has taken over Tik-Tok as well as YouTube. She is most well-known for her comedic and original skits featuring Canadian life, family situations, and pop culture. Chris has worked with multiple brand Partnerships and has even landed a TV show cameo role.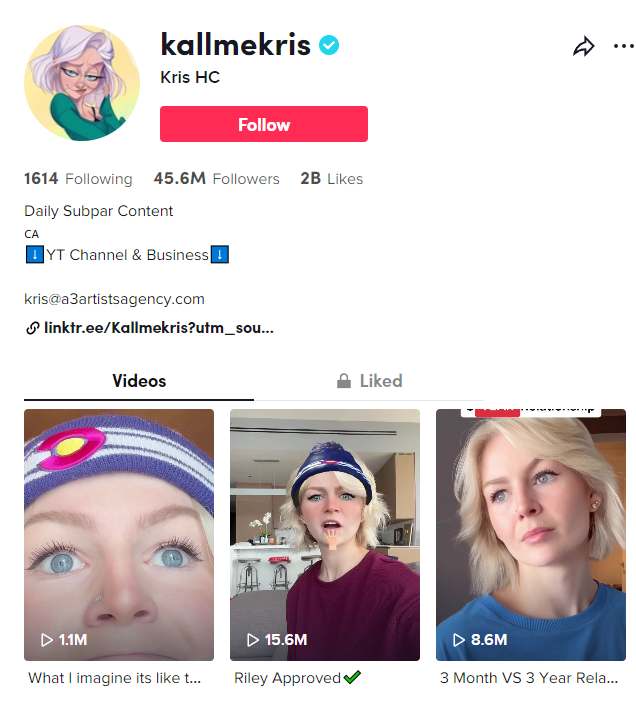 Source: @kallmekris
Nile @nilered
Nile is a Tik-Tok influencer as well as a chemist. His channel is an engaging blend of education and fun. On his profile is lively experiments and fascinating facts about science, chemistry, and the materials that make up our world.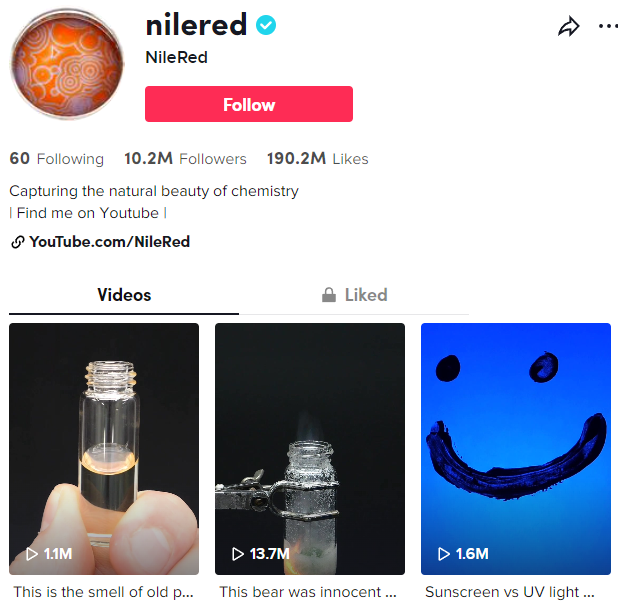 Source: @nilered
Matt and Omar @matt_and_omar
Matt and Omar are an engaging and delightful couple that have made Canada their home. Together, they give a sneak peek into their journey together through videos on TikTok. They are lifestyle influencers who share their love of travel, social and cultural topics, and a healthy dose of comedy.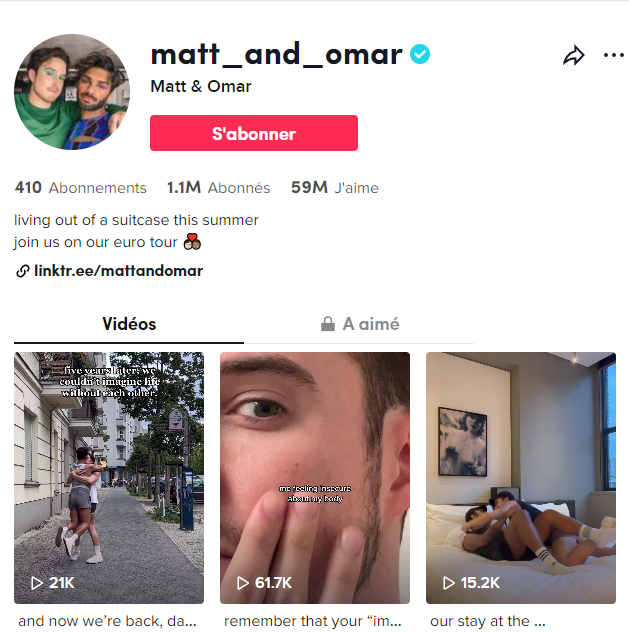 Source: @matt_and_omar
Jayde Vincent @jaydecandance
Originally from the UK, Jayde is now based in Calgary, Alberta, and is one of the top influencers on Tik-Tok. She shares a variety of dance and trending content as well as comedic skits and collaborations with other influences. She's also been a featured social media spokesperson at various conferences and events.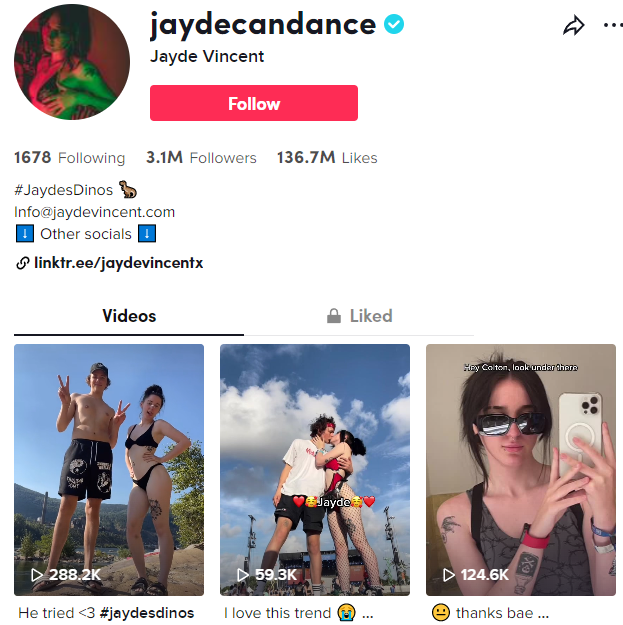 Source: @jaydecandance
Samantha & Madeleine @caleontwins
Samantha and Madeleine are identical twins who go by the handle @caleontwins. The young duo rose quickly on TikTok, and their joint dynamic together is delightful and endearing. They have worked with multiple brand partners and primarily share trending clips, dances, and humorous content.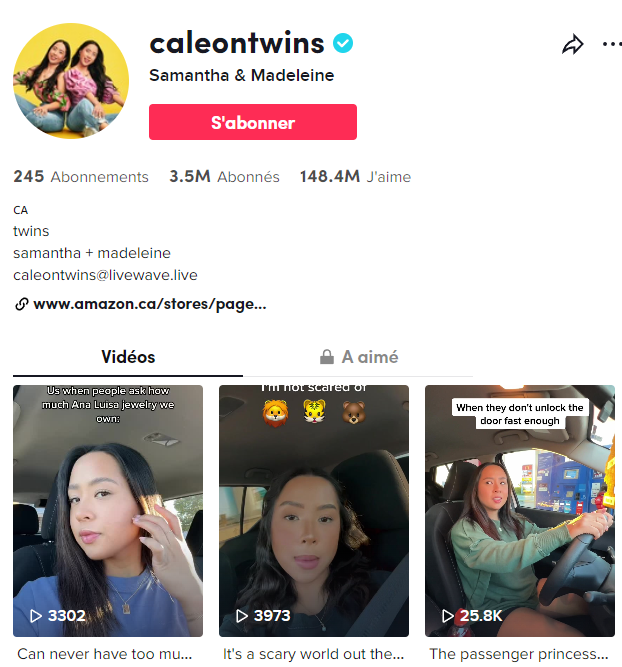 Source: @caleontwins
Emmanuel Uddenberg @emmanuel.uddenberg
Emanuel is a fashion and lifestyle Tik-Tok influencer based out of Toronto, Canada. He shares a curated blend of fashion tips, style guides, and high-quality photography. Emmanuel has worked with several brand partners including McDonald's, Bumble, and Joe Fresh.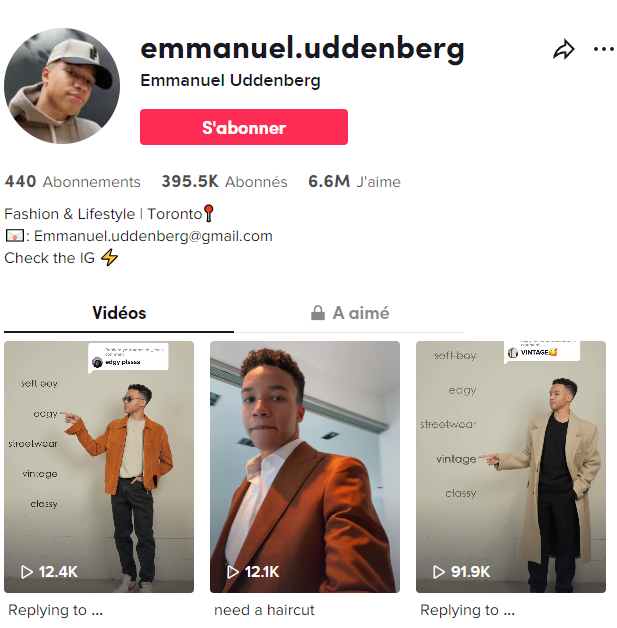 Source:@emmanuel.uddenberg
JB @jbalwaysfresh
JB is a barber and hair designer based in Toronto, Canada. His content is full of unbelievable hairstyles, custom cuts, and a peek into his top TikTok influencer lifestyle. JB incorporates an engaging mix of comedy and has created a series out of his most popular content, Cutting A Millionaire.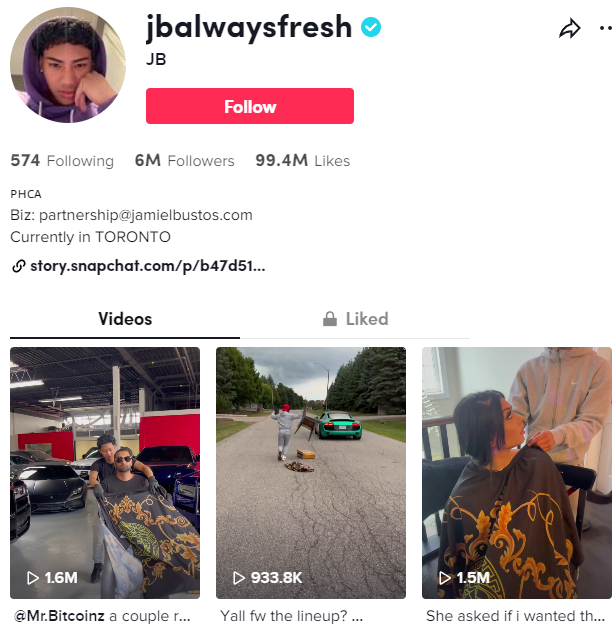 Source:@jbalwaysfresh
Sadie Aldis @sadiealdis
Sadie Aldis is a trend front runner on Tik-Tok and calls Canada home. She shares a variety of dance videos, a day in the life, and lifestyle content. Her bubbly and quirky personality quickly creates a connection with her audience and makes her video content bingeable and engaging.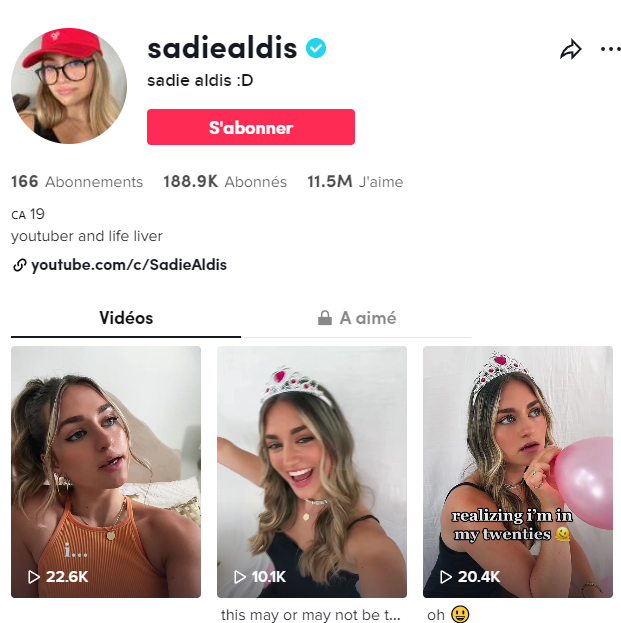 Souce: @sadiealdis
Leenda Dong @YoLeendaDong
Leenda is a comedian from Canada who now makes her home in Los Angeles. Her content primarily focuses on comedic skits, trending audio, and her own unique Style. She's also launched her own merch brand and has worked with multiple brand partners, including Halo Top ice cream and Bumble.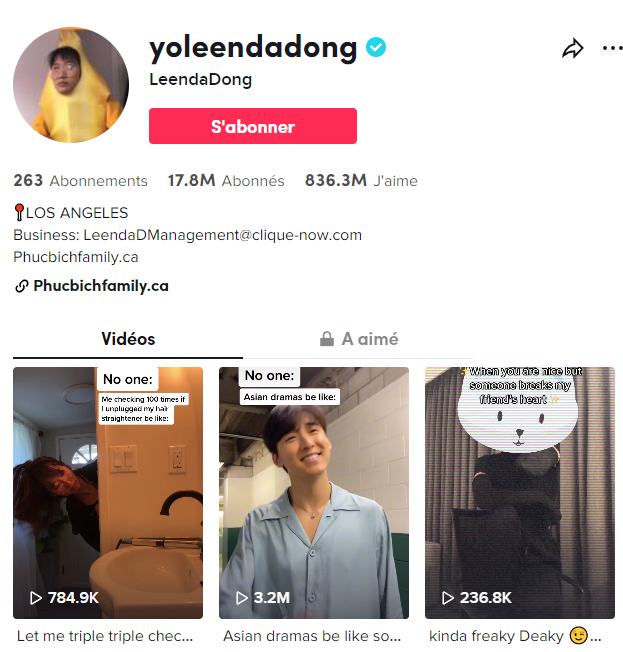 Source: @YoLeendaDong
Ricky Berwick @therickyberwick
Ricky is the self-proclaimed "not so normal video entertainer." He is an individual who has Beals-Hecht syndrome, which makes his unique take on life a little more interesting. His content is primarily comedic and in nature and he focuses on pop culture and tech related topics.
Ricky has had multiple brand partnerships and collaborations with other Canadian TikTok influencers including @JBalwaysfresh. He also made an appearance at the London Canada ComicCon.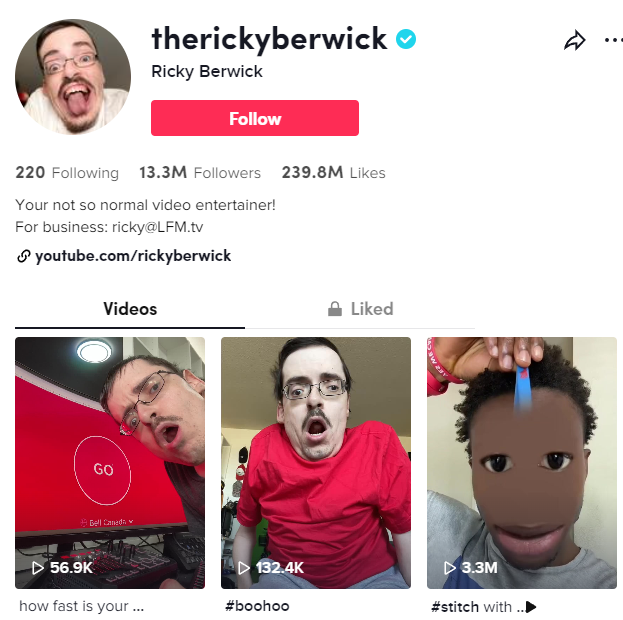 Source: @therickyberwick
Danielle @daniellev98
Danielle is a Toronto-based Canadian TikTok influencer who shares comedic and engaging content that features her life, her travels, and often her mother. Generational cliches are a common theme throughout her videos, and Danielle can frequently be seen with a Carpool Karaoke mic in her hands.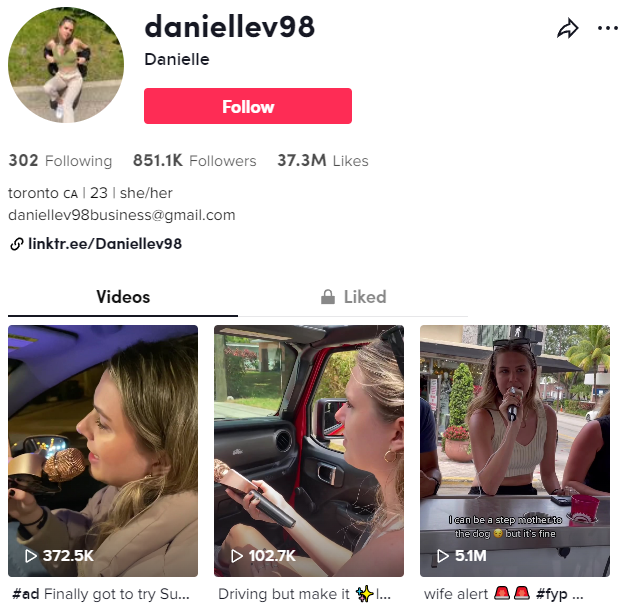 Source: @daniellev98
Colton Macaulay @coltyy
Colton is a TikTok video content creator from Canada who creates comedic clips, pranks, and lifestyle content for millions of followers. Colton's videos heavily feature his roommates, reptilian and eight-legged critters, who are often part of his pranks. He has also worked with brand partners such as Ridge bags.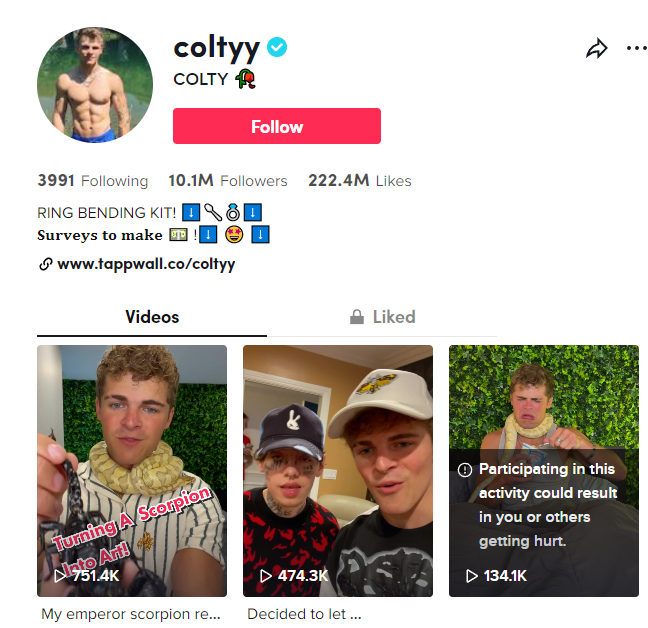 Source:@coltyy
SJ @sjbleau
Sarah Jade Bleau Can add an Instagram model and social media celebrity to her online resume in addition to being a top Canadian influencer on TikTok. Her content heavily features comedic skits, dance videos, fashion photo shoots, body positivity and bikini shots, and the animals that she loves. She has worked with several brand partners including Bai drinks and Moon oral care.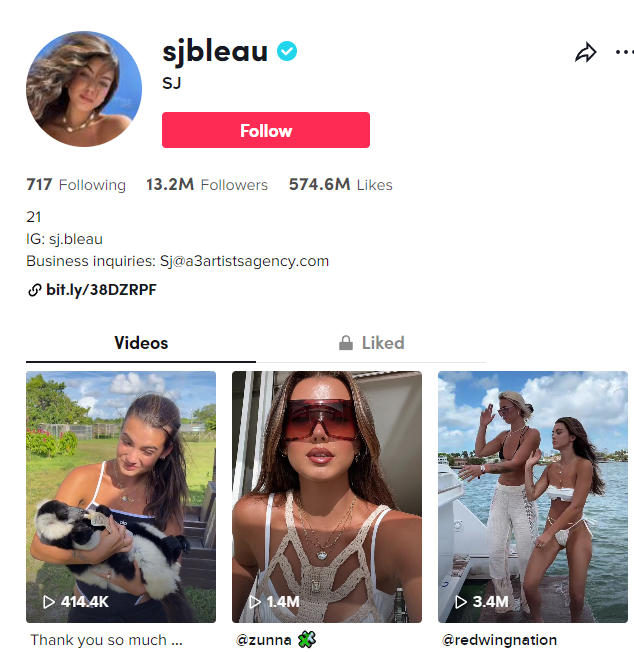 Source @sjbleau
Tiagz @Iamtiagz
Tiagz is a musician based in Canada. Several of his songs have gone viral and have transformed into their own trends. Now a Canadian TikTok influencer in his own right, he shares interview clips, music videos, and other trending content such as dances and challenges.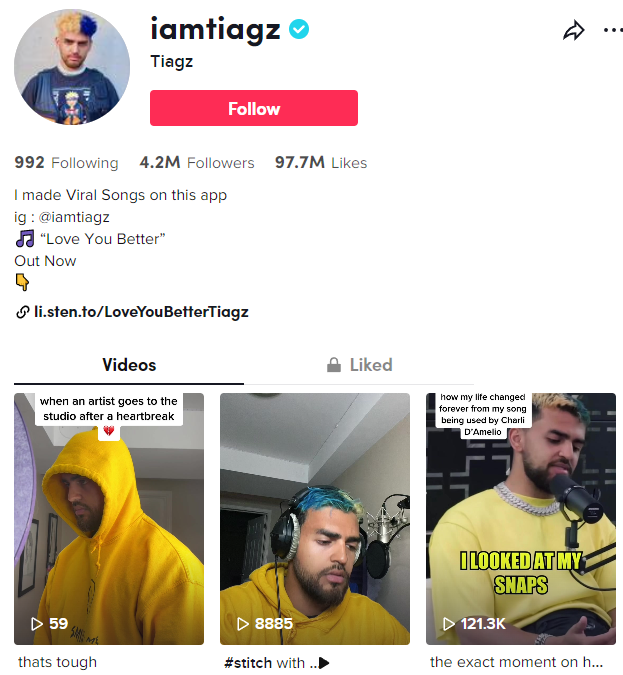 Source: @iamtiagz
Luna The Pittie @heymynameisluna
Luna The Pittie is Canada's favorite Pitbull. She and her family showcase a wide variety of her tricks, outfits, adventures, antics, and pet friends, including her sibling, Kittie. Together, they've worked with brand partners, including Big Dog Chains, Xfinity, and Old Friends Game.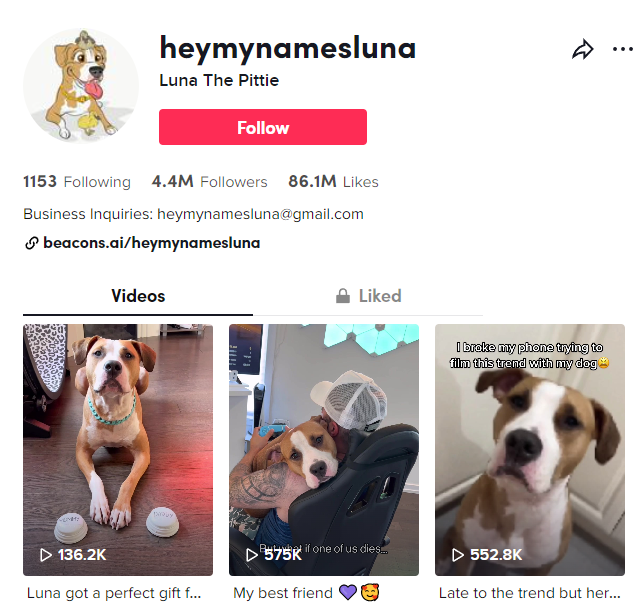 Source: @heymynamesluna
Shane Whalley @shanewhalley
Shane is a lovable content creator who advances a message of positivity for all who enjoy his content. Follow along on his personal weight loss journey and be encouraged by his positive perspective, and fall in love with his bubbly, relatable personality. He's worked with brand partners, including Granite protein powders, and has filmed influencer collaborations with CelinaSpookyBoo and KallmeKris.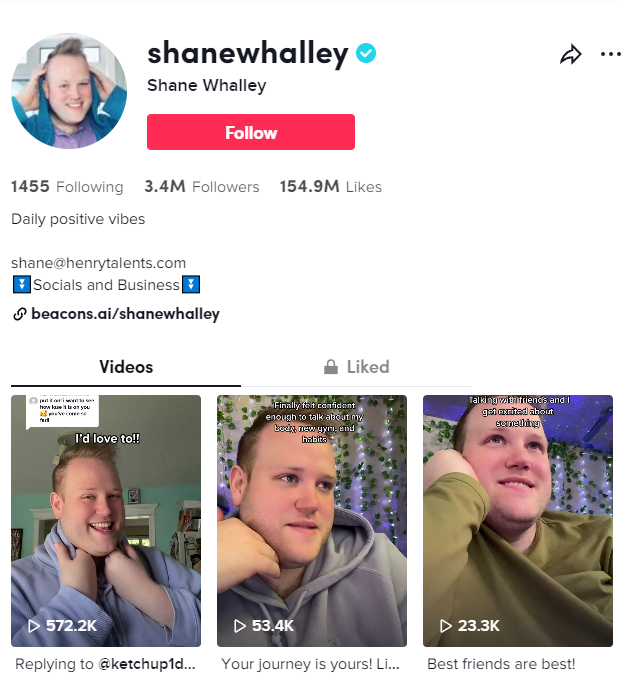 Source:@shanewhalley
How Can You Work With the Top Canadian TikTok Influencers?
Whether your brand is located in Canada or somewhere else in the world, there's a good chance the target audience can be found among TikTok followers of these content creators. Here is how you can connect with them and work together:
Look in the audience demographics for a match
Follow align and content creators
Engage with them over time
Reach out directly via their preferred channel
Negotiate a long-term partnership
The shortcut to working with a top Canadian TikTok influencer is to partner with an influencer marketing agency. These expert teams will come with a list of pre-vetted and experienced content creators that would be suitable for any brand campaign.
In addition, they make the whole process from start to finish simple, streamlined, and stress-free as this is their area of expertise.
Work With Top Canadian TikTokers To Boost Brand Campaigns!
Remember the statistic that 167 million videos are viewed each minute of every day on TikTok? With over 1 billion active users, it's critical for brands to reach their target audience where they're spending their time.
Working with top Canadian TikTokers will expose any brand to new audiences, generate engagement and sales, and offer opportunities for influencers the world around.
Sources
[1]https://www.domo.com/learn/infographic/data-never-sleeps-9