Branded content from influencers often goes viral, leading to successful marketing campaigns. Of all the influencer content, contests and giveaways are among the most popular among followers, leading to increased reach and a highly engaged audience.
Everyone enjoys an opportunity to win, even if the reward is something simple like having a photo highlighted. When free gifts are involved, people are even more likely to participate in a contest, especially with quick and easy entry rules like liking and sharing a post or following a page.
Social media contests with attractive prizes are a great way to gain new followers for both a brand and influencer, but they have to be done right.
What Are Social Media Giveaways and Contests?
Social media giveaways and contests usually involve a brand or an influencer acting on behalf of a brand offering a prize in exchange for an action. Followers are encouraged to complete small tasks for entry, such as liking and sharing a post, tagging friends in comments, liking a business page, or posting a photo with the product and tagging the brand.
Some contests are more complex, often with bigger prizes. These may include filling out a survey, completing a quiz, or sharing a brand story. Some brands leverage their fans to create captions or product names in exchange for a prize.
In most cases, the winners are selected randomly to keep giveaways and contests fair, though some may involve judges or fan votes to win.
Benefits of Social Media Contests and Giveaways
Influencer contests and giveaways are powerful marketing tools, but they're not always quick and easy to set up. There are plenty of benefits, however, such as:
Boosting Engagement
People are more likely to participate and engage with a post or account when there's a prize involved. This is particularly true with giveaways that have simple entry tasks, such as liking and sharing a post.
Increasing Reach
When brands partner with influencers, their reach is significantly increased to include the influencer's audience as well. But with a contest or giveaway, that reach is amplified even further as people share posts and encourage their friends to participate.
Earning Loyalty
People like free gifts and fun competition. Once a brand or influencer hosts a contest or giveaway, followers are more likely to keep up with regular posts to ensure they have an opportunity to participate in the next one.
Growing Email Lists
With some contests or giveaways, the entry is an email address and consent to be part of a mailing list. This is a great way to turn followers into leads.
What Makes Social Media Giveaways Successful?
Like any other marketing campaign, the giveaway depends on marketing goals. Some of these goals may include:
Gaining an audience for a new brand
Building anticipation around a new product launch
Raising awareness for an event
Fostering consumer trust and loyalty
Increasing social media engagement
Encouraging user-generated content (UGC)
With a clear goal in mind, it's much easier for brands and influencers to track performance and adjust campaigns to ensure success. For example, a brand looking to increase reach should track follower count. If the goal is UGC, tracking a branded hashtag keeps tabs on the number of new instances.
Best Practices for Promoting Giveaway Content
Planning a giveaway takes work and strategy. It's important that both the brand and the influencer are on the same page with the guidelines, requirements, and goals. Here are some best practices:
Find Relevant Influencers
It's important for brands to work with influencers that are most appropriate for their audiences, not just the influencers with the biggest follower count or fame. Brands may see the most benefit from working with micro-influencers on contests and giveaways that expand the reach of both parties.
Be Consistent
One of the challenges of an influencer giveaway campaign is creating consistency across messaging. The influencer needs some latitude to incorporate their own voice, style, and creativity, but it must align with the brand as well. Most importantly, the giveaway or contest rules and prizes must be clearly stated.
Include a Follow Request
Whether it's part of the contest itself, any promotional post should include a request to follow the brand and influencer accounts. This will lead to crossover traffic from both audiences that will boost reach.
Have the Influencer Share
In addition to influencer content related to the giveaway, the influencer should also share brand images, videos, and contest-related posts to spread more awareness of the giveaway. This won't take as much time for the influencer as creating content themselves, but still helps the campaign.
Plan for Long-Term Collaboration
If the influencer is intended to be more than just a one-off relationship for the contest, they can be more involved throughout. This is helpful for brands looking to build long-term relationships with influencers for future collaborations or brand ambassador roles. For example, the influencer can join in a live stream to announce the contest winner and prizes.
Follow Contest and Giveaway Guidelines
There are rules that apply to contests and giveaways that the brand and influencer are responsible for knowing and abiding by. The Federal Trade Commission has guidelines, but each social media platform may have its own promotional guidelines.
Some of these include:
Explaining the process for entry and how the winner will be selected
Explaining the guidelines for judges to follow, if applicable
Clearly including the date and time that the contest starts and ends with the time zone
Including step-by-step guidelines for entry
Listing any participation terms, such as location or minimum age
Including "no purchase necessary" in the contest terms
Listing any responsibilities for the winner, such as paying shipping costs
Stating that the contest is not run, sponsored, or endorsed by the social media platform
This is a lot to include in a caption, so it's best to create a landing page with official rules and have a link in the post and bio. The partnership with an influencer should also be clearly disclosed in the content.
Build Anticipation with the Winner Announcement
Promoting the contest is one part of the process, but when it's time to announce a winner, it's an opportunity to attract more followers and build anticipation for the next contest. Live streams are popular for winner announcements, but it must be archived for followers who may miss it live.
Brands should also have a process to reach out to the winner and explain the next steps, thank them for participating, and encouraging them to share an image or video of the prize. Some winners may also consent to using this content for future contest promotions.
Social Media Contest and Giveaway Ideas
Contests and giveaways can take many forms on social media, especially with a creative influencer. Here are some ideas that will be attractive to followers:
Fan Story Submissions
Fan story submissions are a great way to keep a contest fair. These stories aren't based on talents or capabilities alone, but each fan shares their story using a prompt. The winner is selected based on the story that aligns best with the brand and the contest theme.
For example, fans may share a story about how the product or service impacted their lives or how winning the prize will help them succeed. Canva launched a campaign for the Canva Create Community Awards and asked followers to talk about how Canva helped them achieve their goals. They had an opportunity to win prizes like mentorship training and branded merchandise.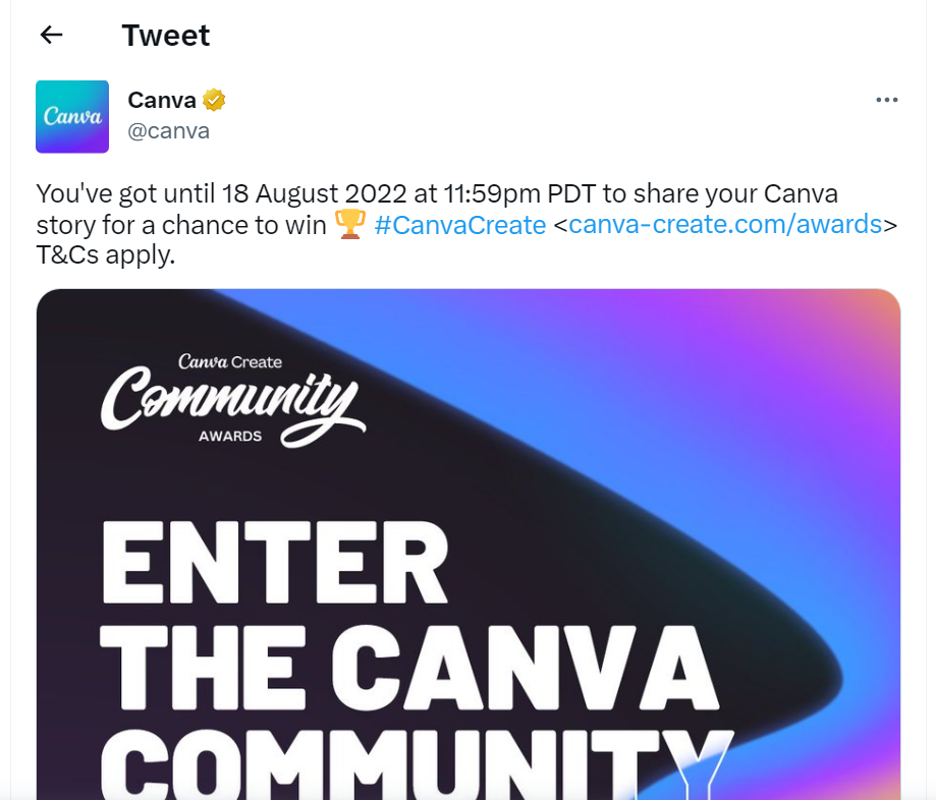 Source: Twitter
Creative Submissions
Brands with creative fanbases can host social media contests that challenge them to show off their creative side. For example, fans may design or draw something, submit a photograph, or come up with captions for posts or names for products.
Typically, these contests have a prompt or theme to make submissions easier to judge. For example, GoPro partnered with Hyperice, a portable massager, to create a contest with video editing submissions.
Milestone Celebrations
Milestone contests reward existing followers and earn more loyalty without requiring a lot of contest participants. For example, brands may celebrate hitting a milestone of 10,000 followers by asking fans to follow the account, like and share the post, and tag friends in the comments in exchange for a free product or discount.
With this type of contest, the winner is chosen at random to keep it fair, though follower may be able to gain more entries for more tasks. For example, tagging two friends could be the minimum for one entry, but tagging 10 could gain five entries.
Use Quizzes or Guessing Games
Quizzes and guessing games allow followers to win based on skill without needing to devote time to a big project. For example, followers could take a quiz related to the brand with the highest scores entered into the contest.
Bravery Buddies hosted a similar contest that asked followers to guess how much a jar of candy weighed. The follower with the closest guess won an entire jar of candy with a branded product – their very own Bravery Buddy.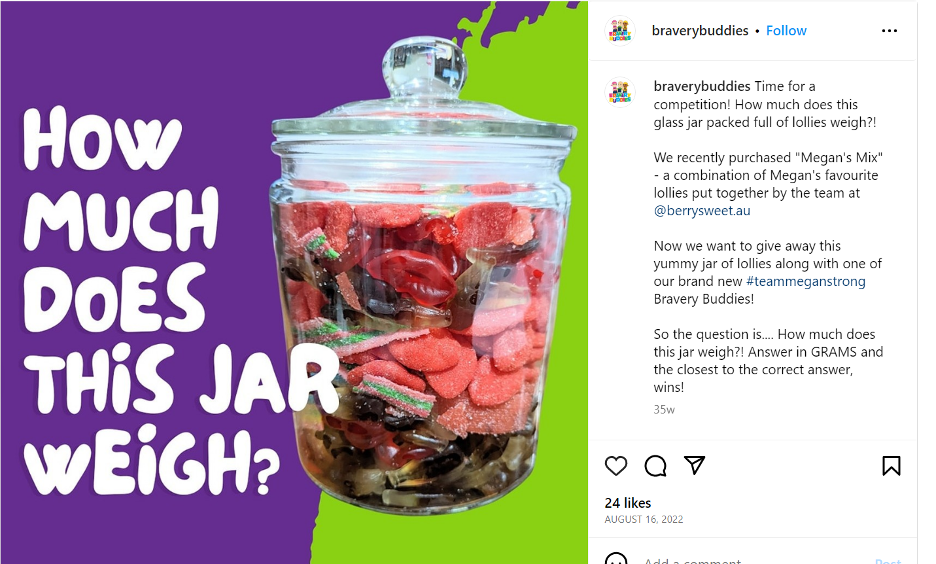 Source: Instagram
Amplify Reach with Social Media Contests
Social media contests and giveaways are a great way to boost engagement and expand reach, but it's important that both influencers and brands take the right approach. Like any other marketing campaign, these contests and giveaways must have a goal and strategy in mind.