Influencer marketing is right on trend when it comes to leveraging TikTok, a powerful social channel that was launched in the international market in 2017. The same app that in just 3 years has had over 1.9 billion downloads and continues to grow every day.
Though the app is geared more towards Gen Z there is evidence that Millennials are migrating over as well. If this happens, TikTok could become the next big thing for influencer marketing if leveraged correctly!
Related: Influencer Marketing Agency Campaigns
Currently, it still remains in the experimental phase though it has proven to have soaring engagement rates and LONGER post-life as platform users are consuming OLDER content. This along with other supporting data, that will be shared later in this blog, shows that Tik Tok will become a reputable social channel in the future of influencer marketing.
Continue reading as we dive deeper into how MTV leveraged Tik Tok. As well, gain insights and current trends for this booming social platform.
A Look Inside MTV + Tik Tok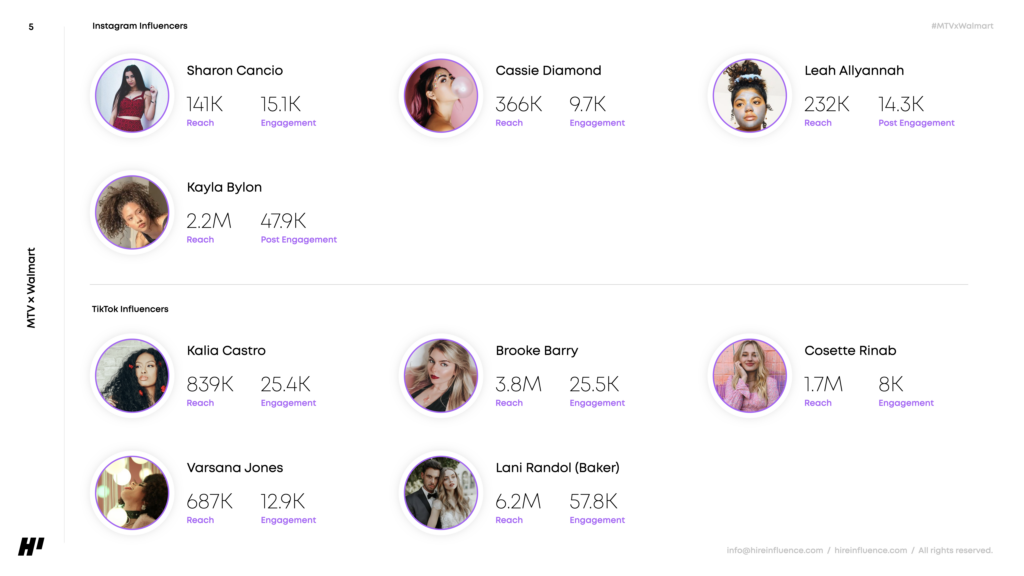 #MTVMyStyle Influencer Marketing Campaign launch.
MTV came to Hireinfluence to launch the #MyMTVStyle influencer marketing campaign with the objective to promote the newest collection: Capsule Collection and it's presence at Walmart through the use of Gen Z influencers.
Tik Tok was recommended as the first launch point since it lines up with the Gen Z demographic and Tik Toks media vibe also aligns with MTV branding: which focusses on creative expression and legacy.
The campaign featured a variety of different outfits that highlighted key pieces from the MTV Capsule Collection. Each influencer was tasked to style three different looks utilizing the collection and show how the pieces can be worn with cool hairstyles, fun makeup, and accessories.
The audience was very excited and responsive when seeing the new styles creatively worn by Gen Z influencers. They commented on the influencer's posts letting them know which outfits were their favorite and many mentioned their love for all three looks.
Take a look at some of the brand sentiment below: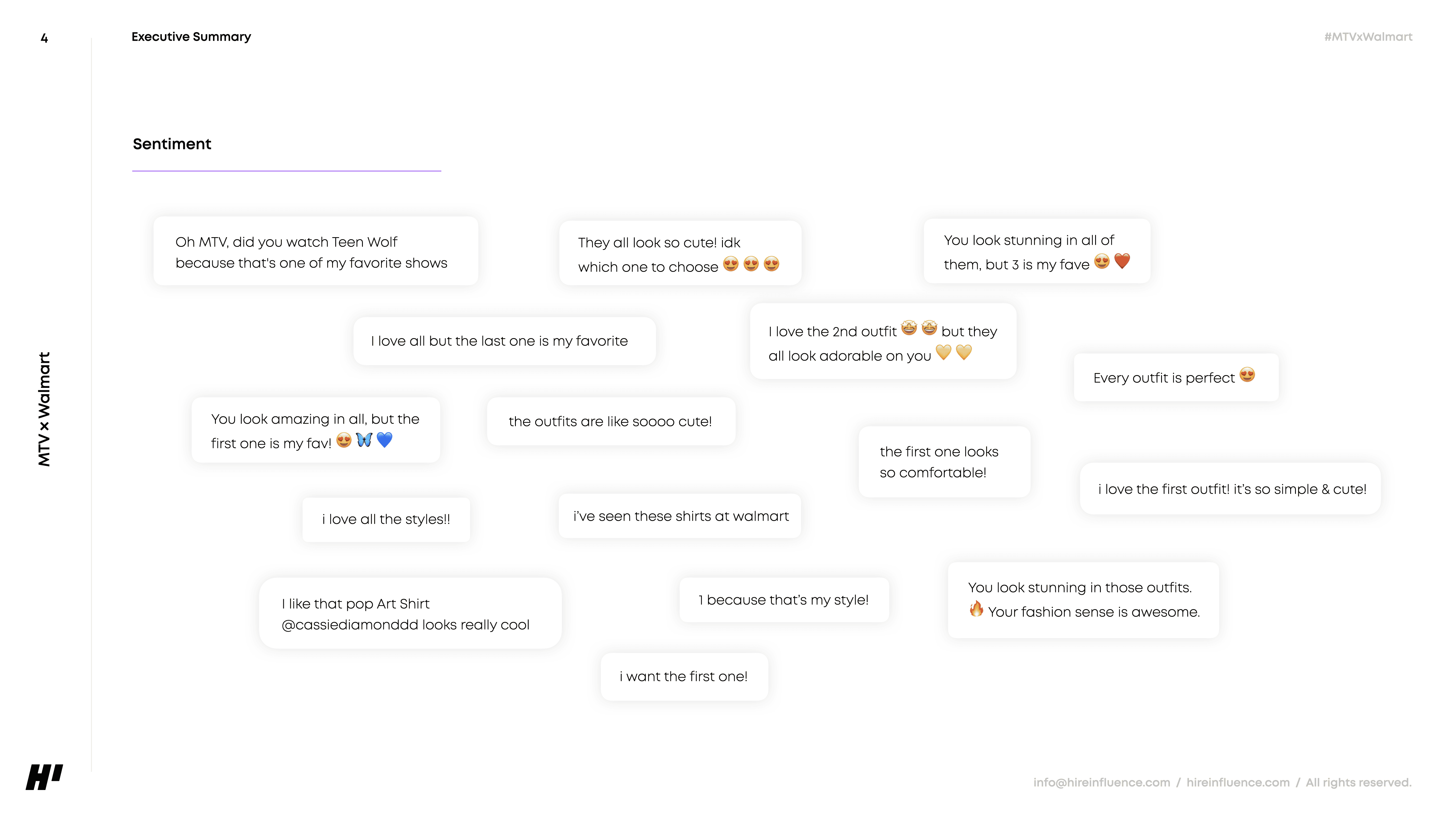 Target audiences consumed older content making views rise long after campaign completion.
We noticed views continued to rise over time as people seemed to consume older content from creators. Making the "shelf life" of a post was much longer than all other platforms, meaning the content will continue to be viewed and gain impressions after campaign completion.
This could be in part due to algorithm or that TikTok users simply enjoy scrolling through influencer pages, enjoying and consuming older content more than you would see on Instagram.
One thing (among many) TikTok has down is short-form videos – the ease and short duration of these types of videos make it that much easier for audiences to consume content more quickly. Which might also explain the viewing of older content.
We noticed that smaller accounts under 1M followers seemed to have a larger view percentage, similar to that of Instagram accounts under 1M followers.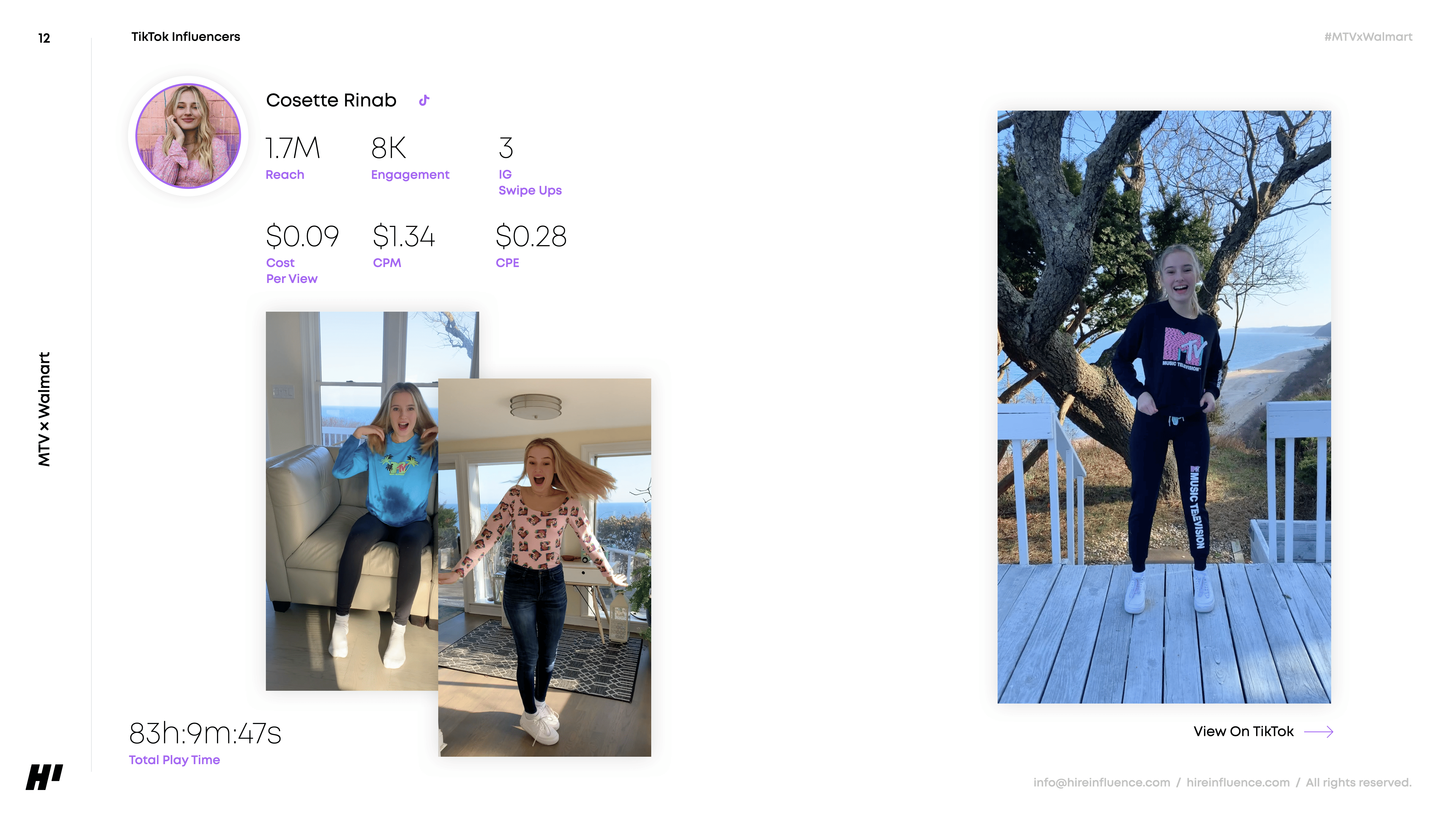 Pricing was much lower than other platforms, which brought the cost-per-view down drastically.
The MTV campaign was at .01 for Tik Tok views as compared to .10 per view on Instagram stories. The YouTube industry average ranges from about 0.06-.10 per view, making Tik Tok views and CPMs much cheaper.
This specific campaign boasted an excellent $1.50 CPM, compared to an influencer marketing industry average of $4-6. As well, CPE indicated a low cost per engagement.
We also saw a drastic increase in brand + retailer related searches during the campaign time period, with spikes aligning with influencer posting.
Overall, we can say with confidence that brand awareness created by Tik Tok was translating into search (on search engines) to help drive consideration and overall purchase of the product.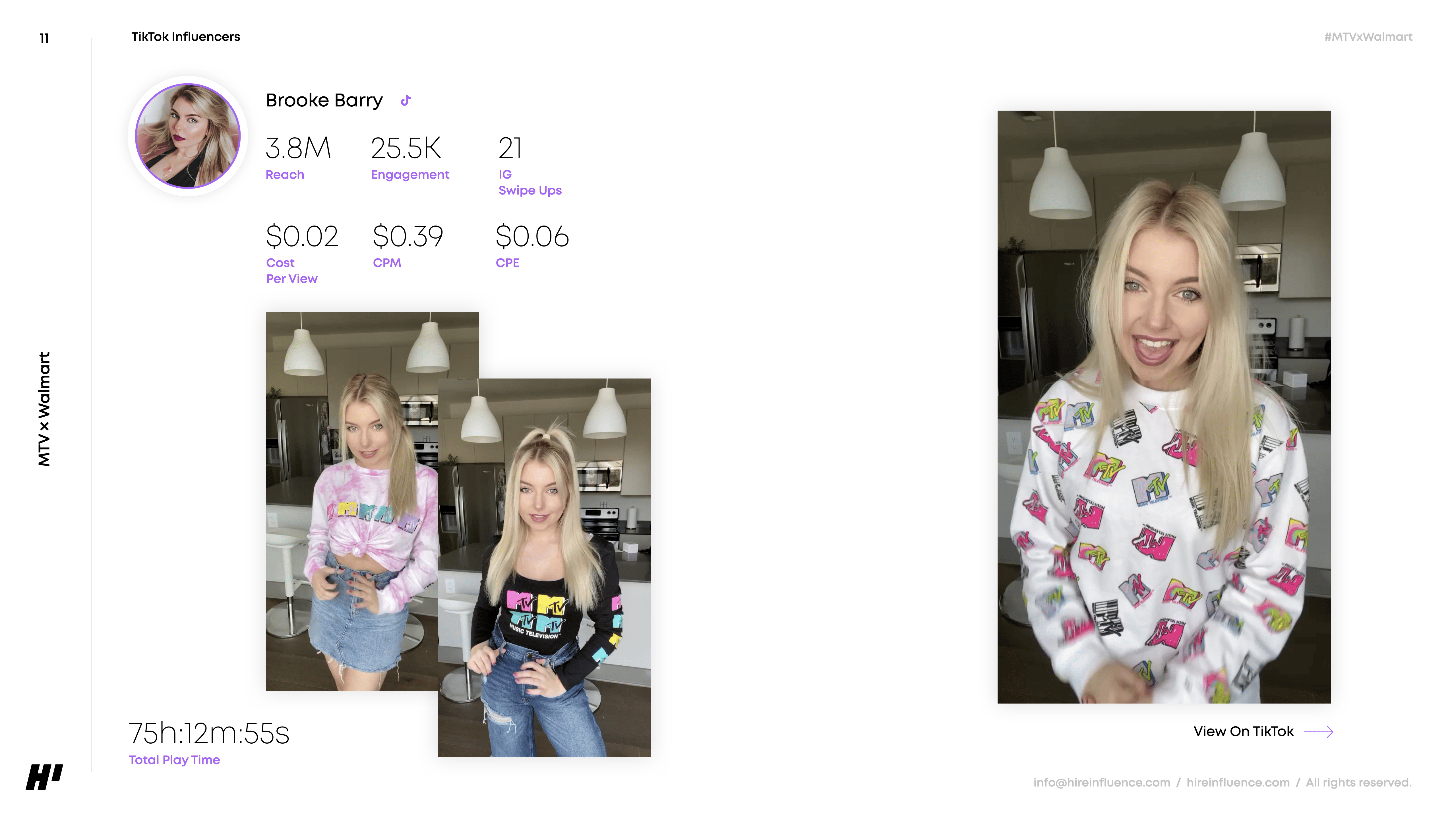 5 Things Brands Need To Know Before Leveraging Tik Tok
There ARE a lot of brands experimenting with Tik Tok right now, but it is still experimental. With a lot of research under our belts, there still is a lack of data around everything from pricing to expectations for views and trends. Which, makes us believe many brands are still looking at this as an experiment when assigning a marketing budget.
Tik Tok is still short-form video, so when brands are thinking about leveraging Tik Tok, they should consider whether or not they can drive a strong CTA through short-form content when deciding if Tik Tok is the best platform.
Music rights apply for Tik Tok so brands should educate themselves on what licenses are needed to set music to content. Influencers should also be educated on this to assure brand compliance, as many are not deeply familiar with advertising law.
Pricing is inconsistent and difficult to predict. We are seeing Tik Tok influencers with similar views and following differ by hundreds if not thousands of dollars. Creating a campaign and sourcing multiple influencers and bids at a time is the best way to navigate and assure you are aligning with influencers who are going to keep your CPVs and CPMs lower.
Tik Tok doesn't provide direct clickable links via mobile. For the MTV campaign, re-typeable bit.ly links were used that were branded similar to the campaign and that directly mentioned the retailer.
Final Thoughts
Overall, as far as advertising options to compliment influencer marketing, there are MANY and competition is low and attention is high. Tik Tok ads are competitive with both Facebook, Snapchat and Twitter ads. They can overall help compliment a larger push with more impressions and soaring engagement.
If you're looking for an influencer marketing agency that puts ideation, innovation, and creativity at the forefront, contact us today!
Until next time.