Almost everyone has a memory associated with playing "dress up" as a child. Whether dressing up as a princess, a daring knight, or a favorite superhero, most children's only limit was their imagination and the number of clothes available in their closets.
But as the years go by, and the masks and the makeup come off, most young adults quickly realize that dressing up and living a life of fantasy doesn't pay the bills.
Unless they're one of the countless cosplay influencers across the globe, that is.
Cosplay, or "costume play," has been a global phenomenon since the 1990s and has created an entire subculture of young and old coming together to dress up as their favorite characters seen in comic books, video games, movies, and other forms of media. Sharing their love of creativity, competition, and fashion, cosplayers truly live out their childhood dreams while being part of a growing community that brings viral attention to the characters they embody.
Standing out in a sea of "superfans" are well-known cosplay influencers who have not only perfected the craft of make-believe but also viral marketing. Their love of characters and passion for cosplay in all its forms has translated into social media stardom, with many influencers having millions of followers and making a full-time living off brand endorsements and sponsored content.
Ben aka Maul Cosplay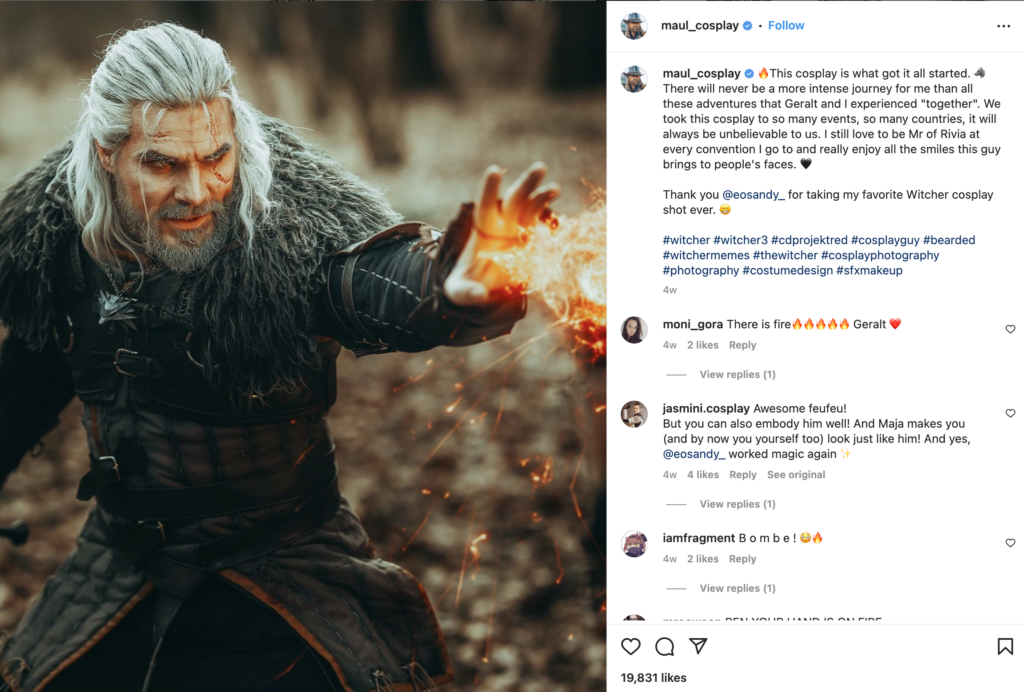 Ben aka Maul Cosplay, is a German cosplay enthusiast who has been actively involved in the craft for well over a decade. Originally getting his career as a film stuntman, Ben is no stranger to the importance of production value and his regular mimicry of well-known characters in massive video games like "The Witcher," "Overwatch," and "Metal Gear Solid," has brought him nearly 500,000 active followers with video promotions that have been viewed hundreds of millions of times. Ben produces his own costumes and props and frequents large conventions where he has been a key promoter of large production games, short films, and TV series.
Alodia Gosiengfiao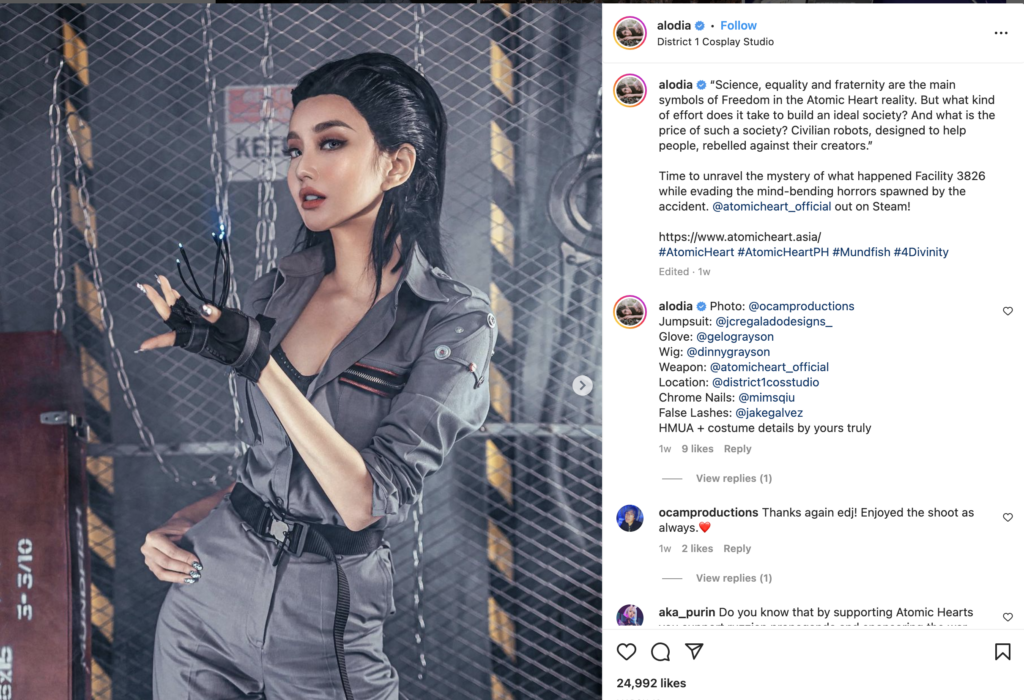 Alodia Gosiengfiao is a 35-year-old Filipina model, TV personality, singer, actress, and cosplayer recognized by millions of people around the world. In 2003, Alodia started focusing her passion on cosplay after being captivated by anime films and the outfits used in films, video games, and comics. This passion led her to be made "Cosplay Queen of the Philippines," helping to raise her fame on an international level. Today, Alodia vlogs to nearly 2 million people and has partnered with large PVP Esports championships, huge gaming console brands, and major television networks when promoting cosplay conventions, clothing lines, video games, and other entertainment-based events.
Enji Night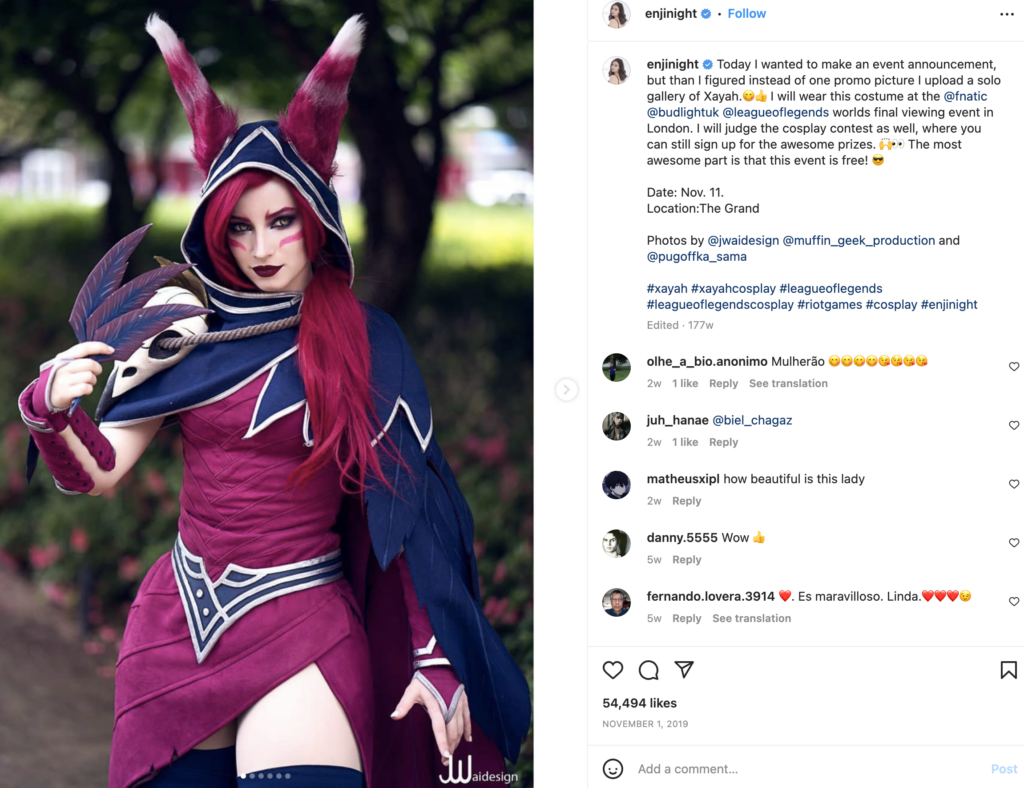 Enji Night is a Hungarian model, professional cosplayer, and skilled costume designer who actively promotes several brands in the lifestyle, beauty, fitness, and gaming industries. Over the years, Enji has portrayed characters from multiple genres, including Marvel Comics, Disney's Incredibles, Street Fighter, and League of Legends. She has also made appearances at numerous conventions and events and has gained a following on Instagram and TikTok with over 1 million followers. Enji posts multiple videos a day and focuses her content on relevant, trending topics. She is often seen giving cosplay tips, fitness advice, and promoting her favorite products – which she does very well. So well, in fact, that each of her posts receives an average of 78,000 likes.
Tayla Barter (Kinpatsu Cosplay)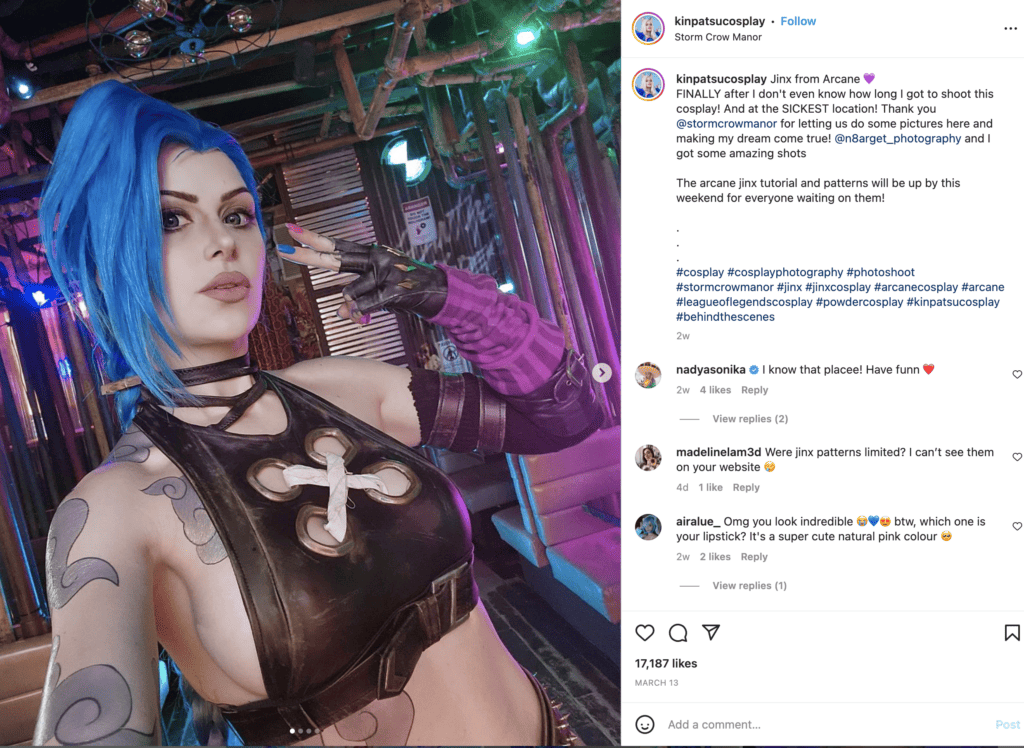 Tayla Barter, or as she's known in the cosplay community Kinpatsu Cosplay, has been cosplaying since October 2012 and is known for her incredibly fast and efficient costume design. In just one year, Tayla created 30 different cosplays inspired by different cartoons, games, anime, and television series. But more than just an enthusiast, Tayla has been able to turn her passion into a full-time business, creating video tutorials, ebooks, design patterns, and costumes for over 900 thousand of her followers. Her fame in the cosplay space has given her opportunities to enter (and win) several international costume competitions and work with large companies like Riot Games as a promoter during game launches and conventions.
Yaya Han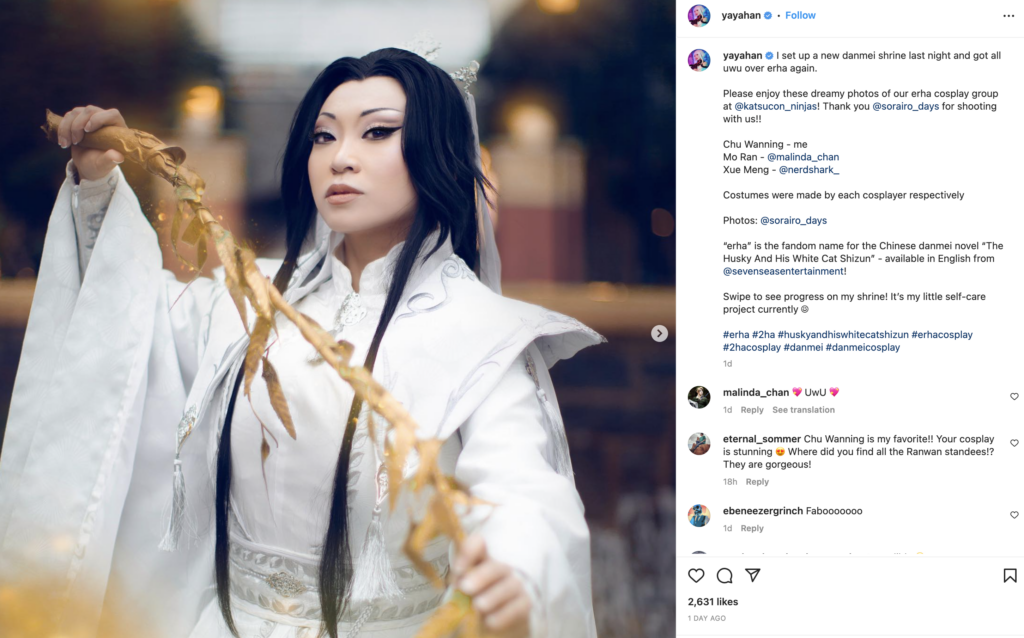 Yaya Han is a Chinese costume designer, author, and cosplay entertainer who gained popularity when entering her first cosplay competition in 2000. For over 20 years now, Yaya has perfected her craft and has made close to 400 different costumes inspired by various books and games as well as her own original designs. She is also the first cosplayer to ever have their own costume fabric line. Yaya is another success story of combining her imagination with viral attention, amassing a net worth of over $5 million with the help of sponsorships, endorsement deals, and merchandise sales. Yaya maintains over 600,000 followers on Instagram, has been interviewed on well-known podcasts, and has made appearances on popular TV series and short films.
Svetlana Quindt (Kamui Cosplay)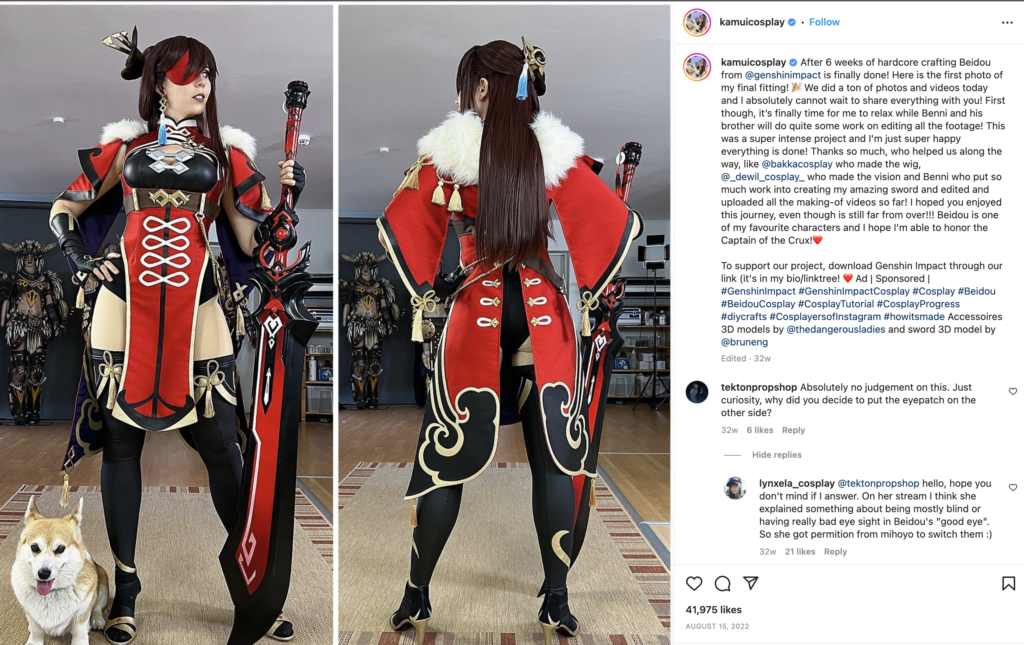 Svetlana Quindt, also known as Kamui Cosplay, is a 37-year-old German cosplayer who has won numerous awards for her incredible costumes. What sets Svetlana apart from other cosplay influencers is her unique skill set and making real armor and incorporating it into her costume designs. She, along with her husband Benjamin Schwarz, has been able to monetize her abilities with the release of several cosplay armor books and DIY tutorials. She was also commissioned by Intel and Newegg to create brand-new costumes for their Blizzcon convention booths, and she has nearly 1 million followers across her social media platforms.
Leon Chiro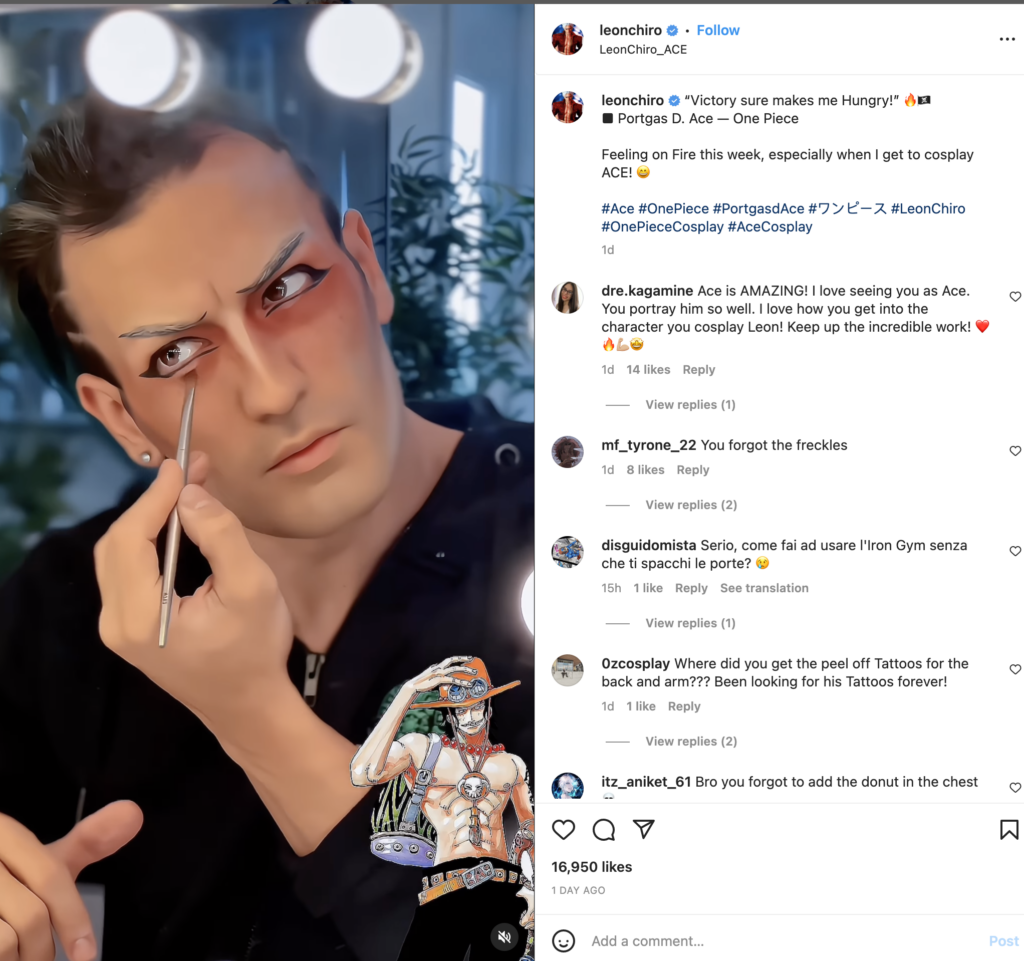 Leon Chiro is another example of a well-established influencer who was able to move their fame from one arena into another. Known as both a pro wrestler and professional cosplayer, Leon focuses the majority of his costume designs mirroring popular video game and anime characters. Leon has taken his hobby-turned-career and has been a popular guest at Comic-Con conventions in Spain, Brazil, and the United States and has been a judge in a variety of cosplay competitions. He has also been featured in a variety of popular publications, such as PSM (PlayStation Magazine) and Role Playing Game Magazine, and has amassed hundreds of thousands of followers across all of his social media channels.
Danielle DeNicola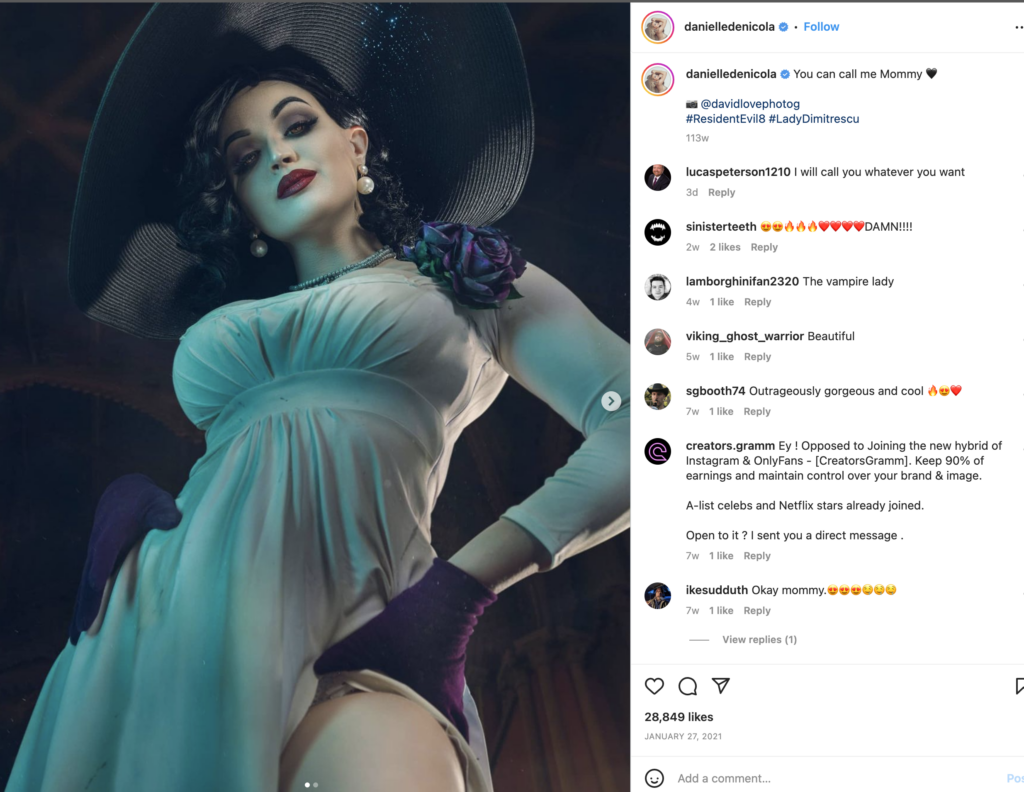 Danielle DeNicola is a cosplay influencer who got her start promoting on Instagram in November 2013. Danielle quickly rose to fame by sharing her cosplay-inspired outfits and designs with over 600,000 followers. More than just a cosplayer, Danielle has used her visibility to promote beauty tips, fashion advice, and lingerie. Danielle uses her platform to be a voice for younger generations and to spread empowerment to other women. Danielle is also a gifted artist, and she shares her pictures and prints on different platforms such DeviantArt, which has given her even more reach. As a popular figure in the online gaming community, Danielle also maintains a large following on Twitch, where she lives and streams game reviews, product spotlights, and cosplay discussions.
Chris Stanley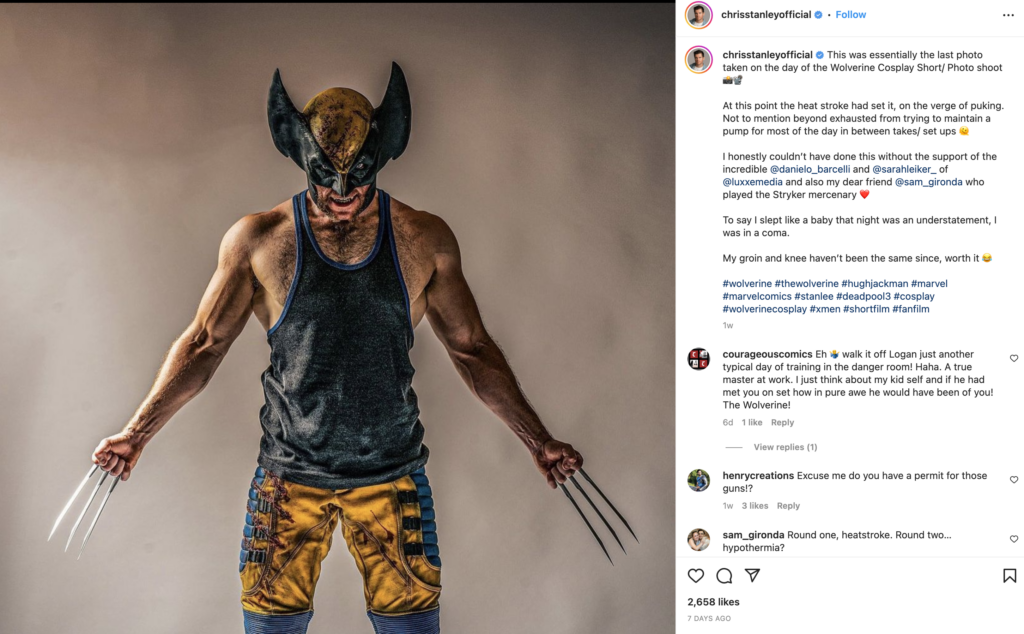 Chris Stanley embodies the dreams of everyone who's ever wanted to become a real-life superhero. Chris' dedication to bodybuilding and healthy eating has given him the unique ability to physically transform himself into an impressive superhero version of himself. Chris has put his physical physique and his love for comic books to good use by being actively involved in the cosplay community. Chris' equal love for character mirroring and healthy living has helped him gain a wide following of 100,000 fans on both sides of his passion. Over the years, Chris has successfully positioned himself as a Prob Builder Ambassador for Warner Brothers Australia, and his Youtube channel receives thousands of views a day thanks to the help of his 370,000 subscribers.
Cosplay Influencers Are Becoming The New Voices of Fanbase Culture
Today's cosplay influencers have become icons in their own right. They are highly respected within the fan culture and are often seen as trendsetters that cast zero judgment on cosplayers of all shapes, sizes and backgrounds. Because of this, cosplay influencers have a unique value proposition for large brands in the entertainment industry looking for partnerships.
Cosplay influencers have the ability to reach a large, engaged audience and create an atmosphere of positive energy in the fandom. Whether it's through videos, photos or live streams, cosplayers are able to showcase their amazing costumes and make fans feel like part of something special. As more people continue to get involved in cosplay, companies have unique opportunities to collaborate with influencers and create engaging content with viral potential.
Sources:

https://hireinfluence.com/blog/what-is-influencer-marketing/
https://fantasybasel.ch/en/maul-cosplay
https://cosplay.fandom.com/wiki/Tayla_Barter
https://www.famousbirthdays.com/people/svetlana-quindt.html
https://cosplay.fandom.com/wiki/Leon_Chiro#:~:text=Leon%20Chiro%20is%20a%20professional,made%20and%20are%20known%20worldwide