Entrepreneurs and business owners who are looking to get valuable industry insights and learn from some of the best, here's the list of top business influencers you need to follow!
#1 Tony Robbins
The self-proclaimed "Nation's #1 life and business strategist," Tony Robbins, is the cream of the crop when it comes to top business influencers, with 6.1 million Instagram followers. He is a globally respected authority on a multitude of topics, from business and wealth to psychology and investing.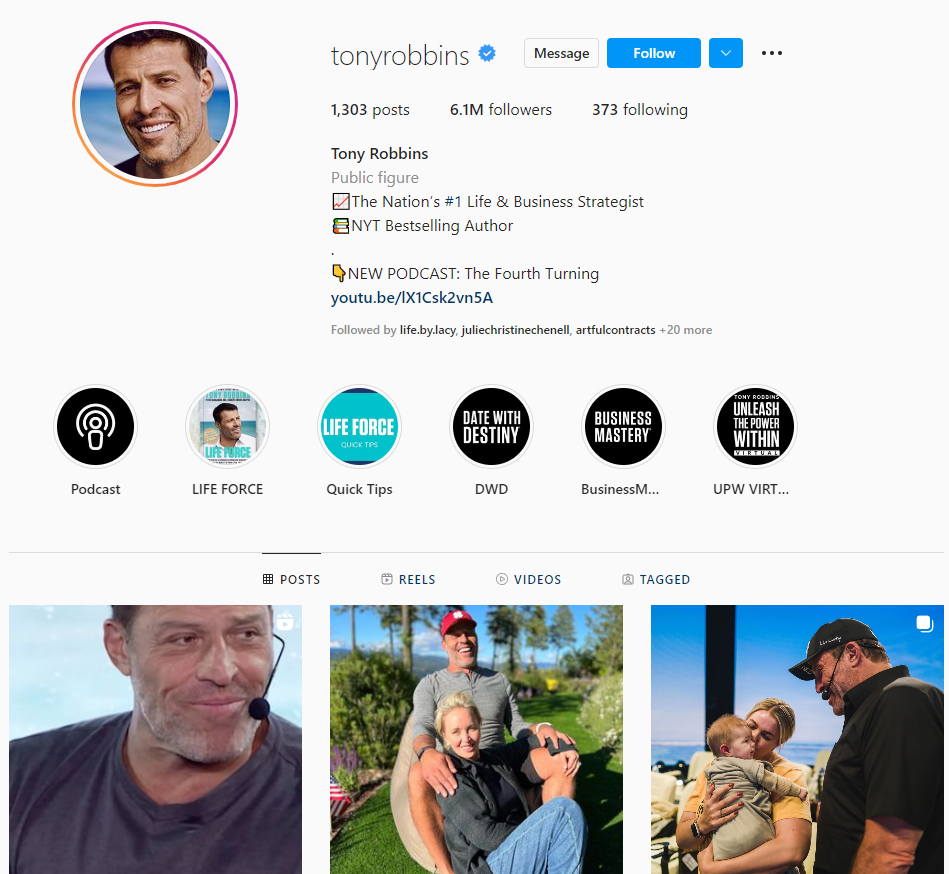 Source: @tonyrobbins
#2 Brené Brown
Dr. Brené Brown is an entrepreneur, writer, professor at the University of Houston, and social advocate. She has 4.4 million Instagram followers and shares a wealth of professional and cultural information.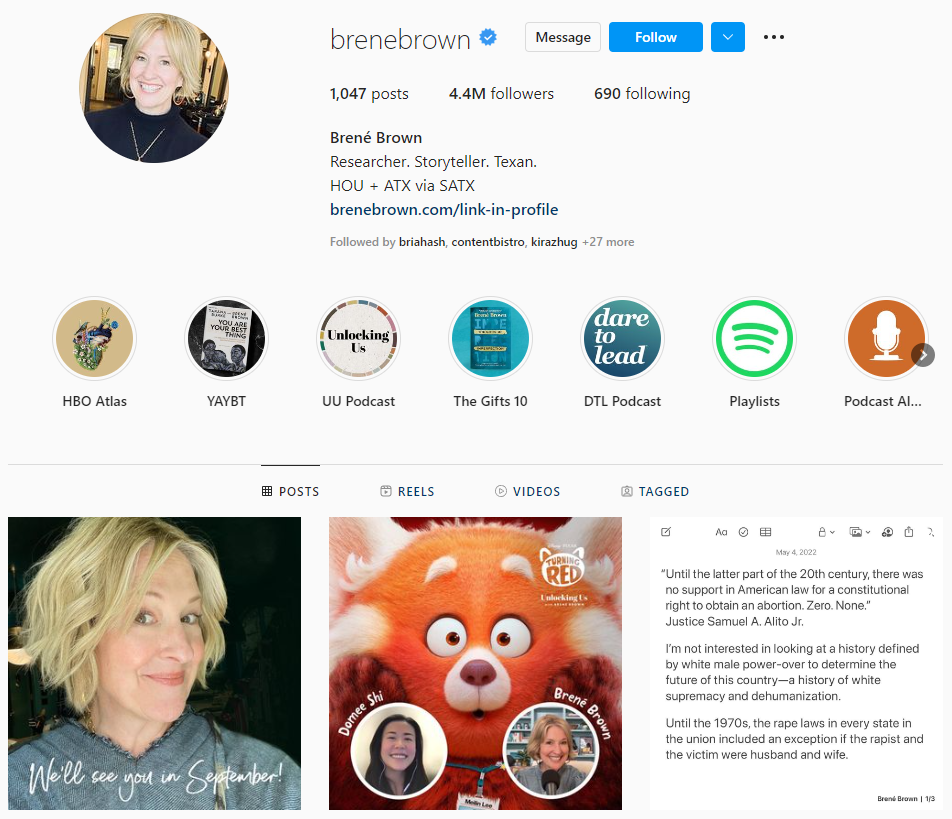 Source:@brenebrown
#3 Jeff Bezos
Jeff is the CEO of Amazon and Blue Origin and has 4 million followers on Instagram. He's a global tech mogul, space exploration champion, and philanthropist. It's also reported that he has a net worth in excess of $200 billion.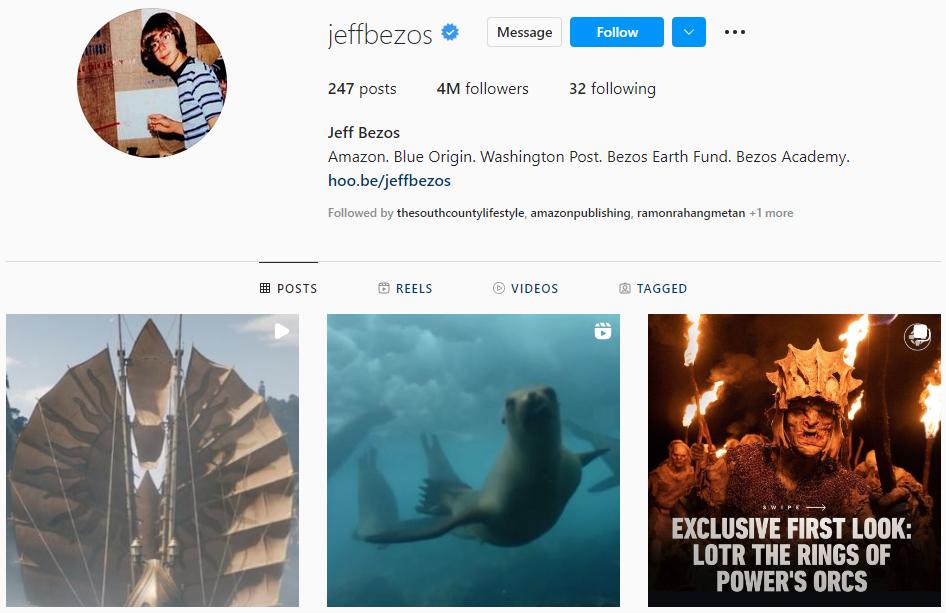 Source: @jeffbezos
#4 Simon Sinek
Simon Sinek is a British-American expert on leadership, author, business mentor, and motivational speaker with 1.8 million Instagram followers. He rose to fame via his TED talks and is highly sought after as one of the top marketing and business influencers.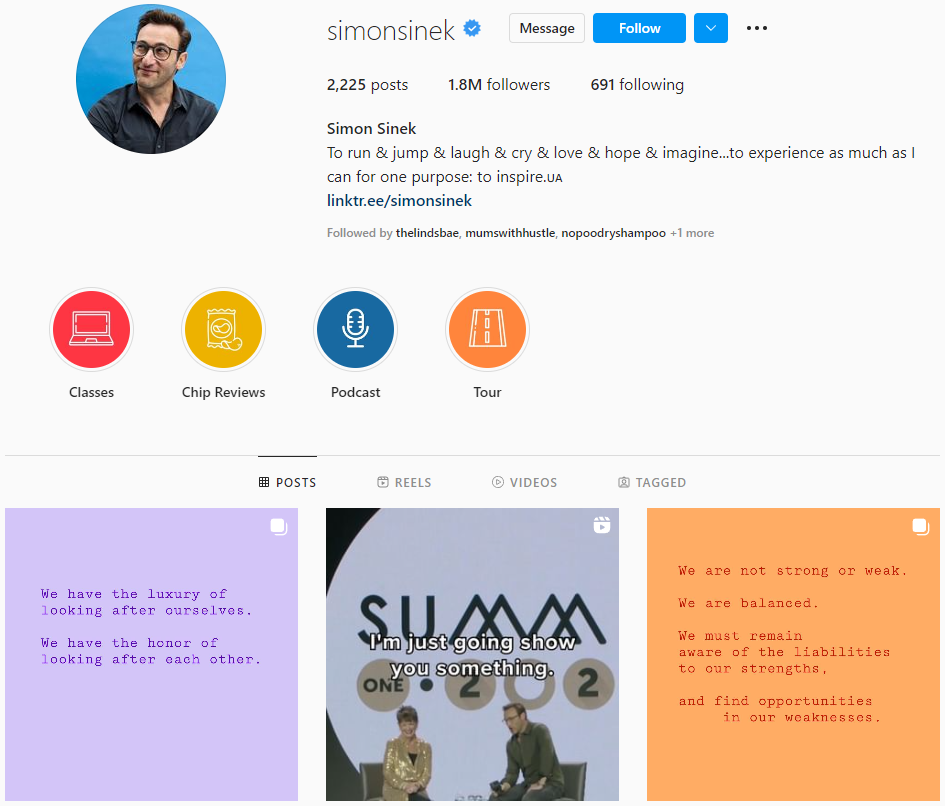 Source: @simonsinek
#5 Richard Branson
Richard is the founder of the Virgin Group (Virgin Airlines) and is a renowned explorer, entrepreneur, philanthropist, and business influencer with 4.7 million Instagram followers. He's also been part of the Dragon's Den cast, the UK's version of Shark Tank.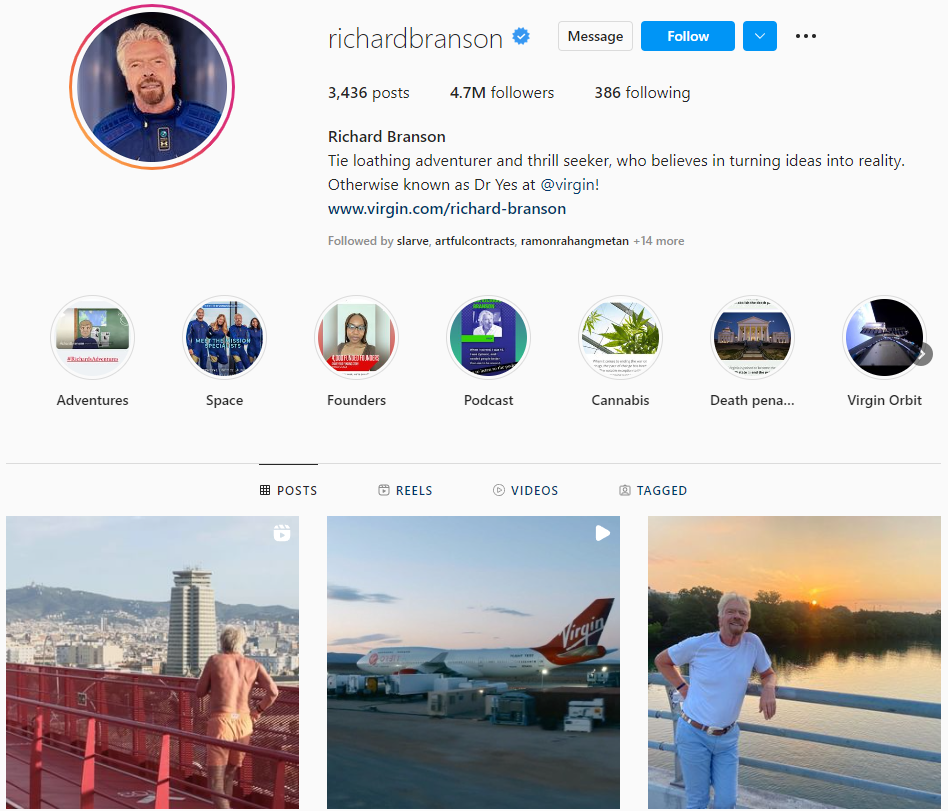 Source: @richardbranson
#6 Elon Musk
Although his Instagram account is now private, Elon Musk is an active and influential presence on Twitter with over 101.2 million followers. He is the founder of the luxury electric car company Tesla, and the space exploration entity, SpaceX. He is well known for his socially and politically outspoken antics.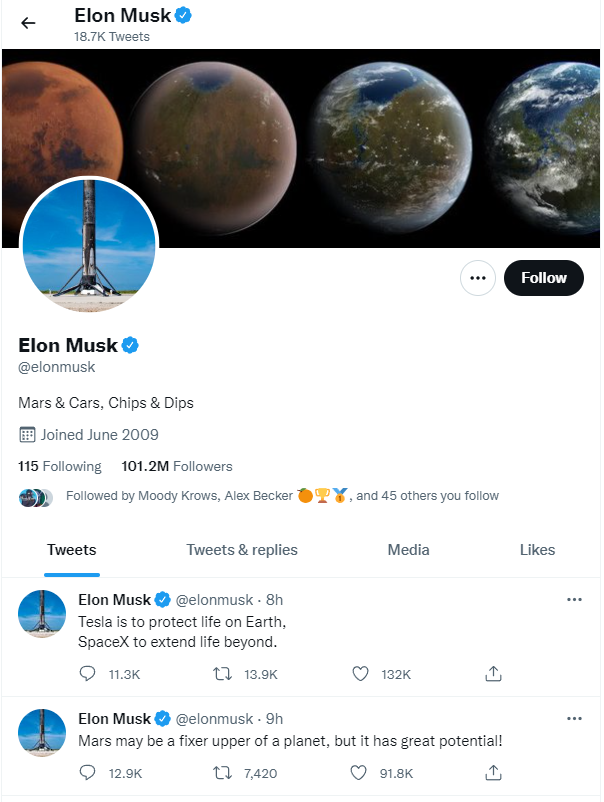 Source: @elonmusk
#7 Gary Vaynerchuck
Gary is an all-around business influencer. He speaks on matters related to entrepreneurship, investing, and digital marketing strategies. Gary is also an author and speaker and uses his platform of 10 million Instagram followers to educate and inspire budding entrepreneurs.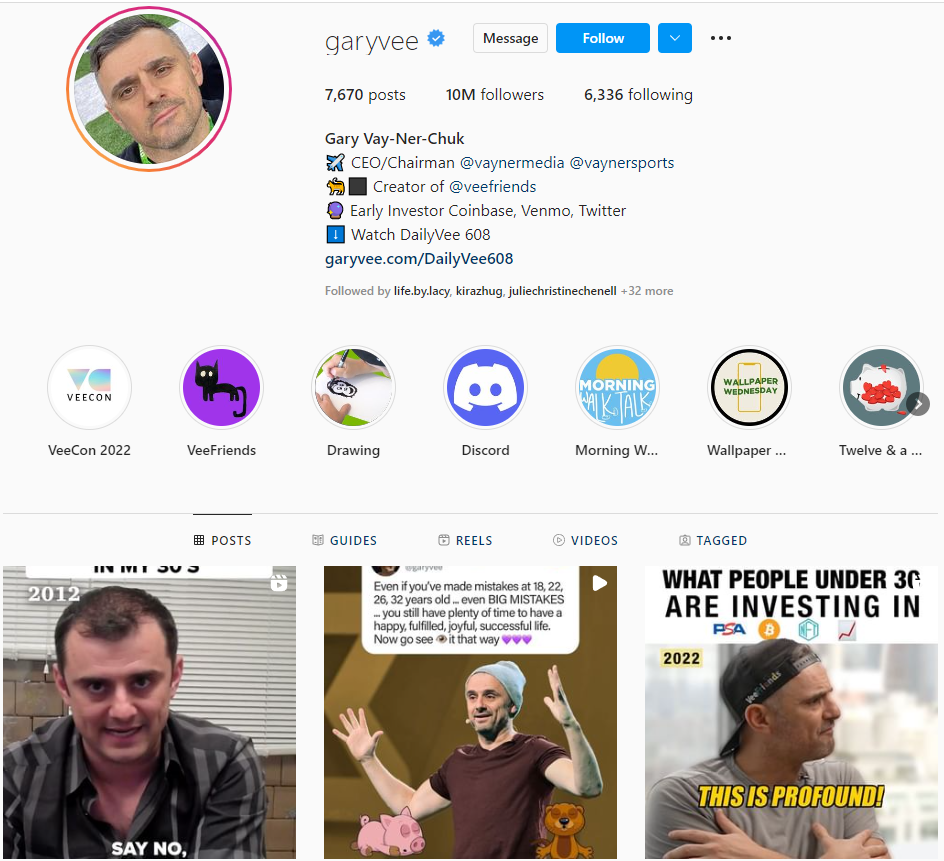 Source: @garyvee
#8 Grant Cardone
Grant is a wealth and business influencer with experience in real estate and investing who also made an appearance on Discover's Undercover Billionaire. With his nearly 4 million Instagram followers, he shares a variety of industry-related content and lifestyle photos.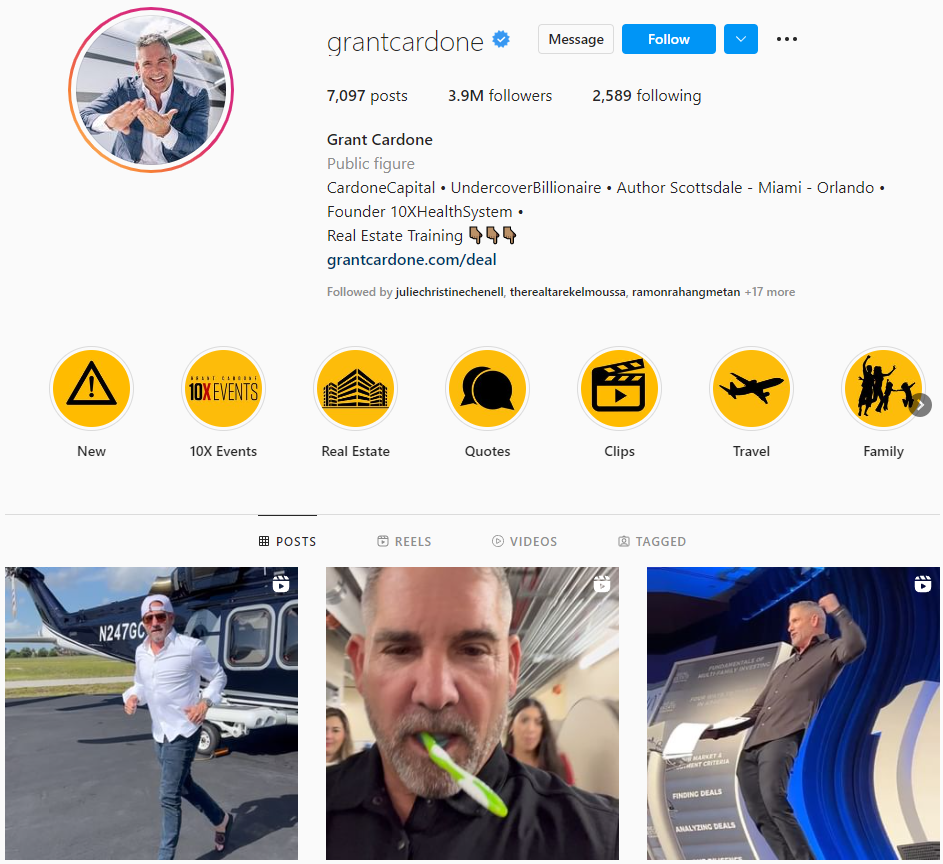 Source: @grantcardone
#9 Mark Zuckerberg
The founder and CEO of Facebook, now Meta, has 10 million Instagram followers. A famous figure worldwide, he shares platform information, tech advancements, and lifestyle content.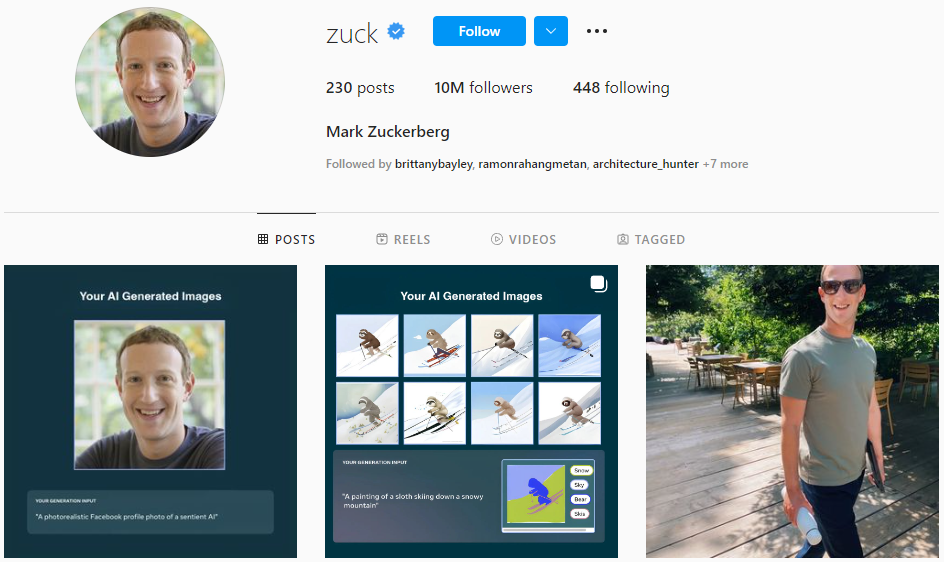 Source @ https://www.instagram.com/zuck/
#10 Bethenny Frankel
The former Real Housewife of New York City is now a globally recognized entrepreneur and philanthropist known best for her raw and unfiltered perspective. Her company started with the SkinnyGirl Margarita and has evolved into an entire SkinnyGirl product empire. She's also a Shark Tank alum.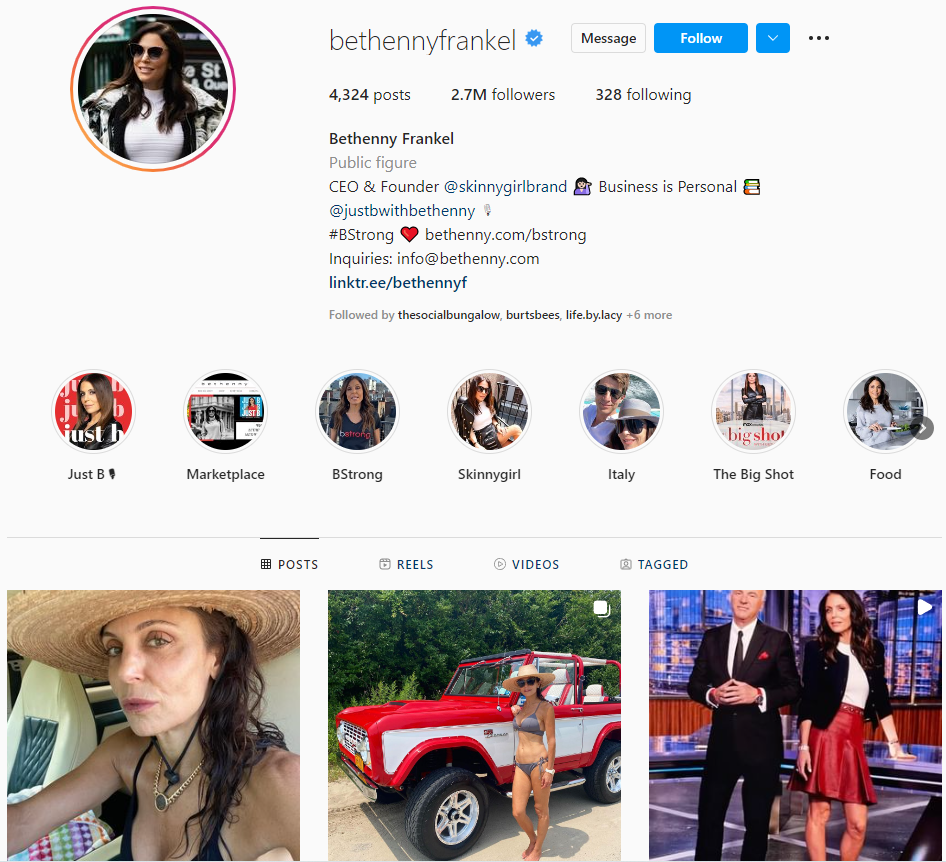 Source: @bethennyfrankel
#11 Mark Cuban
Mark is the owner of the professional basketball team, The Mavericks, and a Shark Tank regular. He shares business and investing information with a blend of lifestyle and basketball content with his 1.8 million Instagram followers.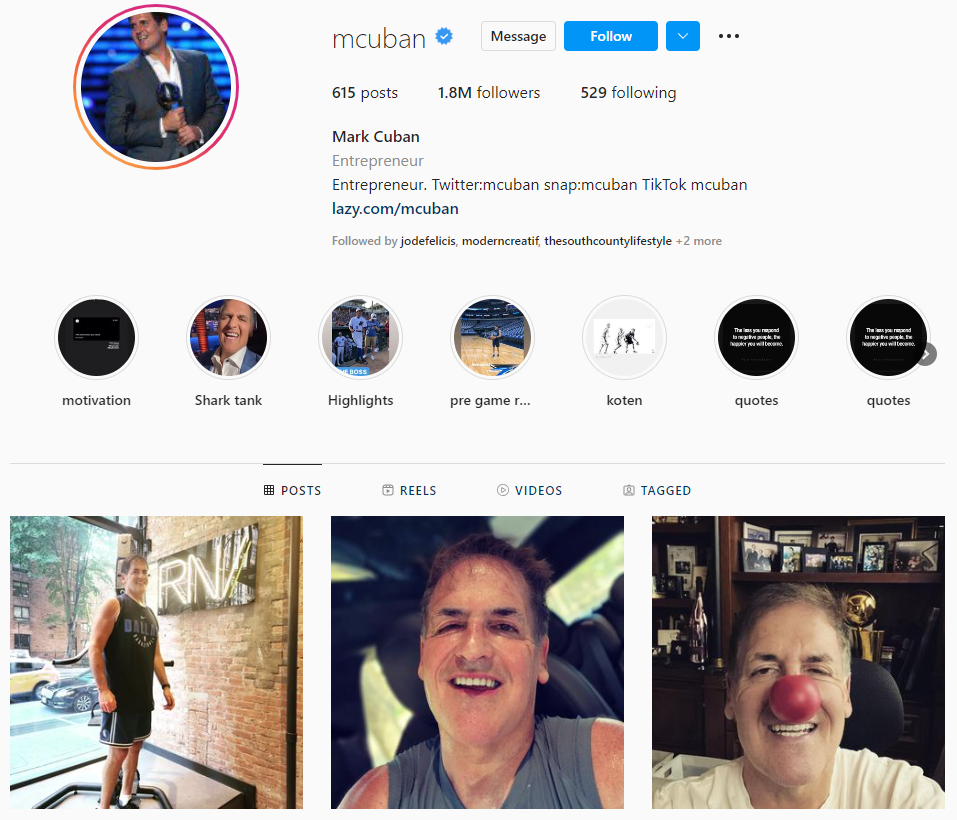 Source:https://www.instagram.com/mcuban/
#12 Russell Brunson
Russell Brunson is the founder of ClickFunnels, a website sales funnel building platform used by thousands of brands to promote and sell products and services. He shares a wealth of digital marketing info and strategies with 1.1 million Instagram followers.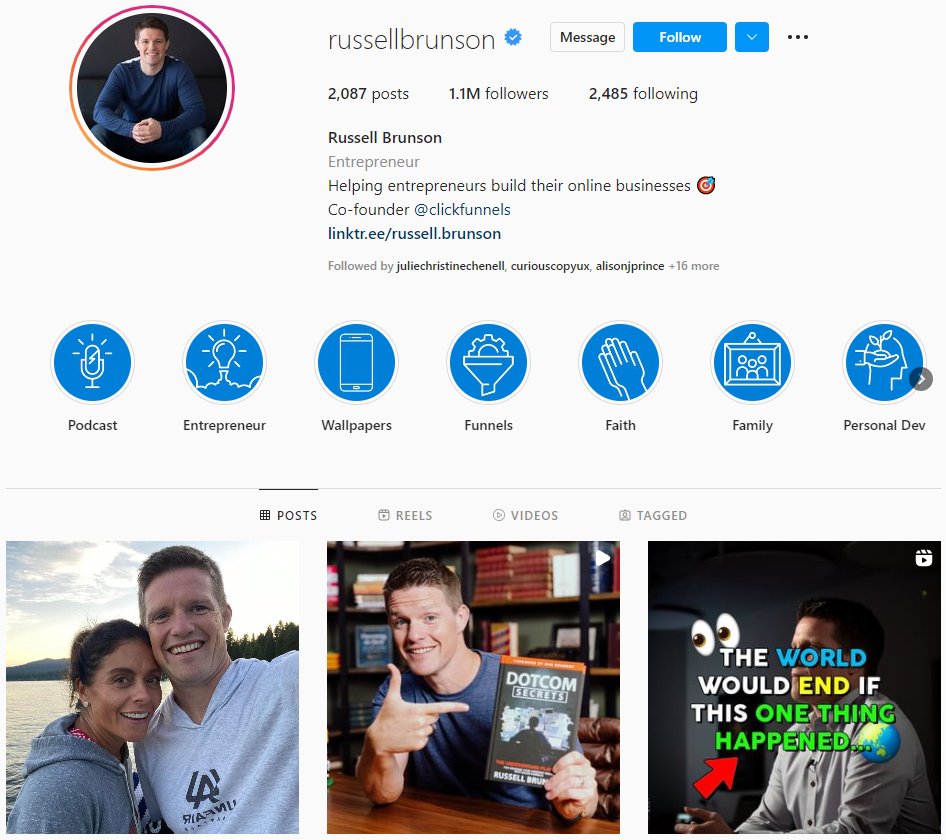 Source: @russellbrunson
#13 Lori Greiner
Lori is a lifelong inventor, investor, entrepreneur, producer, humanitarian, and Shark Tank regular. She's launched over 1,000 different products and holds 120 patents with a 90% investment success rate.[1]Her 974k Instagram followers see product info, business inspiration, and lifestyle shoots.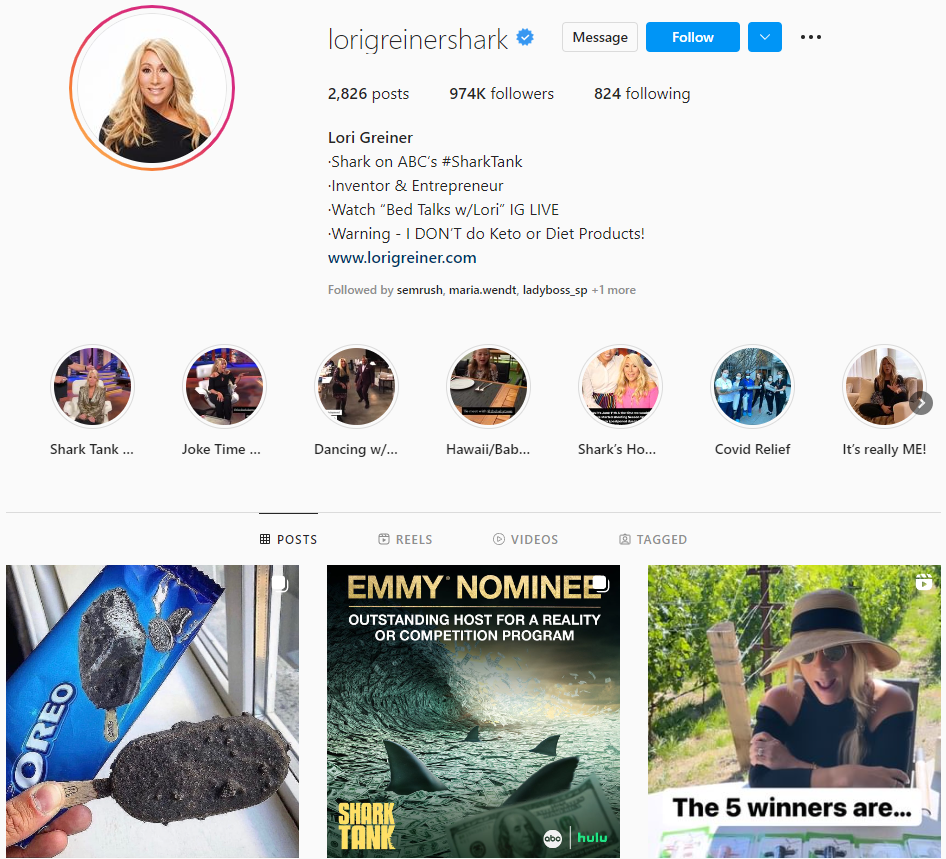 Source: @lorigreinershark
#14 Marie Forleo
Marie is a #1 New York Times bestselling author, lifestyle mentor, and public speaker. She hosts her own online TV series, MarieTV, and is one of the top female business influencers online. She shares marketing tips, and business strategies and gives insightful life advice to her 668k Instagram followers.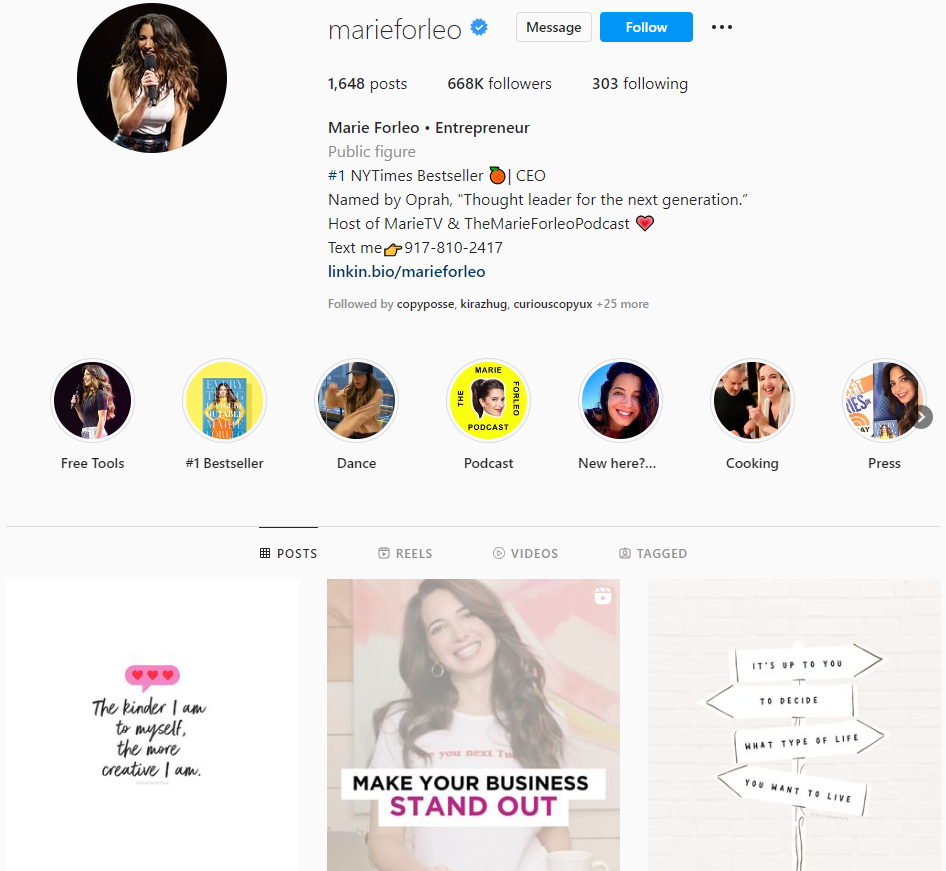 Source: @marieforleo
#15 Arianna Huffington
Arianna is the founder of The Huffington Post, an award-winning news media outlet. Though she's no longer the Editor In Chief, she founded a second company that advances a health and wellness lifestyle, Thrive Global. She shares inspirational content and health and wellness info with 753k Instagram followers.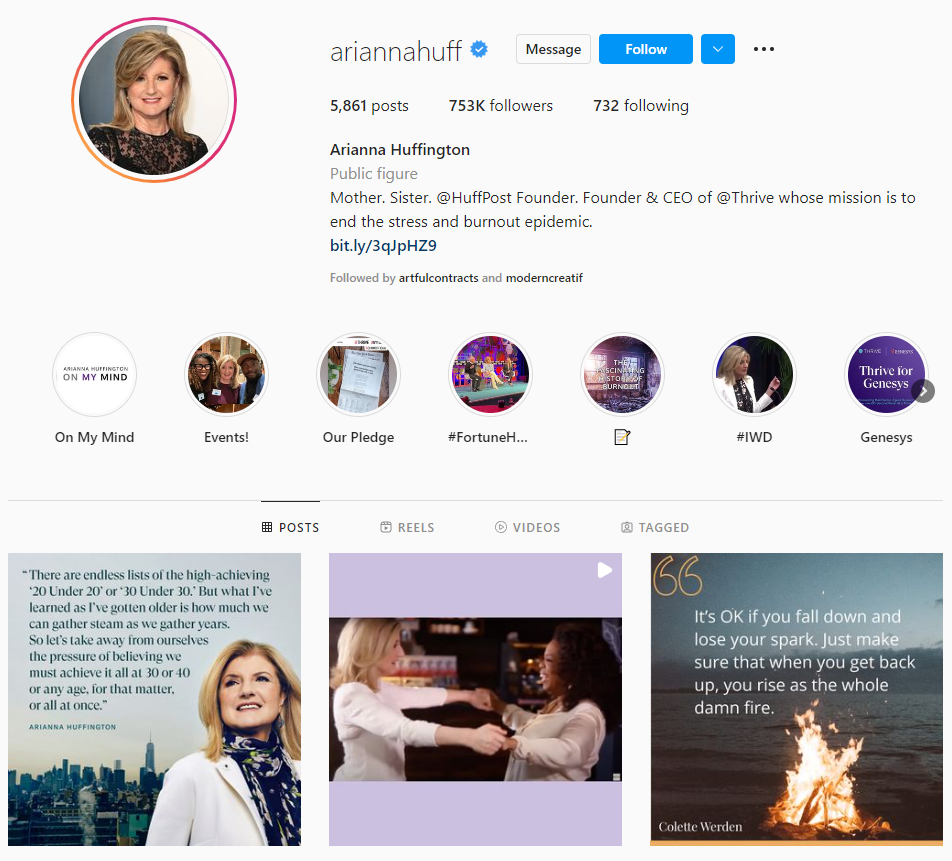 Source: @ariannahuff
#16 Dave Ramsey
Dave Ramsey is a debt and personal finance entrepreneur who teaches millions of people how to consolidate debt and manage their finances. He shares money-saving tips, budget tricks, and financial advice with 3.2 million Instagram followers.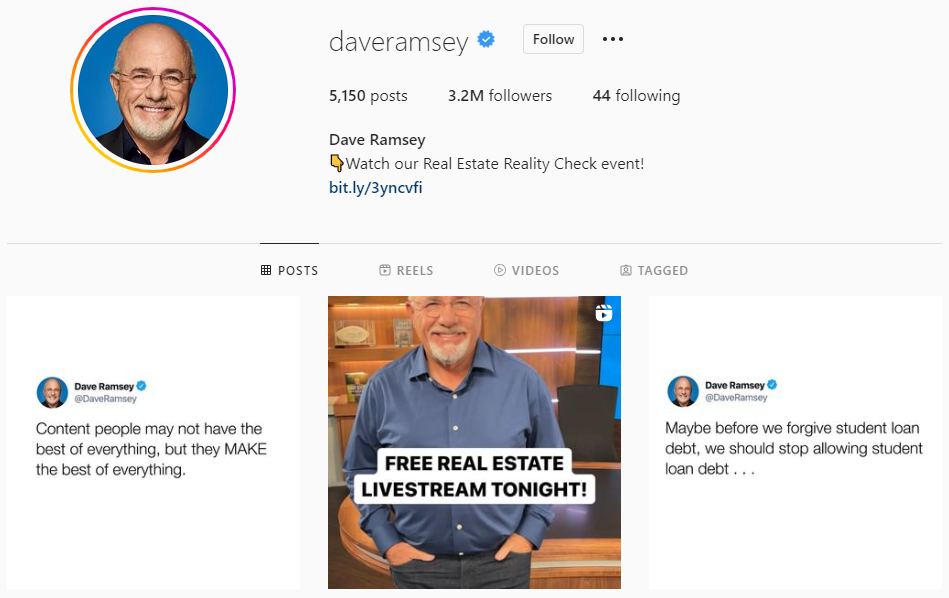 Source: @daveramsey
#17 Saygin Yalcin
Saygin is based in Dubai and is the founder of Sell Any Car and a partner at Jabbar Internet Group. The author, startup mentor, and entrepreneur shared motivational business-related content with 961k Instagram followers. He also has over 1 million YouTube subscribers.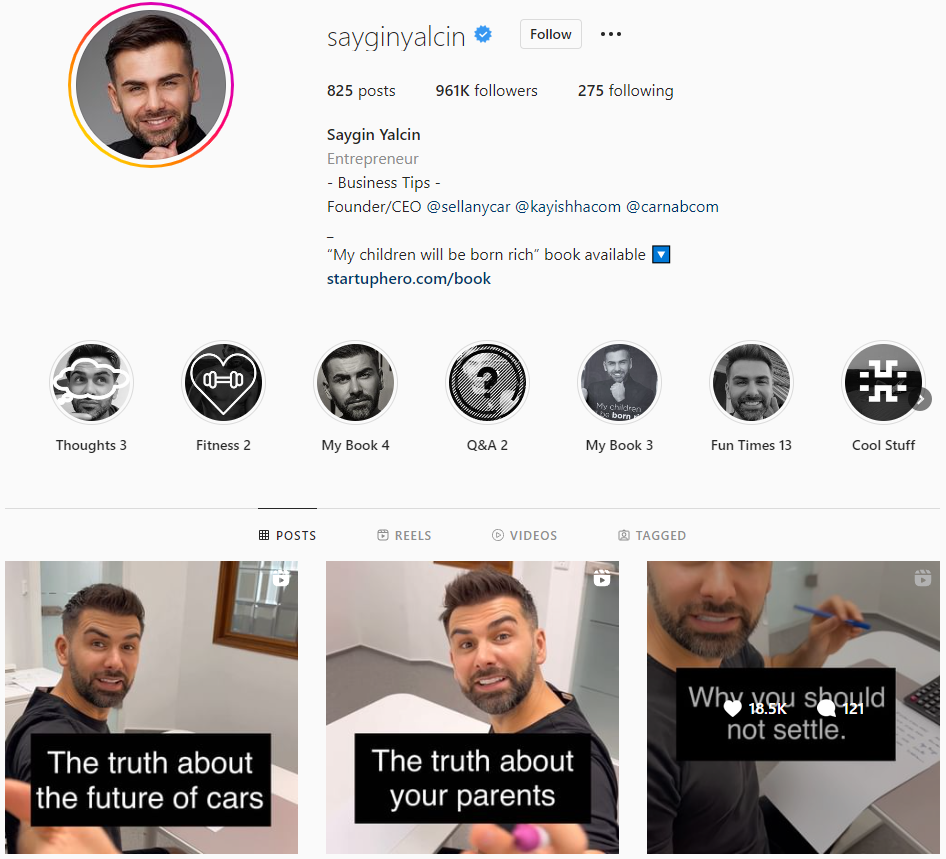 Source: @sayginyalcin
#18 Daymond John
Founder of the contemporary sportswear brand, Fubu, and SharkTank regular Daymond is the self-proclaimed "people's shark." He is also the founder of The Shark Group, a marketing agency for startups and brands. He shares entrepreneurial and motivational content and several lifestyle highlights.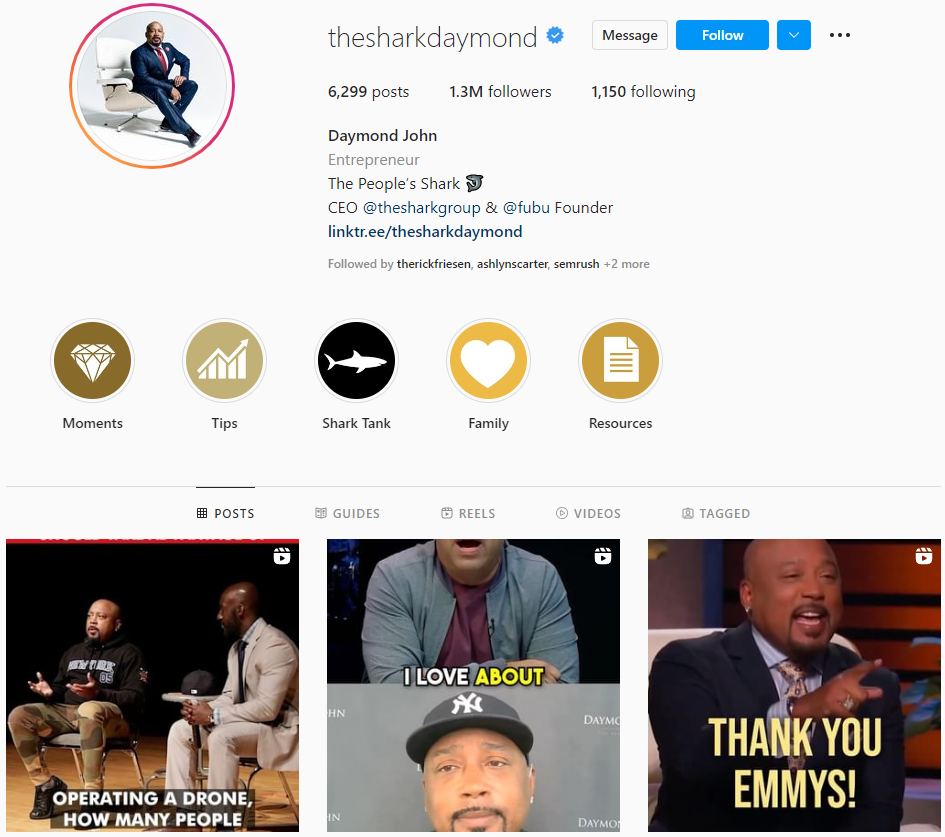 Source: @thesharkdaymond
#19 Steven Bartlett
Steven is the founder of Social Chain, a social media platform, and the voice behind the Diary of A CEO, an entrepreneurial podcast. He is also the author of Happy Sexy Millionaire and shares life and business motivational content for 2 million Instagram followers.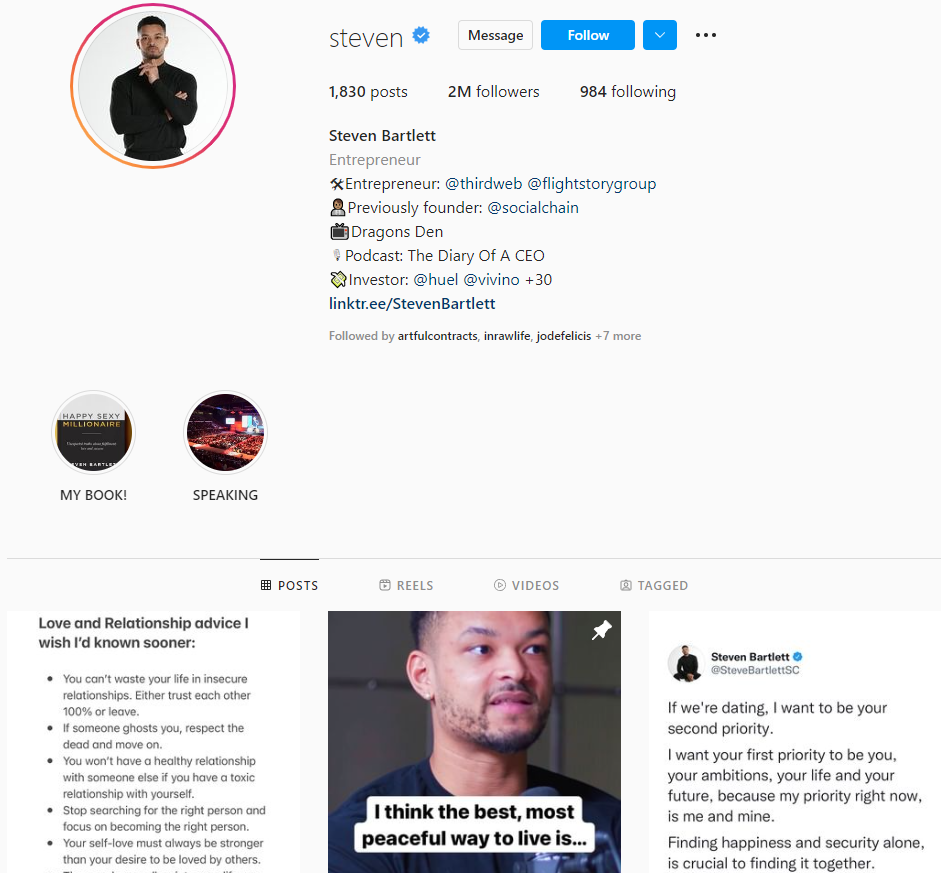 Source:@steven
#20 Peng Joon
Peng Joon is a motivational speaker, business advisor, and the self-proclaimed " leading authority in wealth creation online." Formerly a college gamer who lost his money, he's now at the top of the business influencer charts with 943k Instagram followers and multiple entrepreneurial endeavors.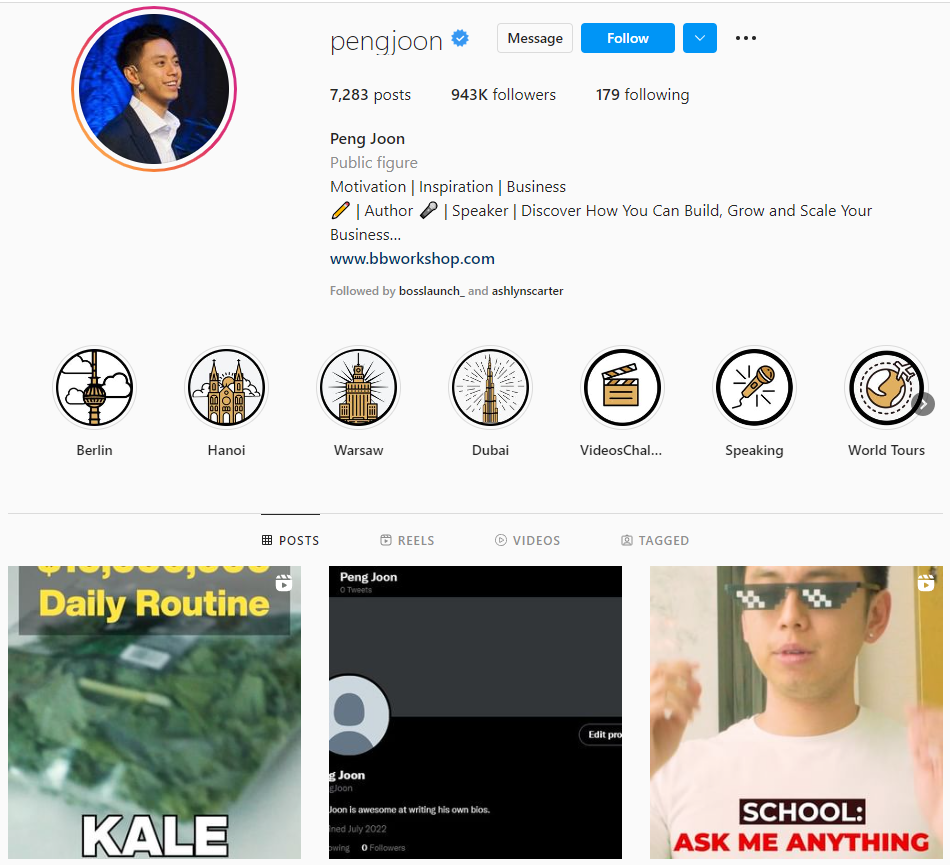 Source: @pengjoon
#21 Neil Patel
Neil Patel is the man behind the marketing and SEO platform HubSpot. He's also a New York Times bestselling author, was named a top 100 entrepreneur by former President Obama, and a top 10 marketer by Forbes. His agency, NP Digital, won the award for Search and Performance Marketing Agency of the year, and he shares top marketing tips with 319k Instagram followers.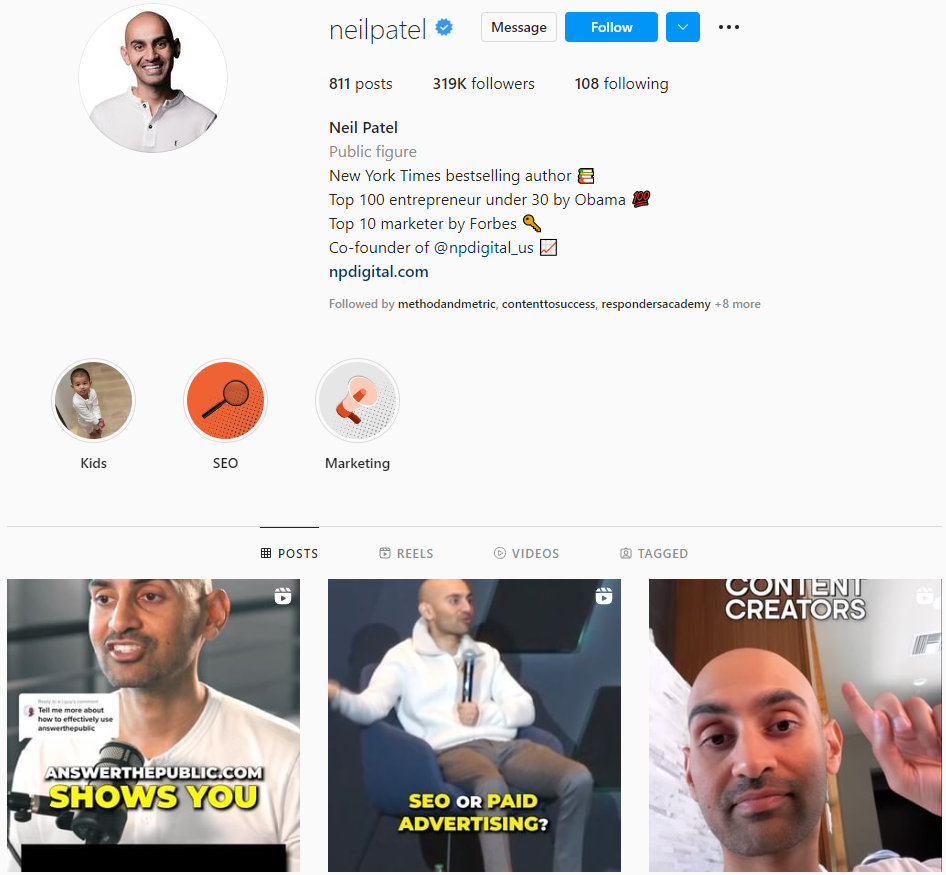 Source: @neilpatel
#22 Jenna Kutcher
Jenna started her entrepreneurial journey as a photographer but later pivoted her offer to social media growth and marketing. She's the voice behind the Goal Digger Podcast and author of the New York Times bestseller, "How Are You Really?" Her content focuses on social media growth, women empowerment, body positivity, motherhood, and entrepreneurship.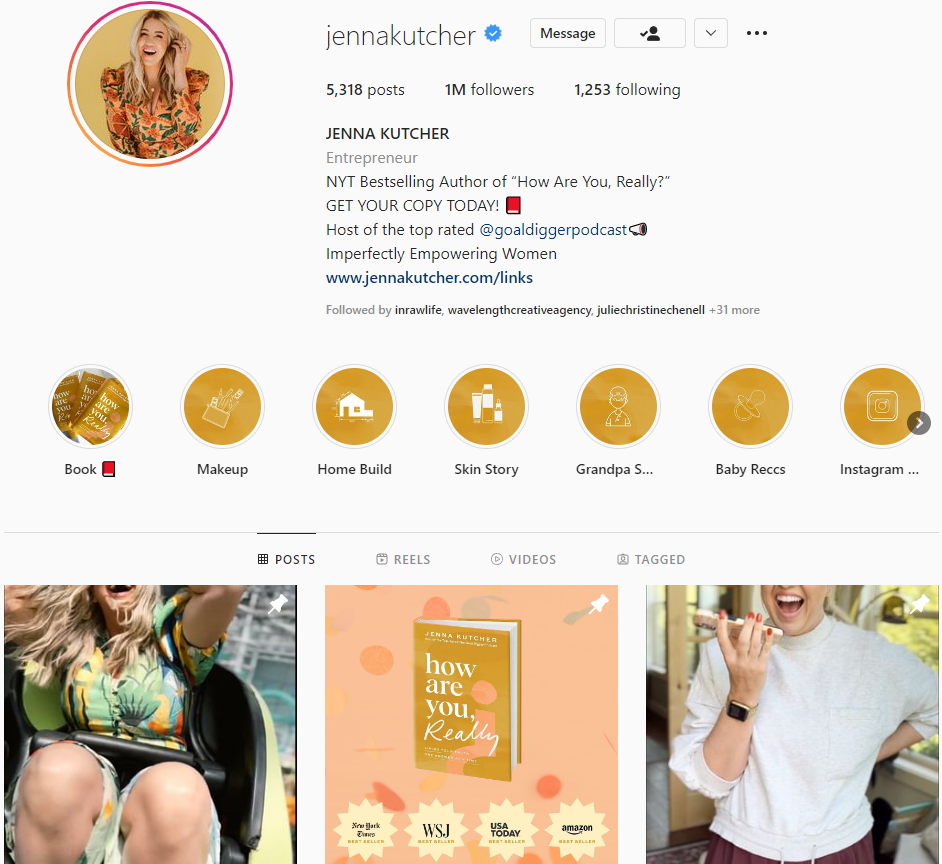 Source: @Jennakutcher/
#23 Brendon Burchard
Brendon is a household name in the online education and mentorship space. Forbes tagged him as "the world's leading high-performance coach," and he's also the author of six books and is a #1 New York Times bestselling author. Brendon shares business coaching and growth strategies for 1.1 million Instagram followers and 5 million Facebook followers.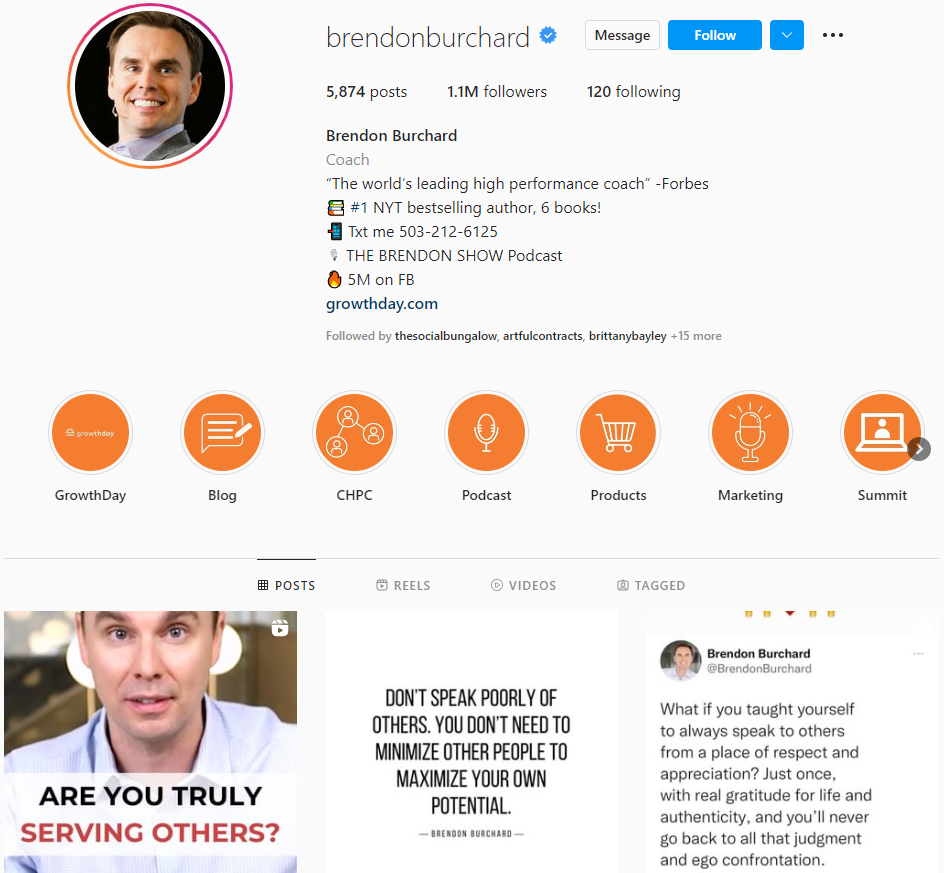 Source: @brendonburchard
#24 Jasmine Star
Jasmine is the CEO of Social Curators, a social media content planning platform for businesses and personal brands. She shares content related to social media growth, selling, and authentic entrepreneurship for 492k Instagram followers. She's well known and beloved for her bubbly personality and comedic content.
Source: @jasminestar
#25 Amy Porterfield
Right behind Brendon Burchard and Russell Brunson, Amy Porterfield is another top business influencer in the online education space. She mentors other entrepreneurs to build online businesses and sell their knowledge in courses. She shares valuable industry insights, marketing and operations tips, and entrepreneurial motivation.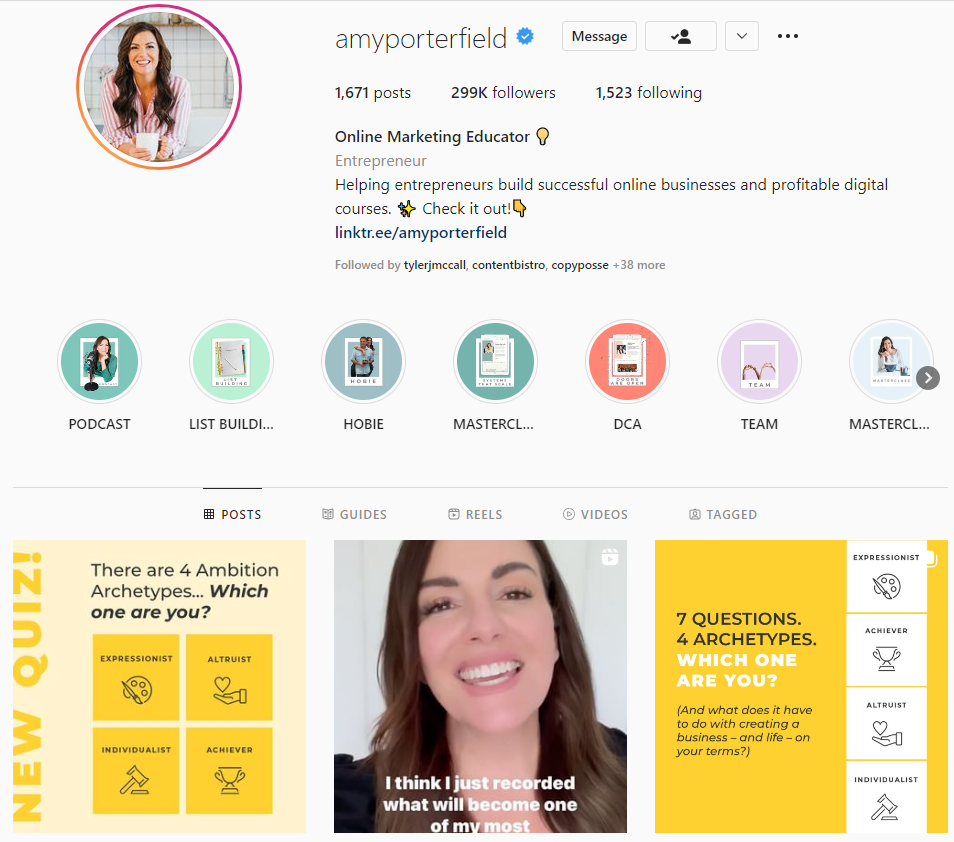 Source:@amyporterfield
How To Work With Top Business Influencers
Business influencers are often more closely multi-faceted brands with a lot of irons in the fire. They may be difficult to work with, given their busy schedules and a high level of demand.
As with any influencer, follow and connect with them naturally over a period of time. Influencer marketing is a relationship-driven industry that relies heavily on authentic connection. Take the time to build into this new relationship.
Once that has been done, begin inquiring about their rates and their process. They should have set rates or a pricing sheet that can help determine the best path forward to match the marketing budget and their skills.
Always approach this partnership through the lens of hiring any other expert. Give them the freedom to create as that is their area of expertise.
Working with an influencer marketing agency streamlines this process.
An agency comes with pre-vetted and reliable talent
Full-service capabilities
A team of industry experts
They are prepared and equipped to negotiate
Gives brands the ability to quickly scale
Provide detailed campaign reporting
From selecting the influencer that would make the best fit to providing reports of success metrics, an influencer marketing agency can help manage the whole process from start to finish.
Top Business Influencers To Follow and Emulate
Top business influencers like these have the potential to boost brand awareness and drive conversions as trusted and credible sources in their space. Brands that leverage influencers in this space can look forward to a strong ROI. Are there other top business influencers we left out? Let us know!
Read more: What is Influencer Marketing?
Sources:
[1] https://lorigreiner.com/