Athletes today are looked to as modern-day celebrities. Although sport professionals are famous for their athletic performance, fans look to them for guidance for all aspects of life — what to wear, eat, or listen to. These top sports influencers have ever-growing followings on all social media platforms, making them some of the most valuable stars to consider when a business brand chooses an influencer to help with campaigns.
Cristiano Ronaldo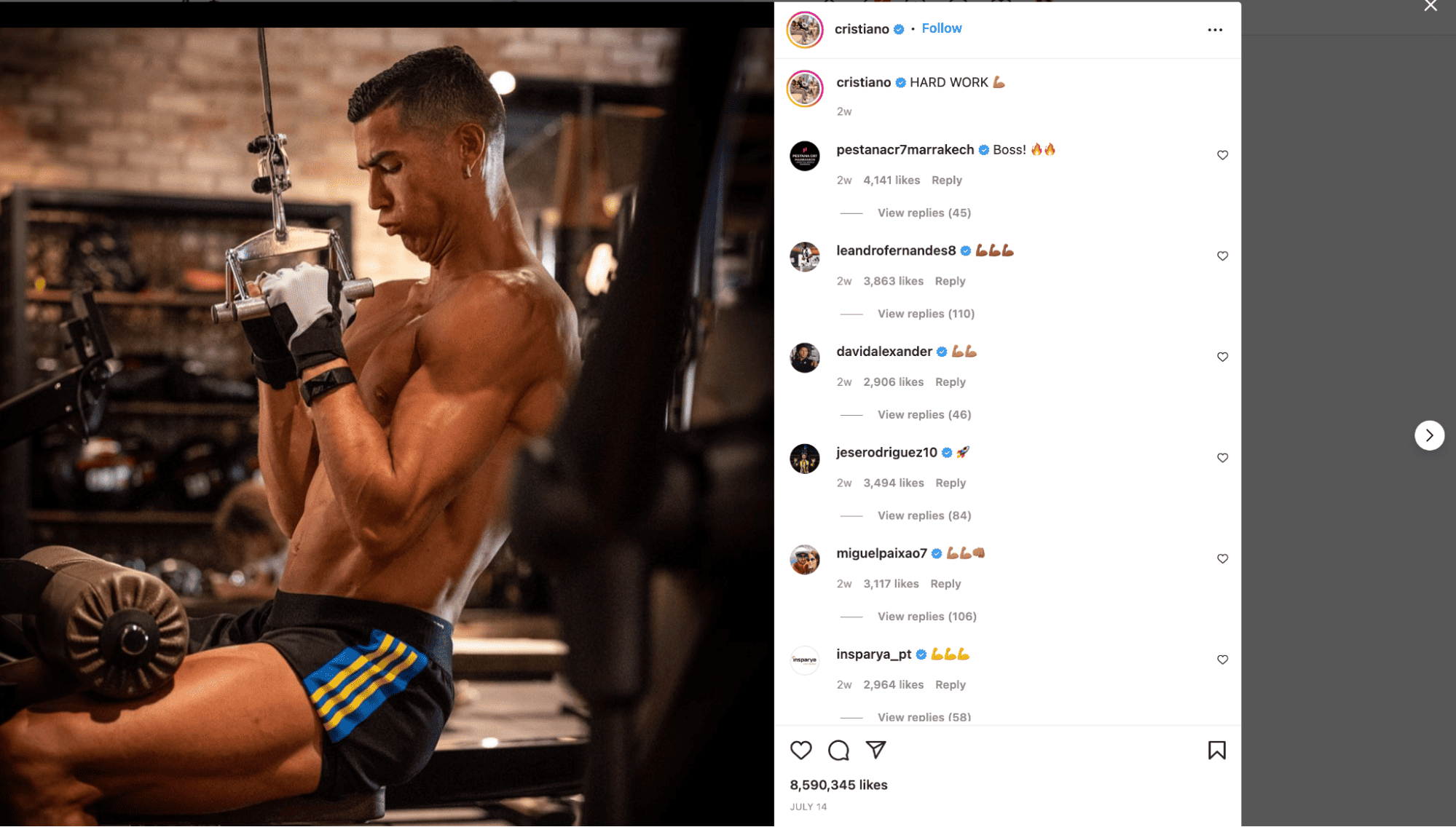 Source: @cristiano
Cristiano Ronaldo isn't just the athlete with the largest Instagram following — he's the person with the largest following on the platform. The soccer player is second only to the official Instagram account, making him number one on the list of top sports influencers.
Ronaldo has been ranked by Forbes as one of the most marketable athletes for several years. Also regarded as the best footballer of all time by fans, the Portuguese footballer has won almost three dozen trophies in his professional career.
Cristiano uses his influence for frequent philanthropic ventures. As one of the world-famous sports influencers, he has financially and physically supported a number of charities and even launched his own app to aid the Save the Children foundation, of which he is an ambassador. Ronaldo hopes to send the message that he is dedicated to both his sport and the community's well-being.
The influencer leads his own brand campaigns with CR7 underwear. Other notable partnerships with brands include Nike, MTG, and 7EGEND campaigns.
Lionel Messi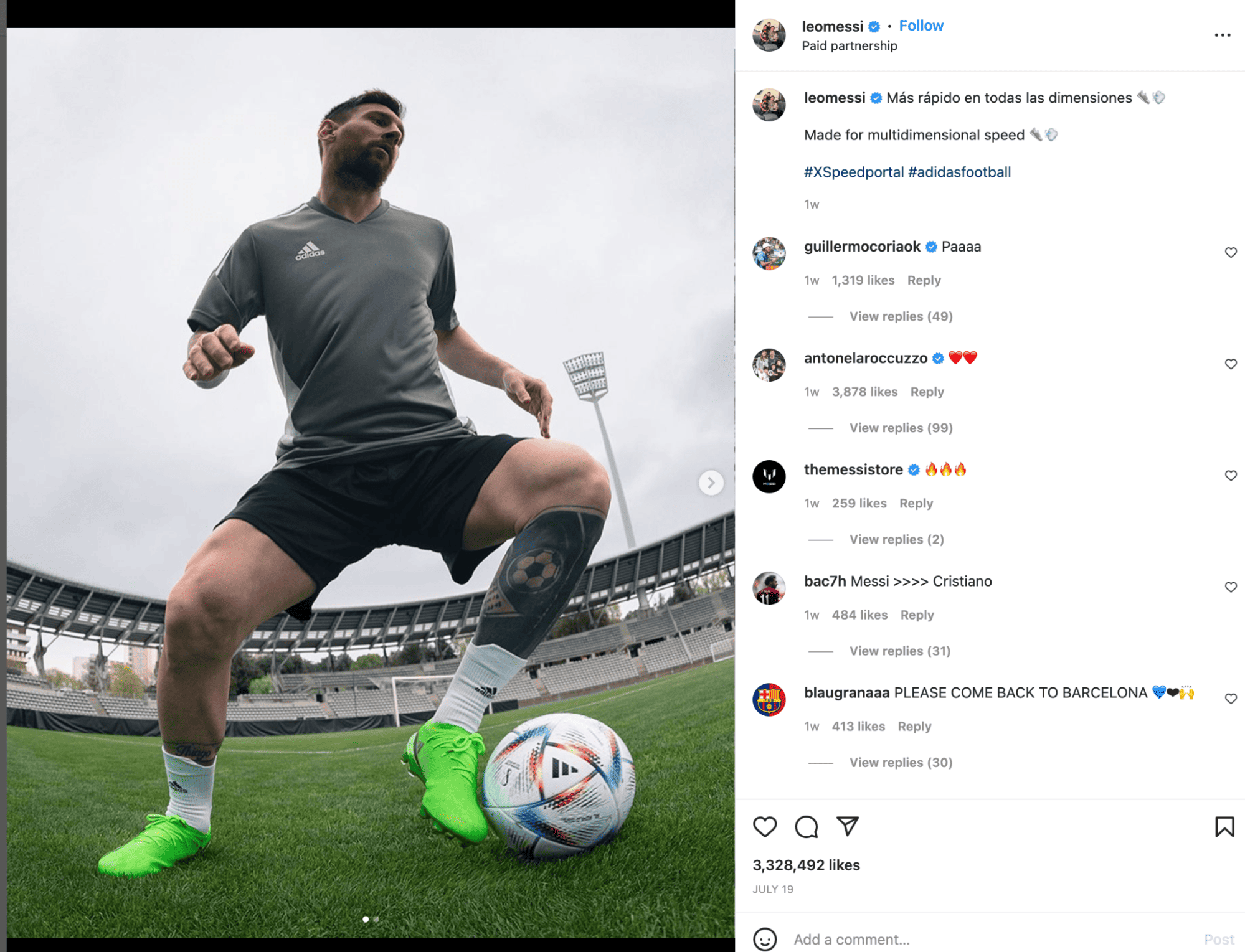 Source: @leomessi
Lionel Messi is likely the second most recognizable soccer player next to Cristiano. Often referred to as Leo, Messi began playing soccer at the age of six in Argentina. He overcame adversity at a young age after being diagnosed with growth hormone deficiency at 10 years old. But he fought to be the best and pursue his professional sports career, and he ultimately succeeded. Leo later relocated to Barcelona, where he was recruited to play for the team and still resides there.
The sports influencer received the title of the Most Marketable Athlete in the world in 2020 by Nielson. Messi is a part of numerous iconic brand campaigns, including Adidas, Pepsi, Budweiser, and Jacob & Co. According to Forbes, Leo generated 150 million engagement rate interactions and $6.9 million with the 49 ad campaign content posts he made with Adidas in 2019. The sports influencer has a cool total of 353 million followers on Instagram, over one million subscribers to videos on Youtube, and is active among every other social media platform.
Lebron James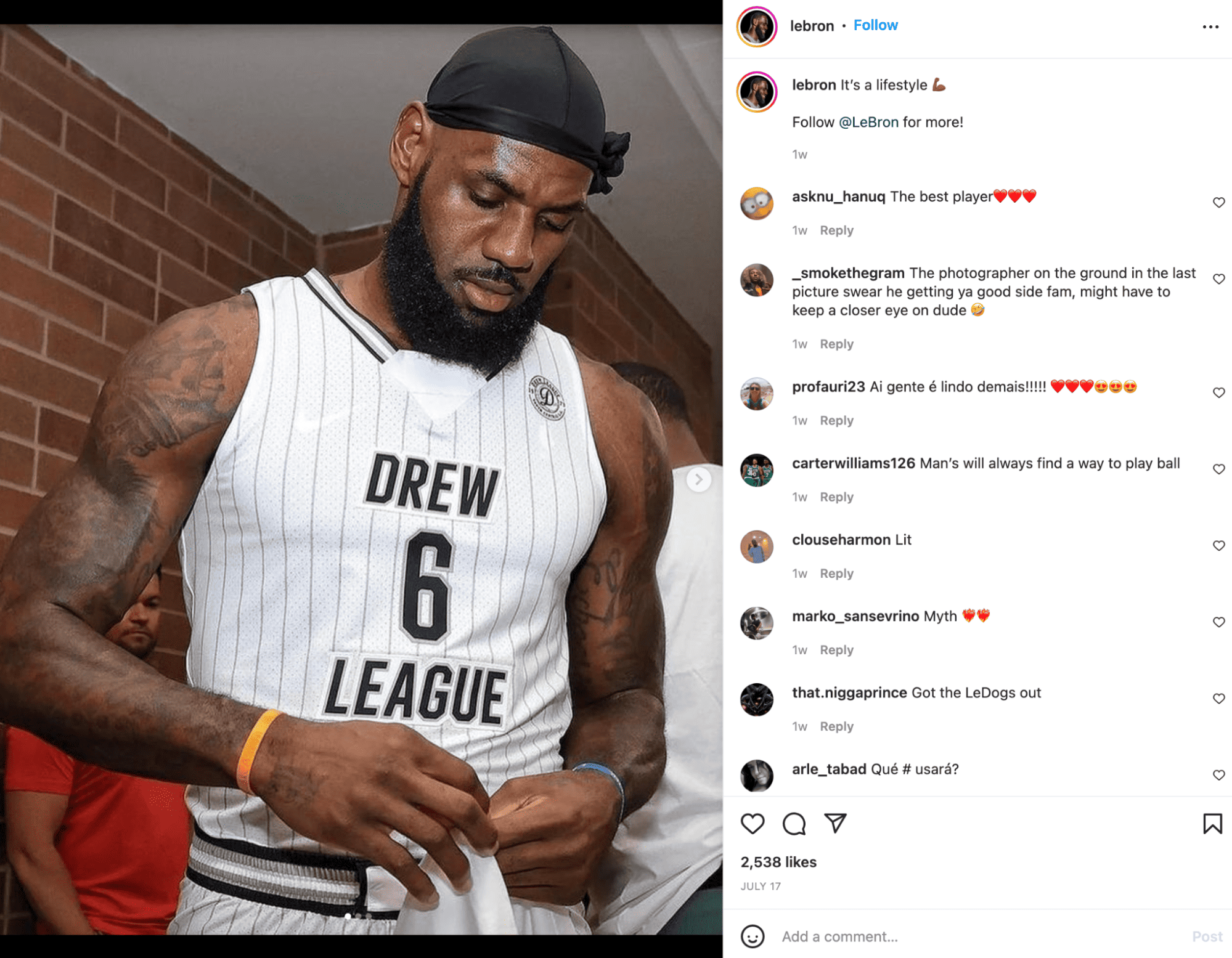 Source: @kingjames
Even those who aren't sports enthusiasts know the name Lebron James, and recognize his impact both on the court and in philanthropy.
An iconic basketball player for the NBA, Lebron James is genuinely one of the most versatile athletes. Although he's most well known in the world for his time playing with the Los Angeles Lakers, Lebron currently plays with the Cleveland Cavaliers. The athlete, ranked as one of the top sports influencers today, is often compared to Michael Jordan regarding dedication and talent. He gives back to the community in many ways. Still, the most prominent is through his own charity, The Lebron James Family Foundation.
Lebron connects with his followers at in-person basketball events and through social media. His audience consists of 129 million followers on Instagram and 51.9 million on Twitter. Although most of the NBA stars are active on every social platform, there's a significant jump in audience number between Lebron and the next most-followed athlete — a nearly 50 million follower gap. The influencer's biggest endorsement campaigns are Samsung, Nike, Coca-Cola, and McDonald's.
Virat Kohli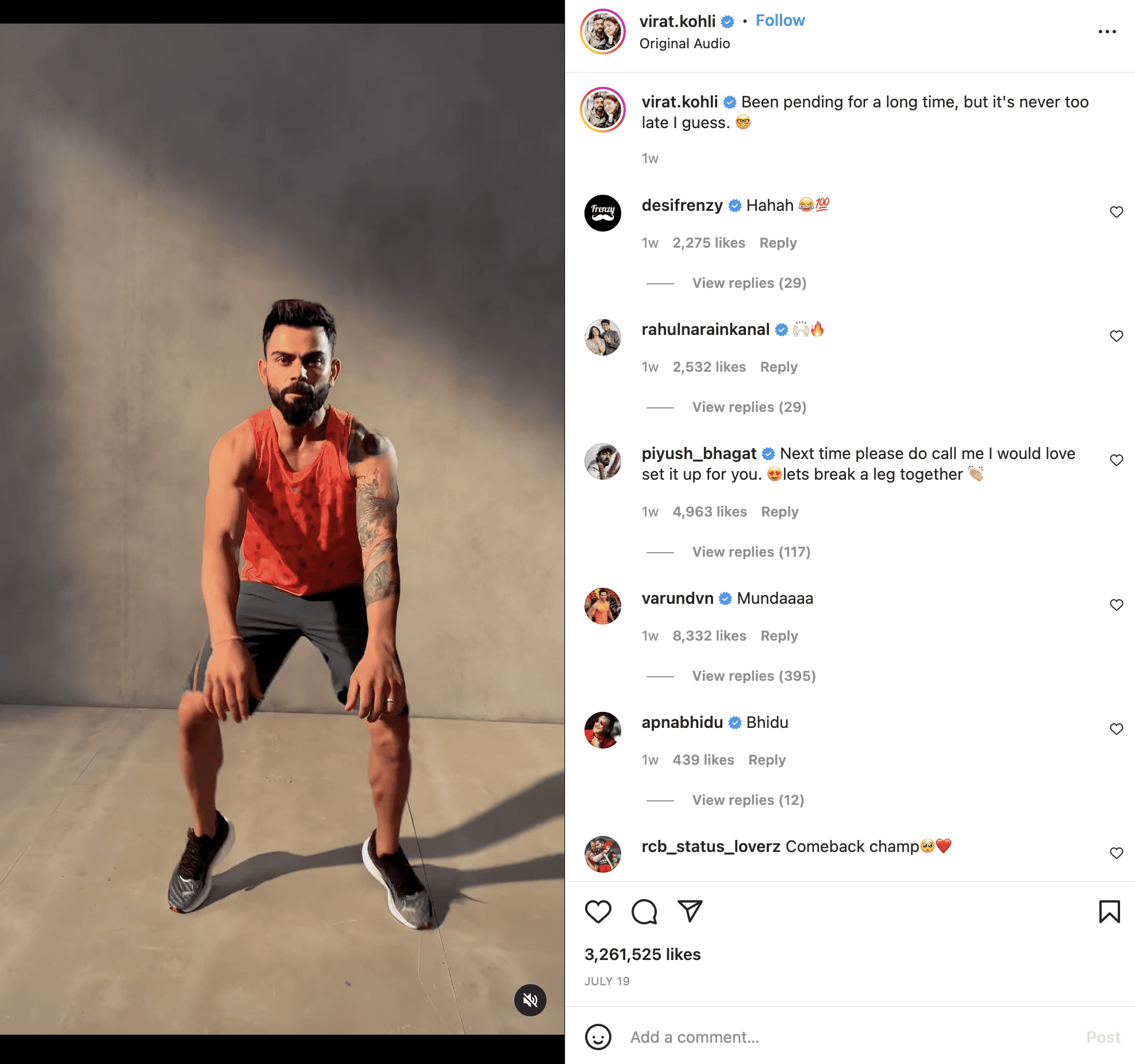 Source: @virat.kohli
Hailing from India, Virat Kohli is a major world-famous cricket athlete and arguably the best cricket batsman of all time. And as a world record holder for speed, the claim is unlikely to be questioned. The calm and confident athlete is a favorite among fans and fellow players, not just for his incredible athletic abilities but for his undeniable charm. He easily achieves a high reach and engagement rate with his audience.
As one of the top sports influencers today, Virat has 210 million followers on Instagram (notable for being the first Indian superstar to reach and surpass 100 million followers on the platform), with equally impressive follower counts on both TikTok and Twitter. On social media, he shares photos of his Bollywood actress wife, new wellness tips, and engagement posts like those featuring his own lifestyle brand called one 8world.
Virat has other partnerships with big brands like Valvoline, Audi, Puma, among others.
Serena Williams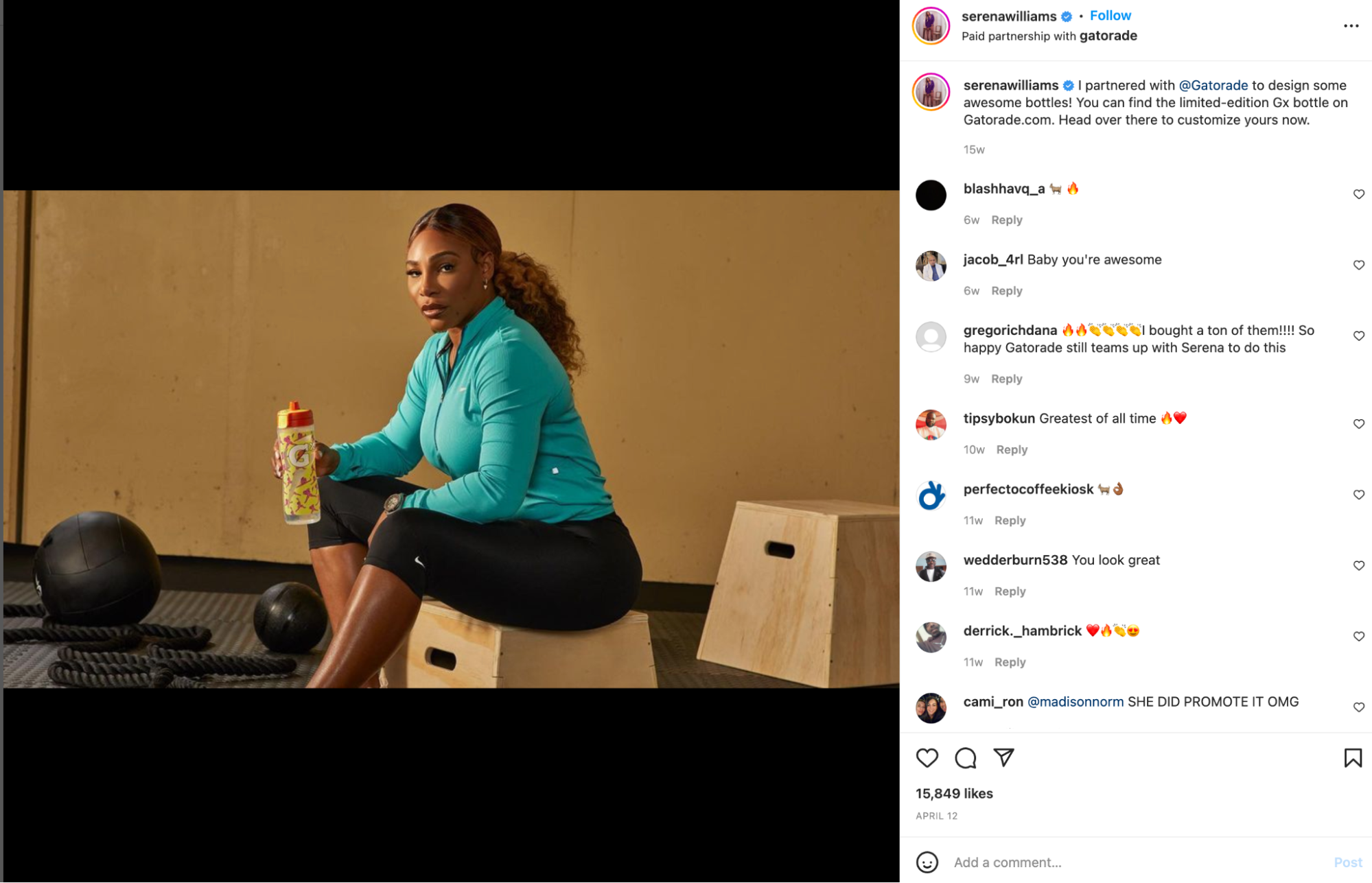 Source: @serenavilliams
When anyone utters the phrase "top powerful female tennis players," all minds point to Serena and Venus Williams. The sisters have played a significant role in elevating female sports in general. Their athleticism and determination make them huge influences on everyone but particularly young girls hoping to pursue sports.
The younger of the professional athlete pair, Serena, has been more engaged with content on social media. Her following continues to rise. The popular top influencer has an audience of 15.1 million on Instagram and 10.6 million followers on Twitter. Serena uses her voice and following on social media to educate people on injustice, sexism, and racism.
Serena is among one of the most marketable athletes with a long list of collaborations with brands. She endorses Wilson, Pepsi, Beats by Dre, Nike, Intel, Delta Airlines, and Aston Martin.
David Beckham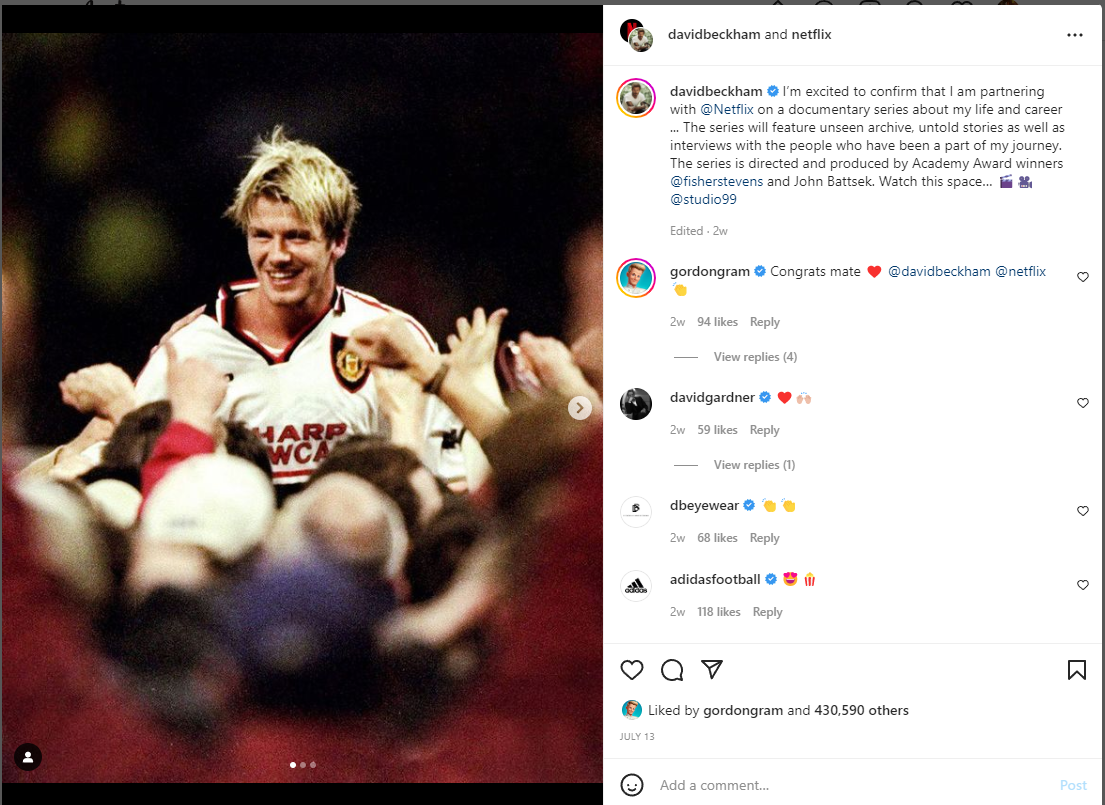 Source: @davidbeckham
Now a household name, David Beckham is perhaps less known as one of the top footballers today and more world famous for his personal life.
David Beckham started his career as a professional soccer player in 1992 with the Manchester United team. His sports stardom rose throughout the '90s with his continued United soccer success. Still, it grew exponentially after beginning his relationship with Victoria Beckham, also known as Posh Spice, in 1997. The power couple has become fashion icons since getting together then tying the knot in 1999.
One of the biggest sports influencers today, David's influence has expanded into various industries beyond the top sports world. He has established numerous brands of his own like Beckham Brand Holdings, Footwork Productions, DB Ventures, multiple fragrance names, and House 99 — his grooming product line. The influencer marketing master is also endorsed by Adidas, H&M, Pepsi, Emporio Armani, among other brands.
David's social media following includes sports fans, fashionistas, and simply those who enjoy photos of the star modeling briefs. His engaging content has earned the United soccer player approaching 100 million Instagram followers.
Yoga With Adriene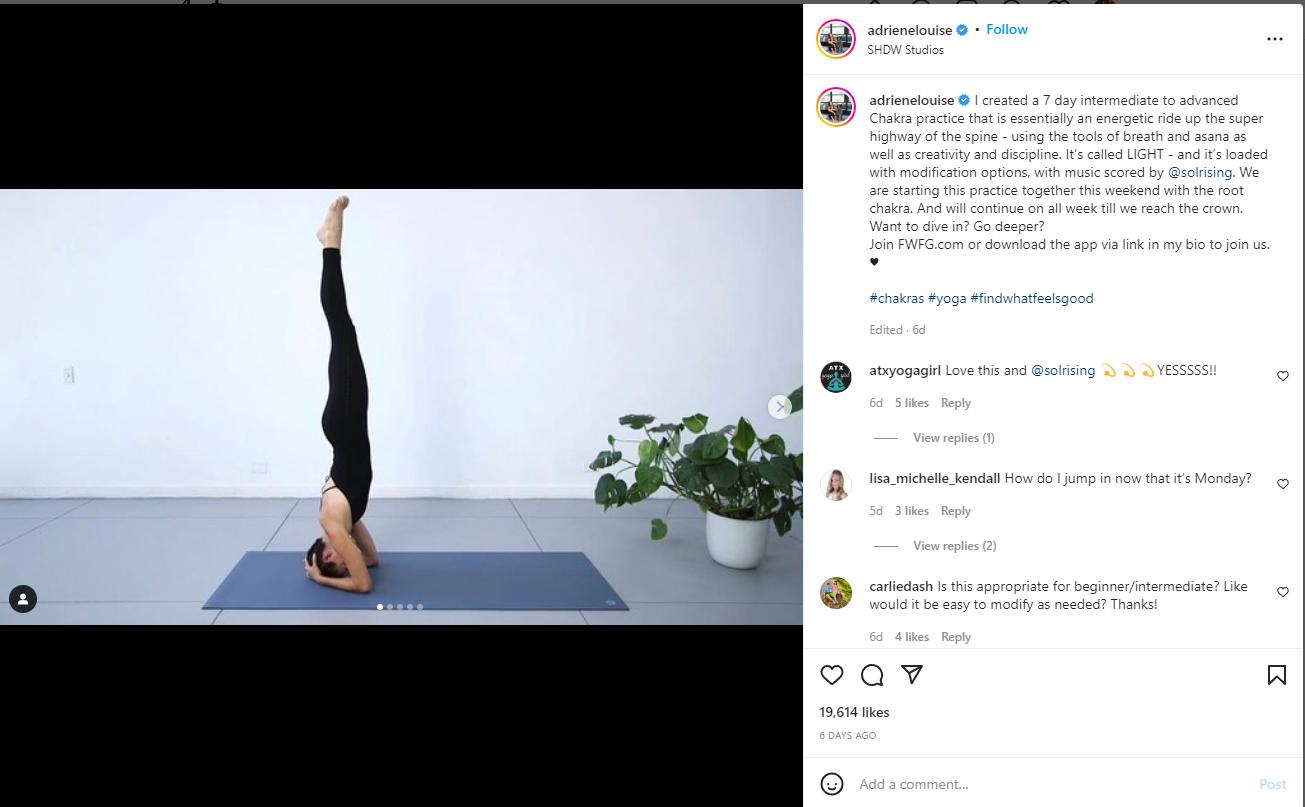 Source: @adrienelouise
Started by a yoga instructor, Adriene Louise, Yoga With Adriene began as a YouTube channel with video tutorials and instruction. Now, it boasts millions of followers who seek high-quality teaching and opportunities to elevate their health and wellness. She shares teaching videos, yoga channels, and skill-based lessons for beginners and advanced yogis alike.
One of the aspects of Adriene's channel that makes her unique is her dog, Benji, who often joins in during her sessions. She currently has 1.2 million followers on Instagram, 11.3 million followers on YouTube, and a line of yoga courses and videos available on her website.
Kate Ormerod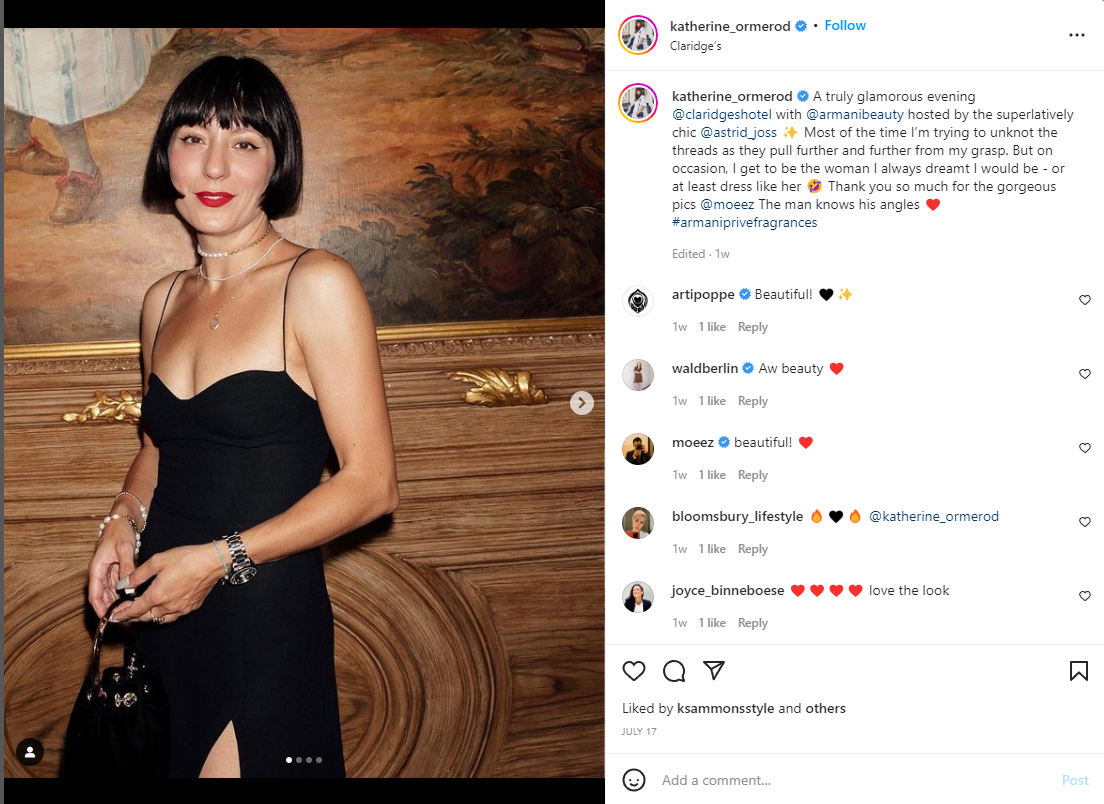 Source: @katherine_ormerod
British professional snowboarder Katie Ormerod has been in the spotlight since she was 16. After participating in the Pyeongchang 2018 Olympic Games, Katie Oremerod was then selected for the 2022 Olympics in Beijing. She has many other awards and accolades to her name, including The Big Air World Cup in Moscow and the bronze medal in the Women's SlopeStyle at the Winter X Games XXI in Aspen. She;s also the first female snowboarder to land the double cork 1080, one of the most competitive maneuvers in the sport.
Katie Oremerod is a Red Bull-backed athlete with an ever-growing follower count on her social channels. She has nearly 70k followers on Instagram, 12.8k followers on Twitter, and nearly 10k followers on TikTok.
Elliot Burton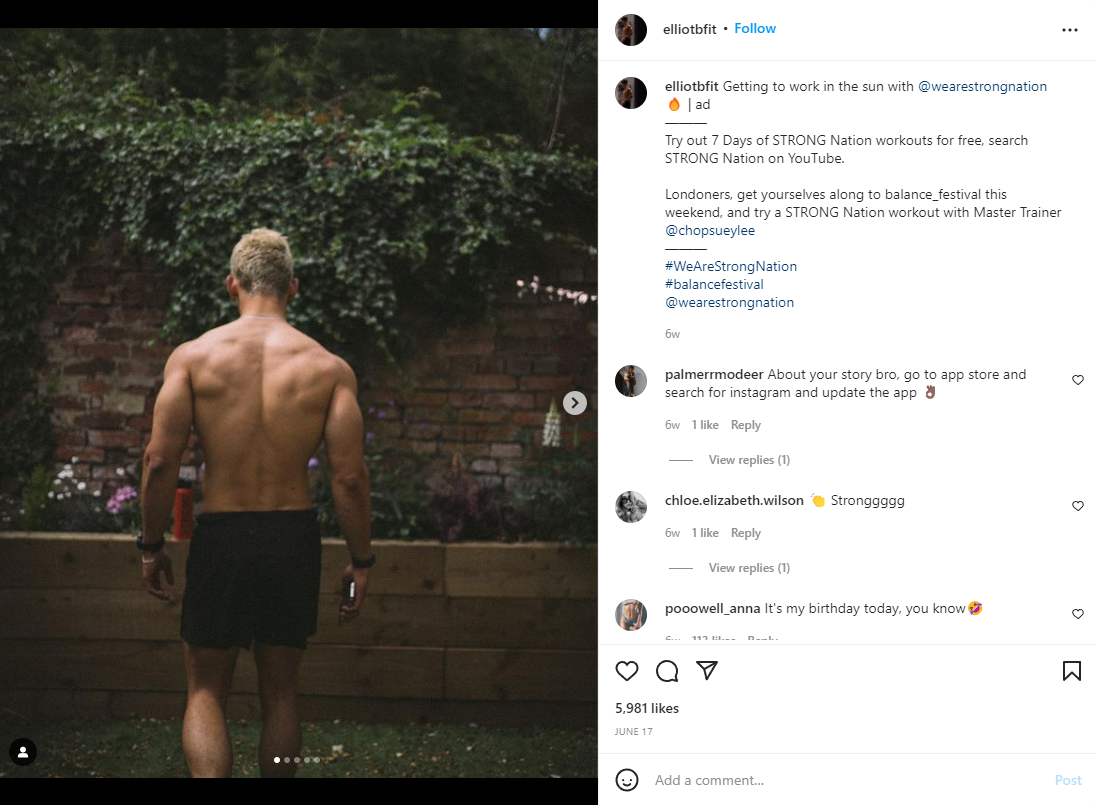 Source: @elliotbfit
Bodybuilding and weightlifting coach Elliot Burton is a popular sports influencer with a considerable following on social media. Along with his workout routines, he shares details about his personal life and thoughtful reflections on racism and inequality. His brand has a variety of fitness products, including a free downloadable training and nutrition ebook, a Spotify playlist, and a fitness app, Level Up.
With almost 650k followers on Instagram, nearly 45k followers on YouTube, and over 2 million views for his video content, Elliot Burton is a mainstay in the fitness and bodybuilding community.
Athletic Brands Can Level Up with the World's Top Sports Influencers
Sports influencers are among the most powerful voices on social media, not just in the sports world, but for activism and advocacy. Athletic brands, as well as brands in other industries, can benefit from top brand partnerships with the help of a skilled influencer marketing agency like HireInfluence.