With the Metaverse and virtual-reality games, humans are increasingly interacting with virtual personalities in the digital space. The newest wave is virtual influencers – online personalities that are serving the influencer marketing space.
Virtual influencers are becoming a force to be reckoned with. They can do anything a human influencer can do, but they have more control and engagement. In fact, virtual influencers have the potential for three times the engagement rate of a human influencer.
What Is a Virtual Influencer?
By definition, virtual influencers or computer-generated influencers are fictional, computer-generated "people" with realistic characteristics, features, and personalities that mimic humans. These characters are designed to simulate human qualities and a unique personality, along with realistic biases and quirks.
The criteria for virtual influencers include:
A computer-generated model
Resemblance to a human persona
The ability to affect people's decisions
In this respect, most any virtual character people enjoy, relate to, or listen to could be considered a virtual influencer, including video game characters or animated characters. If the character is created using software, acts and feels human, and affects people's decisions, it could be considered a virtual influencer.
The intent behind virtual influencers is to replace human counterparts and remove the limitations of a live person.
Benefits of Virtual Influencers
There are several benefits virtual influencers have over human ones, including:
Infinite Reuse
Virtual influencers were created – in part – to cut back on marketing costs. These virtual personalities are simply a new iteration of the automation trend. They don't need to be paid and only cost money to create, they don't age, and they can be infinitely reused as an effective marketing tool.
Enhanced Omnichannel Marketing
Creators can manipulate virtual influencers however they choose. Unlike humans, the actions of virtual influencers can be optimized to fit the creator's goal. With a celebrity or human influencer, it's a two-way conversation and collaboration between creative minds.
For example, an influencer may object to promoting certain content, supporting a product they don't agree with, or attending live events. Virtual influencers don't have a personal agenda, only the one that's programmed. They're always willing, never get tired, and can be "present" in multiple places simultaneously. All of these advantages drive user engagement and retention.
Less Controversy
When brands are connected to influencers, the relationships reflect strongly on each other. While this may be true of all influencer relationships, it's more pronounced with public figures or celebrities.
For example, if a celebrity gets negative press over something controversial, any brands affiliated with them may also receive some public backlash.
With virtual influencers, there's little risk of controversy. Any publicity efforts are planned by their creator and any news is intentional, so they're not acting on their own. Creators can carefully manage their image and reputation.
Drawbacks of Virtual Influencers
While there are benefits to virtual influencers, they're not without disadvantages. The biggest one is that virtual influencers can't truly substitute the human experience. Humans want to connect with other humans, and though they may enjoy a virtual influencer, it can be a problem if the CGI nature of the influencer isn't disclosed.
Some virtual influencers are easy to identify as such, but others may not be. Children, young teens, and elderly people who are less tech-savvy may not be able to tell that they're virtual, creating issues with credibility and trust.
Virtual influencers can also create ethical dilemmas. These characters can't taste, touch, smell, see, hear, or otherwise experience anything, so endorsement of some product is essentially false advertising.
For example, virtual influencers can't endorse food products or skincare products. Anything they claim to experience isn't real, which could be misleading to customers.
What's Next for Virtual Influencers?
Virtual influencers are proving successful, especially as machine learning and artificial intelligence gets more advanced. These digital avatars can represent the identity of real humans in a virtual environment, such as social media or the Metaverse.
For brands, virtual influencers offer a way for them to anthropomorphize themselves and connect better with their audiences. In the Metaverse, real people interact with other real people through their avatars, which can now be done using virtual influencers.
In this respect, it's not that different than interacting with a brand mascot, which is a multidimensional character with a real persona and values. With virtual influencers, brands have a human-like mascot and the ideal ambassador that's tailored to the audience and community.
Top 10 Virtual Influencers
There are several virtual influencers leading the charge in this new wave of influencer marketing.
1. Lil Miquela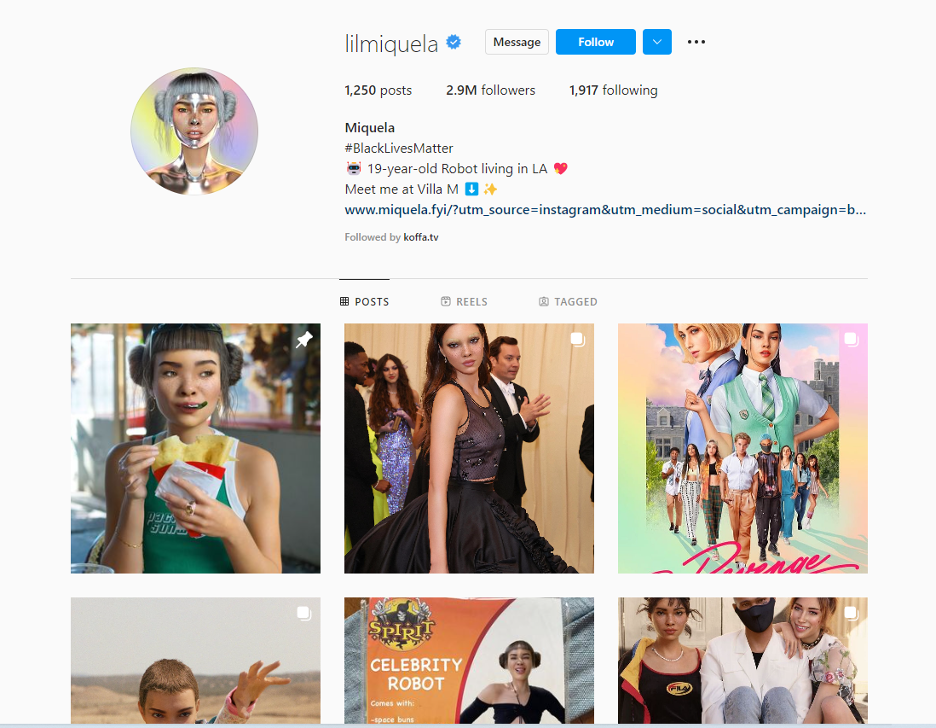 Source: Instagram
Half Spanish, half Brazilian, Lil Miquela is arguably the first virtual influencer. The 19-year-old avatar comes from an LA-based startup, Brud, that specializes in artificial intelligence and robotics.
Lil Miquela racked up 2.9 million followers on Instagram, where she shares her latest fashion looks, new music, and more. She's a collaborator with Samsung for the #teamgalaxy campaign and paired up with Bella Hadid for a Calvin Klein advertisement.
2. Shudu
Shudu is a virtual influencer created by Cameron James-Wilson. She looks extremely realistic, leading some to believe she was a real person when she first appeared on Instagram. In fact, Rihanna's brand Fenty Beauty didn't know if Shudu was a real person, but still shared her content.
Now, Shudu has over 185,000 followers and works with the digital supermodel agency TheDiigitals.com. She's also a model for the luxury brand Balmain.
3. Bermuda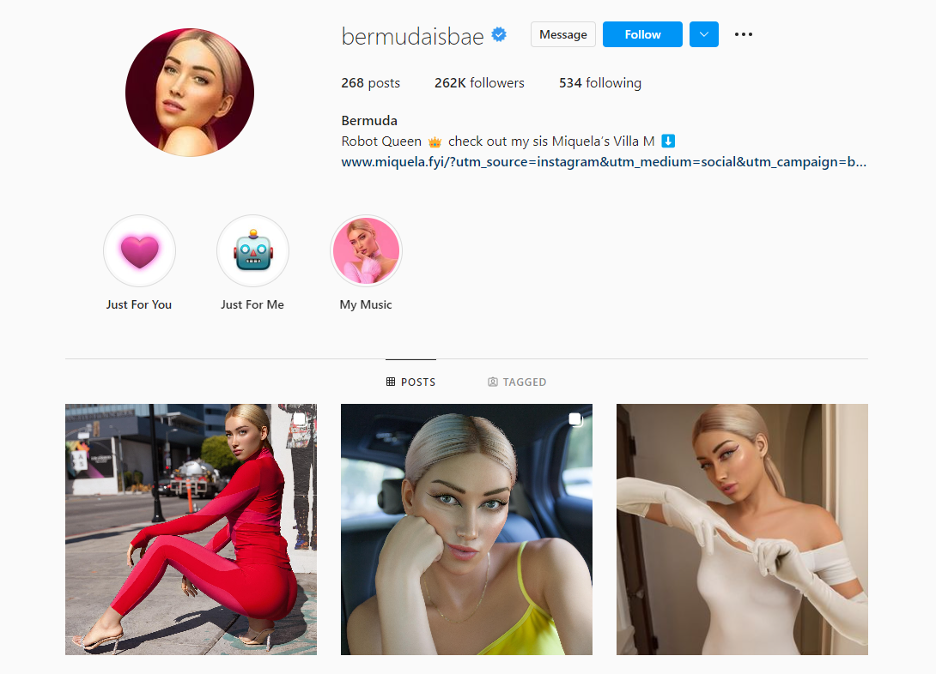 Source: Instagram
Bermuda is a controversial virtual influencer thought to be created by Cain Intelligence, a leader in machine learning and artificial intelligence. Once a Trump supporter, Bermuda has shifted her political views.
Another controversial aspect of Bermuda is that she trash-talks fellow influencers, which gave her over 250,000 followers on Instagram. She also had a relationship with fellow influencer Blawko, though they're no longer together.
Bermuda is represented by the same PR company that handles the press for Grumes and Frank Ocean.
4. Blawko
Like Lil Miquela, Blawko is a creation of the LA-based Brud and branded as a "young robot sex symbol." He promotes streetwear style and wears a mask that covers half of his face, giving him some mystery.
Another popular aspect of Blawko is his on-again/off-again relationship with Bermuda. Recently, Blawko's fame skyrocketed with his own YouTube channel, a DJ set on NTS Radio, and online interviews.
5. Imma
Imma is a virtual influencer and model created by the Tokyo-based computer graphic company Modeling Café. She has a unique style that attracts her nearly 80,000 followers, especially with fashion.
Though she's computer generated, Imma has been featured on the cover of computer graphics magazine CG World. She's still popular online and has been featured in several articles about virtual influencers.
6. Lu do Magalu
Lu do Magalu is one of the most followed virtual influencers. Currently, she has the most visibility in the world with over 14.6 million followers on Facebook, 6 million followers on Instagram, and 2.6 million YouTube subscribers. Her fame is primarily in Brazil, which is where she came from over a decade ago.
Her first appearance was on the behalf of Magazine Luiza, a massive retail company in Brazil, to market iBlogTV on YouTube. She's still featured in product reviews, unboxing views, and other content.
7. Barbie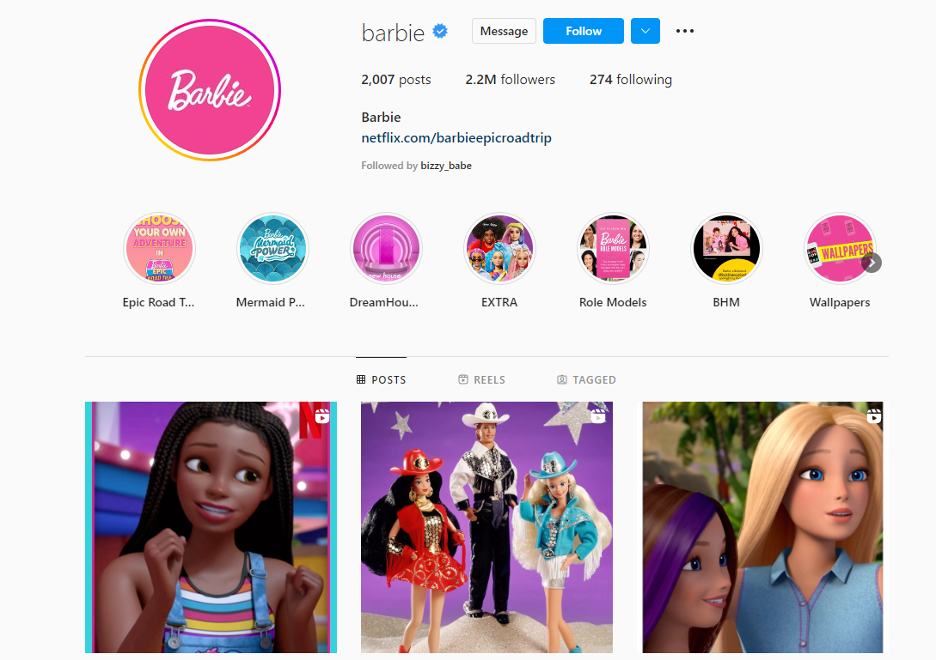 Source: Instagram
Being around since the 1950s, Barbie needs no introduction. As expected, the doll was revamped into an avatar to dazzle fans online and reach younger audiences. Barbie's biggest following is on Facebook, but she also has big audiences on YouTube and Instagram.
Overall, Barbie has 2.2 million followers on Instagram, 10.9 million subscribers on YouTube, 305,000 followers on Twitter, and over 440,000 monthly listeners on Spotify.
8. Guggimon
Guggimon is an avatar from Superplastic, the world's leading creator of animated synthetic celebrities. This creepy bunny features content related to the horror genre, describing himself as a fashion horror artist and mixtape producer with obsessions: handbags, axes, designer toys, Billie Eilish, and The Shining.
Originating in Montreal, Canada, Guggimon made his first appearance in 2019. He's one of Steve Aooki's hype stars and joined the famous DJ on the Color of Noise tour.
9. Knox Frost
Knox Frost is a top male virtual influencer on Instagram. The digital personality is a 20-year-old from Atlanta and currently boasts over one million organic followers.
One of the keys to Knox Frost's success is that he takes care of his community. Most of his audience is US men in their 20s, but he does have a high number of women in his audience.
10. Any Malu
Any Malu is a fully animated virtual influencer with global recognition. She first originated in Brazil and made her appearance in 2015, growing from a YouTube star to a transmedia celebrity.
She now has over one million fans across Facebook, Twitter, TikTok, and Instagram. Her videos receive hundreds of millions of views and she even has her own TV show on Cartoon Network.
Virtual Influencers Are the Mainstream Future
Humans already idolize fictional characters in video games, movies, and TV shows, laying the groundwork for virtual influencers. Pop culture personalities and virtual personalities have a lot of overlap, so it's likely that virtual influencers will become mainstream in the near future.