busy summer, especially for tech giants X, Meta, and Google. From platform updates to new regulations to growing competition, social media platforms are at the forefront of the news cycle this month. Here are the biggest news stories for August in influencer marketing and social media.
Meta Is Working on Chatbots with Varied Personalities
Meta's next phase of generative AI features will include AI chatbots that can communicate as over 30 different personas. These features will be available for different aspects of Facebook, Messenger, and Instagram. Some of the personalities include historical figures like Abraham Lincoln and character archetypes like tourists. These AI initiatives were one of the goals for Meta chief Mark Zuckerberg. In February, he announced a new "top-level product group" involving AI tools. Along with the chatbots, Meta is developing visual creation tools for Instagram and text assistants for WhatsApp.
YouTube Adds More TikTok-Like Options for Shorts
Shorts consumption is on the rise on YouTube as the platform aims to take on TikTok head-to-head. There are new TikTok-like features for Shorts, including a Collab feature that enables users to record a short in a side-by-side format with other YouTube or Shorts videos – just like TikTok Duets. YouTube is also rolling out a new Q&A sticker that enables users to prompt a direct response from viewers within the Shorts stream for more engagement. Another change is the vertical orientation, which directly imitates TikTok's format.
Snap Launches a New Initiative to Reward Top AR Creators
Snapchat is still a social media contender when it comes to AR development. The platform announced a new funding program for AR creators, which will foster the next wave of digital creatives in its apps. The Lens Creator Rewards program will "celebrate the most creative Lenses" with funding for the best-performing innovations based on engagement metrics.
YouTube Tests AI-Generated Video Summaries in-Stream
YouTube is getting into the generative AI game. With AI-generated video summaries that are designed to help users better understand the context of clips, Google is leveraging its existing AI tools in a practical way to improve the user experience.
Pinterest Reports Slowing User Growth in Q2
Pinterest has published its Q2 2023 performance update, which may spell trouble for the platform's growth. However, Pinterest added 2 million more users in Q2, bringing its total to 465 million monthly active users. That's the slowest growth of the year, but it is growing – especially after the stagnation during the pandemic.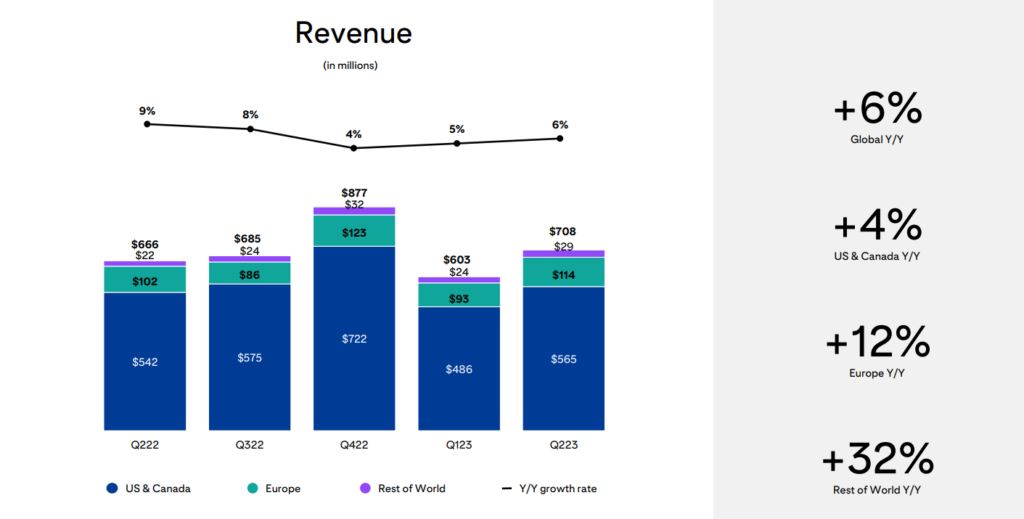 Source: Pinterest
Meta Launches New Open-Source Process for AI Music Creation
Another AI initiative for Meta is a generative AI project for music, dubbed "AudioCraft," that allows users to create new music based on text prompts. The new system relies on Meta's MusicGen system, which was previewed in June, and AudioGen, a sample set. The technology has been trained on Meta-owned music samples and public sound effects, offering a wide range of results.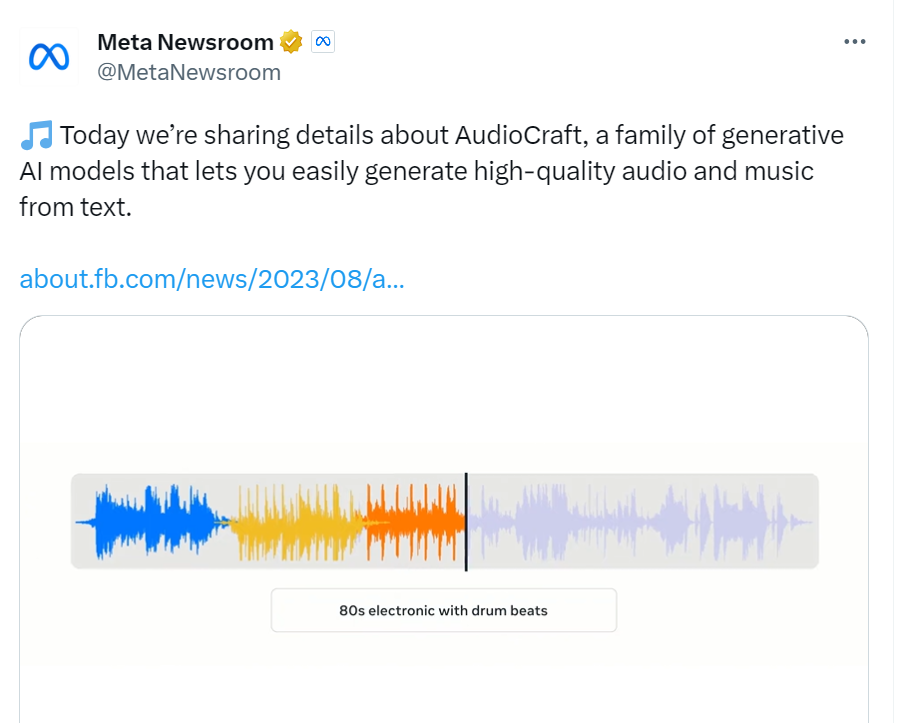 Source: X
X Improves Creator Subscriptions and Offers Greater Revenue Share
X CEO Elon Musk announced an expanded revenue opportunity for creators that activate subscriptions in the app. X will now take less of a cut from the subscription revenue over time in order to feed more back to the creators. According to Musk, while the previous setup was X keeping nothing for 12 months, then 10%, the new plan is that X keeps nothing forever, until payout exceeds $100k, then it will take 10%.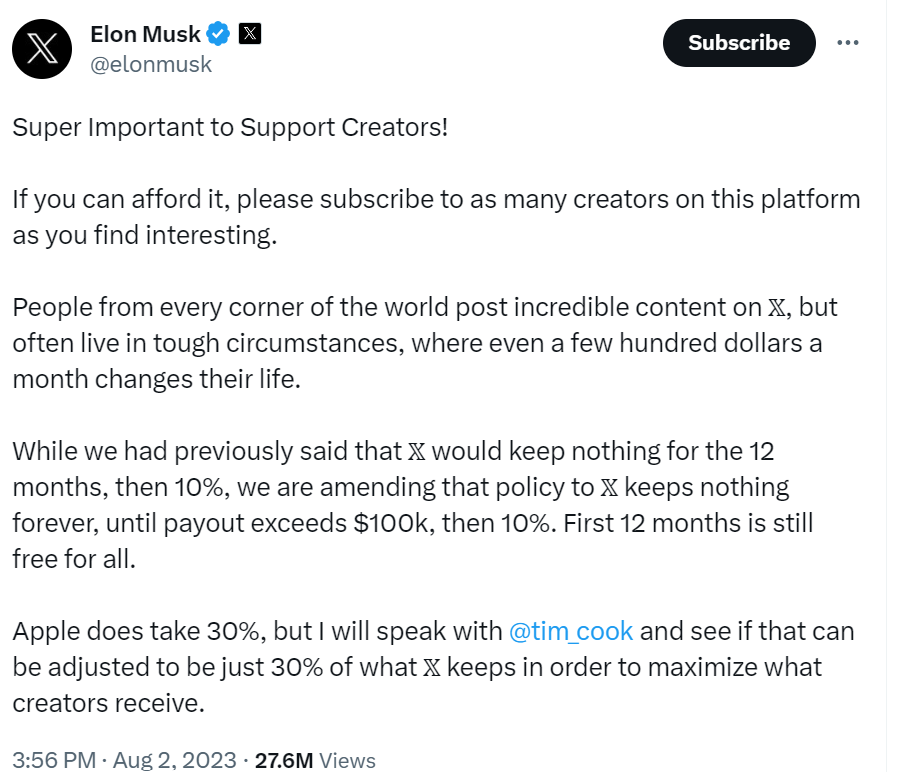 Source: X
Meta Is Facing Backlash Over Revenue Share Payments Error
Meta is in hot water with short-form video creators after payment notifications for the Music Revenue Sharing program, which allows video creators to earn a share of in-stream and revenue from their Reels on Facebook that contain licensed music, informed them of massive payouts that turned out to be an error. Meta fixed the glitch, denying creators those payments and letting them down.
X Continues to Update Ad Formats to Make Them Appear Native
X recently changed its ad disclosure indicators, removing the Promoted tag at the bottom and including a much smaller Ad marker at the top. An in-image URL also replaced the lower CTA bar for a more seamless design. This is an effort to make ads appear more native and in-stream, but it could lead to users clicking on more promotions unwittingly – driving up ad spend.
Meta Continues to Add More Threads Features as App Growth Slows
After skyrocketing sign-ups, Meta's new Threads platform has significantly slowed. The app suffers from a range of problems that affect engagement, including a lack of regional availability and limited functionality. It's been hovering around 120 million total sign-ups, showing a slowdown in growth of about 90% since its launch. Zuckerberg is still optimistic that adjusting the algorithm to improve engagement will give Threads staying power.
LinkedIn Adds New Ways for Job Seekers to Highlight Skills
LinkedIn is offering more features to support job seekers and help them highlight their professional skills. The About section has a new element that allows users to tag up to five of their top skills to capture the attention of employers. The platform also added functionality for media-rich content in the Projects section, allowing users to tag projects with skills and showcase their expertise in different ways. Finally, LinkedIn is updating the Credentials feature, which allows users to tag a skill against a particular credential. This will also update the Recruiter platform to highlight projects that people have worked on using those skills. These features are ideal for grabbing the attention of busy recruiters as they sort through applicant lists.
YouTube Added a New Report to Break Down Channel Performance by Format
YouTube announced a new report in the YouTube Studio feature that displays the number of new and returning views by content format within channel insights. The main driver for this feature is likely YouTube Shorts, which is the fastest-growing content format in the app. Source: YouTube In this example, the Analytics > Content > All section shows a quick overview of total new, returning, and subscribed viewers by format type. This is a vital tool for brands and influencers to see how each post is performing.
Instagram Tests Collaborative Posting Options
Instagram is experimenting with a new option that will allow users to add their own images and videos to an existing post. This feature has the potential to encourage direct collaborations in the app. Users can submit their own addition for consideration, which will then be approved by the creator for shared experiences.
WhatsApp Adds Support for HD Images
WhatsApp is adding support for HD photos in-stream. Users can choose whether they upload in regular or HD quality to have better control over their content. This is a helpful feature for users in low connectivity situations or on data plans. They can choose to upload in higher quality while still enabling normal image sharing.
YouTube Looks to Add Protections for Musicians in Generative AI Use Cases
YouTube has a new program to better manage the use generative AI in music content. It's also evolving its Content ID policies to take into account new generative AI use cases, including replicas and remixes based on AI likenesses. This is likely in response to the launch of a convincing generative AI track that featured the voice of Drake, which was powered by an AI tool. This prompted some in the music industry to protect their copyright.
Meta Announces Initial Launch of Threads Web App
Meta rolled out the Threads web app in the middle of the month to give users an opportunity to view, post, and engage with Threads posts from their desktop. Though it will only be available to some users initially, once they're logged in, they can access their Threads feed and post to the app.
EU Users Will Be Able to Opt Out of Algorithmic Sorting on Facebook and Instagram
Meta is bringing new measures to comply with the soon-to-be-enacted EU Digital Services Act (DSA), which will expand control and transparency measures for European social media users. The DSA is designed to allow social media users to manage their online experience and their personal data by accessing an algorithm-free experience. By extension, The DSA will facilitate more competition in the space as regulators "peek behind the curtain" of large platforms.
Reddit Rolls Out Enhanced Ad Targeting Tools, Including Related Keyword Suggestions
Reddit is refining its contextual keyword targeting ad process with new suggested terms to enhance user reach and more interest categories to home in on audience interest. The main addition is keyword suggestions, a new listing of AI-recommended topics that are aligned with chosen keywords. These recommendations are based on machine learning, which groups keywords based on their usage on Reddit.
Preparing for the Holiday Season
With summer coming to an end and social media competition heating up, social media platforms are adding or revising features to improve functionality and engagement. Holiday campaigns are just around the corner, so it's important for influencers and brands to understand what updates are on the horizon and how to adjust marketing strategy.