Everyone who's anyone attends the Coachella Valley Music and Arts Festival – colloquially known as Coachella. Or at least, that's what some influencers would have the world believe.
The annual music and arts festival held in the Coachella Valley of the Colorado Desert has become this generation's Woodstock and one of the largest and most famous music festivals in the world. It's a trendsetter for music, art, and fashion, and by extension, a massive commercial opportunity for brands and influencers alike.
However, according to media personality Loren Gray, influencers are faking their attendance to the "Influencer Olympics." But why? And how?
Who Is Loren Gray?
Loren Gray is a social media influencer who rose to fame as a TikTok creator back in 2016. She was 13 at the time, but she's since become one of the most notable creators on TikTok and the most-followed individual on the platform until 2020.
She also has a beauty-focused YouTube channel and became a signed singer in 2018, making the leap from social media fame to industry fame.
What Are Influencers Faking, Exactly?
In a recent TikTok video, Loren Gray exposed the "truth" about influencers and Coachella. According to Gray, influencers fake their attendance at the annual music festival by renting Airbnbs near the site, dressing in festival gear, posting pregame videos, and posing in the desert. Then they just go home.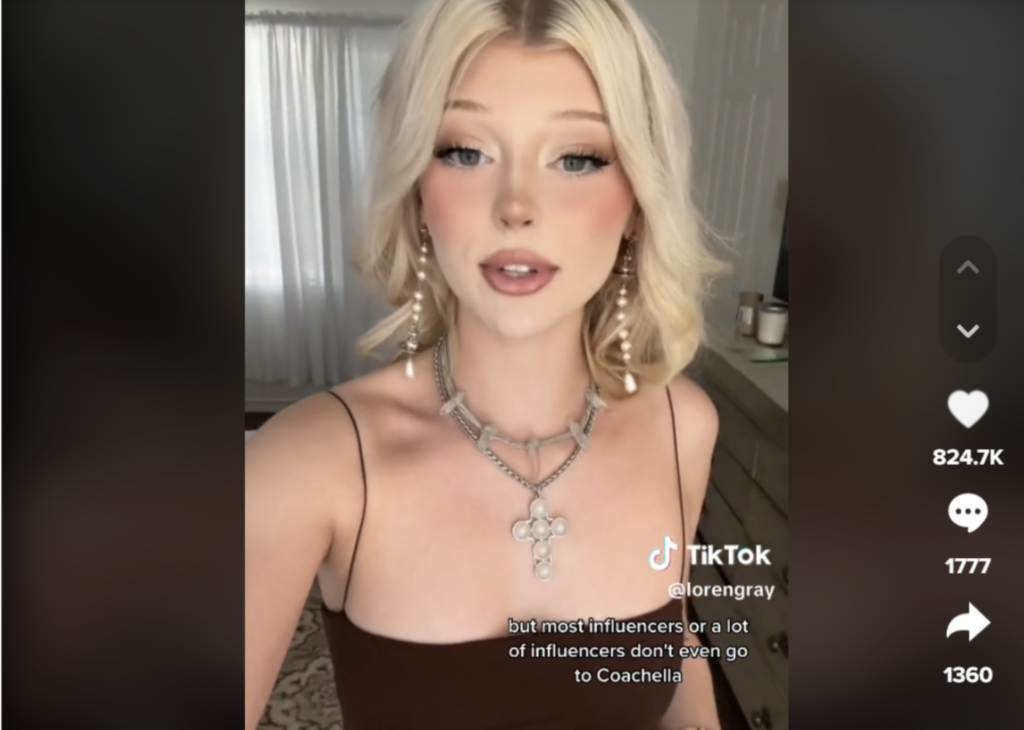 Source: TikTok
"Okay, I haven't personally seen anyone talk about this, but I think it's hilarious and I have to share it because, it's Coachella. Coachella's like the influencer Olympics, right? It's the place to be," said Gray in her TikTok video. She goes on to say that influencers just "drive their little butts out to the desert to take Instagram photos" and that's it.
Gray also added that this is "common knowledge" among influencers, but it became clear that the fans were not aware – particularly younger fans.
The "Influencerification" of Coachella
For many young people across the country, Coachella is a bucket-list experience and a chance to be on the cutting edge of music, fashion, and art before it spreads across the national stage.
Unfortunately, with the cost of lodging, airfare, and general admission tickets that exceed $500 (and could go as high as $15,000 for the weekend), it's also an experience that is difficult to access for many. Influencers focus more on their costumes, content, and general festival culture than the music or art itself – a move that is seen as privileged and tone deaf.
But influencers faking Coachella as an "open secret" is harmless, right? Maybe not.
When content creator Kensington Tillo shared that she was "too hungover" to see the shows on the second day of the festival, many of her 16 million followers were upset. One Reddit poster said that "it's irritating because so many ppl would KILL to be in her position and she's like yeah I'm gonna go home like WHAT."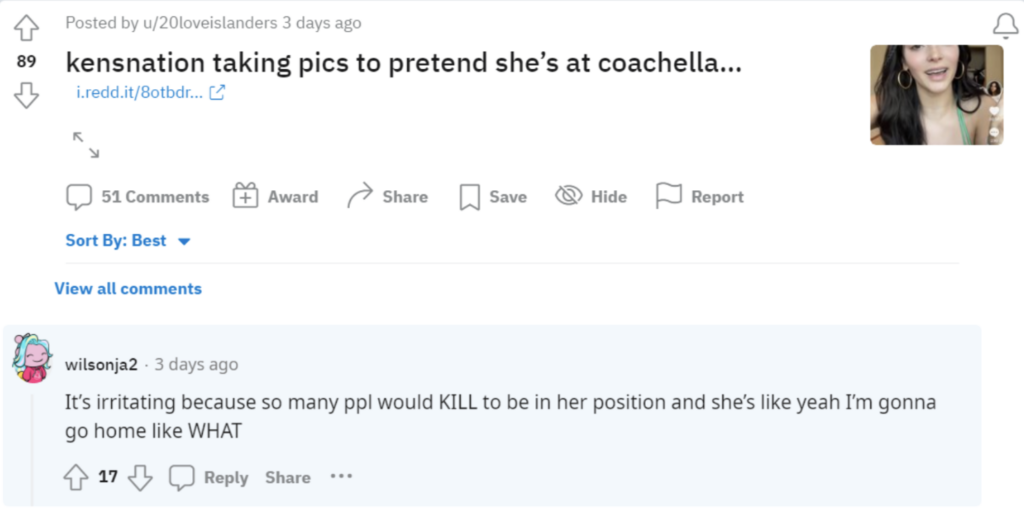 Sources: Reddit
Others saw this move as proof of Gray's opinion that influencers are faking their attendance. Tillo had only posted makeup TikTok videos, footage from inside her branded desert home rental, and other photos nowhere near the concert venues, just as Gray said.
This reflects the larger issue of "influencerification" of events like Coachella. Brands have been treating high-profile clients to these events for a decade, turning music shows and venues into more of a "selfie event" than an actual concert for music fans.
Some influencers pay out of pocket for their trip – whether they attend or not – while others have the experience comped by brands. It's possible that the influencers faking it are hoping to create viral content that leads to an all-expenses-paid trip in the future.
Regardless, most influencers are there for expensive photo ops and promotional content that can earn thousands of dollars per post, not to watch the shows. As one tweet pointed out, artists have to play for no crowds because "people only go for content."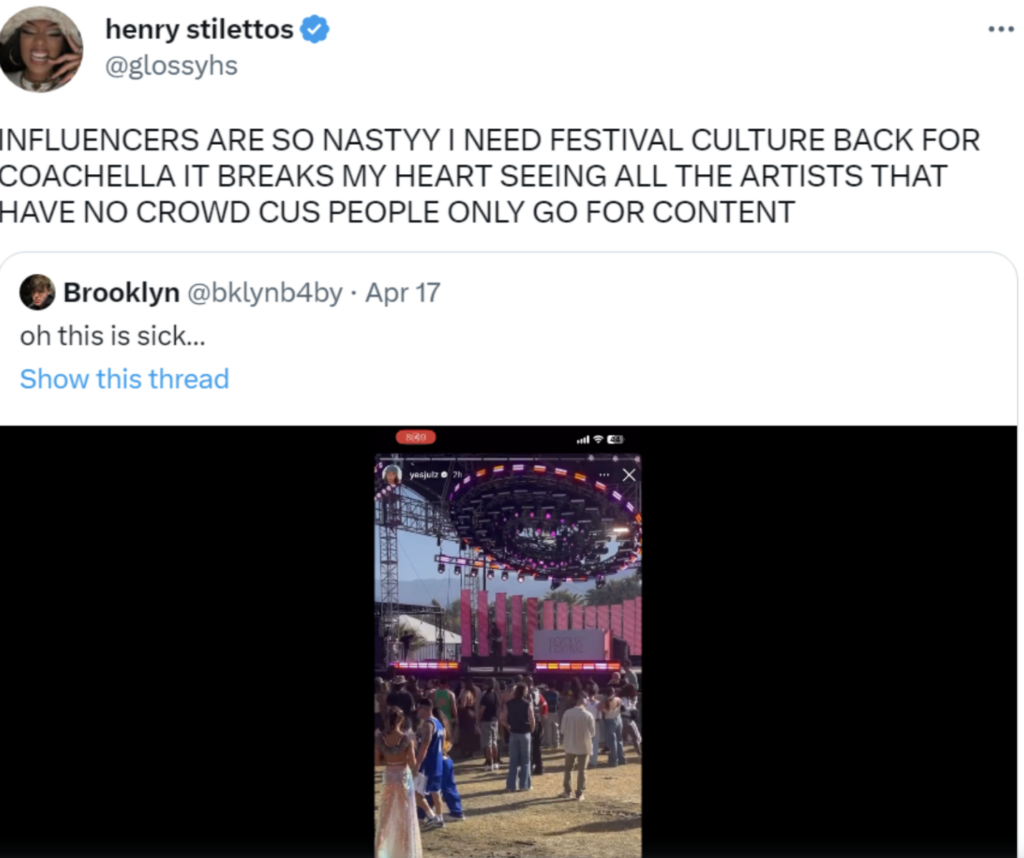 Source: Twitter
And the glamor they project belies the "unsexy" aspects of attending that those glittering photos don't depict – the cold showers, expensive food, and filthy surroundings.
When Coachella started, the ticket sales were so low in the first year that the next show wouldn't happen until 2001. It grew in popularity, attracting alternative crowds and "music nerds" hoping to discover new music.
But once brands and influencers got involved and starting catering to the tastes of Gen Z, the vibe switched from a hipster festival to an influencer and celebrity event that's more about showing off boho chic in the desert than listening to up-and-coming music acts.
What's Next for Coachella?
The open secret of fake Coachella influencers is out, whether fans knew already or not. But Loren Gray spilled the tea with a good reason. It was not to stir trouble but to give fans feeling the Fear of Missing Out (FOMO) some consolation. At the end of her video, she says," So, if you feel boring and sad because you're not at Coachella, just know that most of these people aren't there either."