The Top Fashion Bloggers You Need to Be Following For 2023
Fashion bloggers are one of the top most successful niches on social media. Beauty and fashion brands who work with top fashion bloggers through influencer marketing services build credibility with their target audience and connect with them on a deeper level.
#1 GabiFresh
Gabi is a plus-size fashion queen behind the blog, GabiFresh, and on Instagram who shares exquisite fashion tips, styles, and photoshoots with 969k Instagram followers. She focuses on body positivity and colorful looks and has collaborated with several brands including a capsule collection with Fashion To Figure.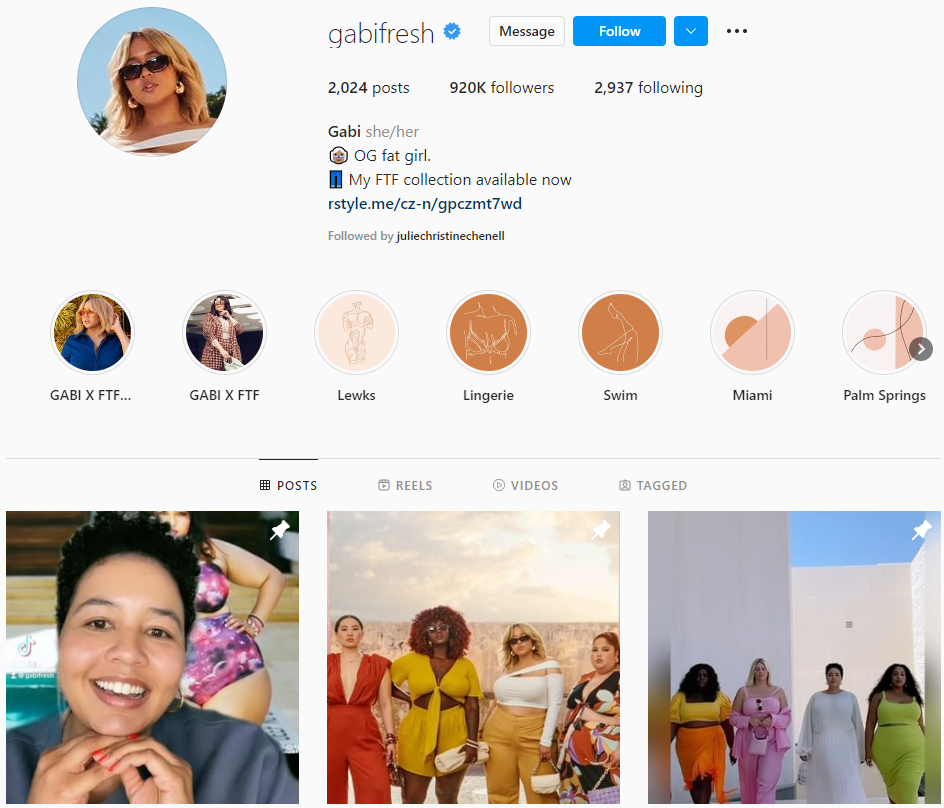 Source: @gabifresh
#2 Lisa Gachet
Lisa is a French fashion blogger and icon behind the brand, Make My Lemonade. She is a champion of "do it yourself fashion" that authentically reflects each person's individuality. Lisa shares colorful and inspiring looks with 134k Instagram followers.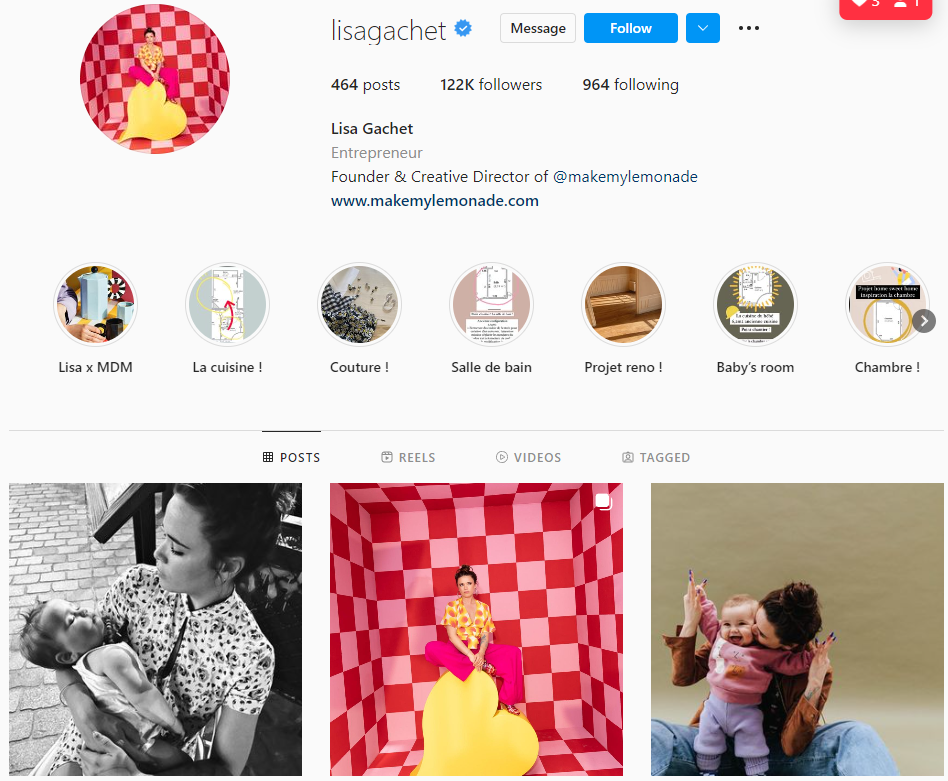 Source: @lisagachet
#3 Blair Eadie
Blar is the lady behind the Atlantic-Pacific brand that started as a showcase of her own aesthetic and now has 1.9 million Instagram followers. She is also one of 40 top fashion bloggers worldwide who worked directly with Instagram to launch their Shopping with creators. She's partnered with many brands including Amazon, Nordstrom, and Ralph Lauren.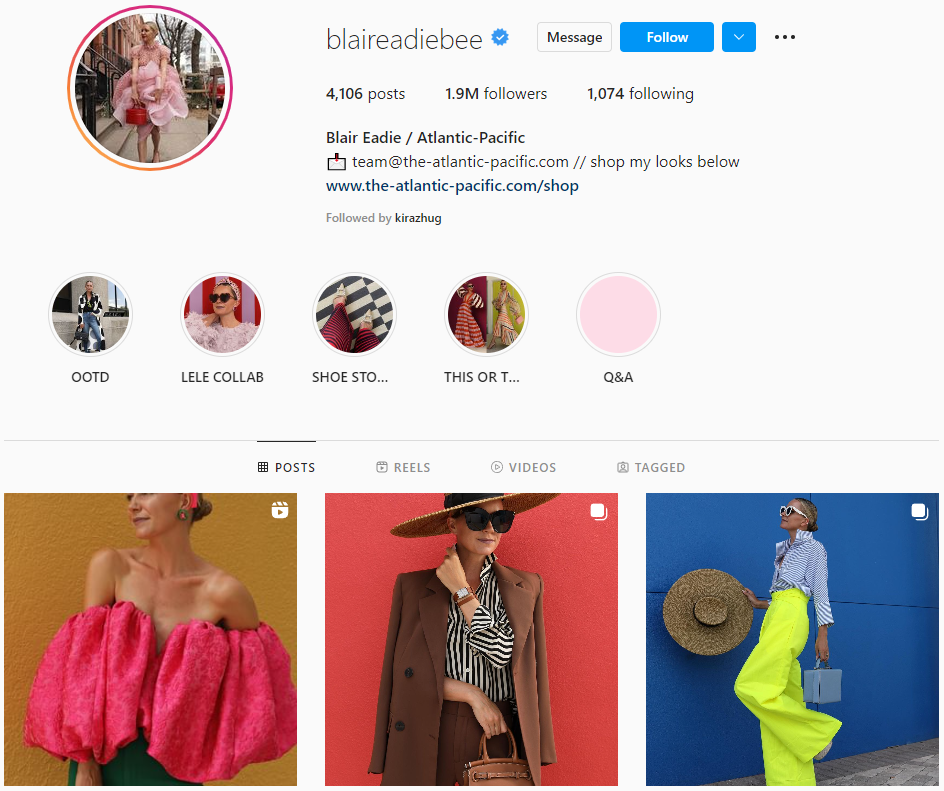 Source: @blaireadiebee
#4 Tanesha Awasthi
Tanesha is a San Francisco based plus-size fashion blogger who shares a chic and classic aesthetic with 483k Instagram followers. She has launched her own fashion label, Girl With Curves, and has collaborated with brands such as QVC and Walmart.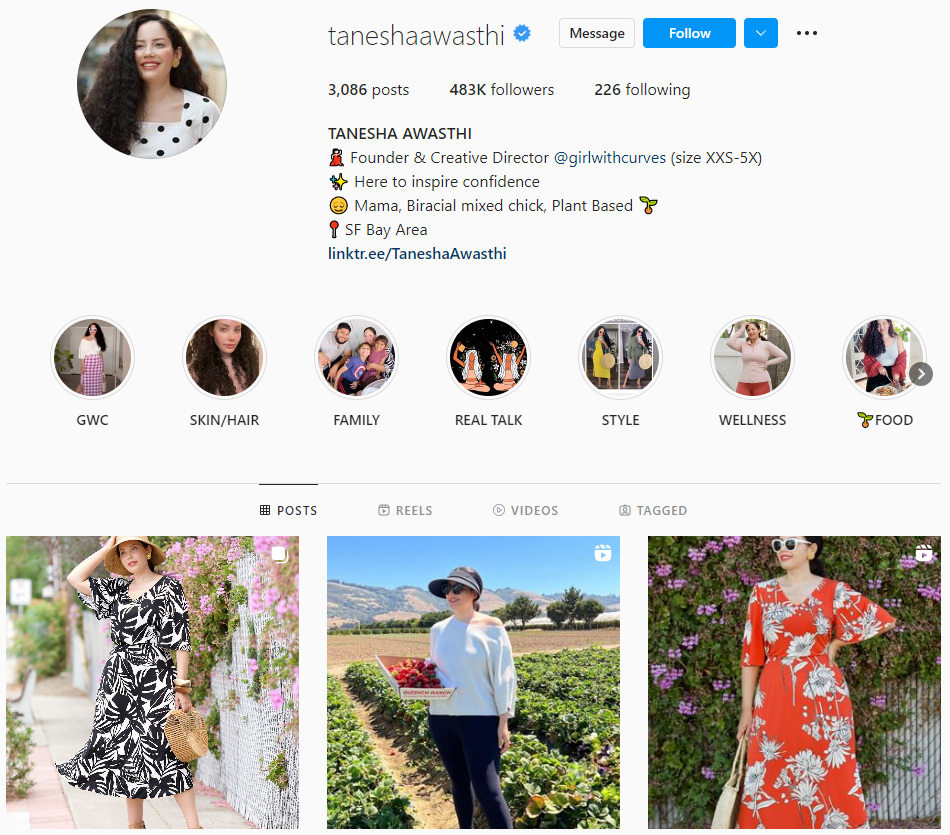 Source: @taneshaawasthi
#5 Wendy Nguyen
Wendy is the petite and stylish figure behind the fashion blog, Wendy's LookBook. A UCLA graduate and entrepreneur, Wendy also shares inspiring social justice content and a glimpse into her life as a mother.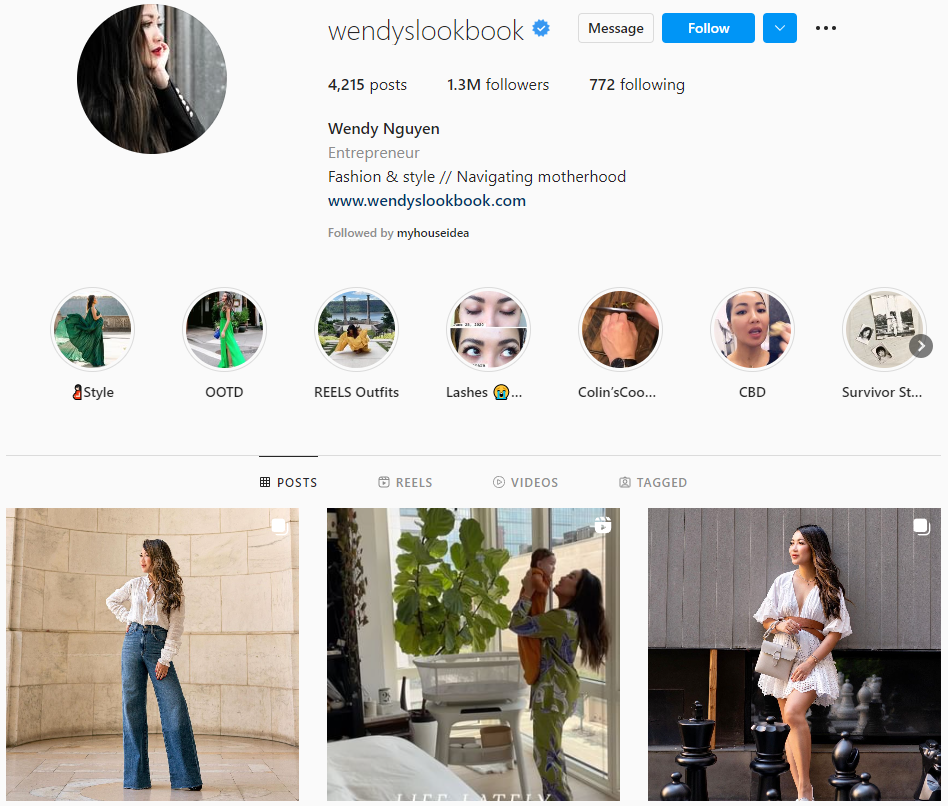 Source:@wendyslookbook
#6 Monikh Dale
Monikh is a London-based top fashion blogger, model, and contributor at Who What Wear UK. She shares everyday fashion with a distinct nod to high fashion and casual elegance for her followers. Monikh has her own blog, Monikh.com and has collaborated with brands including Mango and Comporta.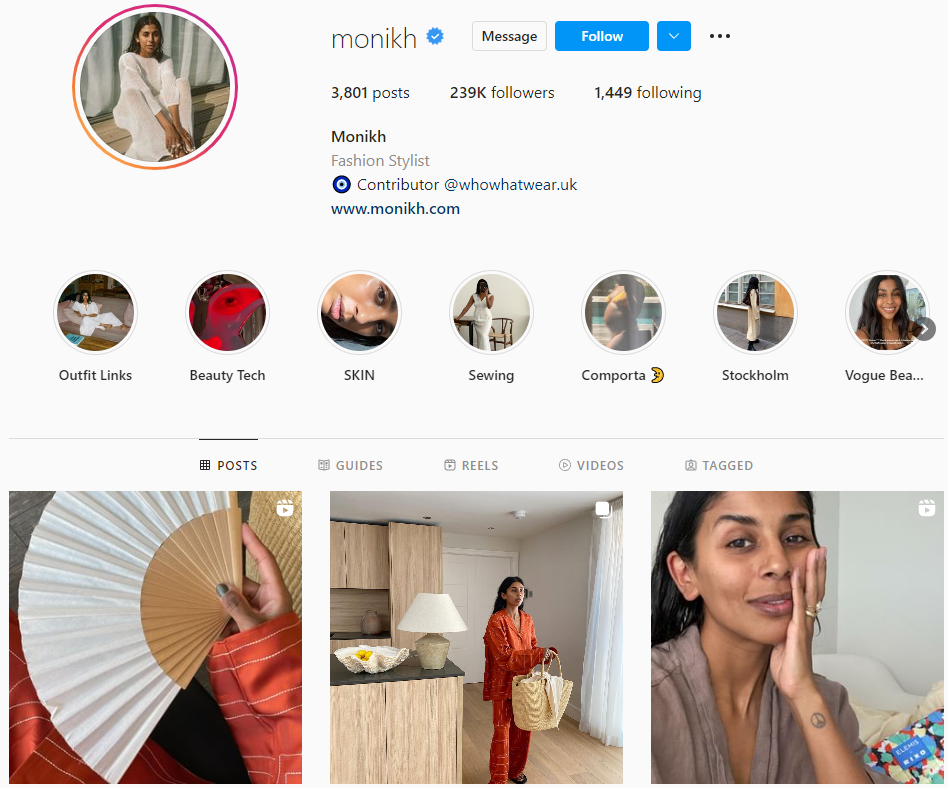 Source: @monikh
#7 Freddie Harrel
Originally from France, Freddie is of Cameroonian descent and now a top fashion blogger in London.She shares a powerfully confident and colorful style with 176k Instagram followers. Her hair care line, Rad Swan, has also been featured in Vogue and Glamour UK and she was Cosmopolitan's Influencer of The Year in 2018.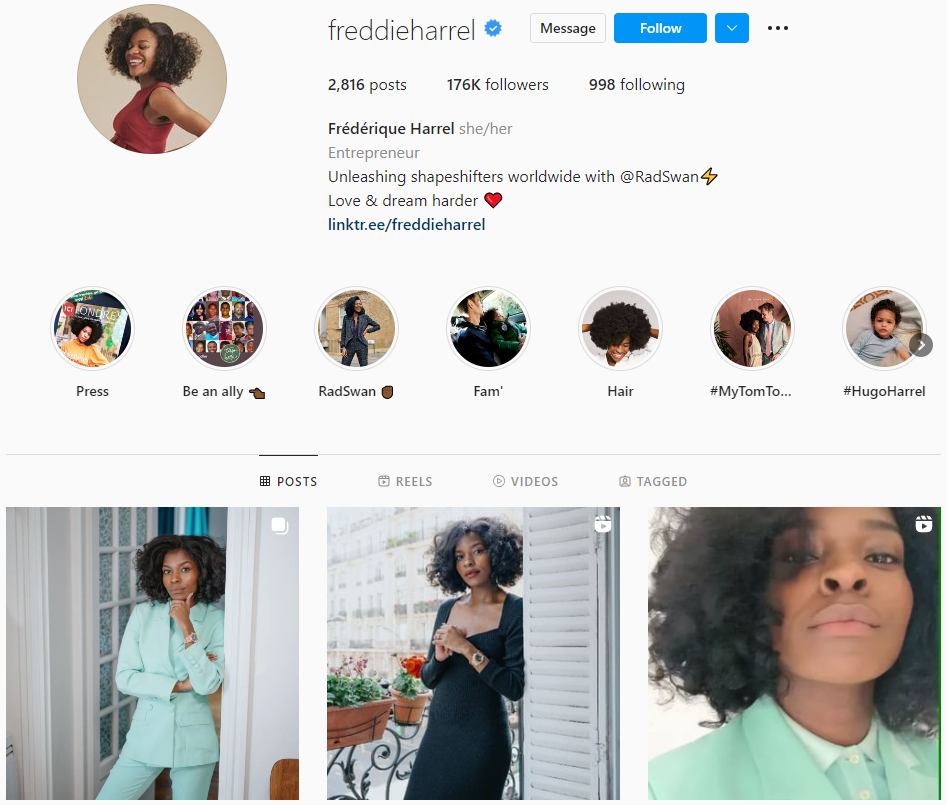 Source: @freddieharrel
#8 Kat Farmer
Kat is the face behind the account, Does My Bum Look 40 on Instagram. She's a true fashion and lifestyle blogger who is also a fashion presenter on BBC1's You Are What You Wear and the author of Get Changed. She is known for her comedic engagement and bohemian chic style.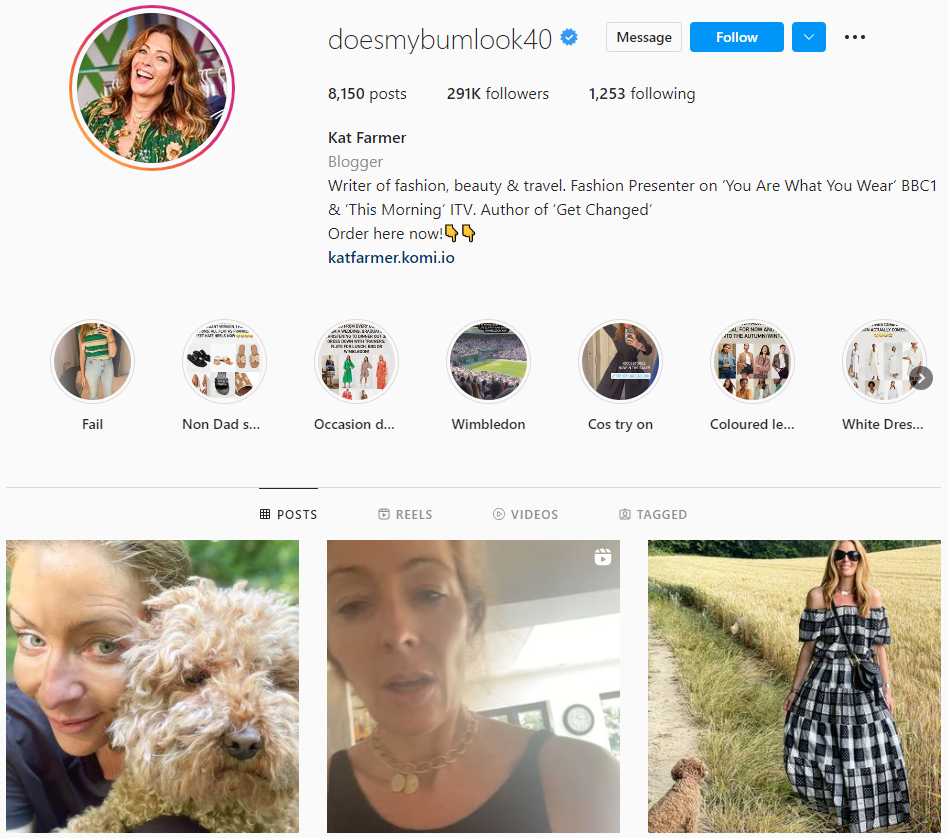 Source:@doesmybumlook40
#9 Lyn Slater
Lyn is the once "accidental icon" and mature fashion influencer. She found and filled the gap in the market for urban, modern, and intellectual fashion and has embodied the aesthetic herself.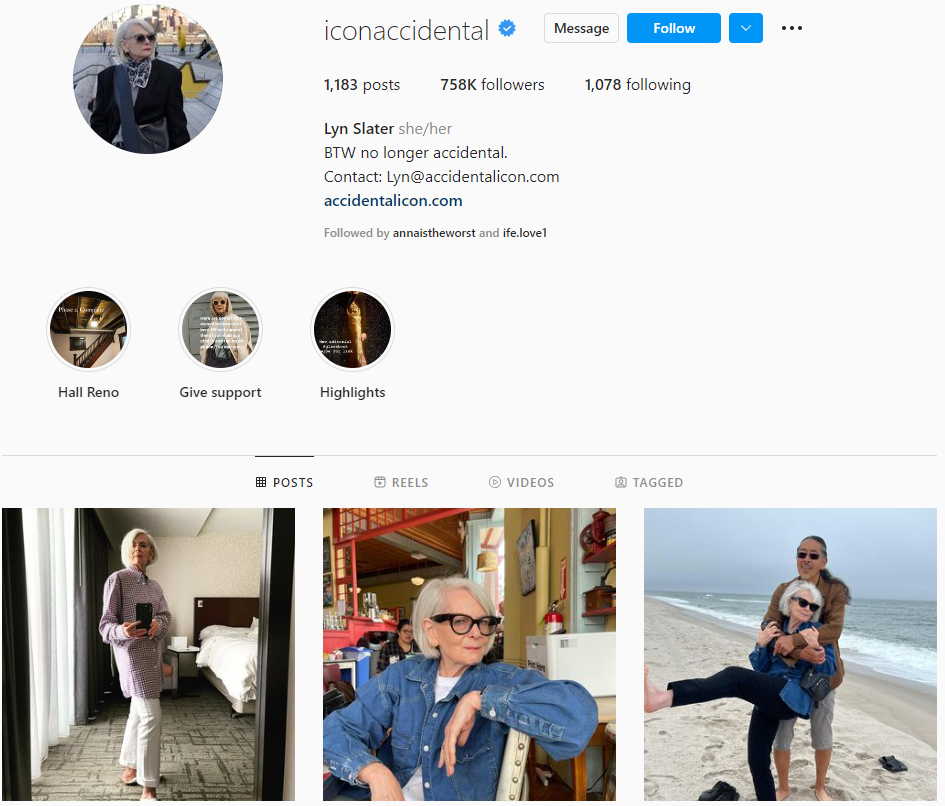 Source:@iconaccidental
#10 Caroline Daur
Caroline is a fashion and lifestyle blogger based in Germany who has collected millions of followers on Instagram and was personally chosen by the Gabbana half of Dolce & Gabbana to walk in Milan Fashion Week. Caroline has no targeted aesthetic but rather wears what she loves and can blend into any style or brand.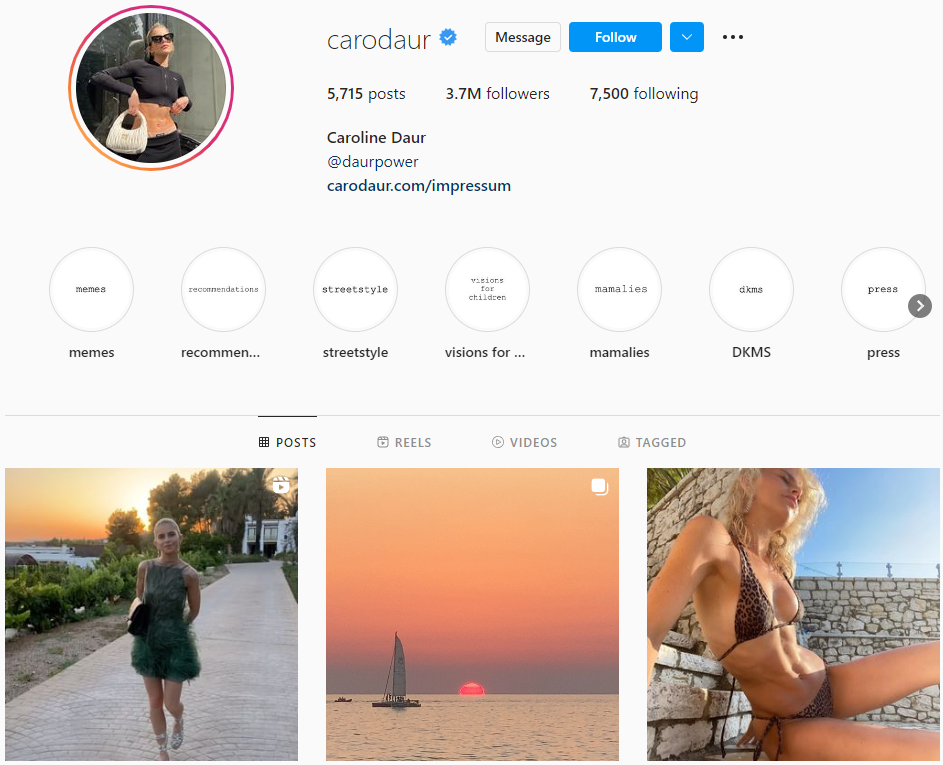 Source: @carodaur
#11 Sebina Hussain
Sebina Hussain is a British Pakistani fashion and beauty blogger on Instagram and YouTube. Her gorgeous and colorful content ranges from chic modest cultural fashion to travel and family lifestyle.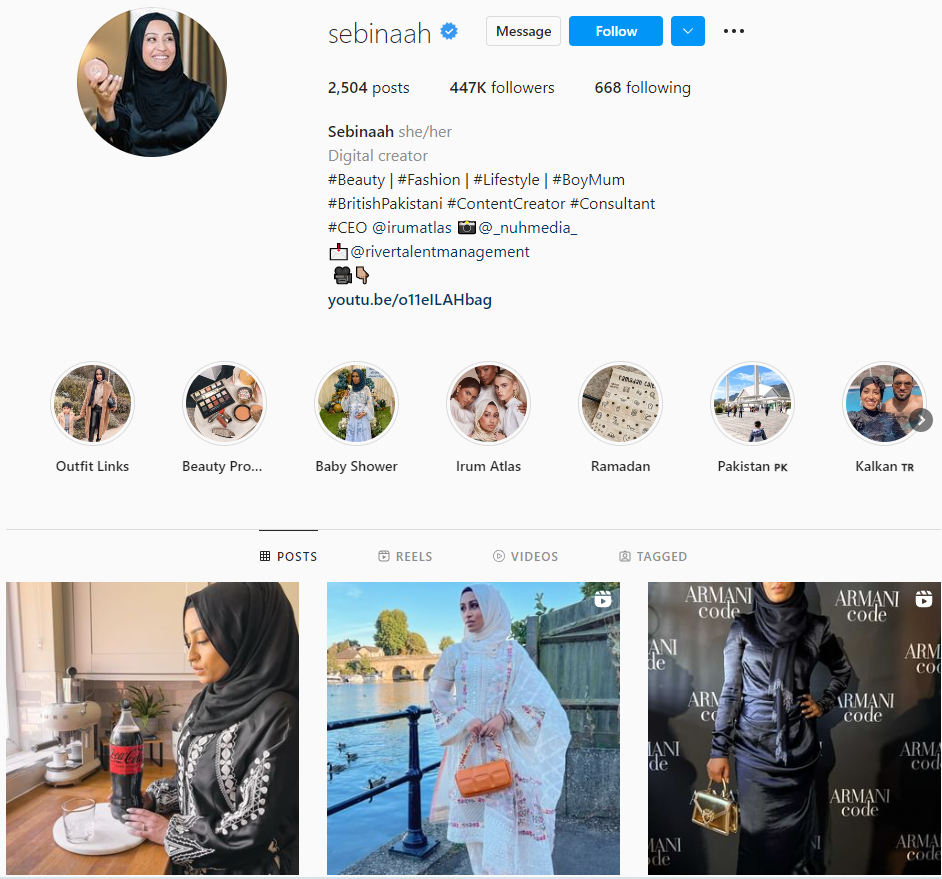 Source: @sebinaah
#12 Amira
Amira is the lovely face behind the fashion and lifestyle blog, Modest Mira. She shares chic and classic modern fashion blended with global travel and lifestyle content with her Instagram followers. She has collaborated with brands such as Missoma and Nike Jordan and is launching a new silk headscarf brand, Sahar.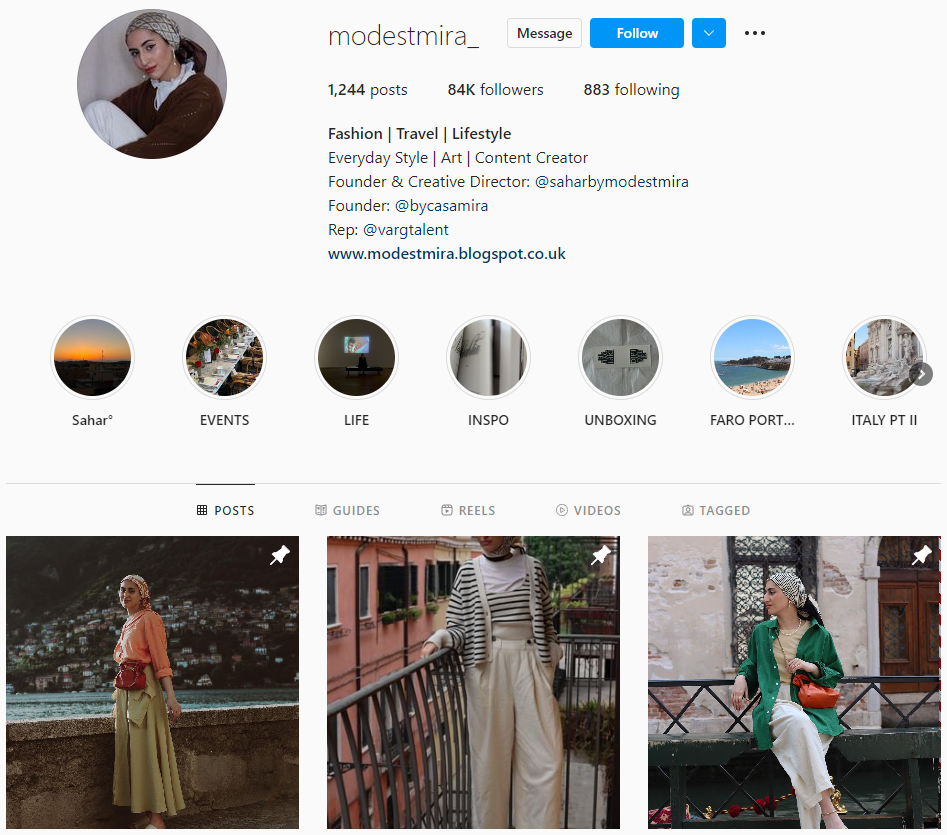 Source: @modestmira_
#13 Ellie Delphine
Ellie is one of the top fashion bloggers and models and the face behind Slip Into Style. The Paris-based influencer elegantly mixes high fashion with street style for her Instagram followers and has collaborated with brands such as H&M.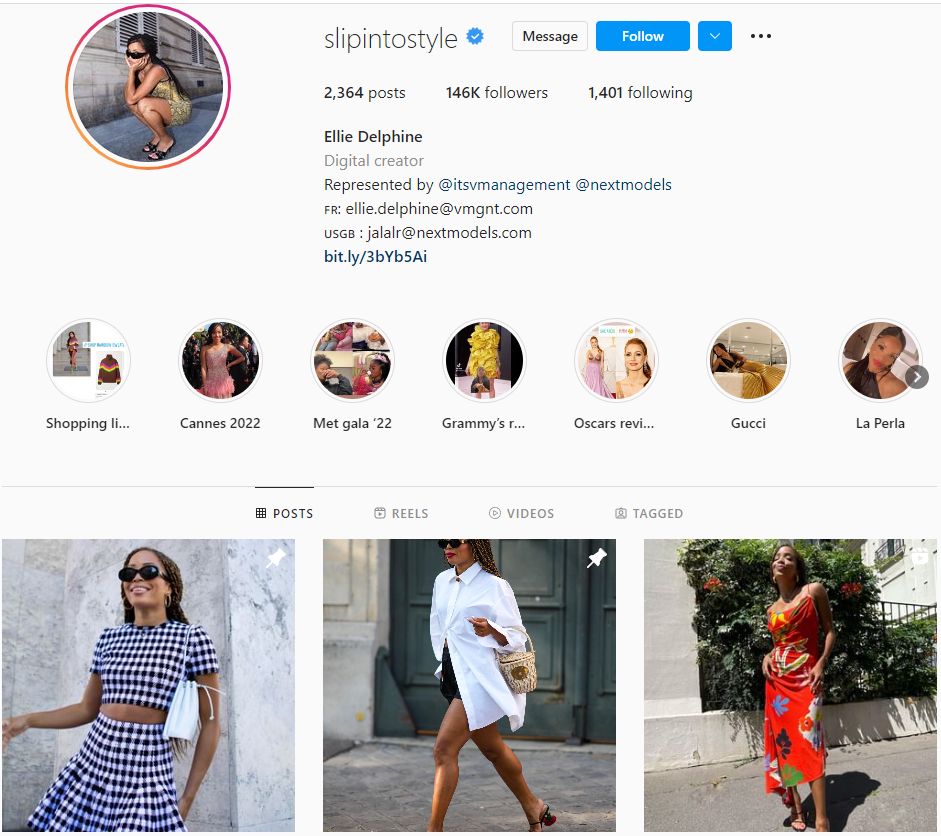 Source: @slipintostyle
#14 Katherine Ormerod
Katherine is a journalist, author, stylist, and top fashion blogger. She shares home and personal style with a casual chic elegance and champions niche labels in addition to top fashion brands.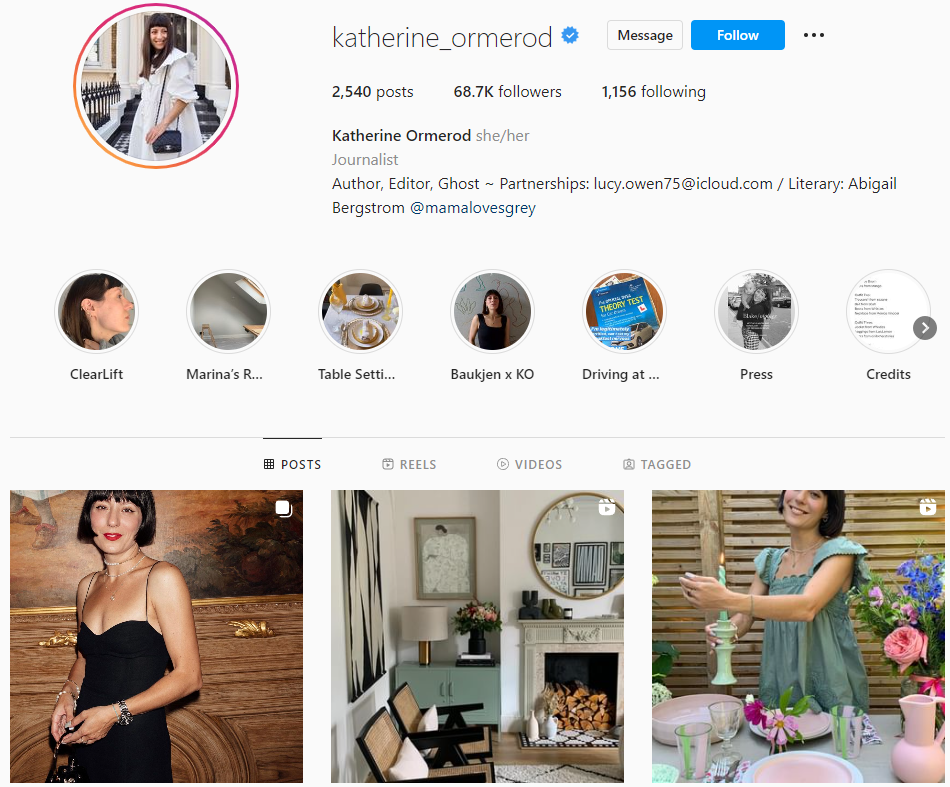 Source: @katherine_ormerod/
#15 Margaret Zhang
Margaret is a top fashion blogger of Chinese and Australian descent and works as a photographer, stylist, writer, and director in New York City. She's a fashion and beauty consultant and works with Vogue China and shares high fashion content with 1.6 million Instagram followers.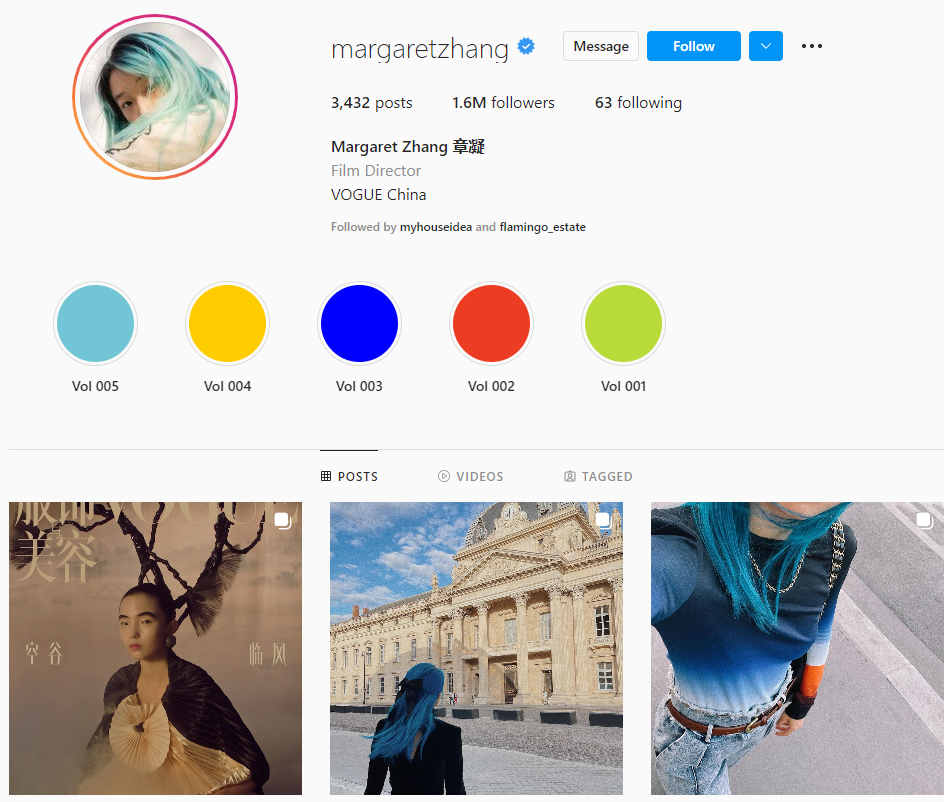 Source:@margaretzhang
#16 Jessica Wang
Jessica is one of the top fashion bloggers on TikTok and Instagram. She is also a mother and a model and shares magazine worthy photo shoots and fashion in addition to travel and lifestyle content.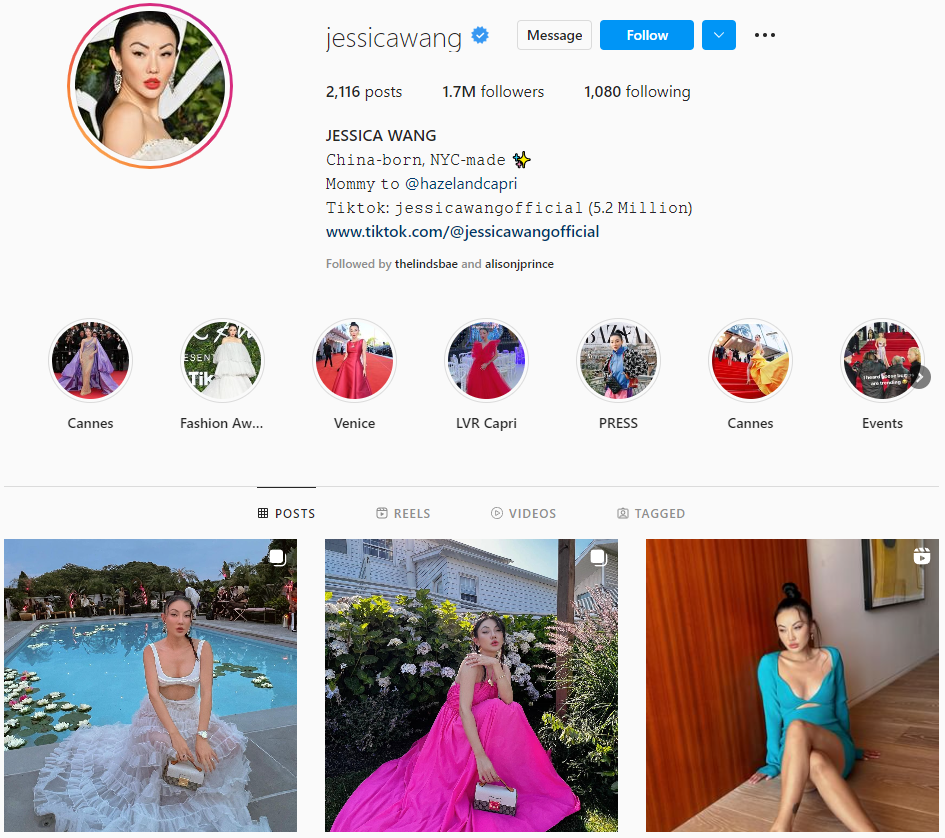 Source: @jessicawang
#17 Lesego Legobane
Lesego is also known as ThisLeeyonce is a plus-size and body positive fashion blogger with her own fashion label, LeeBex, with Rebecca Garande. She's also an avid photographer and has worked with brands including Vawter Hard Seltzer and Nescafe.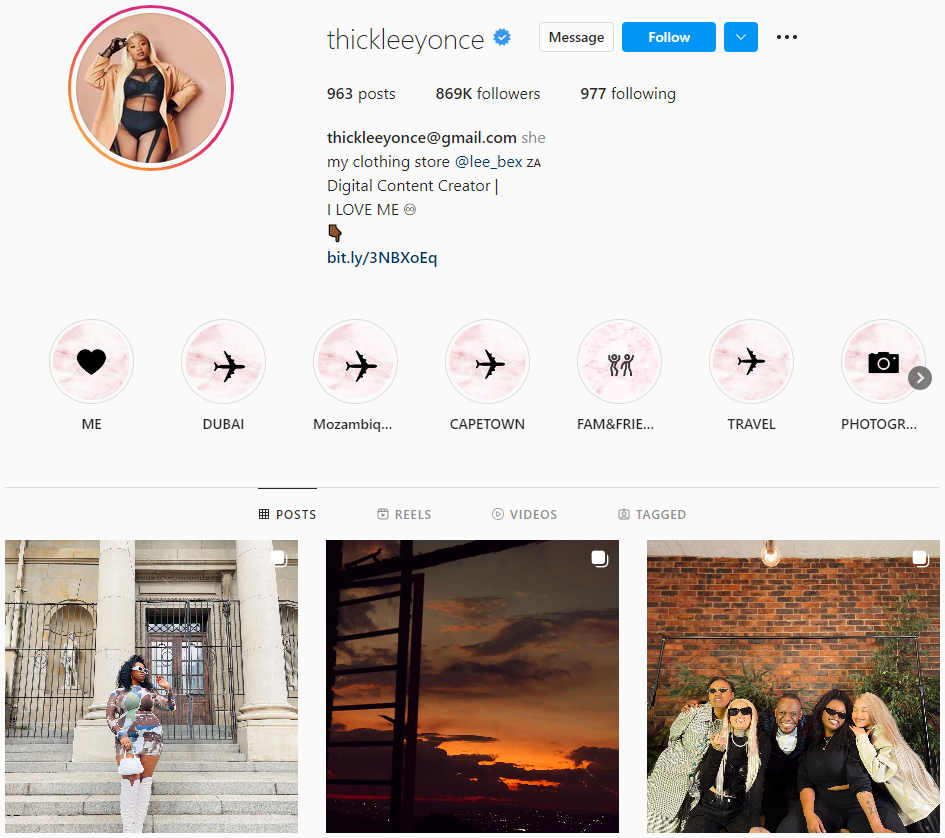 Source: @thickleeyonce
#18 Pernille Teisbaek
Pernille is a Danish top fashion blogger from Copenhagen. Her aesthetic is the epitome of sleek and Scandi style perfection for both home and personal fashion. Her blog, Look De Pernille, has been online since 2012, and she's recognized as a global trendsetter.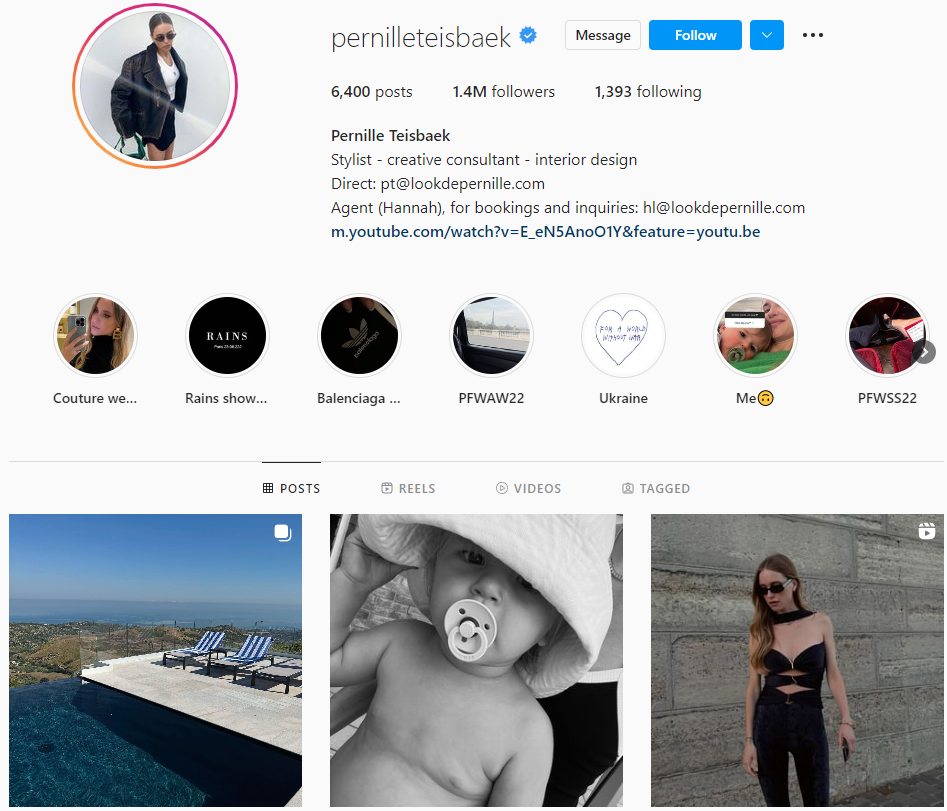 Source: @pernilleteisbaek
#19 Helena Bordon
Helena is from SaoPaulo Brazil and works as a model as well as a top fashion blogger with more than 1 million Instagram followers. She grew up in the industry as her mother was a style director at Vogue Brazil and has also co-launched both a fashion brand and skin care line.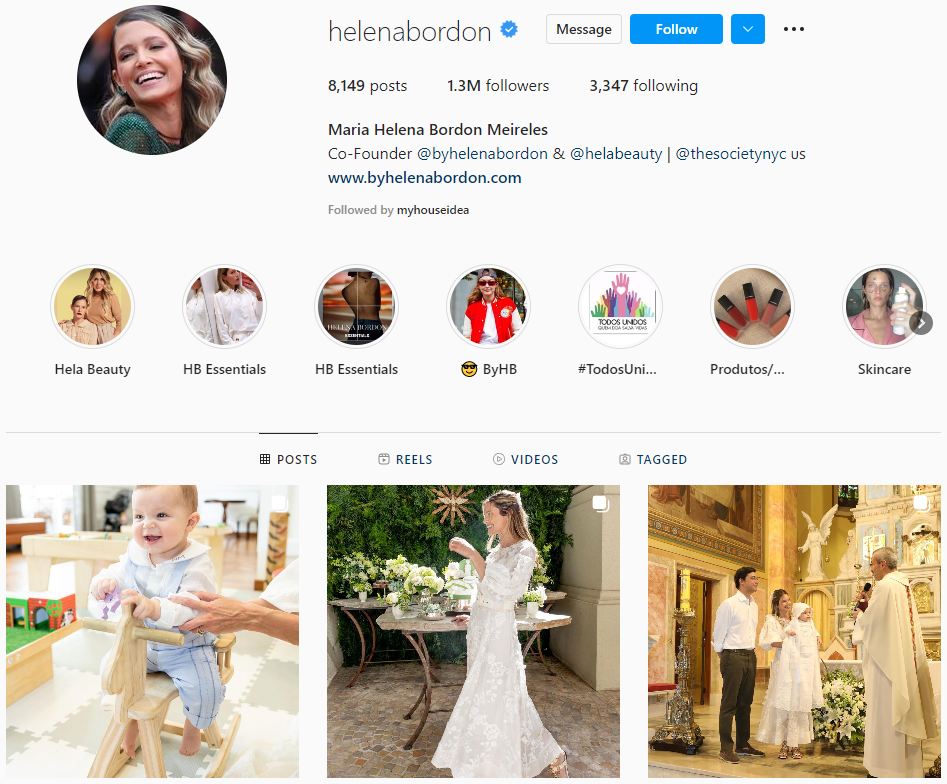 Source: @helenabordon/
#20 Leandra Medine Cohen
The fiercely humorous face behind Man Repeller, Leandrea is a top fashion blogger who started on her own platform, Booger+Bagels. Today, she primarily blogs on Substack and shares her bold and casual fashion-forward style and travel content with 1 million Instagram followers.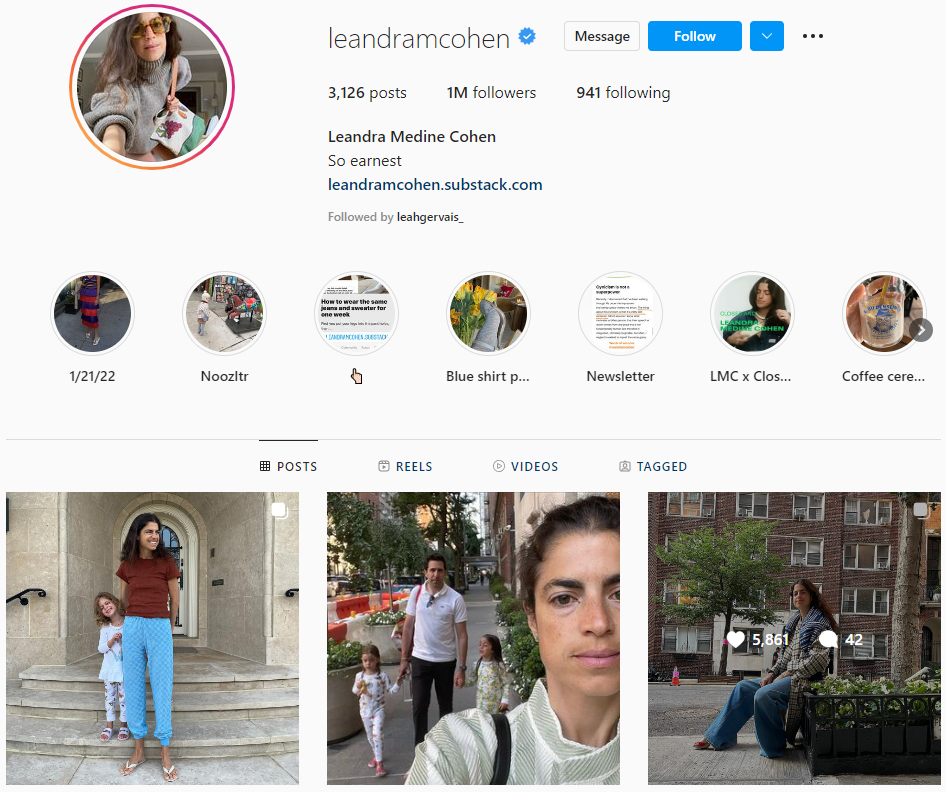 Source: leandramcohen/
#21 Allison Graham
Allison, AKA SheDoesHim, is the founder of the menswear brand, Masculinity Is Not A Gender. She designs gender neutral and masculine forward fashion and champions LGBTQ+ causes. Her Instagram followers enjoy colorful and modern fashion set in the Jamaican landscape.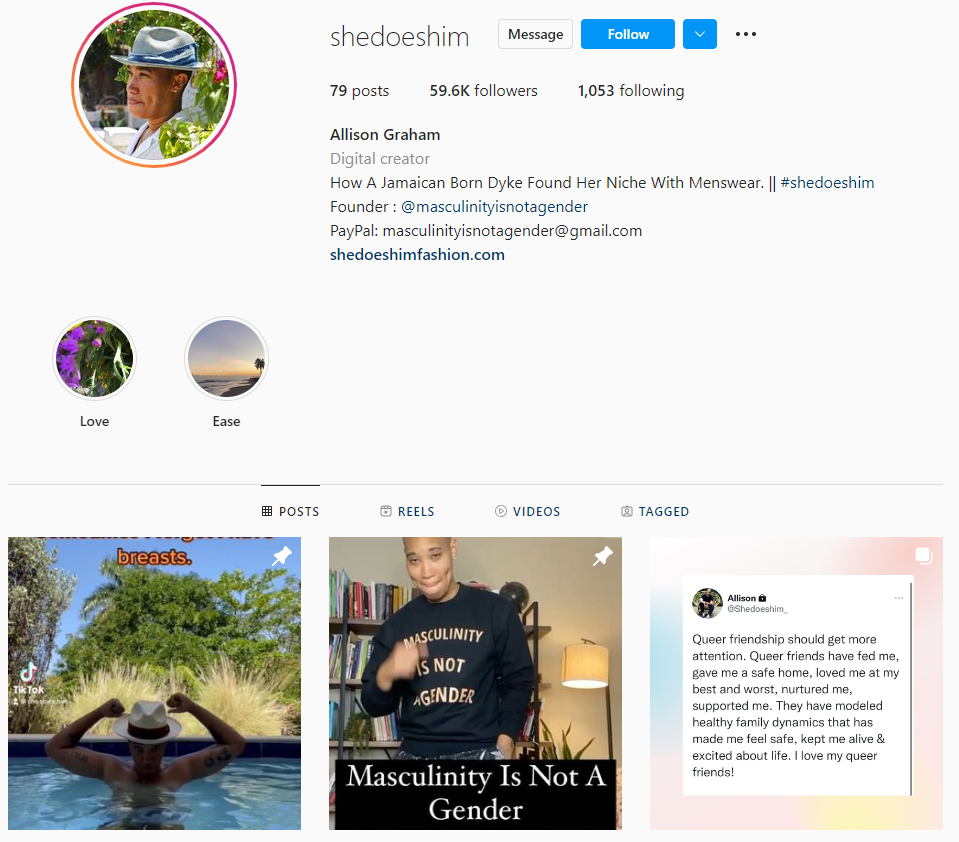 Source: @shedoeshim
#22 Danielle Bernstein
Danielle is a New York City socialite, NYT best selling author, and top fashion blogger with 2.9 million Instagram followers. She is also the founder of Moe Assist, a project management tool for creators and the founder of the label, WeWoreWhat.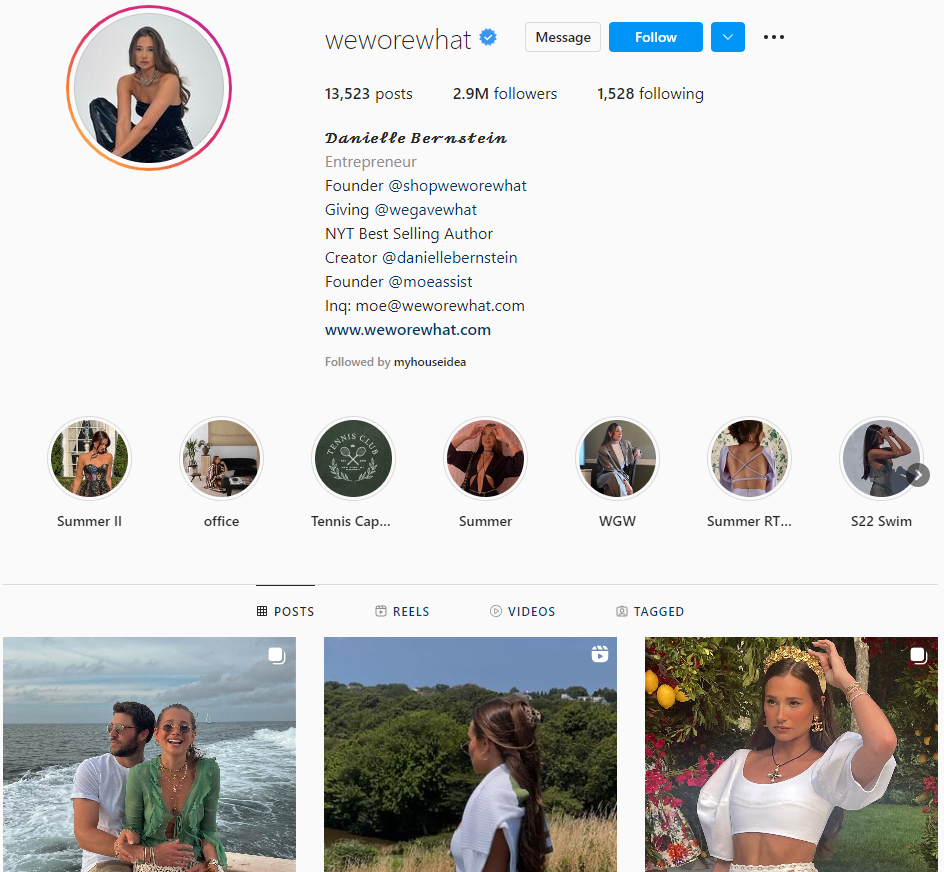 Source: @weworewhat/
#23 Tala Samman
Though Tala was born in the US to Syrian parents, she is reportedly the first fashion blogger from the United Arab Emirates and is now based in Dubai. She runs her blog, MyFashDiary and also works as a DJ for festivals and fashion events. Her followers will see a blend of high fashion, travel, and lifestyle content.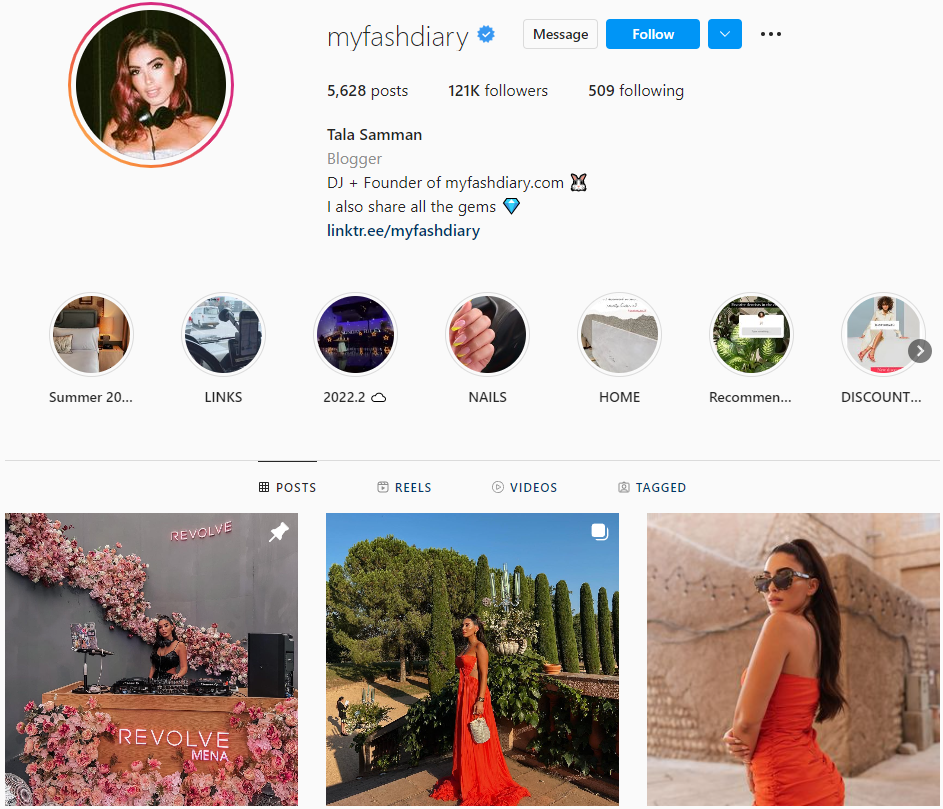 Source: @myfashdiary/
#24 Reese Blutstein
Reese is the top fashion blogger behind Double3xposure and twisted vintage style icon on Instagram followers. She is a champion for minimalistic designs without sacrificing head-turning style. Based in Atlanta, Reese shares daring and vintage fashion and lifestyle content.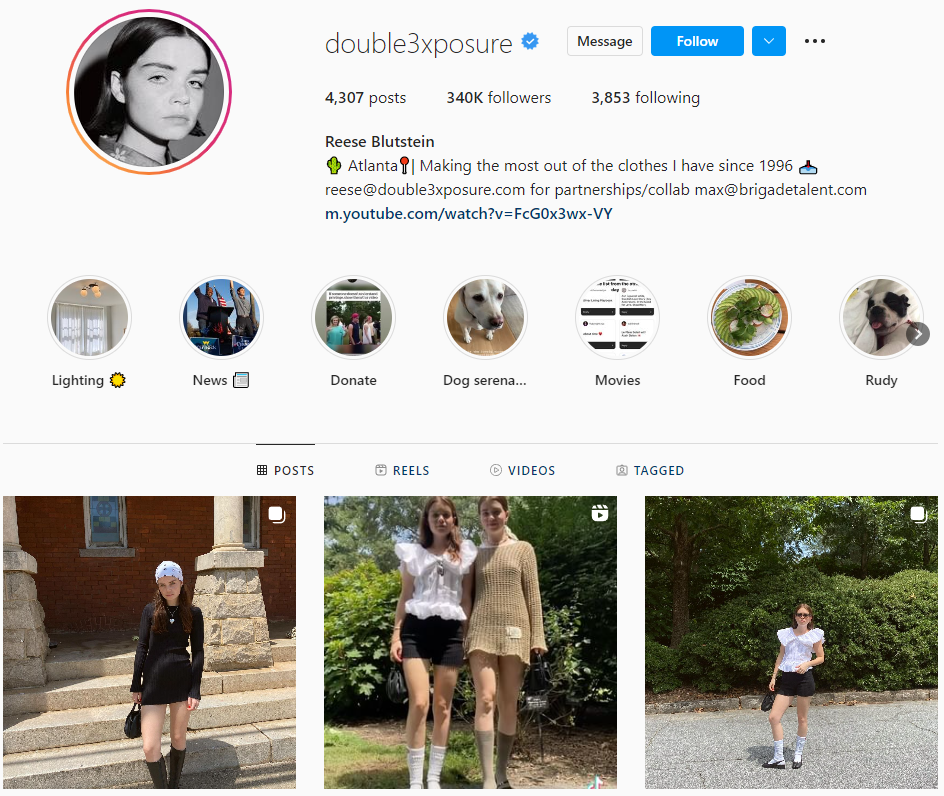 Source: @double3xposure/
How To Work With Top Fashion Bloggers
Fashion, shoe, and beauty brands that leverage content creators and influencer marketing services get in front of the correct audience. They're able to make stronger, deeper connections and engage organically with their target market.
When making connections with any influencer, it's beneficial to follow and connect with them naturally over a few days or weeks. Influencer marketing is driven by relationships, authentic connections, and genuine interactions. Spend time building a relationship.
After connecting and engaging, make pricing and content inquiries. They will lead this discussion with their process and how the brand fits with their skills and style.
Or, take the proven route and work with an influencer marketing agency who will:
Have pre-vetted and reliable talent
Offer full-service capabilities
Bring a team of industry experts
Be equipped to negotiate
Enable brands to quickly scale
Provide detailed campaign reporting
From start to finish, an influencer marketing agency will simplify and streamline the process of working with top fashion bloggers.
Follow These Top Fashion Bloggers of 2023
Brands that work with content creators influencers in the fashion space can look forward to a strong ROI. Are there other top fashion bloggers we left out? Let us know!