March brings a big shift in influencer marketing and social media. Spring is on the way, leading to seasonal campaigns, notable social media holidays, and big updates in the social media and influencer space.
Here are the top news stories for influencers and social media in March 2023.
TikTok Adds the New Keyword Insights Tool
TikTok keeps adding new tools to the TikTok Creative Center, including Keyword Insights to help advertisers uncover top-performing keywords and phrases for ads. Marketers and influencers can use the tool to find trending script keywords that appear in text overlays, ad captions, or voice-overs.
The tool has additional usability features to filter for region, ad objective, keyword type, industry, and timeframe for in-depth insights.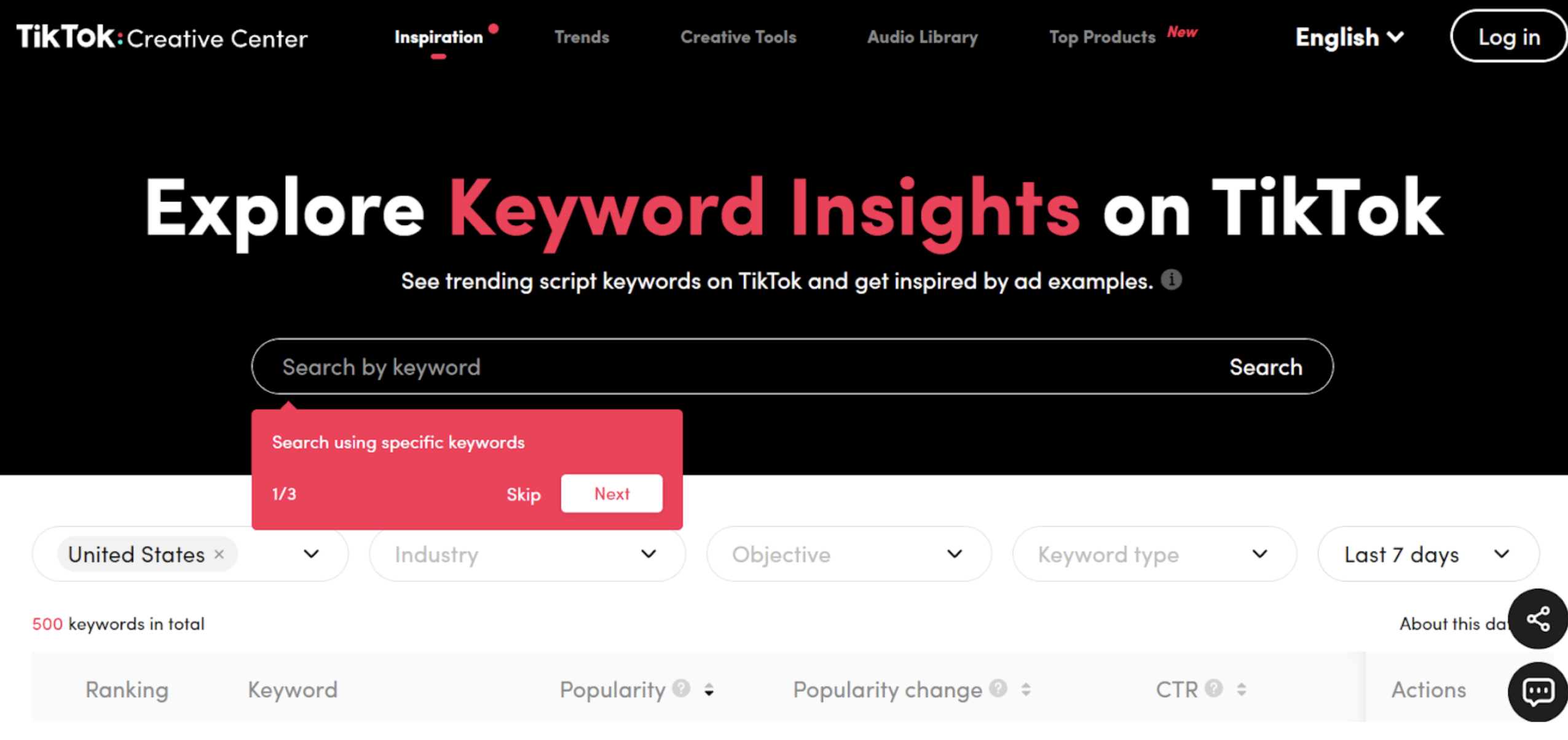 Image Source: TikTok
Meta May Add a New Feature
The Meta umbrella may be adding a text-based social network app to compete with Twitter and Mastodon. Joining the ranks of Facebook and Instagram, the new app is currently codenamed P92 and will allow users to log in using their existing Instagram accounts.
According to a Meta spokesperson, the brand is "exploring a standalone decentralized social network for sharing text updates" and creates "an opportunity for a separate space where creators and public figures can share timely updates."[1]
LinkedIn Launches New Features
LinkedIn added four new features in March to help companies take their marketing efforts to the next level. One of the most promising is the Schedule Page to schedule posts in advance. Though this capability started rolling out in November, it was limited to individual users. Now, page administrators can schedule posts up to three months in advance.
Another feature is Audio Events, which is similar to Twitter Spaces and Clubhouse. This feature was launched in limited beta testing last year, but it's now a full feature that can be used as a podcast format. Once the event is live, any participant can raise their hand to join in the conversation.
Another feature that works particularly well for a networking platform like LinkedIn allows recruiters and hiring managers to automatically post open roles to their LinkedIn page. Note that this feature is only available for pages with fewer than 1,000 employees.
Instagram Officially Cuts the Live Shopping Feature
For months, Instagram has been discussing cutting the Live Shopping feature from the platform. This removes the ability to place product tags in live streams and allow users to shop directly. Live Shopping officially ended on March 16.
Instagram Launched Broadcast Channels
Though some features are going away, Instagram also launched the Broadcast Channels feature in March. Adam Mosseri, the Instagram chief, describes the feature as "one-to-many public messaging channels" for creators to "deepen connections with their followers."
This feature arose from users sharing photos and reels more through Reels and DMs than on their stories and feeds. Now, creators can reach audiences in a channel similar to DMs, but for a broader audience.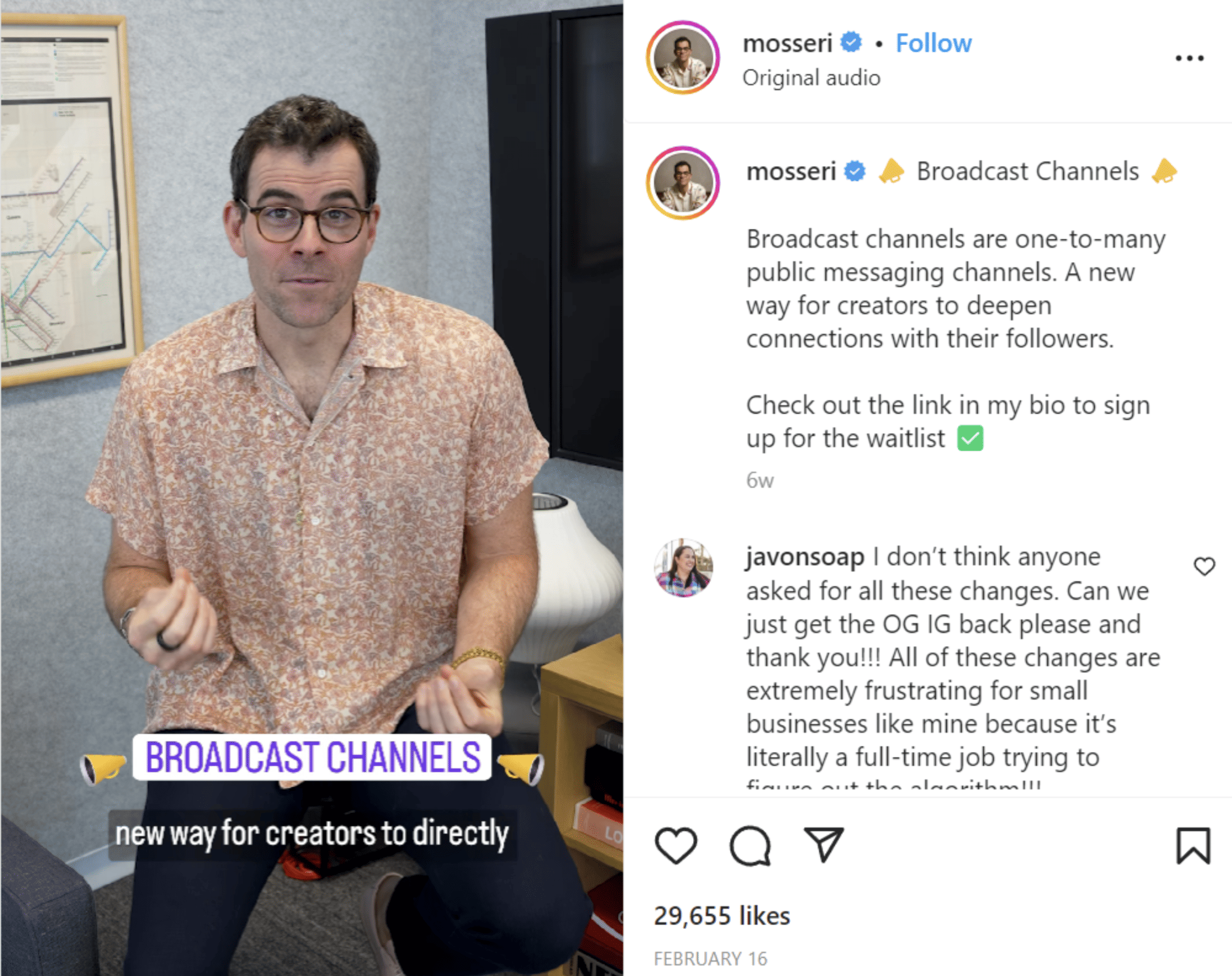 Image source: Instagram
TikTok Is Testing a Full Sales Platform
TikTok is currently testing new updates to turn the platform into a full-funnel sales platform with the TikTok Shop feature. Brands can sell products directly in the app and users can checkout without navigating to a website.
The feature is still in the early testing phase, but some brands have early access. Currently, users have to navigate to the browser to make a purchase, but this new experience promises seamless social shopping.
TikTok Launches Topics
Another new feature for TikTok is Topics, which allows audiences to watch content that's within a specific category like gaming, fashion, or sports. This helps users organize their feeds and find content they want to view at that time.
YouTube Adds the Creator Music Feature
YouTube has announced the new Creator Music feature for all creators in the US. This update allows creators to browse an extensive music catalog to use in their videos and monetize them.
LinkedIn Becomes More Accessible
LinkedIn is taking broad steps to make the platform more accessible to those with hearing or visual impairments. Some of these features include auto-generated captions, which can be edited, for videos and a high-contrast mode to make visual content more suitable for visually impaired people.
Meta Officially Launches Paid Verification
Teased for weeks, Meta has officially launched the paid verification program for Facebook and Instagram. Unlike Twitter, Meta platforms will require users provide a government ID before they receive a blue badge, limiting fake or troll accounts.
Instagram verification is $11.99 when purchased on the web and $14.99 on iOS and Android. With that, users get the blue badge, proactive account monitoring, access to a customer service representative, and the exclusive rights to their name and personal brand. Businesses and organizations are not permitted to get a verification.
Meta Aiming to Ban Certain Ads in Europe
With a new batch of EU data privacy laws going into effect, Meta is developing new options for EU users that would enable them to opt out of personalized ads.[2] The company is also considering banning all political ads in Europe to align with the new rules.
Reddit Shares New Data on Activities
Reddit's 2022 Transparency Report, which was released in March of 2023, outlines all of the actions the platform took to enforce its rules throughout the year.[3] It also launched the Transparency Center, which is a central source for Reddit safety, security, and policy information and includes information on moderation and content management initiatives.
Twitter Wins a Court Order to Unmask the Source Code Leaker
Twitter is moving toward open-sourcing its algorithmic code base, but the platform is still struggling to contain the leak of its overall source code on GitHub. Since then, Twitter has been trying to uncover the person responsible for the leak, which has just made progress with a court order forcing GitHub to release the information on the original poster.
Twitter Is Prioritizing Tweets from Select VIPs
In other Twitter news, the platform is amplifying the tweets from selected VIPs to improve engagement. This includes around 35 celebrity accounts that are being granted additional reach to incentivize them to keep sharing on the platform. This was in response to chief Elon Musk noticing that his own tweet engagement was dropping.
Along these same lines, Musk announced that by April 15th, only accounts with the paid Twitter Blue will be displayed in the "For You" tab. Twitter polls will also be limited to Twitter Blue accounts, which threatens to reduce general user functionality.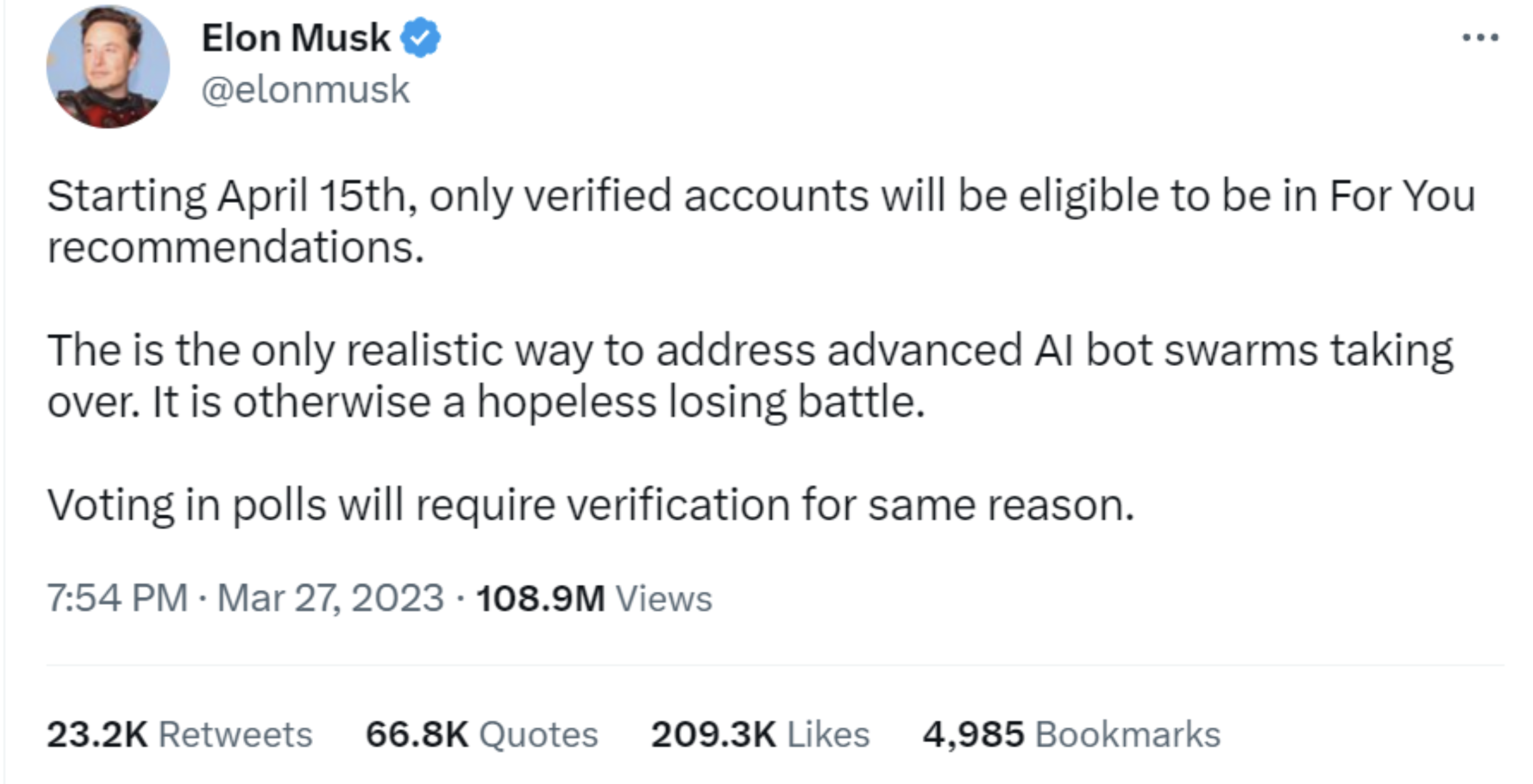 Image source: Twitter
Pinterest Adds New Display Options
During its presentation at ShopTalk 2023, Pinterest has announced some new updates to help brands maximize opportunities in the app, including expanded availability of its Premier Spotlight ads and catalog display via product feed ingestion.
According to Pinterest, "when merchants connect their product catalog, Pinterest enables the products within it to be discoverable and shoppable via pins, ads, and videos." These pins will also offer enhanced features for shopping like Pinterest Lens and Virtual Try On.[4]
WhatsApp Adds New Group Chat Controls
WhatsApp is adding new control options for group chats to manage who can join a group. The platform is also offering new insights to groups that users have in common to enhance connection and discovery.
The idea behind this change is that WhatsApp usage will extend past private chat for more broad discussions, like Reddit or Facebook Groups. And as more users switch to private chats on social platforms, Meta has an opportunity to align with that trend and maintain engagement.
Microsoft Integrates DALL∙E Visual Creation Tools
Microsoft is backing AI with the new Bing Image Creator tool, which brings OpenAI's DALL∙E visual creation into the Bing search engine and Edge browser. Users can easily access AI image generation at any time.
With this tool, users can create an image by using their own words to describe what they want to see, bringing written and visual content together. The tool's integration in Edge means users have the option for immediate visual creation at any time. All images are owned by the user and free, but governed by usage guidelines.
FTC Calls on Social Media to Outline Their Processes to Protect Against Scams
Scam ads are rampant on social media platforms, but the FTC is issuing new orders to Meta, TikTok, YouTube, Snapchat, Twitter, Twitch, and Pinterest to understand how these platforms detect and restrict paid advertising that's deceptive and exposes users to scams.[5]
Generally, these orders relate to fraudulent healthcare products, counterfeit goods, and financial scams, but it could include all types of scams. The FTC will use this information to determine whether the platforms are taking strong measures against online fraud, which could inform new regulations that put the platforms in the position to protect their users.
Moving Into Spring
These social media and influencer updates run the gamut from features and tools that benefit brands and creators to changes that can significantly hamper marketing efforts. It's important for brands and influencers to know what's on the horizon for social media news and adapt to any monumental shifts in the market.
Sources:
[1] https://www.bbc.com/news/technology-64917397#:~:text=Meta%2C%20the%20parent%20firm%20of,network%20for%20sharing%20text%20updates.
[2] https://www.wsj.com/articles/meta-to-let-users-opt-out-of-some-targeted-ads-but-only-in-europe-44b20b6d?mod=djemalertNEWS
[3] https://www.redditinc.com/policies/2022-transparency-report
[4] https://help.pinterest.com/en
[5] https://www.ftc.gov/news-events/news/press-releases/2023/03/ftc-issues-orders-social-media-video-streaming-platforms-regarding-efforts-address-surge-advertising