Two of the world's richest and most influential men – Elon Musk and Mark Zuckerberg – and the heads of rival social media networks, are bringing their fight to the ring with a "cage match" challenge.
Since taking over Twitter, Musk has been engaged in a feud with Zuckerberg over a competing service run by Meta, Zuckerberg's company. He challenged Zuckerberg to a cage match, to which Zuckerberg responded with "Send Me Location."[1]
Though typical of Silicon Valley's bro culture, social media feuds like this haven't spilled into the physical realm. Now, over a month later, the world is still waiting for the two tech billionaires to step into the ring.
But will the fight ever really happen?
Background on the Musk – Zuckerberg Feud
In 2014, business magnate and Facebook co-founder Zuckerberg invited Musk to his home to discuss the rise of artificial intelligence. Musk declined and trashed Zuckerberg's Meta platforms – Facebook and Instagram.
Then, in 2016, SpaceX, Musk's company, was contacted on behalf of Facebook to deliver internet to parts of sub-Saharan Africa using the AMOS-6 satellite. The rocket exploded, creating even more tension between Musk and Zuckerberg.
The feud continued with small slights, such as Musk calling Zuckerberg's understanding of AI "pretty limited" and deleting his SpaceX and Tesla pages amid the Facebook-Cambridge Analytica data scandal.
Separately, the two billionaires have been making moves toward combat sports. In March 2022, Musk challenged Russian president Vladimir Putin to a fight with Ukraine as the prize, while Zuckerberg started training for and competing in Brazilian jiu-jitsu tournaments.
Musk acquired Twitter in October 2022, which brought repeated taunts for Zuckerberg, particularly after the public opinion of Musk as a CEO declined and Meta started drumming up hype for its competing platform.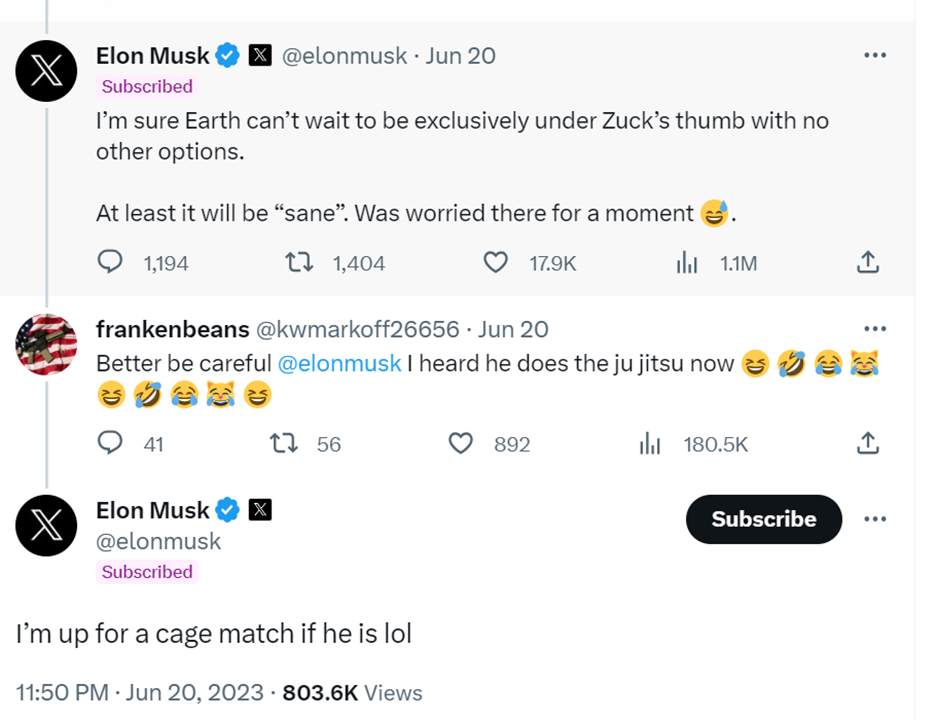 Source: Twitter
Then, Musk upped the ante by challenging Musk to a cage match. Zuckerberg responded with "Send Me Location," a reference to the catchphrase of Khabib Nurmagomedov, once of the UFC's most decorated athletes.
Throwing Down the Gauntlet
The day after Musk challenged him to a cage match, Zuckerberg texted Dana White, the head of the world's premier mixed martial arts competition, to inquire if Musk was serious about the fight. White called Musk to confirm, which started the ball rolling.
The suggested date was August 26 at the UFC Apex in Enterprise, Nevada. White said that both men are "dead serious" about the fight, calling it larger than "Floyd Mayweather Jr. vs. Conor McGregor" in 2017.
Several celebrities got involved in the event, including social media personality and professional boxer Jake Paul, who offered to promote the fight, and Joe Rogan, who Musk endorsed as a referee.
Andrew Tate, former professional light heavyweight kickboxer and disgraced social media personality, offered to train Musk as retaliation for Meta platforms banning him for spreading COVID-19 vaccine misinformation. Current Heavyweight Champion Jon Jones offered to train Zuckerberg.
Musk also had an offer from UFC Hall of Famer Royce Gracie to train him, but Musk stated that he doesn't work out and "wouldn't exercise at all if he could." Musk ultimately accepted former mixed martial artist Georges St.-Pierre as his trainer.
By July 1, White had seemed to make strides in establishing the broad contours of the fight – but Musk hadn't made any serious moves.
Zuckerberg Isn't "Holding His Breath"
On July 27, Zuckerberg told employees that he isn't sure if the fight is going to come together at an internal town hall meeting. Musk responded on August 5 by saying that he was "lifting weights throughout the day, preparing for the fight" and saying that the proceeds will go to a charity for veterans. He also stated that the fight will stream on Twitter.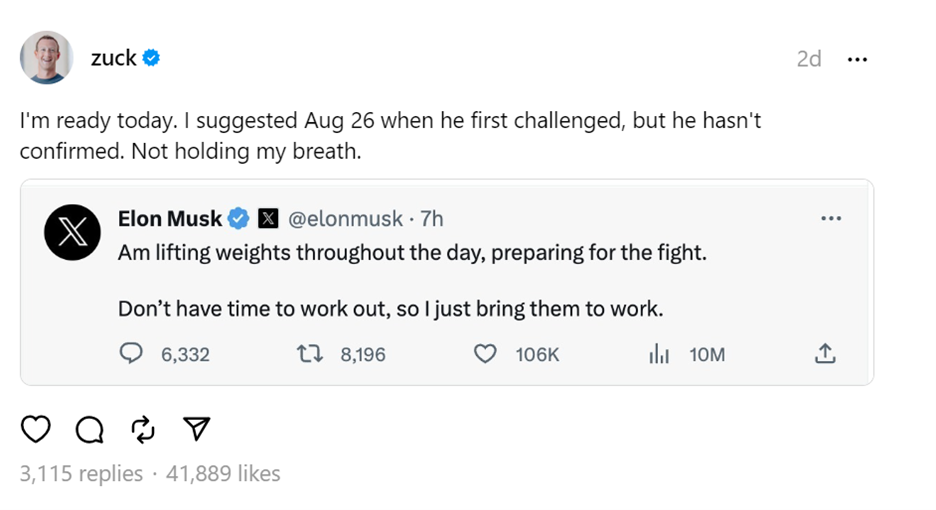 Source: Threads
That same day, Zuckerberg said he was ready to fight and the fight should be streamed elsewhere to "actually raise money for charity." Musk has yet to confirm the August 26 date, claiming that he may need surgery before the fight can happen to correct his neck and back problems.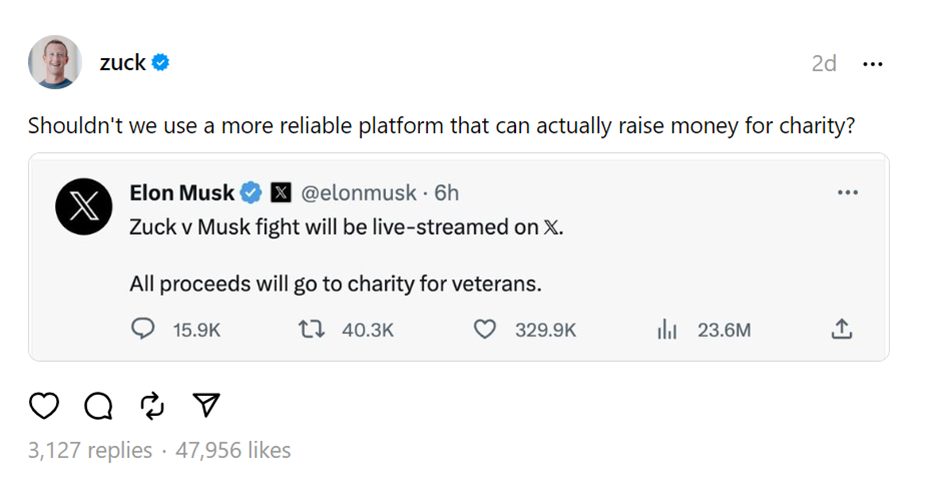 Source: Threads
Musk did confirm his strategy, however, which is to use his weight to his advantage. He claimed he would perform "The Walrus," which is to simply lie on top of Zuckerberg to immobilize him.
The highlights the concern with the physical differences in the two men. Along with a 13-year age difference, Musk is about 70 pounds heavier than Zuckerberg. Mixed martial art bouts generally keep fighters within the same weight range for a fair fight.
What Do the Pros Think?
Whether the fight actually happens remains to be seen, but that hasn't stopped the public from speculating. Vox said that the fight could be brutal and compared it to the fight between Ron Palillo from Welcome Back, Kotter and Dustin Diamond from Saved by the Bell, which aired on Celebrity Boxing.[2]
Combat pros weighed in as well, with former UFC fighter and Brazilian jiu-jitsu practitioner Matt Serra placing a proverbial bet on Zuckerberg based on agility.[3]
Fight sports journalist Nick Peet said that Zuckerberg's age and training offer him a distinct advantage. DraftKings, the sports betting company, projects the odds in favor of Zuckerberg, and similarly, BetOnline puts Musk as the underdog.
Maye Musk, Musk's mother, is not impressed, however. She's urging him to fight "with words only."[4] A Paddy Power spokesperson said that they'll "knock some sense into each other."
The Biggest Fight Ever in the History of the World?
These two tech billionaires keep throwing barbs on social media, building more anticipation for the so-called "biggest fight ever in the history of the world." Not quite, but one thing is clear – a lot of people want to see these two tech billionaire influencers square up.
Sources:
[1] https://www.nytimes.com/2023/06/22/business/musk-zuckerberg-cage-match.html
[2] https://www.vox.com/culture/2023/6/23/23771769/musk-zuckerberg-cage-match-fight-ufc-mma
[3] https://www.bbc.com/news/business-65981876
[4] https://www.livemint.com/news/elon-musks-mother-steps-in-to-halt-his-cage-fight-with-mark-zuckerberg-advises-to-choose-verbal-battle-only-11687511414562.html