Greta Thunberg made a name for herself as a teen by challenging world leaders to take immediate action for climate change mitigation. Her activism began when she persuaded her own parents to take steps to reduce their carbon footprint, leading her to Swedish Parliament, and later, a global stage to raise awareness.
This sudden rise to world fame – especially as a teen – made her a leader in the activist community and a target for critics, including former kickboxer and influencer Andrew Tate.
Their feud culminated in an ironic turn of events that ended with Tate being detained in Romania under investigation for human trafficking and rape – here's how that happened.
How It Started
On December 27, 2022, Tate, 36, tweeted to Thunberg, 19, "I have 33 cars. My Bugatti has a w16 8.0L quad turbo. My TWO Ferrari 812 competizione have 6.5L v12s. This is just the start. Please provide your email address so I can send a complete list of my car collection and their respective enormous emissions."
Not one to shy away from a fight, Thunberg responded with: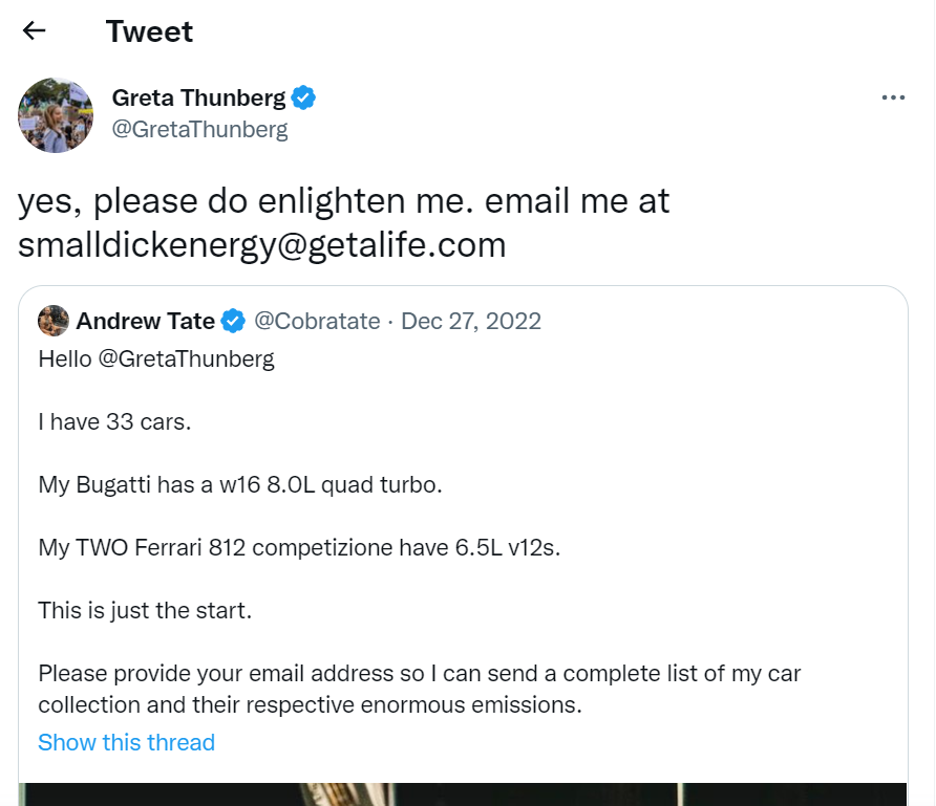 Source: Twitter
Her reply gained traction quickly, becoming one of the top 10 tweets of all time, and has been liked 3.5 million times. The exchange became the topic of news stories all over the world.
About 10 hours later, Tate replied with a video featuring himself in a robe, smoking a cigar with a pizza box in view. He says to someone off screen, "Please bring me pizza and make sure these boxes are not recycled."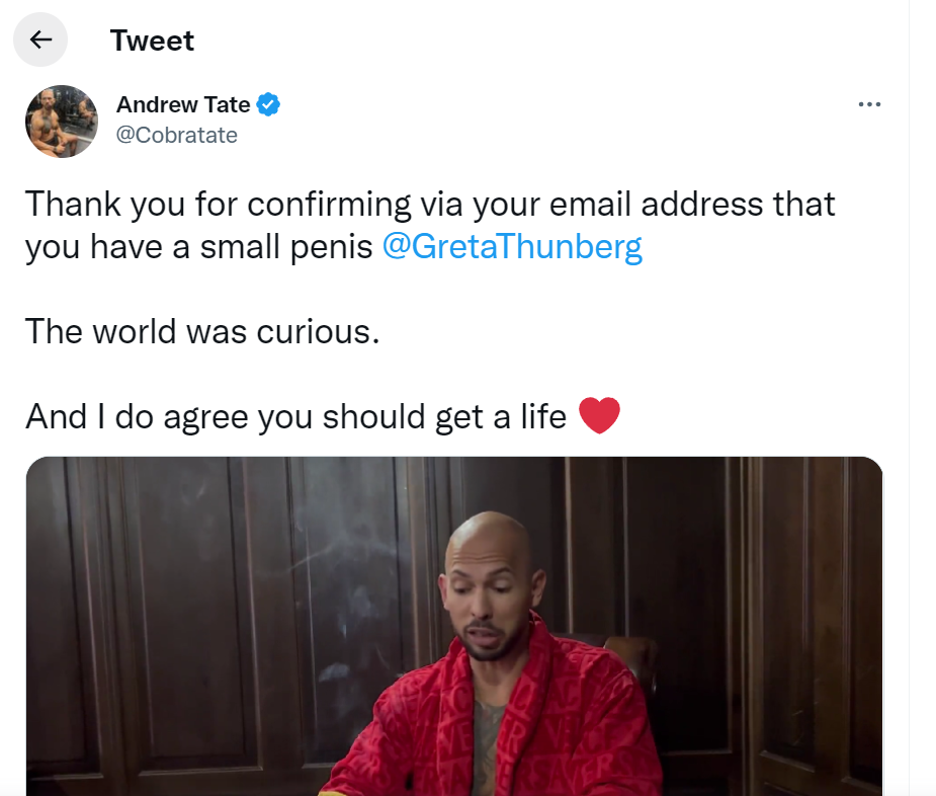 Source: Twitter
Not long after, Tate and his brother Tristan were detained on charges of human trafficking, rape, and forming an organized crime group following a raid on two Romanian properties.[1]
Many on the internet have theorized that the raids were possible because of the specific pizza box in the shot on Tate's video, which came from a pizza place in Romania, saying that its presence alerted authorities to his presence in the country and his location. But both brothers have been under investigation since April.[2]
Andrew Tate's Rise to Notoriety
Despite being an influencer, Andrew Tate was not well known until this year. He gained some popularity for his divisive views and his profile skyrocketed, until he was banned from all the major platforms.
Previously, Tate was a kickboxer who got some of the public spotlight in the 2016 season of the "Big Brother" reality show in the UK, which lasted six days. He was kicked off the show for footage that appeared to be of him beating a woman with a belt and threatening her with violence if she "texts him again." Tate claimed the video was "role-play."[3]
When his kickboxing career was ending, Tate began an online webcam company, which he later called a "total scam" that involved women – mostly previously girlfriends – faking "sob stories" to get men to give them money.[4]
More recently, Tate established himself as a self-help personality and men's rights activist who works to help men "escape the matrix" – which means becoming wealthier and more successful with women.
Tate has made controversial false claims that have delighted and outraged followers, including saying that women should take responsibility for being sexually assaulted and that they have no "innate responsibility and honor."[5]
Despite these inflammatory statements, Tate's content is largely unrelated to women. He offers advice on becoming wealthy and shares political opinions, including an argument against vaccine mandates and COVID lockdowns.
Prior to his ban, his videos got billions of views on Instagram and TikTok. He also started Hustler's University, an online course for aspiring alpha males to learn crypto, stocks, and other alpha male skills.
Tate isn't sharing new contentious talking points, but having a platform like Hustler's University allows him to capitalize on the social media landscape and discontent. His online self-help course on wealth generation costs around $45 a month and offers courses in e-commerce, copywriting, freelancing, and more.
But the secret to success is the Hustler's University affiliate marketing campaign. The members earn 48% commission for referrals, and they're encouraged to spread Tate's content on other social media to gain more engagement – ultimately leading to more referrals.
Tate Gets Banned from Social Media
The misogyny is what appears to be the cause of Tate's ban on social media platforms like Facebook, Instagram, YouTube, Twitter, and Twitch.
In 2017, Tate was kicked off Twitter when he first made his comment about women "bearing responsibility" for putting themselves in a position to be sexually assaulted. This was during a criticism of the then-trending #MeToo movement, which he claims serves to "destroy" the safety of men.
He also spoke about women using the platform OnlyFans, a subscription service with adult content. He stated that these women owe their spouses money, since they're "a man's property."
In a since-deleted YouTube video, Tate said that "40% of the reason" he moved to Romania was because of their relaxed sexual assault laws.
According to a spokesperson for Tate, banning Andrew Tate from these platforms might seem the answer, but it isn't that simple. Removing Tate's voice doesn't allow for a kinder hate-free society."[6]
TikTok disagrees. According to its company spokesperson, "Misogyny is a hateful ideology that's not tolerated on TikTok. We've been removing violative videos and accounts for weeks, and we welcome the news that other platforms are also taking action against this individual."[7]
While most platforms got on board, including Meta, which removed him from every platform for violating community guidelines under the "dangerous individuals and organizations" clause, Tate was only banned on Twitter for a few years.
In 2017, Twitter finally banned, right around the time of his controversial opinions surrounding the #MeToo movement. Tate made another account on the site, which was verified on the platform in 2021. Twitter then realized he evaded the first ban, and he was officially, permanently banned.
Then, on November 19, 2022, new Twitter owner Elon Musk announced "Freedom Friday," an event that he used to reinstate accounts that had been banned or removed, including Kathy Griffin, Jordan Peterson, and former US President Donald Trump.
Raid in Romania
One day after Thunberg's response to Tate's tweet about his vehicles, he and his brother were detained by Romanian authorities as part of an ongoing human trafficking investigation.
A Romanian anti-organized crime unit detained the two, as well as two Romanians, alleging that the men had exploited women at their mansion in Bucharest, the city's capital. They were to be held for 24 hours, which has since been extended to 30 days.
Prosecutors said, "The four suspects appear to have created an organized crime group with the purpose of recruiting, housing, and exploiting women by forcing them to create pornographic content meant to be seen on specialized websites for a cost. They would have gained important sums of money."[8]
In the raid, prosecutors alleged that they located six women who were trafficked by Tate and his group since early 2021. It's believed that at least one woman was raped and the entire operation took place between Romania, the United Kingdom, and the US.
The authorities also said that victims were recruited by the group by misrepresenting their intention to enter into a marital relationship. They were later transported and housed in Ilfov county where they were controlled by acts of physical violence and mental coercion.
The Role of the Feud and the Pizza Boxes
Following the raid and Tate's detainment, a lot of speculation swirled around about whether the pizza boxes contributed to the situation. One of the first was Alejandra Caraballo, a writer and clinical instructor who remarked that Tate gave the Romanian authorities his location in creating the video.
Caraballo pointed out that the authorities needed proof that Tate was in the country and used his social media posts. The pizza boxes from the Romanian pizza chain, Jerry's Pizza, confirmed he was in the country.
Though many have come to a similar conclusion that the video and his pizza boxes helped the Romanian police confirm he was in the country and locate him, a spokesperson for the Romanian police said that was not the case.
Still, his feud with Thunberg played a role in the now-notorious arrest, which may not have occurred otherwise.
How It's Going
Using online harassment, Tate tried to promote himself as an influencer and online personality, thriving on the controversy. In doing so, he made enough people aware of his existence to make the news of his investigation and arrest a hot topic on an international scale – circumstances that may not have happened otherwise.
Thunberg appears to have gotten the last word. Her response to Tate's detainment was in character and on brand: "This is what happens when you don't recycle your pizza boxes."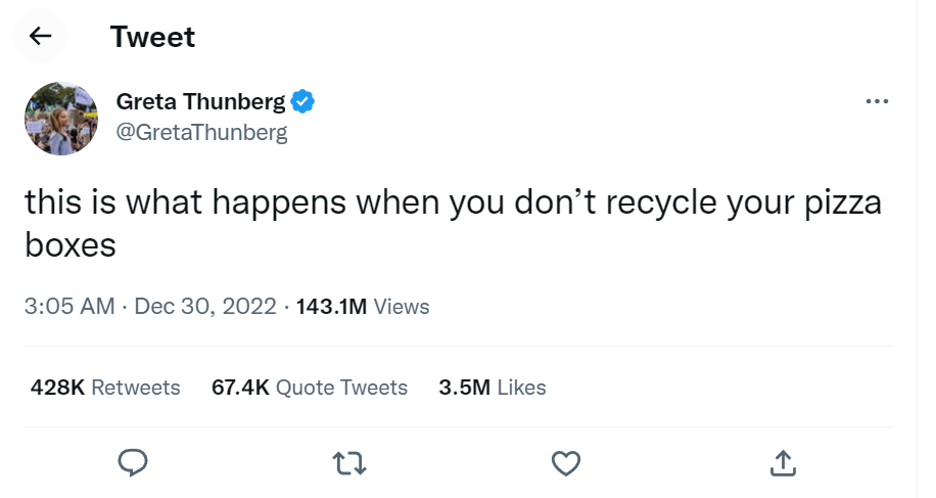 Source: Twitter
Sources:
[1] https://www.abc.net.au/news/2022-12-30/andrew-tate-arrested-romania-after-greta-thunberg-feud/101817042
[2] https://www.reuters.com/world/europe/romanian-prosecutors-want-andrew-tates-arrest-be-extended-2022-12-30/
[3] https://www.thesun.co.uk/tvandshowbiz/1283688/watch-the-video-that-made-big-brother-bosses-throw-andrew-tate-off-the-show/
[4] https://www.mirror.co.uk/news/uk-news/brothers-make-millions-using-webcam-26508739
[5] https://metro.co.uk/2017/10/19/big-brothers-andrew-tate-says-women-should-bear-responsibility-for-being-raped-in-vile-tweets-7011756/
[6] https://www.rollingstone.com/culture/culture-news/andrew-tate-banned-instagram-facebook-1234578232/
[7] https://www.vice.com/en/article/n7z7bb/andrew-tate-tiktok
[8] https://www.insider.com/romanian-cops-detain-andrew-tate-in-sex-trafficking-investigation-2022-12?utm_medium=referral&utm_source=yahoo.com