Despite being around for a few years, TikTok surged in popularity in 2020 to become arguably the most influential of the social media platforms. Not long after, Facebook, Instagram, and YouTube started launching features similar to those of TikTok to try to gain an edge.
Marketers and influencers are still relying on the platform for reaching younger audiences, and increasingly, older generations as TikTok gets more widespread adoption.
To help marketers with their strategies, TikTok released its 2023 What's Next trend report, which takes a look at the way changing social and cultural sentiments will influence the app in the following year. The trends are backed by global research and case studies, as well as actionable insights to maximize them.
What Is the TikTok What's Next Report?
With its popularity and trendsetting, TikTok launched the What's Next Report, a trend forecast "designed to help marketers understand how consumers' wants and needs will change in the upcoming year and what that will mean for their strategies, both on and off TikTok."[1]
For 2023, the news report focuses on long-term "TikTok-first" cultural forces, why they dominated the platform, and how brands can leverage them effectively.
According to Sofia Hernandez, Global Head of Business Marketing for TikTok, "2022 was the year people realized they didn't have to live their lives as they always have done – with different points of view and ideas transcending cultures on TikTok. Next year, we're going to see more of this – as our communities get more confident and inspire positive change together."
"Against the backdrop of the increasing cost of living and its associated challenges, our What's Next report indicates people will be seeking new ways to achieve success, happiness, and wellbeing – and TikTok will be a tool to help them find it."
The report's findings consider both large-scale transformations that TikTok influences and indications of emerging behaviors and interests across different sectors. These trends are as follows.
More Brands Will Partner with TikTokkers
The popularity of TikTok left a lot of brands behind. Many brands didn't know what the platform was or didn't recognize it as a potential marketing platform, leaving them without the valuable audience that prefers TikTok as its channel.
That's all changing, however. Recognizing the possibilities for monetization, TikTok has added more and more features to support brands, influencers, and marketers, including different ad opportunities and more monetization options for influencers.
In addition, the platform used to be dominated by users making music and dance videos, but influencers in virtually every industry have seen the possibilities for building a following on the platform. Influencers that saw success on other platforms have added TikTok to expand their exposure as well.
In the coming year, it's expected that more brands will market on the platform, particularly if they have younger audiences belonging to Gen Z or millennials. Influencer marketing will also surge, since TikTok users value authentic content over polished ads.
User-Generated Content Will Become More Important
User-generated content (UGC) is becoming valuable for brands across virtually every social media platform. Brands benefit from UGC because it's more authentic and gives them a break from coming up with fresh content on a regular basis.
On TikTok, UGC will come in the form of videos. Brands can use UGC to turn followers into customers and brand advocates, especially with Gen Z – an audience that trusts content from real people over branded content.
Duets Will Be Leveraged by Brands
One of the most popular features of TikTok is the Duets feature. Users can make a video and then encourage others to create their own video to play alongside the original, giving both users a chance to interact.
As long as the creator allows it, any brand, influencer, or user can make a duet on any TikTok video. Brands often use Duets to "throw down a gauntlet" and encourage engagement with a challenge, possibly leading to massive viral content.
A similar feature that will also be popular on TikTok is Stitch, which allows one user to take a short snip of another user's video and include it on their own while expanding on the content. This is often used as a way for users to add their own story or opinion, refute the original user, or share more details. A good example is how beauty influencers will create reaction videos to other beauty influencers' content.
More Behind-the-Scenes Content
Behind-the-scenes content has been a good angle for brands on social media because it serves to humanize the brand and provide more transparency and authenticity. Most consumers have a genuine interest in what happens in the day-to-day of the business, especially if it's one they're loyal to.
TikTok is one of the best platforms for behind-the-scenes content. It's easy for brands to create compelling short-form videos as a "peek behind the curtain" to show how the business runs, how the product is made, or how employees unwind throughout the day.
In 2023, more brands will be leveraging their greatest assets to represent the inner workings of the business – employees. Users get the authenticity they want, and employees have a chance to show off why they love their employer.
"Actionable Entertainment" Will Be a Huge Trend
According to the What's Next 2023 trend report, "actionable entertainment" will be one of the biggest trends in the coming year. Content shared on the platform is curated by using what users find entertaining as a guideline. For marketers, this means that any content that's shared must be entertaining to gain traction.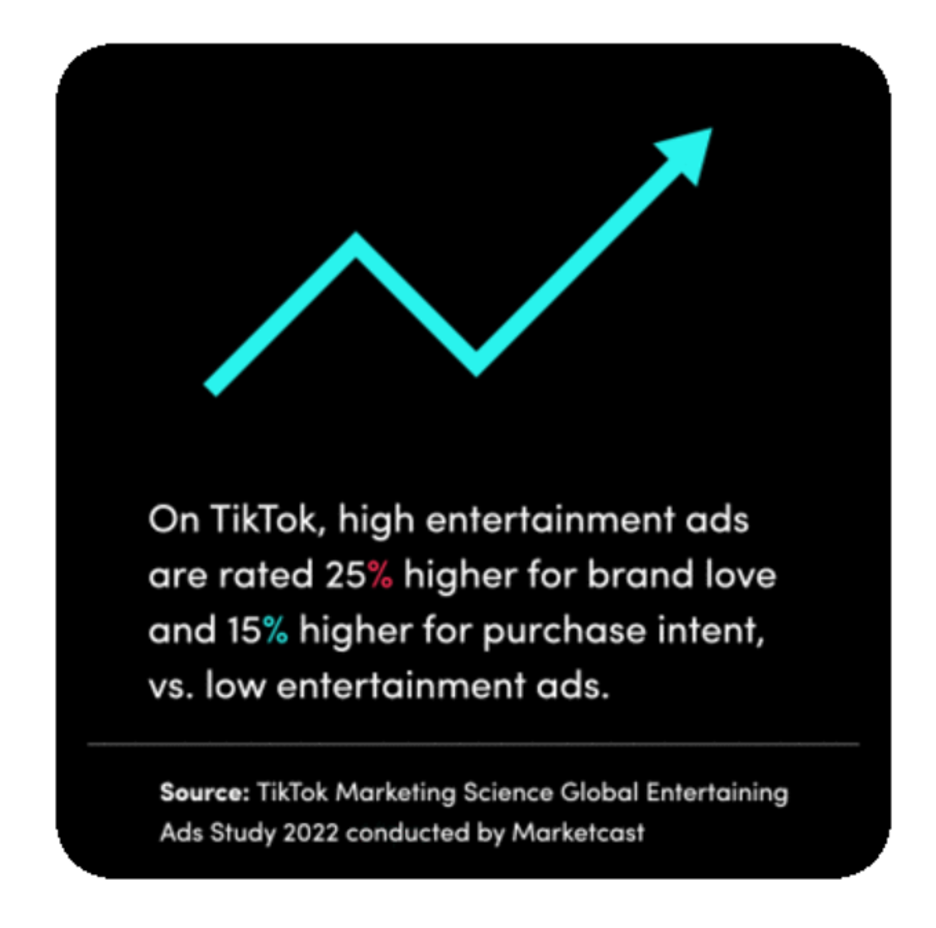 Source: TikTok
Along with this recommendation, TikTok said that users should "make space for joy." This means content with self-care ideas and inspiration, well-being life hacks, uplifting stories, and other positive messages are the best ideas to deliver results.
Brand Communities Will Be More Important
Building a loyal community for a brand has been more essential in recent years, especially following the strife and isolation of the pandemic and society's yearning for more connection.
According to the What's Next 2023 report, TikTok communities have an edge over communities formed on other platforms like Twitter and Facebook. The platform said that "it's a collection of tiny clubs where people can find new ideas on how to explore their passions."[2]
While many users may be on TikTok for lighthearted entertainment, most are looking for answers, inspiration, and meaningful conversations. TikTok suggests that brands explore different niches and get to know the communities to build their own and spark conversation.
The Platform's Search Features Will Improve
TikTok has an existing search feature, but in an effort to help users discover more relevant content, it'll be introducing some updates. This may be due to the fact that younger TikTokkers are using TikTok and Instagram as an alternative to Google, offering similar opportunities for brands with a sharp content marketing strategy.
According to research from Google, in 2022, nearly half of Gen Z users preferred TikTok over Google Search to find information and product recommendations. Gen Zers said this is because they prefer more visual learning.
Several features can bolster TikTok's capabilities, including predictive text that provides suggestions for popular searches and a priority for local content. It's possible the platform may also add a "Near You" tab.
Paid Advertising Will Increase
Though organic content drives results, it's likely that 2023 will bring an increase in paid advertising on TikTok. The platform has grown significantly, so brands may not be able to rely solely on organic content to gain visibility.
In fact, eMarketer estimates that ad spending on TikTok will reach $8.75 billion in 2023, which is an increase over $6 billion in 2022.[3] It's possible that TikTok ad prices will increase in response to the rising demand for paid ads.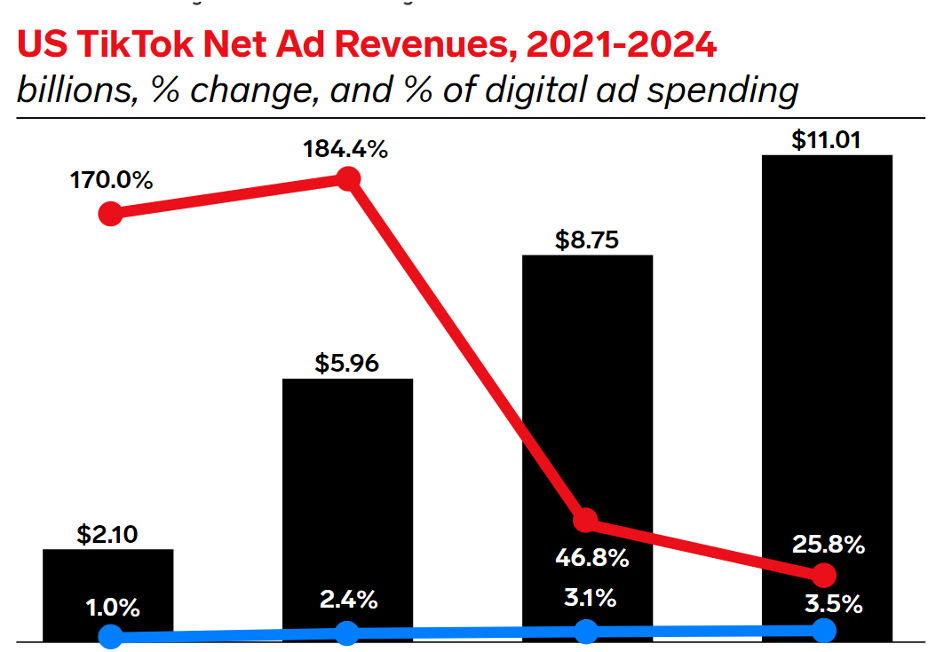 Source: eMarketer
Similarly, influencers may need to consider more paid advertising options to boost their exposure. Because they may not get the same reach, leveraging paid options may be necessary to attract more followers – especially for new influencers.
No matter what, both brands and influencers need to keep the content authentic – paid or not. Native advertising on TikTok ensures that the style and tone aligns with the rest of the content that's consumed on the platform.
Some Industries Are More Suitable for TikTok
Despite its growing appeal for brands in a diverse range of industries, TikTok isn't an option for every brand and influencer. It has a predominantly young audience and caters more to certain industries, no matter how good the content or strategy is.
For example, food and beauty brands tend to do well on TikTok. These industries lend themselves to tutorial videos and attractive visual content. Surprisingly, TikTok has also revived physical books, especially in the young adult category.
Looking to the Year Ahead
TikTok isn't going away any time soon – in fact, it's just getting started. Though the threads of authenticity, youth, and bite-sized content stay consistent, there are new features and opportunities for brands and influencers to expand their online presence on the platform.
Sources:
[1] https://newsroom.tiktok.com/en-us/whats-next-2023-trend-report
[2] https://newsroom.tiktok.com/en-us/whats-next-2023-trend-report
[3] https://www.insiderintelligence.com/chart/255270/us-tiktok-net-ad-revenues-2021-2024-billions-change-of-digital-ad-spending