Ethical marketing might seem like an oxymoron, but like other fields, marketing is beholden to a set of ethical standards to guide campaigns and messaging. There can be a balance between making sales and doing the right thing.
In fact, consumers want to support brands that are dedicated to environmental and social responsibility.[1] Companies that apply ethics to their marketing are winning consumer trust. Here are the 9 best examples of brands doing ethical marketing right.
What Is Ethical Marketing?
Ethical marketing is a philosophy and marketing strategy that seeks to promote honesty, fairness, trustworthiness, values, and responsibility throughout campaigns.[2] This can include everything from socially responsible or environmental causes, transparency and openness, and ensuring messaging aligns with company values like honesty or fair trade principles.
There are five principles of ethical marketing:
Honesty and transparency
Fairness and respect
Maintaining user privacy
Accountability
Sustainability
Here are the best examples of ethical marketing campaigns.
1. Allbirds
Allbirds is moving the industry forward with an unwavering commitment to eco-friendly production. The clothing brand measures all of its production to monitor carbon footprint and publishes sustainability reports, as well as providing transparency into their innovative supply chain that uses renewable materials, green energy, and regenerative agriculture.
The brand also started its Allbirds Flight Plan in 2021, which endeavors to cut its carbon footprint in half by the end of 2025 and reduce it to near zero by 2030.[3] Two years into the project, Allbirds is over halfway toward the goal.
By using ethical marketing, Allbirds successfully sets itself apart from other businesses. It's also a certified B Corporation – a title that's given to businesses with the highest standards of verified social and environmental performance and public transparency.
2. Patagonia
The fashion industry is one of the largest contributors to climate change. It generates 2.1 billion metric tons of greenhouse gas emissions annually, more than Germany, France, and the UK combined.[3]
Brands like Patagonia are at the forefront of the change in the industry, however. Patagonia is focused on being green, so ethical marketing naturally aligns with environmentally friendly practices and anti-consumerism.
One such campaign, "Don't Buy This Jacket," is a great example of ethical marketing.[4] Instead of encouraging consumers to buy more on Black Friday, Patagonia asked them to take a pledge to reduce consumption and raised awareness of the environmental impact in the fashion industry.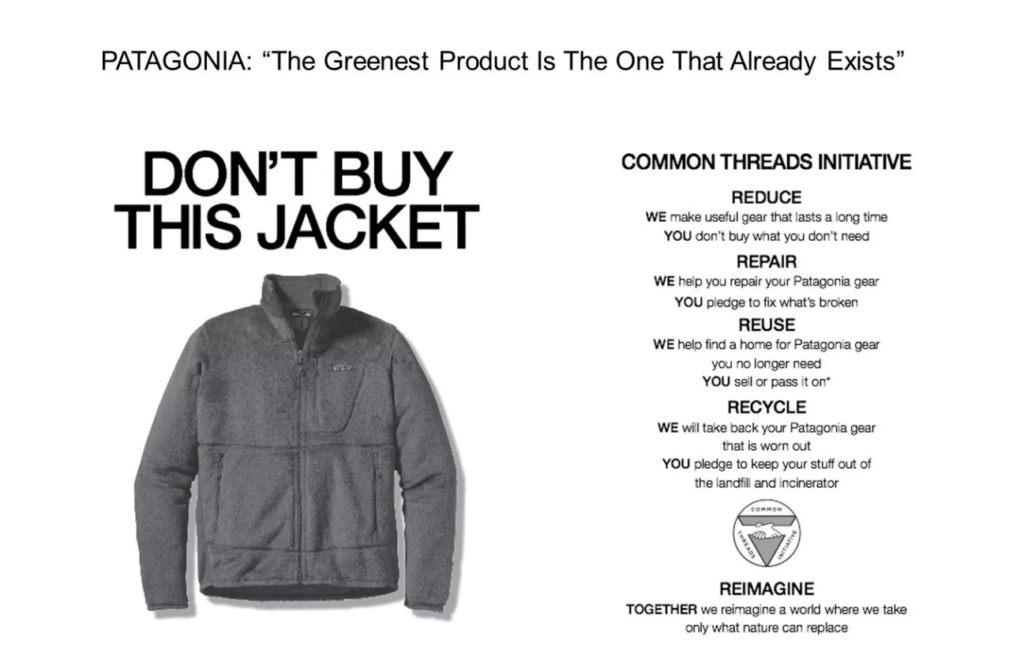 Source: Patagonia
This isn't new, however. Another campaign, "1% For The Planet," has been going since 1985. Patagonia has pledged 1% of sales to the preservation and restoration of the natural environment. So far, the brand has awarded over $140 million in cash and in-kind donations to domestic and international grassroots environmental groups making a difference in their local communities.[5]
3. Warby Parker
Warby Parker is a major disruptor in the eyeglasses market. After losing a pair of eyeglasses and being unable to afford another while attending college, founder Dave Gilboa created Warby Parker to produce affordable quality eyeglasses.
His frustration with the monopoly in the industry was the driving force, leading him to create a more ethical approach with lower prices for prescription eyeglasses and ethical initiatives like charitable contributions and a foundation to donate glasses to those in need.
One of the brand's initiatives, "Buy a Pair, Give a Pair," is an example of ethical marketing. For each pair purchased, Warby Parker donates one to a charity through the Warby Parker Foundation. Since the start of the campaign, the brand has donated over 13 million pairs of glasses through the program.[6]
As a result, Warby Parker customers are invested in the cause as well, driving emotional engagement and loyalty. Each year, the brand publishes an Impact Report that showcases how it achieves its mission with the help of the customers.
4. TOMS Shoes
A well-known name in social entrepreneurship, TOMS is a for-profit brand that was founded in 2008 by Blake Mycoskie. After meeting a woman who delivered shoes to children, Mycoskie offered his help and saw numerous shoeless children, leading him to create TOMS.
Since then, TOMS has had numerous ethical marketing campaigns, including the annual "One Day Without Shoes" event that encourages participants to go shoeless for one day to raise awareness about the impact shoes can have on a child's life.
TOMS also has a business model that's a "one for one concept." This refers to the company's promise to deliver a pair of free shoes to a child in need for every sale of their retail product.[7] The brand has delivered shoes to people in need in Argentina, Ethiopia, Guatemala, Haiti, Mexico, Rwanda, South Africa, and the US.
5. Faguo
Faguo is an all-around eco-friendly and ethical clothing company that maintains its standards in multiple ways, including offsetting its carbon footprint, reducing harmful emissions from production, and planting a tree for every item sold. The brand also promotes reasonable consumerism by repairing products and recycling secondhand pieces from customers.
Ethical marketing is the foundation of Faguo's strategy with a focus on the principles of honesty, sustainability, transparency, and investing in customer education and activism. In doing so, Faguo helps customers make more conscious choices about the fashion they buy and uses production processes that minimize the impact on the environment.
Faguo is involved in several initiatives. One example is the "Make Friday Green Again" project," which has a goal to spread awareness of the environmental impact of huge sales like Black Friday. In addition, Faguo uses the third-party Goodplanet Foundation to measure its emissions and ensure accountability.[8]
6. Pela Case
Pela Case developed the first sustainable, 100% compostable phone case to combat the plastic-heavy smartphone case industry. The brand is an example of using two ethical principles in advertising: keeping its promise to the public and showing transparency in its marketing initiatives.
The brand lives up to its own standards by sharing data about manufacturing, materials, and footprint, offsetting its entire carbon footprint, and donating 1% of sales to environmental organizations.
One of its impressive initiatives is the "Plastic-Free July" campaign that raised awareness of plastic pollution and suggested ways for consumers to reduce their footprint.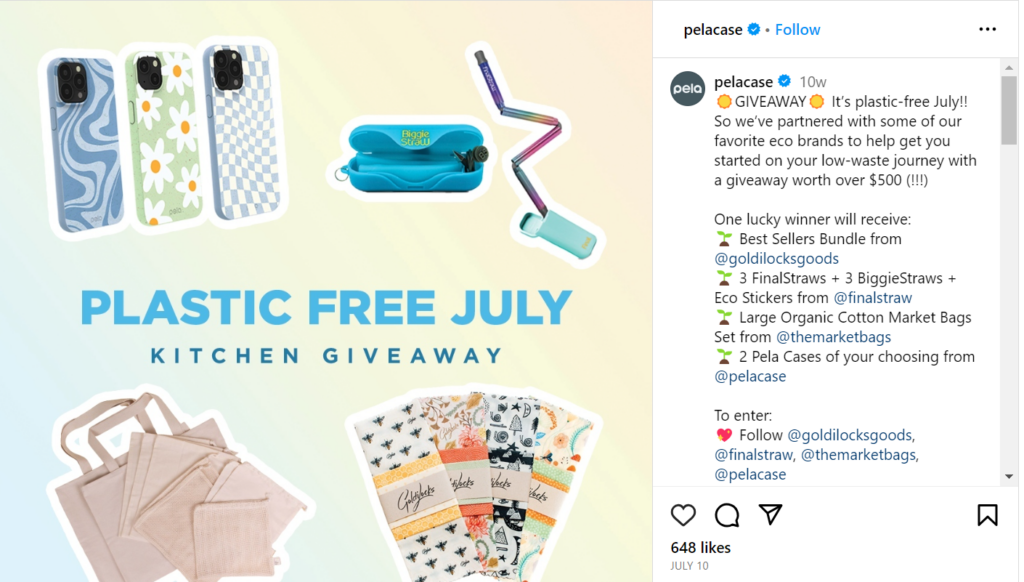 Source: Instagram
As part of this campaign, Pela Case also offered contests for its followers to win an eco-getaway and other prizes from the brand, Habitat, SWWAY, and more from partner brands.
7. Asphalte
Asphalte is another sustainable fashion brand that's focused on eliminating overproduction. The company promotes reasonable consumption with a pre-order business model.
With this model, Asphalte only makes products that consumers choose, ensuring there's not excess inventory or harmful overproduction. This is done using a product survey that asks consumers to rate clothing from 0 to 10. It doesn't take much time, but it has a massive impact.
In addition, Asphalte uses only quality, eco-friendly materials and provides product care guides to help reduce overconsumption. As an example, the Winter Overshirt is made of 100% wool and requires specific care, which customers can follow using the care guide.[9]
8. Yes Straws
One of the biggest contributors to plastic pollution is straws, which the brand Yes Straws is taking on. Yes Straws' mission is to reduce the number of plastic straws to avoid contributing to the 8.3 billion that are already polluting the world's beaches.[10]
Yes Straws biodegradable straws are made from 100% natural materials. Unlike conventional plastic straws, Yes Straws are made of wheat and cane stems free of harmful chemicals and biodegrade within just a few weeks.
The rest of the brand's messaging promotes these values of protecting the environment and choosing a better alternative to plastic. The brand's production is nearly zero waste and uses innovative production methods with proprietary technology to clean and sterilize wheat stems, as well as a process to recycle waste from agricultural wheat harvesting.[11]
9. United By Blue
United By Blue is touted for its environmental protection and ecological practices. It's a lifestyle the brand is committed to, no matter what trends come and go. Upon launching its first T-shirt, United By Blue conducted a community cleanup that became a foundation of the brand. Now, it's removed over 4 million pounds of trash from the ocean.
Aside from cleaning the water, United By Blue makes its products in GOTS-certified factories from sustainable materials, checks the partners' backgrounds and third-party certificates to confirm that they're adhering to the same ethical manufacturing principles, and designs products with reduced harm to the planet, such as reusable coffee cups.
United By Blue became a B-Certified corporation in 2011 and proudly held its status since then.[12] Some other ethical campaigns include the "Quit Single Use Task Force," which audits the use of plastic and comes up with ways to find a substitute, and LEED-certified stores.
Ethical Marketing Matters
The examples on this list reveal how many companies are working toward better environmental practices and social responsibility. Along with being a personal mission for several founders, it makes good business sense. This strategy helps them appeal to consumers that share their values and want to give back.
Sources:
[1] https://insight.kellogg.northwestern.edu/article/consumers-care-if-your-product-is-ethical
[2] https://www.ama.org/ama-statement-of-ethics/
[3] https://www.allbirds.com/pages/sustainable-practices#reality
[4] https://www.patagonia.com/stories/dont-buy-this-jacket-black-friday-and-the-new-york-times/story-18615.html
[5] https://www.patagonia.com/one-percent-for-the-planet.html
[6] https://www.warbyparker.com/buy-a-pair-give-a-pair
[7] https://www.toms.com/us/about-toms.html
[8] https://www.faguo-store.com/en/content/37-offset-our-co2-emissions
[9] https://www.asphalte.com/en-US/h/blogs/guides-dentretien/care-guide-for-the-winter-overshirt
[10] https://www.nationalgeographic.com/environment/article/news-plastic-drinking-straw-history-ban#:~:text=In%20just%20the%20U.S.%20alone,just%200.025%20percent%20of%20that.