Social media has been a boon for businesses and influencers alike. Content creators can use social media to build a following and promote their personal brand, and partnerships or collaborations between influencers and brands create authentic, meaningful conversations with audiences.
There's a vast pool of influencers that brands can tap into, but the competition for attention is fierce. Influencers must rise above and stand out with quality content that resonates with the audience and keeps them coming back again and again.
What Is Influencer Content?
Influencer content is created in collaboration with a brand to share opinions, highlight trends, and make recommendations. They gain followers by leveraging their authenticity and transparency, leading audiences to feel as though they're getting recommendations from a friend or family member.
Types of Influencer Content
There are several types of influencer content that can be effective with the right brand and audience.
Sponsored Social Posts
One of the most common types of influencer content is the sponsored social media post, which can build brand trust and drive sales. This may be a photo or video featuring the product or service with a clear indication that it's a sponsored post or ad.
Sponsored Blog Posts
Similar to sponsored social posts, a sponsored blog post is written by influencers about a particular product or service. Written with more creativity and less salesy language, these posts build a relatable story around a brand and its products to draw in customers.
Product Reviews
Product or service reviews are a popular way for brands to collaborate with influencers to promote their offerings. In some cases, brands provide a product or service for free in exchange for a review, though they may also be paid.
Some examples of product reviews for influencer campaigns include "unboxing videos" for subscription services. Influencers open the box for the first time to show their audience what they receive and test it out live.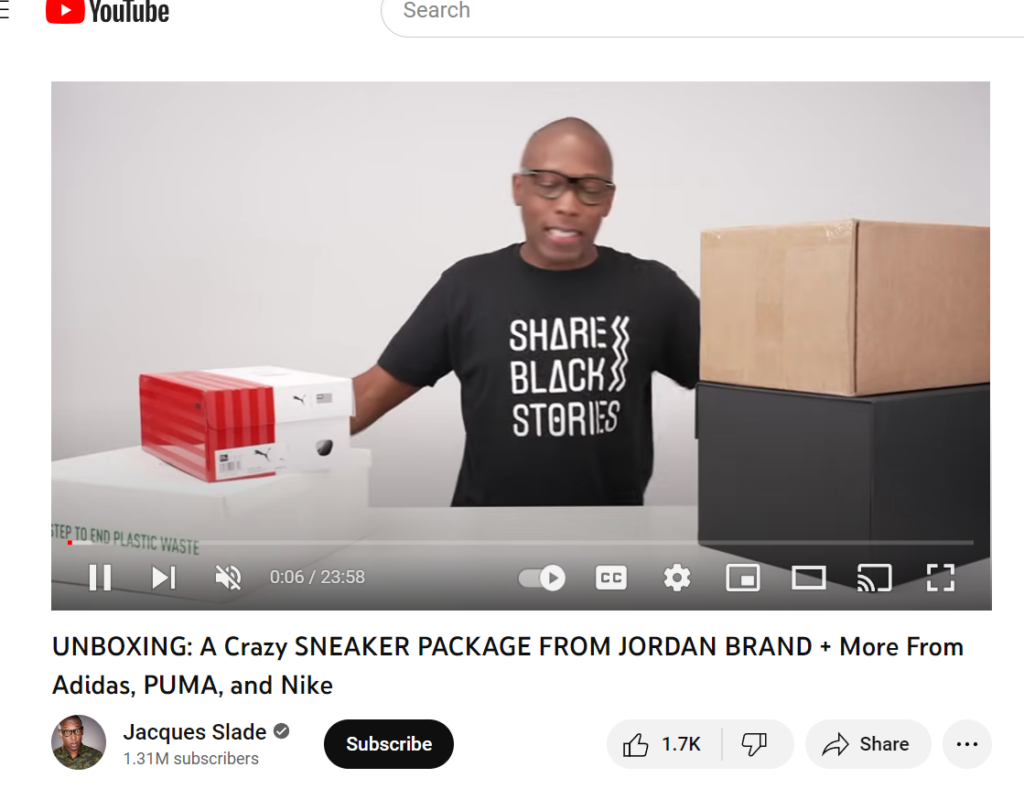 Source: YouTube
Contests or Giveaways
Everyone enjoys free gifts. Contests or giveaways tend to gain a lot of traction on social media as audiences share with their friends and family to increase their chances of winning the prize.
Typically, brands provide a free product or service for influencers to give away to followers based on completing certain tasks. They may request the audience enter by "liking" the post, commenting on it, tagging friends, following a brand on social media, or signing up for a mailing list.
Some contests ask more of participants with photos, stories, or other types of user-generated content as entries to be judged by the brand, which drives more engagement and shares to promote both the influencer and the brand.
Collaborations
Some brands work closely with influencers to co-create products or content together. This is common in the beauty, fashion, and art industries, such as influencers creating a line of clothing or makeup aficionados creating an eyeshadow.
Collaborations are often between an established brand and influencer. The brand gains some of the influencer's equity, but they're responsible for manufacturing and promoting the products. Influencers are typically better known as well, such as celebrities or macro influencers.

Source: Art of Melanie Hava
Social Media Takeovers
Social media takeovers are when brands allow influencers full control over their social media accounts for a specific period of time – often a day. They're free to get creative with the content, whether they use stories, posts, images, videos, or other content.
What Makes Influencer Content Successful?
At its core, all successful content provides value to the audience. It answers a question, solves a pain point, or offers information that's relevant to the users. Here are some other elements that make up effective influencer content, such as:
Authenticity
Influencer marketing became a must-have marketing tactic in recent years as younger audiences became increasingly disillusioned by traditional marketing and paid ads. As these audiences lost trust in brands, influencers offered credibility and honest opinions – positive or negative – that drew in followers.
That appeal still holds true, with many consumers looking to influencers for recommendations and viewing them as more trustworthy and authentic. They value influencers' opinions on the same level as recommendations from friends and family.
Effective influencer content leverages this credibility and builds or reinforces an influencer's reputation, so it's essential that they are truthful and transparent.
Engagement
The most successful influencers engage with their audience, whether large or small. In fact, micro and nano influencers often have more dedicated audiences because of their interactions, which are more practical when interacting with fewer people.
Successful influencer content must inspire engagement through the audience liking, commenting, and sharing. If they're encouraged to share their opinions, ask questions, and start conversations, the post, influencer, and brand gain more traction.
Authority
Influencers must not only have credibility, but they must be authorities in their niche. They have to have knowledge and expertise in their content area that people can trust and rely on, which bolsters their credibility. Authority and authenticity go hand in hand to make the influencer and their recommendations appear truthful and reliable.
Conversely, if the content an influencer produces is factually incorrect, contains outdated information, or is otherwise unreliable, the trust in the influencer, brand, and content will disappear.
Marketing Sense
At the end of the day, influencers are marketers. The successful ones know how to promote their own personal brand, they understand best practices, and they keep up with the changes to social media platforms that could impact their content.
They also understand their audience and what their followers are looking for, so they can present information in the most appropriate and compelling way.
Platform Presence
Influencers use different platforms to interact with their audiences. It's important for influencers to align their content strategy with the platform as well as the brand. What works on one platform may not resonate on another.
For example, the short-form, raw content on TikTok is appropriate for the style of the platform, but that same content may not gain traction on LinkedIn or Facebook – no matter how effective it is otherwise. Even if content is addressing the same topic, it needs to be tailored to the platform.
Consistency
One of the keys to a successful influencer campaign is consistency. Influencers offer content to their followers on a reliable schedule so they can look forward to it. The same is true with sponsored content, whether it's a one-off post or a full campaign.
Influencers must also post at the right time of day for the platform and the audience's most active periods. They have high visibility based on this consistency and engagement, which ensures that their content is seen by the right people at the right time.
Quality Production
The authenticity that younger audiences prefer is often raw, unpolished content that's in stark contrast to highly produced ads that come from major brands. Still, that doesn't mean that content should be entirely without any editing or finishing touches.
Successful influencers understand the balance in content, whether written or in image or video form, that's both raw and honest but with proper editing to provide a better experience for the reader or viewer. Elements like headers, captions, and graphics make content easier to digest, no matter the format, and more captivating to followers.
Passion
Audiences can tell if an influencer feels passionate about their niche, market, or subject matter. These influencers produce better content because they care about the background and growth of their respective industries and they're aware of trends and changes in the market.
It's more engaging for the audience when they're getting information from someone who truly cares and shows enthusiasm for the subject, instead of someone who's disseminating information for the money.
Creativity
Influencers have an inherent understanding of what works for their audience and niche. When they collaborate with brands, some of their personality and style needs to come through in the content. When brands try to control too much of the content strategy, it can lead to messaging that misses the mark with the influencer's following.
While brands can guide the content in the topics, platforms, and voice, it's essential that the influencer has creative control. This also highlights the importance of brands choosing the appropriate influencer for their industry and audience, rather than relying on influencers for a large following or more fame.
In addition, some of the most successful influencers are ones who know how to use different methods of engagement to interact with their followers. Even in saturated markets, some influencers know how to stand out by taking an innovative approach or offering old information in a new light, which makes it more compelling to the audience.
Craft Influencer Content That Resonates
Influencer marketing has become an essential approach for modern brands, but it's important for influencers and brands to work together to create content that resonates with the audience. High-quality influencers create high-quality content because they're passionate about their niche, they understand the value they provide for their audience, and they put effort into producing polished, authentic content.