Influencer marketing is a crucial aspect of many brand's digital marketing strategies, particularly with the rise of social media. These content creators have incredible reach and can persuade their audiences in a way that traditional advertising methods just can't match – but they're not all equal in their clout.
When brands partner with influencers, they can tap into new audiences and gain exposure to potential customers. But like any other marketing campaign, influencer marketing requires careful strategy, goals, and metrics to track performance of campaigns to make decisions about future initiatives.
Influencer analytics tools use a variety of metrics to measure the success of influencer campaigns, including reach, impressions, engagement rates, clicks, and conversions. With metrics, brands can gain insights into the target audience's behavior and preferences and insights into the effectiveness of the content itself.
Types of Influencer Analytics Tools
There are several types of influencer analytics tools available to help marketers evaluate marketing campaigns. Here are some of the most common types:
Account audience analysis tools: These tools offer information about influencer audiences, such as age, location, gender, language, reachability, content efficiency, best post times, audience overlaps, interests, and more. This is key for understanding if the influencer has the right target audience.
Social listening tools: These tools help brands monitor social media conversations and track mentions of the products, brand, or industry. Social listening tools can help identify potential influencers, measure the impact of influencer campaigns, and track audience sentiment.
Influencer discovery platforms: These tools allow brands to find and connect with influencers who are the best brand fit. There are search filters based on criteria like audience demographics, industry, and engagement rates.
Engagement calculators: These tools allow brands to measure the engagement levels of influencer content, such as comments, likes, and shares. This data can provide insights into influencer campaigns and identify areas for improvement.
Performance analytics platforms: These tools offer in-depth analytics and reporting on influencer campaigns. They offer metrics like impressions, reach, conversions, and clicks, providing insights into content performance and ROI.
Management platforms: These tools help brands manage their influencer campaigns and collaborations from start to finish. They may include features like content creation, campaign management, and performance tracking.
Upfluence
Upfluence is a comprehensive platform that offers features for influencer analysis and management. It works with Instagram, YouTube, Twitch, Twitter, Pinterest, TikTok, and blogs. Brands can access performance metrics on a range of platforms. Though their database is smaller than other influencer analysis tools because influencers have to apply to be approved, their keyword search allows a ranking of the importance of keywords to get precise results.
The metrics include insights into engagement rates, comments and likes, views, and much more. Brands can analyze influencer audiences by basic demographics like location, age, and gender. This is also an opportunity for brands to evaluate authentic follower counts for influencers.
Upfluence also has a free Chrome plugin that can be used to analyze influencer profiles from the browser, which is compatible with most social platforms. The social commerce feature allows brands to see influencers in real-time when they visit a site.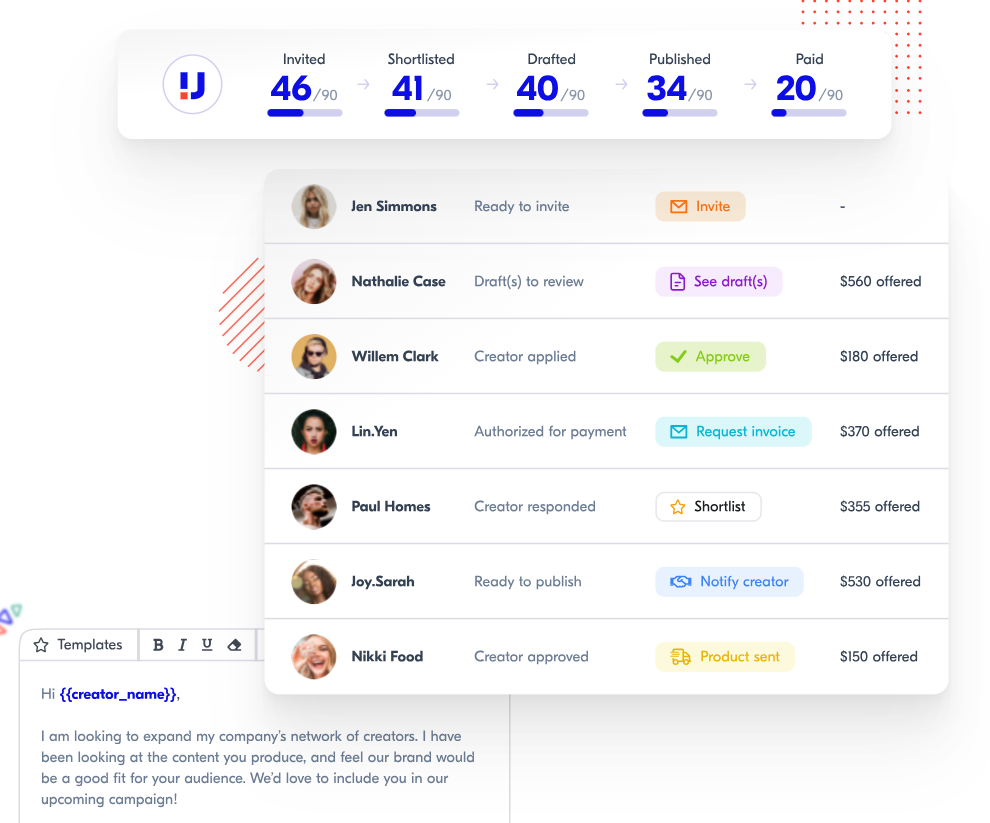 Source: Upfluence
Modash
Modash offers a platform to find and analyze influencer profiles to get detailed audience and performance analysis. The platform hosts over 200M influencer profiles for major platforms like TikTok, Instagram, and YouTube.
Brands can search and filter influencers based on profile, languages, hashtags, follower ranges, engagement rate, keywords, and more. There are also filters for language, interests, demographics, and location by country and city. Specific influencers can be found using handles.
Modash crawls publicly available profiles to get valuable influencer data for any creator that has a following of 1K or greater. The data is accessible through public profiles, so there's no need for brands to verify it with influencers first. There's also a performance overview to compare influencers and posts and track content.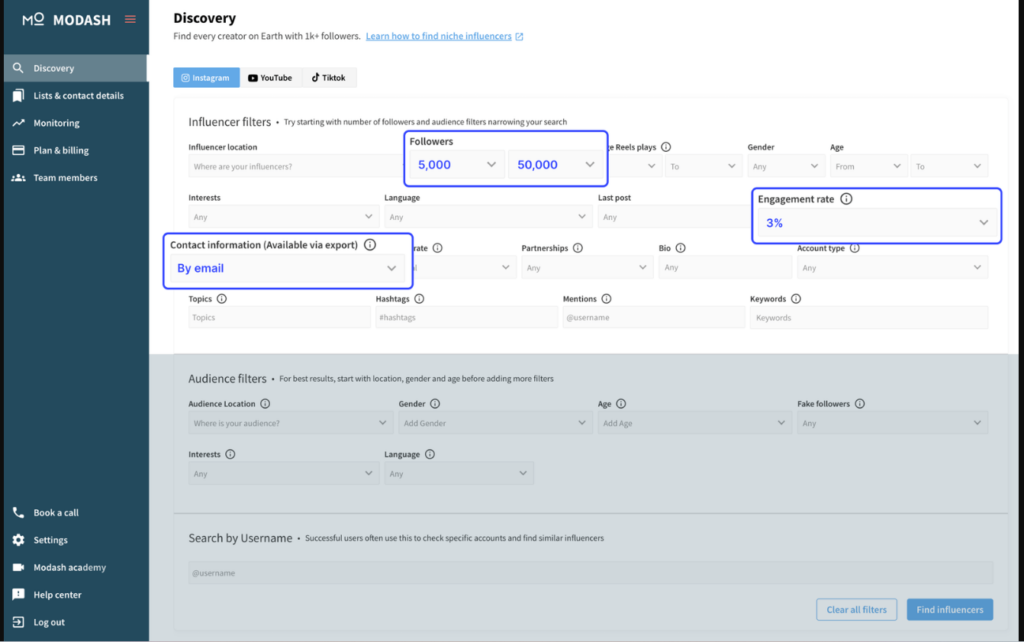 Source: Modash
HypeAuditor
HypeAuditor is a platform that ranks top influencers based on engaged and authentic followers. Brands can select from a list of the top 1,000 influencers in a variety of niches, or they can be broken down by category. The database of over 78M influencers, as well as 35 metrics for vetting influencers and identifying fraudulent influencers.
The fraud detection feature is helpful and monitors influencers by seeking out suspiciously fast follower growth and bot-generated comments. HypeAuditor has a small database that could limit coverage in target regions, however. As far as analytics, HypeAuditor covers age, location, gender, language, and ethnicity. Analytics for education level, marital status, household income, and more are available for Instagram only.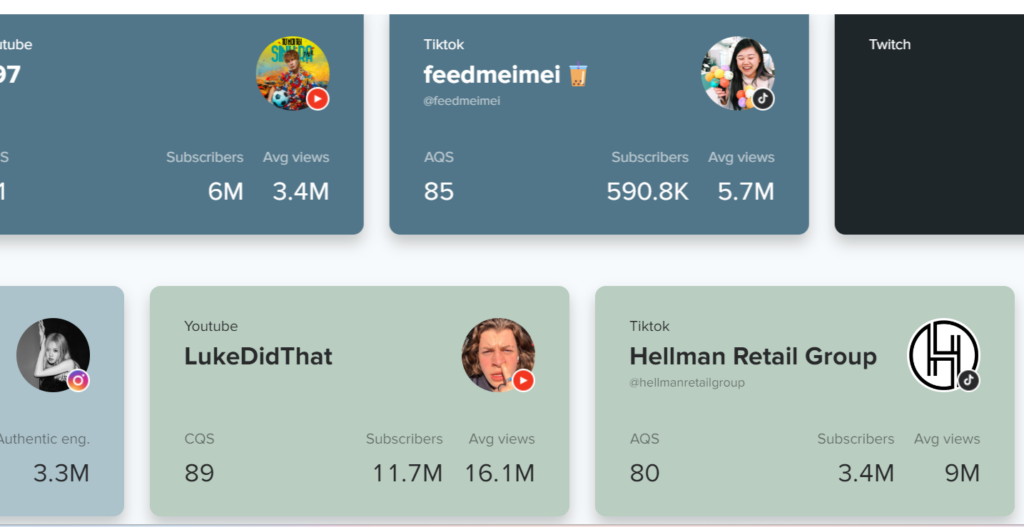 Source: HypeAuditor
BuzzSumo
BuzzSumo can provide insights into what's trending on social media and shared content to inform campaigns, and it offers influencer and outreach features to search, analyze, and follow influencers to find the ones relevant to a brand. There are filters to sort by relevance, domain authority, follower count, and more.
There's a Chrome extension and a database of 500,000 journalists for certain niche audiences, but BuzzSumo is not a dedicated influencer marketing platform. It offers no tools to verify the authenticity of followers, but it does have some useful tools to include influencer marketing in a brand's overall marketing strategy.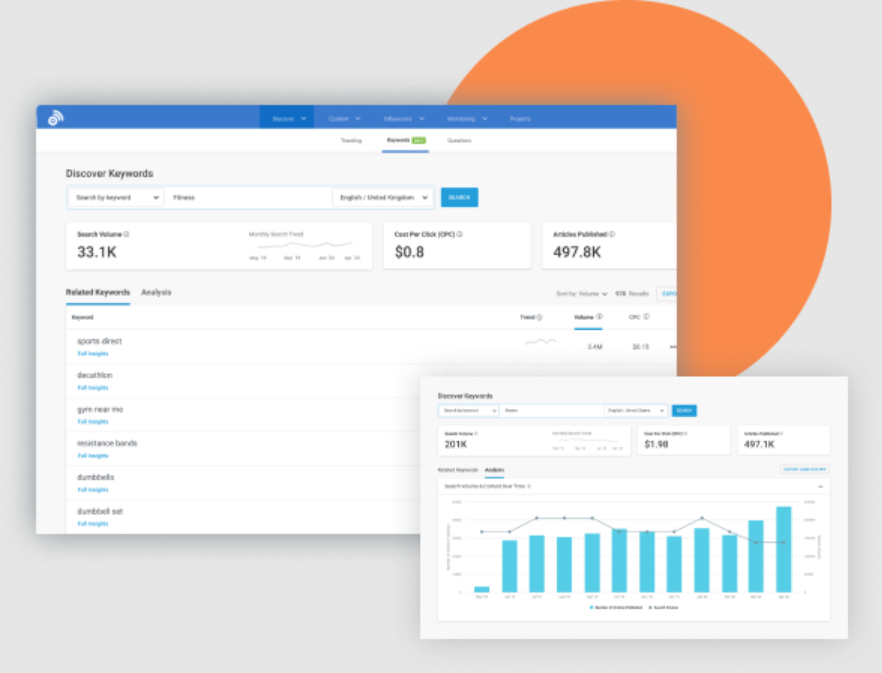 Source: BuzzSumo
NinjaOutreach
NinjaOutreach has over 100M influencers on its platform, which is supported by machine learning technology that continually works to personalize data. Brands can search by niche and location, audience engagement rates, budget, likes, and replies per post by followers. This data can be exported as a CSV file as well. Because NinjaOutreach is designed for search and outreach, it only offers metrics on influencers, not performance metrics and campaign monitoring features.
Grin
Grin is a comprehensive creator management platform with a full suite of tools for influencer marketing and ecommerce. Brands can use it to put together a list of influencers who bought products and verify influencers using the Fake Influencer & Credibility tool or Influencer Analysis Tool. It's a large and complex tool, but it has a lot of features for brands looking to level up their influencer marketing campaigns.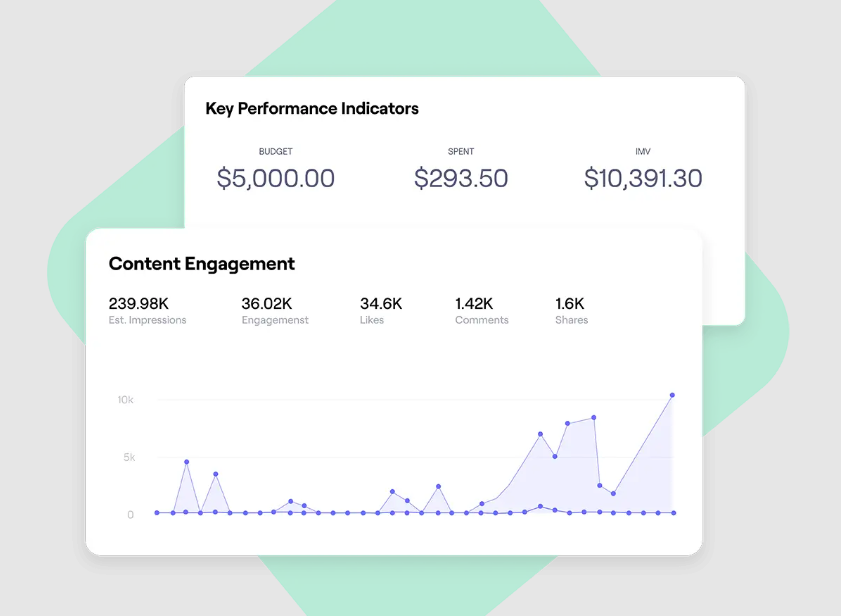 Source: Grin
Buzzoole
Buzzoole offers a search for over 2M influencer profiles using the platform's AI, which determines the best influencer fits for a brand. The AI tool evaluates influencer data to determine what brands influencers are working with, what content may be rejected, and other factors to streamline the influencer selection process.
These reports show reach, likes, comments, and shares, all contained within a handy graph. There are options to filter the information by country or city, a minimum percentage of the audience, and some demographics for certain platforms.
Klear
Klear is an easy-to-use influencer marketing platform that offers discovery, tracking, analytics, and relationship management. It provides a comprehensive analytics and monitoring tool that has advanced social listening features. The Klear Influencer Score helps to prioritize creators for the highest level of influence, which improves the accuracy of influencer selection and analysis.
Like other tools, Klear uses AI tools and generates a score from 0 to 100 to analyze influencers and narrow down the possible selection. Brands can filter searches by accounts that are actively mentioning the brand or products. All campaign-related content, including brand mentions, keywords, and hashtags, is recorded.
Heepsy
Heepsy offers influencer analysis tools and a database of 11M influencers with over 5K followers. Brands can filter influencers by location, category, engagement, and audience. These reports contain fraud detection information to filter out fake followers, as well as filters for location and age demographics. There are tools to organize influencer lists and export data to automate outreach as well.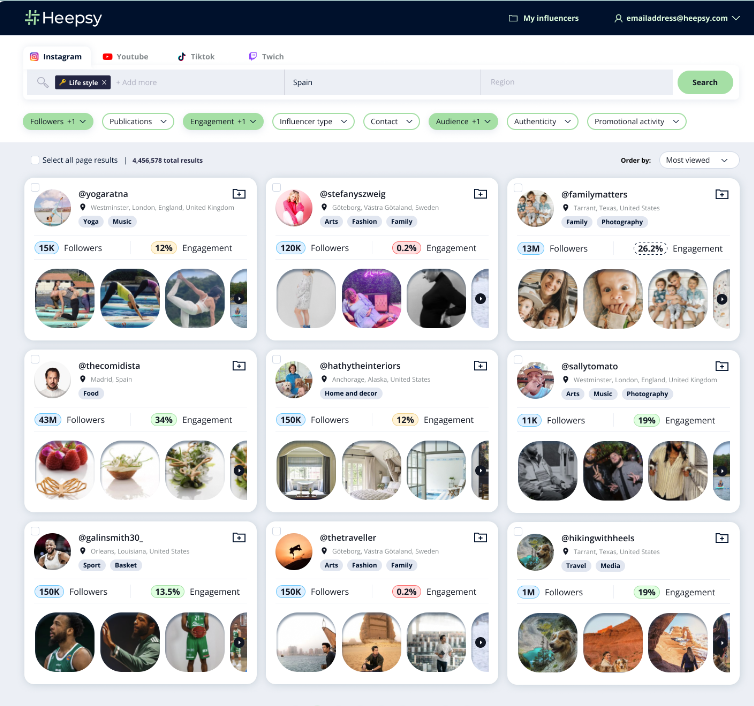 Source: Heepsy
Emplifi
Emplifi is a comprehensive influencer analysis tool that provides insights into influencers' performance on different social media platforms, including Twitter, Facebook, Instagram, and YouTube. It offers advanced analytics features like audience segmentation, competitor analysis, and content analysis. This platform doesn't have real-time analytics, however.
How to Choose the Right Influencer Analytics Tool
Different influencer analytics tools offer different advantages, so it's crucial for brands to consider what they need and their budget to choose the best one. Understanding the goals and objectives for influencer campaigns, assessing budgets and pricing models, and evaluating the user interface are the most important considerations, but brands should also read reviews and compare features to ensure they're getting the features that matter most.
Influencer Analytics Tools for Campaign Success
Brands should research and experiment with different influencer analytics tools to ensure that influencer campaigns are worth the investment. Though the industry is growing rapidly, it's essential to have accurate data and insights to plan