Influencer Marketing for Skincare Industry Brands
With the social media explosion over the last few years, the beauty industry has climbed in both reach and influence, driving buyer decisions in a previously unknown direction.
Instagram, Facebook, TikTok, Pinterest, and YouTube scrollers get to experience immediate results, tutorials in real-time or watch long-term transformations right from their phone. All while feeling like they're getting an "inside scoop" on what their favorite influencer is using in their daily life or the next big trend.
Related: Top Instagram Influencers
These influential content creators have shifted the way people shop, how they become familiar with brands, and how the buying public is educated about product use and styling techniques.
Hubspot reports that 71 percent of buyers are more likely to purchase after a recommendation from a content creator on social media.[1] That's almost three-quarters of the marketplace.
Social media has turned brands into educators, not just marketers. The storytelling that influencer marketing weaves into their content organically amplifies the value of a product far more than an ad.
Research indicates that 75 percent of people don't trust ads.[2] It's clear that a beauty brand would be far better served with skincare influencer marketing in the this space.
Getting to Know the Influencer
Following an influencer and sending a message isn't enough. Brands need to do their homework with influencers to craft the perfect pitch and showcase the value they bring to the table to build a genuine relationship.
It's important that brands don't jump into an influencer partnership because of the number of likes and follows. The influencer should represent brand values and align with messaging. Brands should also seek influencers with the right number of followers and influence.
Here are some questions to ask:
What have they sold before?
What are their engagement rates?
Who follows them back?
What is their multi-platform reach-potential?
For a product to have the most success, brands need to find someone with the same or a similar target audience as the brand. Their previous content should be thoroughly vetted to ensure their style and message aligns with the brand's value and mission.
Influencers have created an entirely new storefront and taken cookware or jewelry parties hosted in a living room to the next level, so it's vital that brands treat them like the savvy entrepreneurs they are.
Giving Influencers Creative Freedom
Influencers have a personal brand, so they know how to present content that appeals to their audience. This is what they do, and that's why brands hire them. Their effectiveness or authenticity should never be limited by restricting their creative control.
They've already built trust and established credibility with their audience, and a brand is just borrowing it. The right influencer will know how to engage and inspire their following and move them towards buying action.
Brands should never make the mistake of hiring the expert and then not listening to said expert's advice. They should be given the opportunity to share their ideas or what they envision. They may be able to give an entire campaign a new direction or spearhead ideas for an entirely new product launch.
They have the eyes and ears of the people — brands should lean into their innovation and see what happens.
What Skincare Influencers Want from Beauty Brands
Influencers have their own personal brand to protect and an audience to satisfy. They've worked hard for both, so they take time choosing the beauty brands they work with.
Typically, skincare and beauty influencers will prioritize brand partnerships with brands that have products they already use. It must be a valuable contribution to their lives and to their audience. They also want to work with brands that are transparent about their company and offer clear, consistent communication.
For some influencers, values and mission are just as important as the products. If the brand or product goes against their personal beliefs or how they've established their own personal brand, they may pass on the opportunity. For example, a beauty influencer committed to cruelty-free products is searching for brand partnerships with cruelty-free brands.
Finally, all influencers want a healthy and collaborative influencer-brand relationship, and brands should want the same. With time, effort, and a strategic approach, one-off campaigns can grow to become a healthy, long-lasting, and mutually beneficial relationship.
Some of the elements of a healthy relationship include ample lead time, clear and early communication, timely responses, consistent feedback (both giving and taking), and creative freedom. Essentially, the goals on both sides of the relationship are being met.
Fake Social Is Dead — Raw, Sensory-Driven Storytelling Is in
Any influencer chosen must be an authentic creator, and the campaign must be authentic to the brand and who it is as a company. People know they're being sold to, but they want to feel a connection first. That can't be done by only showcasing unrealistic standards and disingenuous content.
Enough celebrity influencers have been exposed for inconsistent or inauthentic product sharing to set the standard for what NOT to do. Buyers are smart and can easily sniff out a fake.
Talent comes in all shapes, sizes, colors, and cultures with influencer marketing. Part of what makes influencers successful is their unique perspective, their spin. That's why their followers continue to follow, continue to engage, and continue to buy.
Friendly Influencer Marketing: The New Storefront
Micro influencers often have higher engagement rates because they're able to connect on a personal level with their audience members.
Responding to comments, replying to messages, and sharing a glimpse into their personal life are all ways influencers overcome the stranger hurdle and have created a whole new category of "friends." And friends talk about the products and services they trust on a daily basis, up to as many as 90 times per week![3]
Top Skincare Industry Influencers
Michelle Phan
Michelle Phan is one of the earliest beauty influencers to achieve online popularity with her personal blog. She shared makeup tips and tutorials, eventually gaining a feature on BuzzFeed and millions of subscribers on YouTube. Her career includes partnerships with Endemol Beyond USA, Loreal Paris, and Lancôme. She now has 1.9 million followers on Instagram and nearly 9 million subscribers on YouTube.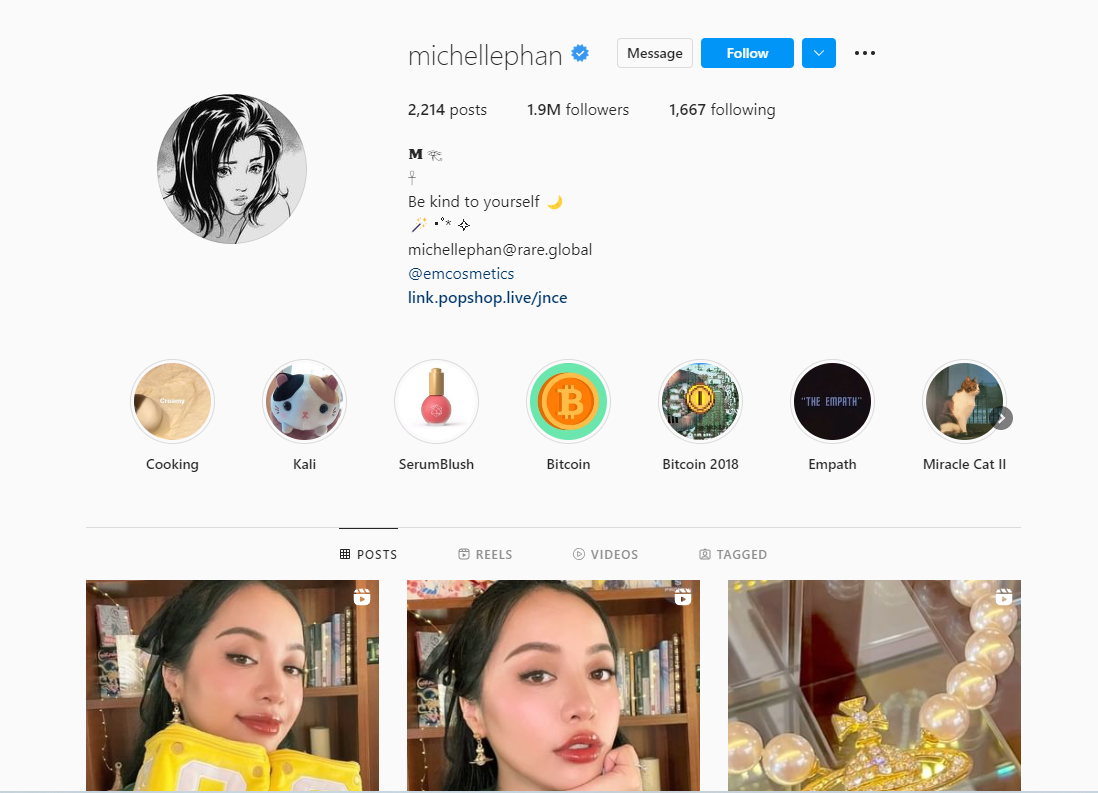 Source: @michellephan
Jeffree Star
Jeffree Star is a top beauty influencer and personality, as well as one of the highest paid YouTubers. He founded his makeup brand, Jeffree Star Cosmetics, in 2014 and has since launched numerous successful collections. He still shares content on his social accounts, including stunning visual content for his 13.8 million followers on Instagram.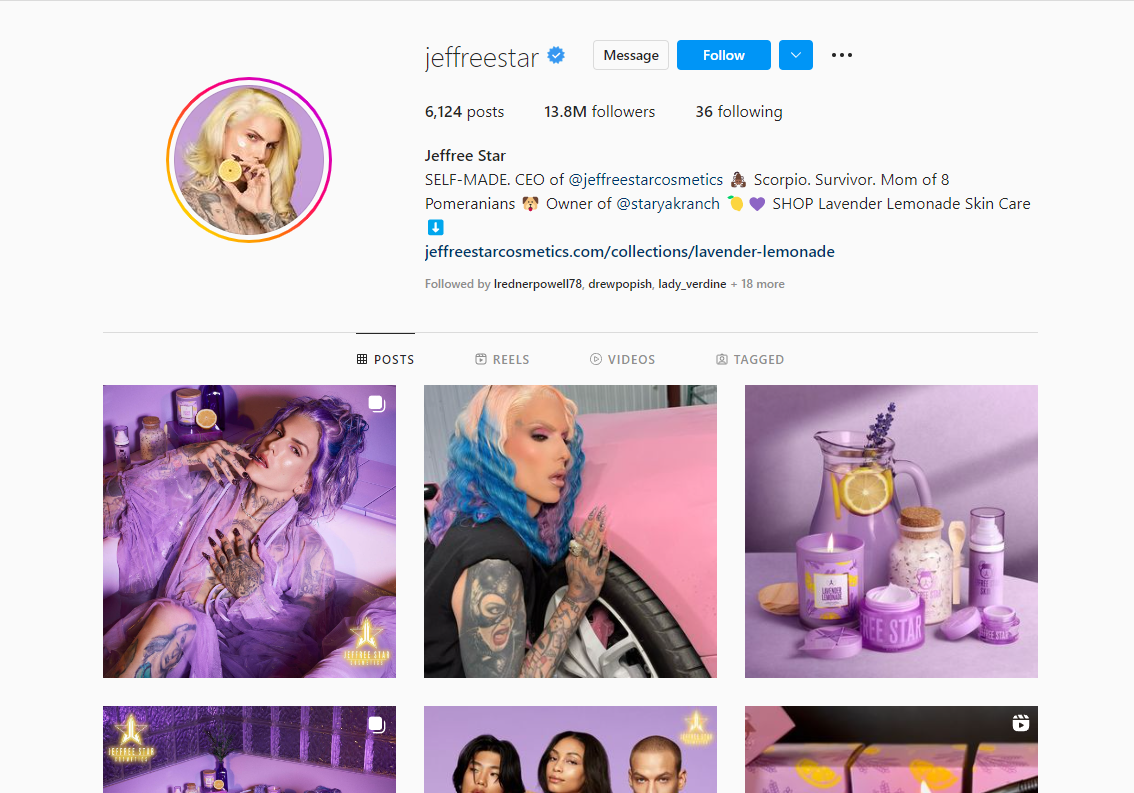 Source: @jeffreestar
Manny MUA
Manny MUA is an American makeup artist, YouTuber, and beauty blogger that began content creation in 2014. He's been posting makeup tips and tutorials for his millions of followers ever since, and launched his beauty brand, Lunar Beauty. Some of his notable brand collaborations include partnerships with OFRA Cosmetics and Morphe Cosmetics.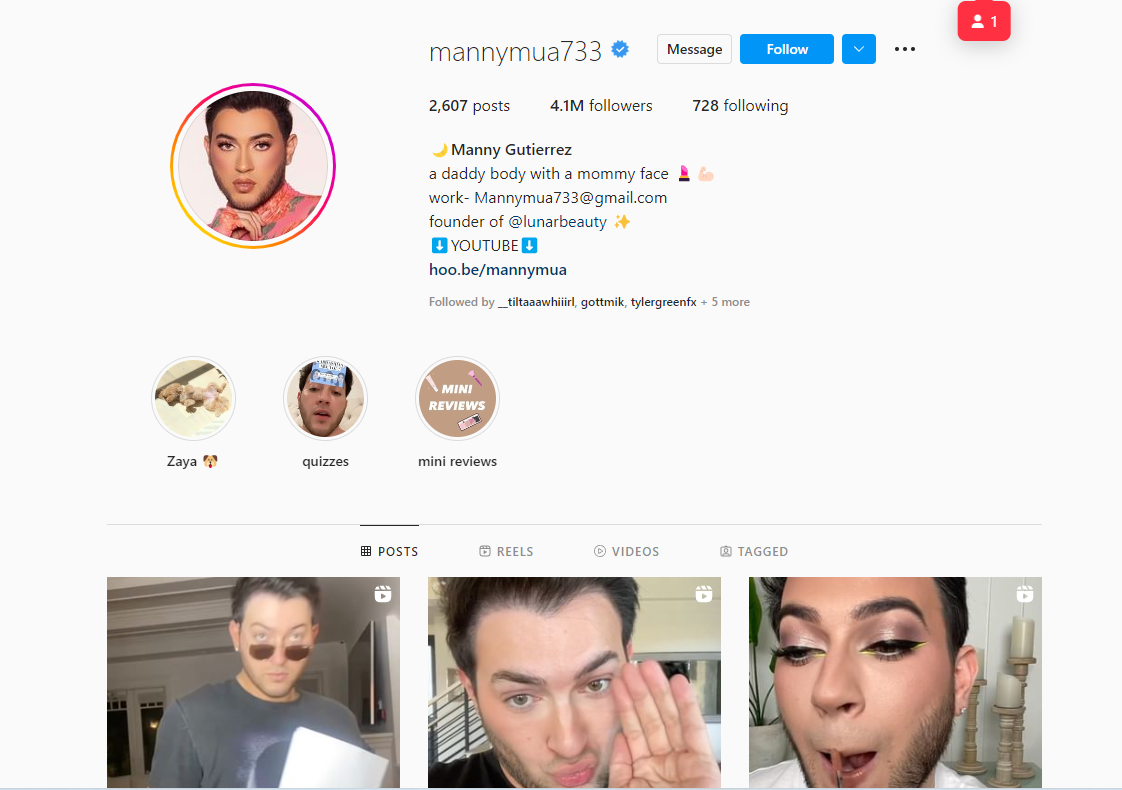 Source: @mannymua733
James Charles
After launching a YouTube channel with makeup tutorials in, James Charles rose to success as a beauty YouTuber and influencer. In 2016, he became the first male brand ambassador for CoverGirl and has since launched his own makeup line and eyeshadow palette with Morphe Cosmetics. He's received several awards, including a Teen Choice Award, three Streamy awards, and two People's Choice Awards.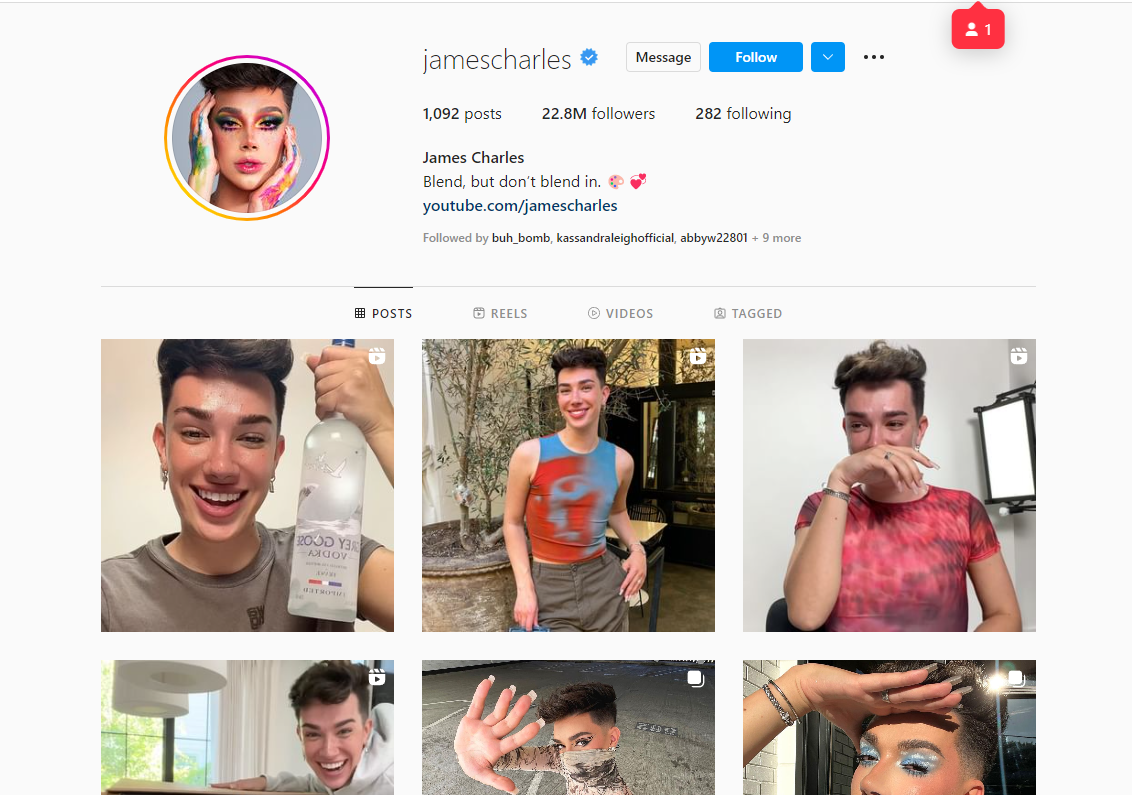 Source: @jamescharles
Jackie Aina
The Nigerian American beauty blogger, Jackie Aina, is a beauty blogger and advocate for people of color in the cosmetics industry. She's partnered with several brands to raise awareness of diversity, including Too Faced, e.l.f. Cosmetics, Sephora, and Sigma Beauty. She launched her own home goods line, Forvr Mood, in 2020.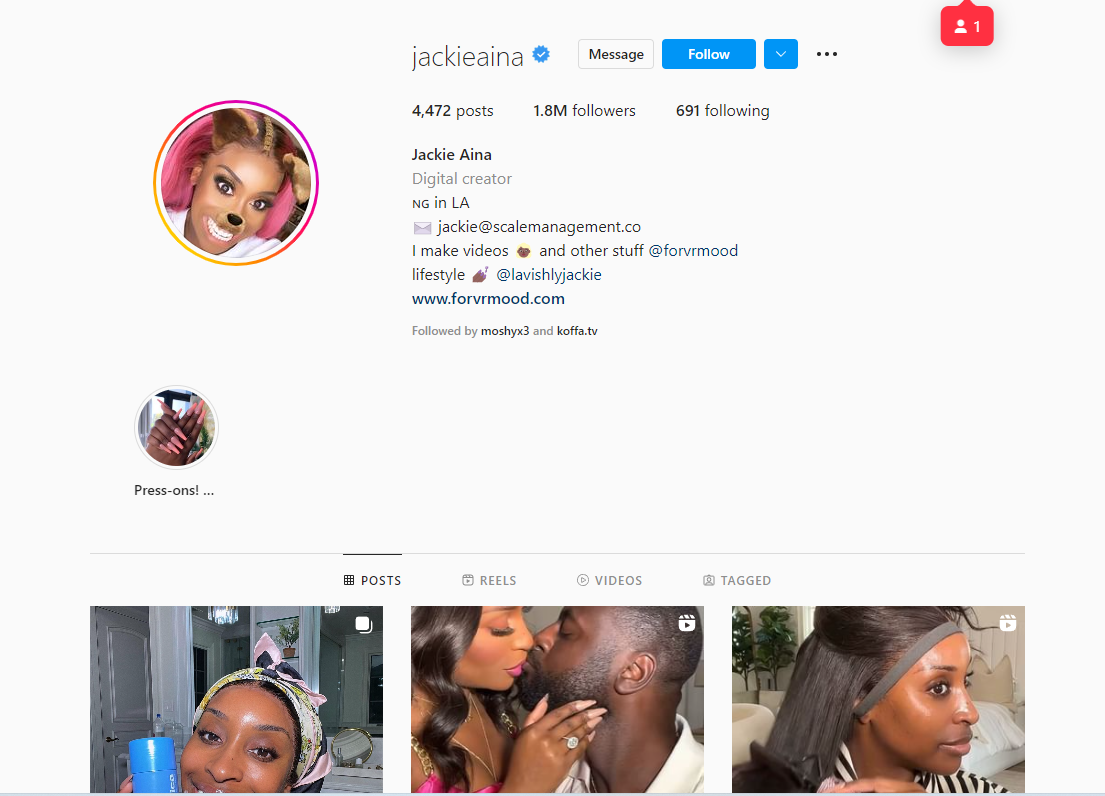 Source: @jackieaina
NikkiTutorials
Nikkie de Jager is a Dutch beauty blogger and makeup artist. After launching her YouTube video, The Power of Makeup, she gained rapid fame. In 2017, she was named one of the top beauty influencers by Forbes and won an award for YouTube Guru at the Shorty Awards. Her skincare and beauty line, Nimya, focuses on prepping and priming skin.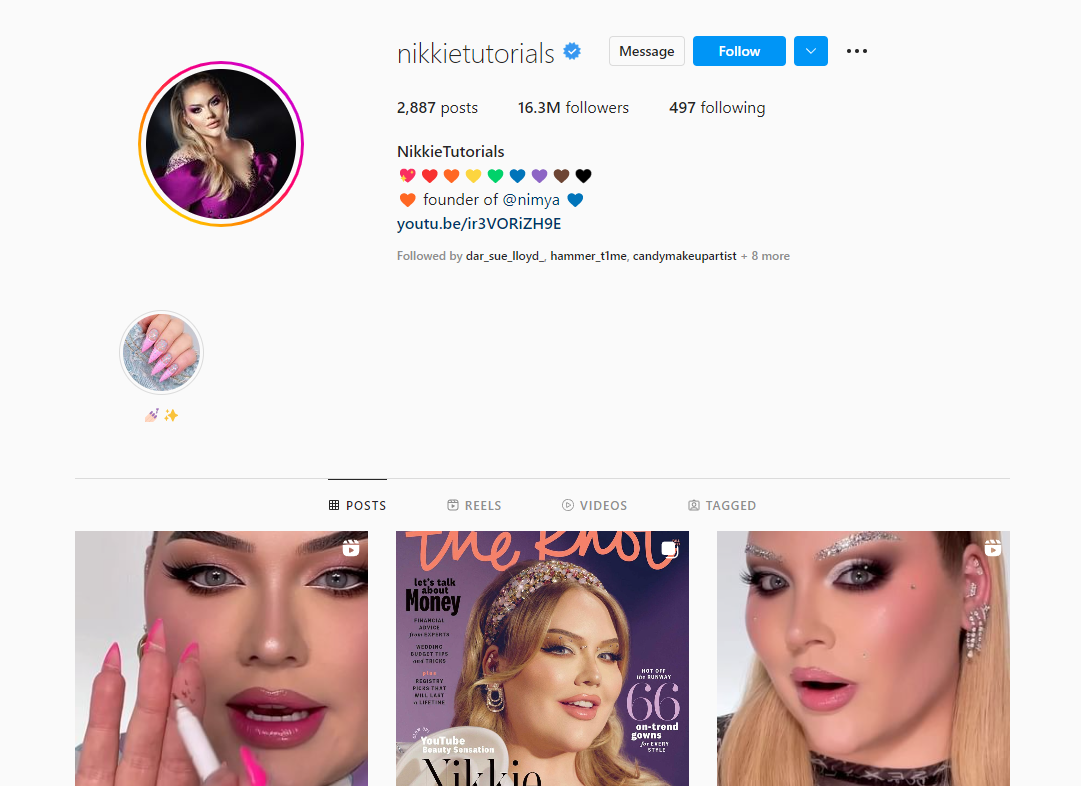 Source: @nikkietutorials
Luxy Hair
Luxy Hair is run by Mimi Ikonn, an Azerbaijani YouTuber and Entrepreneur. After starting her YouTube channel in 2010, she's amassed a huge fanbase eager for tips, reviews, and recommendations. Her focus is on cruelty-free fashion, beauty, and hair products that conduct no animal testing in product development. She also has a line of highly rated hair extensions.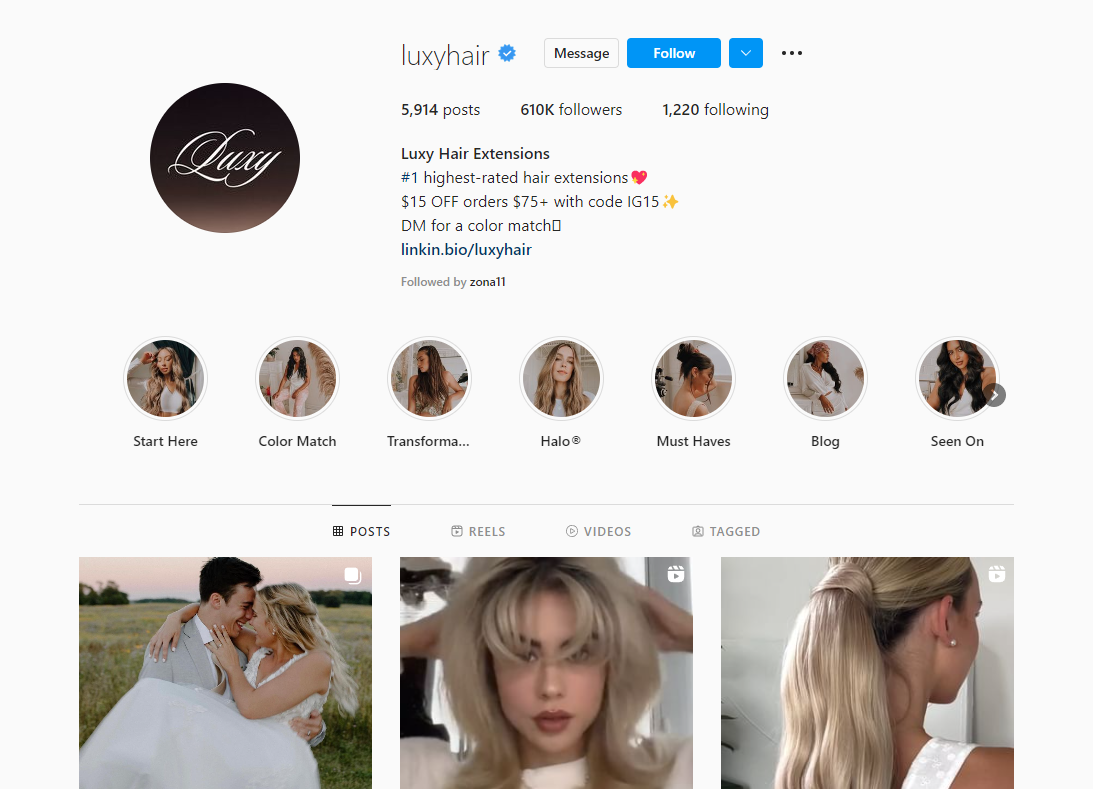 Source: @luxyhair
Influencer Marketing in the Skincare Space: The Beauty Brand's Best Bet
Influencer marketing is the grown-up version of "show and tell." With skincare and beauty products, it's one of the most effective ways to show off a product's best features. Leveraging a skilled influencer in the skincare space could propel a brand's products into the hands of a new generation of buyers. Contact us for your skincare influencer marketing needs.
Sources
[1,2,3]https://blog.hubspot.com/blog/tabid/6307/bid/30239/71-More-Likely-to-Purchase-Based-on-Social-Media-Referrals-Infographic.aspx