Influencer marketing is a booming industry across multiple platforms, but none are quite so lucrative as Instagram. This platform offers visually-driven content for the feed, short-form videos in Reels, and temporary, raw sharing with Stories.
These attributes make it an ideal platform for popular content creators like we've featured here. Take a look at these top Instagram influencers and see what sets them apart from the rest!
Related: Top Esports Influencers
#1 Sommer Ray
This former bodybuilder shares a variety of fitness, modeling, and lifestyle content with 26.5 million Instagram followers. She's paired with brands including Booty Bands and has been featured in Maxim and Seventeen.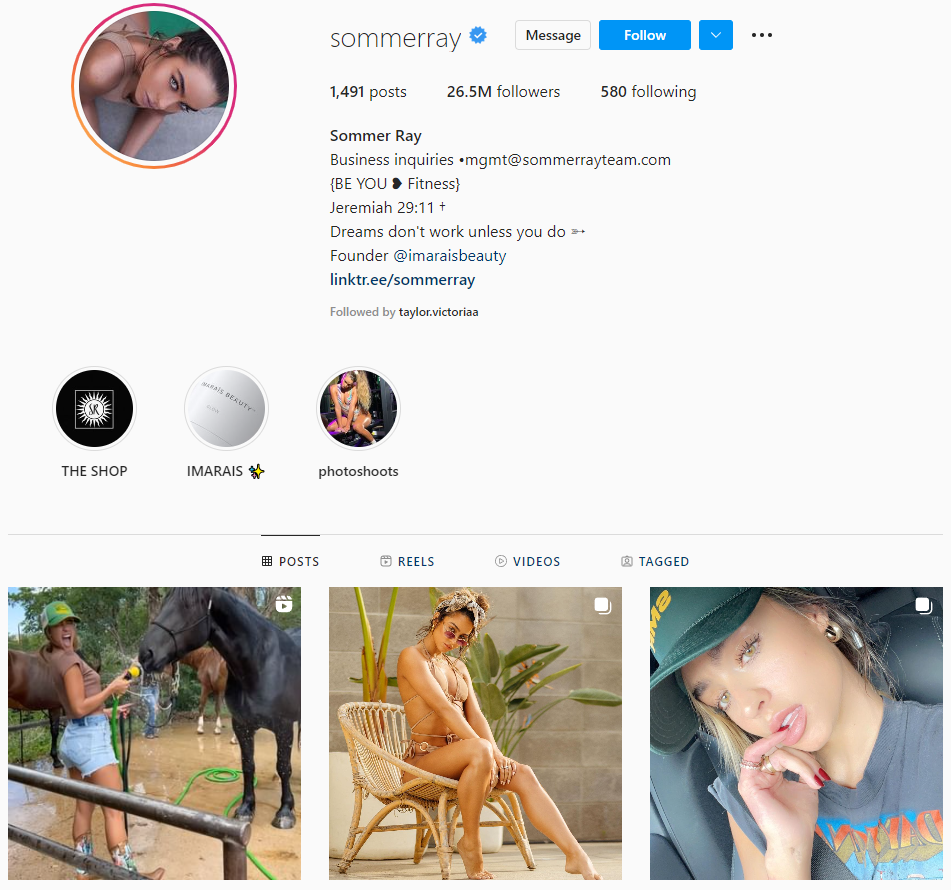 Source: @sommerray
#2 Cristiano Ronaldo
One can't talk about Instagram without mentioning Cristiano, the most followed person on Instagram with 465 million followers. The global soccer/football star shares action shots, footage from the field, and several brand partnerships.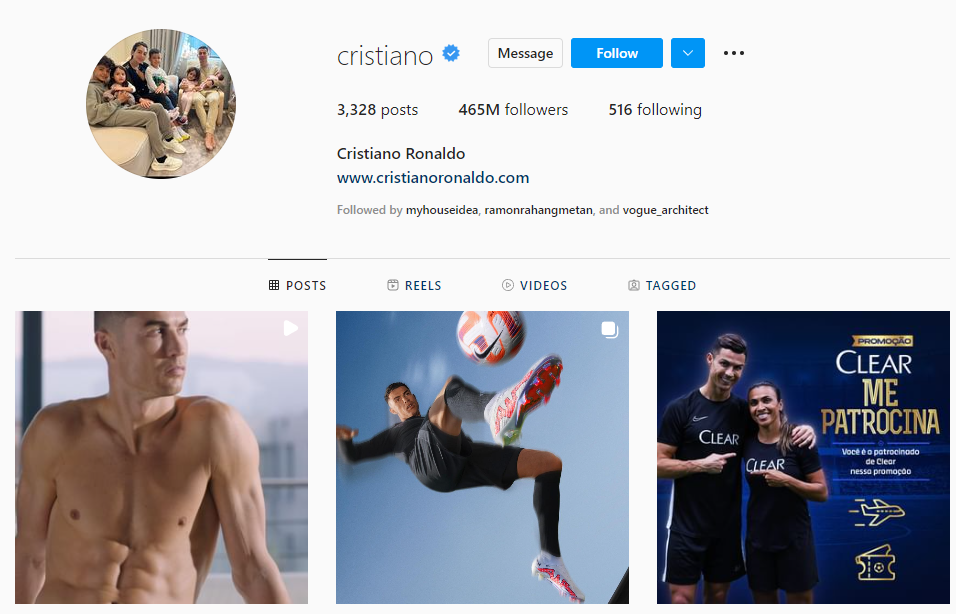 Source: @cristiano
#3 Kylie Jenner
From reality TV stardom to a thriving beauty empire, Kylie is the most followed of the Kardashian clan with 345 million Instagram followers. She focuses on fashion, beauty, and lifestyle content.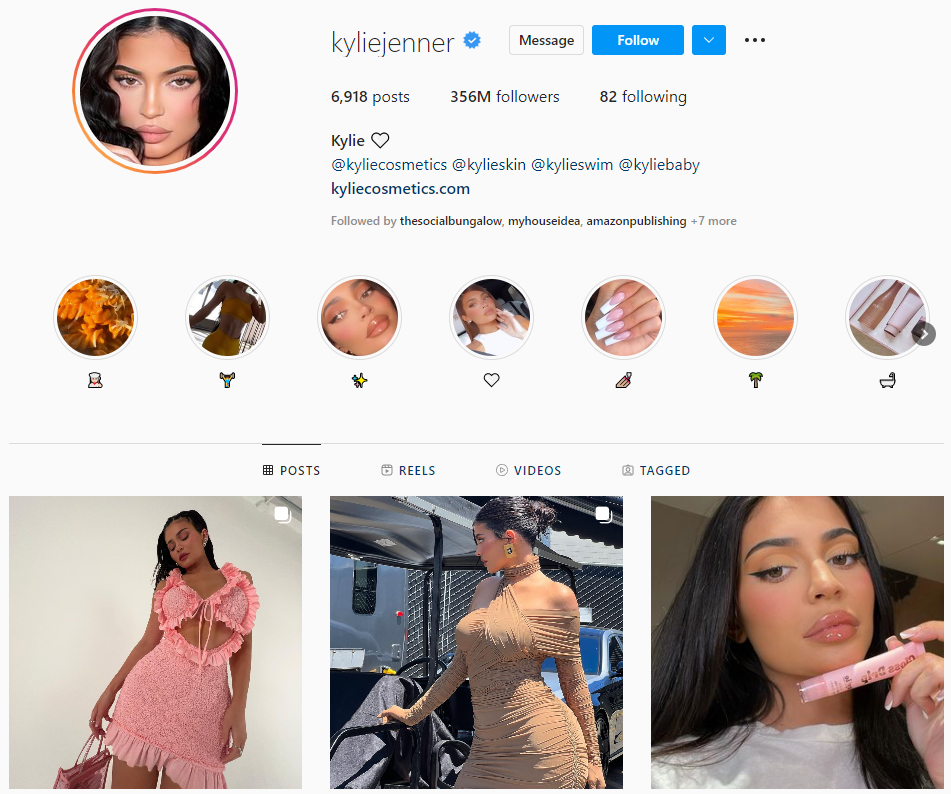 Source: @kyliejenner
#4 Leo Messi
Another global soccer/football star is Leo Messi. He has worked with multiple brand and product partners and shares athletic and lifestyle content for 347 million followers.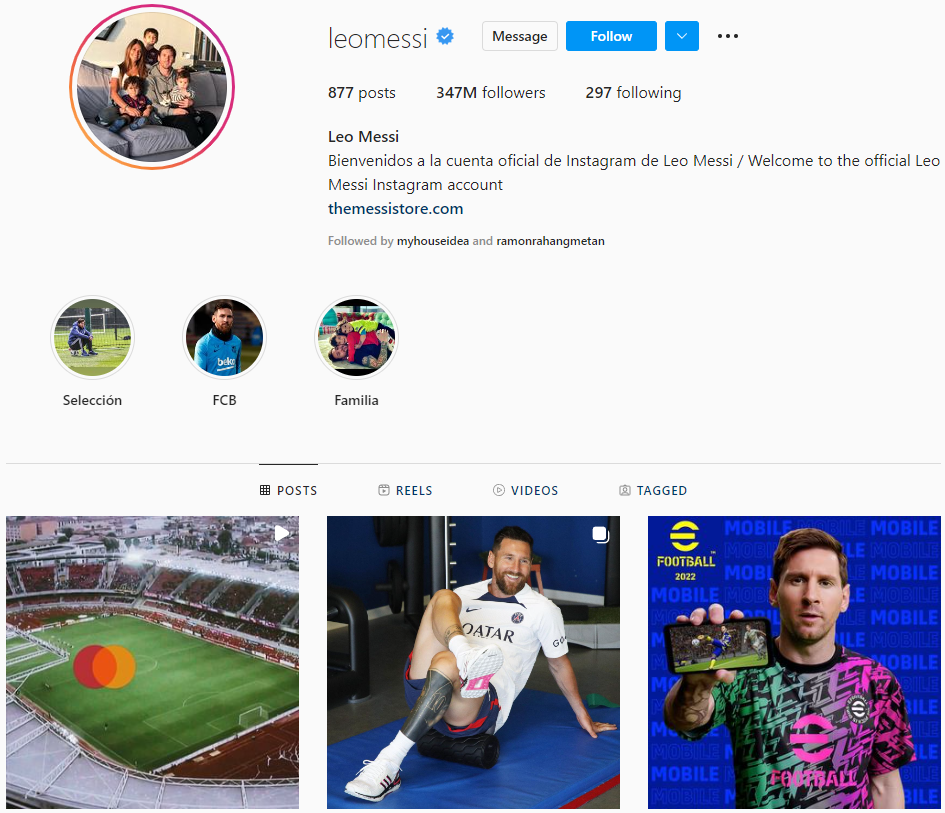 Source: @leomessi
#5 Kim Kardashian
Kim is the definition of a celebrity influencer. She shares high-quality photoshoots, features brand partners, her own product lines, and an enviable lifestyle with 323 million followers.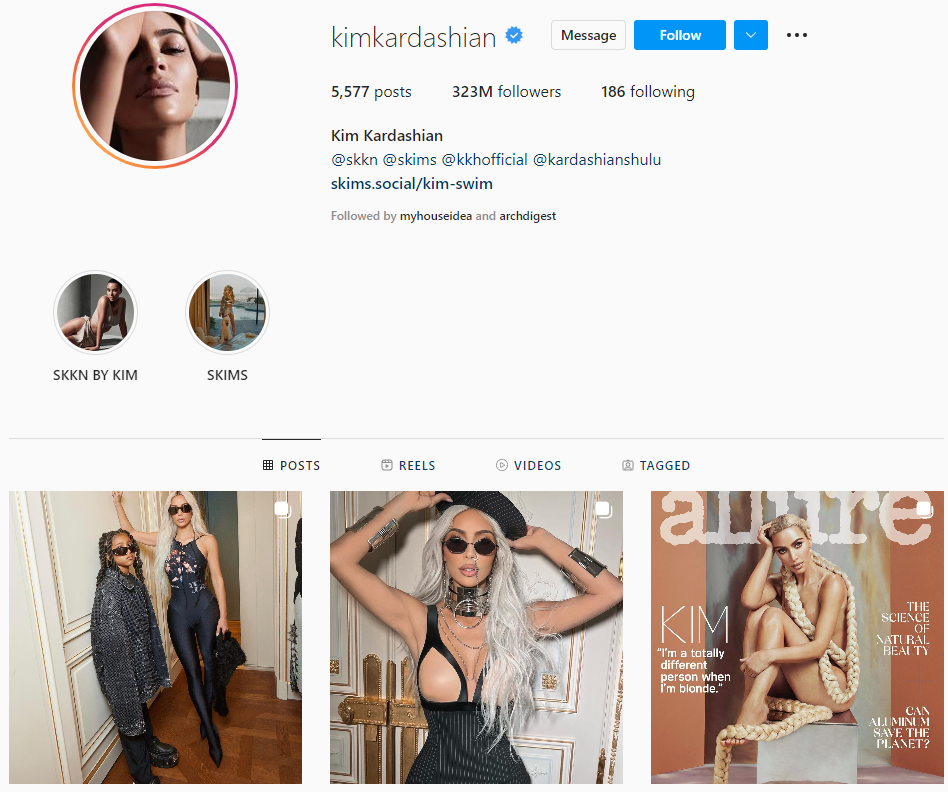 Source: @kimkardashian
#6 Kendall Jenner
The other half of the Jenner sister duo, Kendall, is a fashion model and entrepreneur. She's collected over 247 million Instagram followers for whom she shares a mix of lifestyle and photoshoot-style content.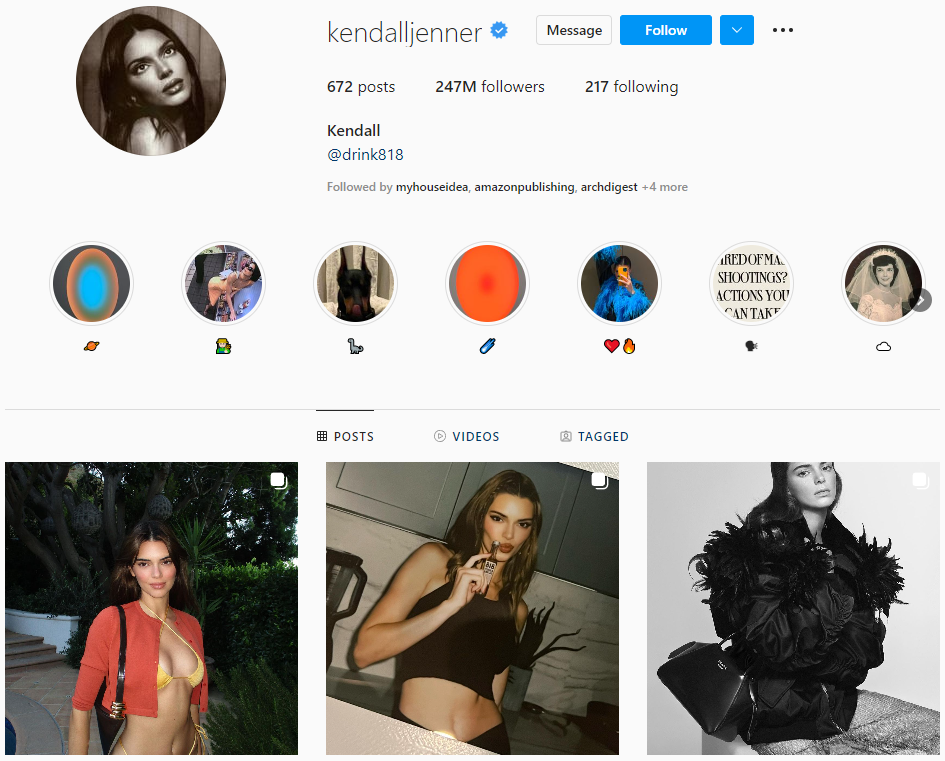 Source: @kendalljenner
#7 Lele Pons
Lele started her influencer journey on Vine and then transplanted her brand to Instagram, where she now has 49 million followers. She shares fun fashion and lifestyle content with a comedic edge.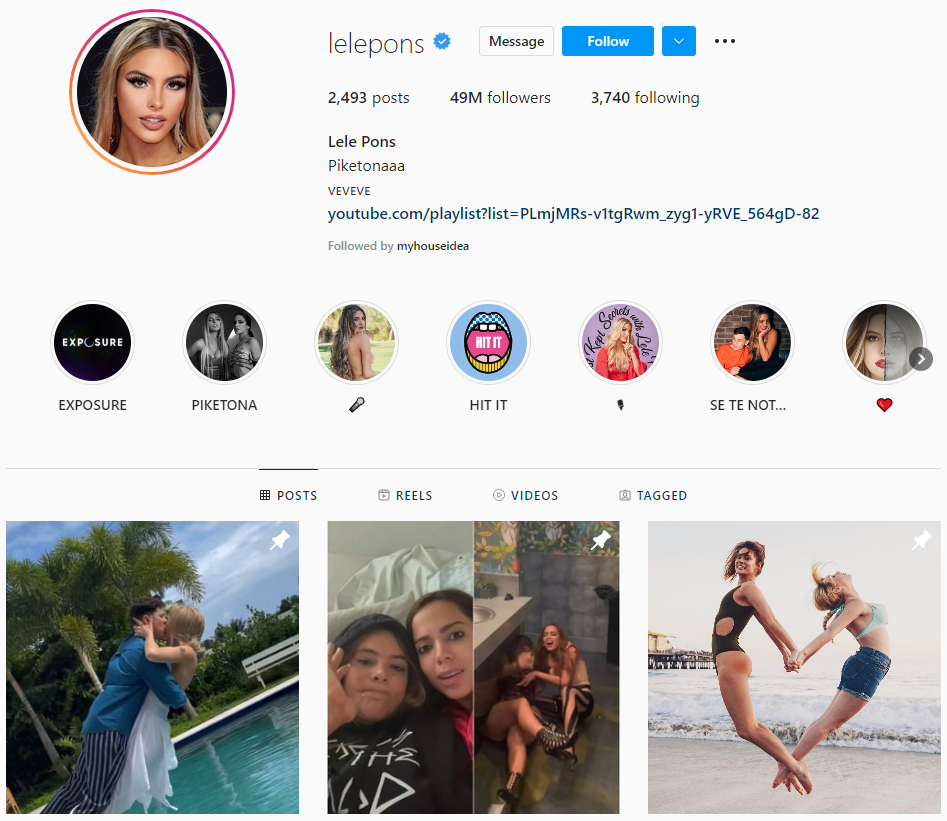 Source: @lelepons
#8 Huda Kattan
From blogging to makeup artistry, Huds is now a global beauty brand with 50.5 million Instagram followers. She primarily focuses on cosmetics and skincare with a hint of lifestyle content.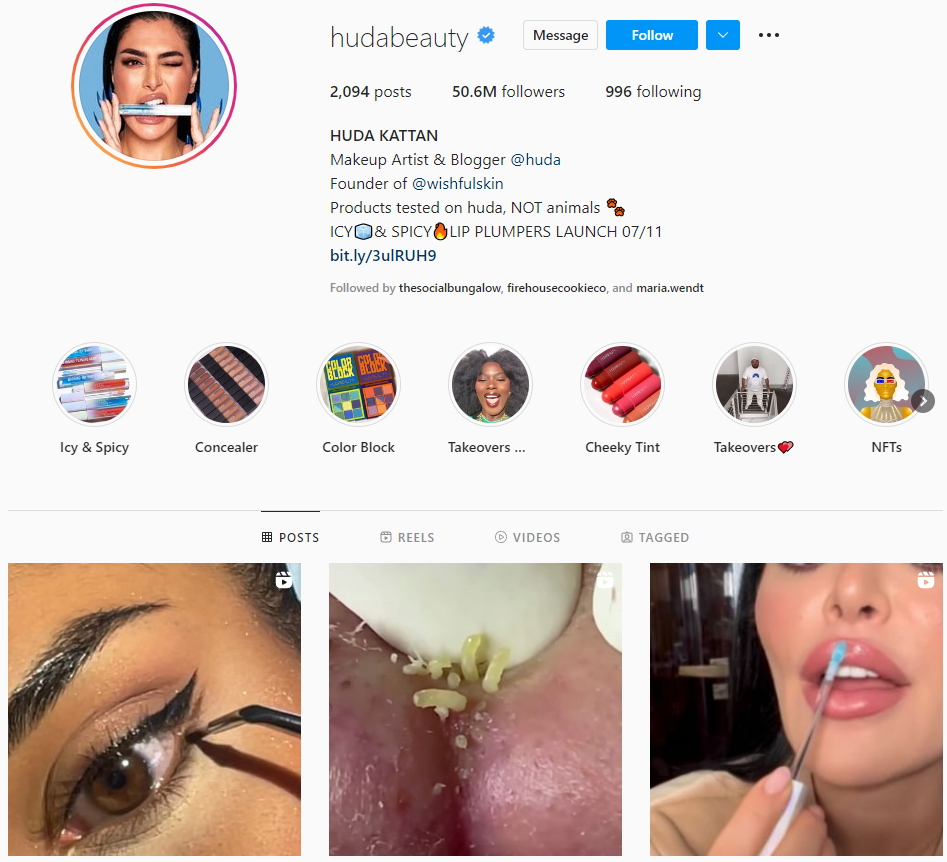 Source: @hudabeauty
#9 Salt Bae
@nusr_et AKA Salt Bae
@Nusr_et is the man behind the viral meat salting video that is now a movement. In addition to collecting 46.8 million followers, he has also launched his butcher shop brand across multiple restaurants.
Source: @nusr_et
#10 Chiara Ferragni
Chiara started out as a fashion and travel blogger, and her content stays in that lane. Today, she's a mega Instagram influencer, founder of a clothing label, and the star of her own Amazon Prime Series.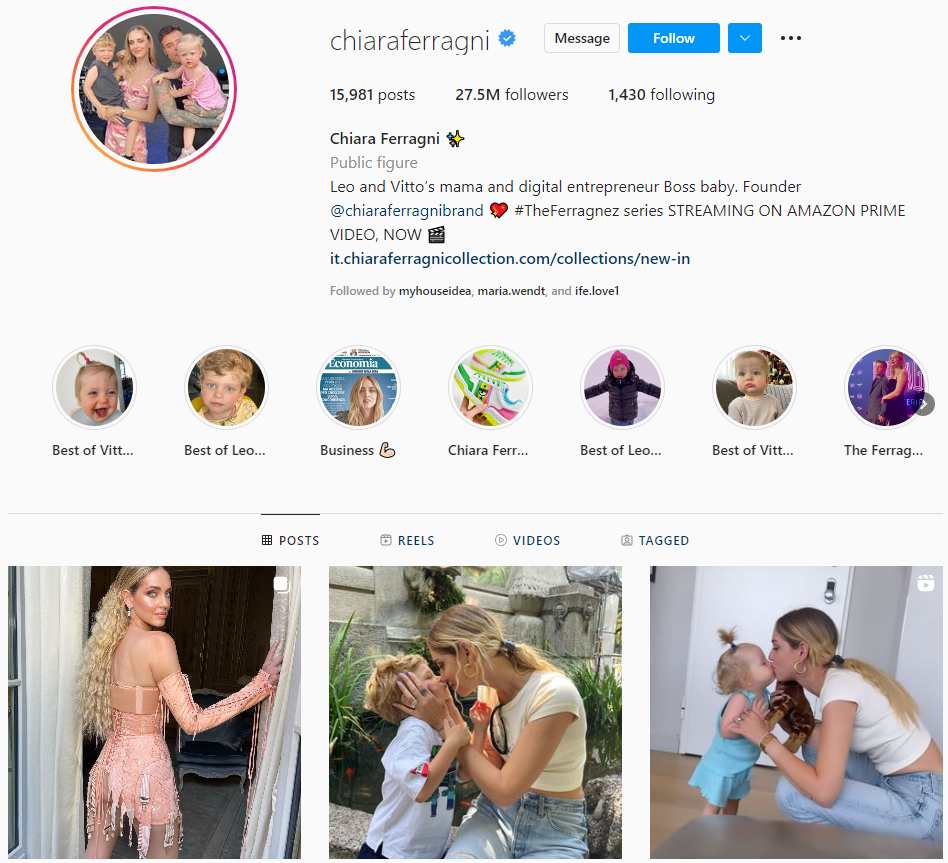 Source: @chiaraferragni
#11 Gigi Hadid
The daughter of a fashion model and a billionaire, Gigi is now a global fashion model and fashion influencer. She has worked with brands such as Tommy Hilfiger and has made the cover of Vogue more than once.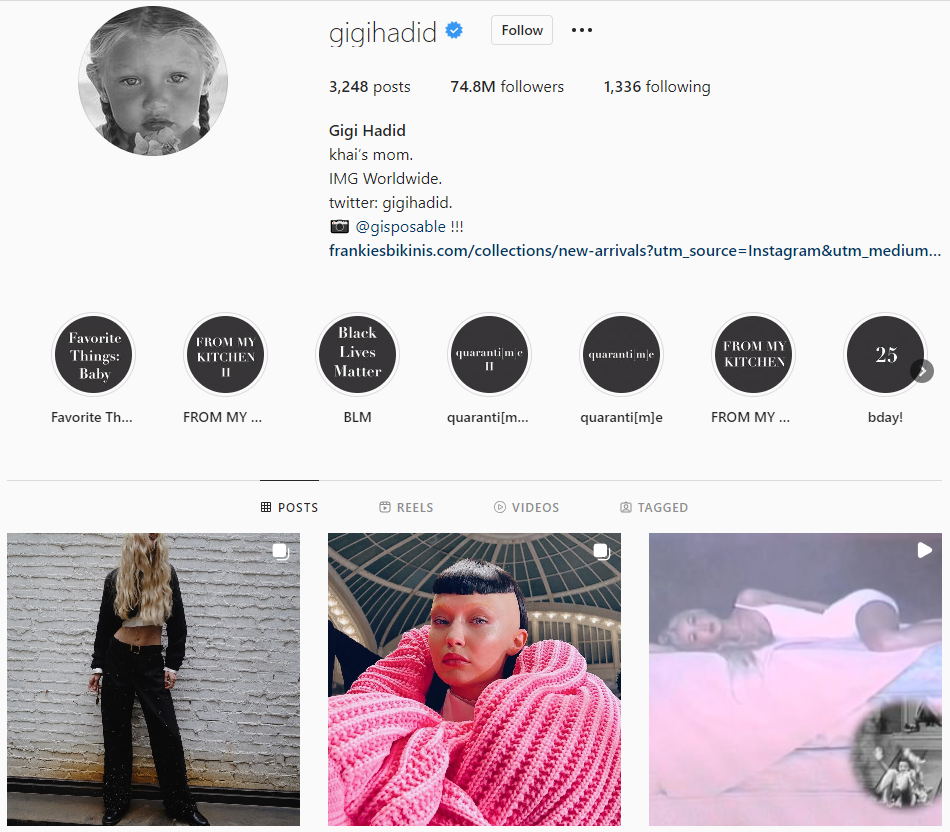 Source: @gigihadid
#12 Addison Rae
Addison is renowned for her TikTok dances but is also heavily featured on Instagram with 40.3 million followers. The influencer has also launched a fragrance brand and works with beauty partners such as Sephora and Item Beauty.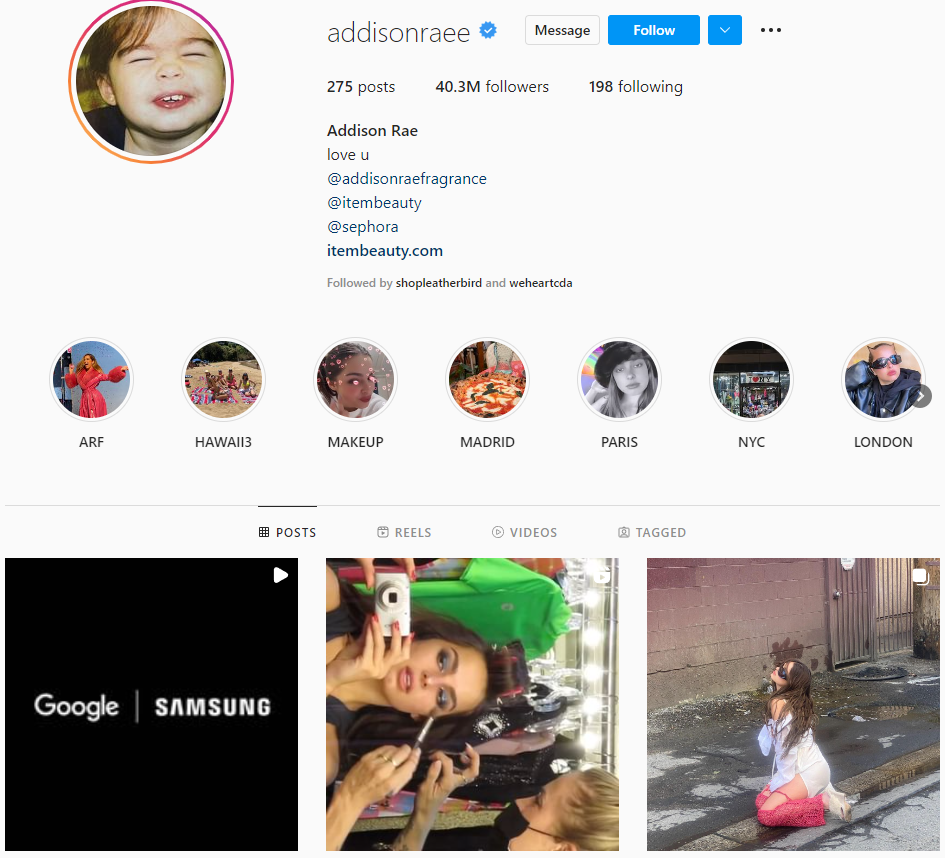 Source: @addisonraee
#13 LaLisa Manoban
Lalisa is a globally recognized member of the K-Pop band, Blackpink. She also works as a dancer, rapper, and model. Lalisa shares music and high fashion content with 79.8 million Instagram followers.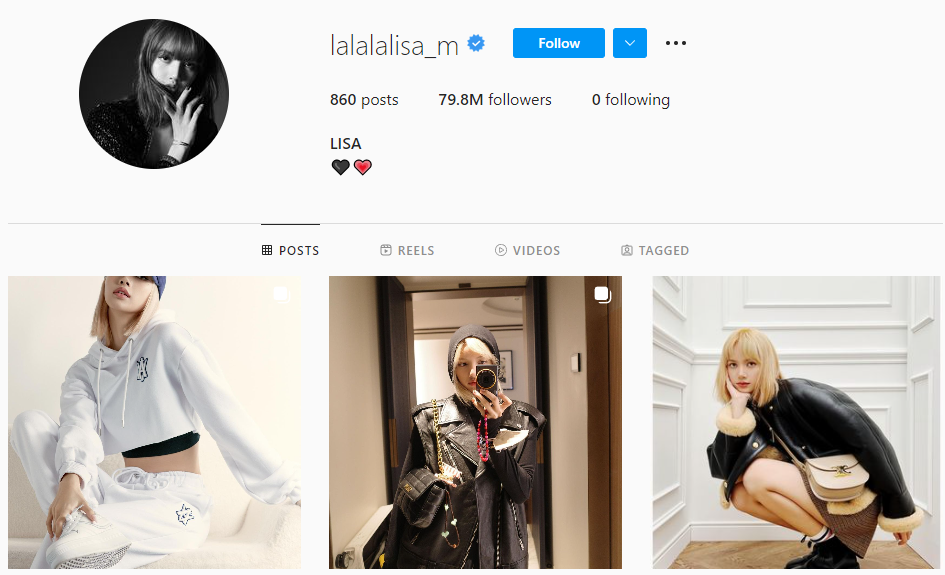 Source: @lalalalisa_m
#14 James Charles
James Charles is a beauty and fashion influencer who is also popular on YouTube. He's the first male spokesmodel for CoverGirl and has collected 22.8 million followers who enjoy his tutorials and collaborations.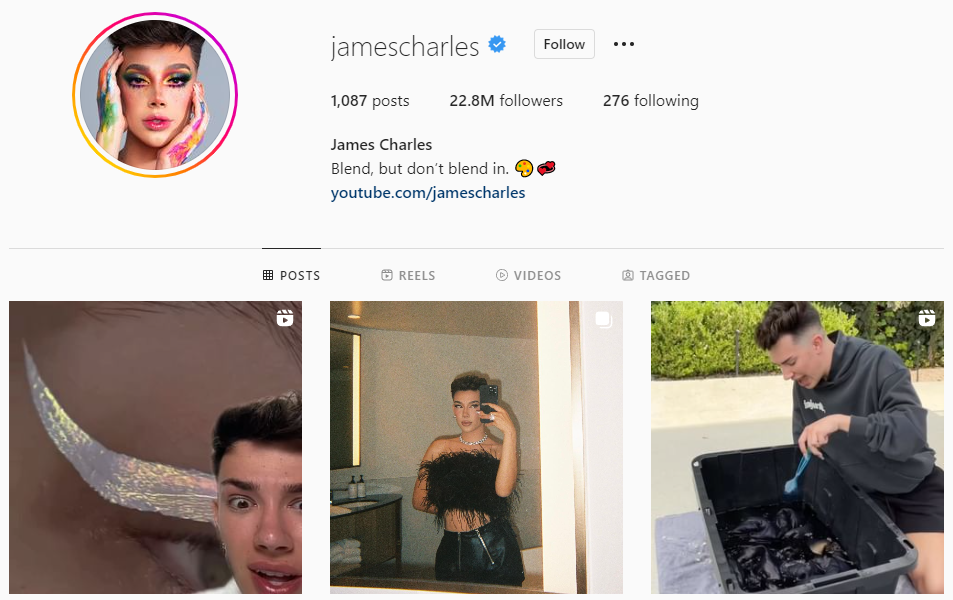 Source: @jamescharles
#15 Charli Damelio
Charli is a dancer turned influencer who has worked with brands such as Hollister and appeared in a Super Bowl commercial. She's collected 48.8 million Instagram followers and shares fashion and lifestyle content.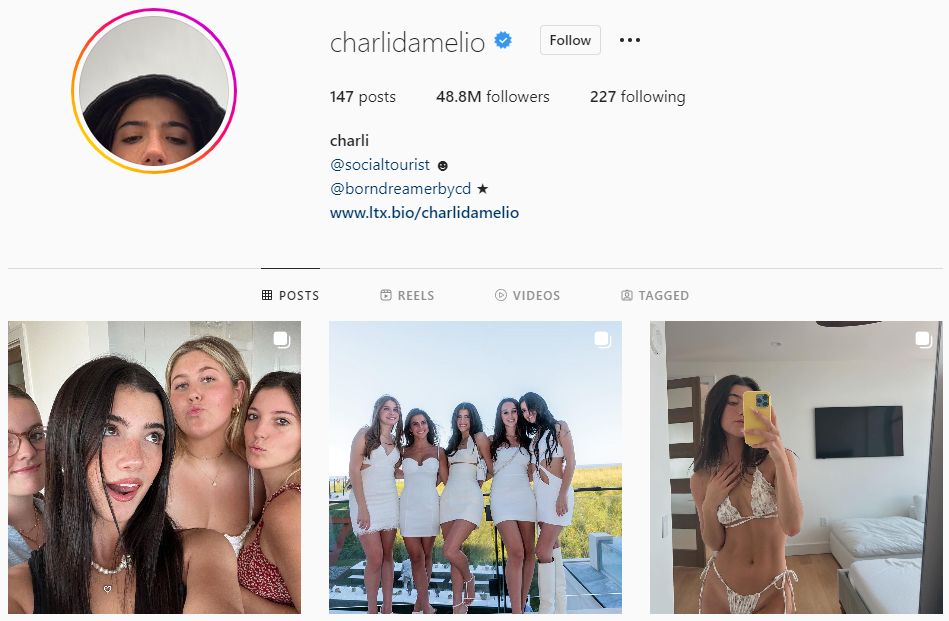 Source: @charlidamelio
#16 Bella Hadid
The younger sister of Gigi, Bella has made a name for herself in the modeling and fashion world and collected 53.3 million Instagram followers. She has worked with labels the likes of Balenciaga and Marc Jacobs and shares a blend of fashion and lifestyle content as well as social causes.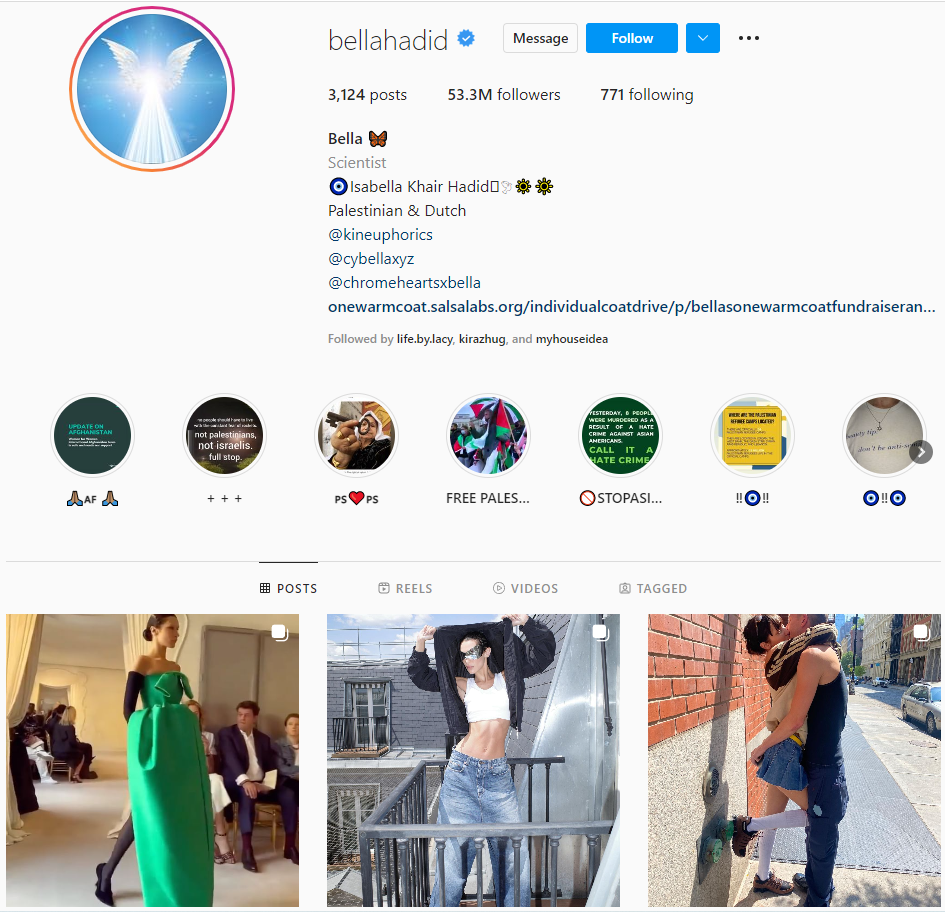 Source: @bellahadid
#17 Cameron Dallas
Cameron is the epitome of an original influencer. He started on Vine but later migrated to YouTube and Instagram, where he's collected 23.8 million followers. His content is a blend of comedy and lifestyle.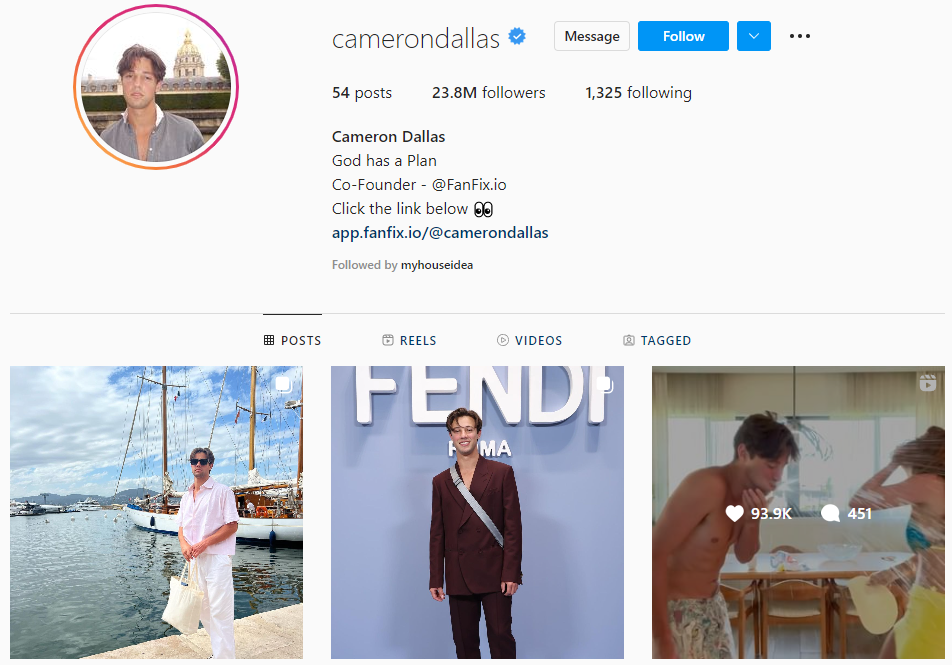 Source: @camerondallas
#18 Carlinhos Maia
Carlinos is a Brazilian travel influencer with over 25.8 million followers. He shares a fun blend of travel, LGBTQ+, photography, and cooking content.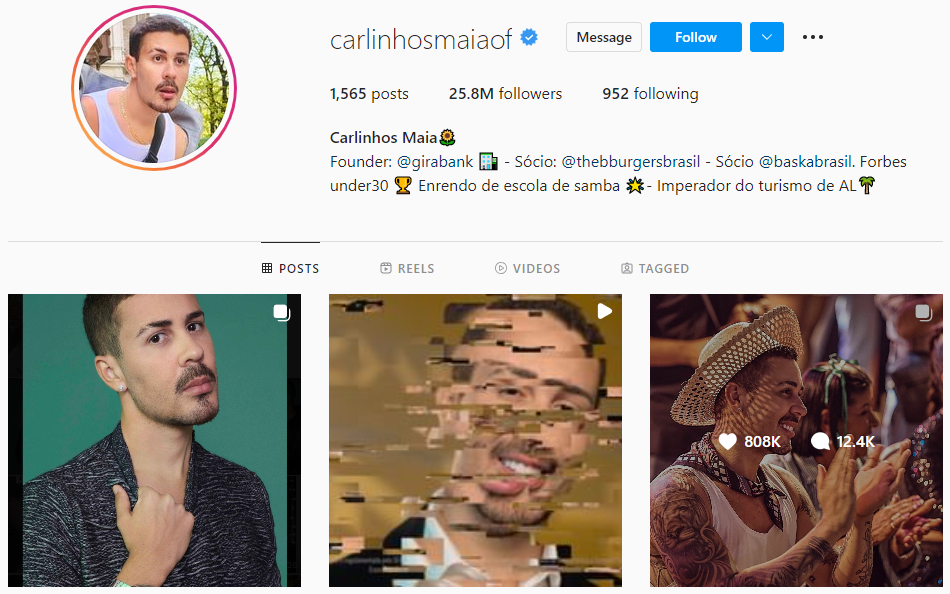 Source: @carlinhosmaiaof
#19 Kayla Itsines
Kayla is a fitness influencer from Australia with 14.8 million Instagram followers. She's a personal trainer, author, and founder of the popular Bikini Body Guide and the fitness app, Sweat.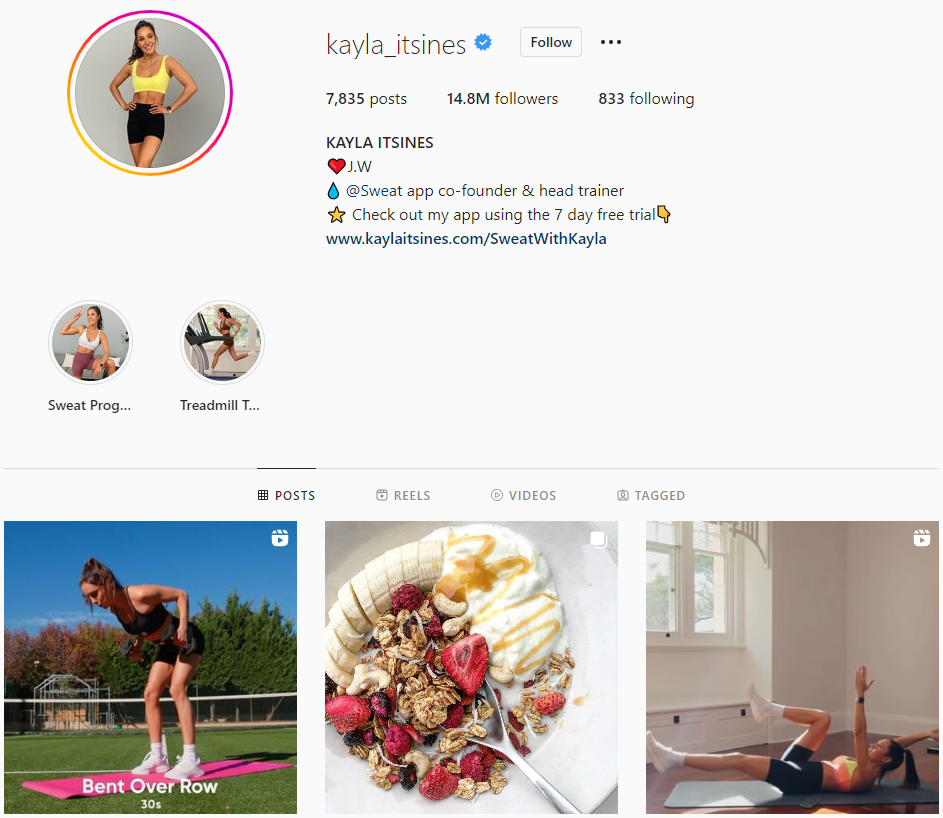 Source: @kayla_itsines
#20 Lilly Singh
As an Indian comedian and public figure Lilly uses her social media platform to entertain and educate. She shares silly videos, celebrity collaborations such as CardiB and Ellen, and book recommendations for 11 million Instagram followers.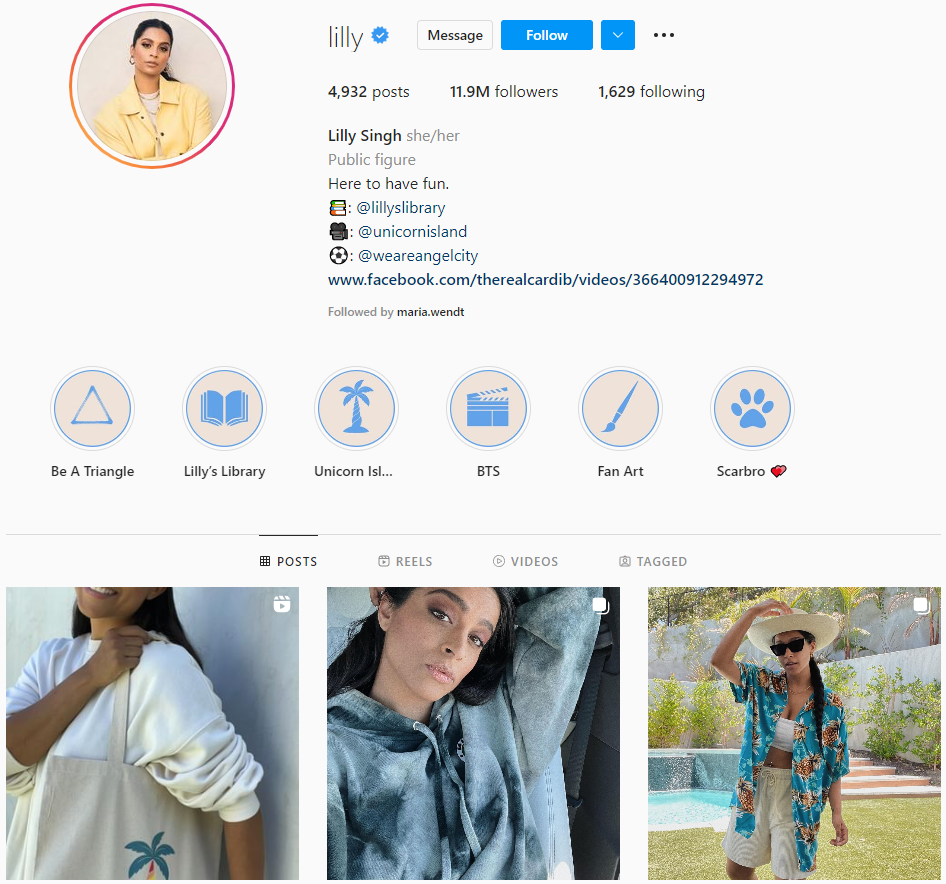 Source: @lilly
#21 Barbara Palvin
Barbara is a model and Victoria's Secret Angel who has also landed a job with Amazon Fashion. Her content focuses on fashion, photo shoots, and some lifestyle footage with her Disney star boyfriend, Dylan Sprouse.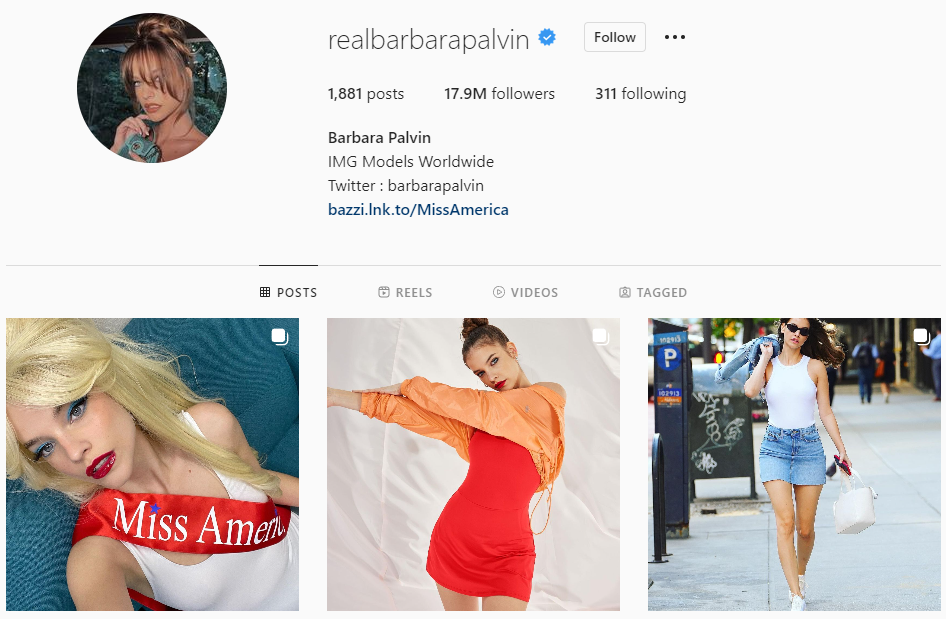 Source: @realbarbarapalvin
#22 JiffPom
JiffPom is a pomeranian and the top-followed pet influencer on Instagram with 9.7 million followers. He has been featured in music videos and has his own line of products at Walmart. He shared adorable photos of his life as a pampered pet.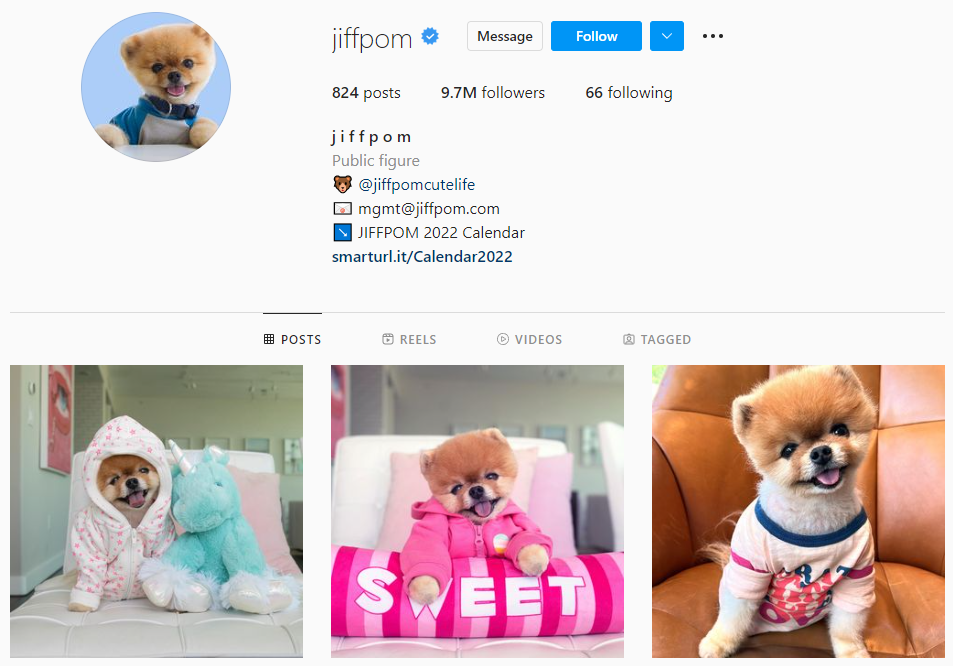 Source: @jiffpom
#24 Jen Selter
Jen is a yoga and fitness trainer on the FitPlan app and a social media influencer with 13.5 million Instagram followers. She shares fitness routines, healthy recipes, fitness photoshoots, and lifestyle content.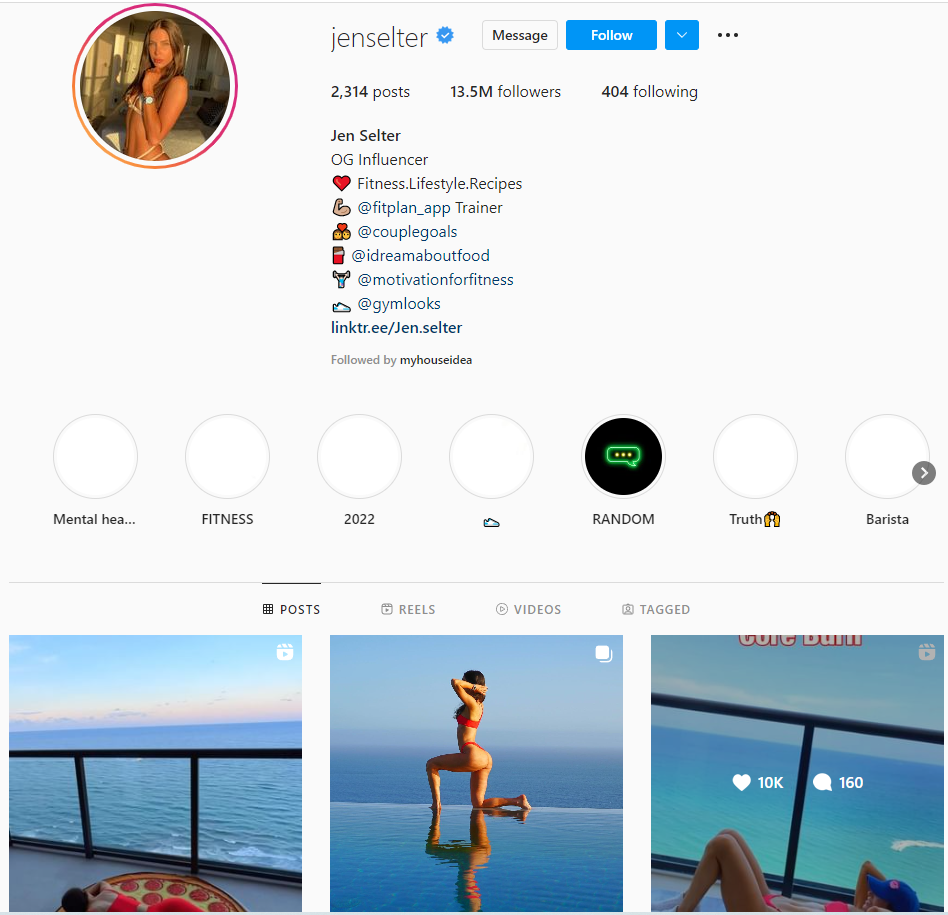 Source: @jenselter
#23 Cole Labrant
Cole is the all-American dad influencer. His content is a colorful and fanciful mix of family, fun, faith, and record-breaking adventures for his 5 million Instagram followers.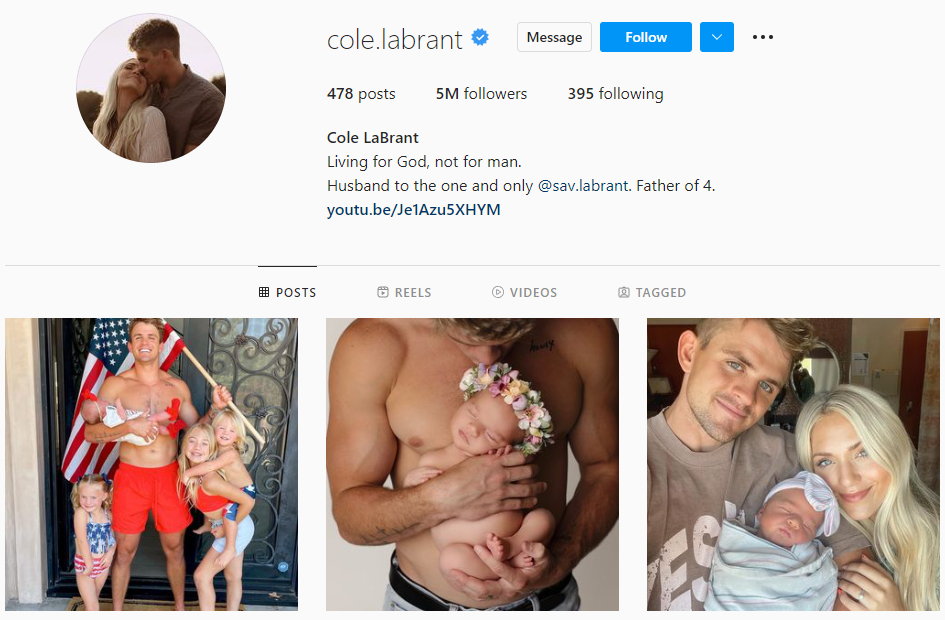 Source: @cole.labrant
#25 Louise Pentland
Louise is a UK-based vlogger turned mommy influencer who has created a mommy-centric empire from her 3.2 million Instagram followers and 2.2 million YouTube subscribers. She shares content related to body positivity, plus-size fashion, parenting, and travel.
Source: @louisepentland
What Can These Top Instagram Influencers Do For Your Business?
It's What The Market Wants
Influencer marketing is the preferred channel for the largest share of the buying market. Consumers ages 35-50 represent the strongest buying power in the current market today.[1]
Right now, that's the millennials, and it will remain the millennials for approximately the next 15-20 years until Gen Z takes over.[1] Giving the market what it wants ensures a higher chance of success for marketing campaigns. It also increases the chances of content being shared and going viral.
Increased Brand Awareness
Brand awareness is getting products, offers, and content in front of more eyeballs. By hiring top Instagram influencers to help spread the word, brands can reach more new people they otherwise would miss.
Deeper Brand Trust
The market with the current strongest buying power came of age or was born into an economy where social media, influencers, and online fame is just business as usual. They place the highest value on authenticity and connection over sterile corporate product pushing.
By borrowing the authority of a top Instagram influencer, brands are able to share their products and services in a more authentic way and establish deeper connections with the audience.
Targeted Marketing
Top Instagram influencers have collected an audience of people who want to see what they're creating. They care about similar causes and problems and connect over topics, brands, products, and solutions.
Strong ROI
In 2020, there was a survey of European, UK, and U.S.-based marketers, and 60% of them reported influencer marketing had a stronger ROI than traditional marketing.[2] Brand-sponsored posts on Instagram skyrocketed from 1.26 million in 2016 to 6.12 million by the end of 2020.[3]
According to another study, 21% of U.S. and U.K. social media users report discovering new brands from recommendations on social media. Almost half of Gen Z users (47%) go to social media to research new brands.[4]
How to Work With the Top Instagram Influencers
Top-tier influencers such as these will be working with talent management or an influencer marketing agency. An agency will assist with managing talent matches, contract negotiations, creative asset production, and campaign reporting to make the process as seamless as possible for everyone.
This also removes the requirement for brands to hire a whole new team with the right set of skills to manage their campaign. It's virtually a plug-and-play process.
Start Working With the Top Instagram Influencers!
Influencer marketing is a powerful tool in the hands of any marketing team. It helps brands make stronger connections while simultaneously reaching more or new potential customers. It's even more effective when brands partner with a top Instagram influencer.
Sources:
[1]https://www.businessinsider.com/24-gen-z-trends-40-millennial-spending-changing-economy-2021-9#:~:text=The%2040%2Dyear%2Dold%20millennial%20has%20spending%20power,hold%20the%20most%20purchasing%20power
[2]https://www.statista.com/statistics/1201161/influencer-marketing-roi/
[3]https://www.statista.com/statistics/693775/instagram-sponsored-influencer-content/
[4]https://amai.org/covid19/descargas/SocialGlobalWebIndex.pdf