The top food influencers on popular platforms have positively influenced not just the way people see food, but how they make it. Armed with creative recipes or methods to prepare delicious bites, culinary influencers share their tricks across all social platforms.
Top Food Influencers
Jamie Oliver
Best known for his TV cooking series, Naked Chef, Jamie believes that food tastes best when it's naked. He is notorious for simplifying food and using basic, real ingredients to create delicious dishes. Jamie's first restaurant job was working in his parent's pub as a teenager in the United Kingdom. He later traveled and gained additional experience cooking before landing a job as a sous-chef. However, the top food influencer's restaurant career was short-lived as he was discovered by a TV production company that offered him a BBC cooking show.
Following the launch of Jamie's career as a culinary personality, he has released a few TV shows (one of which is Emmy award-winning Jamie Oliver's Food Revolution), dozens of book deals, and a documentary. Jamie uses his influence to bring awareness to the quality of lunches in schools. His campaign, "Feed Me Better," aims to bring healthy lunches to schools around the United Kingdom.
Jamie boasts high numbers of followers across all platforms. His YouTube account has over 5.7 million subscribers, 6.3 million Twitter followers, 9.1 million on Instagram, and over 238k fans on TikTok. His popular video content features healthy recipes and some "how-to" videos on iconic British dishes.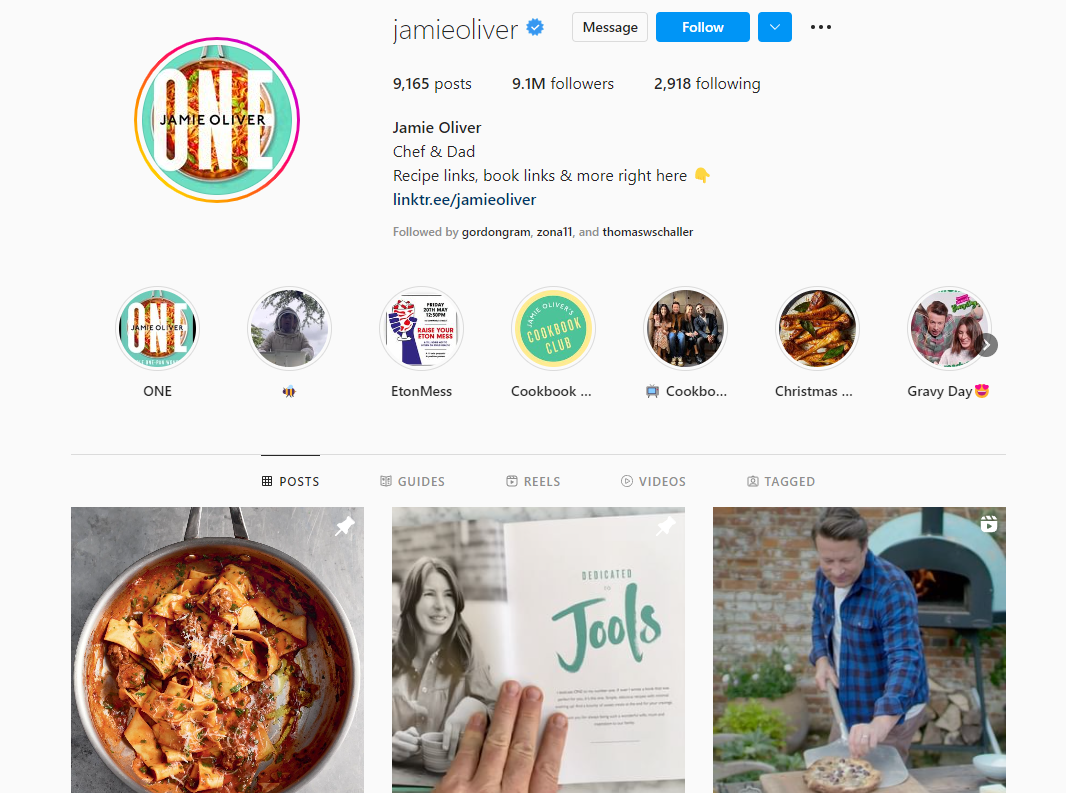 Source: @jamieoliver
Yumna Jawad
A self-declared "foodie", Yumna is the founder of the Feel Good Foodie brand. She uses her online blog platform and social media networks to share wholesome, family-friendly recipes with followers. Yumna used to have a career in marketing but discovered that she could barely boil rice after getting married. She created her popular YouTube account to share the recipes that she learned. Her top food influencer status soon grew into her well-known Feel Good brand.
Yumna has 3.5 million Instagram followers and over 398k subscribers on YouTube. Not only does she share her own healthy recipes on the platforms, but she also attempts trendy TikTok recipes like Feta Pasta or Dalgona coffee, then gives her opinion on them.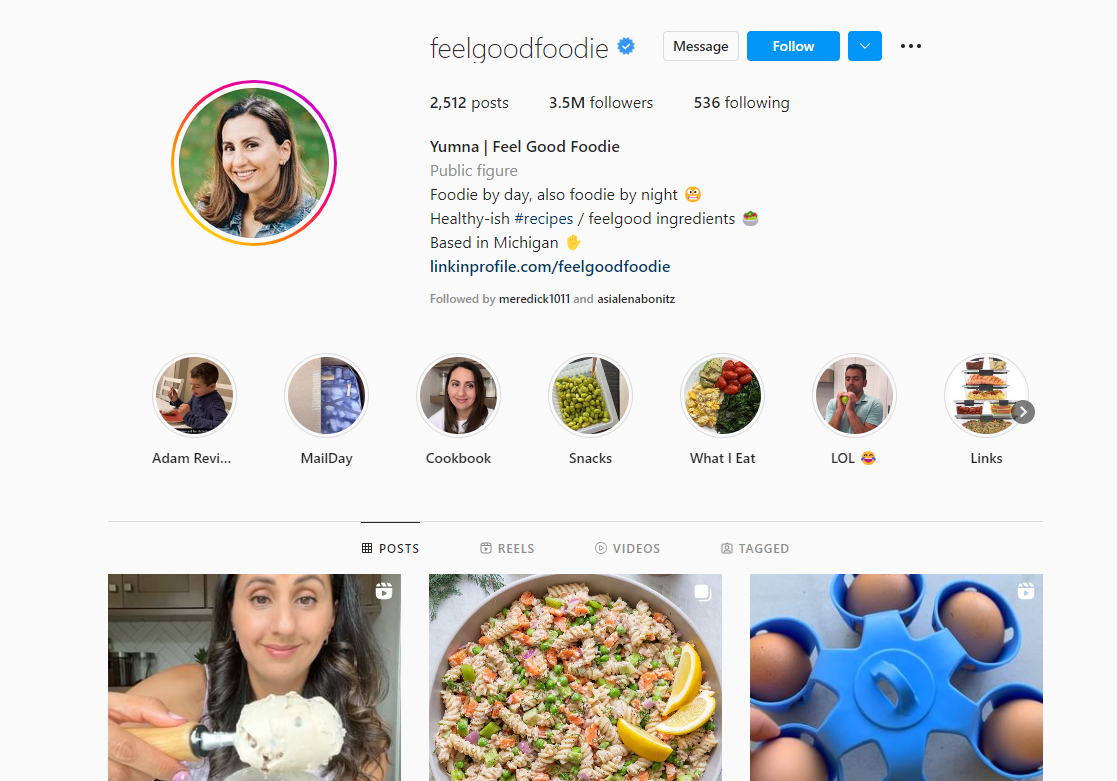 Source: @feelgoodfoodie
Dennis Prescott
Dennis Prescott is a chef and food blogger based in Canada. The 40-year-old food influencer taught himself how to cook thanks to Jamie Oliver's cookbooks. As a struggling musician in Nashville, he became obsessed with food and discovered his equally food-obsessed following on social media. His experimental recipes and tricks turned him into the food influencer he is today.
Dennis is the author of his own cookbook and host of the Netflix TV show Restaurants on the Edge. For the show, he travels around the world and watches as restaurants on the verge of closing are revived. Over 615k followers eat up his Instagram content consisting of beautifully plated dishes, and over 25,000 subscribers watch his video content on YouTube. Dennis has a partnership with Traeger Grills and often incorporates the grill's marketing campaign into his regular posts.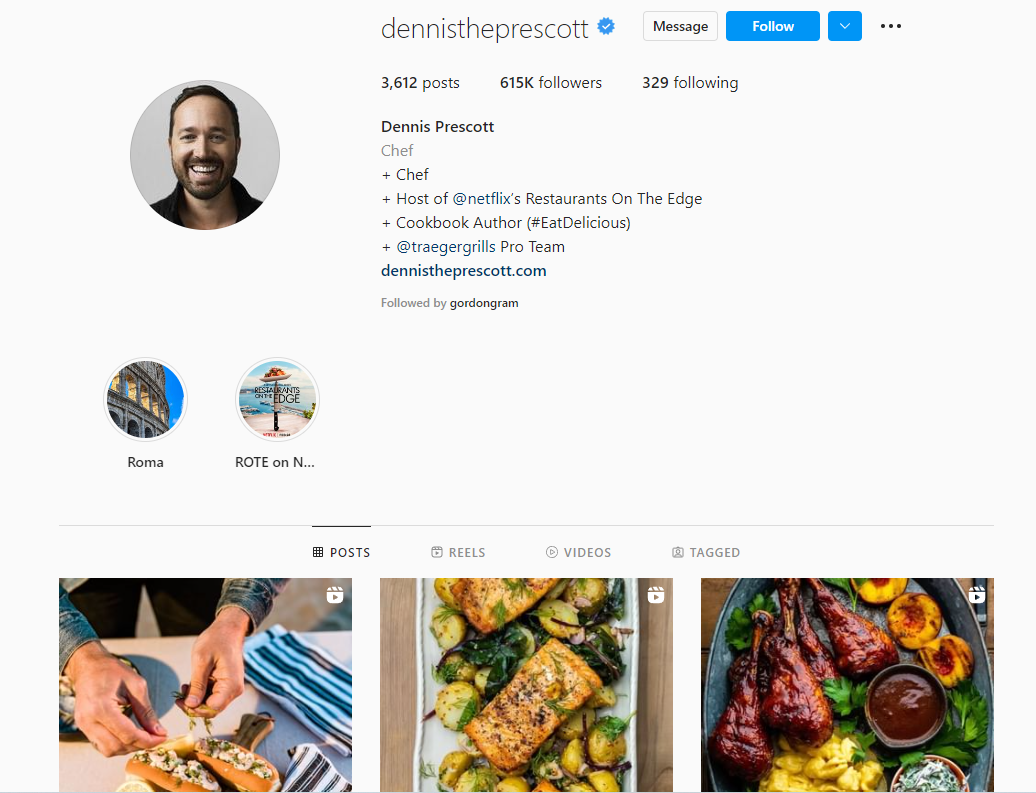 Source: @dennistheprescott
David Chang
The American TV personality is most well-known for his Momofuku brand and escapades with celebrity foodies on Ugly Delicious. David Chang discovered food as a young adult and attended the French Culinary Institute in New York City to further his education. David quickly discovered that fine dining was not for him and opened his first restaurant, Momofuku, in New York in 2004. The noodle bar's innovative menu was a nod to the time he'd spent working in Japanese noodle shops. The Momofuku brand exploded, and he opened additional locations and eventually a shop dedicated to dessert called Momofuku Milk Bar.
The Momofuku Ko location earned David two Michelin stars. He aims to support local farmers and buy sustainable ingredients. David's own Netflix series, Ugly Delicious, released in 2018 and follows him around the world as he educates audiences on the history behind his favorite foods, even the ones that are delicious yet ugly. Most episodes feature him cooking and eating alongside one of his foodie celebrity buddies, like Aziz Ansari or Padma Lakshmi.
With 1.7 million Instagram followers, nearly 366k followers on Twitter, and millions of combined views on YouTube videos featuring him, David's reach continues to expand. The top food influencer even has his owner dedicated Instagram account on which he reviews culinary tools and products. Follow him on @normalpot to see for yourself.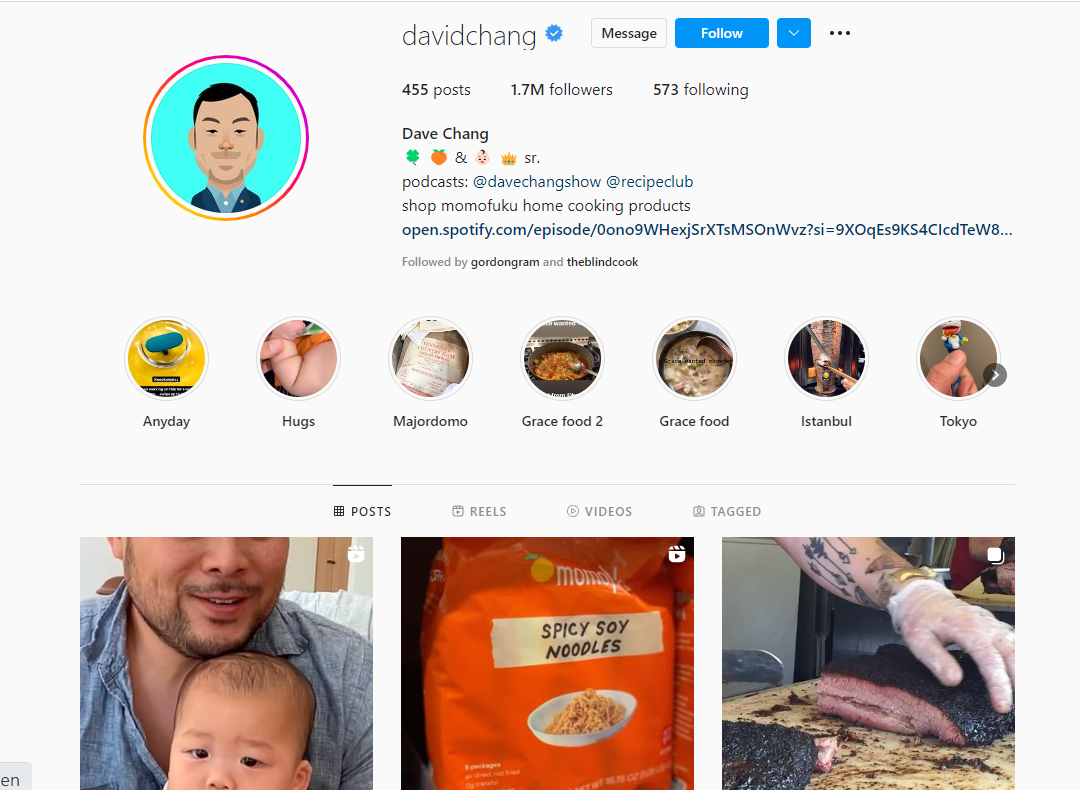 Source: @davidchang
Padma Lakshmi
Although Padma has always had a passionate relationship with food, she is one of the many top food influencers on Instagram without a formal culinary education. The former New York actress/model published her first cookbook in 1999: Easy Exotic: A Model's Low Fat Recipes From Around the World, followed by her Food Network Series Padma's Passport a few years later. Padma landed the role of host of the show Top Chef in 2006 and has hosted the show every year since.
Padma pays homage to her Indian roots in her recipes and cookbooks. Her most recent show, Taste the Nation, follows her adventures around the US and the foods she encounters. Padma's social media content goes beyond food, however. She also frequently posts about human rights, equality, and endometriosis awareness. With 1.3 million followers on Instagram, Padma could influence anyone to add a little extra spice to their recipes. The former model has partnerships with MAC Cosmetics and No7 US Beauty Products.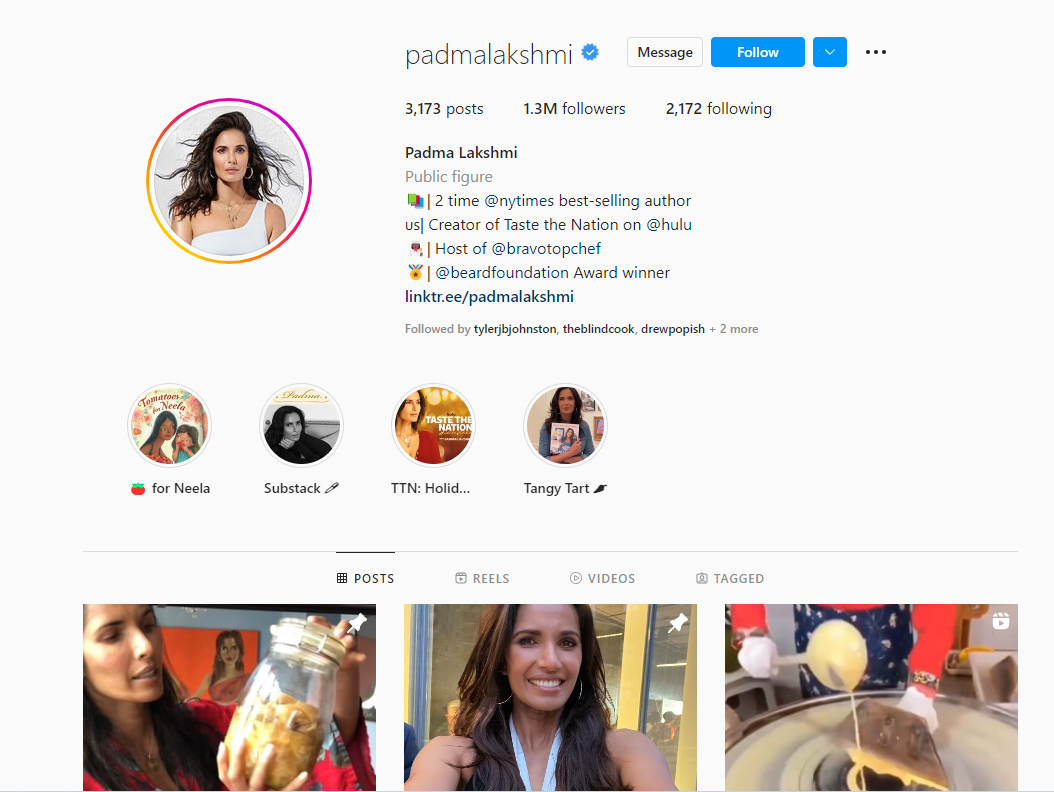 Source: @padmalakshmi
Antoni Porowski
Antoni earned his role as the "food and wine expert" on Netflix's Queer Eye. The Canadian chef relied on food service jobs to pay his bills while pursuing a career in acting. As the acting roles trickled in, Antoni worked his way up in the restaurant industry and occasionally served as a personal chef. Landing the coveted role as a member of the Fab 5 caused his culinary career to skyrocket. Antoni helps the heroes of each Queer Eye episode create meals designed to aid in their transformation. The food influencer's popularity on the Emmy award-winning show landed him a book deal and a New York Village restaurant.
The influential foodie has 4.4 million followers on Instagram. His feed is a combination of decadent food and puppies, then topless pics and more puppies. Antoni is no stranger to sponsored content. He posts about collaborations with J Brand jeans, Peroni, Betty Crocker, among other top food brands.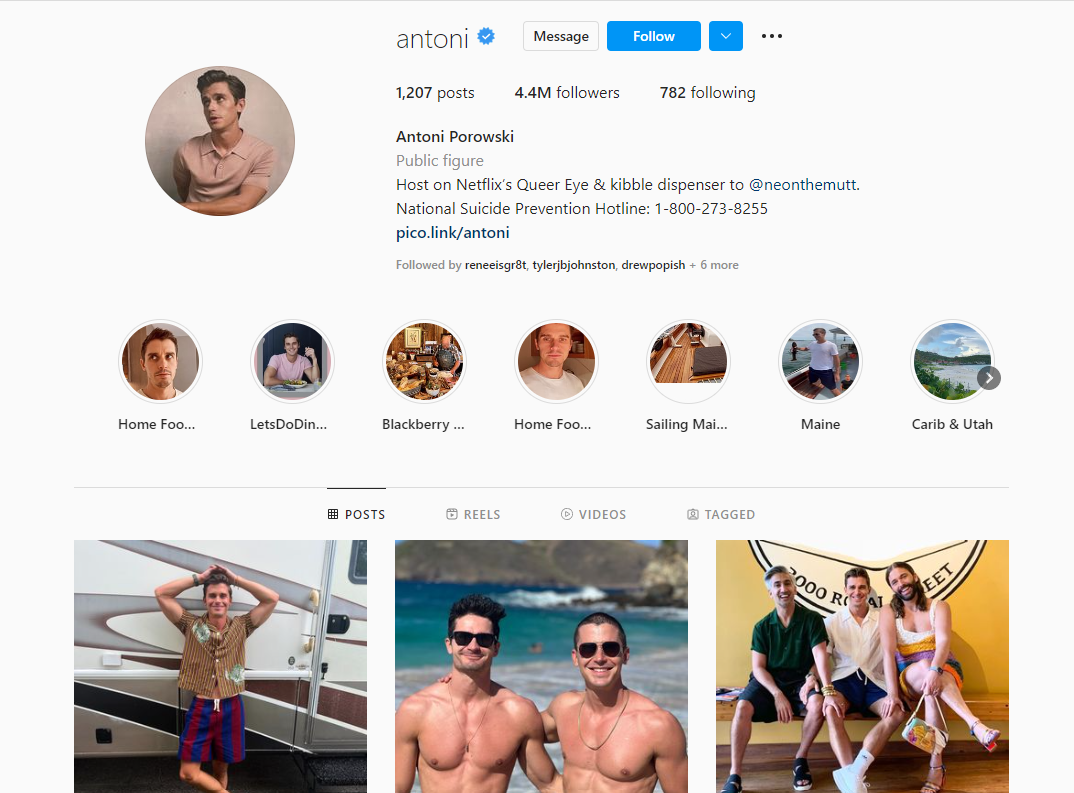 Source: @antoni
Gordon Ramsay
The Scottish chef, best known for his temper on shows like Hell's Kitchen, nearly became a professional footballer instead of a culinary tyrant. Unfortunately, a severe knee injury as a teenager took him out of the game and into the kitchen. Gordon then moved his way up the cooking world ranks and studied under numerous iconic chefs in Europe. While serving as head chef in 1996, Gordon's restaurant received a Michelin star. This recognition gave him the momentum to open dozens of his own restaurants, earning him 16 Michelin stars total. Gordon's real fame as a top food influencer came from his hit shows, Ramsay's Kitchen Nightmares, Hell's Kitchen, and MasterChef. His TV personality is sarcastic and abrasive, which fans simply can't get enough of.
Gordon has been called one of the most influential and well-known chefs in the United Kingdom. He boasts 13.8 million Instagram followers, 7.6 million on Twitter, and a 33.3 million fan following on TikTok. His TikTok roast videos have gone viral with several million views each. Gordon duets with TikTok users and tears apart their cooking techniques. He recently partnered with the Restaurant Kits brand to create his own DIY meal kit box.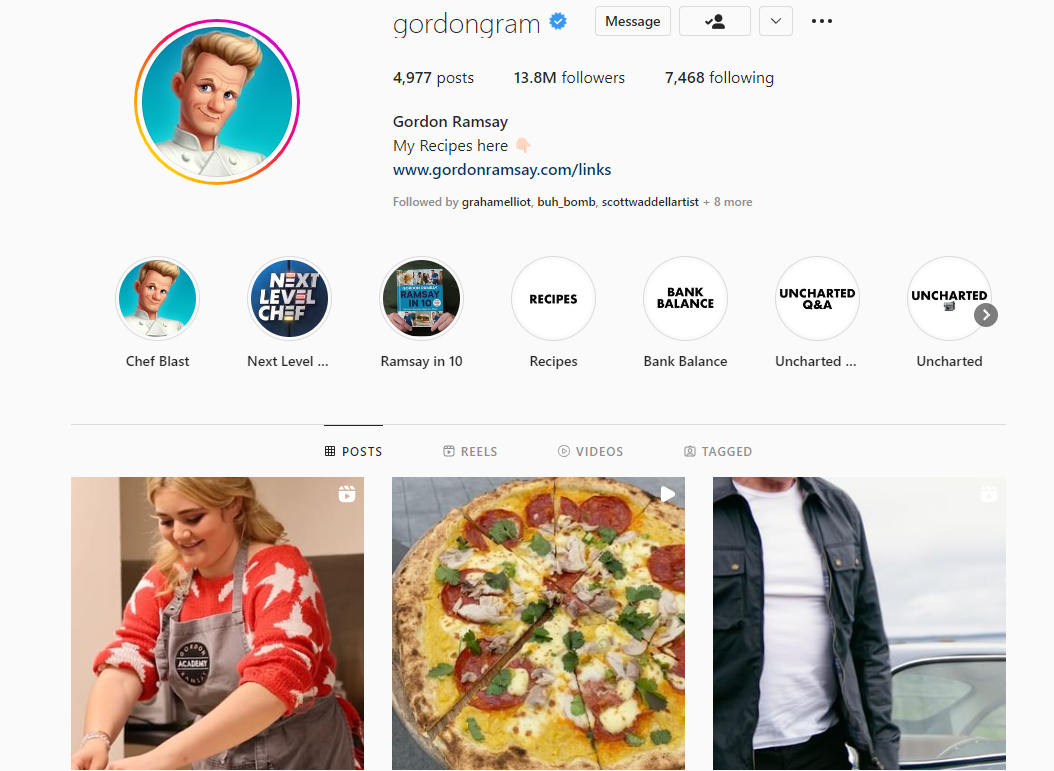 Source: @gordongram
Hannah Hart
After getting her start as a YouTuber with a rather unconventional channel, Hannah Hart quickly became a comedic food influencer. Hannah "accidentally" became famous after posting a YouTube video in 2011 featuring her making a grilled cheese sandwich while imbibing. The video's popularity birthed her YouTube channel, My Drunk Kitchen, where Hannah cooks food while intoxicated. As the channel's popularity grew, so did Hannah's visibility as a food influencer. She then invited guests onto her Youtube and cooked delicious food while tipsy with big names like Jamie Oliver, Mary-Louise Parker, and Sarah Silverman.
The award-winning YouTuber and comedian created a New York Times-bestselling parody cookbook. She briefly starred in her own Food Network series called I Hart Food. The LGBTQIA+ icon boasts a wild 2.26 million subscribers on YouTube, nearly one million on Twitter, and 1 million following on Instagram. She has partnerships with brands like Barilla.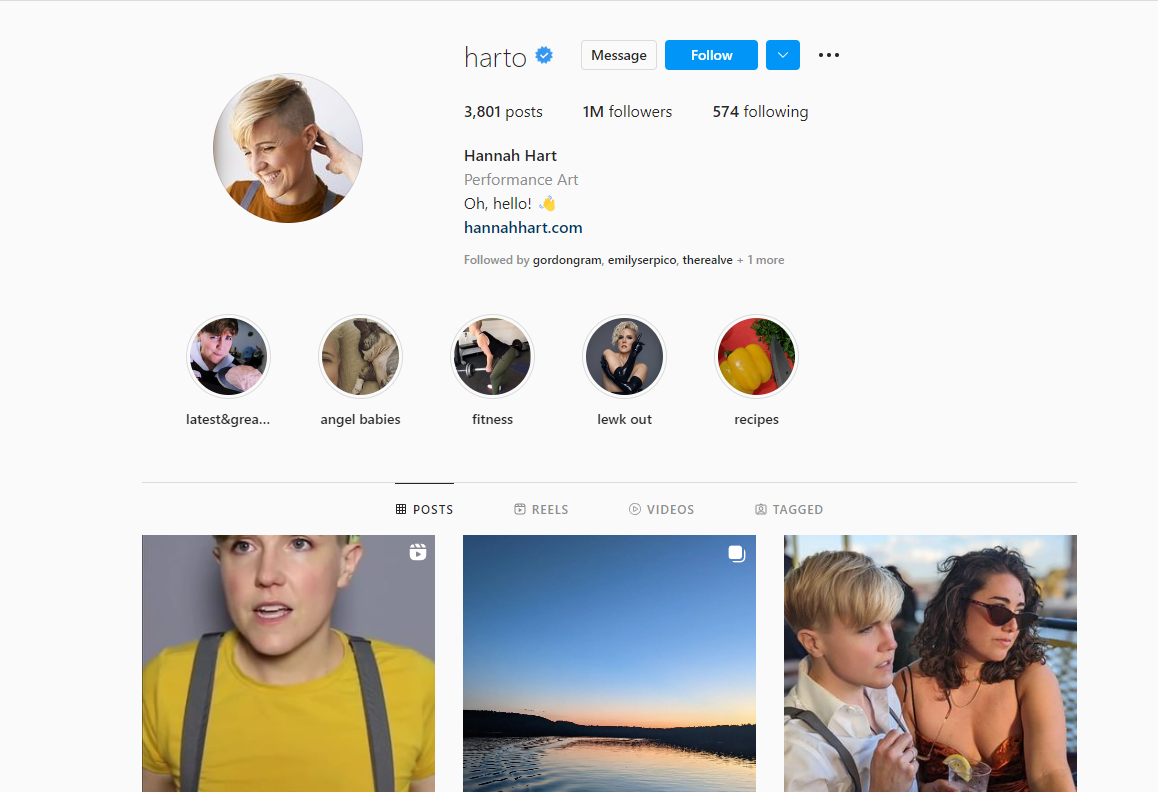 Source: @harto
Samantha Lee
Samantha Lee is a food stylist who began her food influencer career making colorful, aesthetic dishes for her daughter. She has called it "storytelling" on the plate. Ingredients are often cut into creative shapes then assembled to create a scene on the plate. She started this technique as a way to encourage her daughter to eat healthy foods.
Samantha began posting photos of her dishes on Instagram in 2011. Her following on the platform has grown to 578k since then. With a Le Cordon Bleu education, Samantha's brand has transitioned into attractive and intricate dishes for adults as well as children. She has collaborated with top marketing agencies and advertising campaigns. Her brand partnerships include Samsung, Ben & Jerry's, Mastercard, and ESPN, among others.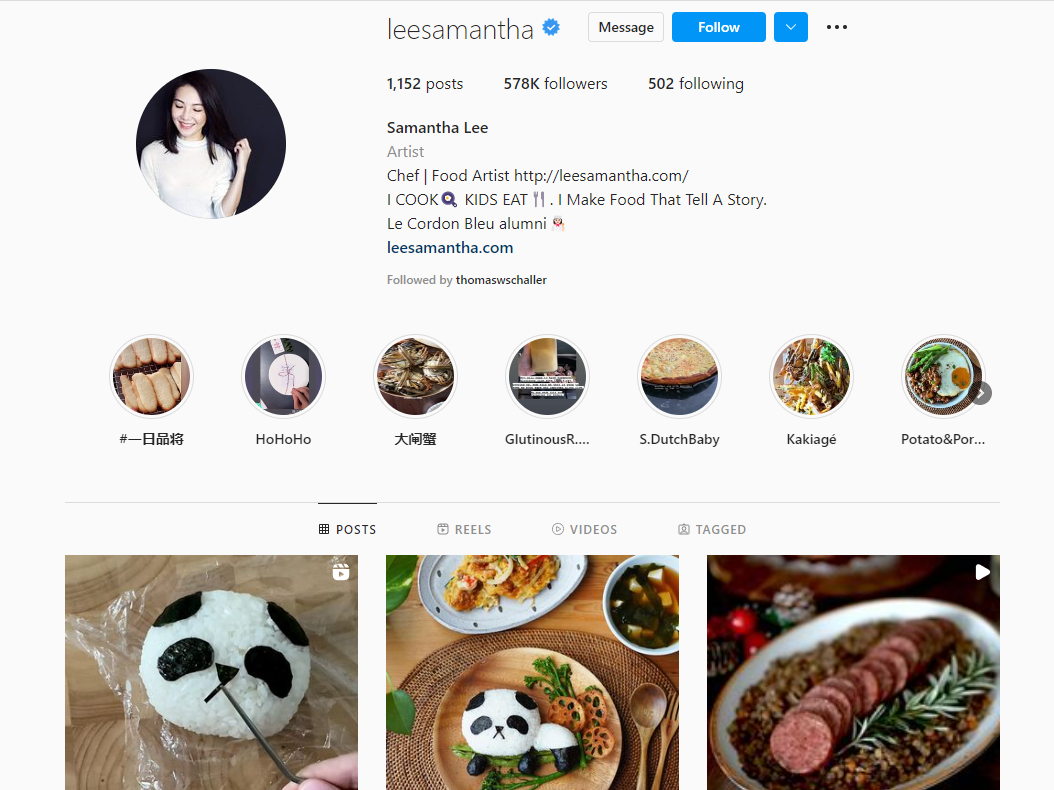 Source: @leesamantha
Julie Resnick
thefeedfeed is a website, blog, and social community started by Julie and Dan Resnick. The pair started the digital collective as an online space for chefs, food bloggers, and home cooks to share recipes and other food-related content. Social media users can post foodie content with the hashtag #thefeedfeed for a chance to be featured on the collective food influencer's account.
On TikTik, feedfeed has 2.6 million followers with nearly 50 million likes, and the main Instagram account has 2 million followers. That's right — the main account. thefeedfeed has numerous unique accounts for specific content targeted to dietary limitations or one specific meal. thefeedfeed has five additional accounts, which are all verified with anywhere from 87,000 to over 800,000 followers each. These verified varieties under thefeedfeed brand include gluten-free, vegan, chocolate, baking, and cocktails.
Though many of the feedfeed accounts' posts are reposts from fans, there's a good deal of sponsored content. The website even features a tab labeled "campaigns" for all sponsored recipes. Notable collaborations include The Cheesecake Factory, Simply Organic, and Cascadian Farm.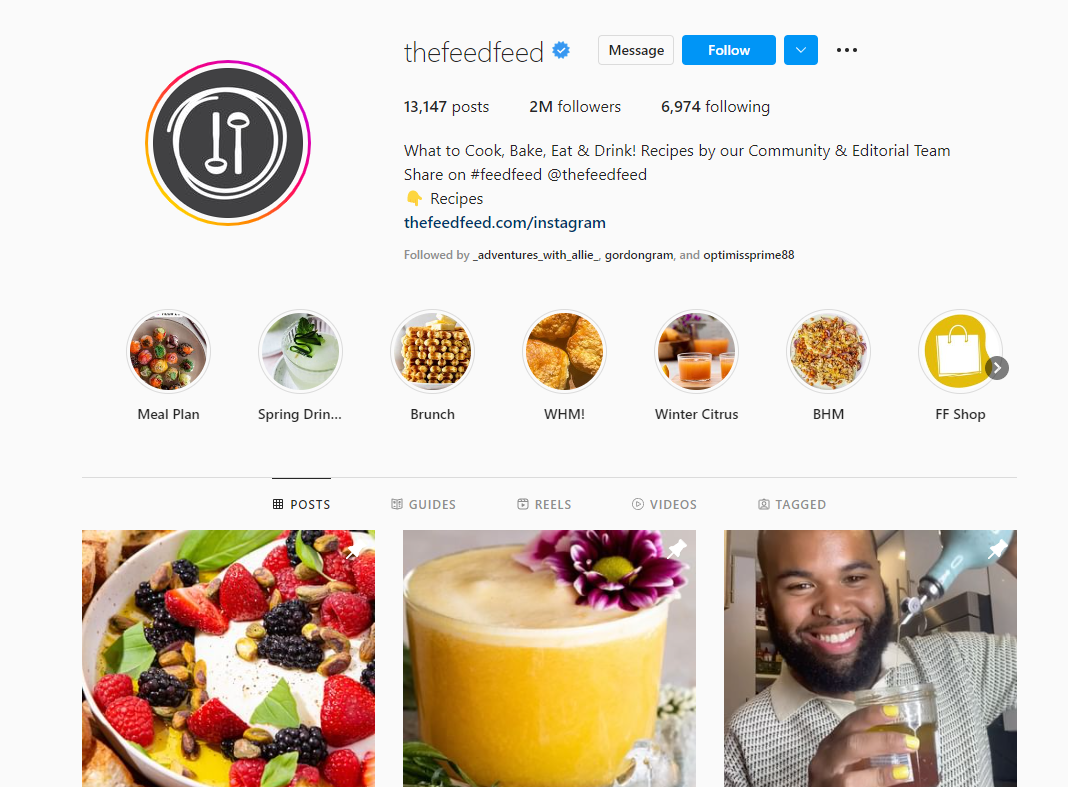 Source: @thefeedfeed
Chrissy Teigen
Possibly one of the most outspoken and controversial top food influencers today, Chrissy's social media presence attracts fans and haters alike. The wife of sultry musician John Legend, Chrissy worked as a successful model before venturing into the culinary world. Her passion for food empowered her to embrace herself as the model who actually eats and cooks. Chrissy considered hosting a cooking show and even attending training at the Food Network Test Kitchen.
Chrissy's already huge following gravitated toward her foodie content on social media. Many of the dishes that Chrissy shared and educated followers on were of Thai origin — dishes from her childhood. She published a New York Times-bestselling cookbook in 2016, followed by a second book in 2018. Chrissy doesn't have a specific food niche but focuses on whole comfort foods that evoke memories. The foodie is currently looking at restaurant spaces in preparation for her own establishment. Fans are eager to get a taste of the restaurant when it opens. Until then, her 38.7 million Instagram and 13.2 million Twitter followers will have to settle for recreating her recipes themselves.
The food influencer has collaborated with brands across the board. Notable sponsorship collaborations are Pampers, VitaCoCo, and McDonald's. Chrissy has her own line of cookware sold at Target and on her eCommerce platform, which has the same name as her book: Cravings.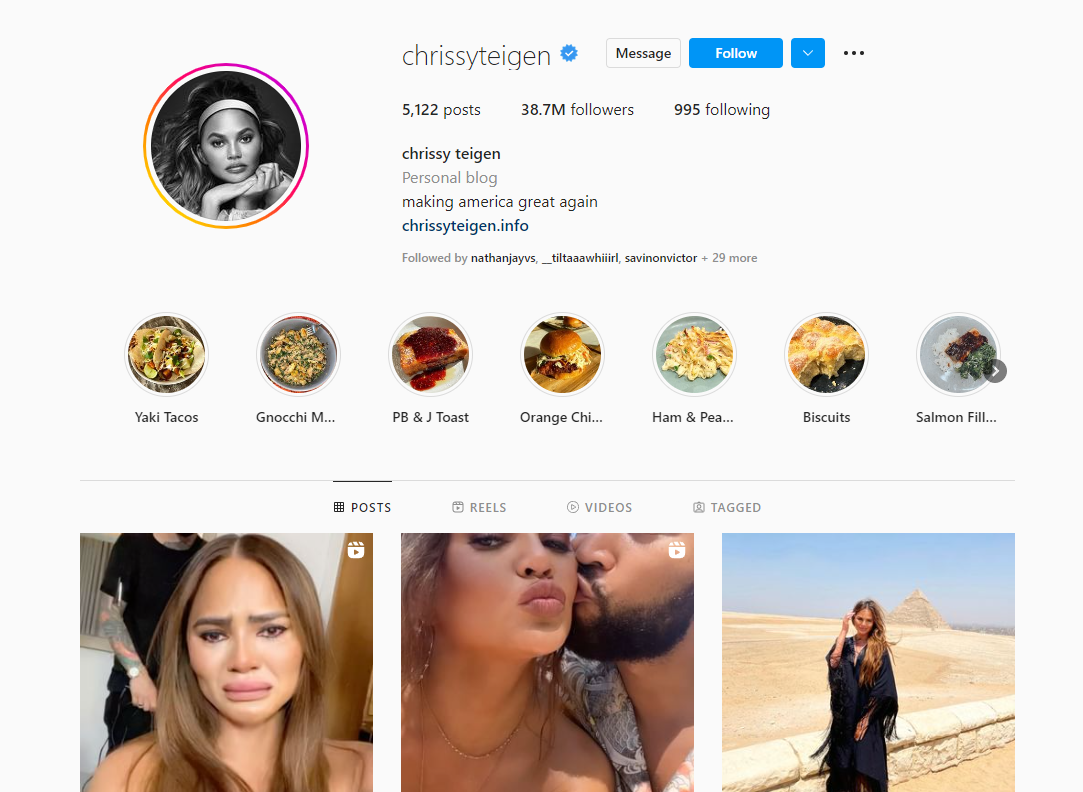 Source: @chrissyteigen
Tabitha Brown
Vegan food influencer Tabitha Brown isn't afraid to take risks when it comes to her cooking. She's known for using unique vegetables in place of meat in her recipes and making them look downright enticing. Tabitha started creating videos while taking a break from acting. Her first video, a review of a Whole Foods vegan sandwich, went viral overnight. Tabitha uses TikTok primarily to post vegan recipes. She has shared how to make bacon with carrots, fried fish with banana blossoms, and a spicy tuna roll with carrot pulp.
In addition to food-based posts, Tabitha shares motivational content with her followers. She has 4.1 million on Instagram and 4.9 million on TikTok. After her viral sandwich review, Tabitha became an ambassador for Whole Foods plant-based living. Dubbed "America's Mom," Tabitha encourages others to try plant-based alternatives.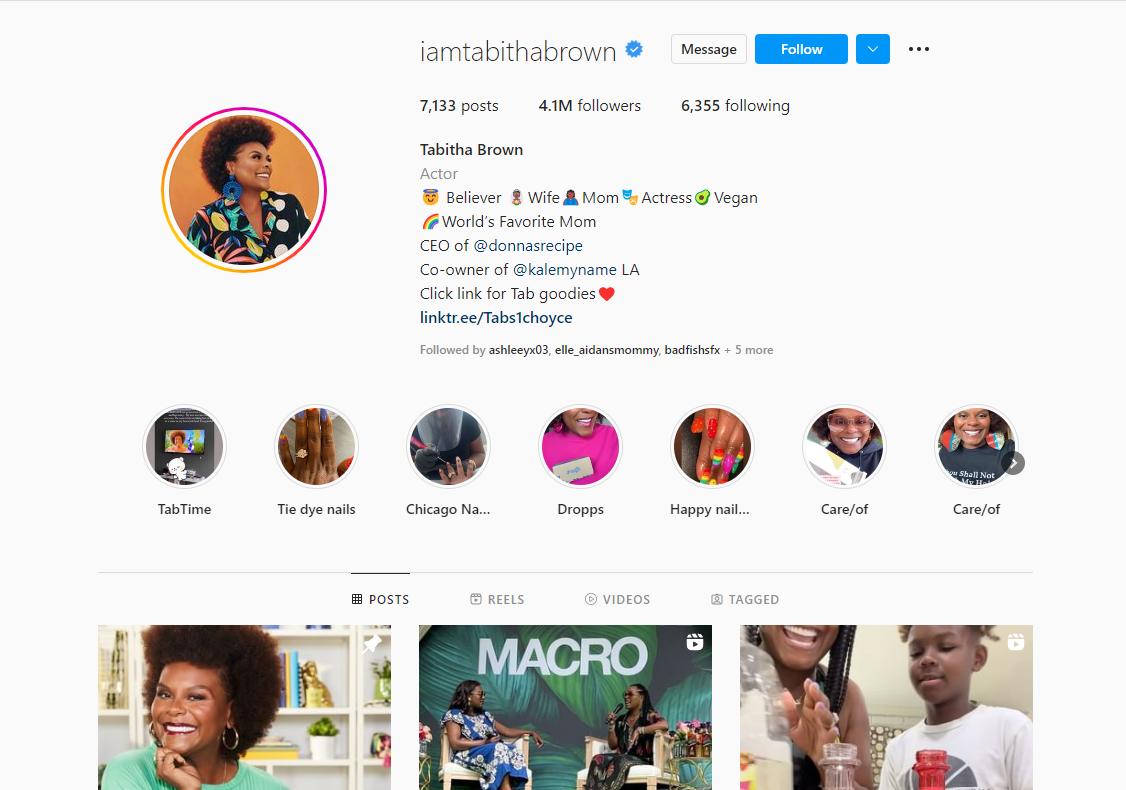 Source: @iamtabithabrown
Rosanna Pansino
YouTube baking sensation Rosanna is one of the highest-paid women on the platform. The aspiring actress created her YouTube baking channel as a tool to help her feel more comfortable in front of the camera. Her videos did a lot more than that. Nerdy Nummies, as she titled her baking video series, took off with momentum. Forbes declared her a top influencer in food — an accurate statement.
Rosanna's videos have over 4 billion views with 13.7 million subscribers. She is followed by 4.5 million sweet fans on Instagram, 1.2 million TikTokers, and is about to hit 1 million on Twitter. The food influencer's popularity and impact led to the publication of two cookbooks and baking supply lines exclusively at Michael's and Walmart.
Rosanna just announced her newest venture as a baking influencer: a TV show on HBOMax titled Baketopia. The baking competition show will allow bakers to create influential, trendsetting desserts in the hopes of winning the grand prize.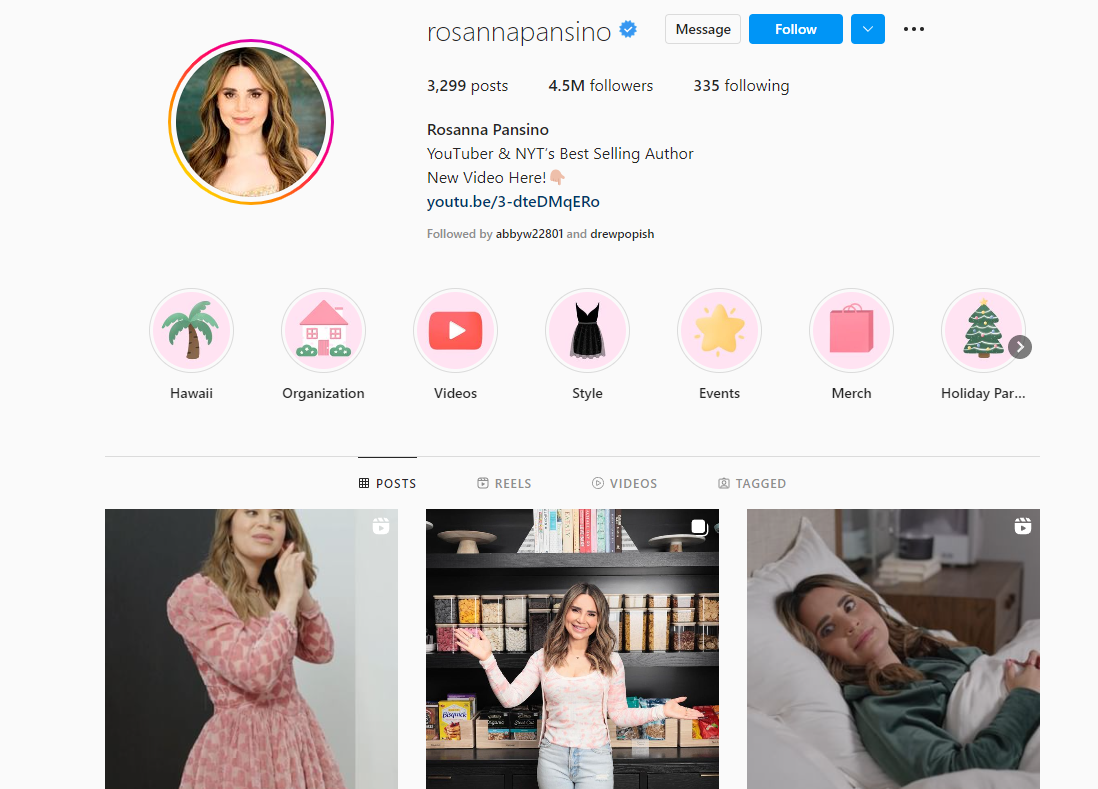 Source: @rosannapansino
Ayesha Curry
Ayesha Curry may be known as solely the wife of NBA star Stephen Curry, but the chef paved her own way to an influencer following. While pursuing a career as an actress, Ayesha began a food blog followed by a YouTube channel. Her popular cooking tutorial videos led to a self-titled Food Network show in 2016. After this introduction to the culinary television world, Ayesha became a co-host, judge, and special guest on various networks. Within the last 4 years, she has developed her own olive oil line and cookware and published two New York Times-bestselling cookbooks.
Ayesha has a huge Instagram following thanks to both her sports star hubby and her culinary influence. She shares personal and professional content with her following of 7.8 million on Insta, nearly one million on Twitter, and 561k YouTube subscribers. When she's not promoting her own brand, Ayesha collaborates with health-driven brands like So Delicious Dairy Free and Fitbit.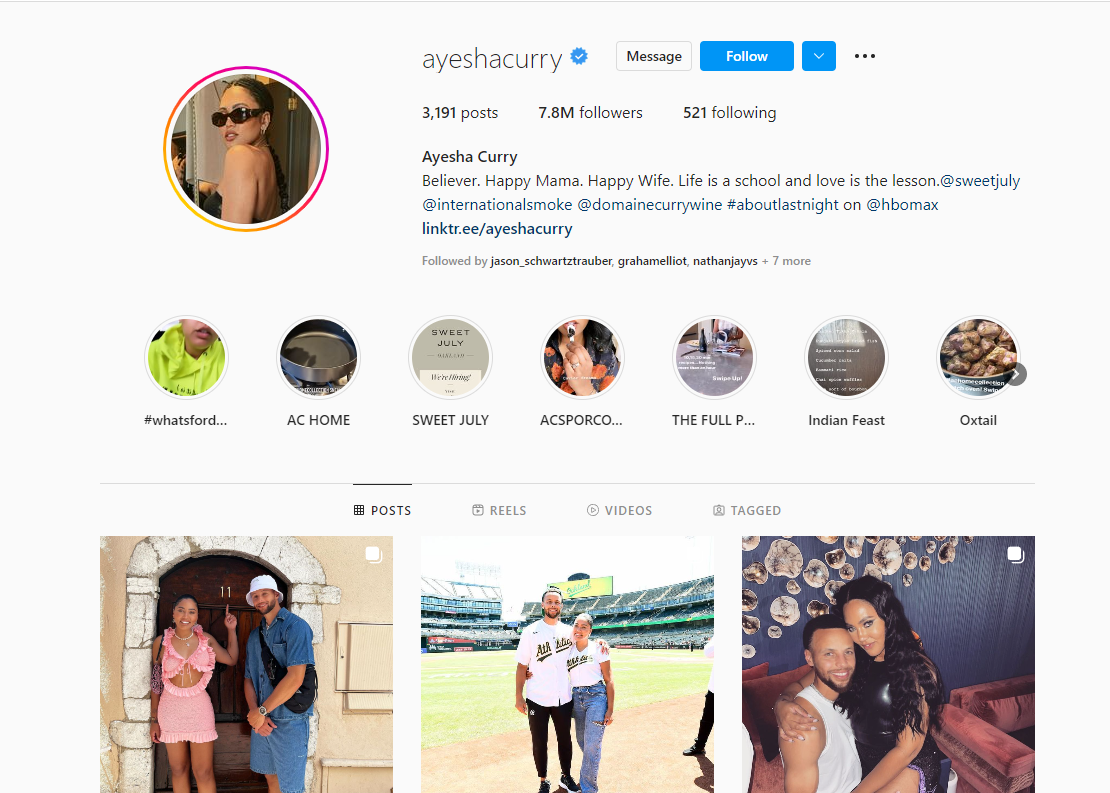 Source: @ayeshacurry
Minimalist Baker
The Minimalist Baker is a food blog created with simplicity in mind. Even so, the recipes found on the website are anything but basic. The blog was established in 2010 by Dana Schultz as an outlet for her love for food photography. Each recipe should require only one bowl, fewer than 10 ingredients, and only 30 minutes to prepare. Recipes can be narrowed down by dietary needs and boast a vast range of restrictions, including dairy-free, vegetarian, vegan, gluten-free, and no-sugar-added recipes.
The foodie influencer site has dedicated followers on every platform. Instagram boasts 2.1 million followers, nearly 379k on Pinterest, and 147k on Youtube. Minimalist Baker offers a disclaimer on the blog stating that they do not collaborate or produce any sponsored content for the Minimalist Baker platform.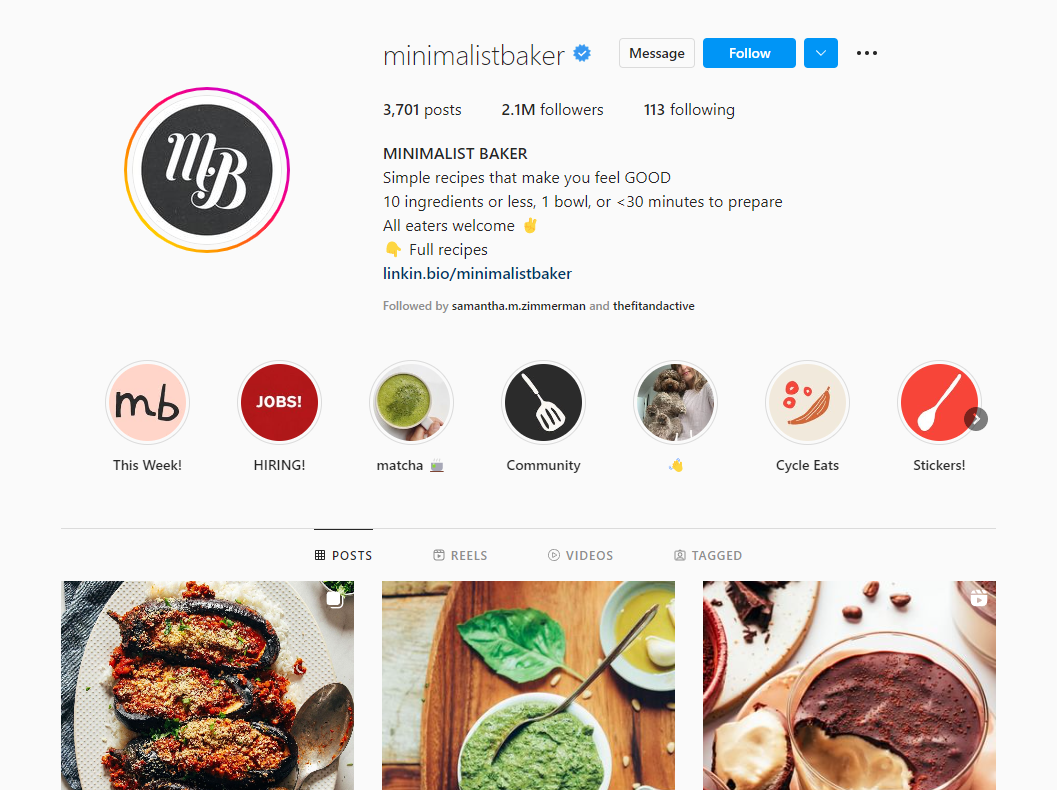 Source: @minimalistbaker
Rae Drummond
Rae Drummond started out as a city girl before moving to the country with her husband. She began the Pioneer Woman blog in 2006 as a lifestyle blog — writing about transitioning her life from the city to pioneer living. After posting a how-to recipe article, her readers asked for more food-related content. The rest is history.
Only five years later, The Pioneer Woman blog was turned into a Food Network show. Rae's recipes are rich and comforting — there's no skimping on butter for the Pioneer Woman! Rae is the author of numerous cookbooks and children's books. The Pioneer Woman brand now features a line of cookware, flatwork, cutlery, and coffee, among other products. Fans of the show have the opportunity to visit the Lodge where Pioneer Woman is filmed.
Although Rae created her blog before nearly all of the social media networks came about, she posts content to popular platforms to engage with her followers. Pioneer Woman has 4.2 million followers on Instagram, 1.2 million on Twitter, and 1 million on TikTok.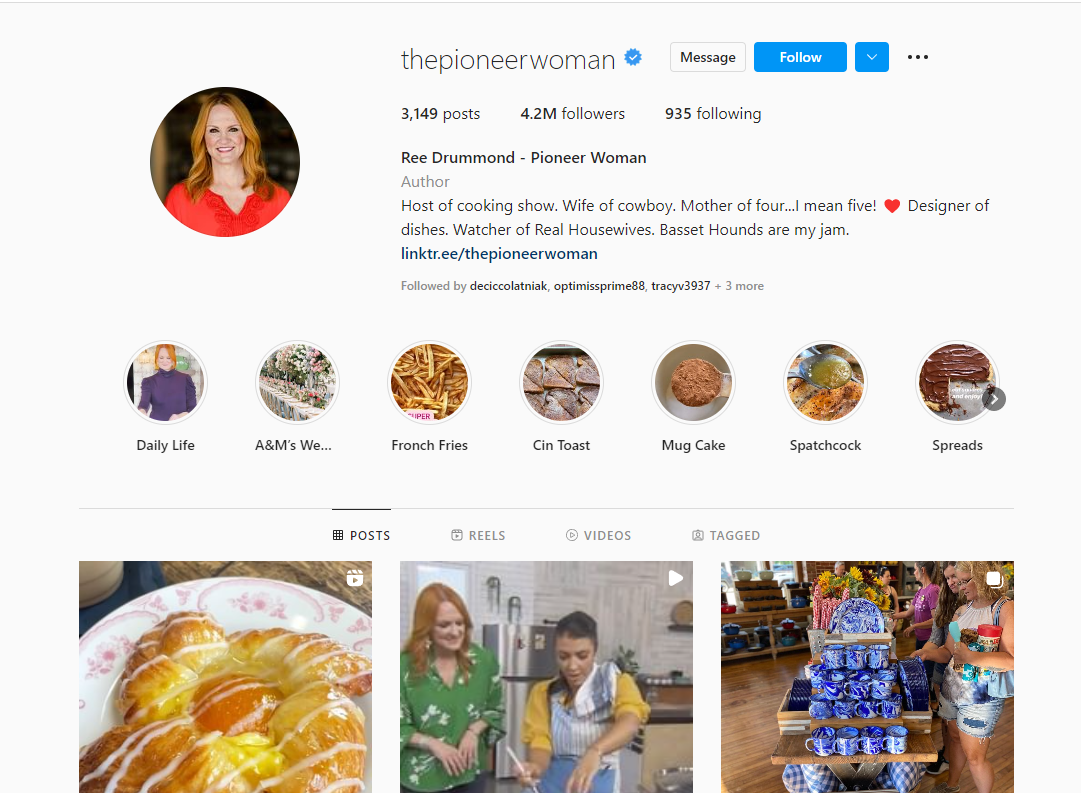 Source: @thepioneerwoman
Yolanda Gampp
Cake master Yolanda Gampp doesn't make ordinary cakes. She specializes in cakes that do not actually resemble cakes. Her works of food art look too beautiful to eat. Known for her successful YouTube channel, How to Cake it, Yolanda generated a large 14,000 following within just a few short months of posting her cake tutorial videos. The account now has 4.31 million subscribers.
Yolanda attributes her passion for cakes to her father, who is also a baker. Food photography featuring her cakes has appeared in magazines and on websites. Yolanda enjoys sharing her expertise with followers. She offers baking courses online (free and paid) and has a "bake" book club.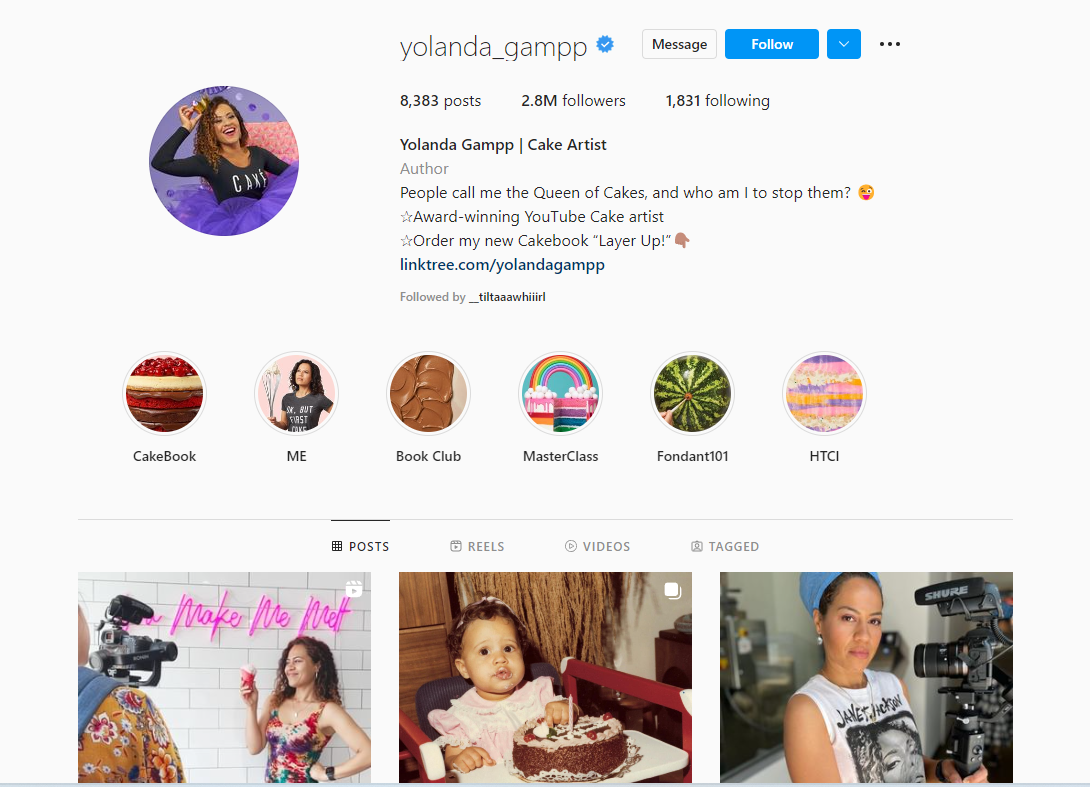 Source: @yolanda_gampp
Brands Can Elevate Marketing with Top Food Influencers
Food influencers have massive power for food brands. This effective method leverages the considerable sway of a food influencer to bring awareness and exposure to food and beverage brands. A strong influencer marketing agency can help influencers and brands achieve additional goals and outcomes, including increased reach, lead generation, and direct response.
Most food influencers dedicate their social media networks to food content, like recipes and how-to tutorials. Many also post about their everyday lives as a way to further connect with their audience. For this reason, brands outside of food may be appropriate for a food influencer to promote.