Influencer status is no longer just reserved for the dancers, singers, or beauty gurus of social media—those who share educational content also play a big role in influencer marketing.
Both established and promising scientists impact followers' lives with powerful information. As an influencer marketing agency, we help brands that want to impact the science community and take it to the next level through strategically science-related top partnerships.
Dianna Cowern @thephysicsgirl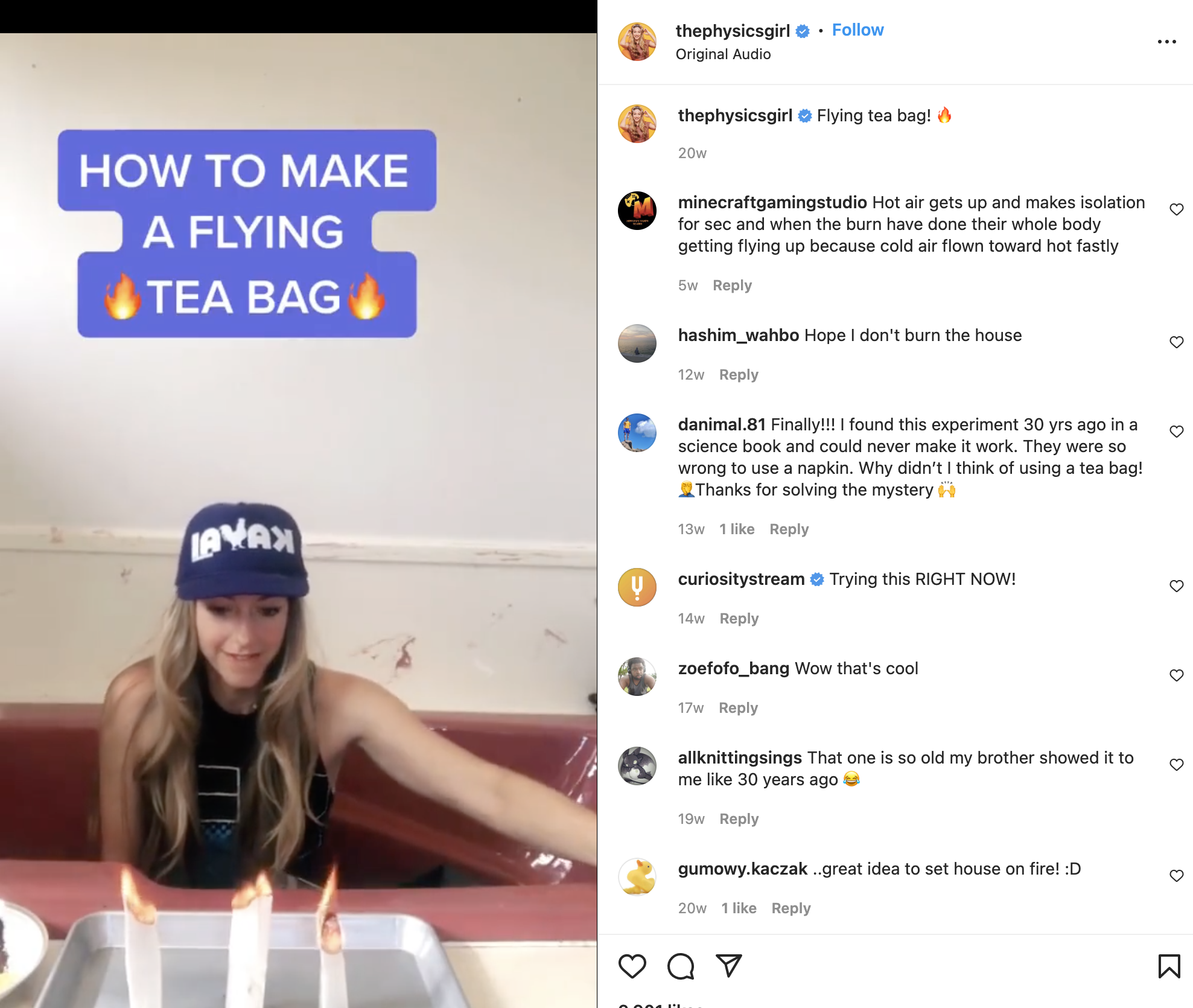 Known across social media as the Physics Girl, 31-year-old Dianna Cowern started making educational science-filled Youtube videos in 2011. Her main intention for sharing the content was to make science accessible to young girls. The same year, Dianna graduated from MIT with a Bachelor's degree in physics. The brilliant science influencer went on to win an award in 2014 for serving as an incredible science communicator. She was ranked as one of Forbes 30 under 30 in 2018.
Dianna's Youtube channel has long been in collaboration with PBS Digital Studios; however, she has gone down her own path as of 2020. Continuing her love for inspiring women to pursue science, the science influencer posts content featuring a "Physics 101" series and other STEM-based learning videos. Her educational Youtube channel has over 1.8 million subscribers, and Physics Girls has a combined hundreds of thousands of followers on the various social media networks.
Dr. Neil deGrasse Tyson @neildegrassetyson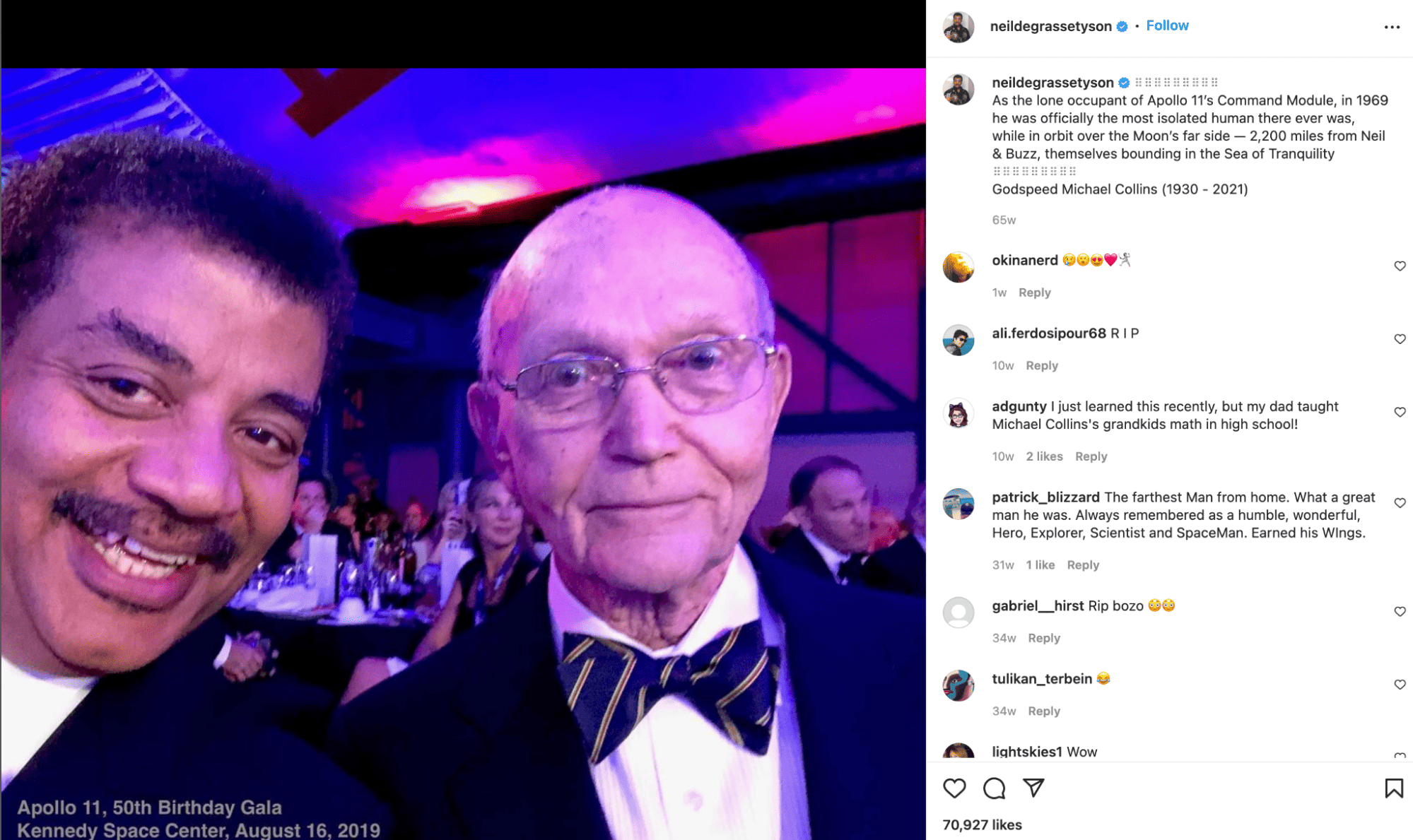 Declared both a powerful nerd and sexy astrophysicist, Dr. Tyson is possibly the most famous scientist, and certainly one of the top science influencers, in the world.
He earned a PhD in astrophysics in New York in 1991, after which he worked at the Hayden Planetarium. His influence on the study of our solar system at the institute led to the controversial decision to exclude Pluto from our planet's list.
The award-winning astrophysicist continues to record his popular weekly podcast, which goes by the name StarTalk. Even non-science enthusiasts will recognize his smooth voice as the host of Cosmos: A Spacetime Odyssey. Dr. Tyson conducts talks at conventions and one-off events around the world and posts authentically and eloquently on social media, reaching millions of followers worldwide.
Dr. Evan Antin @dr.evenantin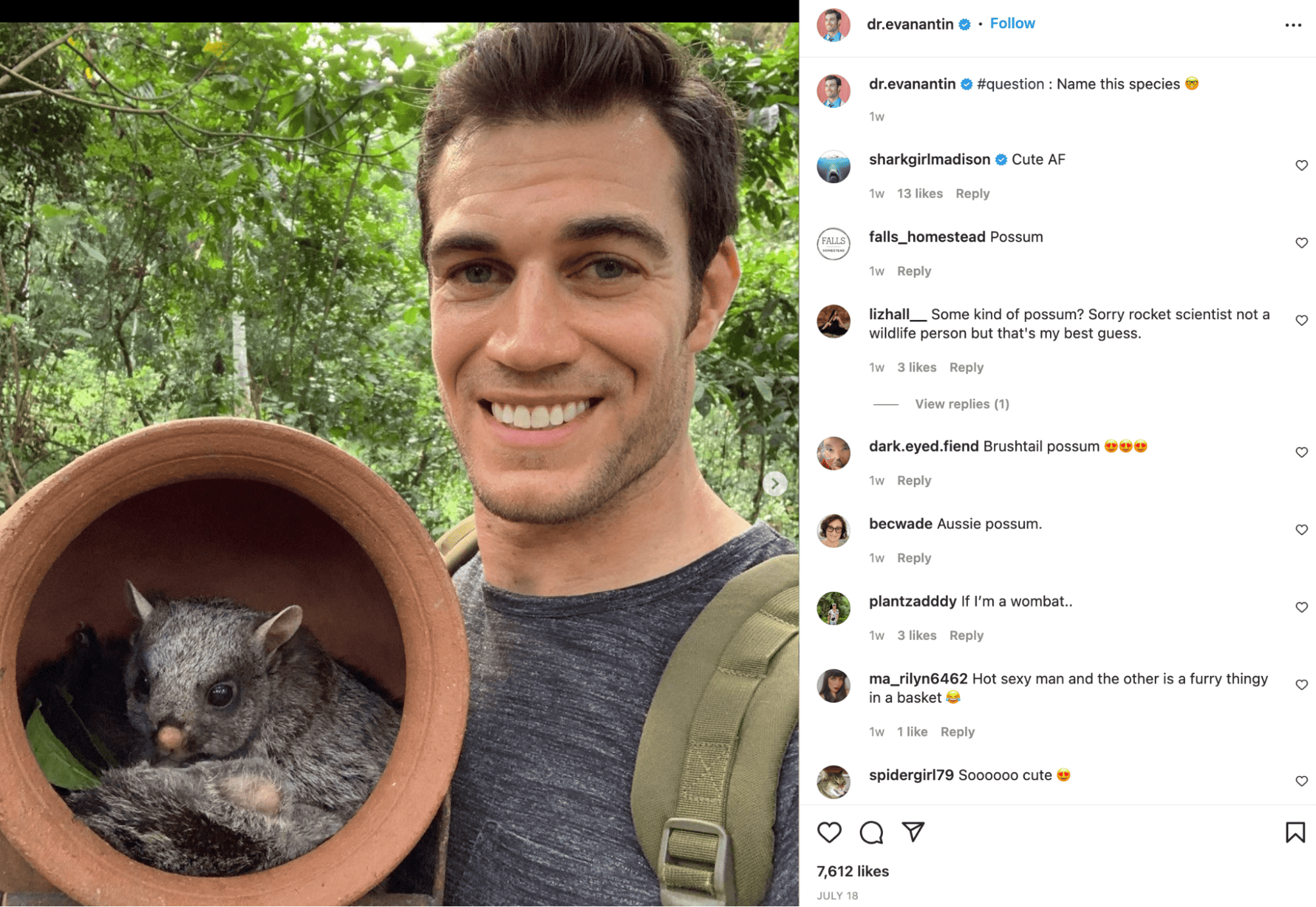 Known as "the world's sexiest vet" by most of his followers, Dr. Antin is one of the top science influencers in the animal science world.
Many of Dr. Antin's social media posts address common animal-related questions or provide updates on his latest adventures. He specializes in exotic medicine, and although he has a veterinary practice in Southern California, he frequently travels around the world to visit unique exotic species. Most content features cute animals, educational factoids, and the occasional topless muscle shot.
Maintaining his top science influencer startus, Evan stars in his own Animal Planet show titled Evan Goes Wild and is the author of a newly released first book. The famous veterinarian has over 1 million followers on Instagram and is rapidly gaining popularity among YouTube users.
Recently, Dr. Antin announced a partnership with Purina DentaLife.
Natalie Panek @nmpanek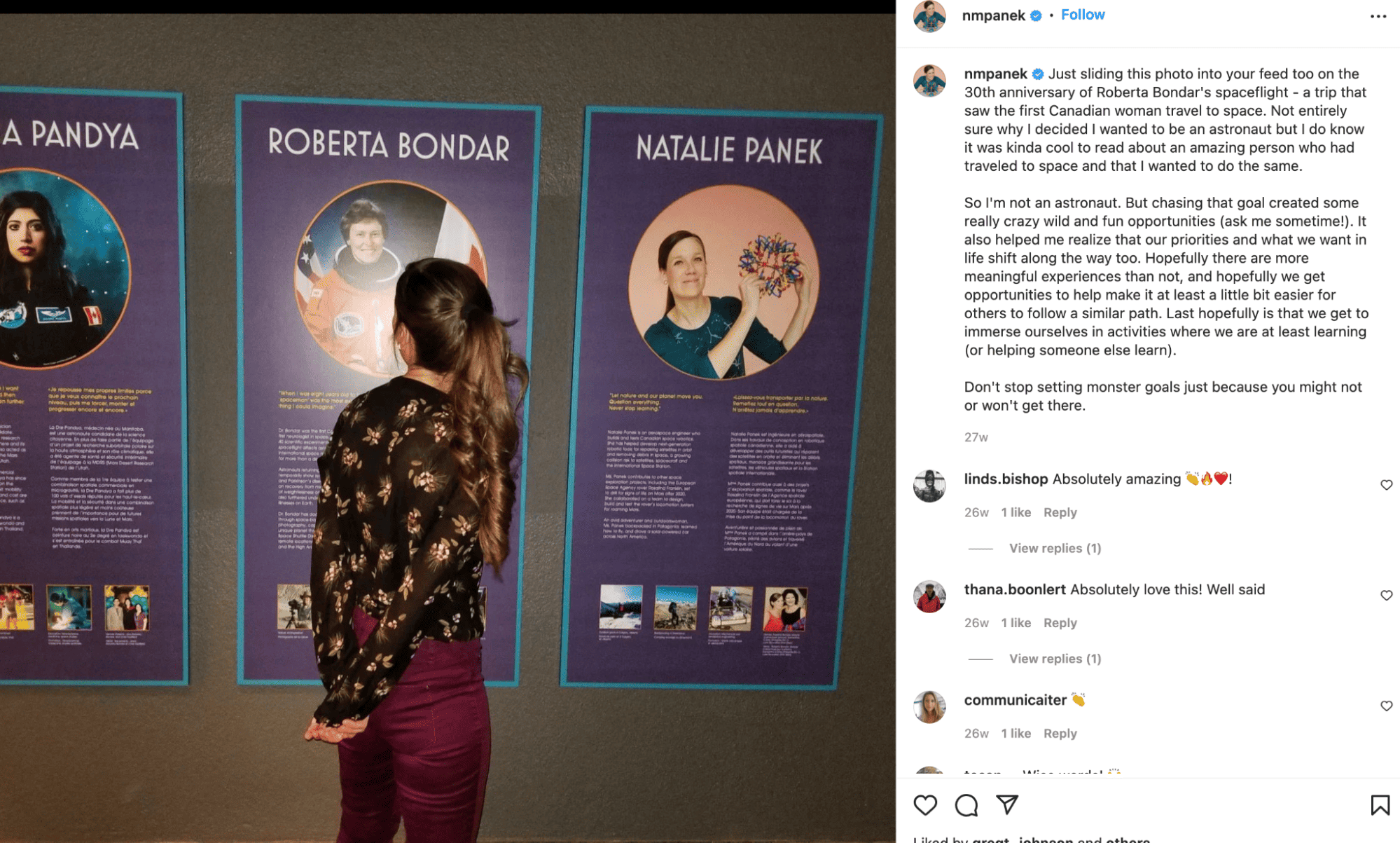 The fearless Canadian space explorer Natalie's influential content is typically delivered in the form of live presentation.
She is undoubtedly an influencer in her field while simultaneously acting as an advocate for women pursuing careers in technology. Natalie earned her master's degree in aerospace engineering in 2009, followed by International Space University attendance. Her current undertaking is to clean up any remnants left behind from space missions within space. "Leave No Trace" doesn't just apply on Earth.
The award-winning science influencer has also delivered engaging presentations at two separate TEDx events.
Bill Nye @billnye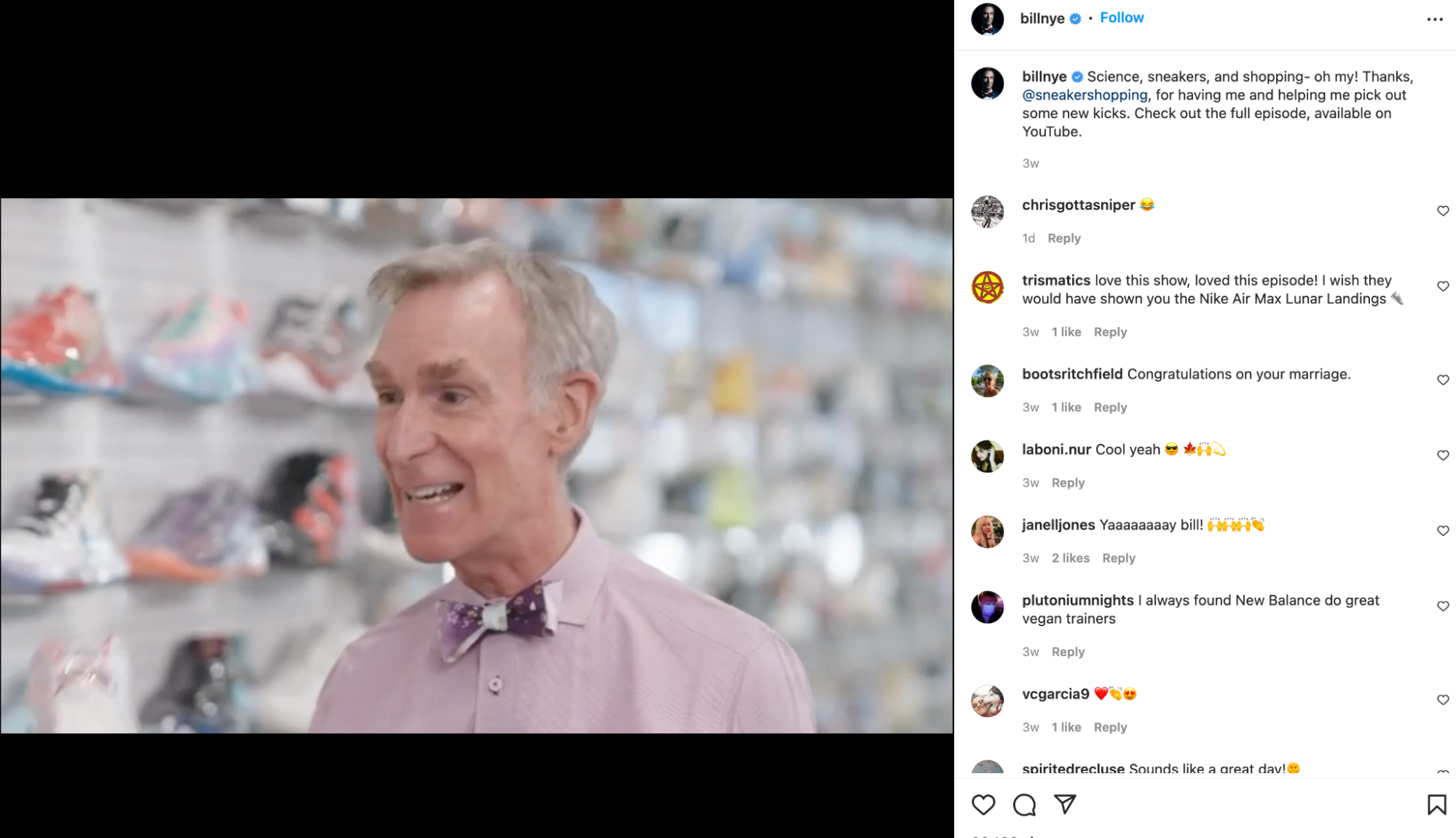 Bill Nye was THE Science Guy for much of the 1990s in the United States. He started his science career after receiving his BS in mechanical engineering. After working for Boeing and inventing essential hydraulics for the company, Bill briefly left the science community to pursue a comedy career. His witty humor and knowledgeable background led to the creation of his hit TV series, Bill Nye the Science Guy, on public television. The show won 19 Emmys throughout its airtime from 1993 to 1998.
This top science influencer continued to share his expertise with the scientific community as the author of bestselling books and a documentary about his own life. Netflix rebooted the iconic science guy series in 2017 with a new name; Bill Nye Saves the World. Bill's personal Instagram profile has an immense 10 million followers across all platforms.
Sir David Attenborough @davidattenborough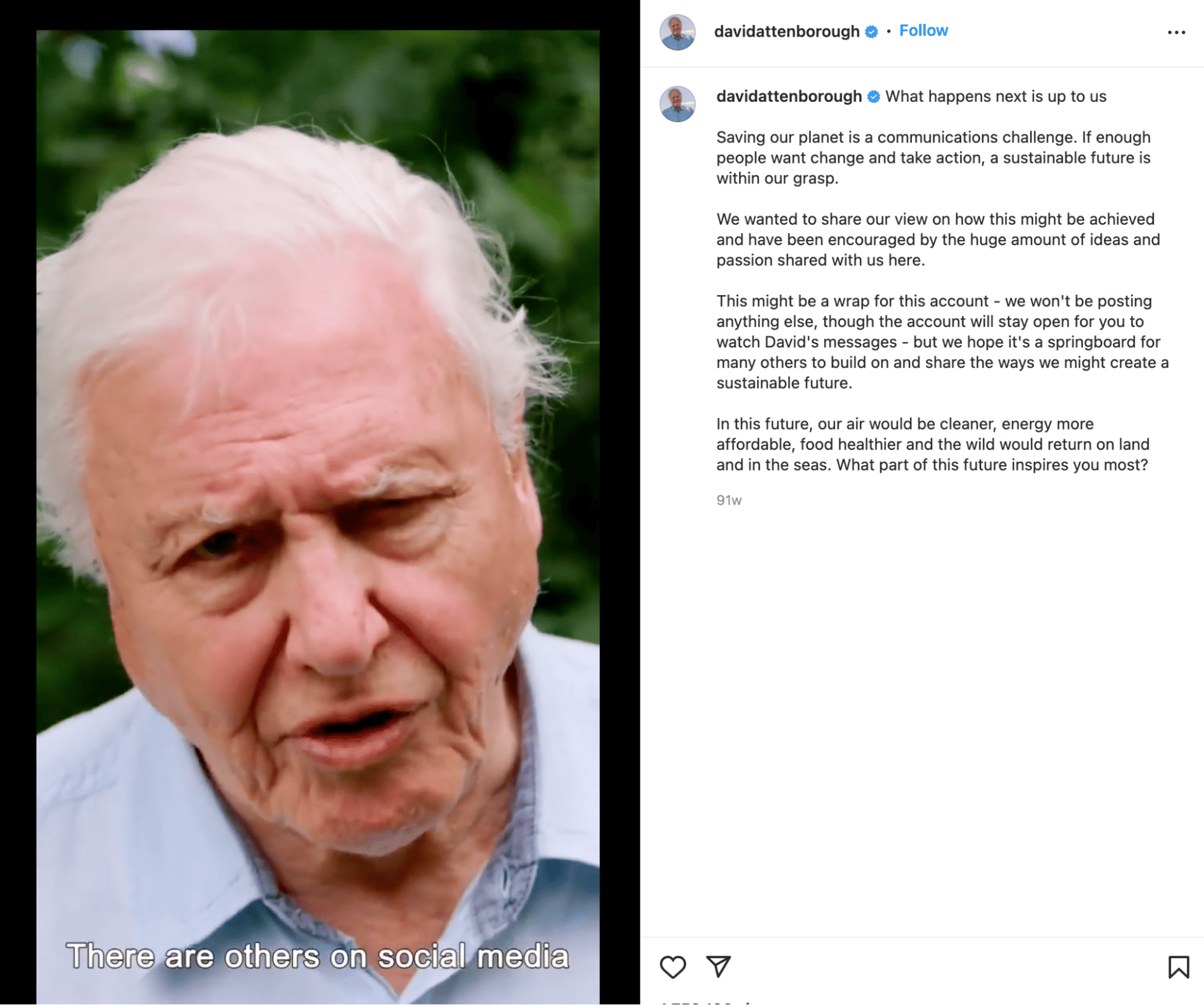 An environmental influencer from the United Kingdom, Sir David is a pioneer in the life sciences field. As a young man, after finishing his BA at university, the eager adventurist got a job at the BBC television network and filmed rare animals in the wild for a hit TV show.
Sir David's most impactful influence on science is bringing awareness to climate change. He has long warned the United Kingdom and the world about the dangers that environmental change will bring. His strong passion for the topic began over 20 years ago. Sir David's Netflix series, Our Planet, uses this awareness as its central theme. Unfortunately, Sir David's short 2-month stint on Instagram in 2020 came to an abrupt end as he deactivated his Instagram. He broke the record as the fastest Instagram account to gain a one million following.
The influential gentleman elects to use his time addressing climate change and encourages others to do the same.
Dr. Esther Odekunle @science.uncovered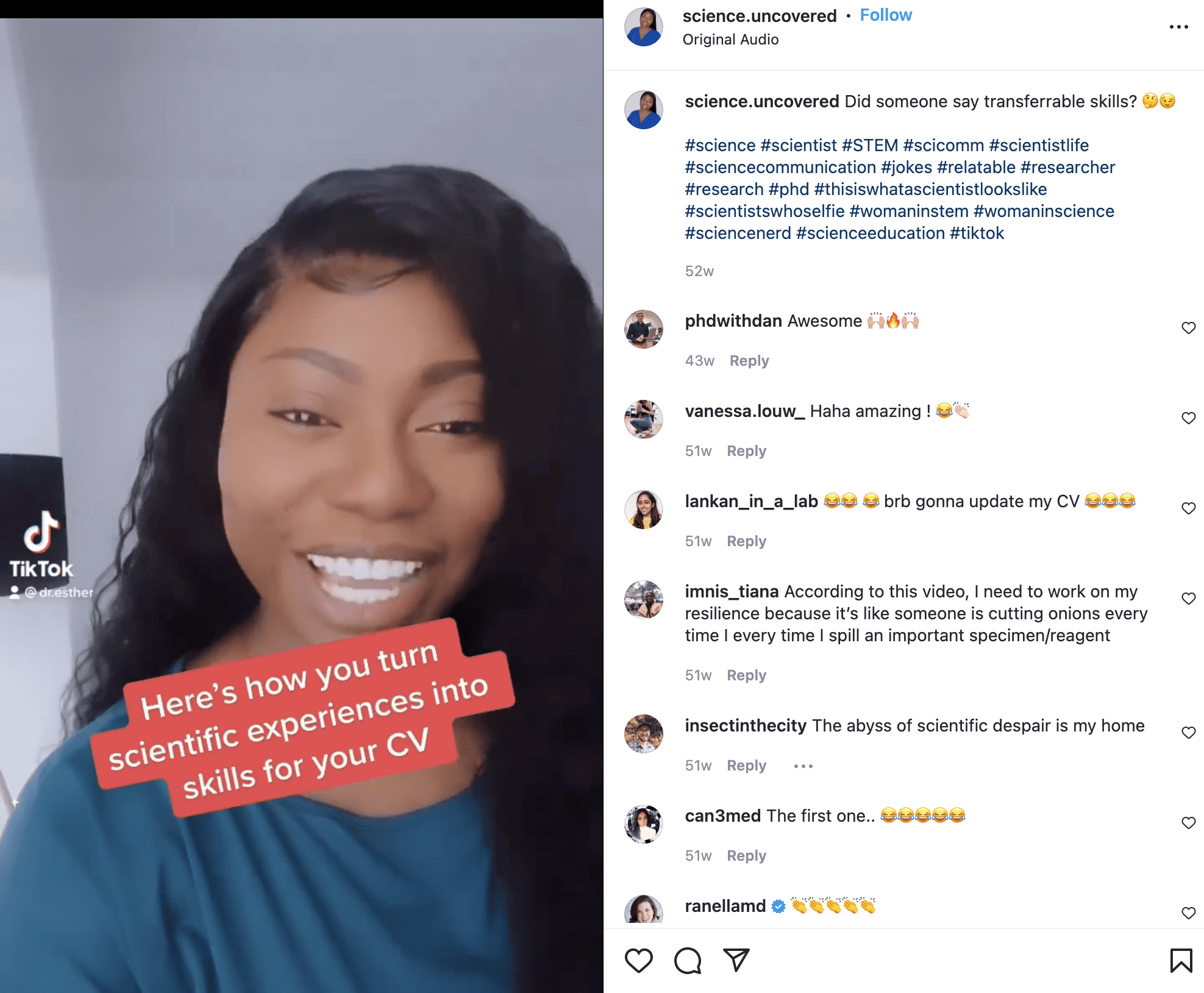 An antibody engineer who focuses her research on antibodies' biology and chemistry, Dr. Odekunle's voice as an influencer goes beyond science. She earned her PhD in neurobiology in the United Kingdom from Queen Mary University.
Because much of Dr. Odekunle's work is confidential, she has to be strategic when communicating and educating others.
The science influencer has 24,000 followers on the Instagram platform, over 38k on Twitter, and nearly 4,000 subscribers on Youtube. Although most of her social media content is science or education-related, she uses her platforms to speak out about diversity in science and racism in the academic world. Dr. Odekunle's visibility continues to grow, and she acts as an advocate to those in science who may not have a voice.
Dr. Jane Goodall @janegoodallinst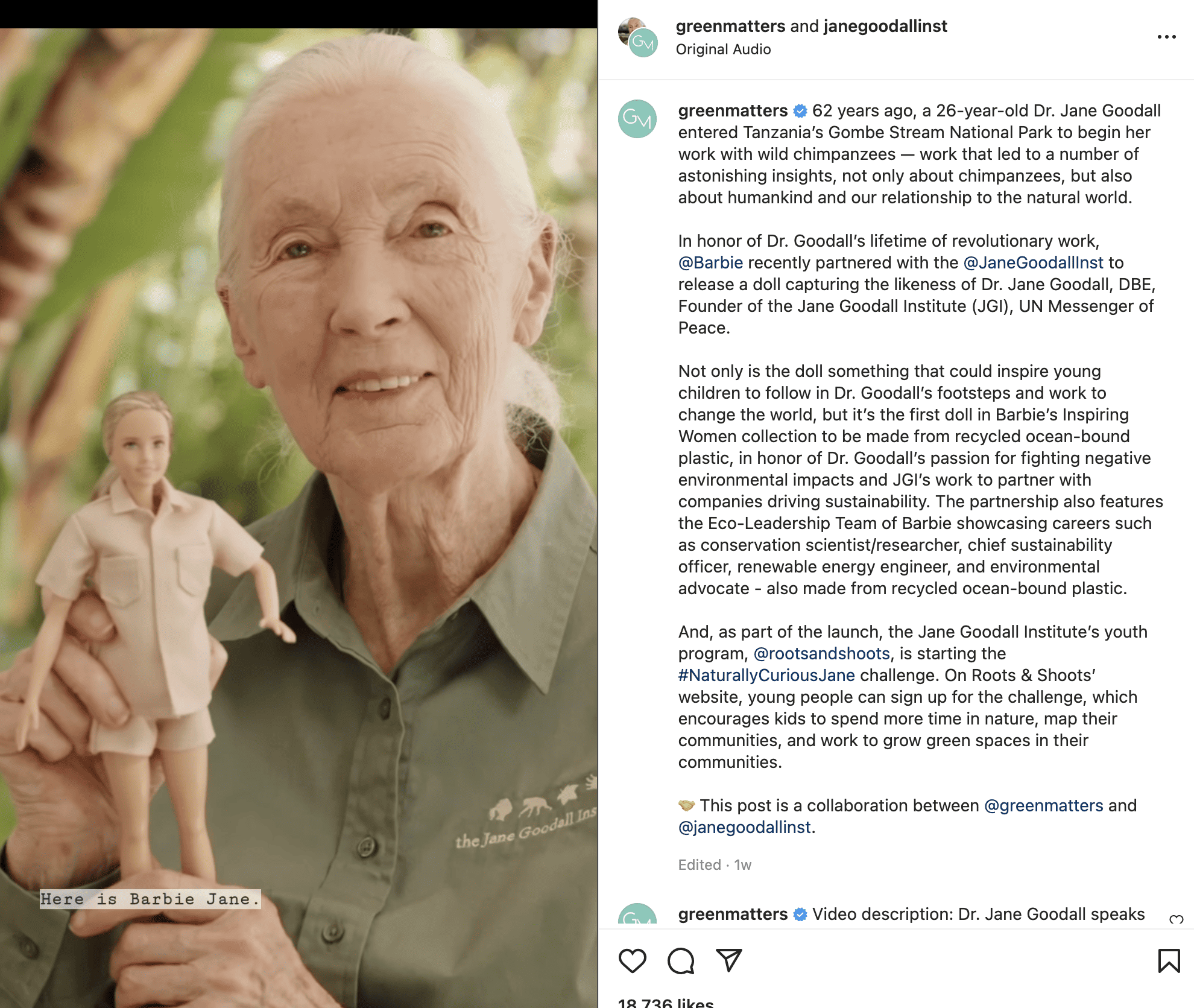 Jane Goodall has long been an influencer in the science world. Her work with primates gave her a platform to bring awareness to conservation long before social media existed. Jane studied anthropology in school and obtained a PhD in ethology from Cambridge. She is most well-known for her research in Africa with chimpanzees in the 1960s.
Dr. Goodall lived among the chimps for a long time as a way to truly study their social interactions. The iconic science influencer founded the Jane Goodall Institute in 1977 to further share knowledge and empower others. Since then, Jane has received numerous awards and recognition for her iconic work. She remains an activist and aims to bring awareness to animal rights.
Frequently Asked Questions about Science Influencers & Influencer Marketing Campaigns
With both aspiring scientists and casual science enthusiasts consuming science-related content, it's important to understand the ins and outs of science influencer marketing.
What level of education do the top science influencers have?
Most science influencers have at the very least a Bachelor's degree–if not a Masters or a Doctorate.
Brands seeking science influencers for their marketing campaigns should take education into account, but authority is typically more important. Someone who clearly and confidently communicates accurate knowledge is likely more preferable to an influencer with a higher degree level yet appears timid or hesitant.
What types of businesses benefit from top science influencers?
Many brands would benefit from the promotion of a science influencer. A science influencer would most commonly elevate technical gadgets, food items, skincare, beauty products, or animal-related industries with the help of a knowledgeable science influencer. Consider how the product or services affects the user's health or overall wellness. An influencer with a related background will be able to present the information and data most accurately and address any follower questions throughout the ad marketing campaign.
As an example scenario, a target audience may more confidently receive a skincare line designed to have anti-aging effects by a professional dermatologist or esthetician rather than an influencer known for a different area of branded content.
Why does science influence consumers?
When people are provided with information, they want the facts, thorough explanations, and reasoning behind it. Without a foundation for the knowledge, followers are less likely to believe the information presented.. If a business brings in top science influencers—leaders in their specific industry—to present data surrounding any given product, they'll receive it more confidently.
So why don't brands just have a scientist from their lab present the information to the public?
Unfortunately, someone with whom the public is unfamiliar may appear as less trustworthy than an already authoritative source of information. A science influencer has an established relationship with their following and the general population, therefore, they are usually the best choices when it comes to this type of influencer brand marketing.