The year is coming to a close and holiday campaigns are wrapping up. Social media and influencer marketing are constantly evolving, and marketers need to stay aware of the changes to stand out.
Here are the top news stories for December 2022 in social media and influencer marketing.
Instagram Tests a Roll Call Feature
Leaning toward the authentic, Instagram is developing a "Roll Call" feature that allows users to see what everyone on their friends' list is doing. This feature will offer five minutes to upload a photo or video. Friends can respond and interact, but all of those responses expire after 24 hours.
Twitter Announces Blue, Gold, and Gray Checks
After the controversy over the Twitter blue checkmark, Elon Musk announced blue, gold, and gray checkmarks for verified Twitter accounts.[1] He clarified that the gold check will be for businesses, the gray check will be for governments, and the blue check will be for individuals.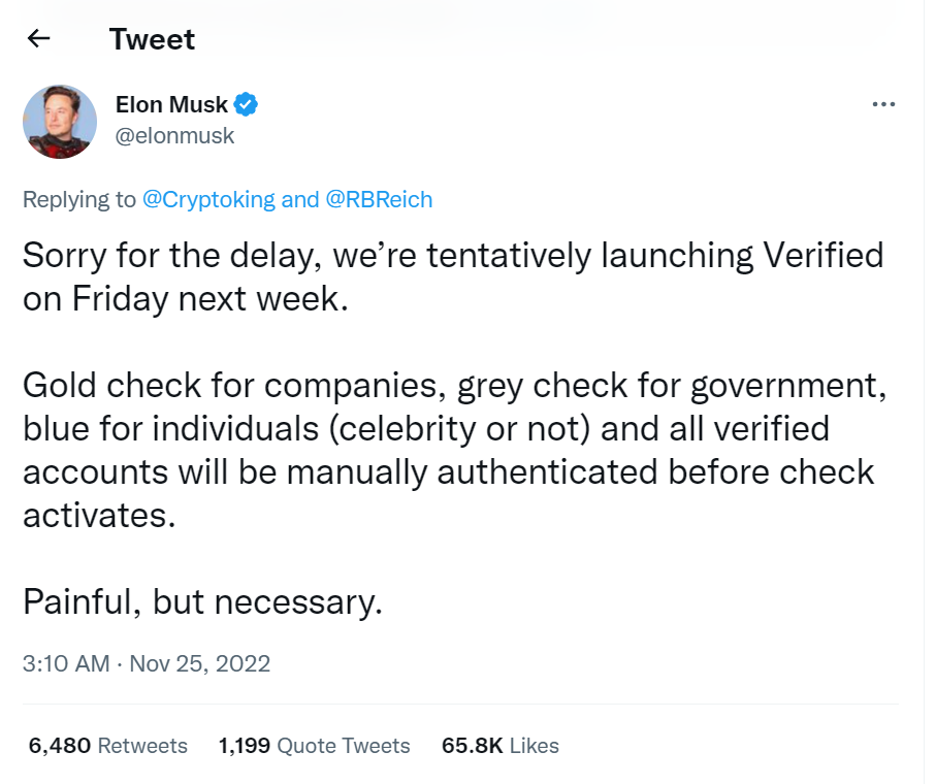 Source: Twitter
LinkedIn Rolls Out Native Post Scheduling
Catching up to the other social media platforms, LinkedIn is rolling out a post-scheduling feature that allows users to schedule posts to send at a later time.[2] This is a helpful feature for marketers who have been using a separate paid post-scheduling app. The platform is slowly rolling this feature out, so not every account has access just yet.
WhatsApp Rolls Out a Messaging Feature
WhatsApp has begun to roll out a feature that allows users to chat with themselves on the app. The goal is to keep information easily accessible in the app, so users can send reminders, shopping lists, and important notes to themselves, privately. The new feature will roll out over the coming weeks to Android and iPhone users.
Reddit Announces Image Comments in Some Communities
Though images and videos are supported on Reddit, the platform announced a new feature to engage with other users. Along with the original post, users can post images or gifs in the comments, much like other platforms.[3]
This feature will only be available for comments within 1.5k subreddits. The feature offers a lot of promise for engaging with others in specific communities, such as pets, crafters, photoshop requests, and more.
YouTube Announces a Mobile Version of Research and Analytics
YouTube announced a mobile version of the research and analytics features, some of which won't be available on the desktop version. Some creators have been given early access to see insights like top searches, content gaps, and watch activity based on topics.
LinkedIn Launches the Focused Inbox
LinkedIn announced its new Focused Inbox feature, which is essentially a spam filter for InMail. The filter will reroute messages that may be considered less relevant or valuable to the recipient, highlighting only the most important outreach. At this point, it's not clear how much this feature will affect the paid InMail.
Instagram Supports Shadowban Insights
To provide more transparency for creators, Instagram offers a new insight that shows creators if their content is recommended on the Explore page.[4] If there are issues, the platform provides instructions for resolving the issues.
Twitter Gets a Rival
Some Twitter users are concerned about Musk's chaotic changes on the platform. Mastodon, a newer social media app that's been active for about six years, has emerged as an alternative to Twitter. On the day Musk took over Twitter, Mastodon gained 70,000 new users. Since then, the user base has grown to 2.5 million active monthly users.[5]
Tumblr Is Making a Comeback
Tumblr fell by the wayside as newer platforms rose to power, but it's now re-entering the social media scene. The platform seems to have an understanding of what its audience wants, giving it a foothold as a microblogging alternative.
Twitter Adds Public View Counts to Tweets
Twitter will start showing all users how many impressions other users' tweets get, offering a valuable insight for competitor research. The platform's tweet view count, otherwise known as impressions, was previously only available to the account that published the tweet.
The exception to this new feature is video content, which has traditionally displayed a view count. The view count will display under the main content and updates in real time.
TikTok's For You Page Reveals Why a Video Is Recommended
TikTok's "For You" page, the newsfeed users see when they open the app, shows why the algorithm puts a particular video in the feed. Users can access this information by tapping an option on the share panel that says, "Why this video."
The platform may recommend a video based on user interactions, searches, comments, accounts that are followed, recent content posted in the region, and more. If users find a video that doesn't match their interests, they can get insights as to why it was recommended. This is a valuable feature for content creators and influencers to understand how the algorithm works.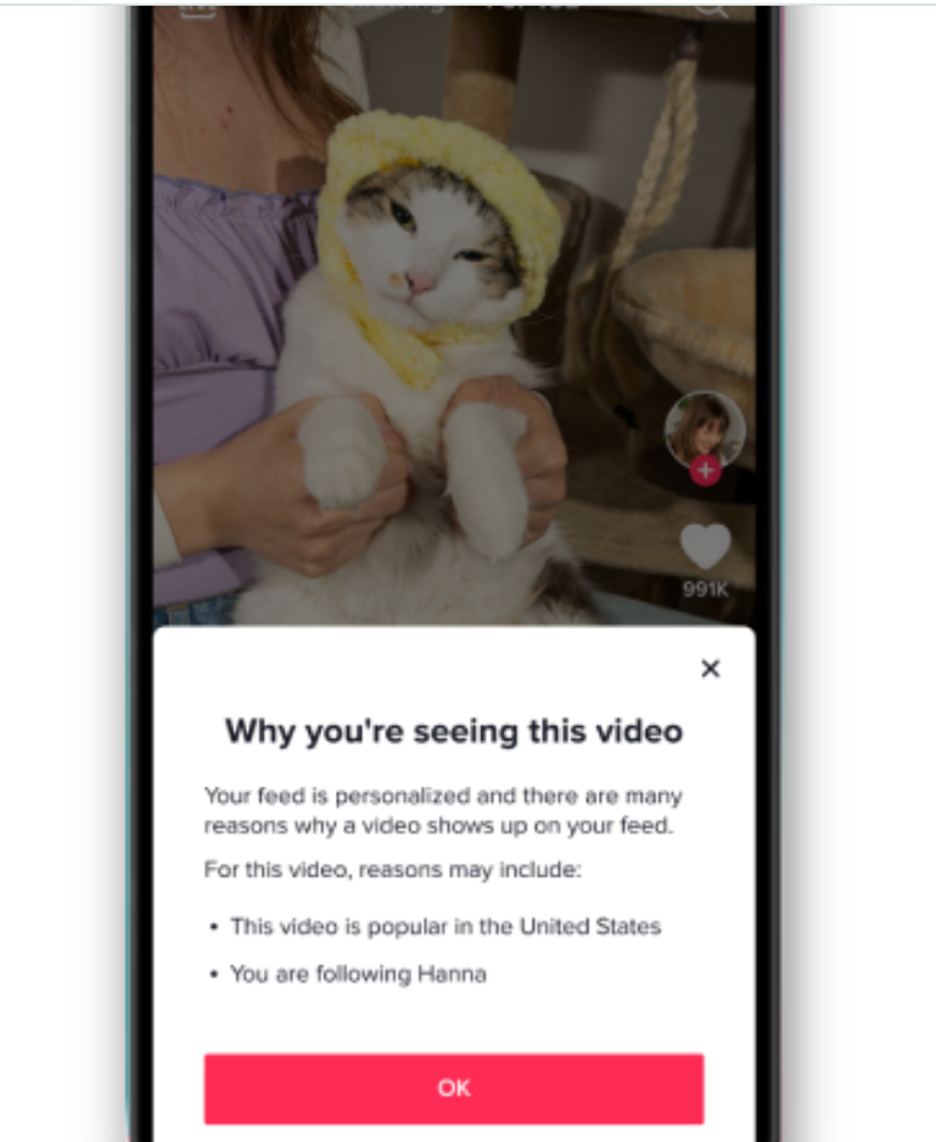 Source: TikTok
Twitter Enhances Search Results for Cashtags
Twitter is upgrading the user experience for cashtags, showing pricing graphs when users click on the symbol for stocks, ETFs, or cryptocurrency. Adding a dollar sign in from the stock or currency symbol creates a clickable hashtag that provides users with a standard set of search results with popular tweets.
Previously, users had to visit another website to find the most currency information on a stock or currency. It now updates immediately in real time, giving users the most up-to-date information. Users can also search for symbols with or without the dollar sign.
Google Debuts In-Video Search
Google is rolling out its brand-new search technology in India, which is one of its largest markets, with in-video search and bilingual search. Though these features are limited to India right now, they will be making their way to North America.
The in-video search allows users to tap "Search in video" while watching a video on YouTube and enter the topic in the video they want to skip to. This essentially allows users to "skim" video like text content to find the information most relevant to them.
The bilingual search feature is designed to make it easier for people to use more than one language to explore information. As this feature expands outside of India, all search results pages will have the option to be bilingual as a user preference.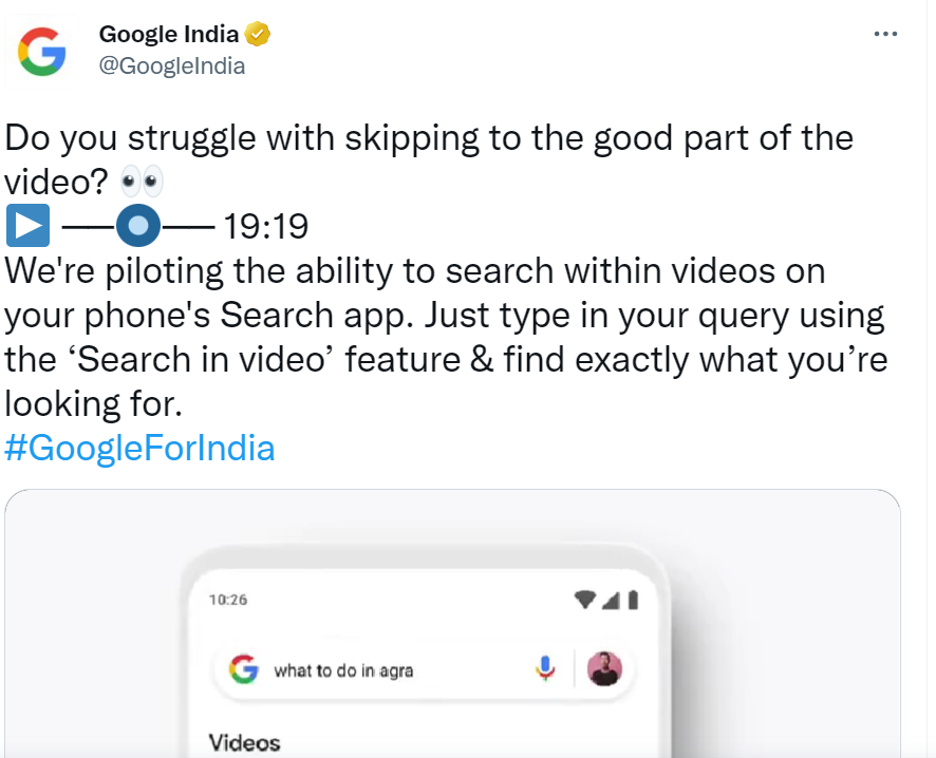 Source: Twitter
Meta Focuses on Safety and Security on 2022
Reflecting on the page year, Meta implemented several features that were designed to improve safety and security on the platforms. The Facebook and Instagram parent company emphasized initiatives designed to eliminate covert influence operations, bugs, and spyware – initiatives that will continue into 2023.
In addition, Meta called for regulatory action with a set of recommendations for government and society to help combat spyware and threats online. The platform itself will add more on-platform protections, educate users, and increase support for people who are locked out of their accounts in 2023.
Twitter Expands Community Notes to All Users
Twitter is rolling out Community Notes worldwide, allowing everyone to view and rate fact checks that come from other users. This open-source solution offers fact-checking and provides context to content published on Twitter to combat misinformation.
People can sign up to be Community Notes moderators, which grants them the ability to add notes to tweets and rate notes from other moderators. All users can view the ratings tweets receive, offering social proof that the information is accurate.
Facebook Enables New Ways to Make Money
Meta is rolling out new ways for users to monetize Facebook, along with an update that allows creators to get paid faster. Meta is enabling stars on all public Facebook content, including Reels, and running events throughout the month to encourage users to purchase Stars.
In addition, the platform is lowering the minimum threshold creators need to reach to get their payments. It was previously $100, but it's now $25 for US-based creators. There are also several tests being run to find new ways for creators to make money, including a subscription option, free stars for fans to give away, and ads on Facebook Reels for some creators.
Twitter Includes Recommended Tweets in User Feeds
Twitter is expanding recommended tweets to all users, including users who previously avoided them. Recommendations are algorithmically selected tweets from accounts that users don't follow, helping users discover other accounts that they may be interested in following.
Generally, this update applies to users who weren't seeing recommended tweets already, but some users have reported seeing an increase in their recommended tweets. Some are even seeing them in the notification tab. If users want to avoid recommended tweets, they can switch to the chronological feed.
Meta Chooses to Remove News Instead of Paying Publishers
Meta announced that it would consider removing news articles from its platform if a US government mandate forces the company to compensate publishers. The Journalism Competition and Preservation Act allows news outlets to collectively negotiate revenue deals with social media platforms, which is intended to benefit US news outlets.
News outlets can negotiate with companies individually right now, but publishers only have so much leverage with this system. If the new act passes, the entire industry will have the power to negotiate, giving publishers leverage over companies like Google and Meta. The latter is choosing to avoid negotiating with publishers and believes the traffic and exposure are enough.
Looking to 2023
Social media platforms are undergoing significant changes as the year closes out, and there are more on the horizon. While most of these changes are a positive sign for marketers and influencers, it's important to stay aware of what's happening in the social media landscape to prepare for the new year.
Sources:
[1] https://blog.twitter.com/en_us/topics/product/2022/twitter-blue-update
[2] https://www.linkedin.com/pulse/native-post-scheduling-linkedin-john-espirian?trk=pulse-article
[3] https://www.adweek.com/media/reddit-adding-images-to-comments-in-subreddits/
[4] https://www.cnet.com/news/social-media/instagram-will-now-tell-you-if-youve-been-shadowbanned/
[5] https://tech.co/news/mastodon-reaches-2-5-million-users