Canadian influencer Samantha Lotus hosted an $11 Masterclass course on how to heal vision holistically, without the use of glasses.[1] Doctors and other influencers slammed her immediately.
In her now-deleted video, she claimed that people may have been "told" they need glasses, but that's a "lie." She claimed there are mental, emotional, physical, and even spiritual reasons that people can't see, saying that this can be "healed."
The Self-Proclaimed Holistic Master Coach
Samantha Lotus is a self-proclaimed "holistic master coach, business coach, human optimization specialist, and holistic health practitioner" who works with "New Paradigm Leaders to master the personal and professional realms" and create impact. Boasting nearly 28k followers on Instagram and over 2k subscribers on YouTube, Lotus shares content related to healthy diets, somatic healing, acne cures, and other holistic wellness topics, as well as multi-level marketing schemes.
In her Masterclass, she declared that she could teach people to fix their bad eyesight for the low price of an $11 webinar, warning her followers that if they were "closed-minded and wanted to stay a victim, this is NOT FOR YOU." She hosted a virtual crowd of over 400 attendees, including TikToker Mallory, a well-known wellness-misinformation influencer who goes by @mallorysthoughts.
Mallory Reacts
In a TikTok viewed over two million times, Mallory broke down Lotus' hours-long webinar, which she says was largely a testimonial for doTERRA Essential Oils products, which Lotus reps for. Lotus made plenty of unfounded claims that the oils can strengthen eyes. Mallory called the webinar a "trojan horse" to sell her multi-level marketing products.
She compared the class to "Saturday morning cartoons," saying that it was "only a matter of time before the anti-glasses grift becomes a thing? This community is so hellbent on having a contrarian opinion on every incredible scientific invention."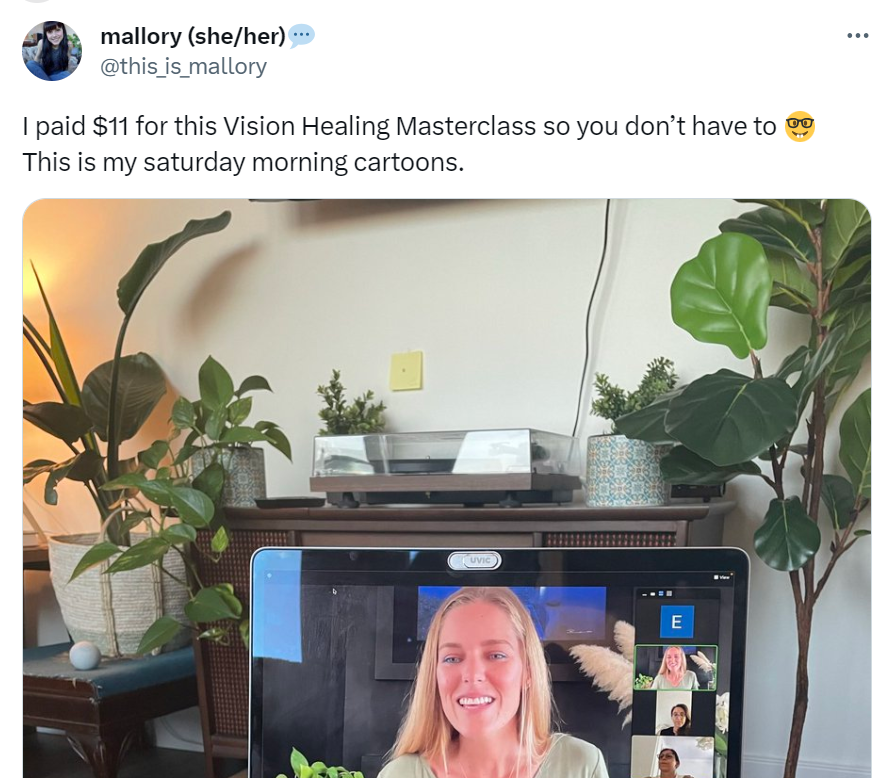 Source: X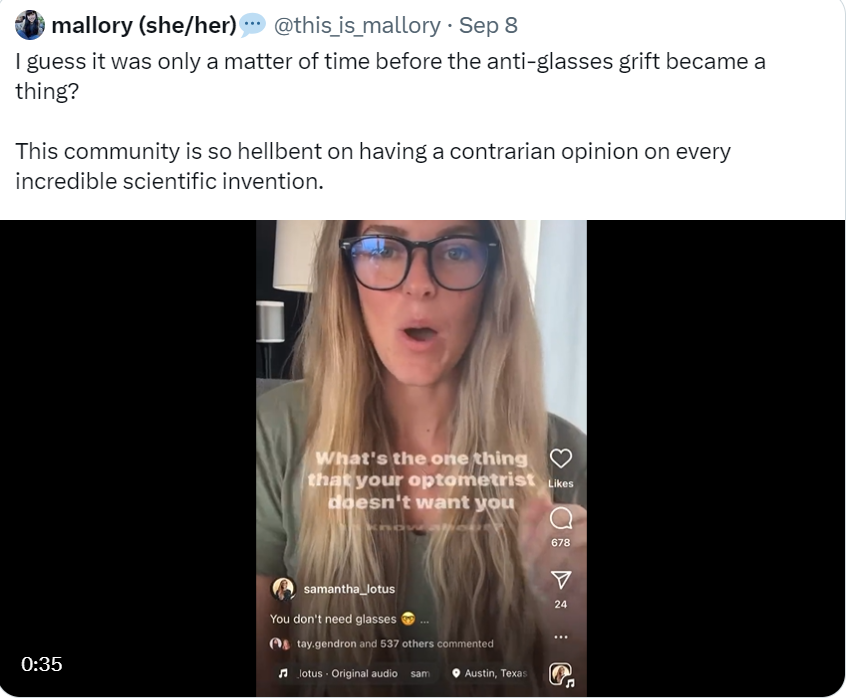 Source: X
During the course, which lasted two and half hours, Lotus did disclose that she was not a "pharma doctor or medical advisor" and was only providing "holistic education and empowerment purposes."
According to Mallory, Lotus did discuss the medical causes of poor eyesight, but dismissed them as "not root causes, only diagnosis." She continued on to say that bad eyesight could be caused by "unbalanced spirituality" or "blockages." She also claimed that you can change your eye color through "cellular cleansing" and detoxification.
Another key point is that glasses are a "barrier between you and the rest of the world" and recommended using essential oils around the eyes, coming from a sponsor for doTERRA Essential Oils.
According to Mallory, the entire Masterclass was created to sell those products and discuss the company.
Lotus and doTERRA React
Mallory requested comment from doTERRA on X (formerly Twitter). The company replied to say that the compliance team was reviewing Lotus' marketing of the company's products.
doTERRA also said that it's "committed to training its distributors and monitoring claims made to existing and potential customers to ensure that they comply with what the law allows us to say about the health benefits of our products. While our products can be used to promote a healthier lifestyle and achieve certain wellness benefits, they cannot be used or marketed as capable of preventing, treating, or curing any disease or symptoms associated with a disease."
Since then, Lotus claims she's making corrections to comply with doTERRA and removing references to the company's essential oils from her presentation.
In an email to The Daily Beast, Lotus acknowledged the skepticism but said she's trying to teach people "self-healing" and "spiritual" methods.[2] She also said that she's received a lot of hate mail and criticism, calling herself a victim of "cancel culture" and "mob mentality." Lotus is threatening legal action against Mallory, however, and critics are pointing out the hypocrisy.
The Impact of Wellness Influencers
Lotus may have attracted the ire of optometrists, ophthalmologists, and myth busters, but she's not the only one who peddles dubious health claims. "Snake oil," the colloquial term used to describe health care frauds or scams that use deceptive marketing, goes back to the 1800s.
The COVID-19 pandemic and 2021 brought a new wave of snake oils, including Caroline Calloway's infamous Snake Oil skin care oil that costs $75.[3]
According to registered dietitian Christy Harrison, people don't fall for false wellness claims because they're gullible, but because they are hopeful.[4] According to her, many people are "looking to fill gaps in healthcare that leave them feeling dismissed and unheard."
For influencers peddling dubious wellness products, it's a favorable combination. People want solutions and the content that drives engagement tends to have controversy or novelty. Misinformation covers those bases, so these influencers go viral with their non-evidence-based claims.
Beware of Wellness Grifts
It's important to stay skeptical of any influencer ignoring or refuting conventional medical and scientific wisdom. Even sharing it with critique can cause it to go viral, reaching more and more people who may get sucked into the wishful thinking.
Sources:
[1] https://nypost.com/2023/09/13/samantha-lotus-slammed-for-saying-she-can-fix-eyesight-without-glasses-in-11-masterclass/
[2] https://www.thedailybeast.com/anti-glasses-influencer-samantha-lotus-says-she-can-heal-your-eyesight-for-dollar11
[3] https://www.teenvogue.com/story/caroline-calloway-snake-oil
[4] https://www.nytimes.com/2023/05/05/well/live/health-wellness-scam.html#:~:text=%E2%80%9CPeople%20don't%20necessarily%20fall,us%20feeling%20dismissed%20and%20unheard.