Summer is in full swing, as are sweeping changes to major platforms. With Twitter competing against a new rival, Reddit battling with its own mods and creators, and more niche platforms like YouTube and Snapchat building better features and larger user bases, the rest of the summer season could be a pivotal in marketing planning to close out 2023 and bring in 2024.
Here are the biggest news stories for July in influencer marketing and social media.
Twitter Implements Usage Limits to Combat Data Scraping
Elon Musk is taking more extreme steps under his control of Twitter, including restricting users from viewing tweets to address what he describes as "extreme levels of data scraping."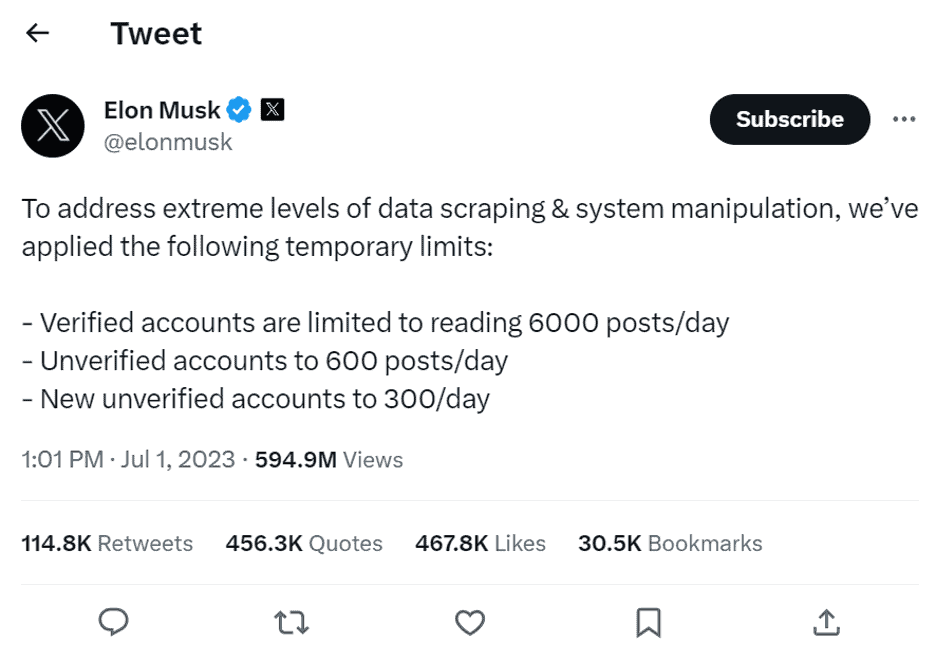 Source: Twitter
Both verified and unverified usage will be restricted at different thresholds. When users exceed the threshold, they receive a message that says, "Rate limit exceeded. Please wait a few moments then try again."
The thresholds are 10,000 posts for verified accounts, 1,000 posts for unverified accounts, and 500 posts for new unverified accounts. The limits were increased twice within the five hours since Musk's tweet, which indicates that the situation may be resolved eventually.
Threads Launches as Twitter Usage Is Restricted
Around the same time that Musk began restricting accounts, the Threads app was launched by Meta. Without much warning or hype, Meta's Twitter alternative appeared in app stores. Users were able to port their IG username over to the new conversation-based platform, which skyrocketed in popularity seemingly overnight.
This comes at a time when many avid Twitter users were dissatisfied with Musk's changes for the app, providing a suitable alternative that can scale in the future. This is especially true as users are facing usage restrictions as they try to discuss trending topics.
Twitter Announces New Version of TweetDeck, a Twitter Blue Exclusive
Twitter announced that TweetDeck will be a Twitter Blue exclusive early in July, meaning that users of the native tweet management platform will need to pay to schedule tweets in the future.
The new elements include:
An updated tweet composer with tweet functionality for GIFs, polls, and more
Improved Advanced search filters
The option to sort out the TweetDeck columns into Top Tweets or Latest Tweets
Video Docking, which is when you watch a video while performing other functions
TweetDeck Teams has been scrapped in the updated version, which can impact business users. The shift is set for the beginning of August.
r/AMA Mods Stopped Running Celebrity Interviews
Reddit is joining Twitter in limiting how its data can be used, which is done by increasing the price of the API entry points. This has been met with protests in the user community, including among subreddit moderators. Reddit made the change to ensure fair pay, but mostly to combat the rising amount of generative AI projects that are using Reddit data to fuel their large language models (LLMs).
These systems require large caches of conversational data. Meta and LinkedIn have made changes to protect their data, but Reddit and Twitter are falling behind the curve with these extreme measures that are protecting data at the cost of restricting user access and experience.
Among the issues are that moderators believe they should also be paid – given that the platform itself is looking for pay for content and data – and switching their communities to Private or NSFW to avoid ad sales.
Reddit pushed back, but the moderators of the subreddit r/AMA (Ask Me Anything), a wildly popular community that brings in celebrities and others to conduct live interviews with users. Mods used to volunteer for this work in the past, but they're now protesting and refusing to hire celebrities to do AMAs – a serious blow to one of the app's biggest attractions.
YouTube Tests Hyperlinked Keywords in Video Comments as a Means to Maximize In-App Discovery
YouTube is launching a new test to include search hyperlinks to certain keywords within the YouTube comments to drive improved discovery and connect users to related content. The goal is to keep the search activity in stream, rather than forcing users to look for it outside of their experience.
According to the platform:
"Clicking on a link will initiate a new YouTube search with that term, navigating users to the search results page. To avoid interruption, the video will stay playing in the miniplayer. Linked keywords are determined by YouTube, based on what users are likely to want to explore further. The links cannot be added or modified by the commenter, though creators can remove links on their video comments if they'd like."[1]
YouTube is also updating its Channel Memberships functionality with managers now able to manage Channel Memberships in the Studio mobile app, which used to be limited to desktop users.
Twitter Takes Legal Action Over Meta's New Threads App
The launch of Threads is a significant risk to Twitter, so the company chose to take legal action not long after the launch. It gained a lot of momentum in its early days, leading Musk's X Corp to launch proceedings against Meta over the Twitter clone.
In the lawsuit, X Corp claimed that Meta poached ex-Twitter employees and engaged in "systematic, willful, and unlawful misappropriation of Twitter's trade secrets and other intellectual property."[2]
Though Meta says the claims are baseless, Musk could be starting legal troubles to create barriers in Meta's development process for Threads. It hasn't worked, but there are legal complexities that may prove challenging for Meta in the future.
Threads Reaches 100 Million Users
By July 10, Threads became the fastest-growing app of all time. The anticipated Twitter alternative hit 30 million sign-ups within 24 hours of its release, then grew to 50 million just a few hours later. After two days, the app his 70 million users.
Then Threads crossed the 100 million sign-up marker, which made it the fastest app to hit 100 million members. This beat out ChatGPT, which hit the market running and reached 100 million users in two months. Part of the rapid growth for Threads has been its connection to Instagram that created a seamless sign-up and migration process.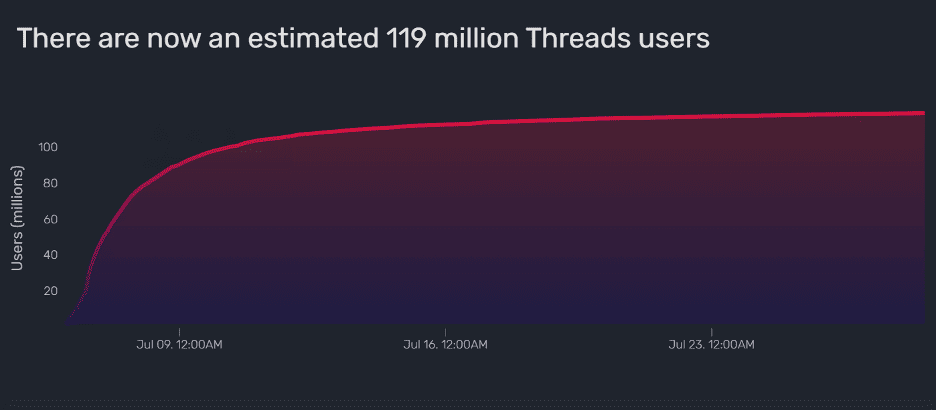 Source: Quiver Quantitative
Reddit Announces Removal of Reddit Gold In-App Rewards System
Reddit continued to clash with users throughout the month, primarily among the moderation teams and content management. The use of volunteer mods for subreddits blurs the lines between users and hosts, which meant the platform was more beholden to its users than others.
In addition to increasing the price on the API access, Reddit announced the end of the popular Reddit Gold offering, which allowed users to acknowledge each other's work with in-app currency. This was part of the Reddit Premium subscription program and granted subscribers 700 Reddit coins each month.
Though these coins couldn't be exchanged for actual currency – or much of anything else – they were a big part of the Reddit ecosystem. In exchange, Reddit is preparing to introduce another form of acknowledgement with an in-app coin that offers more utility, but it's been a bone of contention among users in the interim.
Meta Shares New Insights into the Core Drivers of Business Decisions
Meta is clashing with a lot of parties lately, including governments, other social media companies, and some users. It's still focused on the broader mission, however, which involves becoming a "force for good."
The new report from Meta includes a lot of details about creating a positive impact on society, including upcoming projects and the initiatives that are designed to improve society. According to Meta, there's a four-pillar framework for the efforts: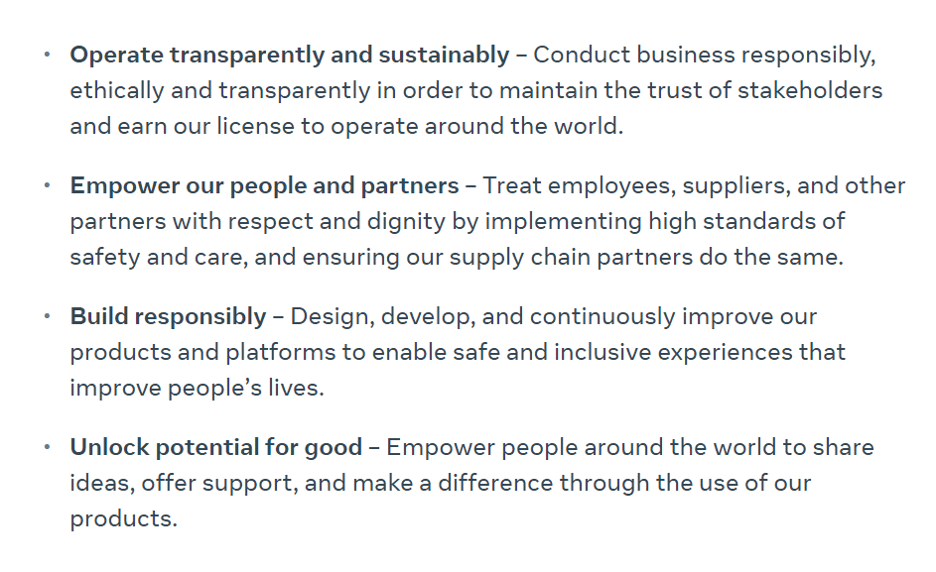 Source: Meta
Meta Establishes New Partnership to Bring Roblox to Quest VR
One of the important inspirations for Meta's version of the Metaverse is the ways that the younger generations interact, including engaging with family and friends online. Online worlds like Roblox, Minecraft, and Fortnite are becoming the new playground and hangout.
Parents may not be pleased with concerns over too much social media and screen time, which Meta only made more exciting. In July, Meta announced that Roblox partnership would happen to assist gamers and make the VR gaming world more popular and lucrative. The Metaverse is still a good decade away, but these partnerships are building the hype.
Reddit Published New Holiday Campaign Guide
Reddit published a new guide to holiday campaign planning in the app, which provides insights into key product categories, behavioral trends, and marketing tips. Despite the issues Reddit is having with its moderators, the platform is still an important tool for consumers to get insights into products before purchasing – representing opportunities for brands to cash in.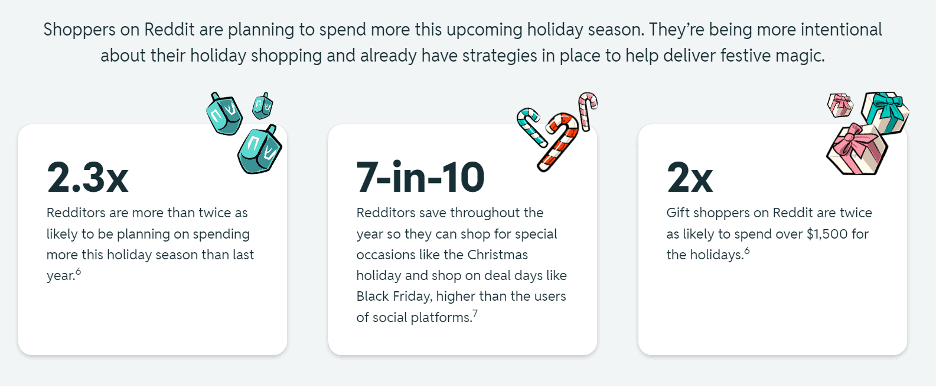 Source: Reddit
Snapchat Rises to 397M Users and More Active Advertisers in Q2
Snapchat published its Q2 23 Performance Report, which shows an increase in users and some other promising insights. In addition to adding 14 million daily active users (DAU) in Q2 – bringing the total to 397 million DAU overall. The growth is primarily in the developing markets, including India.
Despite this, Snap isn't going to see immediate revenue benefits. The revenue isn't growing at the same rate as the user base, but the app is seeing some recovery in its ad business with a decrease of 4% year-over-year and an increase of 8% quarter-over-quarter.
Mid-Summer Insights
Most of July's social media and influencer news involves the feud between Meta and X Corp and the changes on their respective platforms. There are some important developments to prepare for holiday campaigns, however, such as the growing user base of Snap and Reddit's consumer insights.
Sources:
[1] https://www.youtube.com/watch?v=iEGiwsALvSI
[2] https://www.semafor.com/article/07/06/2023/twitter-is-threatening-to-sue-meta-over-threads