Ruby Franke, a social media influencer in the parenting niche who's been criticized for giving controversial parenting advice online, has been charged with six felony counts of child abuse involving her two children.
The news broke on September 6, 2023, via the Washington County Attorney's Office in Utah. These six felony charges follow her initial arrest and charges the previous week for aggravated child abuse.[1] Her partner, Jodi Hildebrandt, is also facing six charges.
Who Is Ruby Franke?
Ruby Franke is a family vlogger who amassed millions of followers on social media for her content around family life in the lakeside suburb of Springville, Utah. Her 8Passengers page shifted in 2020, however, as skeptics became concerned with her Mormon household and practices. There was also a petition asking child protective services to investigate the family, citing videos on her page that demonstrated child abuse.
Franke initially snapped back at critics, staying true to her and her husband's stern parenting style. They shared videos explaining how she'd take away a child's bed for punishment or withhold meals as a learning lesson.
Eventually, she stopped posting videos on her vlog and joined the ConneXions parenting advice podcast with Mormon therapist, Jodi Hildebrandt. Her podcast moved beyond parenting to include discussions about religion, sexuality, race, and other social or political issues.
Critics rose up against her social media pages and ConneXions posts. In some of her posts, Franke downplayed eating disorders, shamed and blamed rape victims, and criticized US immigrants.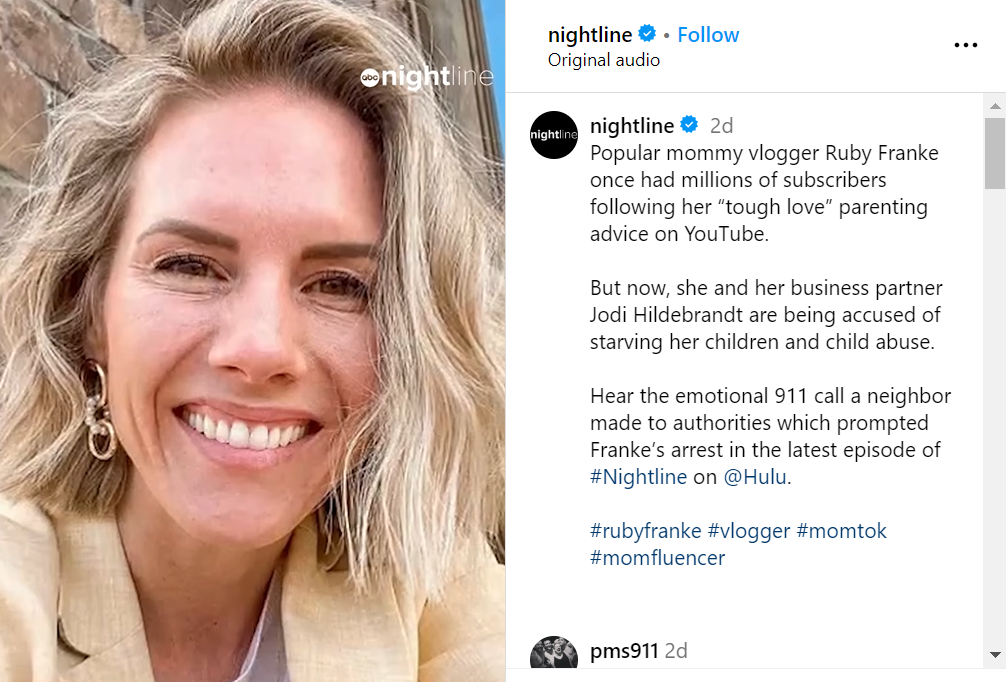 Source: Instagram
The Arrest
A press release from the attorney's office alleges that Franke and Hildebrandt are accused of causing or permitting serious physical injury to the victim through multiple physical injuries or torture, starvation or malnutrition that jeopardizes life and causes severe emotional harm.
Franke and Hildebrandt were arrested on August 20 at Hildebrandt's home in Ivens, Utah, after Franke's 12-year-old son escaped their home and ran to a neighbor to ask for food and water, according to a police statement.
The neighbor called the police who arrived at the scene. They discovered Franke's 10-year-old daughter in a similar state of malnourishment. According to the police, the children appeared malnourished and emaciated with open wounds and duct tape around their extremities. They were taken to the hospital for treatment. Two older siblings in their teens were also taken into custody.
Franke's Oldest Daughter, and Others, React
Franke's oldest daughter, Shari, expressed relief when police arrived at the family's home. On Instagram, she wrote, "Finally." In another post, she said, "Today has been a big day. Me and my family are so glad justice is being served. We've been trying to tell the police and CPS for years about this, and so glad they finally decided to step up."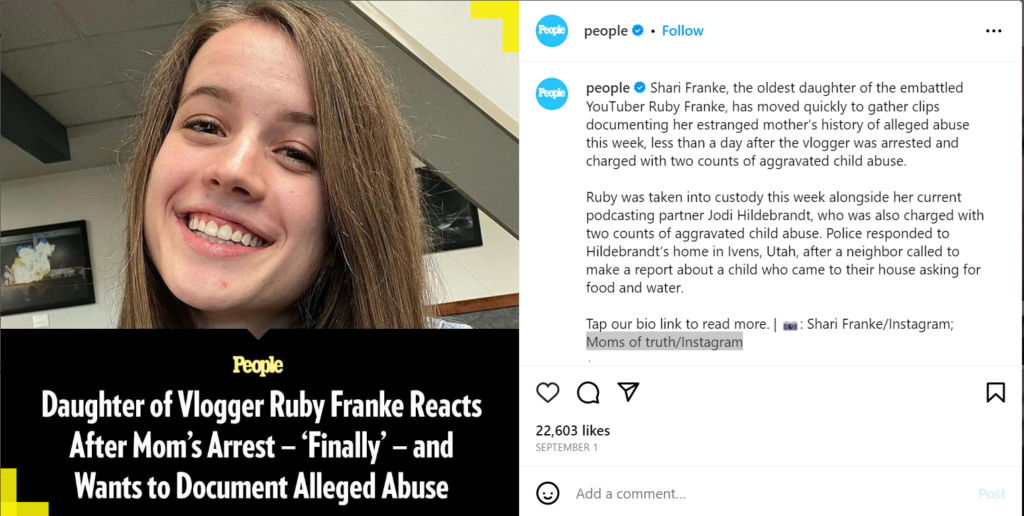 Source: Instagram
Days later, Franke's three sisters spoke out in support of the arrest. "For the last 3 years we have kept quiet on the subject of our sister Ruby Franke for the sake of her children," the sisters, Ellie Mecham, Julie Griffiths Deru, and Bonnie Hoellein wrote in a joint statement. They also said that they've tried to do all they could "behind the public scene" to make sure the kids were safe.
Several other people have come forward with statements and information. Franke's neighbor described the "red flags" that led other families in their religious neighborhood to contact authorities in the months leading up to the arrest. They noted "weird things," but didn't expect abuse to that degree.
In addition, Hildebrandt's niece, Jessi Hildebrandt, who goes by they/them, alleged that their aunt had abused them while under her care as a teenager. They alleged that the nature of the abuse was similar to the details about Franke's children, such as being duct taped, blindfolded, isolated, and undergoing psychological, emotional, and spiritual abuse.
After Franke's arrest, YouTube deleted the influencer's 8Passengers and ConneXions channels and banned her from the platform citing a violation of creator responsibility guidelines.
The Developing Story
The aftermath of Ruby Franke and Jodi Hildebrandt's child abuse charges are still developing. In addition to the criminal charges, it's likely that the state will take action on Hildebrandt's clinical mental health counseling license following her arrest. The results of the case remain to be seen.
If you suspect child abuse, call the Childhelp National Child Abuse Hotline at 1-800-4-A-Child or 1-800-422-4453, or go to www.childhelp.org. All calls are toll-free and confidential. The hotline is available 24/7 in more than 170 languages.
Sources:
[1]https://www.fox13now.com/news/crime/8-passengers-parents-arrested-for-two-counts-of-aggravated-child-abuse