Some big things have been happening in the social media influencer industry. November brought a lot of changes in this ever-evolving world, including shifts in the platforms.
These are the biggest news stories in influencer marketing for November.
Instagram Wants Creators to Normalize NFTs
Instagram announced updates that allow creators to create, buy, and sell digital collectibles to normalize and scale NFTs as a new revenue stream – at least, that's the goal. The Meta-owned platform released updates that allow a trial group of creators with NFT experience to access an end-to-end toolkit for NFTs and a crypto wallet.[1] They also get gated perks, such as exclusive content and reserved products. As of now, the wider release date is unconfirmed.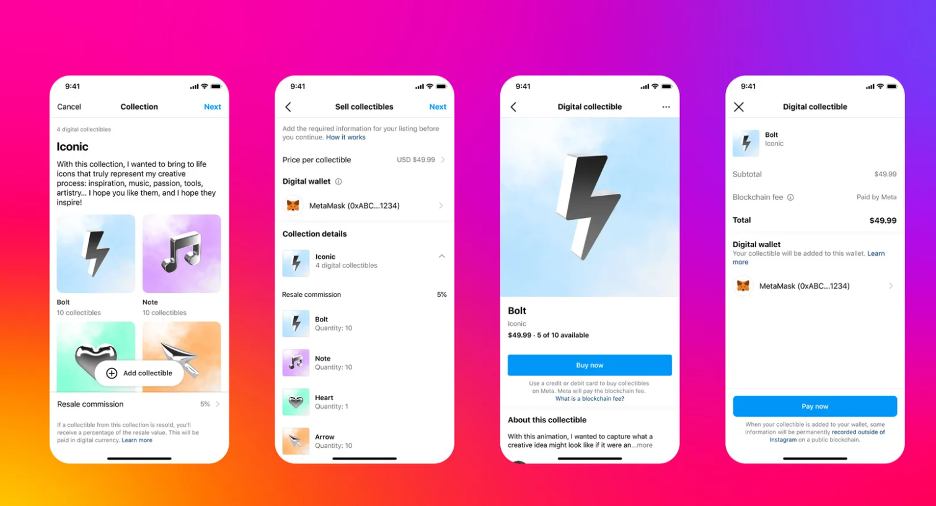 Source: Vogue
TikTok Launches e-Commerce Feature to Compete with Amazon
TikTok entered the US e-commerce market to compete with Amazon and other retail giants through the holiday shopping season. The new feature, TikTokShop, started official testing to allow users to make purchases directly in the app.[2] US businesses are encouraged to participate, but the feature hasn't been expanded to international merchants yet.
By limiting the initiative to US sellers, TikTok has differentiated itself as a supporter of small businesses – a strategy that Amazon has relied on to generate goodwill with government officials and the public.
Snapchat Still Struggles to Be a Priority for Creators
Snapchat has always had difficulty being a priority platform for influencers, and that's not poised to change anytime soon. The mobile messaging app doesn't have the features necessary to win creators over, despite needing the attention and monetization that creators bring to the platform.[3]
The app launched several features in the past year to increase support for creators, including revenue programs, masterclasses, and enhanced experiences. For example, mid-roll ads in Snap Star Public Stories, a new set of camera and editing tools, and Director Mode are all features that make content creation more appealing to influencers. Despite this, it doesn't seem to be a platform for creators to build and nurture a community or increase their income streams.
Twitch Bets on Livestream Shopping with Holiday Programming
The Amazon-owned Twitch streaming platform is reviving its Pog Picks livestream shopping event for the holiday season, active in the US, Canada, the UK, and Germany. Pog Picks showcases products from editorial picks and brand sponsorships, hosted by Twitch streamers, and encourages viewers to compete in gaming challenges and polls to win.[4]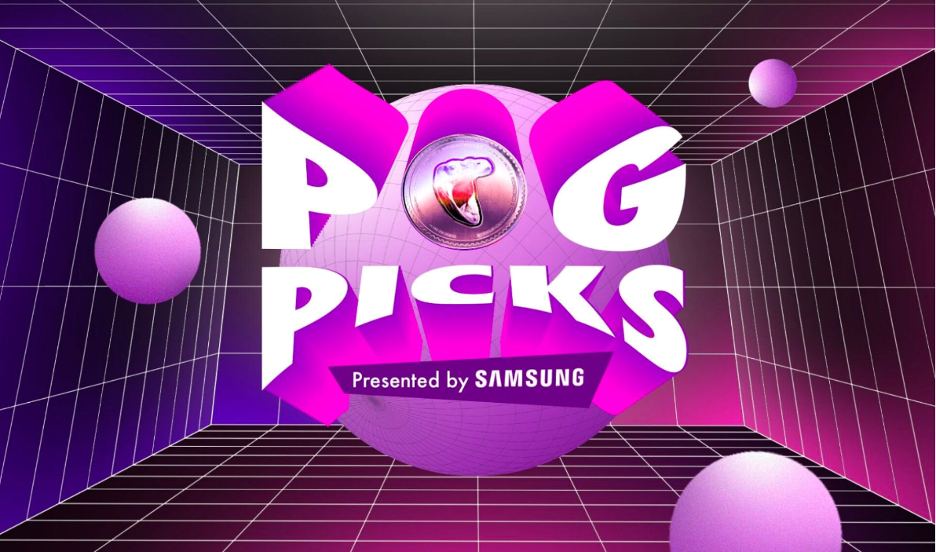 Source: TubeFilter
Since its launch, the holiday event has seen promising growth and return. According to a projection from Coresight Research, the shopping format is expected to grow to $20 billion this year compared to $6 billion in 2020.
YouTube Announces Username Handles
One of the biggest platform updates for YouTube is the new username handles.[5] Much like Facebook, Instagram, TikTok, and Twitter, the username handles are designed to make discoverability easier for users. YouTube creators can leverage usernames to interact across YouTube Shorts, in comments, and in video description boxes.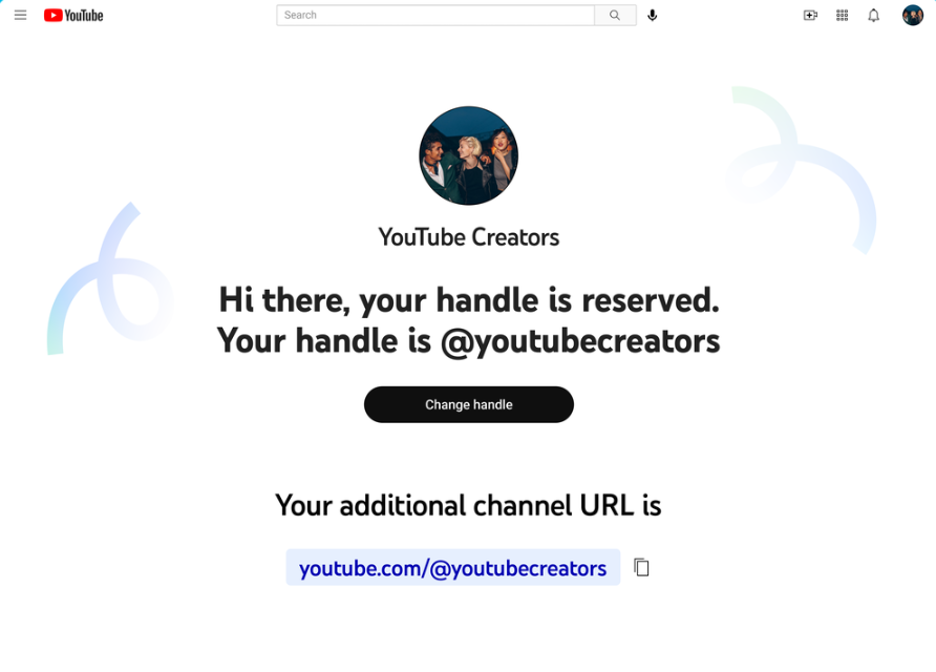 Source: YouTube
LinkedIn Is Adding Pushable Buttons
Another update comes from LinkedIn, which added pushable buttons to its platform to improve in-app engagement. The new feature, stickers, use clickable boxes to drive users where the creator wants them to go – a website, profile, or company page.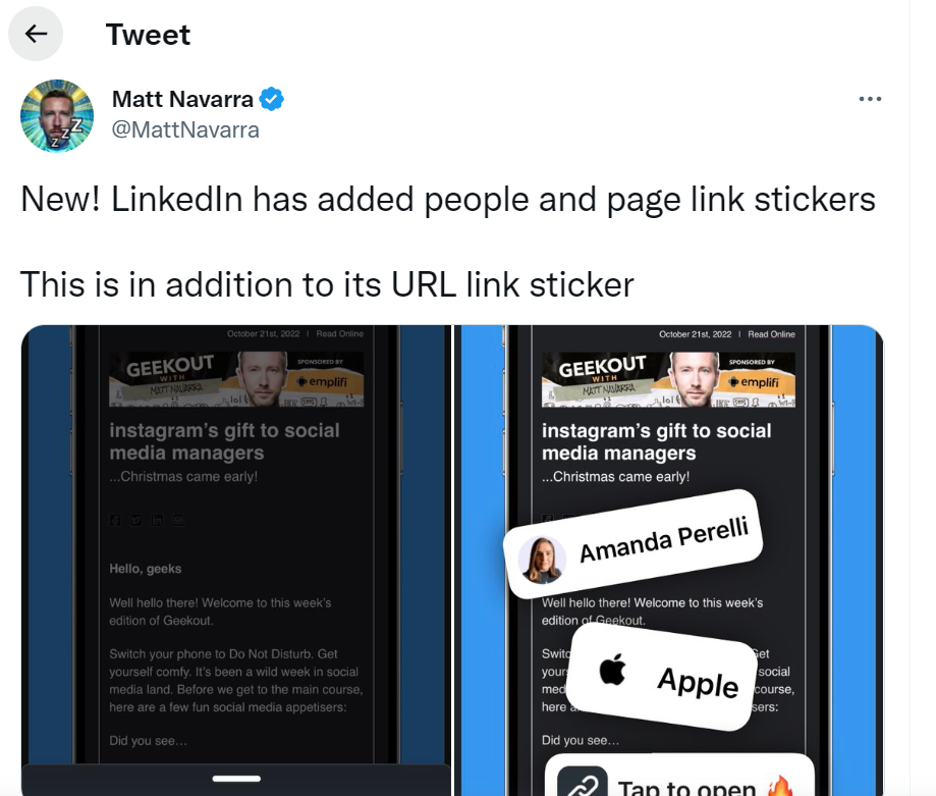 Source: Twitter
Instagram Tests the Profile Song
Instagram has been quiet after some feature pushback from users, but it did release a throwback to MySpace.[6] The platform is testing a new feature that allows users to add a song to their profile, which is a boon to the music industry. Instagram has not included information about whether the song will automatically play or if that's slated for later into the rollout.
TikTok Offers Multi-Guest Invites on TikTok Live
As TikTok becomes more popular for monetization and ecommerce, the platform added new features to support creators.[7] The Multi-Guest Feature allows up to five guests at once, in either grid or panel layout view. It also extended the age range requirement for Lives, Direct Messaging, Virtual Gifts, and Monetization.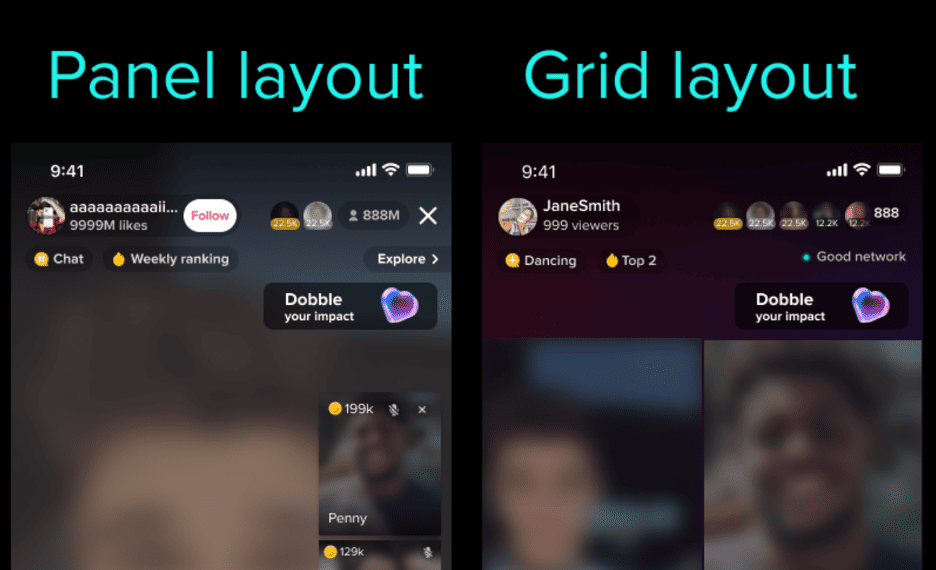 Source: TikTok
Pinterest Unpins the Creator Rewards Program
Pinterest introduced the Creator Rewards program at the second annual Creators Festival in October 2021. The program allowed creators to earn money by creating content around prompts and achieving engagement goals.
Recently, Pinterest announced that it will be discontinuing the program on November 30, 2022.[8] The platform stated that the program is ending to allow it to focus on better programs to support influencer marketing.
Instagram Begins Testing Sharing to Reels Via Third-Party Apps
In November, Instagram announced testing alpha to allow authors to share video content directly to Reels from third-party integrated apps.[9] This allows creators to use the tools they are comfortable with without interrupting their workflow.
For now, the testing is limited to a small group of developers with specialization in video creation and editing. The goal is to expand the test group and streamline the process to make it simple for creators with minimal skills in creating and editing video content, complete with customization options for audio, effects, stickers, and voiceover capabilities.
The FTX Bankruptcy Flameout Won't Burn Larry David or Influencer Marketing
FTX filed for bankruptcy and the CEO Sam Bankman-Fried stepped down, losing his personal fortune. But prior to this, FTX sought publicity everywhere, including promising the NBA Miami Heat $135 million for the naming rights to the arena.[10] The company also landed celebrity endorsers like Tom Brady, Gisele Bundchen, and Shaquille O'Neal.
Though these influencers aren't likely to experience fallout from association with the failed company, it's likely to have an impact on the future of influencers and company partnerships. With FTX and the fiasco that was the Fyre Festival, the crucial lesson is that influencers of all degrees of fame – along with the brands that hire them – should exercise caution when getting into partnerships. It's important for them to review the financial statements and ethics clauses, especially in new and volatile industries like cryptocurrency, cannabis, and vaping.
Meta Announces New Creator Monetization Tools
Creator Week at Meta fell in November, and along with various showcase events and panels, the brand announced its newest features for creators. Along with the tools for creators to get involved with NFTs on Instagram, Meta also expanded its monetization opportunities.[11]
Instagram subscriptions allowed creators to monetize with a monthly fee for exclusive live streams, subscribers-only posts and Stories, and special badges in the comment streams. Meta is adding new gifts in Reels, which enables viewers to send virtual gifts to Reels creators, which then allocates the cost of the gift as a donation.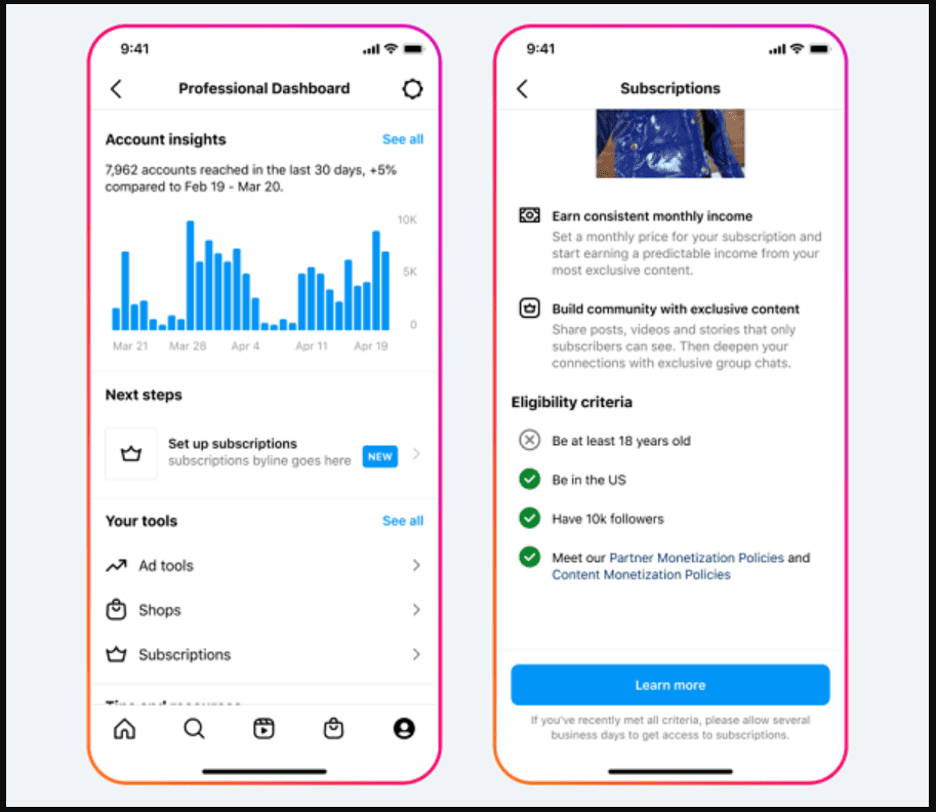 Source: Social Media Today
Elon Musk Is Poised to Become the Number-One Influencer on Twitter
With 120 million followers on his account, Elon Musk is already the second most followed account after Barack Obama, the former US president who has 130 million followers. Since buying Twitter, Musk's account saw a meteoric rise that's likely to overtake Obama's popularity by January 2023.[12]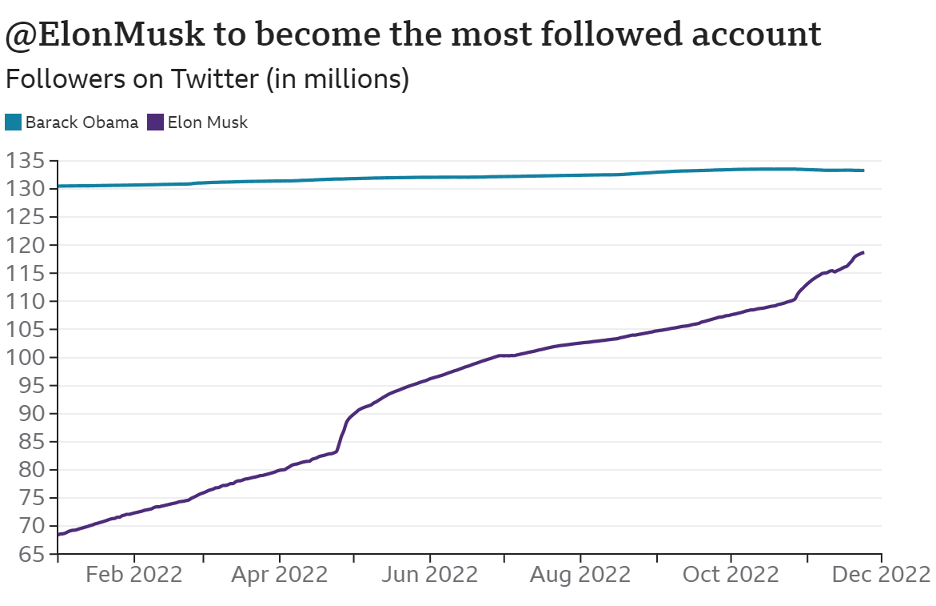 Source: BBC
This is unprecedented in the social media industry. No platform has seen its chief executive earn the status of the biggest personality, so there's concern over what the implications of this shared status for both the person and the website. One of the pressing concerns is that Musk is out of touch with the experience of normal users, which is only worsened by his growing follower count. He may not have the knowledge and first-hand experience to improve and grow Twitter effectively.
Twitter is Changing the Requirements for the Blue Check
Upon acquiring Twitter, Elon Musk quickly launched Blue, a paid subscription service, for instant verification and early access to new features. Twitter previously restricted Blue to prominent accounts. The news dominated virtually every outlet and was trending on the platform.
Since then, Musk realized that opening up verification to anyone who's willing to pay would create an influx of fake users. Twitter then pulled Blue a few days after the launch, with Musk promising a more robust option for a future launch.
WhatsApp Rolls Out Communities
The WhatsApp Communities feature is a new addition that allows multiple groups to connect and be managed under one umbrella.[13] Members of Communities can switch between chats, and admins can share updates with everyone easily. There's also new functionality to help users find and message businesses, which is currently available in the UK, Colombia, Mexico, Indonesia, and Brazil.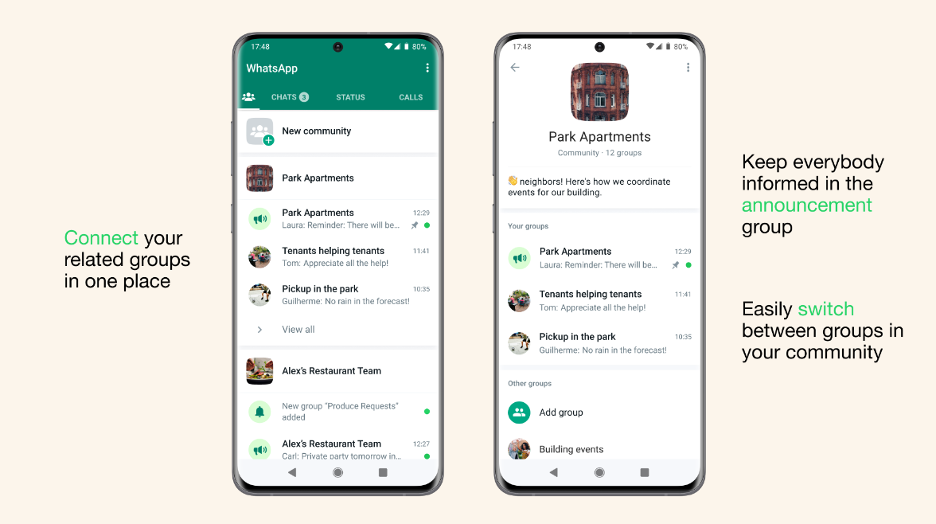 Source: WhatsApp
Snapchat Vies for More Engagement
Snapchat announced a number of updates, including an integration with Strava, an exercise tracking service that allows users to track and share fitness activity. The platform also announced a virtual try-on partnership with Amazon and a product tagging integration with BigCommerce.
TikTok Levels Up Creator Options with Now
BeReal, a new social media platform for users to post authentic photos of themselves, is surging in popularity. In response, TikTok adopted an in-the-moment functionality called Now that allows users to share a 10-second snippet of their day. The app also launched Academy, a virtual education resource with free video courses to help marketers use the platform.
Preparing for the New Year
Influencer marketing saw a lot of changes in November 2022, with more expected as the year closes out. While a lot of updates are positive changes for influencer marketing, situations like Musk earning the top Twitter personality title and the fallout of FTX on celebrity influencers could have an impact on the industry in 2023.
Sources:
[1]https://www.voguebusiness.com/technology/instagram-wants-creators-to-normalise-nfts
[2]https://www.linkedin.com/pulse/tiktok-launching-new-e-commerce-feature-compete-amazon-nikola-sokolov
[3]https://digiday.com/marketing/despite-snapchats-efforts-creators-still-dont-see-it-as-a-priority/
[4]https://www.adweek.com/commerce/twitch-brings-back-pog-picks-live-shopping-event-in-us-extends-it-to-more-markets/
[5]https://blog.youtube/news-and-events/introducing-handles-a-new-way-to-identify-your-youtube-channel/
[6]https://www.cnet.com/news/social-media/instagram-reportedly-testing-profile-song-feature/
[7]https://www.tiktok.com/live/creators/en-SA/article/go-live-together-via-multi-guest
[8]https://techcrunch.com/2022/11/30/pinterest-shuts-down-its-creator-rewards-program/#:~:text=Pinterest%20has%20shut%20down%20its,thank%20you%20for%20your%20partnership.
[9]https://www.adweek.com/media/instagram-begins-testing-sharing-to-reels-via-third-party-apps/#:~:text=Instagram%20began%20running%20a%20limited,minus%20interruptions%20to%20their%20workflow.
[10]https://latestfinance.news/the-ftx-bankruptcy-flameout-wont-burn-out-influencer-marketing-148789/
[11]https://www.socialmediatoday.com/news/meta-announces-new-creator-monetization-tools-including-subscriptions-on-i/635532/
[12]https://www.bbc.com/news/technology-63751515
[13]https://blog.whatsapp.com/communities-now-available