Fall is right around the corner, bringing new influencer stories and major social media changes and updates that will impact upcoming holiday campaigns.
From big changes to the influencer marketing industry to developments on the primary social media platforms, here are the top news stories for September 2023.
Aspiring Influencers Can Get a Degree in Influencer Marketing
In recent years, Gen Z has been increasingly viewing a career as an influencer as a viable – even preferable – choice over more traditional career paths.
Beginning next year, a university in Ireland, South East Technological University (SETU) will offer a Bachelor of Arts degree in influencing. The curriculum will include courses like public relations, crisis management, social psychology, celebrity studies, and editing. 2024 will start the first year for students to enroll in the BA in influencing.
A Vermont Town Is Restricting Access to Photo Spots Because of Influencers
The town of Pomfret, Vermont, is a haven for people seeking fall foliage tours – locally known as "peepers." Its Sleepy Hollow Farm has become an influencer destination in recent years for what's known as "Christian Girl Autumn" – a social media aesthetic that's centered on changing leaves, autumn attire, seasonal treats, and cozy vibes.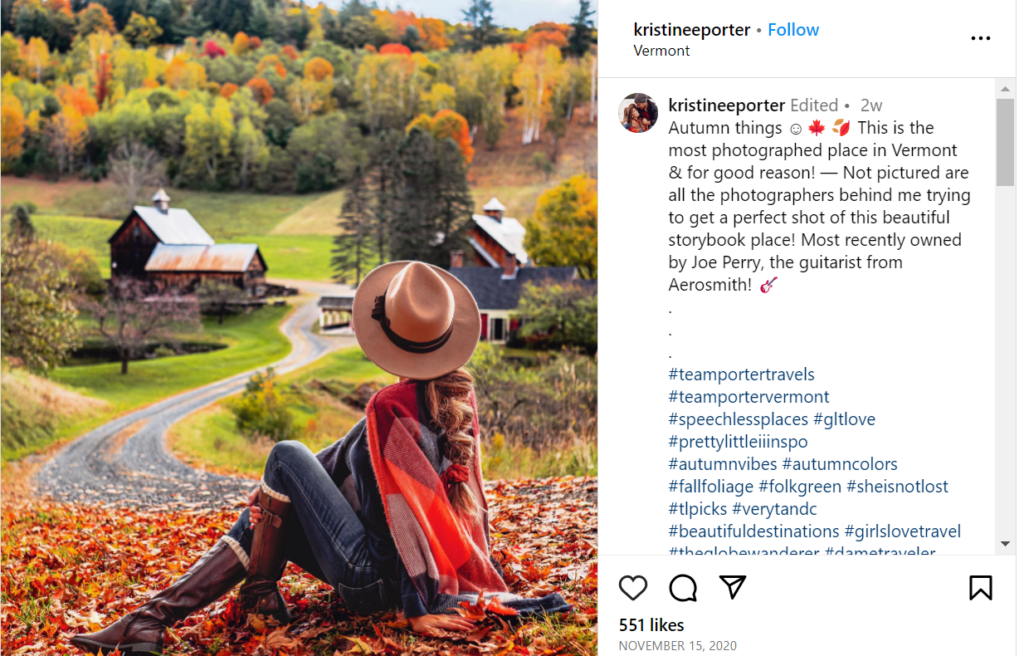 Source: Instagram
However, complaints of trespassing, invasive drone activity, littering, and excessive traffic have led the rural town to restrict access to the two streets that lead to the private farm. Aside from congested traffic in an area that's usually quiet, the surge of visitors has raised concern over emergency vehicle access.
Romanian Court Eases Geographical Restrictions on Divisive Influencer Andrew Tate
A court in Romania's capital has eased geographical restrictions on Andrew Tate, a divisive social media influencer who is charged with rape, human trafficking, and forming a criminal gang to sexually exploit women.[1] He can now travel anywhere in Romania, whereas prior restrictions limited his movements to the territories of Bucharest Municipality.
This ruling comes after Tate appeared at the court on Tuesday, seeking an end to the restrictions imposed on him after he won an appeal last month to be released from house arrest. Romanian prosecutors formally indicted Tate in June – along with his brother and two Romanian women. All four denied the allegations against them.
Blind Creator Raises $582K Pre-Seed Round to Professionalize Influencer Marketing
The Mexican startup Blind Creator, and SaaS company integrated with financial tools for content creators, announced a pre-seed round of $582,000.[2] Several angel investors joined in, including Brian Requarth and Alejandra Rios, from Shark Tank Mexico.
Blind Creator will invest in improving their product and growth, aiming to support over 30,000 Hispanic influencers and achieve $5M in revenue by the end of 2024. Mexico has over 1.9M content creators with an estimated market value of about $240M.
Meta Considers New Subscription Which Would Enable EU Users to Eliminate Ads
Mark Zuckerberg has long maintained that Facebook will always stay a free service, but as the regulations evolve in the European Union, the company's ability to gather user data for ad targeting will be further restricted. As a result, Meta is weighing the possibility of offering free and paid versions of Facebook and Instagram for EU users, which would allow them to avoid ads and personal data usage.
This relates to the evolving Digital Services Act (DSA) that comes into effect soon and enacts more explicit controls for users as to how their personal data is used.[3] Within that, users can opt out of personalized feeds, which are based on in-app activity. There will also be more control over the type of information users submit to be used for ad targeting.
TikTok Explores New In-App Messaging and Engagement Options
TikTok is exploring new social engagement features, such as messaging, new sharing functions, in-stream chats, and more, to allow users to meet and interact with their real-life friends seamlessly on TikTok and encourage more connection. This is based on a surge of new job listings from the app focused on Android and iOS engineers.
Expanding social engagement features is a shift in focus for TikTok, which has mostly used its AI system to highlight the best video clips from across the entire app, rather than limiting users to their social network. The concern, however, is that users are sharing clips off platform and discussing them in other apps, so TikTok may need to redirect the focus to in-stream opportunities.
YouTube Moves into Mobile Games with Playables
YouTube is looking to move into gaming via the new Playables element, which is being tested in the YouTube app. With this feature, users can play simple games in-stream as opposed to just watching content.
According to YouTube, "Playables are games that can be played directly on YouTube on both desktop and mobile devices. If you're involved in this experiment, you'll see a section on YouTube called 'Playables' that will appear alongside other content on the home feed. We're testing this with a limited number of users to start."[4]
UK Government Removes Key Impediment to Meta's Full Messaging Encryption Plan
Meta will take another step forward in its full messaging encryption plan, with the UK government removing a controversial clause from its proposed Online Safety Bill relating to the capacity to scan people's messages for illegal content.[5]
The "spy clause" in the proposed bill would have included a requirement for online platforms to facilitate "client-side scanning" for child sexual abuse material (CSAM) to maintain detection in broad communications. But with full messaging encryption enacted, this would not be possible as the host platform isn't able to access encrypted content.
Parliament members had initially wanted monitoring in the bill, but this element left only allowing encryption or blocking it. Choosing encryption allows Meta to implement full encryption by default on all messaging tools, which also enables the creation of a universal chat inbox.
X Experiments with Improved Discovery for Video Live Streams
X is looking to lean into video content more to drive more engagement, but it needs to improve video discovery. This is especially true of live broadcasts because followers may see a post organically, but there's no alert or indicator to keep them updated on streams in progress.
Now, X is looking to correct this by using Spaces like alerts for live video streams as well. This example from X designer Andrea Conway illustrates that live video broadcasts may also be displayed at the top of the user timelines, such as Spaces, and may help to highlight in-progress broadcasts to more users. This isn't a big technical change, but it will help the platform show more live content.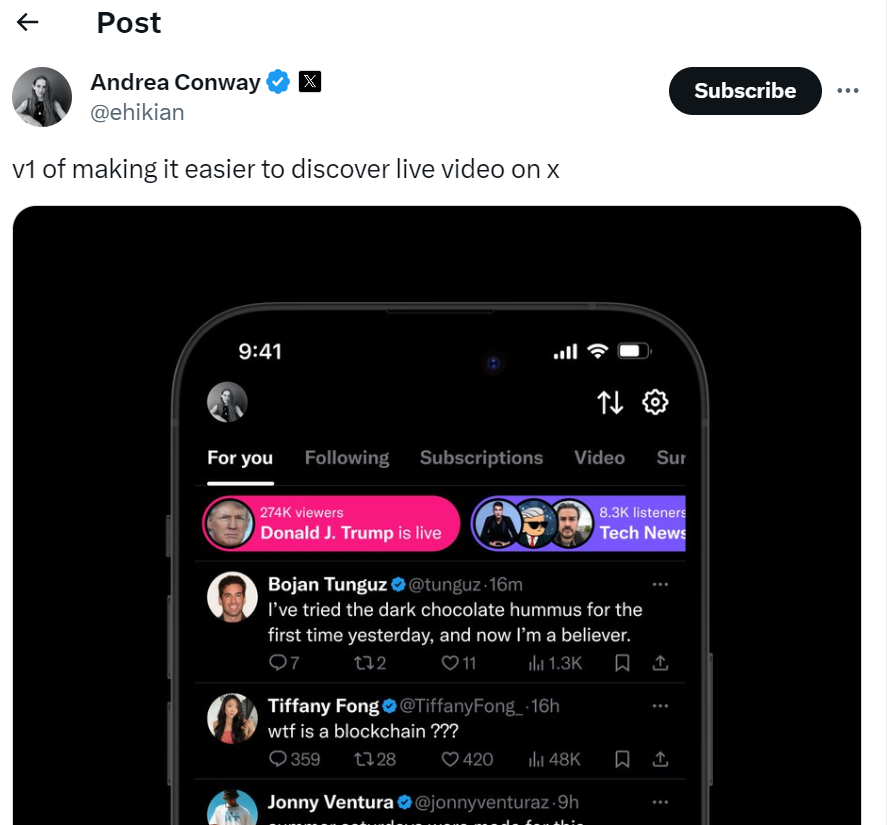 Source: X
Threads Expands Keyword Search to More Regions
After launching keyword search on Threads with users in Australia and New Zealand last week, Meta is expanding the functionality to more markets and in Spanish. Users in the US, UK, Mexico, India, and Argentina will now be able to conduct keyword searches.
This is a much-needed functional addition to Threads and allows users to search for more than just user handles, which will expand the utility and value of the Twitter-like app. The keyword feature has been one of the most requested updates, giving Threads a potential edge over X.
Instagram Tests New Option to Hide Your Like Activity in the App
Instagram is testing a new privacy element that has the capacity to hide your like activity from other users. Some Instagram users are being alerted with a pop-up that notifies them that they can hide their likes from whoever they choose, such as non-followers or friends outside of their inner circle.
This measure would provide some added reassurance from users, which could help to make them feel more comfortable engaging in the app while also aligning with the broader push towards more privacy. The latter is part of the reason that WhatsApp has more traction in Western markets.
Reddit Removes the Option to Opt Out of Ad Personalization Based on In-App Activity
Reddit is continuing to evolve its platform in hopes of attracting more ad dollars. It has announced some changes to its ad control settings, including the removal of the option for users to opt out of personalized ads in the app.
That's the primary change that Reddit is instituting to prevent users from avoiding targeted ads based on their activity. Overall, the platform requires very little personal information. Advertisers instead rely on platform activity, such as the communities people join, leave, upvote, or downvote, to get an idea of user interests and behaviors.
Tech Leaders Meet with US Senators to Discuss AI Regulation
Elon Musk, Mark Zuckerberg, and other leaders in the tech space met at the AI Insight Forum at Capitol Hill on September 13 to discuss the development of AI technologies and the implications for AI in its different applications.[6] Other industry heavyweights, such as Google's Sundar Pichai and Microsoft's Satya Nadella were also in attendance.
Some of the topics in the meeting covered democratizing the opportunities and access to AI technology, the rise of deepfakes, addressing misinformation powered by AI tools, and the risks of creating a superintelligence that could bring on a "robot apocalypse." With several tech companies developing their own AI tools, US senators must take this information and determine the next steps.
Key Takeaways
September's social media and influencer stories ranged from small details to improve user experience to considerable industry shifts with the AI forum. As these stories develop, it's possible that the industry may undergo monumental shifts in the coming months.
Sources:
[1] https://abcnews.go.com/International/wireStory/romanian-court-eases-geographical-restrictions-divisive-influencer-andrew-103564768
[2] https://contxto.com/es/deals-es/blind-creator-levanta-mx-10-millones-en-ronda-pre-semilla-para-impulsar-su-plataforma-de-gestion-de-influencers/
[3] https://www.nytimes.com/2023/09/01/technology/meta-instagram-facebook-ads-europe.html
[4] https://support.google.com/youtube/thread/18138167?hl=en
[5] https://www.wired.com/story/britain-admits-defeat-online-safety-bill-encryption/
[6] https://www.reuters.com/technology/musk-zuckerberg-gates-join-us-senators-ai-forum-2023-09-13/